6 Best Cloud Hosted PBX Providers for 2023
With more teams working remotely and businesses wanting to set themselves up for flexibility when it comes to scaling and growing, cloud-based PBX providers are becoming increasingly popular as the go-to communication system.
In this post, we'll explain everything you need to know about PBX providers so that you can decide if you need such a phone system and give you our review of the six best cloud-hosted PBX providers.
---
---
What Is a PBX Provider?
A private branch exchange (PBX) system is a phone system with business-level features like call conferencing, extensions, greetings, waiting queues for callers, and much more.
More specifically:
Cloud-hosted PBX providers offer VoIP (Voice over Internet Protocol) phone systems through remote Internet servers instead of requiring expensive hardware to be installed in your office, unlike traditional phone systems.
This virtual phone system is secure, convenient and reliable, making it a great choice for businesses. And since no physical hardware is needed, it's easier to scale by adding new extensions and business lines quickly, which is especially helpful for remote workers.
If you've made the decision to switch to a cloud PBX provider (or you're weighing your options!), this roundup will take you through the top six hosted PBX providers to help you find the right choice for you.
Dive Deeper:
* 7 Best UCaaS Providers for Your Business for 2023
* 8 Best Business Phone Services in 2023
* 11 Best Video Conferencing Software

Why Use a Cloud PBX System?
Companies that have multiple phone lines for different employees and departments need a phone system, but if they wind up moving locations or even adding a single line, it could be time-consuming and expensive because physical hardware is involved.
There are a number of reasons why businesses are choosing cloud PBX systems, such as:
They're cost-effective. You're only paying for the phone lines and features that you're actually using, so you're never overpaying. They also cost less than traditional in-office options, which require expensive hardware.
They're easily scalable. It's quick and easy to add an extra line with just a few clicks.
There's a limited need for hardware and new equipment. Most options even allow you to download mobile apps to existing devices so you don't even need to supply your staff with their own phones.
They have enterprise-grade security. Cloud-based solutions are highly secure, using top-of-the-line security and encryption technology to protect your information (and your customers'!).
Reliable uptimes. Most PBX providers, as you'll see in the next section ("The 6 Best Cloud PBX Providers"), have exceptional uptimes that hover around 99.999%. This is outstanding and provides the ultimate reliability for your business.
Robust integrations with existing systems. The fact that these business phone systems are digital is such a big advantage when it comes to integration with other SaaS tools. While integrations vary depending on the tool, almost all offer some.
Seamless software updates and upgrades. Most technology develops rapidly and business phone systems are no different. You want a system that's able to receive frequent updates, and with a PBX business phone system, updates will happen automatically instead of needing someone to come update the hardware in-office.
Access via desk phones or soft phones for maximum flexibility. If you want your team to have phones at their desk, there's nothing stopping you from doing so with a PBX system. That being said, these same users can also access the lines (and their voicemail) from the remote app on their mobile phone. The flexibility and ability to move to remote access is phenomenal.
No long-term contracts or lock-ins. Almost all PBX systems (and certainly all the ones we've reviewed here) do not have any contracts or locked-in costs. You're paying for what you need when you need it, and you can scale up or down or even cancel at any time.
The 6 Best Cloud PBX Providers
Now that you've learned how flexible these phone systems are, let's move on to reviewing the top PBX providers that we recommend for businesses of all sizes.
1) Nextiva
Nextiva is our top choice for PBX providers, partially because they offer high-quality commercial services that integrate with their customer relationship and internal teamwork solutions. They offer an all-in-one, seamless solution when it comes to phone systems, and they've even been rated the Best Business Phone Service in 2023 by U.S. News & World Report.
Nextiva's virtual phone system allows users to access a business line on their personal cell phone. This is extraordinarily convenient, as it reduces the need for additional devices: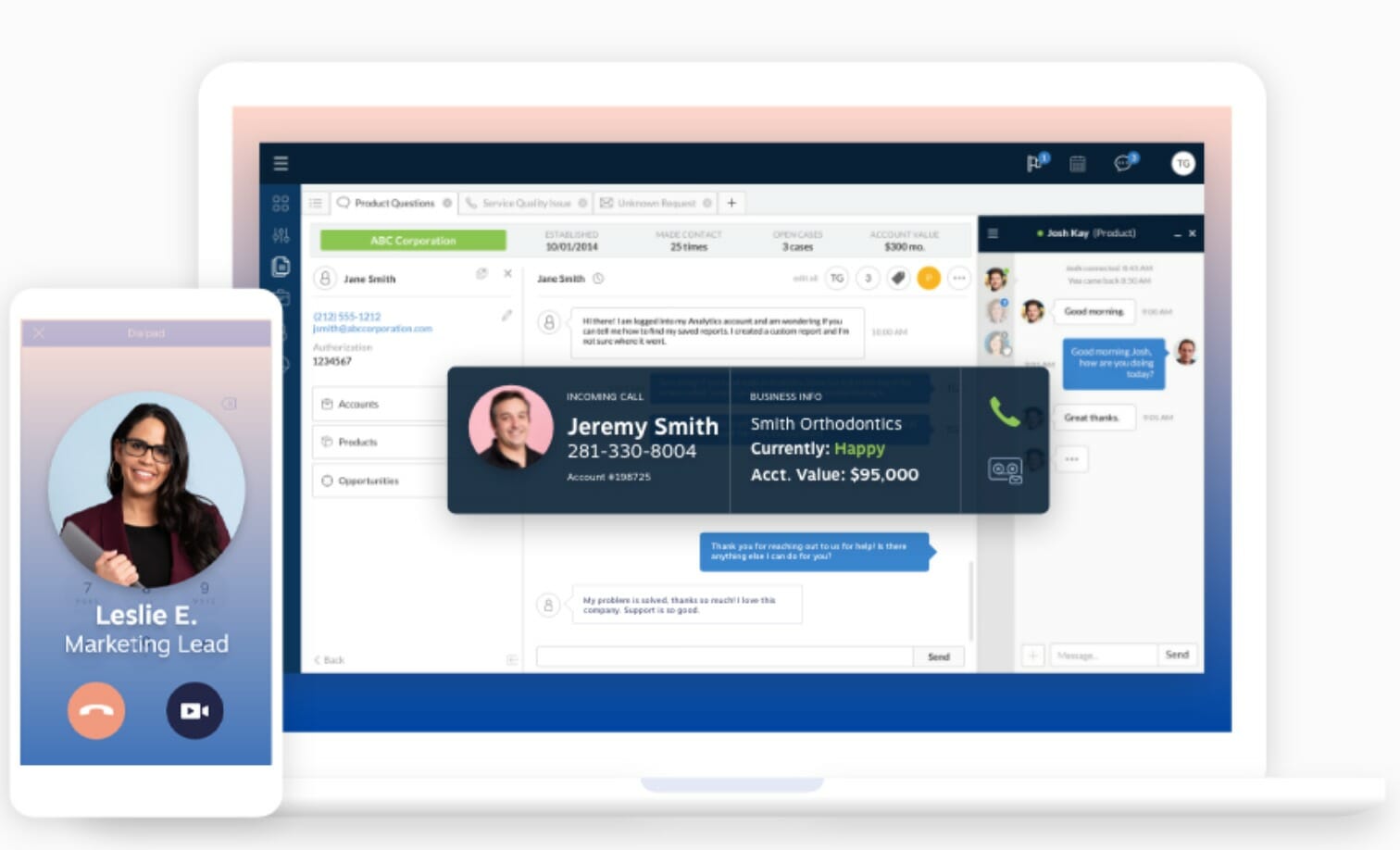 They offer the following features:
VoIP phone system that's entirely cloud-based
99.999% uptime, with "military-grade" data centers that offer both reliability and security with TLS and SRTP encryption
Voice, video, texting and conferencing features
A strong mobile app for easy remote access that includes the ability to send faxes
Standard business suite phone features, including call routing, auto attendants, call transferring, recording, voicemail and call masking.
The ability to integrate a reliable, quality phone system with their customer relationship suites and teamwork collaboration suites (which can improve customer service at every possible touchpoint) is exceptional.
Pricing
Pricing starts at $19.95 per user per month when paid annually, though larger businesses will want to look at their $27.95 per month per user plan. Their professional and enterprise plans both offer free trials.
2) GoToConnect
If you need physical, in-office phones from a provider but still want the flexibility of remote access and scalability, GoToConnect is a good option to consider.
You may already be familiar with some of their other products like GoToWebinar or GoToMeeting, both of which are known as being top-of-the-line in their individual niches.
GoToConnect has most of your standard business phone system features like call recording, forwarding, auto attendants and extension set-ups.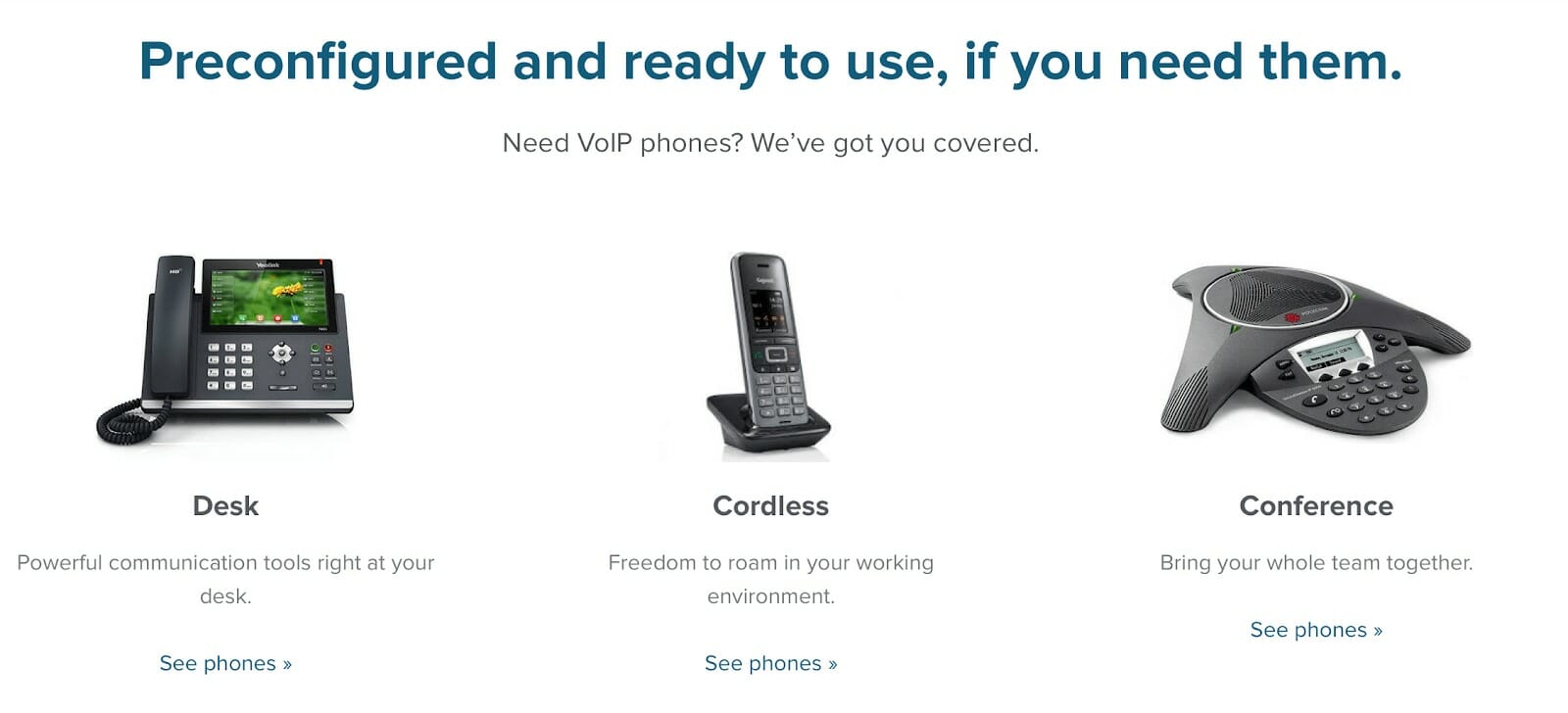 Here are some of the more unique features they offer:
Reliably clear audio and video quality due to a "distributed cloud architecture," ensuring that you're not going to need to worry about tech issues.
Security features like call encryption, meeting lock with password protection when needed, and following latest security standards like the GDPR and SOC 2 Type II
A long list of integrations, including Microsoft, Salesforce, Google, Slack and Zoho
Personal meeting rooms that can hold up to 250 participants
Pre-call and wait-time announcements
International calling included
Custom hold music available
Pricing
Pricing varies depending on the number of users you'll be enrolling in the plan, and includes the following:
$29.95 per user per month for 1-4 users
$25.95 per user per month for 5-9 users
$23.95 per user per month for 10-24 users
$21.95 per user per month for 25-49 users
$19.95 per user per month for 50+ users
Businesses who will have over 100 users per month can get in touch for a custom quote.
3) Vonage
Vonage is a major player in the PBX provider world, boasting big-name clients like Dominos, Siemens, Concur, Glassdoor, and Allstate.
They prioritize unified communications, allowing for chat, text, video conferencing, phone calls and integrations with other platforms.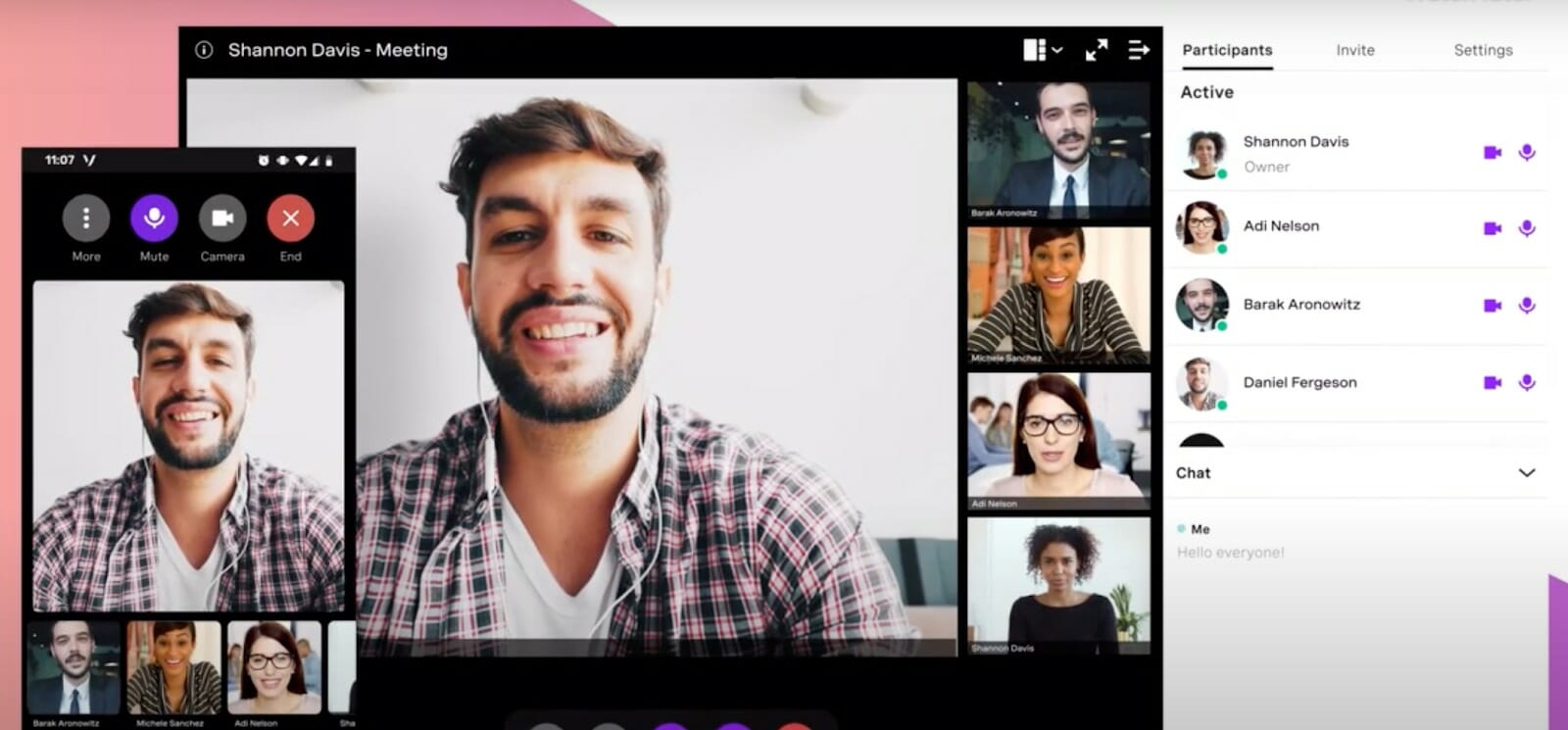 Here are the key features that help them stand out from standard business phone system offerings:
High quality of service with 99.999% uptime reliability
Strong features like paperless fax, call flip, access to a virtual receptionist, call announce, directory assistance, real-time transcription, and call following (this brand has one of the more thorough list of features)
You can prioritize bandwidth to help maintain reliability and smooth function of your most essential tasks with their SmartWAN feature, which optimizes reliability and quality of service for unified communications
Multiple integrations, but a particularly thorough integration with Microsoft Teams
Pricing
Vonage offers several pricing tiers, with a basic Mobile Plan starting at $19.99 per line per month, and going up to their Advanced Plan at $39.99 per line per month. The Advanced Plan offers the largest range of features, so brands who can afford the higher price tag will benefit if they have use for the features included.
4) RingCentral
RingCentral has a long list of happy customers, including a few names like New Relic and Colombia University. They have a strong, reliable service that comes with all the standard features you'd expect.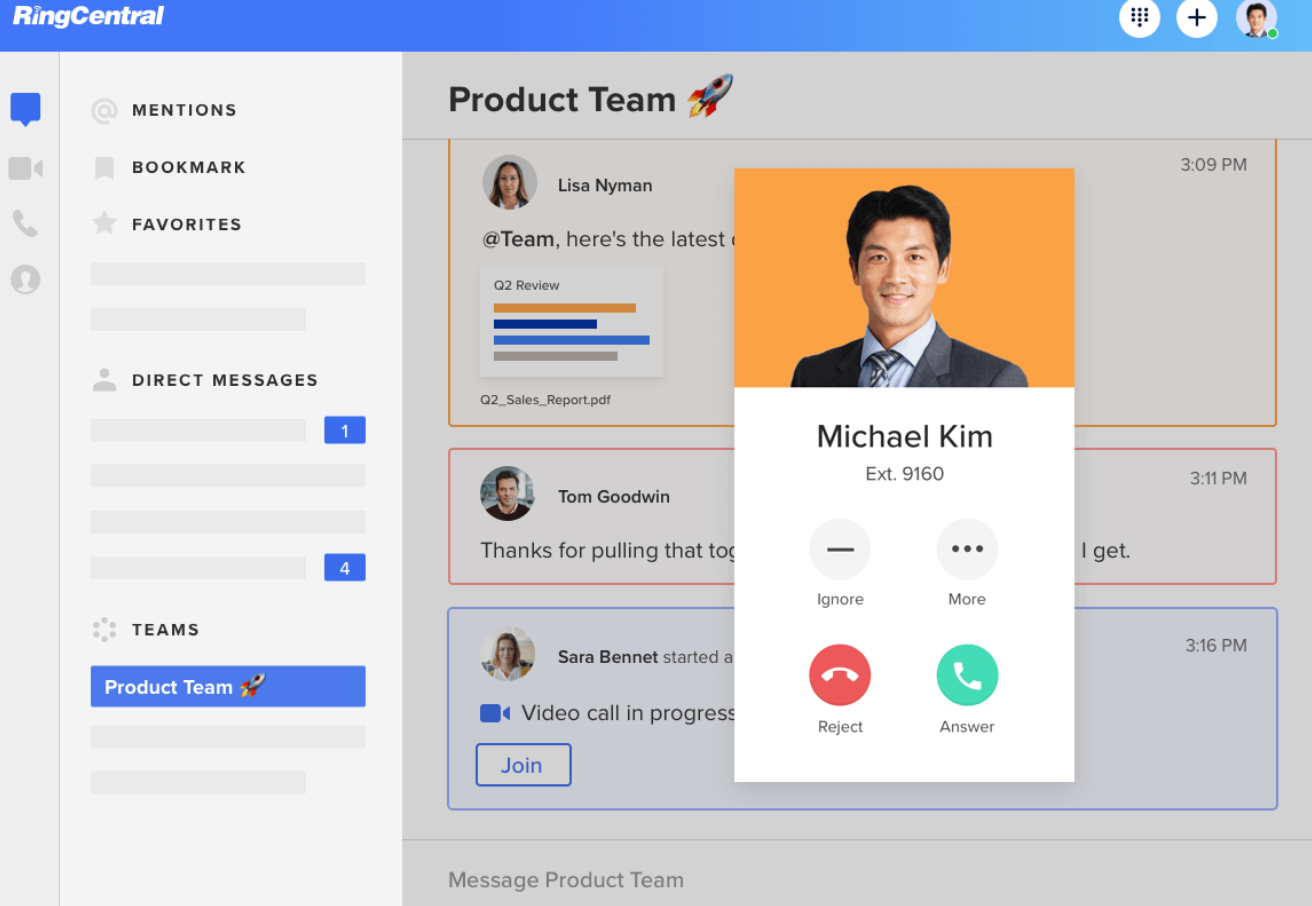 Here are some of RingCentral's most notable features:
Incredibly fast scalability, with the ability to sign up new users or teams in just a few minutes, thanks to their simple onboarding
That magic 99.999% uptime you're also seeing from other companies
Integrated chat, video, and phone communication options are all available
Chat communications allow for file and data sharing and task management in real time
The ability to set up business lines in over 40 countries around the globe (perfect for our new digital world where more and more brands are hiring remote workers)
Detailed system analytics that are available through the desktop site and mobile app
Big-name integrations like Amazon, Google, Microsoft, Salesforce and Zendesk (higher-priced plans also allow for custom integrations to be set up)
The higher-priced plans also include hot desking, single sign-ons, and popular CRM integrations
Pricing
Pricing starts at $19.99 per user per month, though their Premium Plan (costing $34.99 per user per month) is their most popular thanks to the list of extended features it offers.
5) 8×8  
8×8 is the proud PBX supplier for brands like McDonalds, Farmers Insurance and Live Oak Bank. They have a distributed network worldwide for their call, video and text PBX system. Their analytics are particularly exceptional, and they place a big focus on security.
8×8 was named a Leader in the Gartner UCaaS Magic Quadrant, Worldwide for the ninth year in a row.
Here are some of their biggest features:
Their analytics are their most notable feature, because they use AI to provide incredibly detailed insights. This includes "sentimental analysis" of every call to assess overall customer satisfaction thanks to the AI's ability to detect patterns in customer behavior and speech: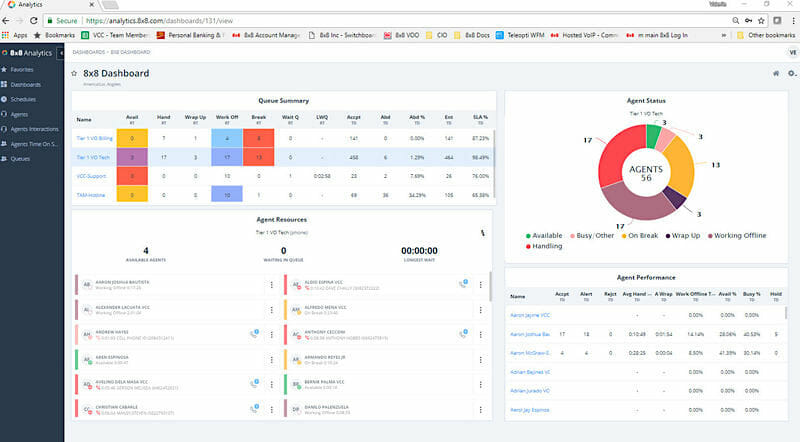 An AI virtual agent can help your customers navigate to the right place quickly
Their visual voicemail feature offers transcriptions and recordings via email to help you sort through your call inbox quicker
They allow you to assign access to each individual team member based on their role, improving security even internally
Pricing
Pricing starts at just $12 per user per month, but this plan only has basic features and is only available in the U.S. and Canada. For all-in-one voice and video chat, access in 14 countries, and more advanced features, you'll want to look at their $25 per user per month plan.
6) Mitel 
Mitel's PBX system, also known as hosted PBX or hosted VoIP, is particularly useful for small businesses who need efficiency, flexibility and affordability.
Mitel breaks down their phone service plans into two distinct categories: one for Small Business, and one for Midsize & Enterprise Grade brands. For the sake of this post, we're going to look at the Midsize and Enterprise option.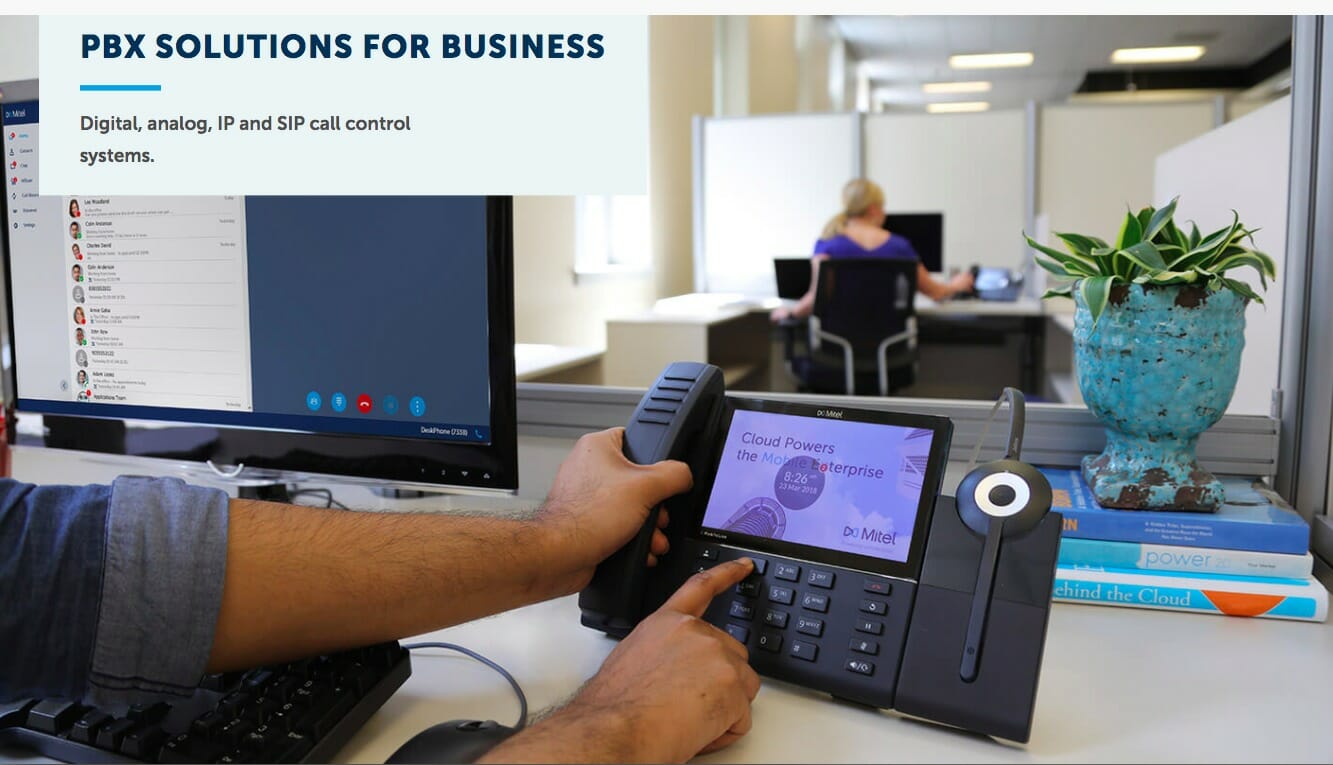 These are the most significant features to take note of:
MiCloudflex, built on a public cloud platform and designed to increase productivity, offers purpose-driven communications
Omnichannel customer and employee platforms, including video and call options
Access via both desktop sites and mobile apps
A simple, easy-to-learn interface that gives businesses full control over updates and maintenance, as opposed to automatic updates taking place
Easily and instantly scale your communication capabilities up or down without touching your infrastructure
Add additional lines and extensions without adding cost
Minimize abandoned calls, voice messages and customer frustration with a system that intuitively knows where every employee is and how to reach them
Pricing
Pricing starts at $20.99 per month per user, but in order to get CRM integrations, you'll want to look at their $26.59 per user per month plan. To access an operator and archiving features, their $38.49 per user per month plan is the way to go.
How to Choose the Right Cloud-Hosted PBX Provider  
Now that you've learned the benefits of using a cloud-hosted PBX provider and have read through the top choices that we recommend, you're ready to choose a hosted PBX provider for your business.
There are six great options that we've detailed here, and plenty more that we haven't. So how do you choose which provider is right for your business?
To help with this, we've put together a checklist that you can use to compare providers to see who best aligns with your needs. Go step by step through the list to make sure that a provider has what you need before you get started:
✔️ Do they meet your phone system requirements?
This is a simple question, but it's an important one. Do they have the security that you need and all the features that you're looking for? For instance, maybe texting is particularly important to you. This isn't something that all providers offer, so you'll need to double check this before proceeding even with a trial.
✔️ What does implementation and onboarding look like?
How difficult is it to get started? Is there a waiting period or is it as simple as picking a number (or porting your current business line) and getting things set up?
✔️ Will I need dedicated customer support or sales engineers for help?
Is the system and interface complicated enough that you'll require ongoing support every time you need to make a change, like adding a new line or upgrading to get new features? The less hassle, the better.
✔️ Can they offer the office phone system features you need?
It's not just about what you need right now, it's about what you'll need long-term, too. Maybe, for example, you don't need an auto attendant because you're a small business with a receptionist, but in the long-term you probably will if your business continues to grow.
✔️ Are they able to support your remote workforce?
One of the biggest benefits to a cloud PBX system is that they should be able to facilitate remote work in a way that traditional VoIP systems don't. Even if you aren't planning on having most of your team work from home, we all know there are incredible benefits to having that flexibility. Just in case, I don't know, an unforeseen event like a global pandemic occurs….
✔️ How do they hold up on review websites?
Take a look at any of the services you're considering on third-party review sites, as well as reviews on platforms like Google My Business. You can get a good feel for how happy other customers are on an ongoing basis, including with their customer support.
✔️ Do they have similar-sized customers as your business?
If you're an enterprise-grade client with 200 employees, you'll want to find a cloud PBX phone system that doesn't just work with small businesses with three employees. This will help you feel confident that they have the internal infrastructure needed to support businesses of your size and needs.
✔️ Do they offer unified communication?
Unified communications are a little like omnichannel marketing. You want your entire communication system to be streamlined, so your PBX system should ideally offer more than just a phone plan for calls. Think texting, email integration, and more.
✔️ What usage costs and taxes does the quote or pricing include?
This is an important factor, because some PBX providers and other business phone systems will bury extra costs and taxes in the fine print. It may say that you're paying $25 a month for the service, but then you end up with $20 in taxes. Ask the sales rep carefully to ensure that you know exactly what you'll be paying and what it covers.
✔️ How do they ensure business continuity?
The last thing you need is a phone system that's unreliable and dropping out regularly, as it can be not only embarrassing and frustrating, but it could cost you customers. Make sure they have a plan and technology in place to guarantee high levels of uptime, and a plan for what to do if that uptime fails.
✔️ Can they integrate with my existing software?
Some businesses won't care about integrations, but for scalability and ease of use, PBX cloud providers that come with integrations available can be a huge asset. It streamlines different processes and provides your team with more resources. See if the provider you're considering offers integrations with tools you're already using. If not, see if another provider does.
✔️ Do they offer call analytics?
Call analytics is an exceptional benefit of PBX hosted services, giving you information like which departments are receiving the most calls and which reps are staying on the phone the longest. Platforms that offer call surveys to customers can also compile that data here. See what call analytics the provider has to offer before signing up.
Last Word on Cloud-Hosted PBX Providers
There are clearly plenty of extremely valuable and lucrative reasons why you'd want to consider making a switch to virtual business phone system, and cloud PBX providers are one of the best solution for a number of businesses of all shapes and sizes.
If you're considering switching to a cloud PBX system instead of a traditional in-office VoIP phone service, take a look at the six providers we've outlined here and see how they measure you to your existing and future needs.
And remember if you know that you'll need to switch eventually to scale, there's no time like the present; the last thing you want to do is run into growing pains by waiting until you're in the weeds because you needed to make changes for scaling to adjust to a new system.
Interested in learning more about solutions that can help your business run more smoothly? Subscribe to our blog (at the top right of this post) so you never miss an article!
---
More of Our Best-of Articles:
* Best Small Business Phone Systems of 2023
* 9 Best Web Hosting Providers
* Top 10 Best Email Marketing Services
* 8 Absolute Best E-commerce Website Builders