You've heard the buzzword omni-channel and you've probably been told that your business needs an omni-channel presence. It's true.
Omni-channel customers spend an average of 15-30% more than customers who are shopping through just one channel and the most successful businesses provide an omni-channel experience for their customers.
This means that customers can shop on your website from a laptop, a tablet or a mobile phone. Maybe they can even visit your brick-and-mortar store.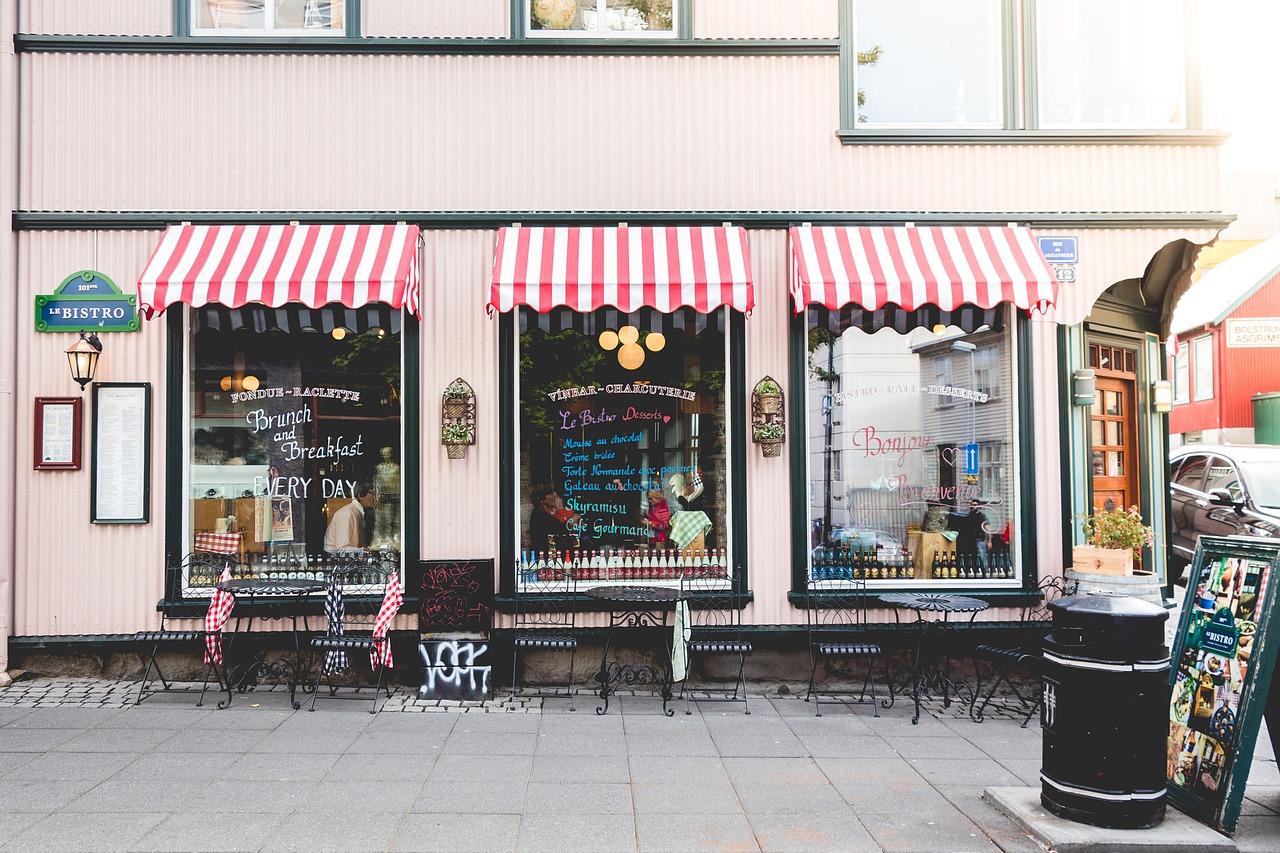 But it's not just limited to sales. An omni-channel experience means that your customers can reach you – for orders, for complaints, for help, for anything – in a variety of ways.
The basic channels include email, live chat, online knowledge base and, last but not least, telephone.
Do We Really Need a Phone System?
For years, the telephone was the main link between a business and its customers. Nowadays, the phone is only one piece in the communications toolbox. But it's a tool you'll always need.
You may have heard statements like "Millennials don't talk on the phone" or "Baby-boomers like using email now." Sure, those things are true. But only to a certain extent.
Considers this: the majority of consumers – 61% – want to communicate with businesses by phone.
That's a current statistic, not from a decades-old survey. Sure, email is a close second and live chat is a not-so-distant third. But at the end of the day, businesses need a good phone system in place.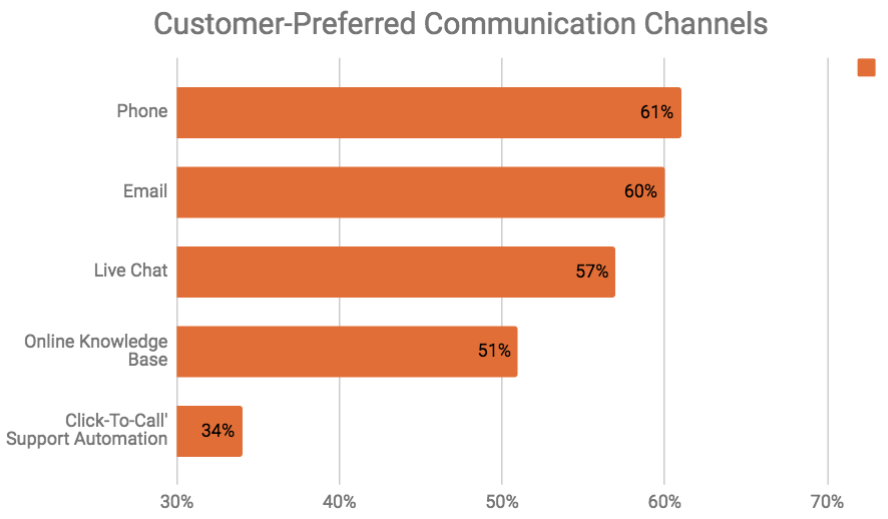 There's no question. Small businesses need a robust phone system to support their clients.
Finding the best small business phone system takes careful consideration and research, and there are hundreds – you read that right: hundreds – of phone systems to choose from.
Doing the Homework
At Single Grain, customer experience is everything, and so is our team's experience. Connecting remote staff, in-office staff, and everyone in between is crucial.
Knowing a strong phone system is a key step in the customer's journey with our team, we put on our virtual shopping shoes and set out to find the best. After much scrolling, clicking, research, and demos, we decided on the best system for our needs – Nextiva.
Check out the information we gathered so you can decide what's best for your business.
Our Criteria
It helps to identify what's important right from the start. Otherwise, shopping for the best business phone system will be a never-ending venture.
Here are the four points we care about most:
Features – System must offer features to support our business and customers
Call Quality – Call quality must be top notch
Reviews – System must receive overwhelmingly positive reviews
Customer Service – Vendor must provide exceptional customer service
With these criteria in mind, we managed to narrow down the (huge) list to a few of the top providers in the industry:
Nextiva
Vonage
RingCentral
8×8
Mitel
Let's take a closer look….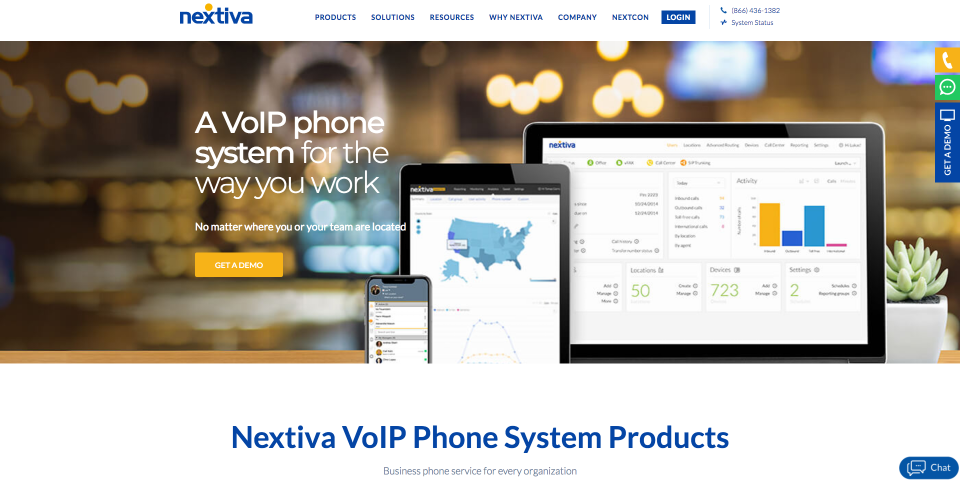 Nextiva is a pioneer in the VoIP space and is considered an expert in the industry. In business since 2006, they've set themselves apart from the competition by providing outstanding customer service. Nextiva is a privately held company based in Scottsdale, Arizona that answers to the needs of its customers, not a board of directors and stockholders.
There are a variety of services and packages for small to medium sized businesses to choose from. Their feature-rich, cloud phone system is scalable and easy to install.
Amazing service is the motto that Nextiva lives by and the basis of their company culture. They strive to make every customer interaction, from beginning to end, an amazing experience.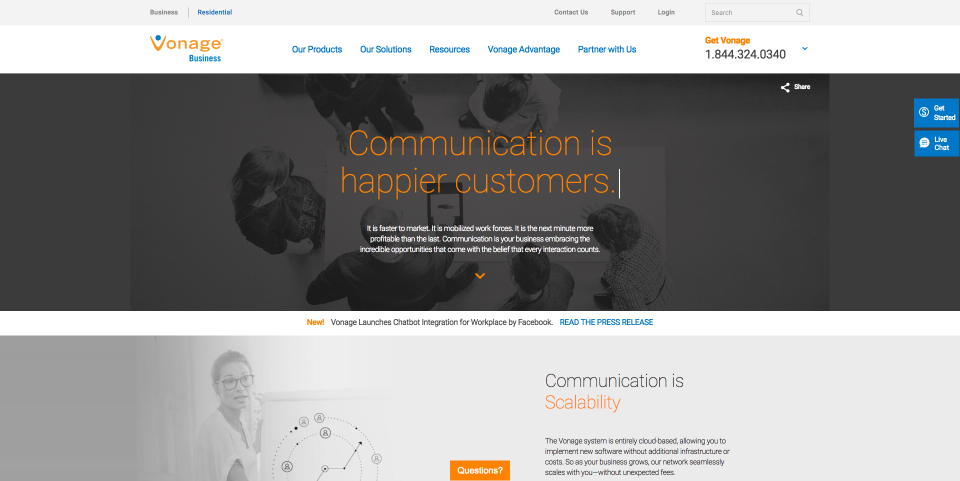 Vonage first appeared on the scene in 2001 providing residential VoIP phone service. Already a big player in the field, Vonage became known internationally when they added business phone systems.
Their systems are cloud-based, which makes scaling easy. Packages are unique in that business owners can pick and choose the features they want, essentially building their own plan. As a publicly held company, Vonage has an eight-member board of directors. Corporate offices are in Holmdel, New Jersey.
Vonage touts orange glove service, their play on white glove, ultra-high level, service. Their CEO says, "We want to wow customers."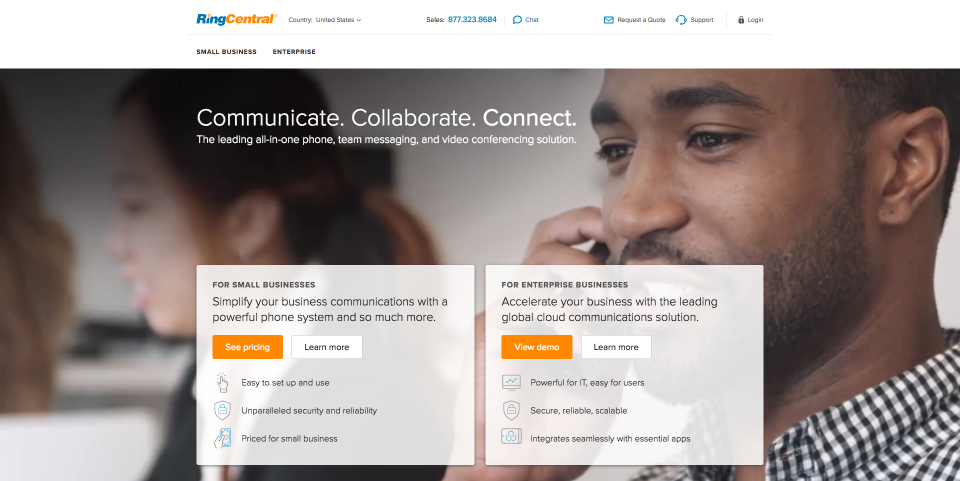 RingCentral's claim to fame is their on-site deployment program. Whether the business is big or small, a RingCentral representative will visit the site to assist with installation and deployment.
Since 2003, RingCentral has provided flexible phone systems that allow for easy third-party app integration. Located in Belmont, California, this is a publicly held company with a six-member board of directors.
RingCentral is proud to serve hundreds of thousands of customers worldwide. Their goal is to boost workforce productivity, share knowledge, and strengthen customer relationships.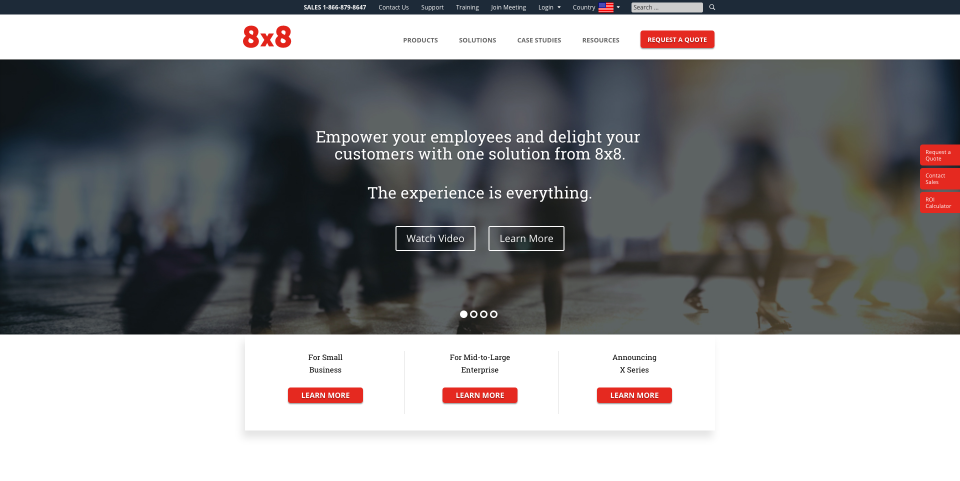 8×8 was founded in 1987 but moved into the VoIP market in 2002. They hold several patents in the cloud communications field and are among the leaders in the industry.
8×8 offers flexible plans for organizations from small to large and their service plans can be tailored to match the specific needs of any company. They're headquartered in San Jose, CA, and as a publicly held company, 8×8 has a seven-person board of directors.
8×8 boasts the world's first communications cloud. They're all about connecting employees, customers, and applications for streamlined communication.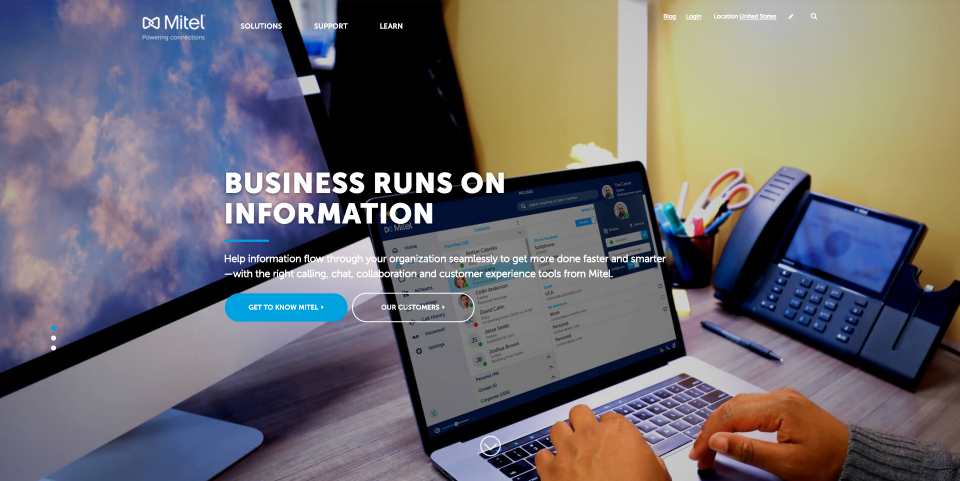 The oldest on our list, Mitel was founded in 1972. Their original focus was on building hosted PBX systems, but they moved into the VoIP space in 2001.
Mitel takes pride in powering over two billion connections each day and their goal is to facilitate collaboration between business and customer. A publicly held company for many years, Mitel was recently acquired by another company and is now a privately held corporation with offices in Ontario, Canada. Mitel is proud to have global reach with a local touch.
Picking a Technology
Business phones systems have changed drastically in recent years. We can choose between traditional analog service, on-premise IP service, or VoIP. All have pros and cons, but one has marked advantages for the modern business model.
VoIP
VoIP phone service uses the Internet to transmit communications. The callers' voices are converted to data which is then sent through the internet like any other data.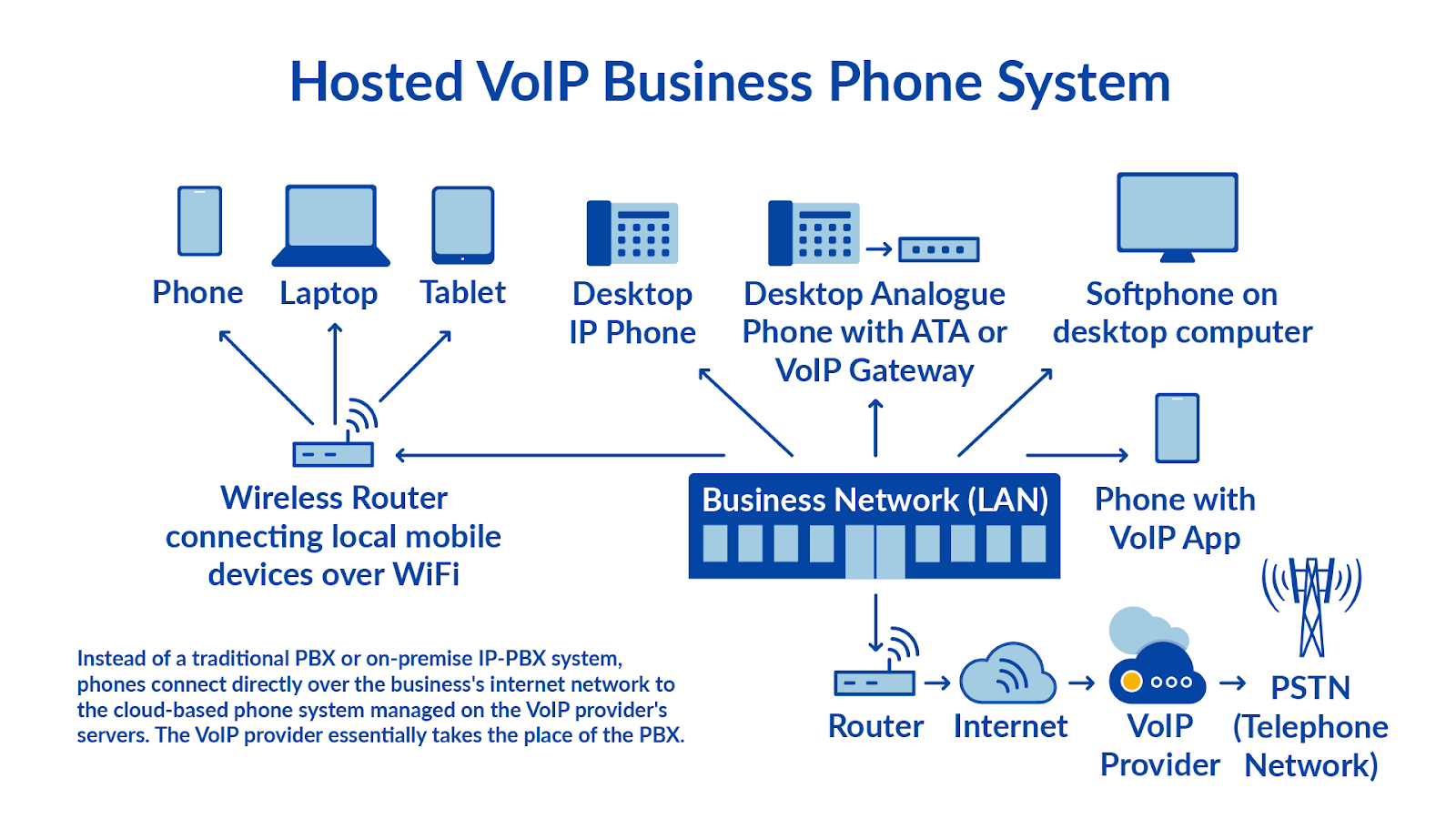 Because there's no need for bulky equipment or bundles of analog wires, it offers flexibility that the other solutions just can't provide.
VoIP has advantages we knew would be a match for our business:
Ability to scale quickly and easily, without a lot of manual labor
Economic price for services as good or better than other solutions
Connecting remote workers from anywhere in the world with Internet access
Flexibility to add or change features as business needs transform
Important Phone Features for Small Businesses
Okay, now that we have a bit of background on each company and have decided on the technology, let's jump into the features that each vendor offers. After all, if the vendor can't give you what your business needs, you can cross them off your list.
To help us with a comparison, let's take a look at this chart, which contains the phone system features most commonly requested by business owners.. There are a ton of awesome phone features out there and this visual will make things less confusing.
Overall, most businesses need the same core functionality from their phones. With this in mind, it's not a surprise that most of these vendors offer similar feature packages: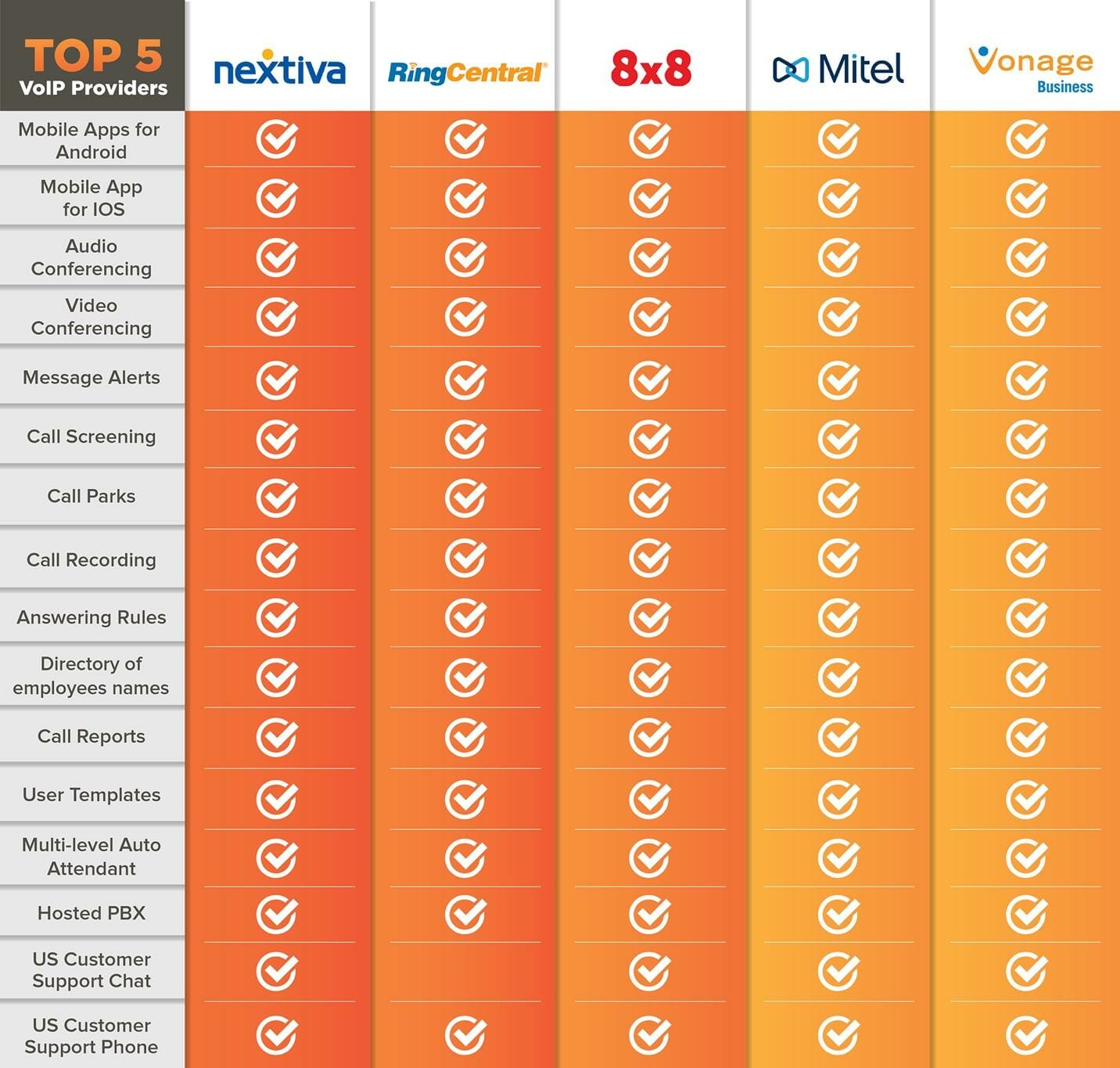 You just reviewed a long list of features. Maybe some stuck out to you, maybe others didn't. Not every feature is valuable or even necessary to every type of organization.
If you're a small business, here are some of the features that will benefit you the most:
1) Busy Lamp Field
The busy lamp field is simply an indicator or a light. It illuminates on others' devices (or soft phones) when you're on a call. It's pretty simple: it allows everyone else to see that you're on a call.
This seems basic, almost too basic, to bring up in a features list. But it's important. Why? Your customer doesn't want to be transferred only to wait on hold again. Worse yet, they don't want to get transferred directly to someone's voicemail. The busy lamp field lets everyone know who's available and who isn't.
2) Call Parking
Call park allows users to send calls to a holding area – or a "parking lot". Once the call is parked, users can dial the park extension to pick up the call.
There are a couple scenarios where this is helpful:
When anyone on a team can handle a call, you can transfer the call to park. You then announce to the team that a call is holding and whomever is available can grab it.
If a particular agent on the team should handle a call but they're busy at the moment, you can transfer the call to park. If the agent can't pick up the call in a timely fashion, you can dial the park extension and take the call back. This allows you to help the customer, take a message, etc, instead of leaving them holding endlessly.
You've got a call on the line, but you'd like your boss's input. Instead of transferring the call to your boss's line, transfer it to park. Pop into your boss's office and dial the park extension to pick up the call.
Call park prevents multiple transfers, risk of dropping a caller, and sending calls to voicemail in error.
3) N-way Calling
You probably recognize the term "3-way calling." Nowadays this term is a little dated when it comes to business phone technology. N-way calling is basically 3-way calling, but with more than three people.

Instead of a conference call, where multiple people dial a number to reach a phone conference "room," N-way calling allows users to bring one or more people on the line with them.
This is handy for ad-hoc situations where other people need to be on a call, but a conference call wasn't previously scheduled. It's also great from a customer service perspective because if you can't answer the customer's question, you can quickly bring an expert on the line with you to help.
4) Auto Attendant
"Press one to check the status of your order." "Press three to speak to a representative." That's an auto attendant.
Auto attendants get a bad rap because they're not always as efficient as they should be. Sometimes callers get stuck in a perpetual loop of pressing digits. But modern phone systems allow a ton of customization. With well-planned routing and clear instructions, auto attendants actually save customers' time by getting them directly to the right place.
Not to mention – a professional-sounding auto attendant makes any business seem more credible.
5) Call Queue
Call queue is an essential tool for any call center. Queues allow calls to wait in line for the best person to address their needs.
The best call queues can rank representatives by skill level, first available, or longest idle time and queue configuration ensures that the customer reaches the most seasoned rep or simply the first rep that's available, depending on the call.
6) Conference Call/Bridge
Anyone in business is familiar with the conference call. But modern phone systems have made conference calls a lot easier.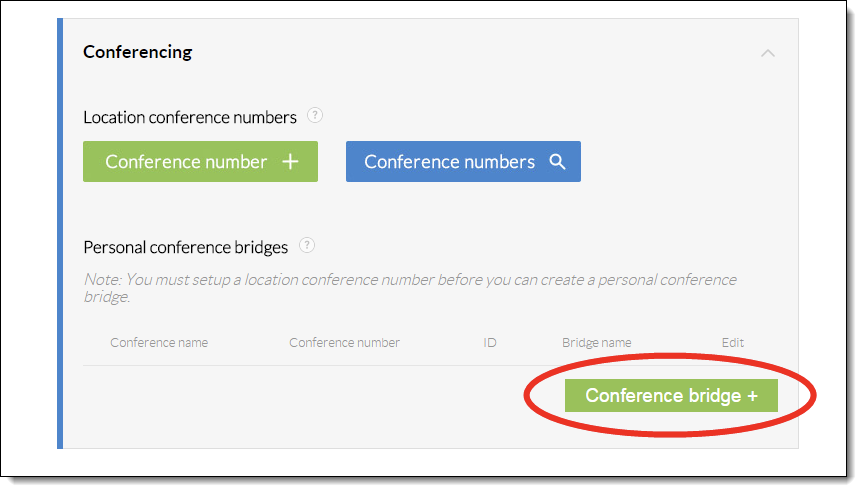 There's no need to access a third-party application to book a conference call or go through the laborious process of scheduling a call in advance. A conference bridge allows internal and external users to dial an access number to visit the conference "room."
Schedule the call in advance or send out a last-minute instant message. Either way, the process is as easy as dialing a phone number.
7) Voicemail to Email
This feature is essential for those who live in their inbox but don't pay attention to that flashing light on their phone.
Voicemail to email is a simple: when a voicemail is received, an mp3 file of the message is attached to an email and sent to the recipient. Instead of dialing into their voicemail to retrieve messages, the user simply opens the email attachment to listen to the mp3.
Call Quality
The features we've touched on are necessary for most businesses, but the list doesn't stop there. Your organization and your goals should dictate the essential features for your business's phone system.
Take Nextiva, for example. Their packages offer more than 50 premium features (including all those listed above). With a 30-day free trial, you can try out Nextiva's unlimited calling, texting, and faxing risk-free. And bring your own device – their system works with most IP phones.
Nextiva offers another great feature you should keep on your radar: pre-installed jitter buffering. This feature allows you to take care of call quality problems before they start.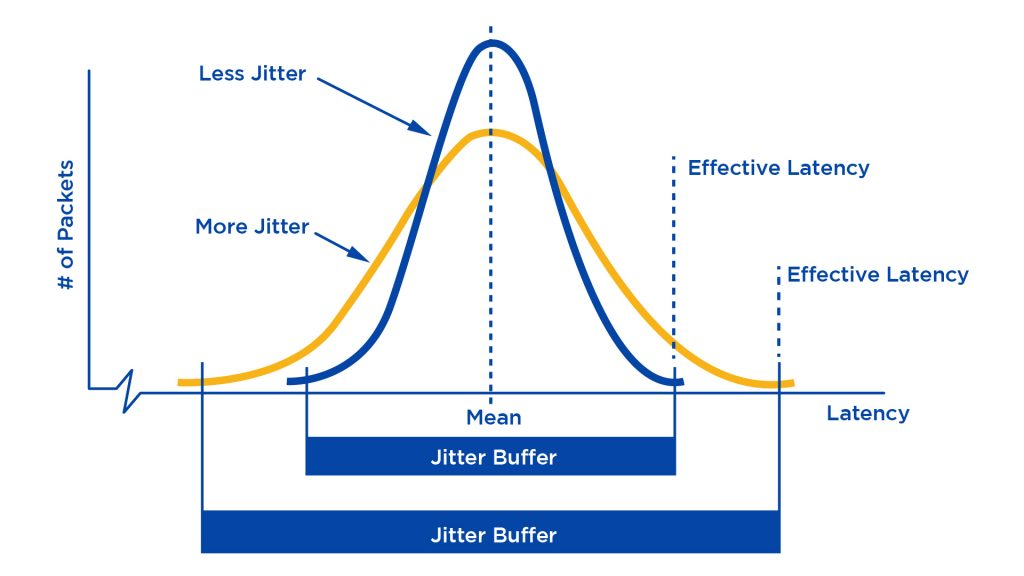 Does quality really matter? Short answer – yes! The shiny features of your new phone system shouldn't be your only focus. In fact, most businesses don't even use half the features available to them when starting out with a new system.
Call quality is a major factor in choosing the best phone system. If your customers experience poor call quality when they phone your business, what's the point of a new phone system?
Did you know that nearly half of consumers feel that poor call quality is a sign that a company doesn't really care?What happens when your customer thinks you don't care about them? They won't stay your customer for very long. Imagine losing customers just because your phone system didn't provide great call quality!
Measuring Call Quality
VoIP technology is unique in that measuring its quality, or uptime, is fairly easy.
Uptime: The time during which a machine, especially a computer, is in operation.
When we're talking about phone systems, uptime is simply the percentage of time that the system is functioning properly. The importance of uptime for your business is clear: if your phone system is down, your customers can't reach you. If your customers can't reach you, you're losing money.
This is especially true for small businesses, where every single customer interaction counts. The best small business phone systems maintain an uptime at or above 99.9%. Remember this figure – it will be important when you're shopping for your new system.
Checking Uptime
Some phone service providers, like Nextiva, offer access to their status or uptime reports. This level of transparency really says a lot for the provider and their services.
Nextiva's uptime can be checked at status.nextiva.com and shows – real-time, 24/7 – the status of all Nextiva's system. Outages are easy to spot and always include some explanation.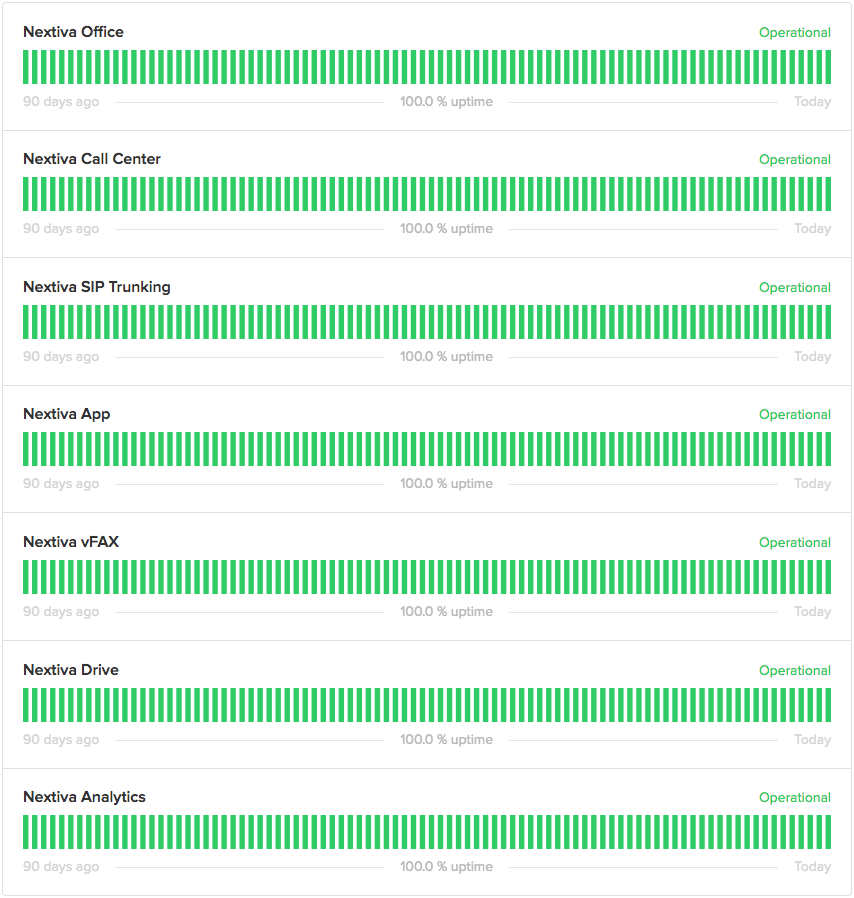 Not all the service providers on our short list offer access to uptime monitoring. But don't worry, there are other resources to check downtime, like downdetector.com which reports outages in real-time, 24/7, in a great visual format.
Check out these reports from May 1, 2018.
Nextiva: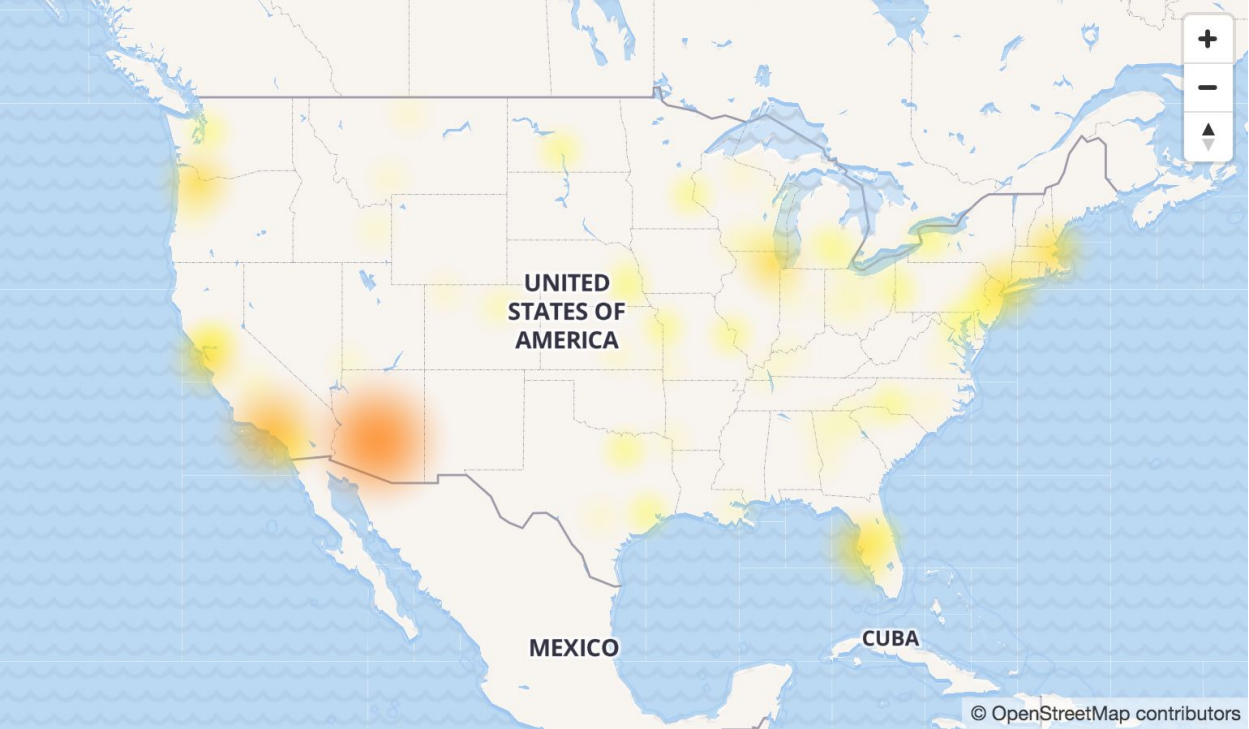 RingCentral: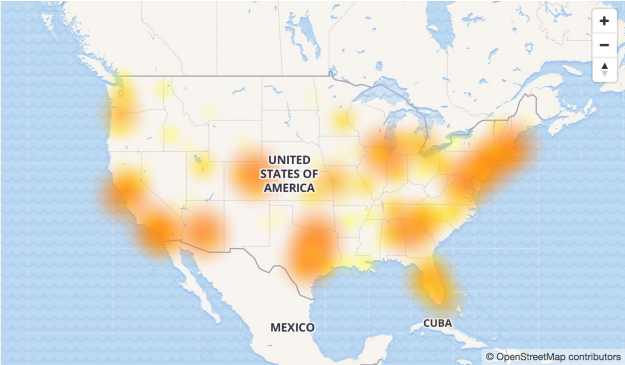 In addition to their great mapping feature, downdetector.com also displays the number of reported problems that Internet-based platforms have had over the last 24 hours.
Have a look at these reported issues from May 1, 2018:





What do these reports tell us? A problem reported to downdetector.com can mean:
A degradation in service that's seriously effecting call quality
A complete outage of service
Either way, if your phone service is having problems, your customers will suffer.
Let's compare the reports on our five service providers for the 24-hour period of May 1.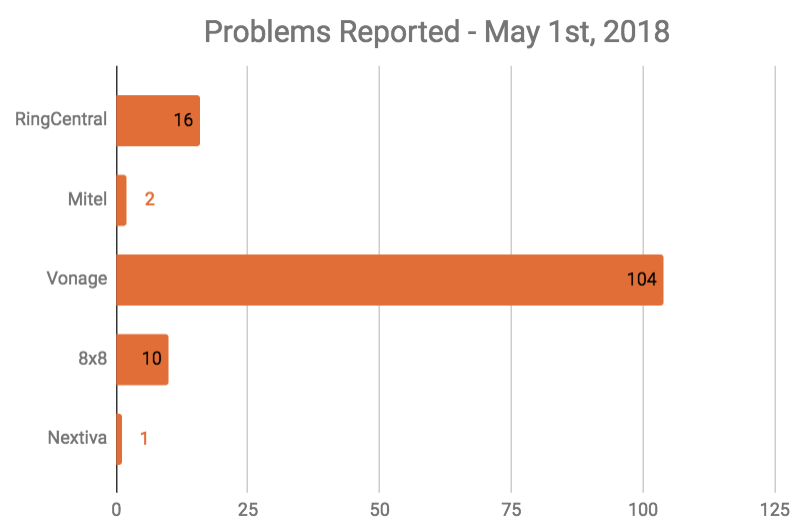 This comparison only encompasses one 24-hour period. But we can use the information to gain insight as to the ongoing reliability of our selected phone providers.
Businesses need a phone system they can rely on. Can any business afford to lose customers? Of course not. Let this sink in for a minute: 78% of people have bailed on a transaction because of a poor service experience. If you think your customers will stick around just because you've got a great product, think again. And three in five people (59%) will try a different company for a better service experience.
You can have the best product on the market but if your service isn't top notch, your customers will look elsewhere. Great customer service is the sum of many parts in your business – not least of which is a solid phone system.
Reviews
We know people have reported downtime or other problems with the vendors we're checking out, but what are people really saying about the service?
Each of the five companies we've looked at have worked with hundreds of thousands of businesses. You can bet there's no shortage of reviews out there. And because there are so many customer reviews, we're getting a statistically accurate view of the providers' service. It's unlikely that a few unfounded negative reviews would skew their overall rating.
For the best picture, let's compare ratings from three independent sources – BBB, GetVoIP and Yelp. We'll then look to RipOffReport.com to substantiate complaints.
Let's tackle them one at a time.
1) BBB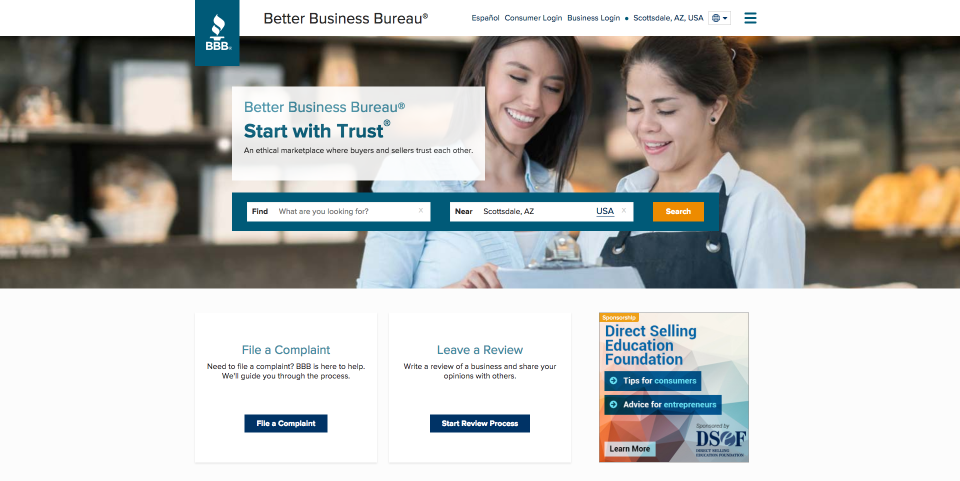 The Better Business Bureau (BBB) has been around since 1912 and is a private, non-profit organization. They receive consumer complaints and review the validity of the complaint, and they rate businesses based on certain criteria for performance and reliability.
Keeping a positive BBB rating is extremely important for businesses because it's a go-to resource for many consumers. In 2016, the BBB served more than 10 million consumers.
Let's compare the BBB ratings of the phone providers on our short list.
Note – Mitel has no BBB ratings or complaints, so they were largely excluded from this portion of our review.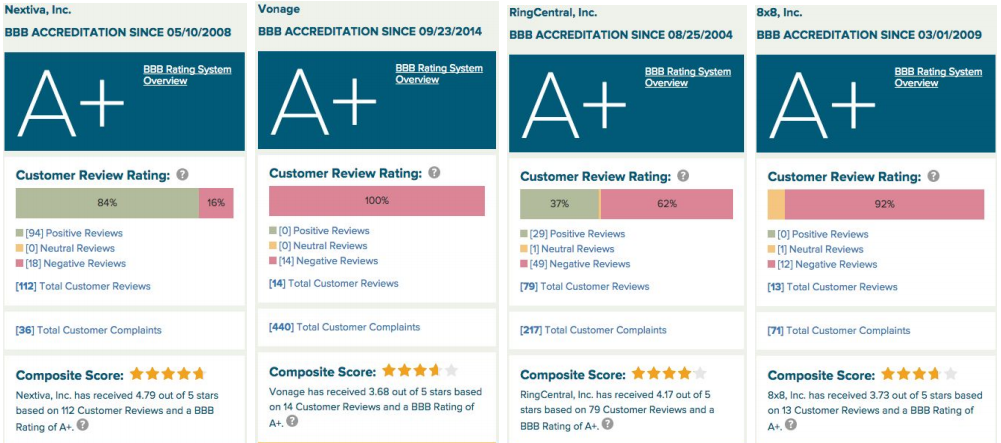 On the surface, each A+ provider rating appears similar, but digging a little deeper will reveal positive reviews and negative reviews. The BBB uses all this information to generate a star rating for each company.
Nextiva
4.79/5 stars
94 positive reviews
18 negative reviews
36 official complaints – 22 of which were resolved to the customer's satisfaction
Excellent overall score of 4.79 stars. And with 110 total reviews, we can get a good picture of Nextiva's overall service. Here's some recent feedback.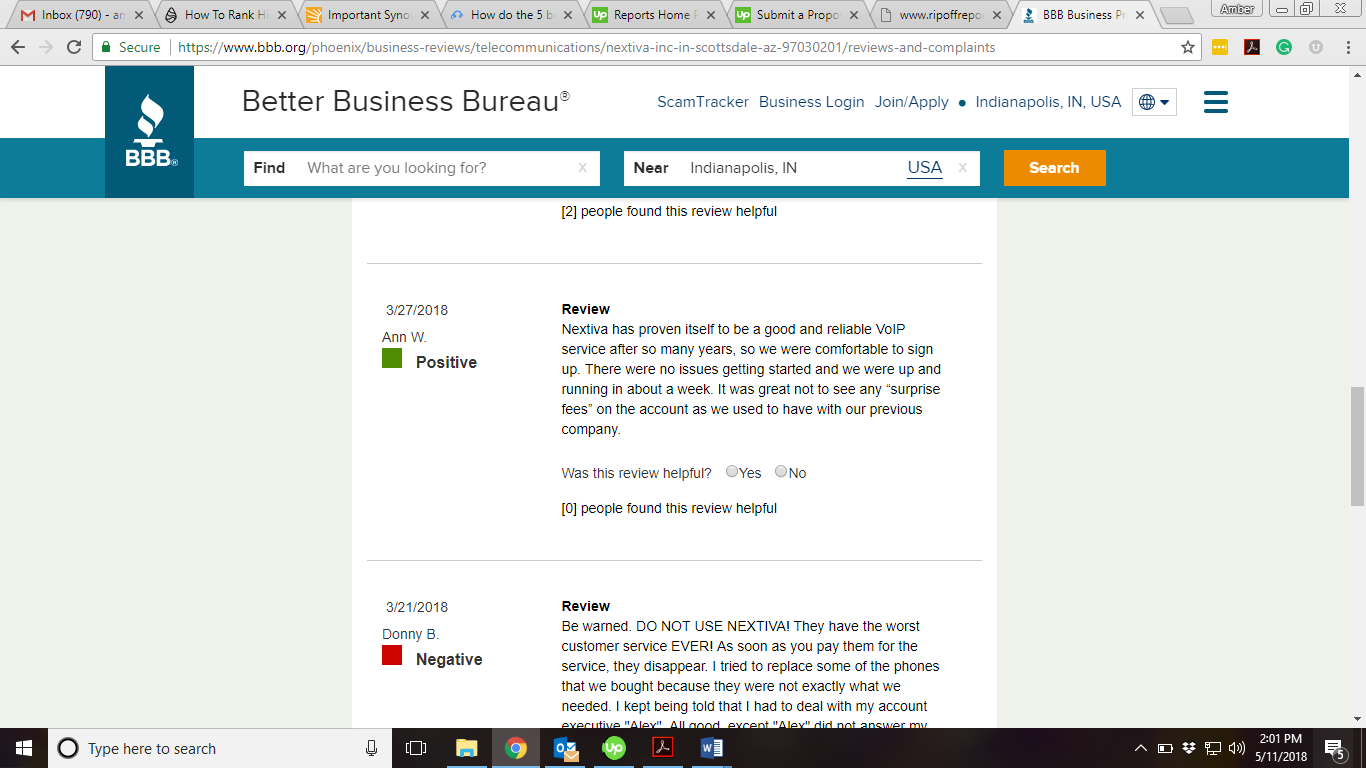 It's important to consider a customer's willingness to submit a positive review because customers are more motivated to submit negative feedback. They're frustrated and hoping to get an issue resolved. But positive feedback is genuine and done without other motivation.
Negative reviews for Nextiva appear to have been resolved quickly and largely to the customer's satisfaction. Here's an example: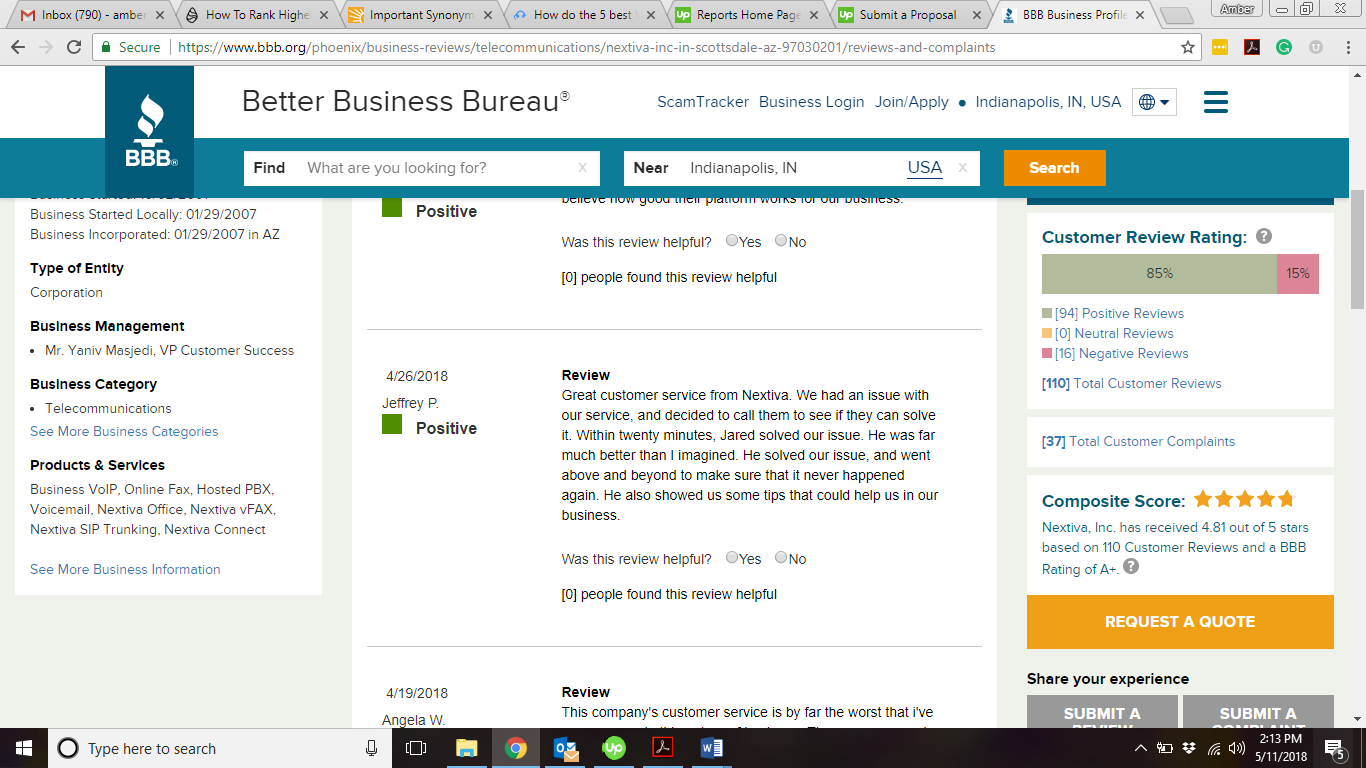 Vonage
3.68/5 stars
0 positive reviews
14 negative reviews
440 official complaints – 111 of which were resolved to the customer's satisfaction
Vonage is a big company with many customers which allows them to receive quite a bit of feedback. Unfortunately, though, there's no positive BBB feedback to review.
Let's have a quick look at some recent feedback: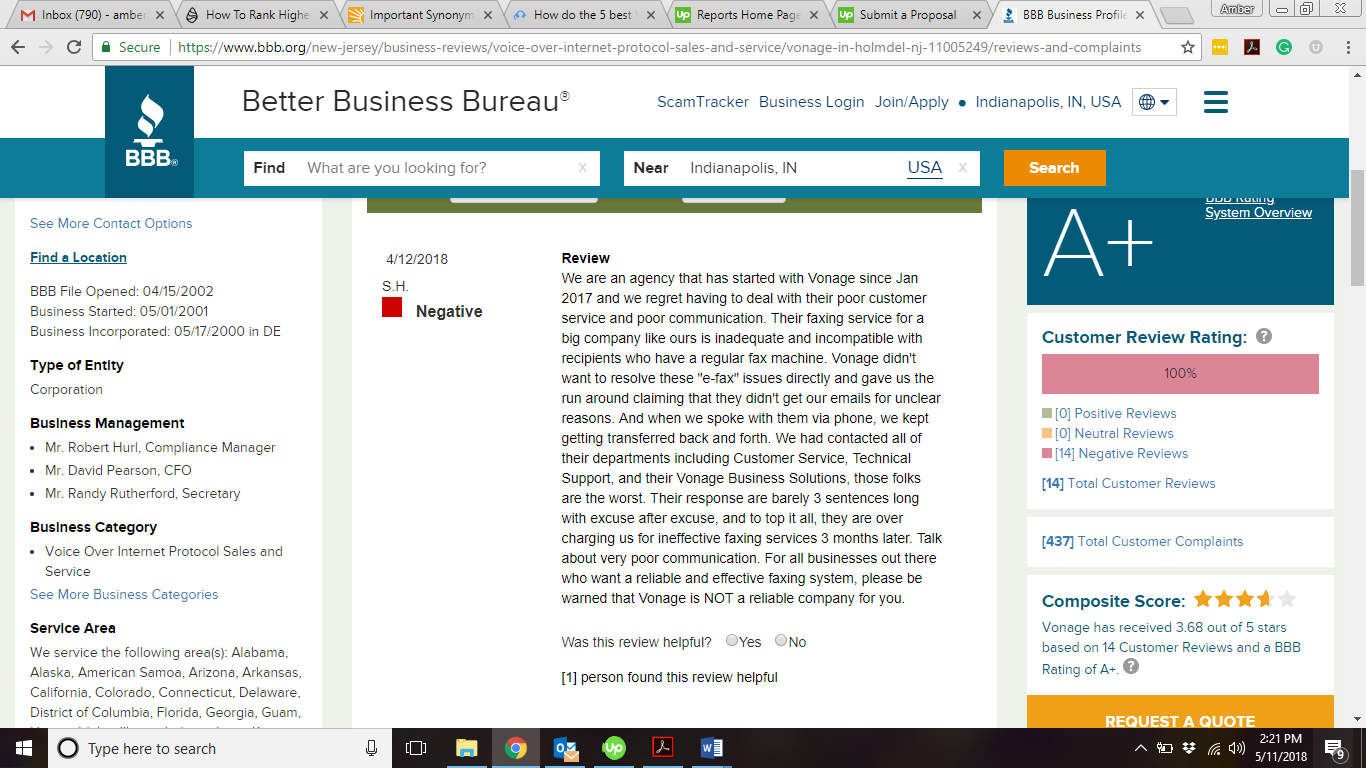 We checked RipOffReport.com to substantiate this issue and found several similar complaints about unsatisfactory service. Here's an example: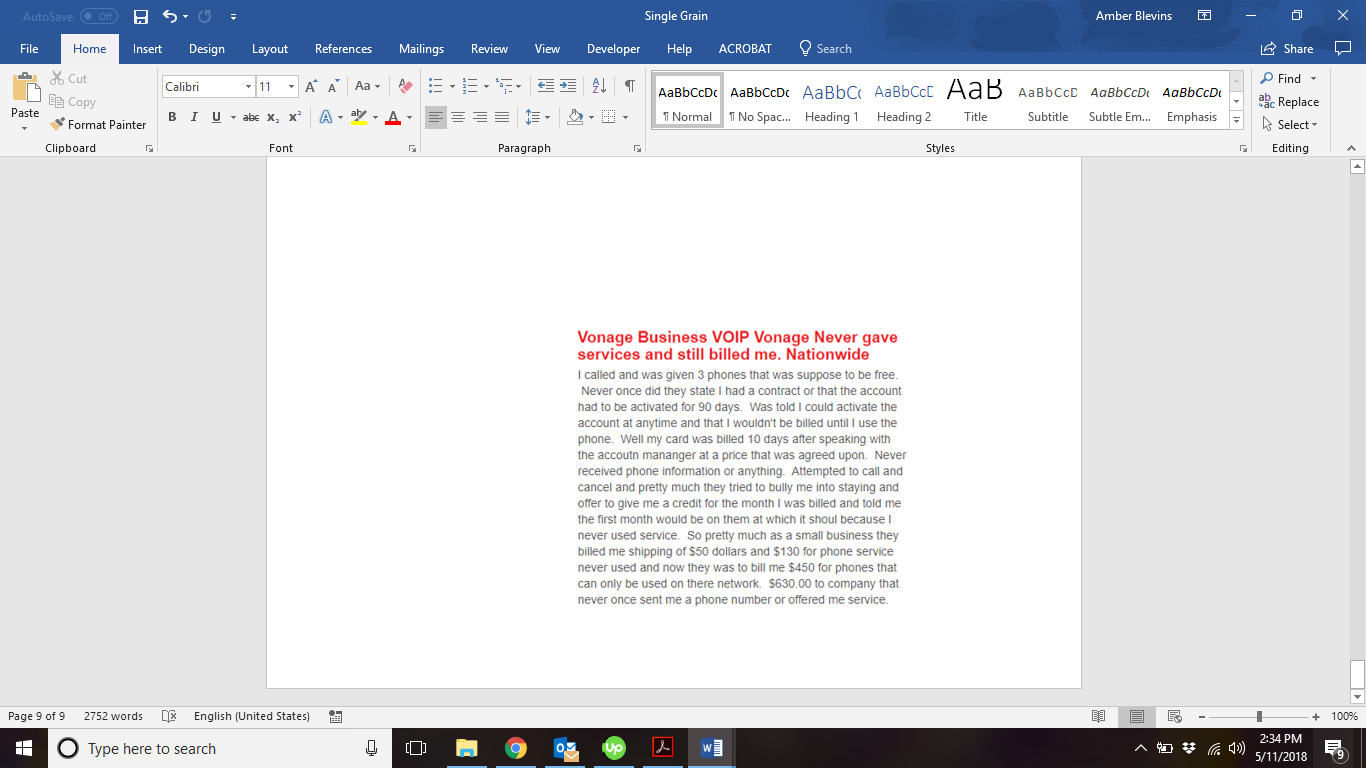 Ensuring that we have adequate support for our phone system is important. Negative reviews about a phone company's customer support are concerning.
RingCentral
4.17/5 stars
29 positive reviews
49 negative reviews
217 official complaints – 67 of which were resolved to the customer's satisfaction
RingCentral's overall rating of 4.17 is strong, but their BBB feedback over the past year has taken a dive. Negative reviews now outweigh the positive.
Curiously, their positive reviews seem to give little feedback, as the one below demonstrates: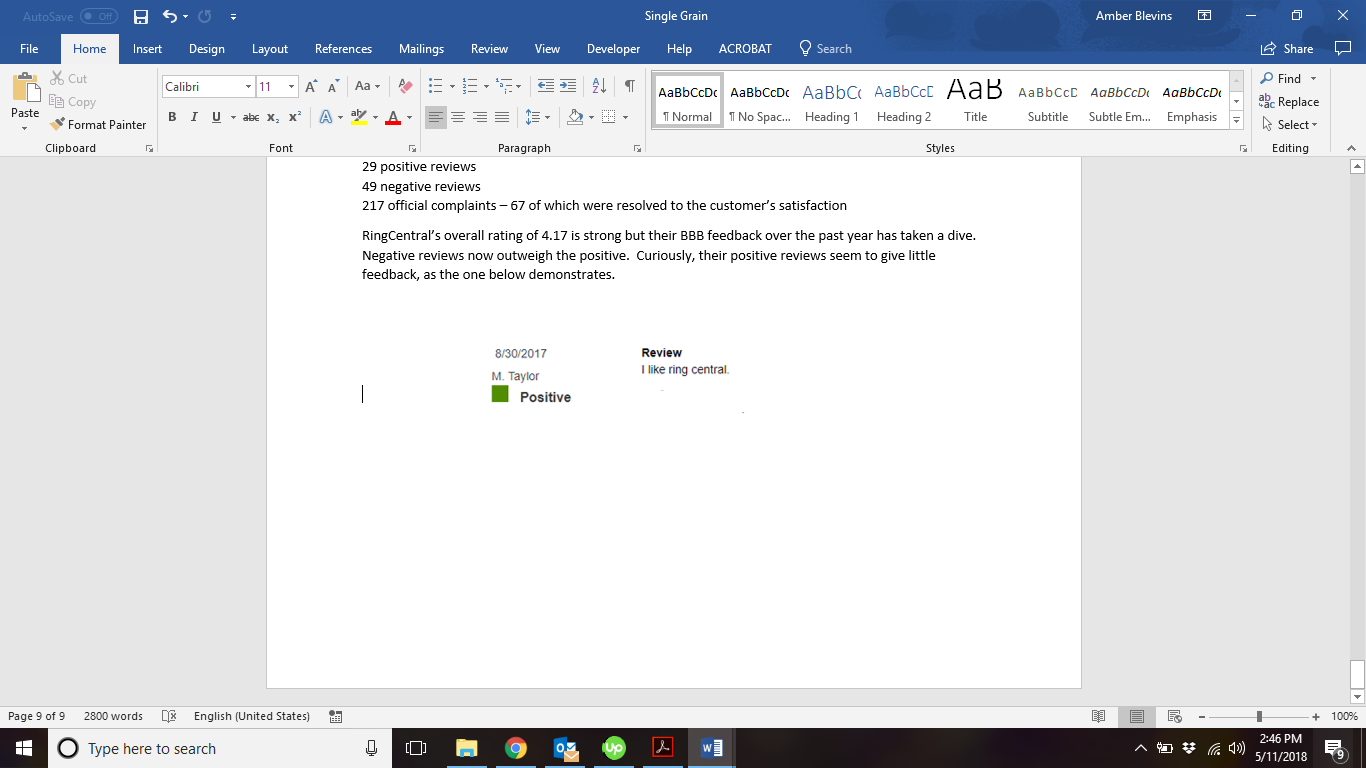 Negative reviews largely center around technical support and billing issues. Check out this review: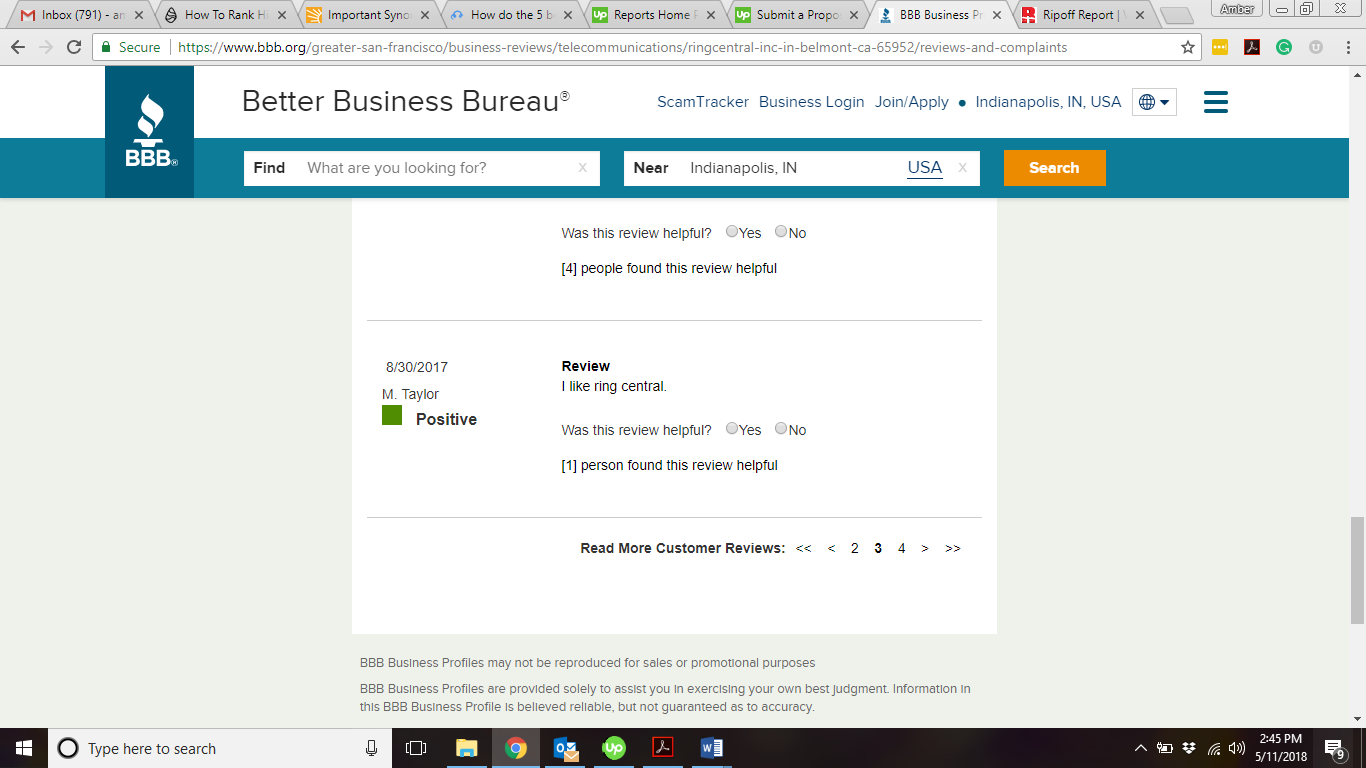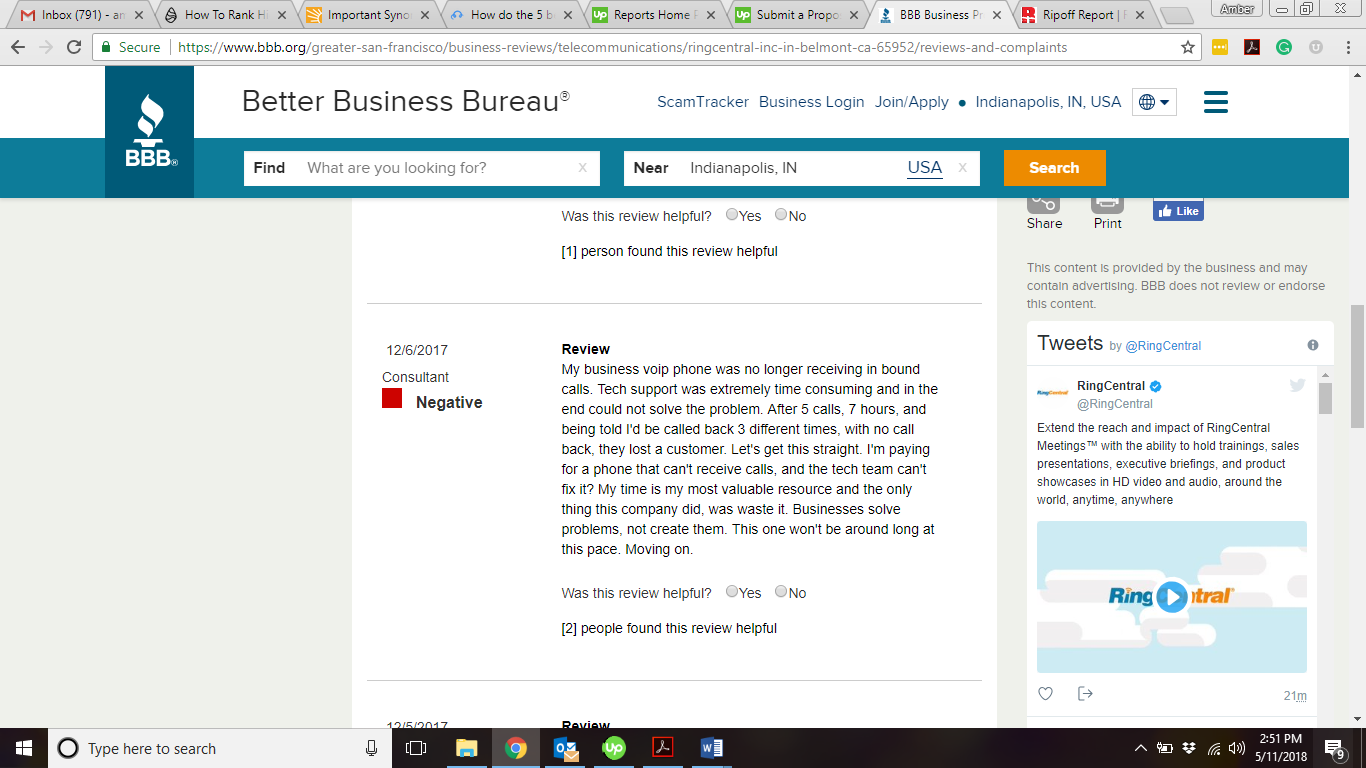 Similar issues were reported on RipOffReport.com: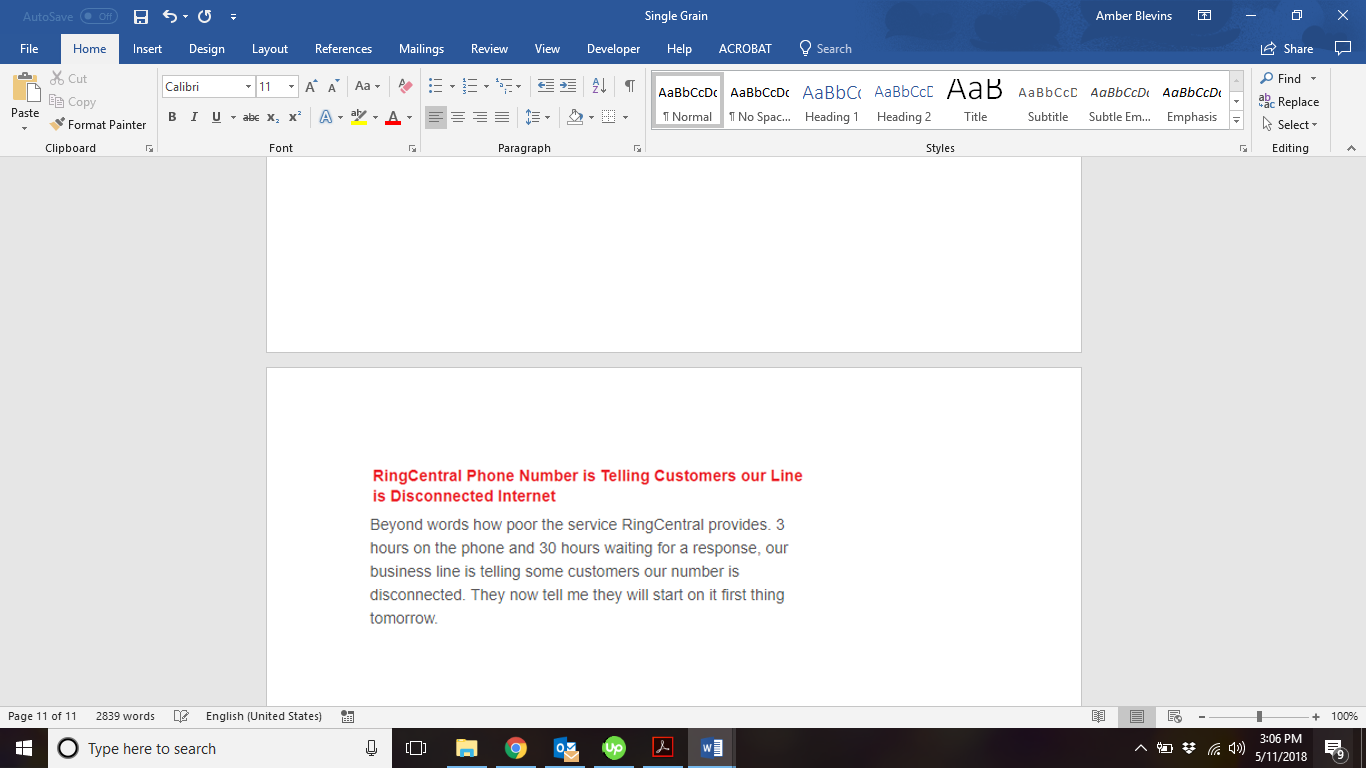 8×8
3.73/5 stars
0 positive reviews
12 negative reviews
71 official complaints – 67 of which were resolved to the customer's satisfaction
8×8 is another provider with no positive reviews to consider. Their negative feedback centers around poor customer service, as you'll see below: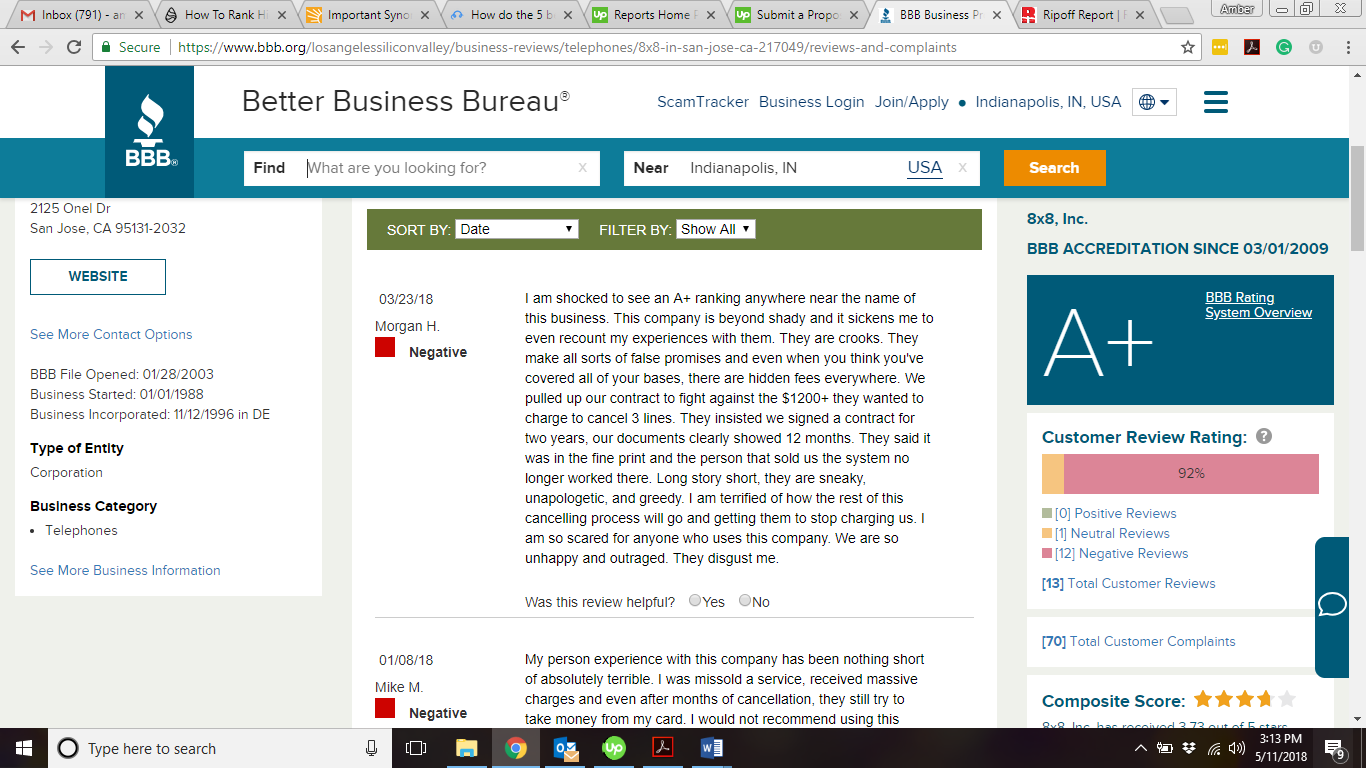 Similar feedback exists on RipOffReport.com: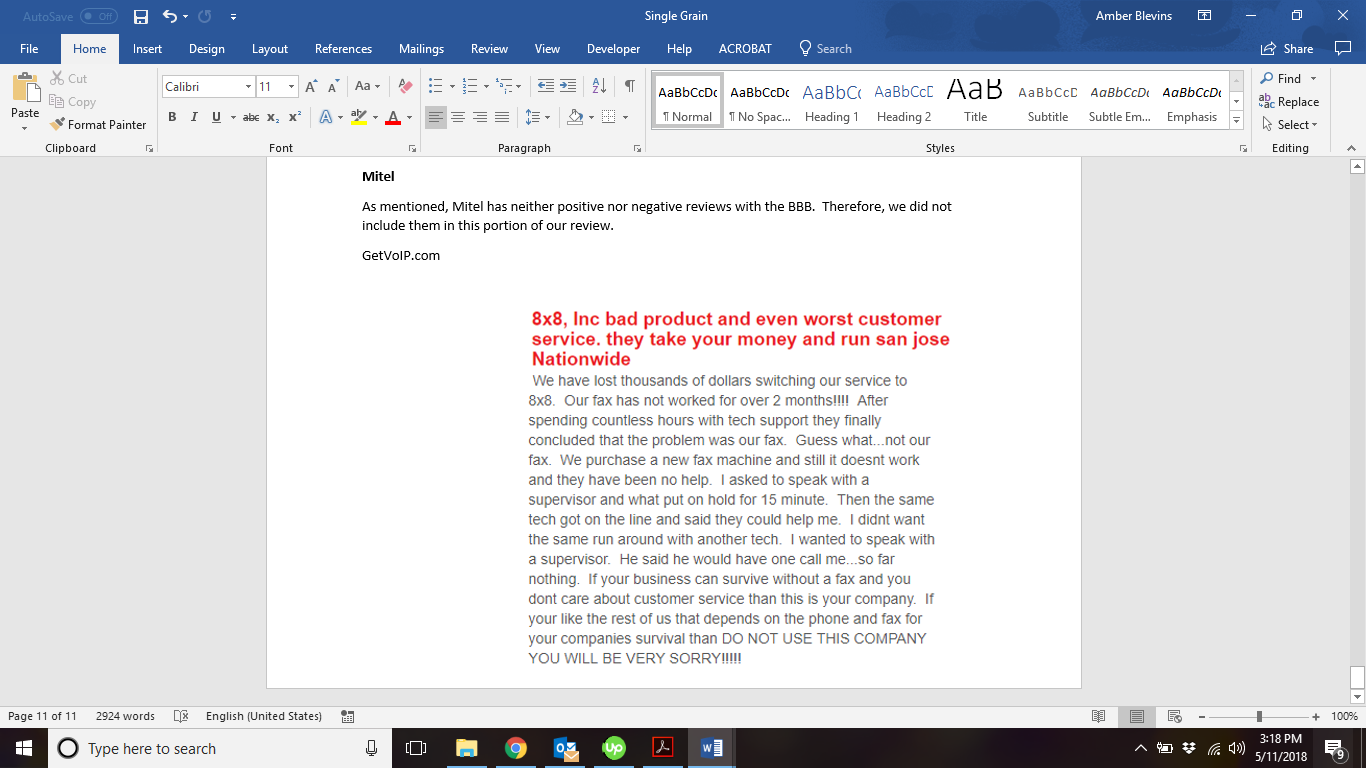 Again, poor customer support is a big concern.
Mitel
As mentioned, Mitel has neither positive nor negative reviews with the BBB. Therefore, we did not include them in this portion of our review.
2) GetVoIP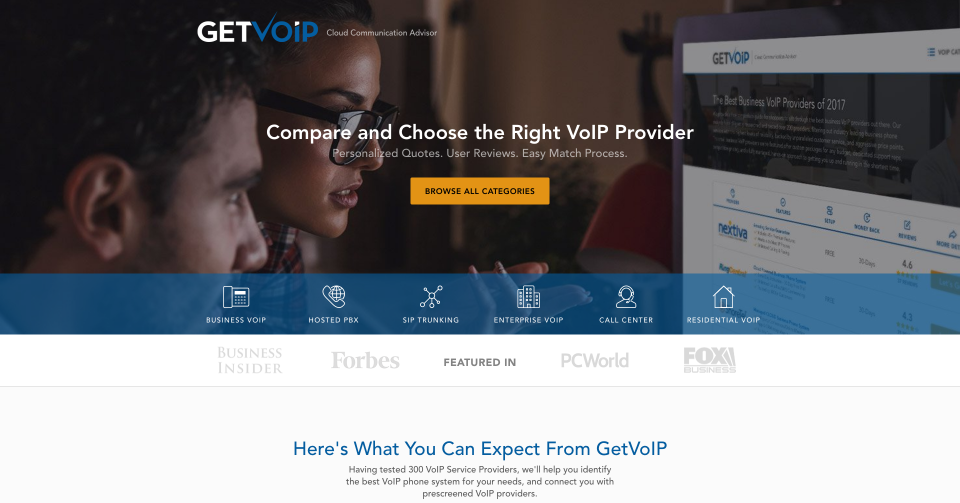 GetVoIP is a website that compares products and advises consumers on VoIP products. Their site is visited by millions of business owners shopping for phone solutions or looking to learn more about the technology.
The GetVoIP team spends hours learning about VoIP providers, researching their services, and presenting clear and unbiased reports, and they're considered absolute experts in the VoIP field.
Check out GetVoIP's 2018 ranking of popular VoIP systems for small businesses. This list is based on research of more than 200 phone systems and compares reliability, customer service, and price: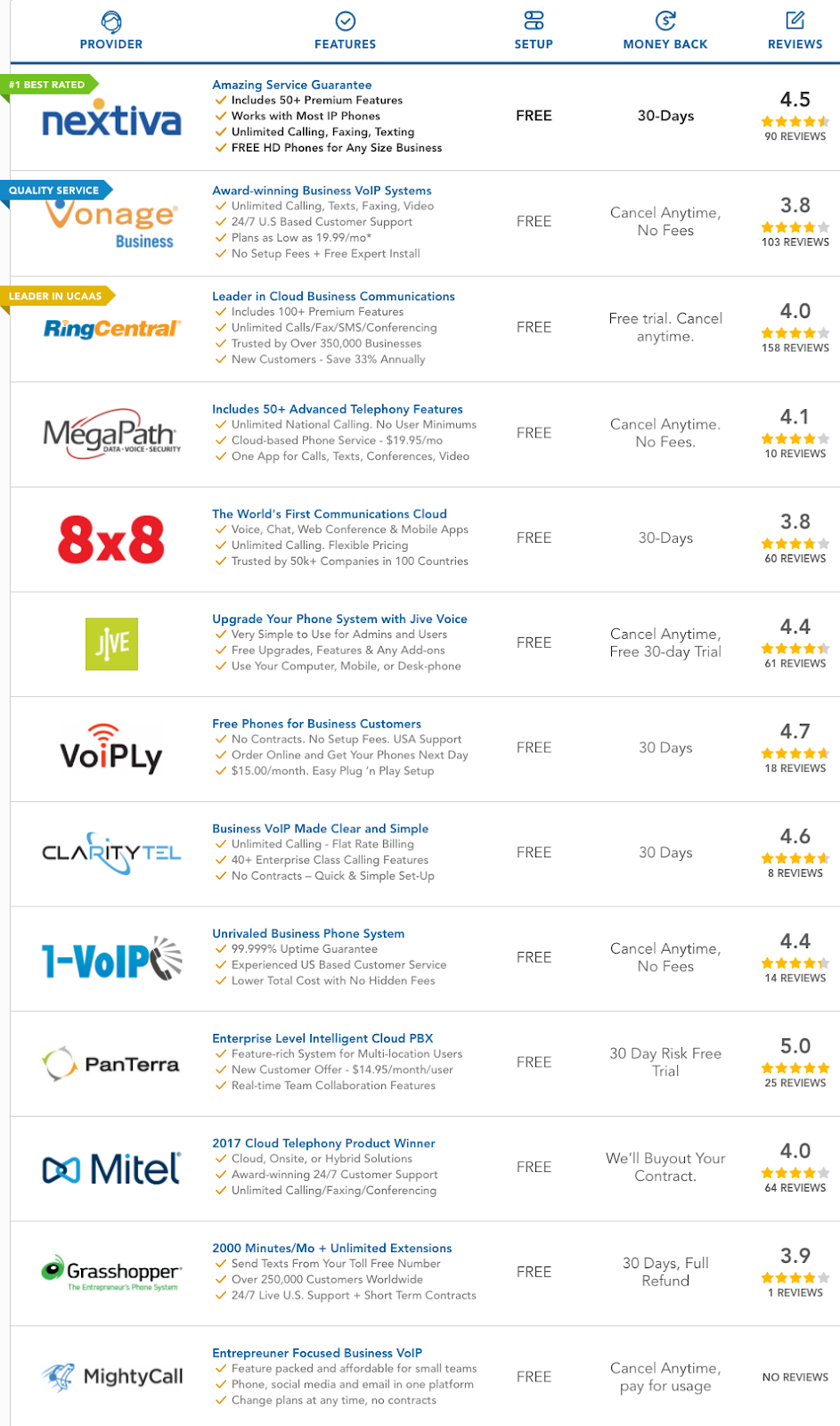 Our five short-listed providers, Nextiva, Vonage, RingCentral, 8×8, and Mitel, all appear on this list. One of our picks – Nextiva – is the #1 best rated provider. Another of our picks – Mitel – is near the bottom of the list.
To get a clear view of both sides, we also checked for the total number of complaints on RipOffReport.com for each company. No rose-tinted glasses here.
Let's take a look at each of our providers again.
Nextiva
Ranked number one on the list with a rating of 4.5 stars, Nextiva really shines next to its competitors. What sets it apart? Nextiva's Amazing Service Guarantee is hard to beat. Customer don't report many technical issues, but when something comes up, Nextiva delivers the best possible support.
Here's one of their many positive reviews from GetVoIP's site: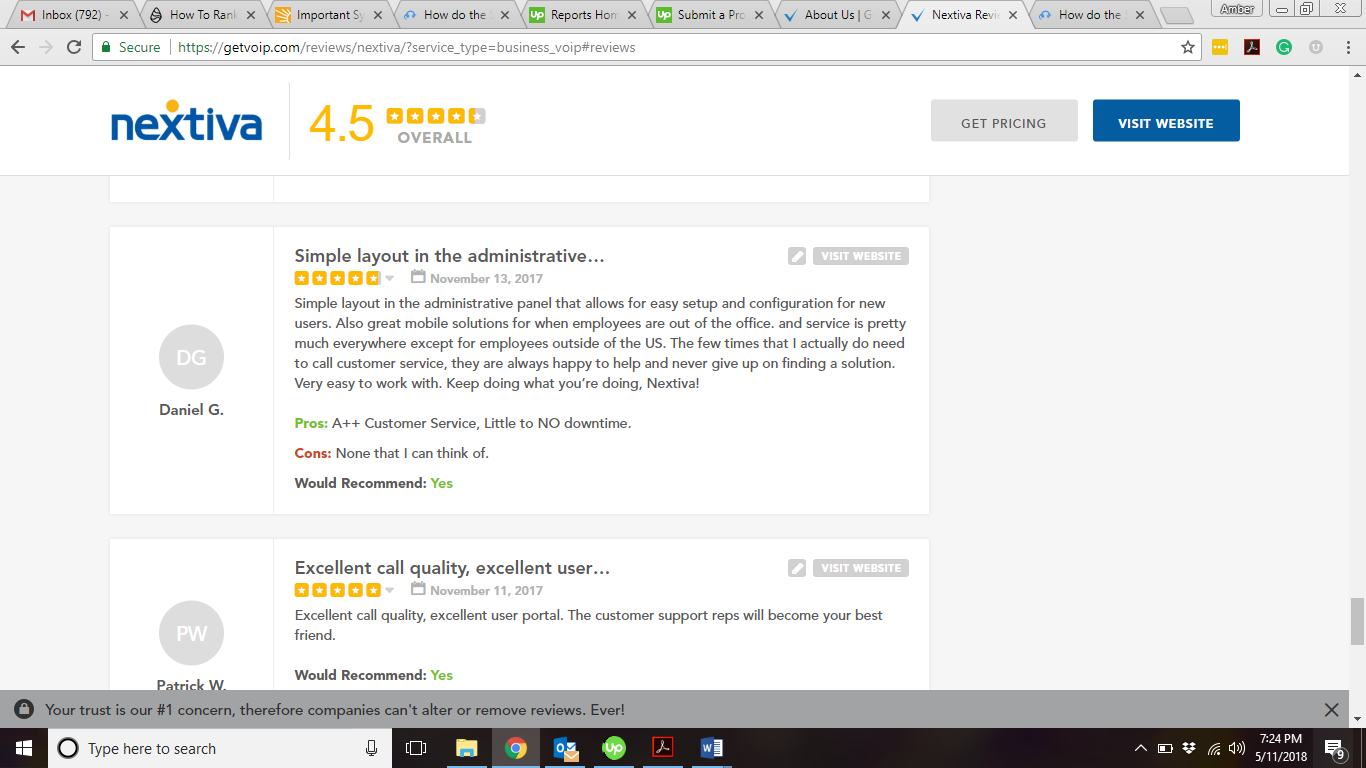 Ripoff Report total number of complaints: 3
Vonage
Vonage comes in at number two with a rating of 3.8 stars. So, what makes Vonage stand out? They are well established in the VoIP industry, so no need to worry about growing pains with Vonage – they've got the experience to provide good service.
Here's a review from GetVoIP: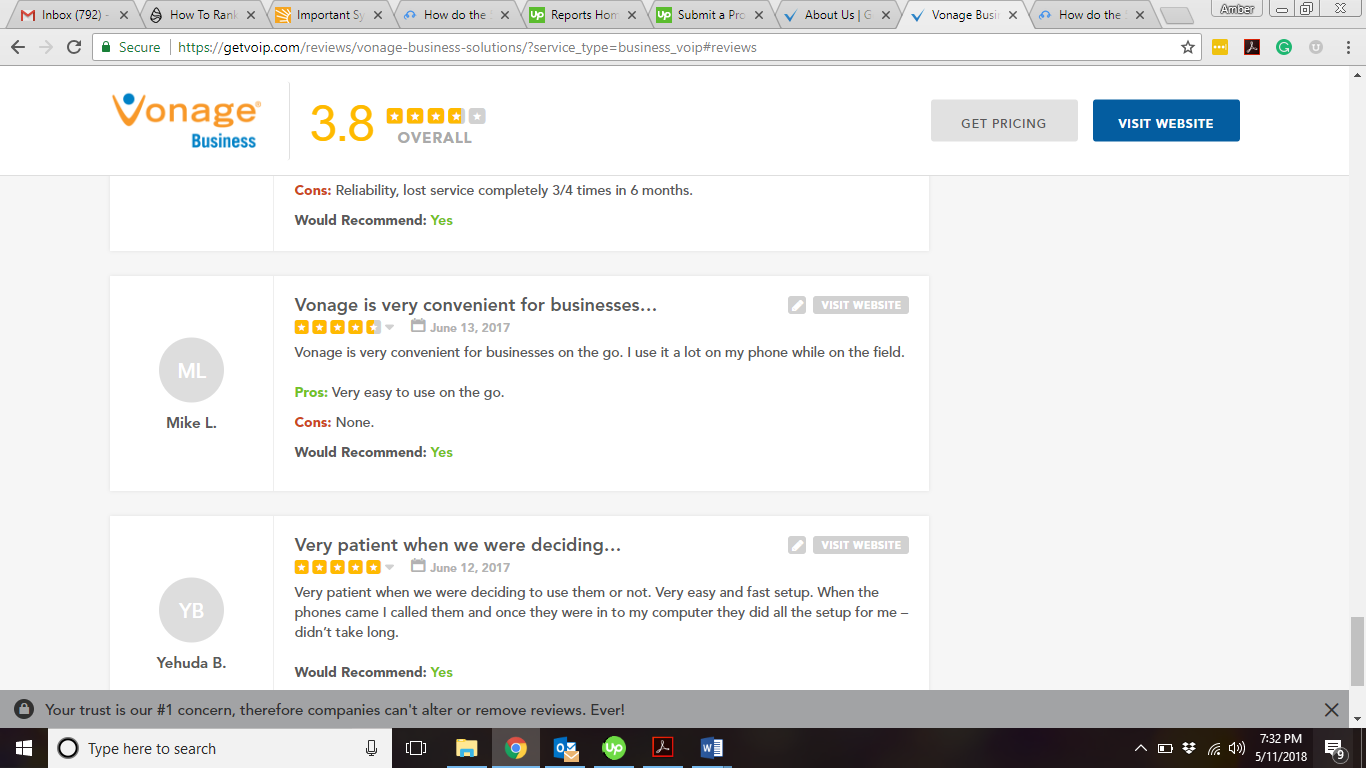 Ripoff Report total number of complaints: 618
RingCentral
RingCentral also tops the list with a 4-star rating. They're a leader in the cloud communications industry and boast a client base of over 350,000 businesses.
Here's what their customers are saying on GetVoIP: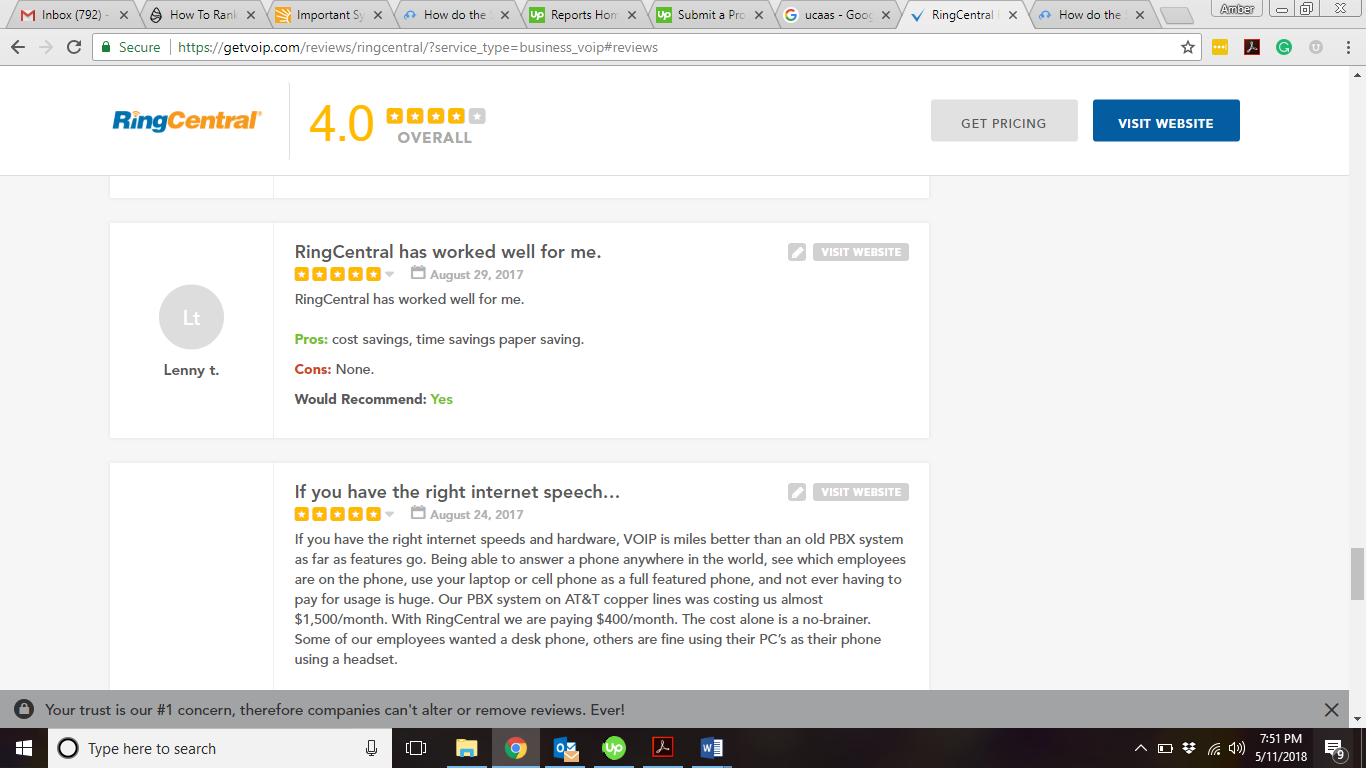 Ripoff Report total number of complaints: 18
8×8
8×8 also comes in with a 3.8-star rating. They're serving over 50,000 customers in 100 countries with innovative cloud communication services, and their customers like the ease of connecting their remote teams.
From GetVoIP: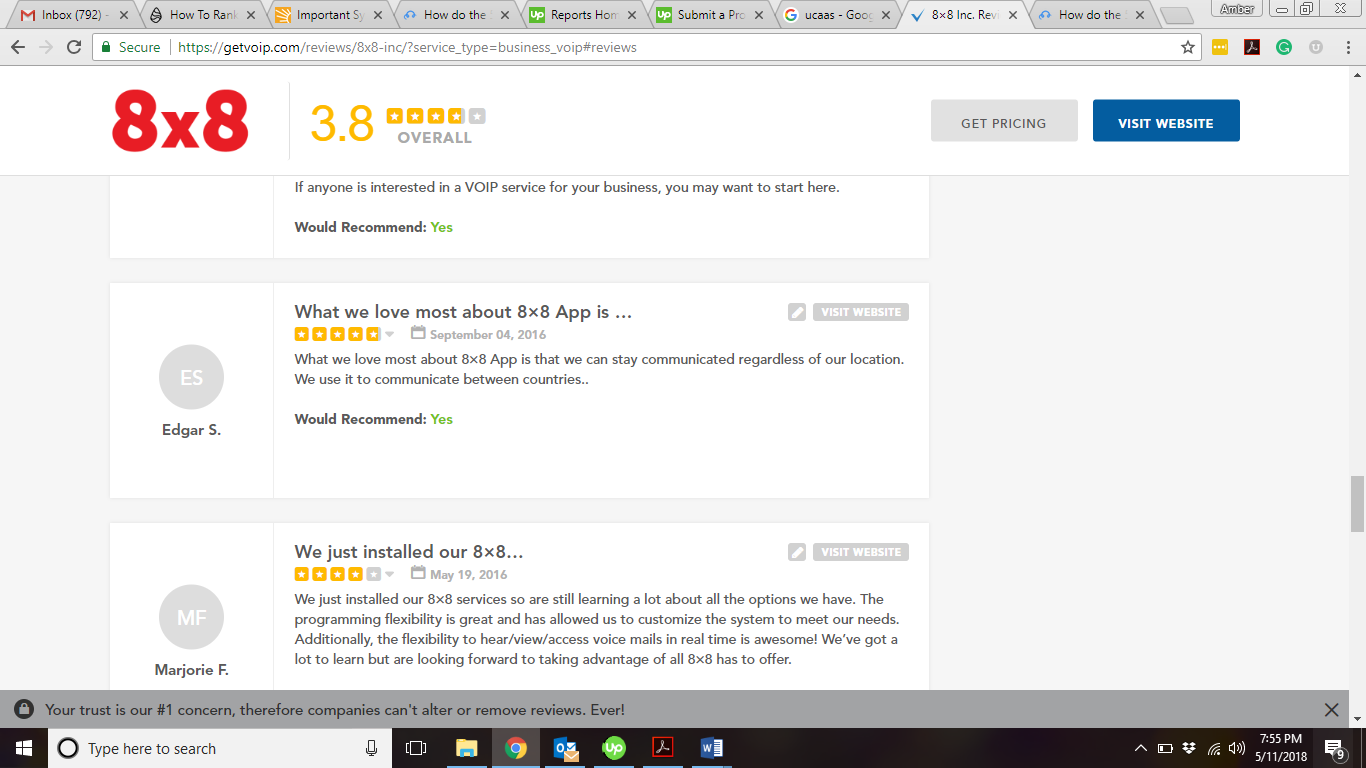 Ripoff Report total number of complaints: 23
Mitel
Mitel falls a little further down the list. Though they have a 4-star rating, their ranking for customer service falls short. GetVoIP lists multiple complaints about Mitel's service.
Customers do like the Mitel's pricing; several reviews mentioned the cost savings, like the one below: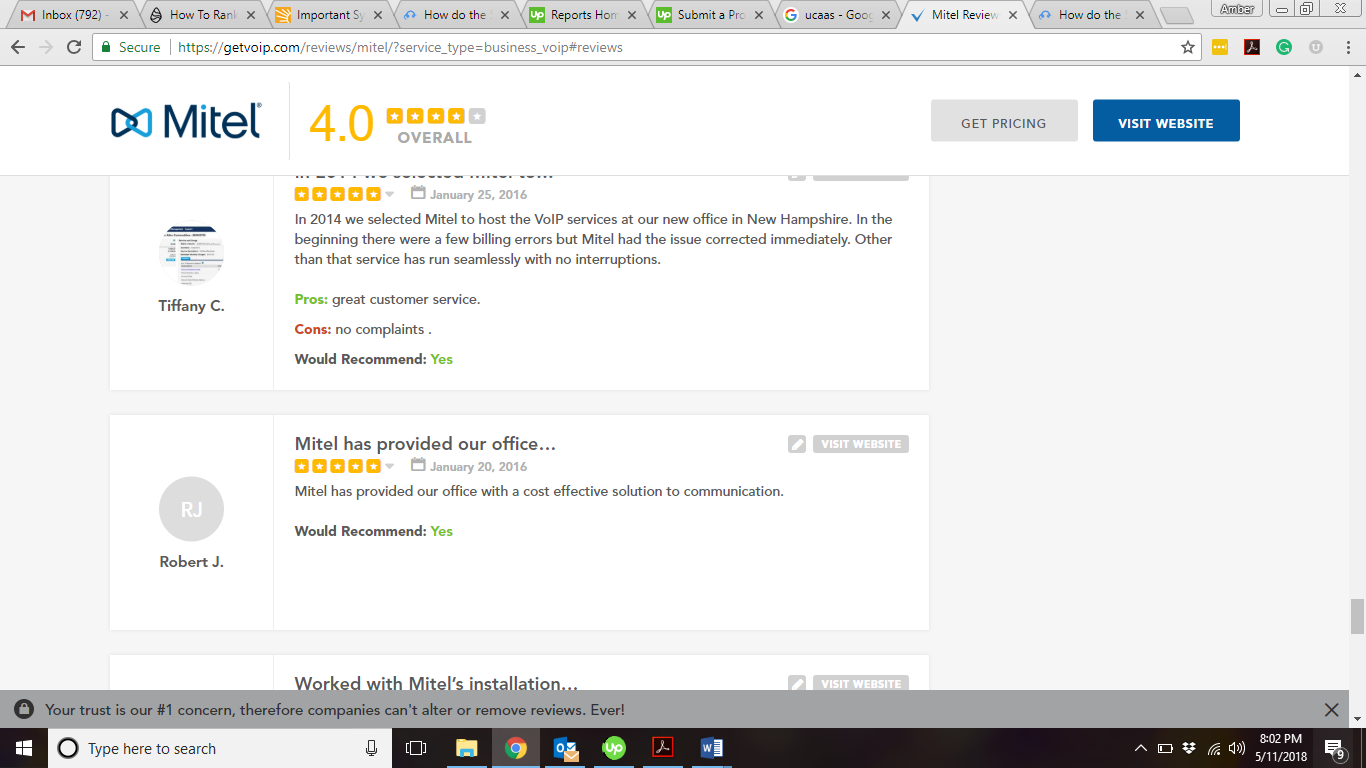 Ripoff Report total number of complaints: 25
3) Yelp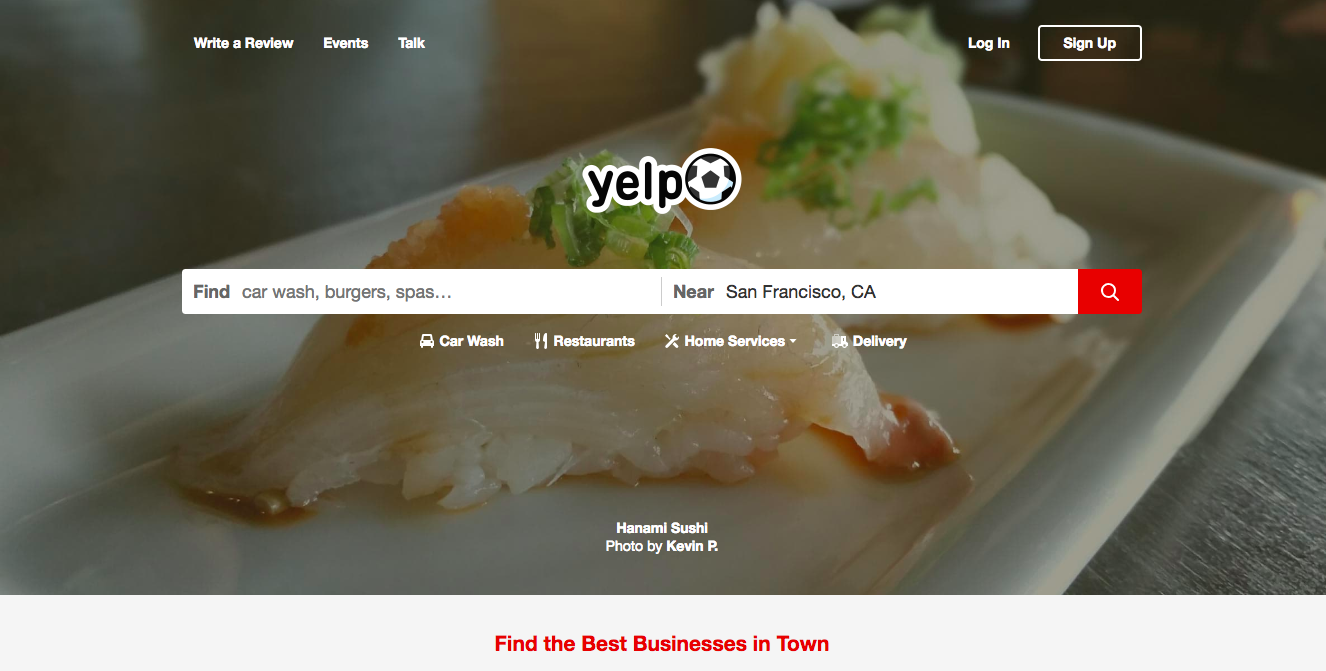 We've had a look at feedback and complaints with the BBB and reviews and rankings at GetVoIP. Now let's check out Yelp's reviews of the providers on our list.
Before we dive in, there are a few things to consider about this service. Yelp is largely location based so consumers are often reviewing local businesses on this platform. This causes reviews to be somewhat scattered throughout the country since our providers are all located in different areas.
Additionally, Yelp is frequented by individual consumers, not necessarily business owners. Purchasing a new business phone system is a business-to-business transaction rather than a business-to-consumer transaction. For this reason, there are far fewer reviews of VoIP service providers on Yelp.
Okay, let's get on with it!
Vonage
Vonage has 1 star (out 5 possible stars) on Yelp. There are, unfortunately, no positive reviews about Vonage services for business. Reviews from Vonage business customers are largely related to customer service and billing.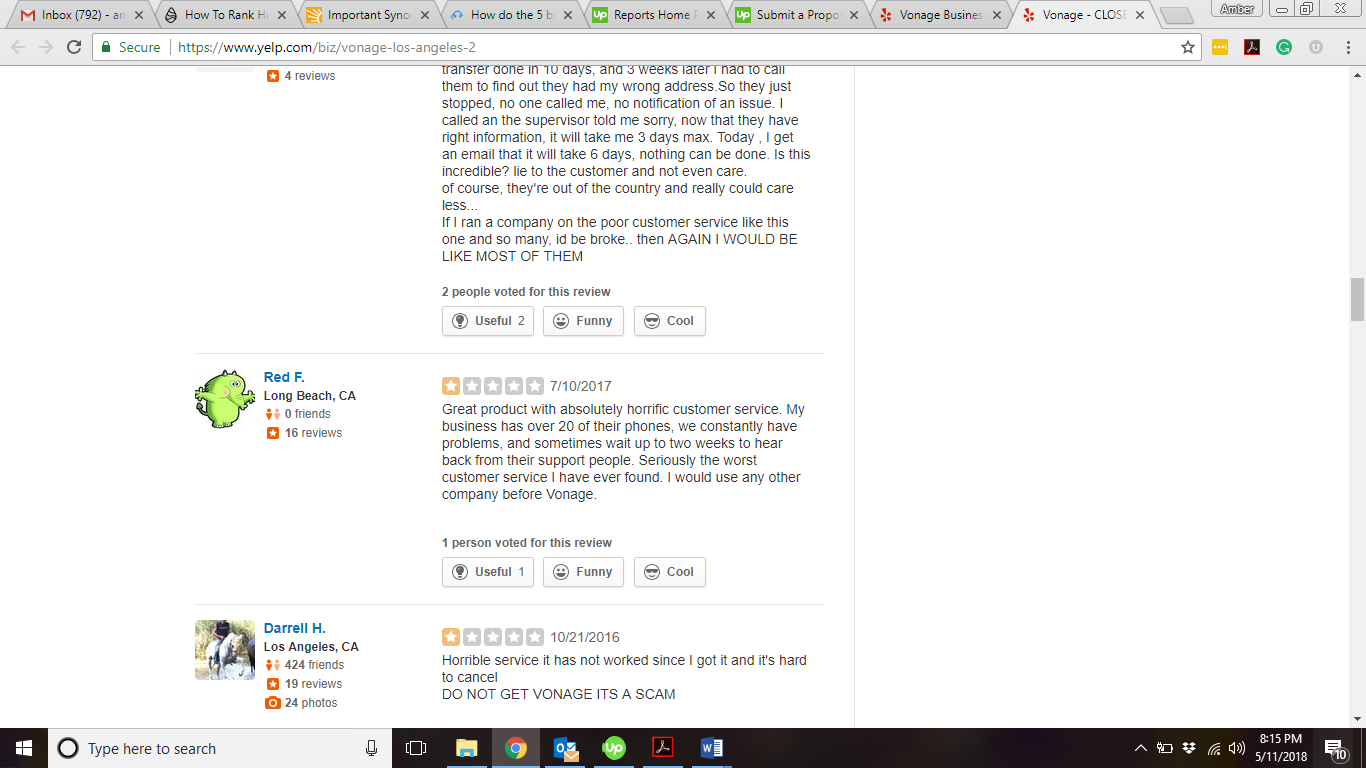 RingCentral
Like Vonage, RingCentral is also coming in with a 1-star rating on Yelp. We were also unable to find any positive reviews for their business services. Equipment and billing seem to be the main cause for complaint with RingCentral.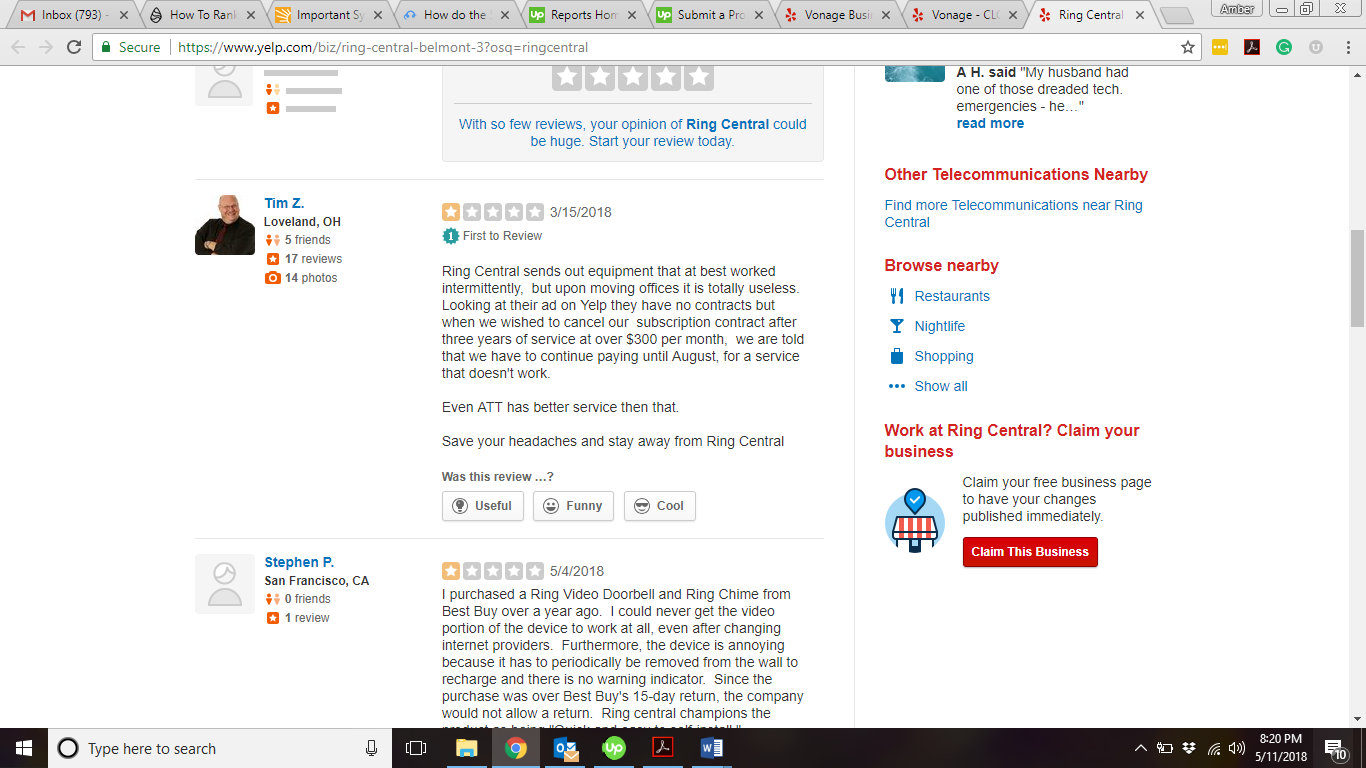 Nextiva
It's refreshing to see Nextiva's Yelp rating – 4.5 stars. There are numerous positive reviews, many promoting Nextiva's awesome customer service.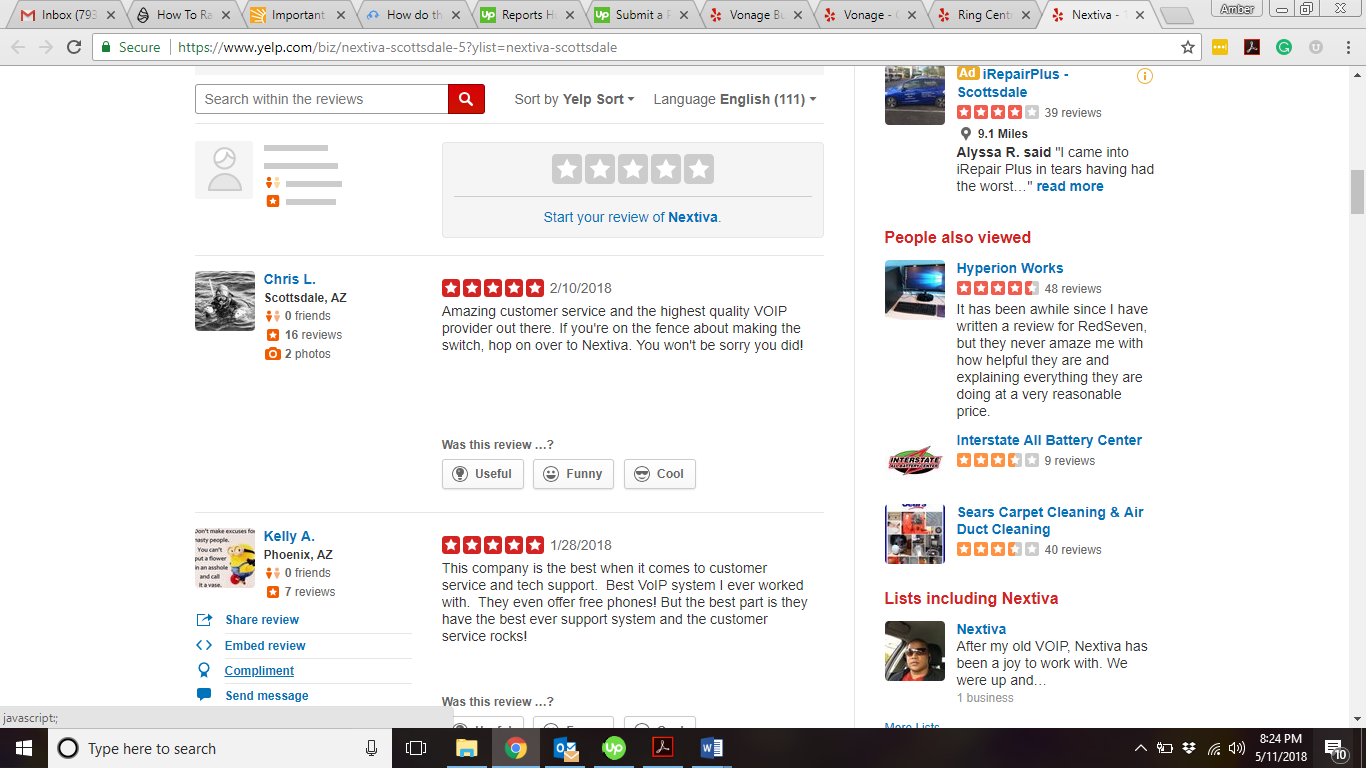 We mentioned it before, but it's worth repeating: customers are less likely to submit positive reviews than they are negative reviews because there's nothing really "in it" for them. But Nextiva's customers have gone out of their way to share their compliments and encourage others to use the service. This says a lot about Nextiva's commitment to service and their customers' loyalty.
Mitel
Mitel has a 2-star Yelp rating. While there is a lone review with positive feedback, the rest are negative in nature and are mostly to do with call quality and customer service.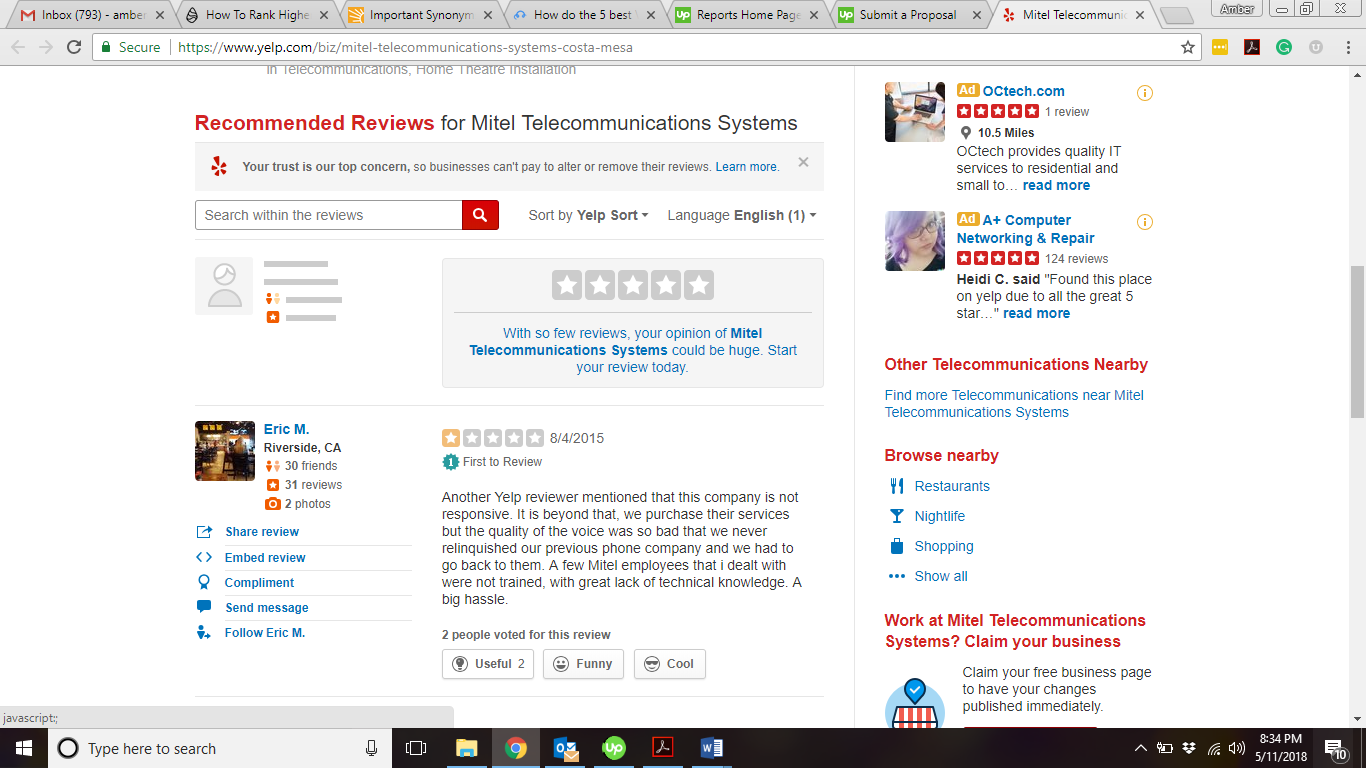 8×8
There are no reviews for 8×8 on Yelp, so we were unable to include them in this part of the comparison.
Customer Service
We're moving right along in our criteria list for selecting a new phone system. So far, we've touched on features, call quality, and reviews. Now let's talk about customer service.
What you should expect from your phone provider:
Help choosing the right service package, the appropriate equipment, and the feature set best for your business
A clear agenda for planning, installation, and scheduled future updates
Complete testing during and after the installation
Training for key stakeholders, including front-end users, managers, and IT staff
A point of contact for any questions both during and after installation
Prompt and concise answers to any questions you have at any time
We've already gathered more than enough information and reviews to make an educated comparison in this case. There was a clear front-runner.
Nextiva
In each area of our analysis, we found that Nextiva had more positive reviews and a higher customer rating than any of the other providers on our list. For the most part, it was difficult to find a negative review about Nextiva.
Over and over again we read about Nextiva's amazing service. We checked their website and found out that it's not just talk: amazing service is part of their company's culture.
Here's Nextiva's take on amazing service:
"At the foundation of Nextiva's culture, you will find a passion for delivering great customer service. We call it 'Amazing Service' and it drives everything that we do. Whether it's offering personalized system walk-throughs for new customers, providing instant troubleshooting for any issues, or even answering your questions via social media – they provide you with great service so that you are able to deliver the same level of exceptional service to your customers."
Single Grain cares about its customers, and we know we can't give our customers great service if we don't have the right tools. Nextiva's packages are great. Their call quality is awesome. But the part that matters the most is their support – their commitment to making sure we're in a position to best serve our customers.
Nextiva asked its team members what amazing service means to them: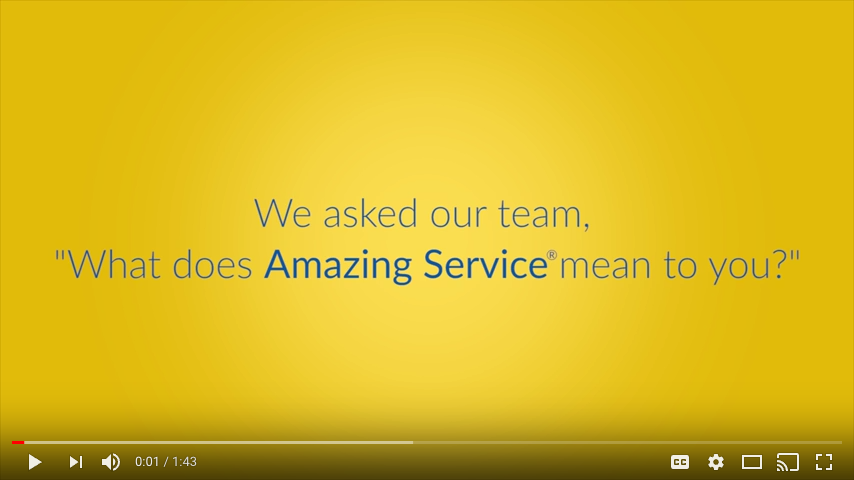 Before making any major purchase for your business, there are questions you need to ask yourself and, in the case of a new phone system, it can be hard to know where to start, especially if you're not up on the latest technology.
Phone providers will be quick to tell you what they can do for your business. Their sales pitch will be convincing. But you might not even need half of the features they're bragging about. Equip yourself with a clear picture of what your business needs and let the provider figure out how they can match your requirements, not the other way around.
In the end, what matters most is finding a solution that will fit your current business and support it as you grow. Here are some things to think about:
Q: Will my business grow? What are my growth goals for six months, a year, and five years?
A: I need a system that will grow with me.
Q: Do I have remote workers? (Or do I want remote workers?)
A: I need a solution that will support workers anywhere in the world with softphones and other technology.
Q: Do I need analytics with my phone system?
A: I need a phone system with robust tracking and reporting capabilities.
Q: Do I need to route calls differently within my call center?
A: I need a system with an automatic call distributor (ACD) function.
Q: Do I have specific compliance needs that must be met?
A: I need a solution that can handle my compliance requirements.
This is not an exhaustive list, of course, but it should help you get in the mindset of how to approach choosing a new phone system for your business.
Bottom Line
Remember, every company's needs are different. Although we've shown you the path to choosing a new phone system, your results may not be the same as ours. But you can be confident in the knowledge that this process can help you review and compare phone systems to find the best solution for your business.
Further Reading: