Between the ongoing health aspect of the new coronavirus and the devastating economic side effects that have already come with it, it's safe to say we're in uncharted territory.
The question we've been hearing from many people and businesses is:
Is SEO still a good investment during the COVID-19 outbreak?
Maybe you've seen a dip in organic traffic to your website. Maybe you're facing a tighter budget or pressure to increase revenue quickly to offset existing or potential losses. Or maybe you're juggling all of that while trying to manage the challenges of a rapid work-from-home transition — with kids underfoot, creating a new work schedule or any other distraction you wouldn't have in the office.
As tempting as it may be to hunker down and see how things play out, taking your foot off the gas pedal of your SEO and digital marketing campaigns could put your company at a disadvantage both now and when the world eventually recovers.
At Single Grain, we've been able to help current and prospective clients, so we put together this checklist on how to adjust your SEO approach to suit the current circumstances.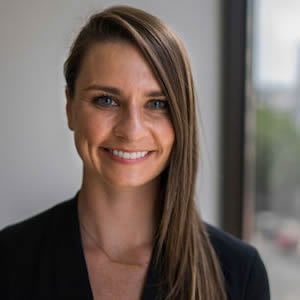 Jacqueline Foster
Demand Generation Marketing, Lever.co
We can count on them to bring new ideas to the table consistently
Go After Low-Hanging Fruit First
Investing in SEO doesn't have to mean rolling out entirely new campaigns or starting new initiatives from scratch. Instead, we're advising Single Grain customers to avoid losing critical momentum by shifting their focus to going after any low-hanging fruit they can.
The following are a few options that may be appropriate for your company:
1) Split Test Your Titles and Meta Descriptions to Regain Lost Organic Traffic
Whether or not your organic traffic has dipped, optimizing your meta tags can be a quick and easy way to bring more visitors to your page — as you can see in the following examples.
In this test, we were able to add more than 41,000 impressions to a blog post on Single Grain's site over a 15-day period, just by modifying the title tag: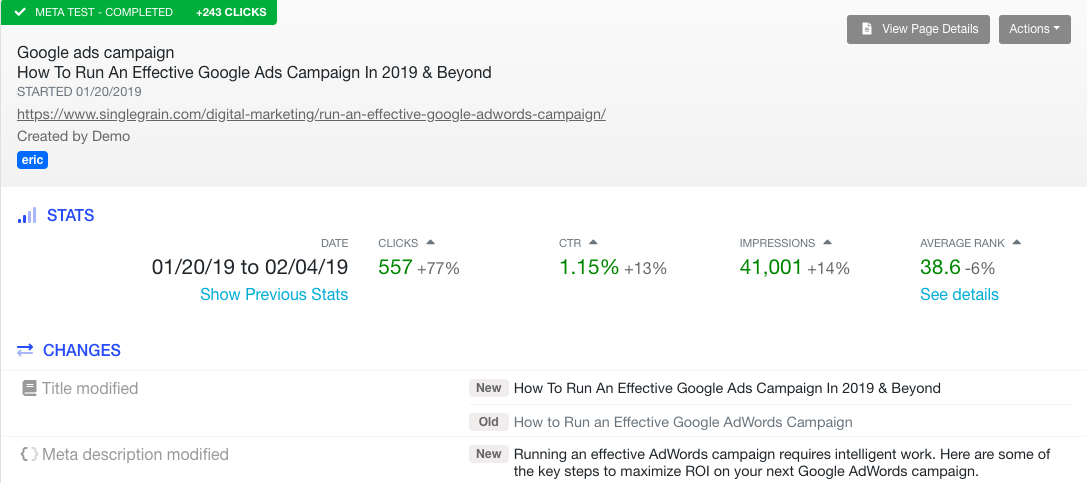 Here, we added 58,000+ impressions over just 15 days with improved title and meta description tags: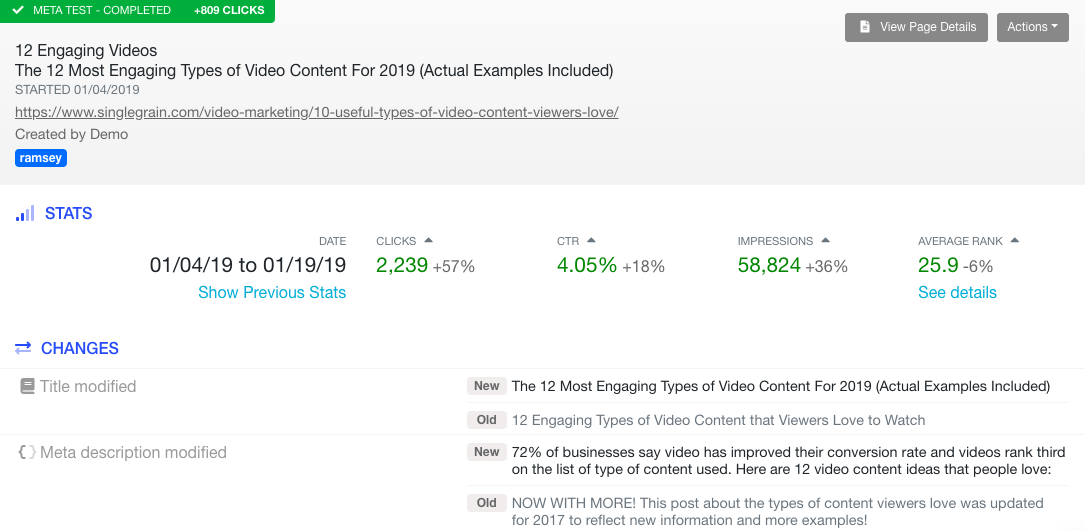 Finally, swapping out meta title and description tags in a post on Amazon Ads improved clicks by 165% and CTR by 55% over 15 days: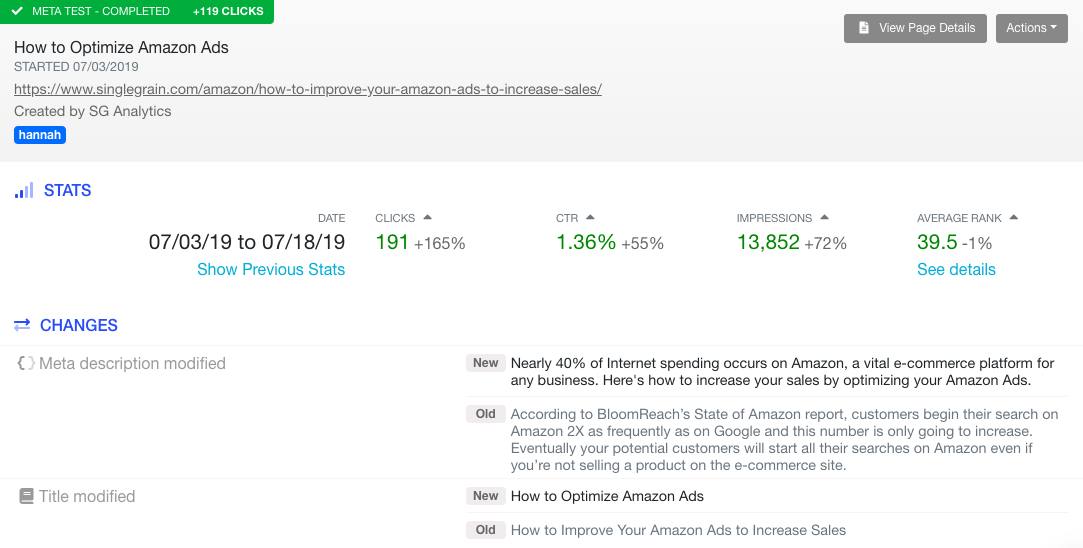 Meta title and description tags are such low-hanging fruit that plenty of companies don't even bother updating them. In a potential downturn where every incremental change matters, their loss can be your business's gain.
More Resources: What Is A/B SEO Testing?
2) Refresh and Repurpose Your Content
Updating meta tags is a great way to get the best possible value out of your existing content, but it's not the only strategy available to you. Potential downturns are also great times to work on refreshing or repurposing the content you've already invested in creating.
First, Conduct a Content Decay Analysis
What do we mean by "content decay"?
Content decay is, simply put, content that's been declining in traffic over the past twelve months.
Remember that, all else being equal, Google prioritizes fresh content.
Any piece of content that's experiencing downward trends — especially any content that used to send traffic to your site or that is mission critical in some other way — represents a possible candidate for refreshing.
You can also use this time to think more broadly about the content opportunities you've always wanted to pursue. Since new content typically takes at least 3-6 months to start making an impact, any resources you create now will help sustain you through this period of uncertainty and ensure that you're well positioned to come out ahead in the future.
More Resources: What Is Content Decay and How It Affects Your SEO
Then Refresh Your Old Content
Once you've identified candidates for content refreshing in the step above, what specific steps should you take to update them? Here are a few key elements to consider:
Make sure any statistics or data points included are current.
Look for and replace dead backlinks.
Update old images and screenshots, or add new, relevant ones to back up your text.
Update any recommendations that are no longer appropriate (for instance, the SEO tactic you suggested in 2012 that's since been deprecated).
Extend the length of your content to a total of 1,000-2,000 words.
Add examples or case studies to illustrate your points.
Optimize your content for new keywords or audiences you've identified as priorities since publication, following current optimization best practices.
Depending on the content you've produced in the past, opportunities may exist to update it in a way that's timely to today's concerns.
For example, a client of Single Grain's published a blog post on online meeting etiquette about a year ago. Now, all they need to do is include a few subtle changes and updates to make the article relevant for a new audience of readers who are suddenly working from home due to COVID-19.
The caveat here is not to update all your past content to be specific to any one event — today's novel coronavirus or otherwise. Because at some point we'll be on the other side of this pandemic, and the last thing you want is a website full of content that's specific to COVID-19.
More Resources:
* 14 Ways to Improve Customer Loyalty During COVID-19
* These 75 Tech Companies Are Giving Away Free Tools to Support Businesses During COVID-19

3) Organize More Pillar Clusters
If you aren't already using Single Grain's Content Sprout method, now is the time to give it a try, since repurposing old content into new formats can make it possible to create entirely new assets without any (or much) further financial investment.
One option to consider in particular is using some of your to-be-refreshed content pieces in new pillar-clusters (also known as hub-and-spokes) that are optimized for your highest-priority keywords.
Generally speaking, pillar clusters are built around a central, high-value pillar content asset. Surrounding it are smaller pieces of content — typically optimized for related long-tail keywords — that link back to the central pillar to support it with link juice: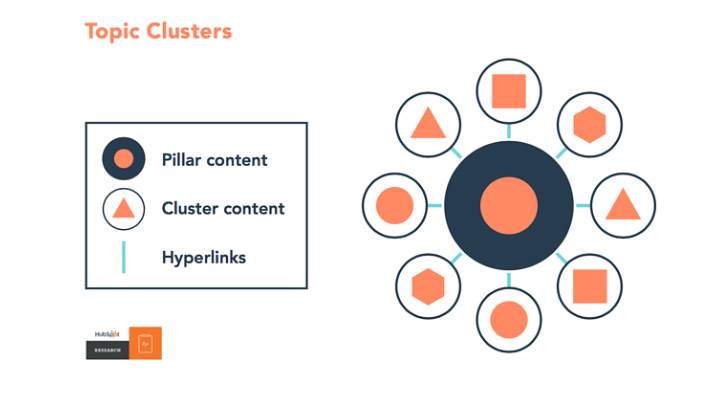 To create a pillar cluster, take the following steps:
Identify at least one high-priority keyword and 6-8 related long-tail keywords you'd like to rank for.
Revisit your content audit (or conduct a new one) to identify related content pieces you may be able to use in your cluster. Be careful not to cannibalize content that's already ranking for other keywords.
Review the top 10 Google results for each keyword in your pillar cluster to get a feel for the types of content that are currently ranking for each. What does the intent appear to be behind each query?
Make a plan for updating each piece, based on how much existing content you'll be able to pull into your pillar or cluster assets.
Update your content, and link each new cluster asset to your central pillar.
Aim for at least 3,000 words of high-value content for your central pillar, as well as 1,000-2,000 words for each cluster asset. Though this approach takes longer than simply refreshing individual pieces, we've seen organic traffic lifts when deploying it with Single Grain clients.
More Resources:
* 5 Steps to Developing Successful Pillar Content
* 9 Ways to Repurpose Your Old Blog Content
* Omnichannel Marketing: Using the Content Sprout Method to Overcome Info Overload

4) Check Your Tone
This isn't an SEO or content tip specifically, but it's still an important consideration for brands at this time. No matter what kind of content you're producing, check your tone. Take the temperature of the room.
Now is not the time for clever sales messaging riffing off COVID-19. It may not even be the time to keep up a bubbly brand presence (if that's how you've defined your tone in the past). Think about the people you're sending content to and the kinds of emotions they're likely feeling right now, and do your best to ensure that any content you create won't read as insensitive.
As Ross Simmonds notes in a post on his blog:
"This isn't the Super Bowl. The same way you don't put a logo on a graphic to commemorate Remembrance Day or Memorial Day, you don't try to take advantage of emotions during a pandemic."
Pay particular attention not just to new content or promotions you're creating now, but to any messages you have set to send as part of an autoresponder as well. That tongue-in-cheek subject line you wrote months ago may read very differently to recipients today.
Related Content:
* SEO Strategy for Startups: How to Win in 2023
* 7 Advanced SEO Hacks for Your To-Do List in 2023

More Advanced Strategies
Now that we've outlined four low-hanging fruit ideas for your SEO strategy during uncertain times, here are three more advanced tips.
5) Keep an Eye on Your Competitors
Once you've tackled your low-hanging fruit, you can get a little more strategic with your SEO initiatives. The first thing you should do is monitor your competitors in order to identify content gaps you can put to good use.
Fortunes are made in recessions — and that's as true for SEO as it is for investing. That's because, as some companies limit their marketing budgets and pull back on spending, new opportunities open up for other businesses to fill the void. But that only works if you're keeping an active eye on your competitors.
To start, get your list of competitors together. This could be any companies you already compete with directly, or those who reach audiences or market segments you may be planning to move into in the future.
Establish a baseline measurement of their content activities (if you don't have one already) so that you can identify any dips that happen during this period, such as:
Are any of your competitors publishing blog posts less frequently?
Are they pushing out fewer videos or social updates?
Have they cancelled upcoming webinars or other events?
You may not see these changes right away, so repeat your measurements periodically.
When you see these activity dips begin to occur, there are several actions you can take. For instance, you could use web analytics tools, like BuzzSumo, SEMrush, SpyFu or Ahrefs, to identify specific keywords for which your competitor is outranking you, and build content that's optimized for them in an attempt to move past them.
You could also determine whether or not there are any audience segments that your competitor is reaching more effectively than you. If these exist, creating content targeted directly at them may allow you to steal away users who would prefer to engage more regularly.
Get creative and think ahead. If you plan to use these uncertain times to begin targeting a new audience, any investment you make while your future competitors have slowed down will leave you in a much stronger position months or years down the road.
More Resources:
* How to Uncover Your Competitors' Content Strategy
* 10 Tools to Monitor Your Competitors' Growth and Hack Their Strategies
* 7 Ways Influencer + Social Marketing Can Help During COVID-19

6) Take on Your Technical Projects
If you're like most of the companies we work with, you've got a lengthy backlist of technical SEO projects sitting on the back burner. Now's the time to tackle them, either on your own or by partnering up with a marketing expert like Single Grain.
That might mean doing things like:
Finally getting a CDN (content delivery network) in place to improve content delivery speeds.
Tackling design changes that improve SEO and user experience.
Cleaning up notifications in your Google Search Console account.
Reworking your navigation structure to feature content that you've recently created.
Identifying dead outbound links and replacing them with new alternatives.
Not only will addressing these underlying issues help steady or even improve your SEO performance during these unprecedented times, it'll also prevent you from having to experience two separate dips in organic traffic — one now, and one when your technical deficit catches up to you.
And, in the very worst-case scenarios, getting your technical house in order will make your site a more valuable acquisition, should selling off all or part of your business become necessary in the future.
More Resources:
* How to Use UX Testing to Improve Your Customer Lifetime Value (CLV)
* How to Design the UX of a Website or App to Increase Conversions
* 7 Mistakes in UI and UX That Are Costing You Engagement

7) Look for Competitors You Can Acquire
I used this strategy quite a bit during the Great Recession of 2008, and every sign I'm seeing suggests that it's going to be just as impactful over the next few years as it was then.
Digital marketers have been buying up competitor or industry websites for their established rankings and link juice for years. But during a recession, those sites go on sale as businesses decide to shut down or are forced to close their doors.
Finding these opportunities might mean working with business brokers, watching the news for closure announcements, or even reaching out directly to sites you've identified as being good acquisition prospects for your brand.
Once you've acquired them, either 301 redirecting their URL to your domain or keeping them as separate entities to push links to your core site may be appropriate, depending on your needs and circumstances.
Final Thoughts
Making decisions such as these can be challenging in the best of times. In uncertain times, having an experienced SEO or digital marketing partner on your side can mean the difference between coming out ahead and getting left behind.
That's why we're offering FREE strategy sessions to marketing team leaders who are struggling to navigate the current climate.
If you aren't sure what you should be doing right now when it comes to SEO or digital marketing, let our team put together an action plan you can implement right away using these and other techniques.