Google released 18 updates in Google Ads in the last quarter alone, while Bing made four changes in Microsoft Advertising in the whole year.
Some of the most exciting announcements from Google Marketing Live 2019 –  an annual conference for marketers to learn about the latest products or new features for the coming year – were smart advertising campaigns, YouTube's lead ads, and the audience expansion tool (similar to Facebook's Lookalike Audience).
As for Microsoft, they've been testing AI-powered recommendations in their Advertising Editor. This update can provide suggestions like adding new keywords, setting estimated mainline bids, and fixing ad groups without ads or keywords.
Whether you're an advertiser or an agency, you need to be on top of the newest features and trends to help you take your PPC game to the next level and beyond.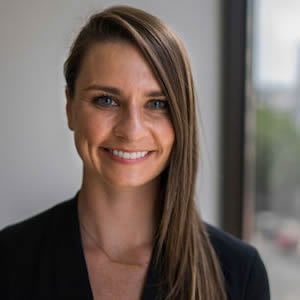 Jacqueline Foster
Demand Generation Marketing, Lever.co
We can count on them to bring new ideas to the table consistently
10 PPC Trends You Can't Ignore
Trend #1: PPC Automation
One of the biggest trends in Pay-per-Click (PPC) advertising will be automation – the use of artificial intelligence (AI) and machine learning (ML) to automate labor-intensive tasks associated with Google and Bing ads.
By 2021, the global automation industry is predicted to expand quite rapidly and generate somewhere in the neighborhood of $238 billion, with the largest segment being process automation. The market size of process automation will increase from 71.5% to 83.2% by 2021: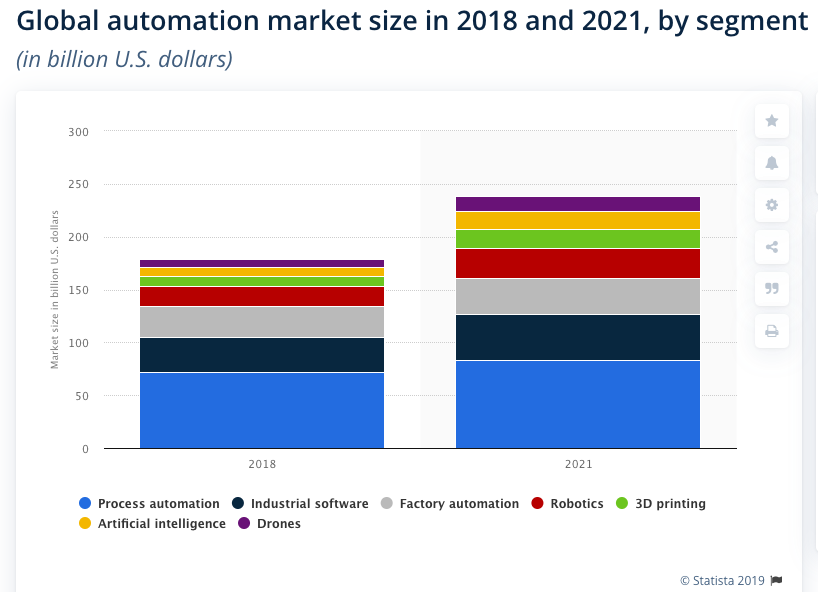 Although automation in PPC is not exactly new, it'll start to play a much more important role, such as with ad testing:

The evidence suggests that automation will be used to optimize PPC campaigns and will be readily adopted by PPC experts to:
Calculate the best bidding strategy for different goals
Set bids to get as many conversions as possible at a set target CPA
Enhance CPC by looking for ad auctions that are more likely to generate conversions
Stop low-performing ads and prioritize the ones generating the best results
Identify performance issues within an account
Dynamically generate ads based on user behavior and website content
Create and optimize ad copy based on data feeds using Google Scripts
Generate ad performance reports automatically
Dive Deeper:
Trend #2: Artificial Intelligence
Artificial intelligence is changing the world in general and its economic impact is expected to reach $15.7 trillion by 2030. When it comes to PPC, AI will allow marketers to create more effective ad campaigns and is particularly useful to:
Predict the CTR of future ads
Calculate the impact of ads on quality scores
Identify the likelihood of conversion from a given customer
Analyze the bids that are likely to get maximum traffic
Optimize keywords, ads or campaigns when a certain event happens (e.g., when your CPC falls below a specified amount)
As AI learns more about your audience's behaviors, it can more accurately create targeted ads to improve the performance of your PPC campaigns. And this won't impact just Google or Bing ads; AI has a significant impact on Amazon Ads, too.
You can power up your Amazon Ads campaign with the help of AI to:
Automate bids (for both short-tail and long-tail keywords)
Make bid changes based on the keywords' predicted revenue per click
Optimize ad campaigns for long-tail keywords
Provide detailed diagnostic information for active keywords at once
AI is also effective in creating great reports. With tools like Adzooma (a Google Partner), you can create PPC reports in as little as four steps. All you need to do is:
Link your Google Ads account
Click on the "Create Report" button at the reporting tab in the top corner
Add the elements you want in the report along with text, images or your own logo
Select the metrics you want (keyword rank, ACoS, etc.), in the format you need (table, line graph, etc.)
Voila! Your easy-to-digest report will now be generated, like this example: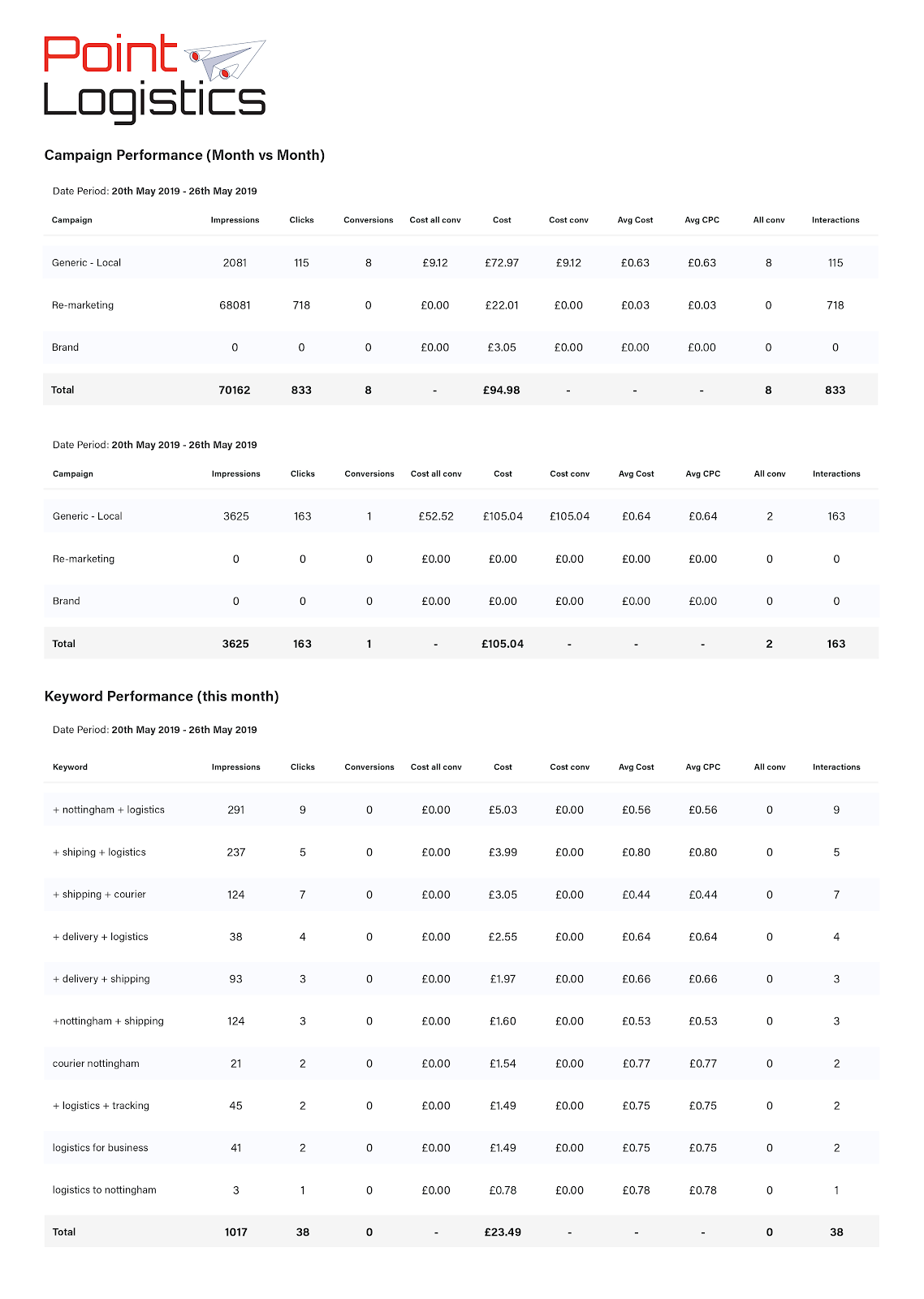 Dive Deeper:
Trend #3: Video Ads and PPC
First, let's take a look at some video stats:
Now, here's how video will affect PPC:
Businesses will need to adapt to Google's vertical video ads.
More and more marketers will start linking to products in video ads.
Marketers will start incorporating virtual reality (VR) to provide "real" experiences for viewers.
Instagram Stories in video marketing will continue to dominate.
One of the most interesting video ad features added by Google is Bumper Machine, which uses machine learning to create 6-second bumper ads from longer videos (90 seconds or less) to display throughout YouTube: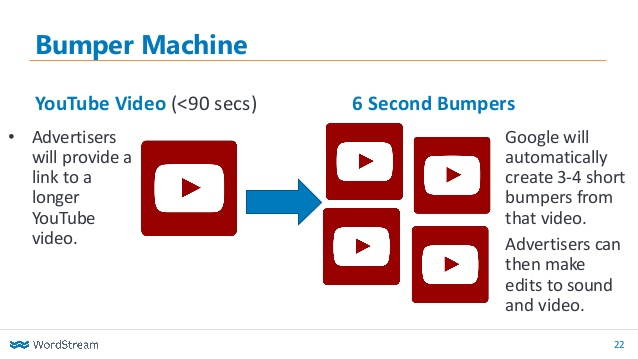 The full-funnel video strategy allows marketers to manage 6-second bumper ads, skippable in-stream ads, and non-skippable in-stream ads.
To further maximize reach, you can choose a mix of TV and online video ads. The Nielsen TV data in Reach Planner shows how different distributions of spending on TV and YouTube can affect your reach: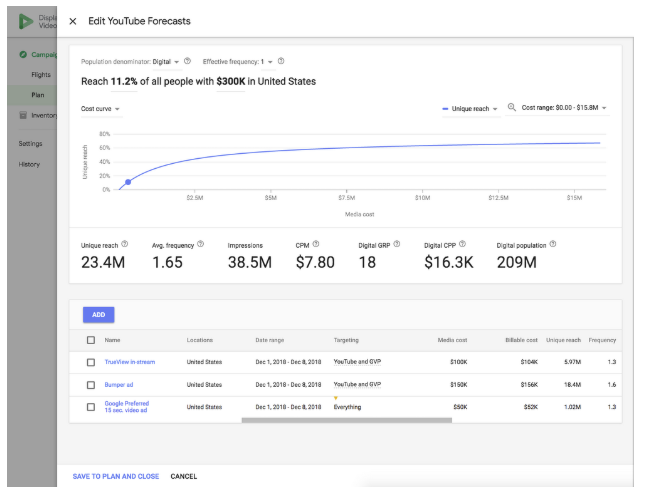 Dive Deeper:
Trend #4: Bye Bye Pixel, Hello Ads Data Hub
Built for a world of single screens, pixel technology can't track the effectiveness of ads across mobile devices. And since more than 70% of time on YouTube happens on mobile devices, marketers have had to rely on third-party pixels to measure the effectiveness of their YouTube campaigns.
However, Google announced that they will stop allowing third-party pixel tracking on YouTube starting in early 2020 because of security concerns. This limitation of tracking pixels has been the subject of industry discussion over the last few years and, hence, Google has started investing in Ads Data Hub.
Ads Data Hub will provide marketers with more comprehensive reporting and measurement to understand the effectiveness of their ads across screens: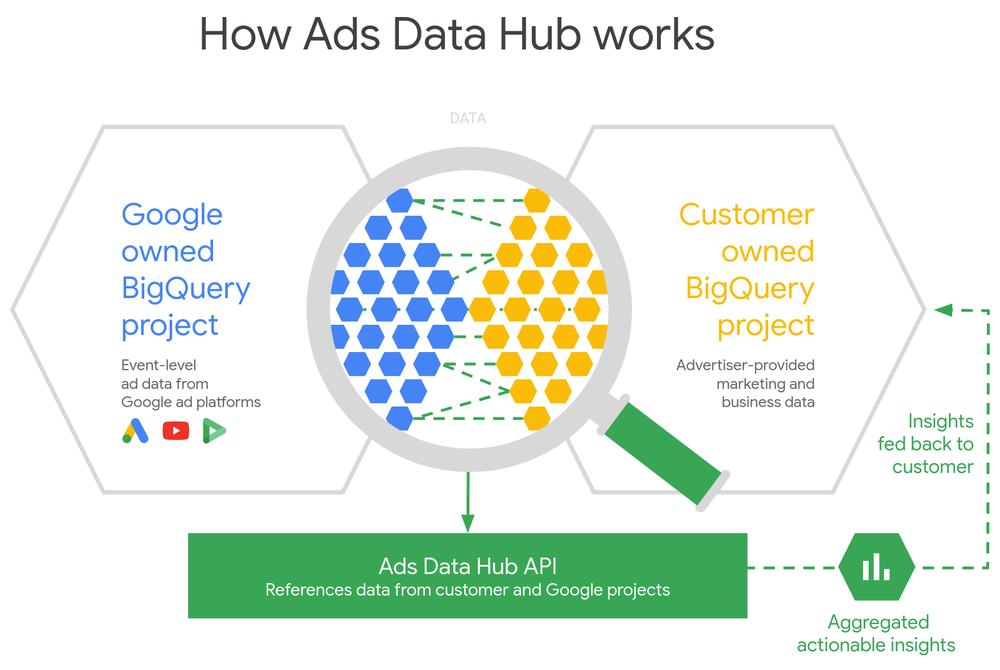 While there will still be certain limitations in the Ads Data Hub, it will provide more specific insights into evolving consumer behavior and their response to ads.
Related Content: How Poor Website Security Negatively Impacts SEO Rankings
Trend #5: Smart Bidding
Smart bidding is a subset of automated bidding strategies that uses machine learning to optimize your ads for conversion based on the goals you set. Basically, it takes the guesswork out of bidding for Google Ads.
Google's AI system automatically optimizes for conversions in each auction. You tell Google what your advertising goal is and Smart Bidding figures out how to get it done within your budget. Smart Bidding works for a number of PPC goals, including:
Earlier this year, Google released a few new smart bidding controls, including:
Campaign-level Conversion Setting: Previously, advertisers could set conversion goals at the account level, but now they can set relevant conversion goals at the campaign level. This will change the way smart bidding happens.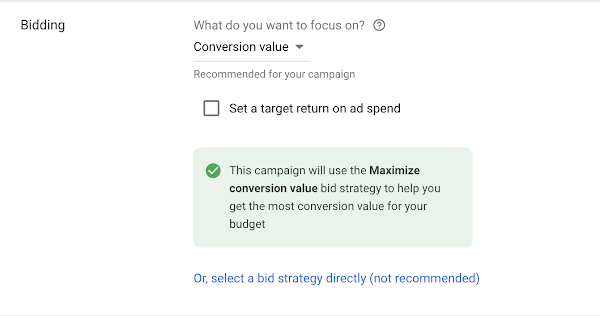 Seasonality Adjustments: Seasonality adjustments will give advertisers more control for ad-hoc events like one-time promotions. For example, if you know that your conversion rate will spike in the coming days (maybe because of an upcoming promotion), you can schedule an appropriate adjustment for that period.
Additionally, Google is about to introduce value rules in the new year. Value rules will enable advertisers to differentiate conversion values based on characteristics such as location, device and audience.
With more and more consumers researching in unexpected ways, keeping on top of campaign optimizations has become a challenge for marketers. Smart bidding takes away the pain of manually optimizing each ad campaign and helps advertisers improve ad performance.
Dive Deeper: 6 Google Ads Trends You Can't Ignore
Trend #6: YouTube Masthead on TV Screens
TV and the Internet are no longer exclusive media: "The rich audio and visual experience of YouTube on TV screens means that the potential to drive upper-funnel impact is bigger than ever."
TV has become the fastest growing screen for YouTube with more than 250 million hours of watch time per day and YouTube ads on television screens drive a 10% greater lift in recall compared to ads on linear TV.
With the YouTube Masthead – a digital billboard placed on YouTube's homepage for 24 hours – on TV screens, advertisers can now reach a wider audience wherever they're watching: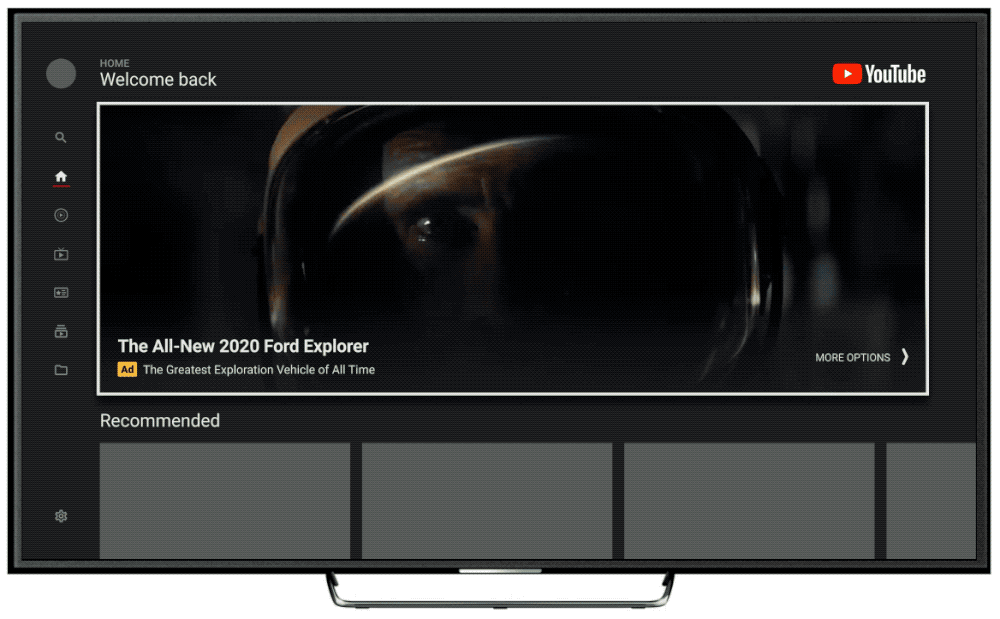 The Masthead will autoplay after a few seconds on all compatible devices so that, coupled with home feed placement, advertisers will be the heart of YouTube app experience on TV screens.
Key things to know about Masthead on TV screens:
You can't add a CTA to a Masthead ad on TV screens.
It is currently in the beta stage. The full version is expected to roll out in early 2020.
The Masthead on TV screens is only available on a CPM basis.
Targeting and other ad-serving options for Masthead ads on TV screens are the same as other Masthead campaigns booked on a CPM basis.
Related Content: The Complete Guide to YouTube SEO
Trend #7: Smart Segmentation and Google AdMob
Mobile apps are expected to generate $581 billion in revenue (and up to $935 billion by 2023!) via paid downloads and in-app advertising.
Launched, smart segmentation can help gaming app developers generate revenue from non-spending players. Smart segmentation uses machine learning to segment users based on the likelihood of their spending money within an app.
Ads will only be displayed to players who are unlikely to make an in-app purchase. This will help protect the user experience of your purchasers while growing your revenue via ads. Users who typically make a purchase will see no ad: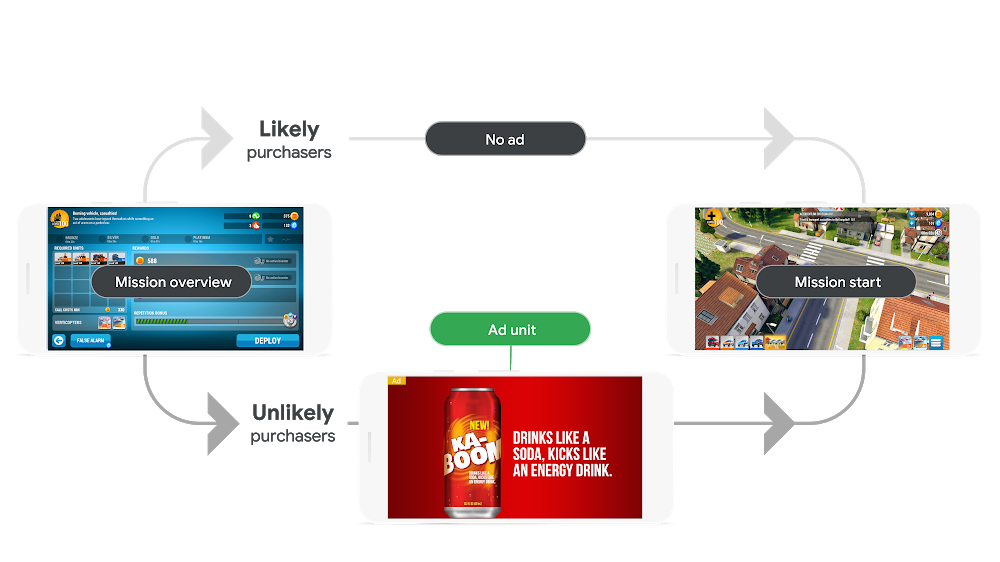 Google AdMob ("advertising on mobile") offers smarter analytics and reporting features to unlock new insights that will help you improve your app. AdMob insights alert you as soon as the system detects abnormal changes to your key metrics such as CPM or impressions. You will also be notified if the changes in your app are affecting the user experience.
In late 2019, Google launched new features in AdMob.
User Engagement Card: This provides insights into user metrics such as session/user, ad exposure/session, and average session duration: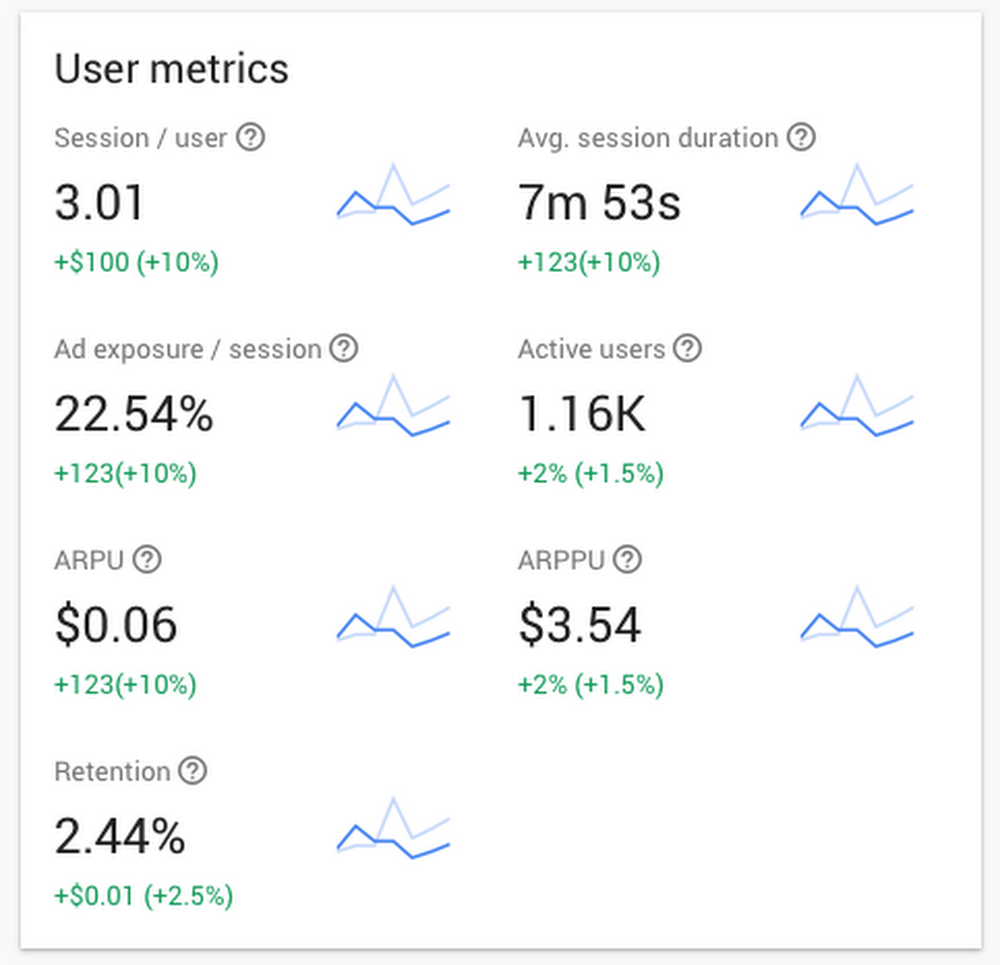 Rewarded Ads Report: This feature will help you understand how users are interacting with rewarded ads: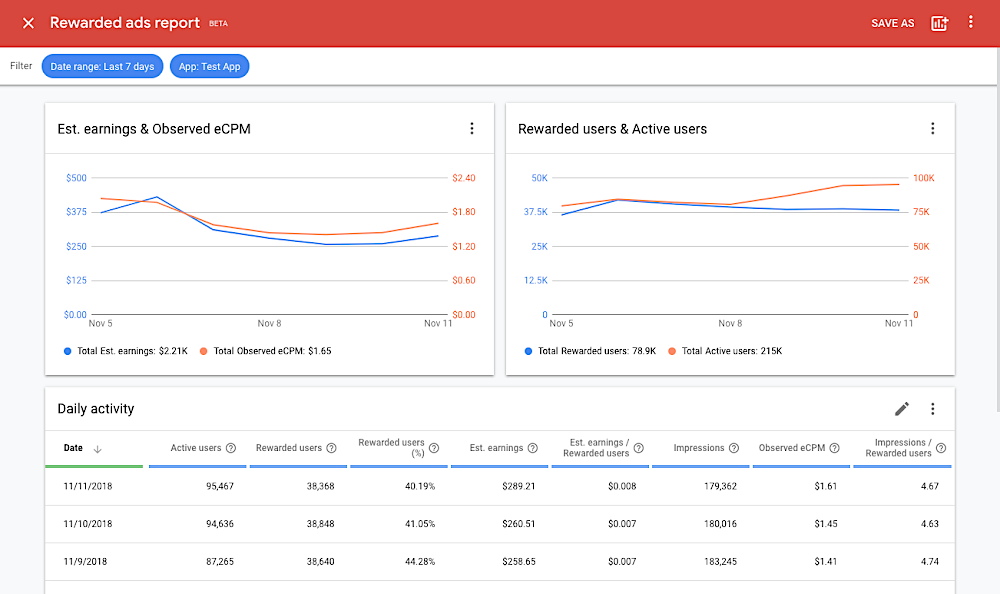 AdMob API: Google is testing a new AdMob API that allows advertisers to retrieve publisher reports programmatically.
Easy Comparison Reporting: Advertisers can now compare two metrics within the same chart, so they can easily correlate trends within their data: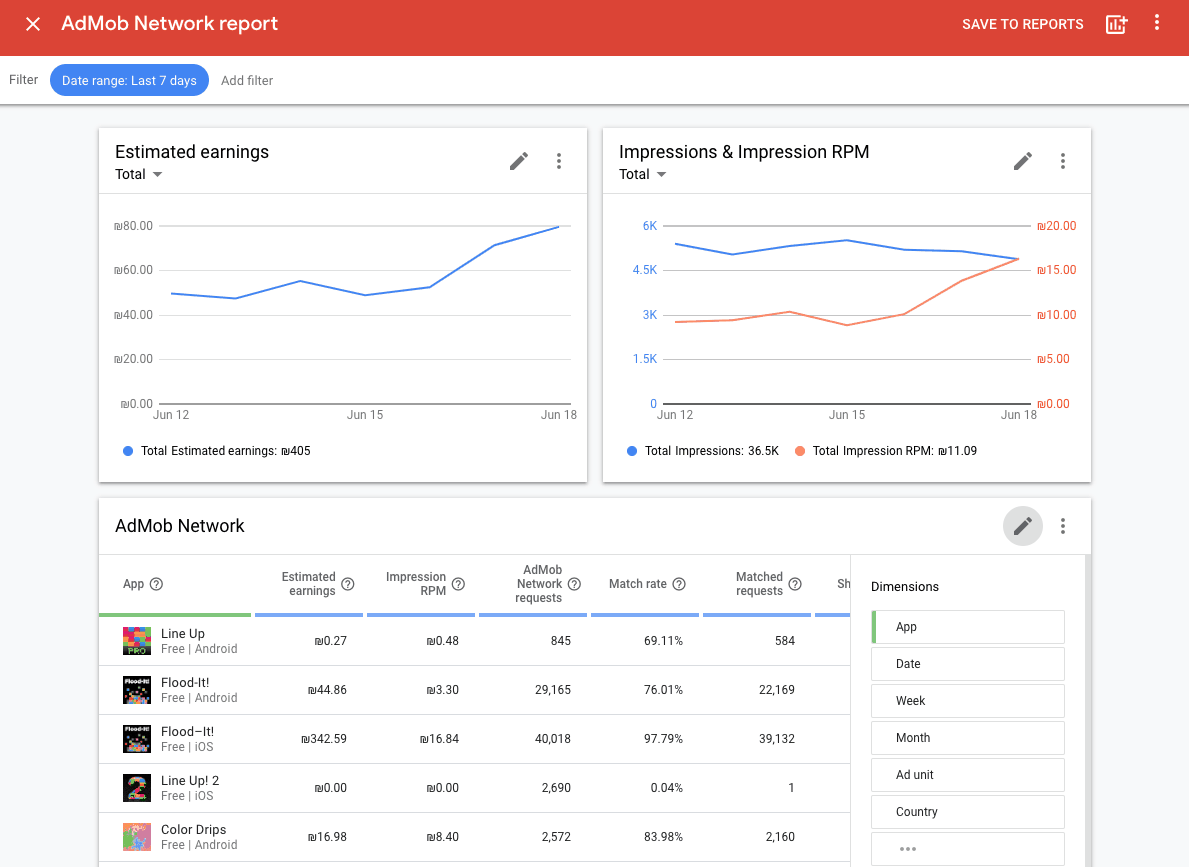 Also, now you can look at in-app purchases and subscriptions in the revenue report, which was not possible previously.
Related Content:
Trend #8: Voice Search for PPC Campaigns
You must think about creating campaigns that focus on voice search because:
Businesses that fail to create PPC campaigns for voice search will miss out on the opportunity to be featured in voice search results.
Here are three major ways how voice search affects PPC:
Mobile-first: Although voice search is available on many devices, it is used mostly on mobile devices.
Natural language: People use a more natural and conversational style when using voice search. This means that short-tail keywords may not prove to be very beneficial.
Question-oriented: The majority of voice searches start with question-oriented keywords.
Let's take a look at how you can optimize your PPC campaigns for voice search:
Evaluate current search terms: To better optimize for voice search, look at the specific search terms that people have already used to see your ad. To find the report, go to Google Ads, click on "Keywords" in the Search Terms tab (in the left menu), and look for searches that begin with:

Ok, Google
Hey Siri
Alexa
Where do I…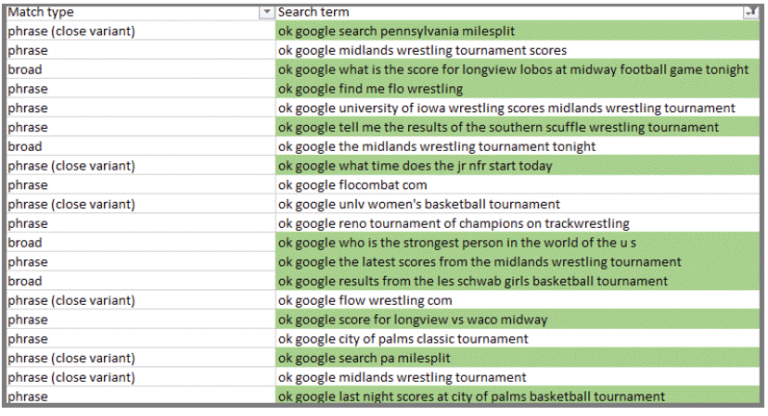 Focus on long-tail keywords and question phrases: Voice searches are longer and more conversational than text searches. Most voice searches start with questions like "what," "where," "how," etc. Tools like Answer the Public can help you find long-tail keywords and question phrases.
Add or remove negative keywords: If you're an online retailer, you wouldn't want to display your ads for local searches like "a restaurant near me" or "a shoe store in Manhattan." Also, review your existing negative keywords.
Know where the searcher is in the buying cycle: Generally, people who use the terms "who" or "what" are at the awareness stage, whereas people who use "when" or "where" are close to the conversion stage. For PPC, bidding on "when" and "where" keywords can prove beneficial.
Now that you've done research on current search terms, long-tail keywords and question phrases, you can build a list of keywords to incorporate in a new campaign or to optimize your existing campaign.
As for platforms, focus on Google and Bing. Google is the default search engine for both Google and Apple products, while Bing is the default search engine for Alexa.
Bonus Tip: Use call extensions on your PPC campaigns to let searchers call your business directly via voice search.
Dive Deeper: 
Trend #9: Virtual Reality Ads
As more people spend time in virtual reality (VR) worlds, it opens up a new realm of opportunities for advertisers.
Here are four major ways that virtual reality can transform PPC ads:
VR technology uses eye-tracking technology to activate an ad. When the user gazes at it for a couple of moments, the ad will start.
VR will give insight into what parts of the screen viewers are looking at and the parts they have chosen to interact with.
Since most Millennials and Gen Zers are using VR, targeting that age group will be easy in the coming years.
360-degree videos will help consumers learn more about and interact with the products.
The idea behind virtual reality ads is to allow viewers to try out the product before they actually buy it.
New Balance launched a Display and Video 360 to let users explore their new running shoe in order to help educate consumers about the product before making a purchase:
Trend #10: Alternative PPC Platforms
When it comes to PPC, Google and Facebook have dominated the industry with 37.2% and 19.6% of the digital advertising market, respectively. But people are now spending more time on niche platforms.
For example, more and more professionals are interacting on LinkedIn while shoppers are spending more time browsing and shopping on Amazon. That's why it's important to consider alternative PPC platforms.
There are a lot of alternative PPC platforms that you can use to diversify your ad spend, such as:
Dive Deeper:
Wrapping Up
As an advertiser, you need to leverage these PPC trends to get the most out of your Pay-per-Click advertising campaigns. Automation and AI will change the way businesses create and run ads, and there will be a surge in video ads (including 360-degree video ads for VR) across devices.
Marketers optimizing their ads for voice search will see better results from their PPC campaigns. Also, Google and Facebook alternatives such as Quora, LinkedIn, Adroll, and Amazon will help you generate better ROI.
If you want to learn more about mastering digital marketing, read our epic guide: 42 Digital Marketing Trends You Can't Ignore.