There are two ways to get people to download your app.
The first is by app store optimization, where you optimize your app to rank higher in the organic search results of the App Store for your target keywords. The second is by paying Apple to display your app at the top of the App Store results.
The first method takes a lot of time and you need to have a lot of patience to see it work. On the other hand, the second method gives you results instantly.
If you want people to download your new app right away and you are willing to spend money for it, then Apple Search Ads is the best option to promote your app in the App Store. This guide will walk you through everything you need to know to see success for your app.
What Are Apple Search Ads?
Apple Search Ads are sponsored ads that provide app publishers paid access to the top spot in the Apple Store search results for iPhone and iPad. Here's an example of a sponsored Apple Search Ad: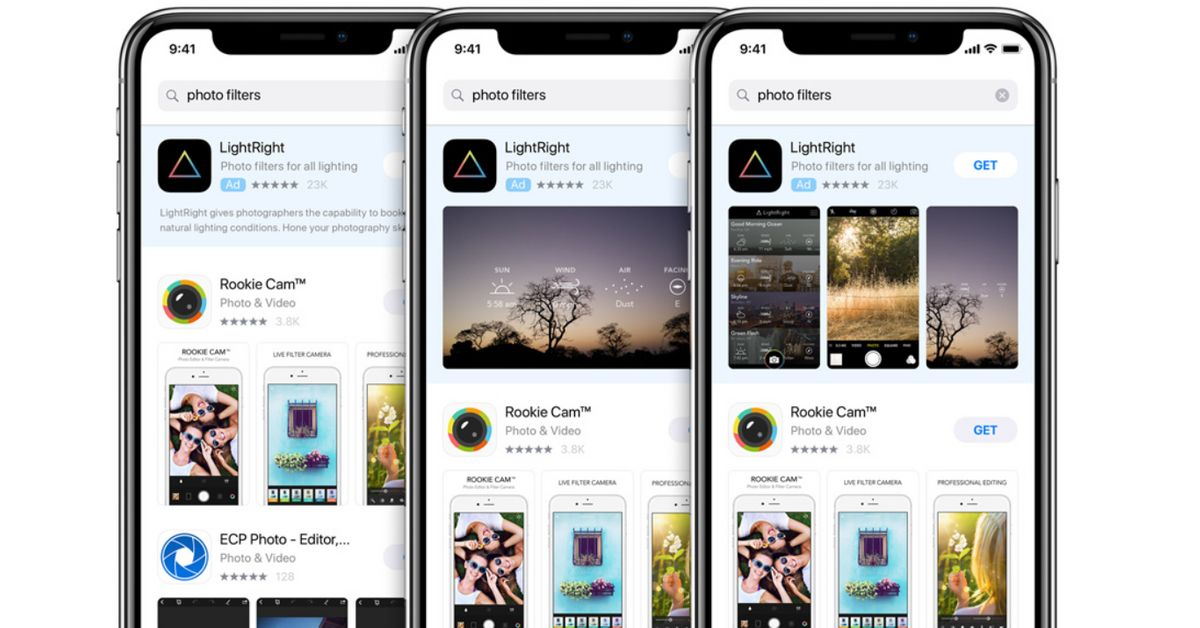 Apple offers two different types of ad products:
Apple Search Ads Basic – With this option, you can't choose keywords and audience refinements. You only need to choose your budget and the app promotion countries. Apple then automatically creates and displays your ad in the chosen countries based on your budget.
Apple Search Ads Advanced – This ad option lets you control various aspects related to the app promotion like keywords and audiences. All the advanced features like keyword level targeting, device targeting and demographic targeting are all available with advanced ads.
Which Option Is Right For You?
If you have a marketing budget of more than $10K and want to use demographic and device targeting, then you must opt for Apple Search Ads Advanced. If you have a limited budget and don't have time to dedicate resources for app marketing, then Apple Search Ads Basic is the right choice for you.
Dive Deeper:
Major Advantages of Apple Search Ads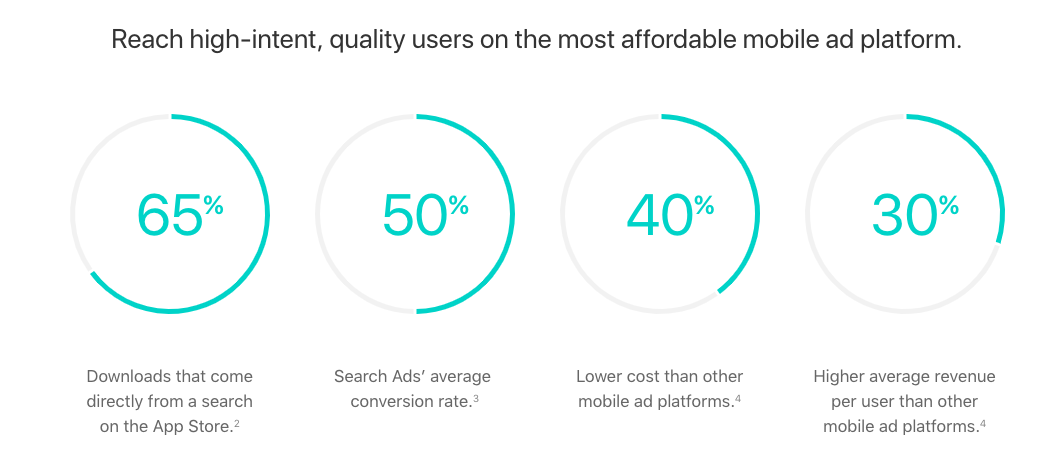 Apple Search Ads are extremely easy to set up. If you are an app developer looking to promote your app then you can choose the Basic Ads set-up option and Apple will automatically create and run an ad for you.
They are cheaper than Facebook Ads or Google Ads. Apple follows the cost-per-tap model, and the average CPT of Apple Search Ads is around $0.84 and the average cost-per-install is around $1: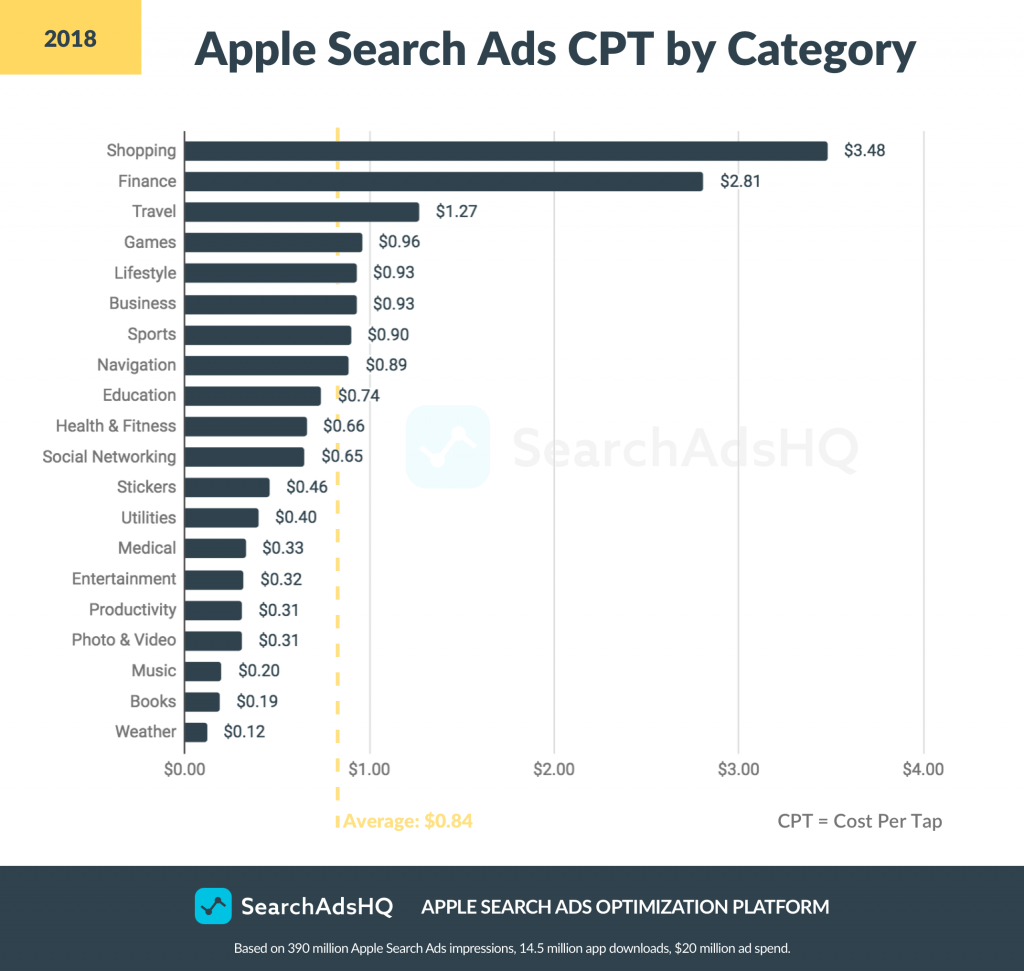 The number of mobile app downloads in 2018 was 205.4 billion

–

and is forecasted to hit 258.2 billion in 2023 – which means app marketing is a golden opportunity for businesses to expand their brand visibility: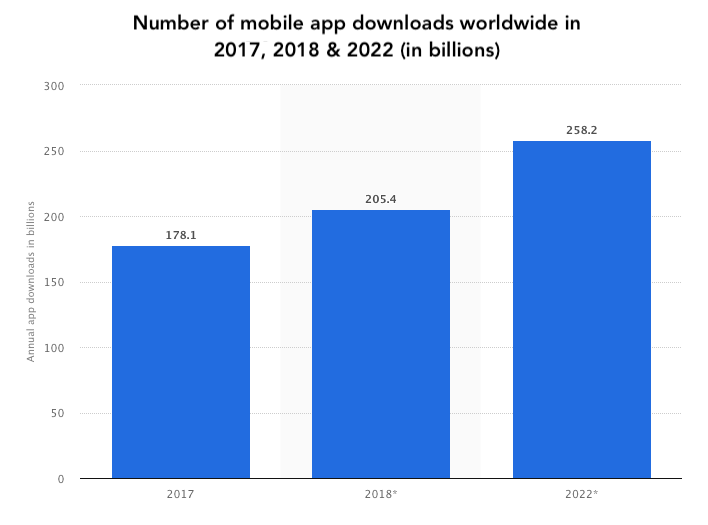 The quality of traffic that you acquire via Apple Search ads is fraud free.
A person searching in the App Store with a query like "gaming app" has a very clear intent. Your only job is to display an ad at the top of the page and you're ready for a conversion! You won't find such clear intent in audiences who are ready to convert every time they search anywhere else.
Opting for an Apple advertisement also provides a boost to your organic app placement in the search results. If your ad is displayed at the top then there's a greater chance that the organic result will also display your app in the top 10 search results.
Apple displays just one ad for every query, meaning that you have the maximum chances for branding and conversions.
Should Your Business Opt for Apple Search Ads?
If your business has an iOS app then you need to seriously consider Apple Search Ads to reach potential customers. When people search on the App Store for your brand name, then it is absolutely essential to reach such customers via Search Ads because if you don't then your competitors will snatch them up.
Any business can leverage the power of Apple Search Ads to grow its customer base. For example, businesses related to online learning, gaming, shopping, fitness and music can all benefit by displaying their ads in the top spot in the Apple search results.
How Do Apple Search Ads work?
Apple Search Ads work in a similar way to Google Ads.
Whenever a user enters a search query, an algorithm runs that determines all relevant ads that closely match the search query: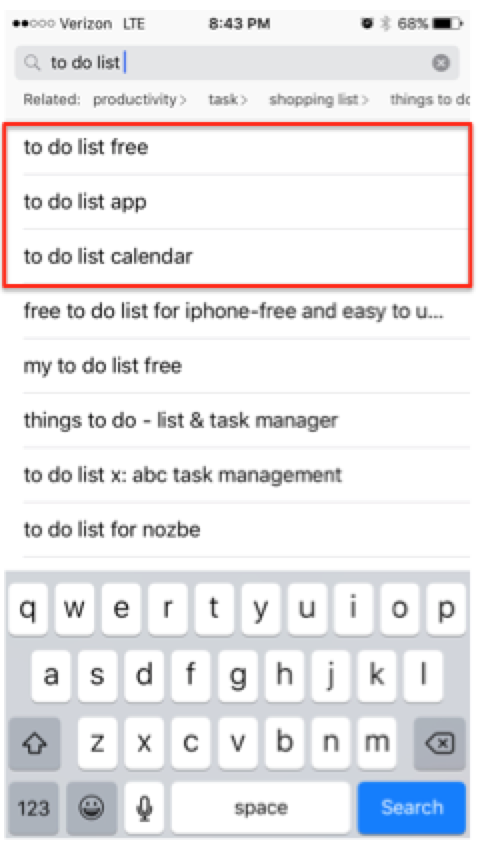 The ads are chosen on the basis of an Ad Relevance Score, meaning that an ad that has optimized meta data and accurate creatives are placed higher in the ad results.
Moreover, the advertiser whose CPT (Cost-Per-Tap) bid is higher than the closest competitor is ranked at the top.
Similar to the CTR in Google Ads, the TTR (Tap-Through Rate) is a metric that influences the ranking of apps in the search results. A high TTR means that people tap on the ad when it's shown, meaning that it's relevant and liked by users. On the other hand, a low TTR indicates that people are not interested in tapping the ad, hence the ranking automatically declines for ads.
There are 3 groups of keywords that Apple Ads support:
Search Match: When you run Basic Search Ads, then Apple's system automatically searches for the most relevant keywords and displays your ad when people query with any of those keywords.
Broad Match: Once you have run your ad campaigns for several days, you will have a list of keywords that work best for your app. You can easily select keywords from this group and populate a new Broad Match group.
Exact Match: With Exact Match, you explicitly add the keywords that you wish to target. You must deactivate Search Match before you start using Exact Match.
Apple Search Ads Basic and Advanced
As mentioned earlier, there are two different types of Ads that can run on Apple's search platform. These are Apple Search Ads Basic and Apple Search Ads Advanced. Now, let's take a better look at these two types.
Apple Search Ads Basic:
How It Works: These are simple to run and you can't choose any keywords or audience refinements. Apple's intelligent automation system creates and matches your ad to interested users and maximizes your results.
Payment: You pay only when someone installs your app at a cost that you choose.
Management: You don't need any Apple Search Ads specialist to run ads. Apple manages your campaign automatically. You only need to check the performance of your ad with the help of the ads dashboard a few times per month. You can adjust the CPI (Cost Per Install) based on Apple Search Ads recommendations.
Reporting: You can take a quick view at the dashboard in order to track the performance of your ad.
Max Monthly Budget: Up to $10,000 (U.S.) per app, per month.
App Promotions: You can promote up to 50 apps.
Apple Search Ads Advanced:
How It Works: You are free to choose keywords and audiences for your ads. You are also free to set the max CPT (Cost Per Tap) amount that you are willing to pay for every tap on your ad. You can also control spend at the campaign level.
Payment: You will pay Apple only when a user taps on your ad up to the maximum price you choose.
Management: You will be given a set of powerful marketing tools to control your campaigns. You are free to choose keywords for Search Match, Broad Match or Exact Match.
Reporting: Detailed reports are provided specifying all the key metrics.
API: Measure value and manage at scale with APIs.
Max Monthly Budget: Unlimited.
App Promotions: You can promote an unlimited number of apps.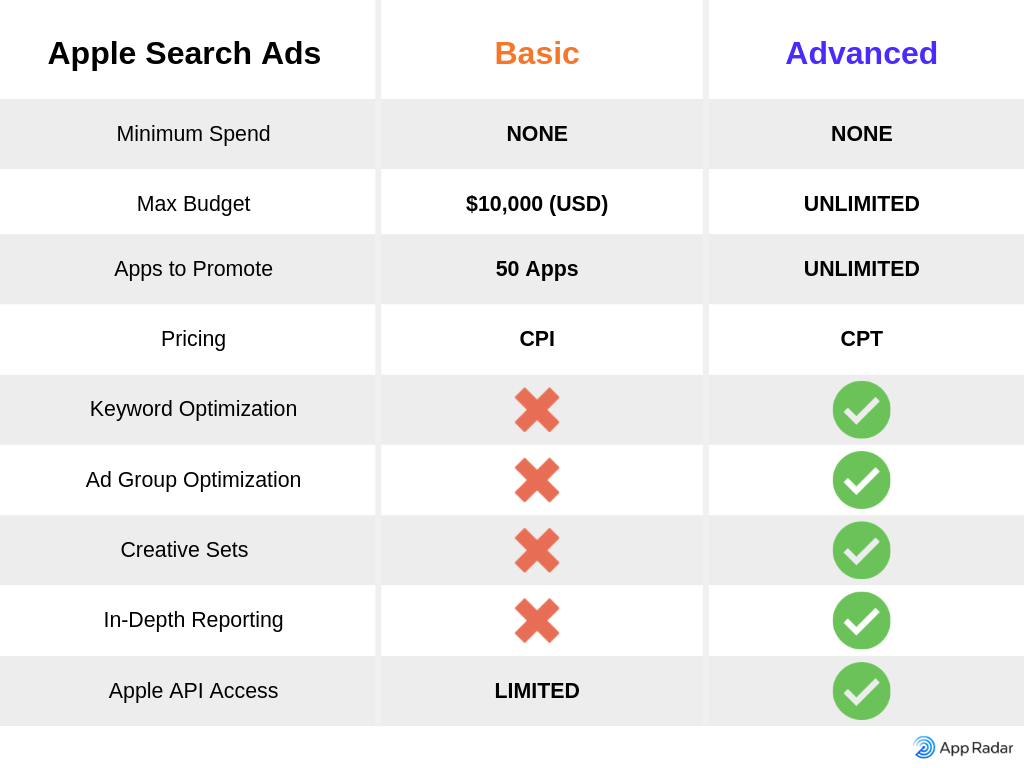 Text Ads and Creative Ads
There are two ad formats that can run in the Apple Ads network. These are:
Text ads: Where you can display the app icon, app name, app subtitle, ratings, text description and the "Get" button.
Creative ads: Where you can display the app icon, app name, app subtitle, ratings, App Preview and/or screenshots (creatives) and the "Get" button.
The below screenshot displays the two types of Apple Ads (Text Ads and Creative Ads):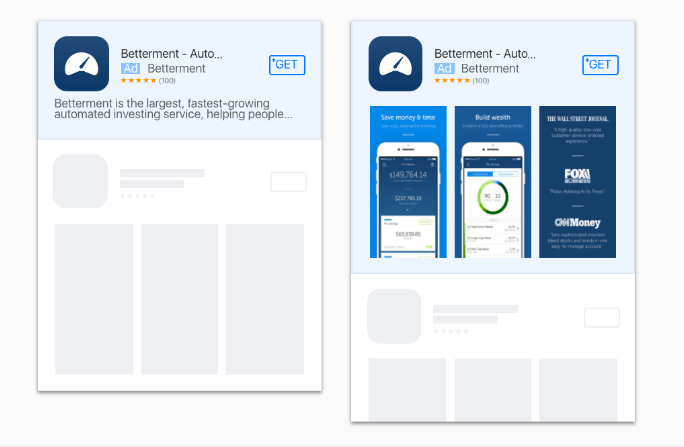 Dive Deeper:
The Apple Ads Campaign Structure
The basic structure of an Apple Ad campaign is provided in the below figure: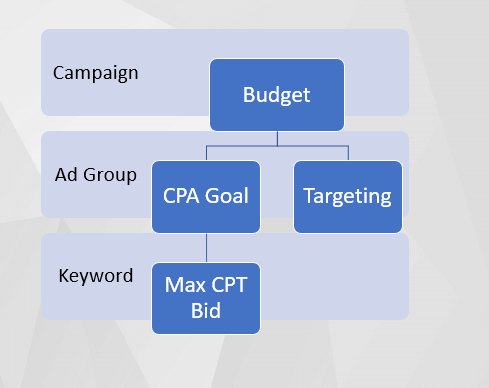 The Campaign is where you decide the budget of your ad. At the Ad Group level, you can mention your CPA goal along with your targeted countries and devices. At the Keyword level, you need to specify your maximum CPT (Cost Per Tap) bid.
How Much Do Apple Search Ads Cost?
Apple Ads work on the Cost-Per-Tap (CPT) pricing model, meaning that you only pay for the ad when someone taps on it.
You need to enter the maximum CPT amount when you run Apple Search Ads. For example, if you set a CPT bid of $1 per tap then you won't pay anything above that amount.
How Do I Get My App to the Top of the App Store?
An optimized app has increased chances of ranking higher in the ads category, organic results category and also in the featured apps category. In order to feature your app at the top of the App Store, follow the below strategies.
1) Have a Great Mobile App with Error-Free Functionality
People love error-free apps. I have seen many app creators make the mistake of launching their apps without proper testing. They do not acquire adequate feedback or take the required steps to optimize the existing functionality of the app prior to launching. The result is that the app receives negative reviews and their ranking falls below average.
Hence, it is important to create a great mobile app with error-free functionality and always acquire sufficient feedback from existing customers before you actually launch it via the Apple Store.
2) Build a Native iOS App
Apple loves to promote apps that are specifically created for the Apple iOS. I recommend that you build a universal app – one that can run on all iOS products like the iPhone, iPad and Apple Watch. Building a native app instead of a cross-compatible app is your safest bet to ranking your app higher in the search results.
3) Listen to the Users
Once you launch your app and start promoting it, comments will automatically start to pour in. This is the time to listen to your customers. Even if your app is running error-free, users might suggest some issues that you may have overlooked. Immediately respond to all comments about issues and keep updating your app to make it even better: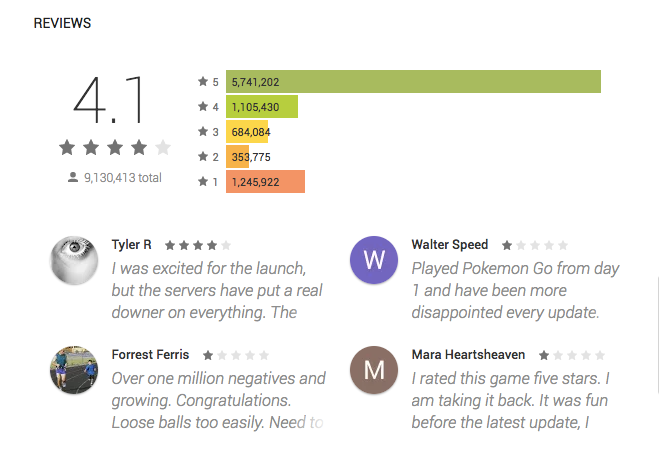 If you listen to your users and take appropriate steps to improve the existing functionality of your app, then your rankings will improve.
But if you ignore users' requests, then Apple might remove your app from the search results. The below graph displays the number of apps that Apple removed from the App Store because they were not compliant with users' requests for improvements: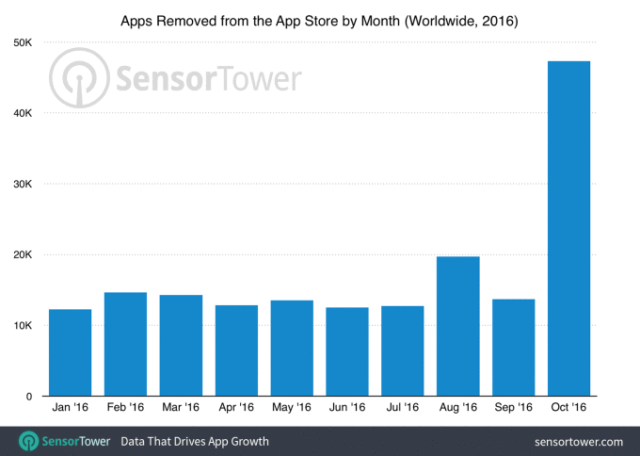 Dive Deeper: The Kick-Ass Guide to Increase Customer Reviews for Your Online Store
4) Increase Your Budget
If you are not receiving enough impressions for your ad then you probably have a low CPT bid. You need to increase the CPT bid because your competitors might be paying a lot more.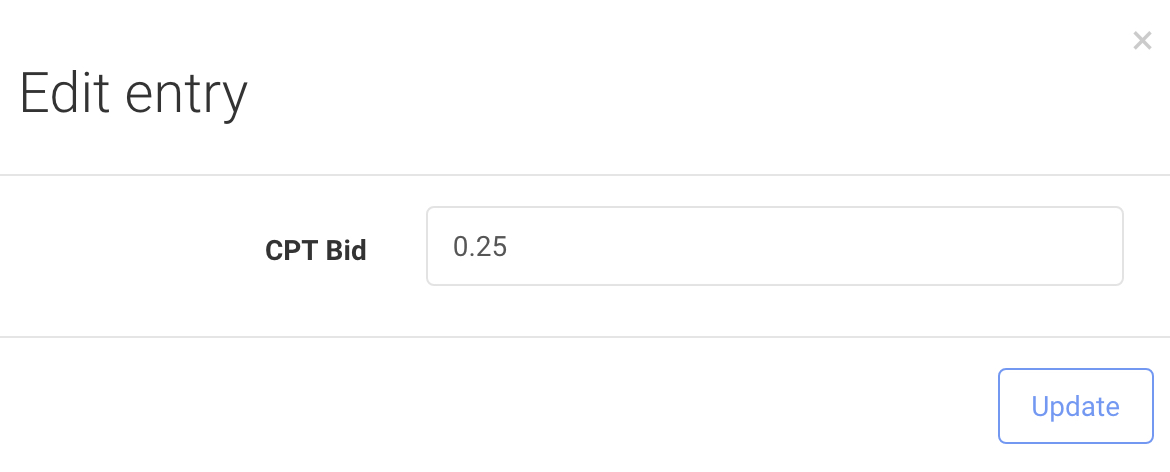 If you don't raise your budget then Apple will display your competitor's ads in the search results and you will miss out on these impressions.
5) Get Media Coverage
There is nothing better than getting some PR coverage for your app. If your app gets mentioned in top media publications like TechCrunch, Forbes, Mashable, Entrepreneur, Inc and other regional publications, your chances of getting your app featured in Apple's search results is much higher.
Dive Deeper:
Apple Search Ads Best Practices
You have the best chance of ranking higher in the Apple search results if you properly optimize your app listing. Here are a few tricks that you can apply to your ads to rank at the top and drive more app installs.
1) Choose the Best Keywords to Describe Your App
Apple lets you add up to 100 characters of text in the keyword section. Choose the most relevant keywords that best describe your app. Make sure not to use spaces when separating keywords because space will get counted as a character. For example, you can use "productivity app,time saving app,automate work" as keywords but not "productivity app, time saving app, automate work".
Use keywords that you think your audience might search to find your app and use less common words in your keywords section because they are easier to rank for: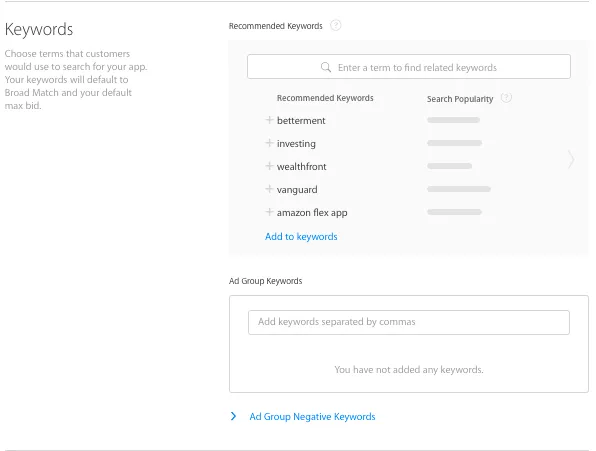 Do not use trademarks because unauthorized use of trademarks is not allowed, and never use keyword stuffing because that won't help you get better rankings in the app search results.
When creating ad campaigns, you can use up to 1,000 keywords in each ad group. You can use tools like the App Tweak Keyword Research Tool to find the best keywords for your campaign. Make sure to include negative keywords in your campaign because you definitely don't want to waste your budget by making your app rank for irrelevant keywords: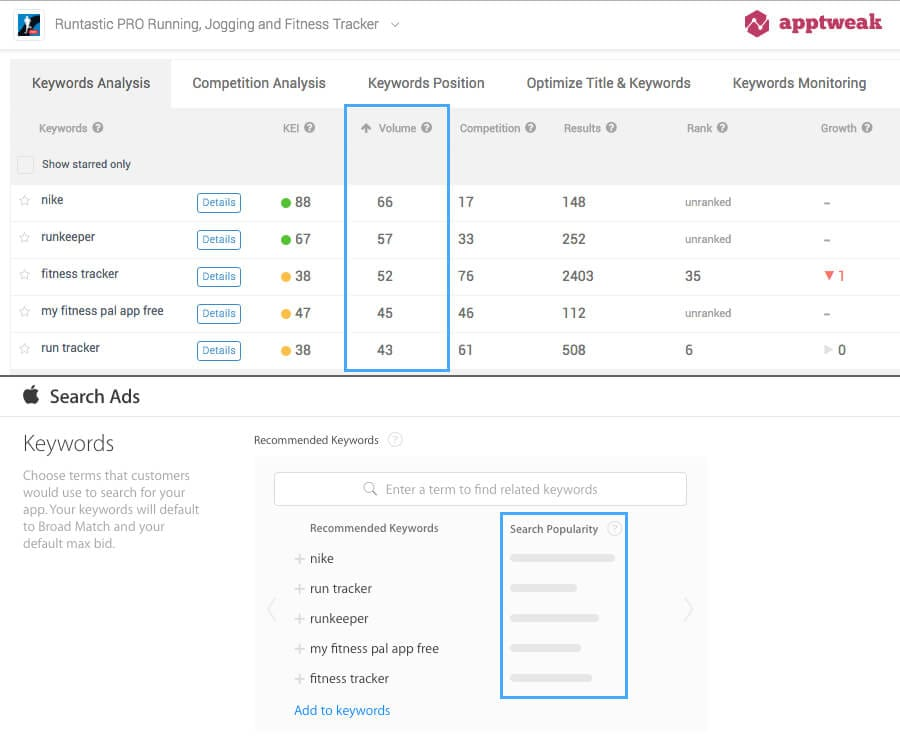 2) Create a Compelling App Name, Subtitle and Description
In order to make people remember your app, come up with a name that is simple and unique. Do not use names that closely match popular apps. The length of your app name can be up to 30 characters, so you need to utilize the space intelligently.
Always add a subtitle that will get displayed just below the app name. The text in the subtitle should be used to explain the value of your app to users. It is best to highlight your app's USP in the subtitle so that people know how the app can help solve their pain points: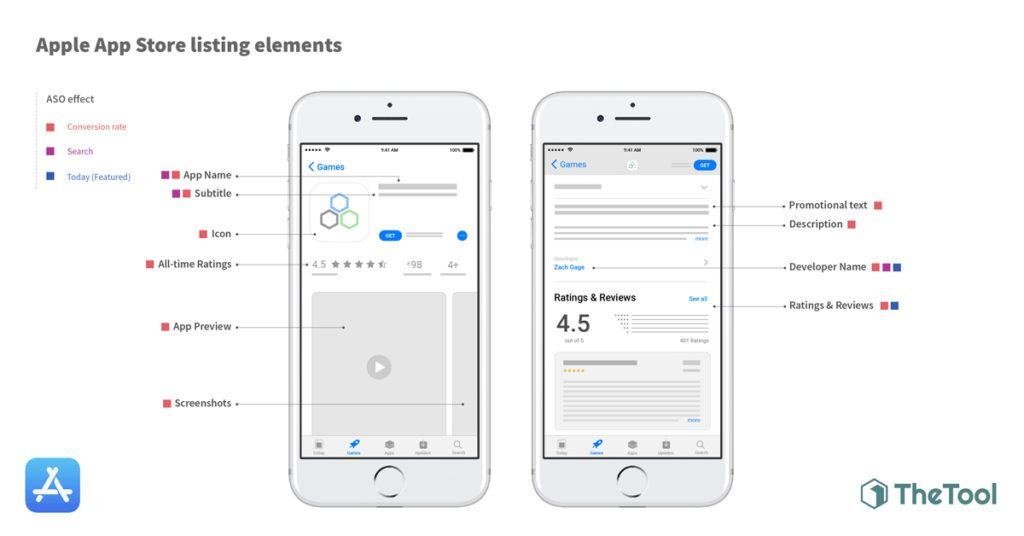 Use the app description field to explain the main features of your app in the form of a short list.
Apps that optimize their metadata correctly by following all the guidelines specified by Apple are able to rank higher in the app store search results.
Learn More: 8 Facebook Ad Copywriting Tricks to Maximize Conversions
3) Choose the Correct Primary Category
It is important to choose the most relevant category for your app because this will help Apple display your app under the correct category when people search for it in the App Store: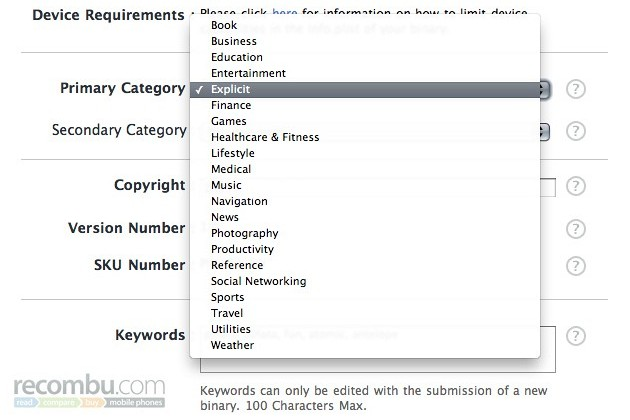 Apple might reject your app if you don't choose the correct category for it. Choosing an accurate category will automatically help your app to earn its rankings in the search results. Relevancy plays a key role in the Apple app ranking algorithm.
You need to consider the following points while choosing a primary category:
Your app's purpose – The primary category must be chosen after carefully reviewing the subject matter of your app.
Think about your audience – Always think carefully about the category where your target audience is most likely to search for your app. Are they more likely to search in the education section or in the music section?
Research similar categories – Identify similar categories where an app like yours can be found. This is a great way to select the primary category for your app.
For a complete list of App Store categories (and descriptions), visit this resource.
4) Ask Users to Rate Your App
Ratings and reviews play a crucial role in your app rankings. They directly influence how your app ranks in the search results.
In order to earn lots of positive ratings for your app, you need to ask your users to leave reviews and rate your app: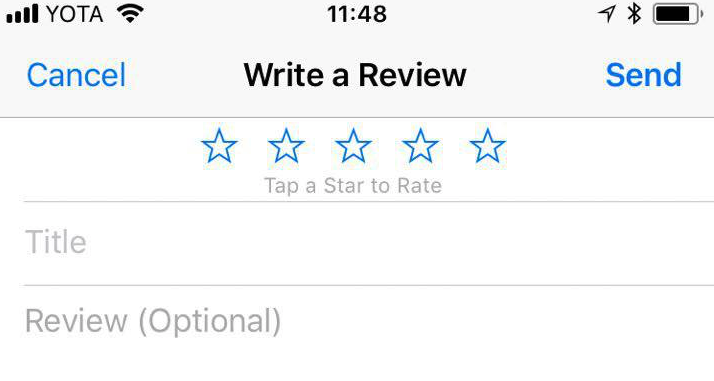 A great way to encourage users to leave reviews is by using the SKStoreReviewController API that controls the process of requesting app store ratings and reviews from users. Apple allows you to prompt users for ratings up to 3 times in a 365 day period. Users are able to submit ratings and leave reviews without leaving the app.
Learn More: How to Get as Many Testimonials as Possible from Your Customers
5) Make Use of Creative Sets
Creative Sets lets you add additional creative images to your ads that align better with the targeted keywords.
Each Creative Set can include a screenshot and an app preview that you select from your App Store product page: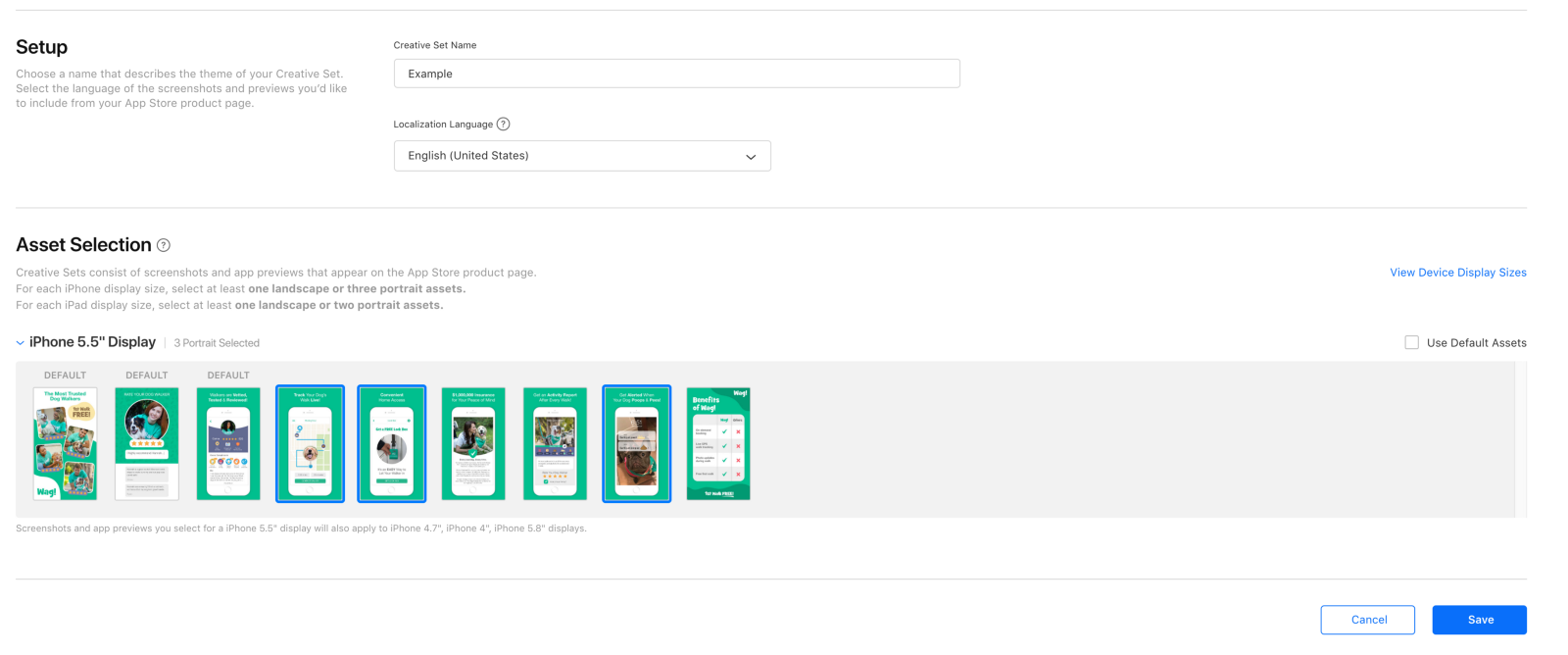 You can have up to 10 ad variations per ad group with Creative Sets, which leads to improved ad performance and ensures the best results.
6) Segment Ad Groups on the Basis of User Intent
User intent is the single biggest factor that has a direct impact on your ad relevance score.
Instead of placing all your ads in one group, it is recommended that you create separate ad groups on the basis of user intent. This will help you improve your ad relevance score and allow you to get more app installs.
Final Thoughts
Don't miss the opportunity of attracting a high-intent App Store audience by building a native iOS app and promoting it via Search Ads. As compared to Google Ads or Facebook Ads, Apple Search Ads are relatively easy to create. You can choose the Apple Basic Ads option and allow Apple to automatically create and run ads for you.
But there is definitely competition in the ad space. Where there is competition, there is challenge and Apple Store is no exception. Make use of the strategies listed in this article to make your app rank at the top of the Apple Store search results.