PPC Consulting: Why It's Essential for Business Growth
With fierce competition in the digital world, businesses need a proven ad strategy to stand out.
Enter PPC consulting.
Paid advertising is a powerful solution that can deliver up to 200% ROI. But without expert guidance, PPC can be challenging and costly.
In this post, we'll share why PPC consulting is essential, demystify pay-per-click marketing, and give you tips for hiring the best PPC consultant for your business.
5 Ways a PPC Consulting Agency Can Level Up Your Business
Working with a PPC specialist is always beneficial for your business. The best PPC consultants are reliable, can effectively manage your ad campaigns, easily keep up with PPC advertising updates, and deliver desired results.
When you have a strong marketing strategy in place, you can better handle generating regular leads and scaling your business.
Now let's dive into what a good PPC consultant can do to help your business grow.
1) They Conduct Thorough Market Research and Develop a Foolproof Strategy
Planning is everything.
Jumping into PPC ads is like jumping into major league baseball: You have to immediately compete with plenty of your industry giants. Unless you have a solid plan and boatload of experience, it will take you a lot of time to reach your desired goal. And you'll make plenty of mistakes along the way.
On the other hand, a professional PPC consultant knows exactly how to conduct market research to thoroughly analyze the market before preparing a personalized marketing strategy for better brand awareness and launching several campaigns.
Another great advantage of PPC management is that they always keep an eye on your direct and indirect competitors to track the keywords they are targeting and their performance. This enables them to develop ideas that will enhance your exposure in the search engines and among your target audience.
Dive Deeper: How to Perform Marketing Competitor Analysis (+ 6 Best Tools Comparison)
2) They Use Accurate Targeting for Higher Conversion Rates with a Low Budget
One of the best things about hiring a PPC consultant is that they analyze, optimize and find a way to deliver a higher conversion rate.
An experienced PPC consultant ensures a higher ROI from a lower cost per lead.
In pay-per-click marketing, keywords matter more. The bidding amount will be increased when more people target the exact keywords.
With less of a budget to work with, the PPC consultant prepares an alternate strategy (like using different keywords) to produce higher conversion rates.
Or they may bid for the competitive keyword and still achieve higher conversions by targeting precise buyers by location, age, interest and gender. Doing so helps you avoid wasting money and attract quality leads that have the highest chances of conversions.
3) They Continually Optimize Campaigns for Better Performance
PPC consultants know the ad copy that will work best for your business.
Remember, keyword usage in ad copy and landing page content creates a significant impact, and this is where the success of your pay-per-click campaign lies.
A PPC expert will seamlessly blend the chosen keywords into the ad copy to make them more engaging and click-worthy. Successful keyword addition in ad campaigns requires experience and skills. Inexperienced copywriters might unnaturally force the keywords into the ad, disrupting the essence of the context and turning people off.
Through expert research, analysis and strategy, paid search consultants know precisely which keyword to focus on and how the copy should be written, from headline to CTA.
After setting up the campaign, they monitor the performance and optimize it to improve the results further. They also conduct A/B testing to increase customer engagement.
Dive Deeper:
* 7+ Content Optimization Strategies to Increase Your Rankings
* 5 Important Landing Page Elements You Should Be A/B Testing

4) They Save Your Precious Time
Another great thing about hiring a PPC consultant? It's a big time-saver for you!
Keeping an eye on the entire ad campaign run by yourself can be time-consuming and challenging. So it is better to leave it to the experts.
Why monitor and track the performance of your campaign when you have so many more important business-related tasks to do? A PPC expert will do all that for you and then simply share detailed reports about your campaign performance. They'll discuss the results and let you know how they plan to improve the ROI.
This lets you have peace of mind and focus on other essential jobs to grow your business.
5) They Identify New Opportunities for You
Experience turns into expertise.
PPC consultants with years of experience have often worked in diverse domains and always bring fresh ideas to the table for business improvement.
They keep an eye on the latest PPC marketing trends and offer ways to use them to the advantage of your business.
Dive Deeper: Best PPC Agency: Top 5 Choices for 2023
How Does PPC Work?
PPC marketing relies on keywords, ad quality, relevancy, and bidding amount.
When you search for a keyword related to a product or service, the first few results are mostly ads.
Companies are engaging in bid wars to conquer the top position in real-time. This is because:
The click-through rate (CTR) of the first position in Google is 39.6% – close to half of all the clicks on page one!
You need to optimize your PPC campaign for the ad ranking algorithm to gain the top results. The top PPC ranking factors are:
ad copy relevance to the search query
ad clickthrough rate
ad quality score
ad bid amount
However, having a higher bid amount will not ensure a top SERP position.
Your ad might rank below the top position due to irrelevant content on your landing page (the message from your ad does not match the message on your landing page) or poor user experience on your website.
Hence, you need to optimize your website and landing pages for better PPC performance.
To run a successful ad campaign, keyword research is essential. List all the keywords that fit with your business goal, and start your ad campaign by setting the highest bid. After all the bids and the quality of the ads are considered, the ad that wins the auction will appear in the top position of the search engine.
If you have won the auction and hold the first position, that means every time a person clicks on your ad and lands on your website, you must pay the bid amount to Google or any other ad network on which you have placed your ad.
Before you begin your paid ad campaign, you need to set up an account on the platform on which you wish to run ads. If you are running ads on Google, you need to set up your Google AdSense account to start running ads.
PPC Ad Formats
Pay-per-click advertising does not just include search ads; there are several other ad formats that are great for bringing you leads and conversions.
We'll go over the top six PPC ad formats.
1) Search Ads
Search ads are advertisements placed on web pages that show results from search engine queries. When you type in a query in the search bar, the top few results are usually search ads (Google Ads, Bing Ads, etc. depending on the search engine):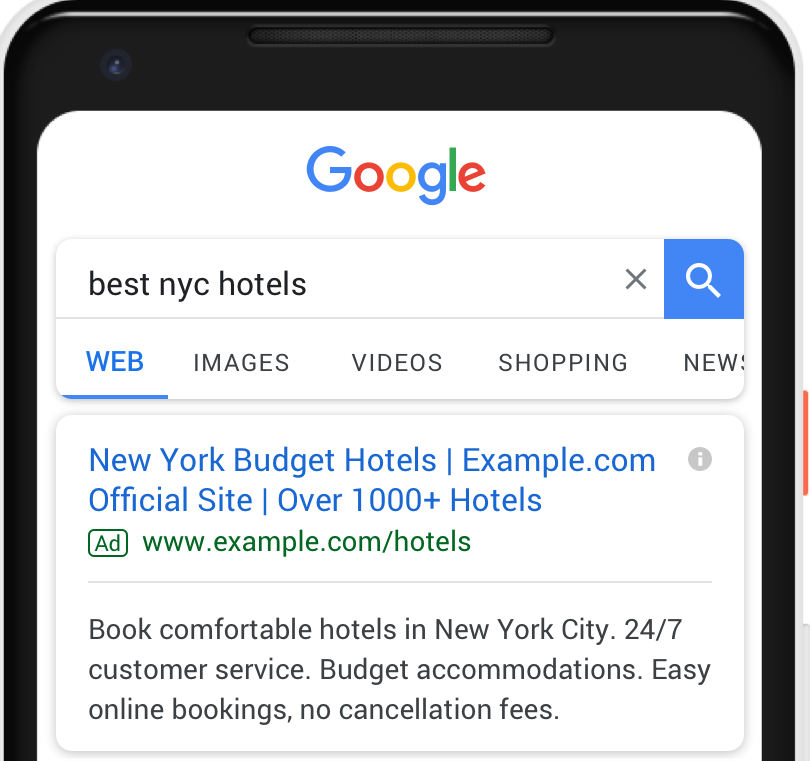 These ads are designed to convince searchers to click on them rather than the organic results by creating engaging ad copy.
Search ads also offer different extensions to provide users with additional information to improve the CTR.
Dive Deeper: Google Ad Extensions: Everything You Need to Know
2) Display Ads
Display ads are advertisements that run on other websites, and are usually image ads: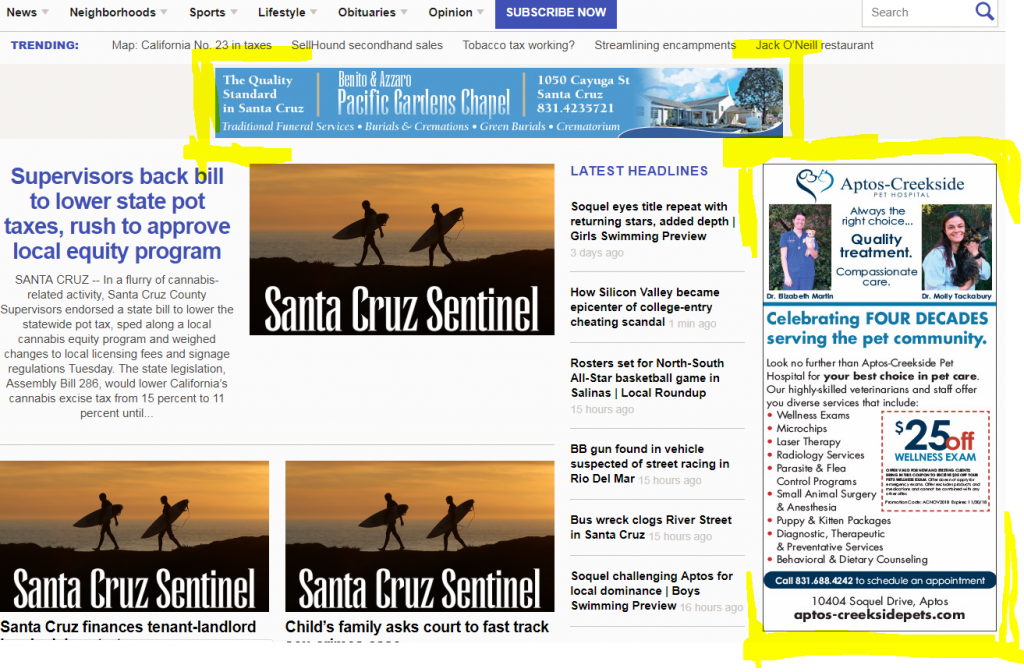 This is the best way to retarget an audience and persuade them to take action. There are different types of display ads, such as banner ads, interstitial ads, and rich media ads.
You can use an image or a video to encourage the user to click on the ad and make a purchase.
3) Shopping Ads
When you enter a product name in the Google search engine, it features the product from different sellers – i.e. shopping ads –  along with the price: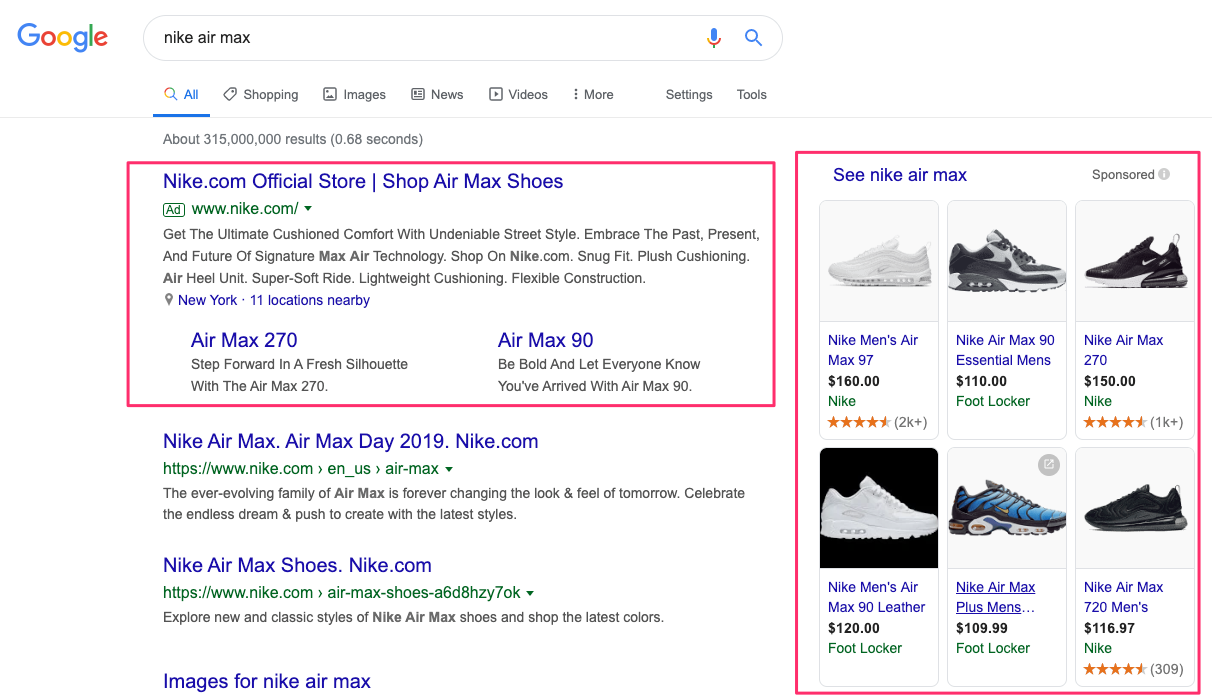 So, by promoting your top-selling products by running shopping ads, you can get more buyers and increase your profits.
4) Video Ads
YouTube is the best example of video ads, often shown as pre-roll (before the video starts), mid-roll (in the middle of or throughout the video) and post-roll (after the video is finished). Some allow you to skip the ad entirely or after 5-15 seconds.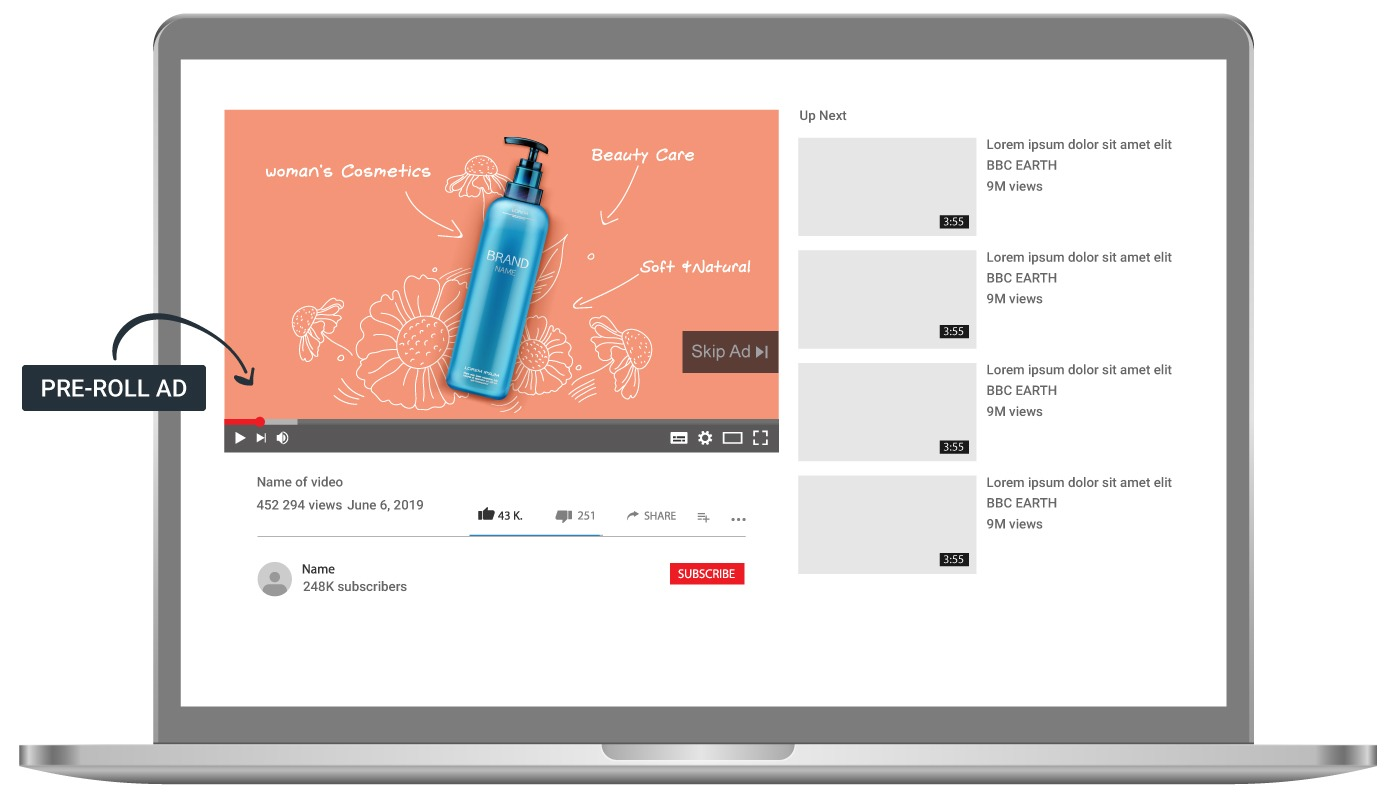 Like display ads, video ads are an excellent way to retarget the audience and you can run them on all social media platforms, not just YouTube.
That is what Amazon, eBay, and other top e-commerce stores do to attract shoppers and encourage them make a purchase.
5) Social Media Ads
Social PPC ads are a form of paid digital advertising for ad placement on different social media platforms. Here is an example of social media PPC ads: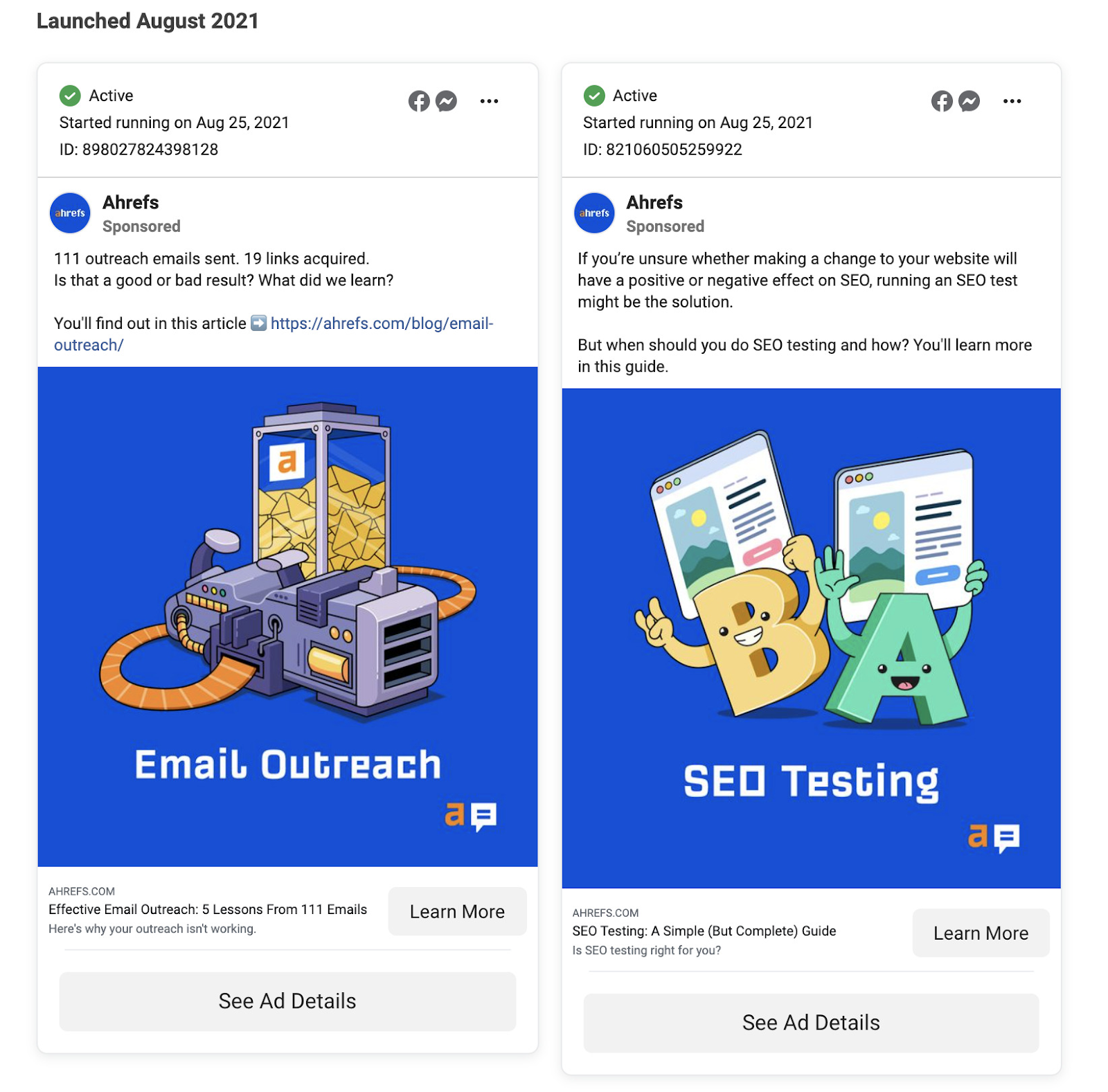 Social PPC advertisements can also be targeted based on demographics and interests. For example, if you run PPC ads on Facebook, they appear on the user's feed or timeline. Advertisers usually pay using a CPC or CPM model.
6) E-commerce Ads
E-commerce PPC ads run on e-commerce platforms such as Amazon, eBay, Walmart, Etsy, and others.
For example, you can run PPC ads on Amazon for searches related to the products you sell. Amazon PPC ad experts will help you run these ads to increase the sale of your products.
Here is an example of Amazon PPC ads: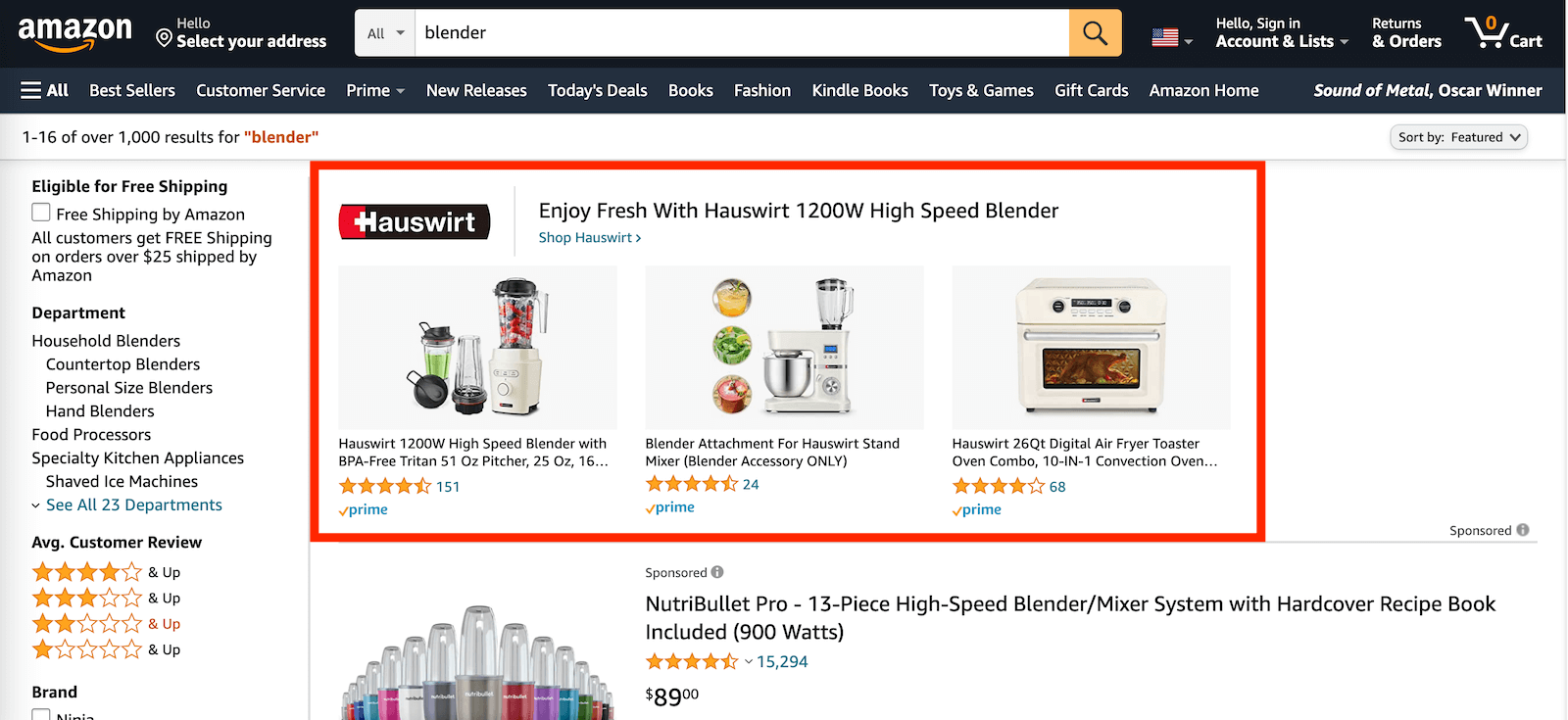 You must choose the format wisely based on your target audience's behavior. If you sell products, then display ads, video ads, and shopping ads would be ideal. Because Google's Display Network reaches 90% of online users, display ads are a great idea for B2B businesses looking to improve their visibility.
However, any format you use, the competition will remain high. Plus, running ads without prior experience may result in losing money without any return on investment.
Having a PPC expert on your side with excellent knowledge and experience in setting up ad campaigns will make your ad dollar go far. The most significant benefit of hiring an ad expert is that they can reduce the CPA and improve the profitability of your campaigns.
Dive Deeper:
* How to Create Compelling Text Ads on Google (with Examples)
* 22 Alternative Ad Networks for Best PPC Conversions in 2023
* How This Ecommerce Store Doubled Its Revenue Using Our Facebook Ads Advice

5 Things to Do Before Hiring a PPC Consult
If you have not previously worked with a PPC consultant, you might find it challenging to find and hire the right one for your business needs.
Here is a step-by-step procedure to follow to hire a PPC consultant:
1) Make a List of PPC Consultants
There are thousands of PPC consultants, each claiming to be the best.
You can hire freelancers or opt for a pay-per-click consulting agency. Get referrals and recommendations to PPC freelancers by asking your colleagues or searching on sites like LinkedIn, Upwork, Freelancer, etc. LinkedIn is an excellent option since most people's LinkedIn profiles act as their resumes. This could make your research easy.
You can also find PPC agencies on Google or PPC company directories such as Clutch or G2.
Once you have completed your research, write down a list of consultants that you are initially impressed with based on their websites and information they provide.
Dive Deeper: How to Find Great Consultants at Affordable Prices
2) Shortlist Three Candidates
Once you have your initial list, you should shortlist the companies to select the best one. Start filtering your list by researching and looking at the credentials of the respective consultants.
Ensure that the consultant is Google Ads (formerly Google AdWords) certified. Their past work tells you about the consultant's efficiency, expertise, and work quality. You should look at their previous work and the results they have achieved.
Check their customer testimonials and make sure to verify the authenticity of the testimonials by calling the customers.
You should also find out whether the consultant has worked for businesses in your industry. This will help you filter your options and hire the right individual with the required technical expertise for what you specifically need.
3) Book a Discovery Session
After shortlisting the candidates, arrange a discovery session to learn more about them and their work process. Use this opportunity to ask all your questions and clear all your doubts.
Here are some of the questions that you should ask a PPC consultant before thinking about hiring them:
What tools do you use to perform keyword research?
What steps do you take to boost the ad quality score?
How do you perform landing page optimization to improve the ad conversion rate?
What is the minimum budget you require to provide a higher ROAS?
What is your specialization?
How do you measure success?
Can you share some proof of your success?
Are you a Google-certified paid campaign specialist?
How do you test your ad copy?
What kind of reports do you provide?
How can a business get in touch with you after the campaign starts?
Do you provide PPC experts or customer care specialists to interact with the customer?
After conducting a discovery session with everyone on the list, you can filter the PPC agencies that have not provided satisfactory answers to the above questions.
Dive Deeper:
* 7 Questions to Make Sure Your Next Marketing Hire Is a Slam Dunk
* 16 Effective Situational Interview Questions For A Potential Marketing Executive

4) Have Candidates Run an Experiment
After the discovery session, you might just want to hire the right consultant immediately. Before you do, however, you might want to have them run a small experiment (for which you pay them, of course).
For instance, you might ask them to choose the right metrics for measuring the results of your business, goals, needs, and target audience, and then plan for the upcoming campaign.
Or, for a deeper understanding of the audience and the performance, you might have the consultants run a small and inexpensive campaign to test the copy, audience segment, and execution. Then they will use that data to formulate the perfect PPC strategy.
5) Launch Your PPC Campaign
Finally, now that you've selected the perfect PPC consultant, you are ready to have them launch your PPC campaign. This should be on a trial basis.
Have the consultant execute the campaign after optimizing it according to your goals. You should also have the primary and secondary KPIs set at this stage. Observe how the consultant keeps you in the loop by updating you about the campaign's performance via a series of reports. You'll want to see if they are capable of effective campaign management, so see if they continuously monitor the performance and adjust it to minimize CPC and maximize ROAS.
Measuring the Performance of a PPC Consulting Service
The ultimate goal of PPC investment is to scale your business revenue. Hence, you should always measure your pay-per-click campaign success rate.
Key Performance Indicators (KPIs) help you measure the effectiveness of marketing campaigns. Your PPC service provider decides on KPIs based on your campaign goals. If the KPI does not show the results that you are expecting, then the PPC consultant does some tweaking in their current strategy to align the campaign with your business goals.
Here are the most crucial PPC KPI metrics to consider:
Quality Score of Ad Content – Quality score is a top metric that Google considers for ad positioning. As long as your campaign's quality score is good, you have a higher chance of holding the top position in the search engine campaign on a lower bid, leading to a higher return on advertising spend (ROAS). To calculate the quality score, you must use multiple PPC metrics like click-through rate, ad relevance, and landing page quality.
Average Click-Through Rate (CTR) – Click-through rate is another valuable KPI metric. It ensures the ad's relevance to the people who are seeing it. To calculate CTR, divide the number of clicks your ads receive by the number of times your ad is shown. If the click-through rate is meager, your ad copy is not enticing or you are not targeting the right set of audiences. Monitor your campaign closely and regularly optimize it to boost performance.
Impression Share – Impression share refers to the number of people who have seen your ad. Every business running paid ads aims to improve its conversion and profit. Impression shares are valuable because people who have just seen your ad but have not taken action have now become aware of your business's existence. They can become your customer at anytime (particularly with retargeting). Moreover, this impression share tells you where you stand compared to your competitors.
Average Cost Per Click (CPC) – CPC is a crucial metric to determine how much you spend for a prospect who clicks on your ad link. Calculating the average cost per click is simple. Just divide the total cost of your clicks by the total number of clicks. Knowing the CPC cost will help you to apply some PPC tricks to reduce it.
Average Cost Per Conversion (CPC) – When running an ad campaign, it is essential to know how much you are spending to convert a lead into a customer. To measure CPC, divide the total cost of your conversion by the number of conversions.
Return on Ad Spend (ROAS) – As the name says, this KPI metric is used to gauge the return on ad spend. It is calculated by dividing revenue earned by the amount spent on the ad. ROAS is a vital KPI that helps you analyze your advertising efforts' effectiveness. Higher ROAS means your advertising is effective. If it is low, you must revamp your ad campaign strategy to pump up your ROAS.
Conversion Rate – The conversion rate metric lets you check your landing page's performance. If your conversion rate is high, your campaign is performing well. If your conversion rate is low, you should optimize your landing page or review your target audience.
To choose the right KPI for your pay-per-click campaigns, you should:
Have a clear understanding of your business goals and a list of measurable KPIs. You should always have primary and secondary KPIs to gauge the effectiveness of your PPC campaigns.
Research the industry standard to set a benchmark. You can use your previous campaign result or your competitor's current performance stats as a benchmark to elevate your success.
Dive Deeper:
* How to Gauge the Success of Your PPC Campaign
* Multi-Channel PPC Advertising Case Study: Boosting Your ROI
* Ecommerce Advertising Strategy: How We Doubled PPC Sales for ThinSlim Foods (with a 3X+ ROAS)

5-Point Checklist to Hire the Right PPC Expert
Here is a five-point checklist to ensure that you hire the right PPC expert for your business:
1) Verify the PPC Consultant's Expertise
PPC campaigns require a considerable amount of investment. Hence, it is better to trust the advice of an experienced paid search practitioner compared to a newbie.
Expertise comes from experience. When you choose an experienced consultant or PPC consulting firm, they will provide you with the best strategy and the best results.
An experienced paid search consultant knows exactly what appeals to a given audience, how to select keywords for the desired campaign goals, how to make the landing page enticing, and how to improve the ad quality score.
Partnering with an experienced pay-per-click marketer saves you tons of time, prevents inevitable money-losing mistakes, and gives you peace of mind. When researching the best PPC consulting services, check whether the digital marketing company has previous experience working in your industry or niche.
A final note: A full-service agency may also offer search engine optimization (SEO) and content marketing services, which usually enables them to provide better ad campaign services, as these strategies tend to overlap.
2) Check Out Their Previous Client List and Case Studies
Action speaks louder than words. Therefore, you should evaluate the paid search company's client list and case studies. Check out their portfolio to know which industries they have worked for.
A good PPC consultant should have a diverse portfolio. When consultants have worked across different domains, they will know how to create an effective campaign that appeals to your target audience. Case studies are a fantastic way to gauge and analyze their work process and campaign ROIs.
You can also ask the consultant about the most challenging campaign they have worked on and what results they achieved. Enquiring about it will give you a view of how they approach and solve a problem.
3) Read Their Client Testimonials
A dissatisfied client never leaves a good testimonial, and a satisfied client never leaves a bad testimonial. Therefore, it is always beneficial to check client testimonials.
An evaluation of the testimonials will give you an overview of the services the PPC consultant offers and excels at, and what the client liked most about the consultant or the company.
You should also check the customer's profile to verify their credibility. Talk to the customer to collect more information about the consultant's service.
4) Inquire About Their Reporting Structure
After hiring a PPC consultant, you want to have peace of mind and concentrate on other factors of your business to improve. However, the biggest concern for all business owners is the campaign's progress.
Therefore, you should ask your PPC consultant about their reporting structure and timeline.
Here are some questions you should ask:
What kind of PPC reports do you offer?
How often will the reports be provided?
At what intervals will we have a meeting to discuss the performance and improvement of the campaign?
Whom should I approach when I have a question on reporting?
5) Get Clear on Their Fee Structure
Discussing the fee structure is crucial before hiring a PPC expert for a smooth long-term relationship.
Here are the different fee structures for PPC consulting services:
Flat rate – A flat rate pricing means charging a fixed amount for the service. The price would vary depending on the experience and skills of the pay-per-click marketer. Some consultants might charge separately for setting up your campaign, on top of the monthly service fee. Hence, you should always ask about this from your PPC service provider.
Hourly rate – Some consultants charge on an hourly basis. Hence, every hour a PPC consultant works on your project adds to your bill. Some marketers might be able to deliver faster work, while others might be work more slowly. Therefore, you should be careful when going with this option. For example, if you share any wrong details from your end and the consultant works on it, later when you realize the error and ask them to change it, the time they worked on it would be wasted, but you will still have to pay for it.
Performance basis – Some PPC companies charge based on the campaign performance. They charge a fixed monthly fee plus extra if they can achieve the set targets. This means that the better their campaigns perform for you, the more they get paid. Their pricing is often revised depending on different result benchmarks.
Percentage basis – Some paid marketing consultants ask for payment on a percentage basis. The companies charge a fixed monthly fee plus a percentage of the total amount you spend on the PPC campaign. For example, if you spend $2,000 a month on the campaign, your total fee would be the fixed monthly fee charged by the consultant plus $400 (20% of $2,000).
Related Content: PPC Audit Cost Analysis: How Much Should You Expect to Pay?
Last Word on PPC Consulting
PPC is the best marketing channel to establish a loyal customer base, but PPC marketing requires exceptional skills.
Follow the steps discussed in this article to hire the right PPC consulting or company for your business.
Hopefully you learned how to find and hire the right PPC consultant on your own! But if you just want an expert PPC agency to do all the work for you, click here.