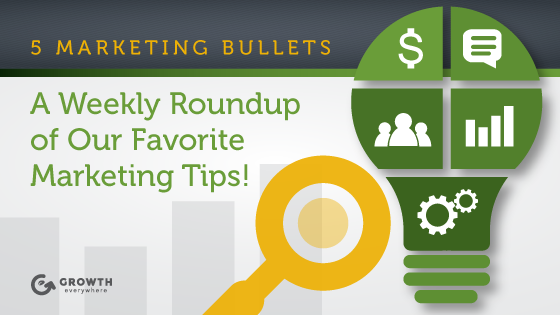 This post originally appeared on Growth Everywhere, a marketing and business growth blog.
Happy Friday, everyone! I hope you are all prepared for an awesome weekend! But first, here are my top five favorite marketing pieces from this week:
Is Google's local pack a survival kit for local businesses? 300,000+ SERPs analyzed | AccuRanker – AccuRanker analyzed more than 300,000 local SERPs in the largest US cities to get a clear answer to the question: Are Google local packs a survival kit for local businesses? The short answer is: Small businesses have a 40% chance of becoming visible in Google local packs in the top three results! So if you run a local business or you are a local SEO professional, this is a must-read post!
What 300+ Content Marketing Campaigns Can Teach You About Earning Links – Rand Fishkin said that the learning curve for producing a piece of 10x content is 5-10 attempts before you get it right.  If you're a content marketer, I'm sure you agree with that! This blog post by Moz is based on three years of content marketing campaigns and answers the question: What factors increase content's ability to earn links?
The Margin Manifesto: 11 Tenets for Reaching (or Doubling) Profitability in 3 Months – Since the financial goal of a start-up is to profit in the least time with the least effort, this post by Tim Ferriss (so you know it's going to be good!) is the principles he reviews whenever he faces operational overwhelm or declining/stagnating profits. He interviews high-performing CEOs in more than a dozen countries to get their take on consistent profitability – in 3 months or less.
What I Learned From Really Long Form Content Production – Author Pete Wailes recently wrote a post on the history of spaceflight as an experiment to see if people really do read long content on the web. Here he shares his process as well as the data from this experiment.
Your Media Business Will Not Be Saved – Author Joshua Topolsky observes that we're all desperate to believe that The Problem can be solved with the New Thing: A new kind of video app. The best news stories of the day, except all on video. Video, but with subtitles. Only 30-second videos, designed for vertical screens. This thoughtful post dives into why video will not save your media business.
In case you missed it:
Latest blogs from Growth Everywhere:
Latest blogs from Single Grain: