This Week in Growth: 5 Marketing Bullets 1/22/2016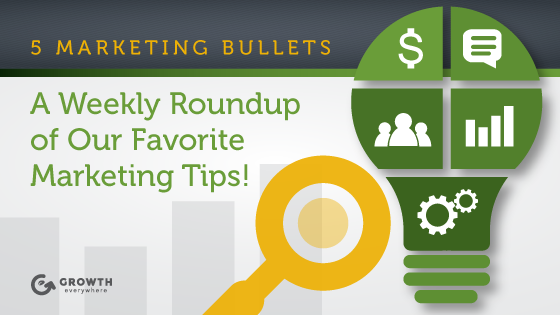 This post originally appeared on Growth Everywhere, a marketing and business growth blog.
Let us do the work for you! Every week, you'll get a summary of notable marketing news straight from us.
Here are my top five favorite pieces from this week:
We Analyzed 1 Million Google Search Results. Here's What We Learned About SEO – Backlinko does it again with a very in-depth post on what really matters in SEO today. Some key findings: backlinks are still more correlated with rankings than any other factor (surprise, surprise), HTTPs has a correlation with first-page Google rankings, Scheme doesn't matter as much, and more. I love it when a post is littered with graphs and data—Brian over-delivers on this one!
Google's Recent Core Algorithm Change Could be Called the "Lead-Gen" Update – This post from Distilled claims that Google's most recent algorithm shift could be tied to targeting third-party lead generation sites. For example, if you sell drug rehab leads to other rehab centers, you could be in for a rude awakening. I'm not buying this100%, but it's always interesting to get other interpretations of recent results.
You Can Now Install Android Apps Directly From Google's Search Results – Great news for Android app makers! Google is now allowing Android apps to be installed directly from the SERPs. It's unlikely this would be available for iOS users though.
An Open Letter to Entrepreneurs Struggling to Grow Their Business – There are 3 important levers for any business owner to pull when they need to grow: Optimization, Systemization, and Innovation. Think about where you are with your current business. What's the low-hanging fruit? Tip: Optimization and Systemization are usually easier to tackle first.
Acquisition SEO and Business Crowding – When it comes to SEO, owning the top 1-2 results can be the differentiator between success and failure. Often times, big players will end up buying out other top results to own that real estate. This is a great post on how 'acquisition SEO' works and what the future looks like for it.
And a bonus bullet!
How To Get Featured on Large Publications (Without Guest Posting) – FANTASTIC post on content syndication (and a free downloadable resource with links to publications and contact information for sites that allow it)!
In case you missed it:
Single Grain's latest post:
Growth Everywhere's latest posts: