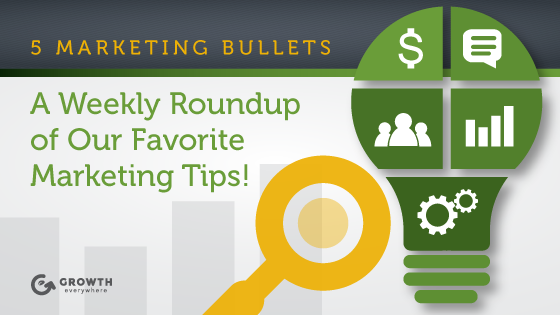 This post originally appeared on Growth Everywhere, a marketing and business growth blog.
Happy Friday, everyone! I hope you all have a fun (and safe!) long weekend ahead of you, but before you take off for picnics and fireworks, check out my five favorite marketing pieces from this week:
How to Write Content that Gets Over 100,000 Views (a Formula that Works) – When it comes to content (or anything, really), everyone wants to save time and yet still see awesome results. That's why tried-and-true formulas work (check out my Zapier blog post). This fantastic post from Inbound.org offers up just that–with the promise of at least 10,000 views. The key? Resource articles.
10 Ways to Use Live Streaming to Build your Brand – Live streaming is a great way to reach huge audiences (and not just the Millennials). Of course, no medium or channel can be great unless you have a great idea to start with. This post gives you 10 inspiring ideas to springboard your very own live video.
How to Create Maximum Content with Minimal Hassles – This podcast is the second episode of a new series called Talk Digital To Me, hosted by Managing Editor Jess Ostroff. In this episode she breaks down how to build an audience for your content, how to hold yourself accountable to your editorial calendar, and her favorite content management tools.
Segmenting Smarter: The Dr. Tami Lead Generation Case Study – Ok, any post that begins by referencing "Monty Python and the Holy Grail" is definitely a must-read! In the movie, a group of people arrive at the Bridge of Death where there is a gatekeeper. Sir Lancelot answers three simple questions and is allowed to pass. Sir Robin, however, is given much more difficult questions which he can't answer and is catapulted into the air. The author of this post says: "Your business should take a similar approach in your segmentation strategy." In this case study they break down their "30-day approach that drove 6,086 new segmented leads to one of our clients using only $2,996 in ad spend or $0.49/segmented lead."
Advertising Isn't Dead, But Market Is Changing – "All advertising isn't dead. Just bad advertising." PepsiCo president Brad Jakeman (on a panel hosted by Wall Stree Journal at the Cannes Lions advertising festival) said "that a glut of bad advertising created by agencies, marketers and brands are to blame for the growing use of ad blocking technology by consumers." Great read.
In case you missed it:
Latest blogs from Growth Everywhere:
Latest blogs from Single Grain: