Success in any industry relies on a brand's ability to consistently generate, nurture and convert leads. The more effective your lead generation strategy is, the higher your profit.
Many companies struggle with not only identifying the ideal leads, but also figuring out how to capture and maintain their attention. That's where a lead gen digital agency can help.
In this post, we'll not only provide a curated list of the top 5 lead gen agencies, but also the benefits of hiring such a company and how to choose the right one for your brand's goals.
---
---
The Top 5 Digital Lead Gen Agencies
There's no one-size-fits-all strategy for choosing the perfect lead generation agency. The ideal company for you is one you can trust to deliver consistent measurable results to your business. You'll find it's often much easier to pick the right agency if the company provides you with case studies and testimonials to offer insights into the service you can get.
To help narrow your choices and get you on the right path, we've put together a list of some of the top digital lead gen agencies in 2023, and what makes them so special.
Specializes In: Lead generation, conversion rate optimization
Top Clients: Airbnb, Amazon, Lyft
Pricing: Custom based on your requirements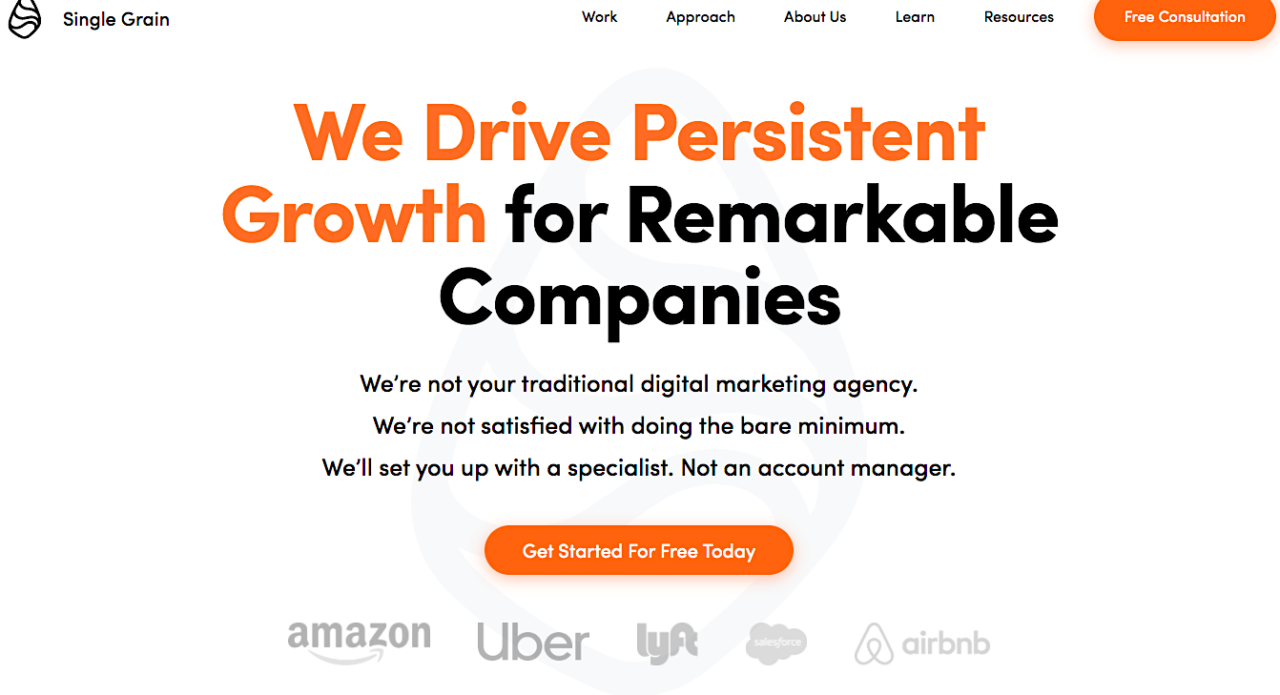 Single Grain is a unique full-service marketing and consulting company, offering help with the entire lead generation and conversion process. This agency sets up each individual client with a dedicated specialist committed to getting to know the business, its customers, and its competition, so they can provide the best possible lead generation strategy.
More than just marketing professionals, Single Grain's team includes access to consultants and industry experts who can help you to better understand your audience, as well as content creators, social media professionals and conversion rate optimization experts. You can even get specialist marketing training and access to exclusive technology with Single Grain.
With reporting and analytics to show you the results of your investment every step of the way, Single Grain gives brands all the tools they need to start converting more leads instantly.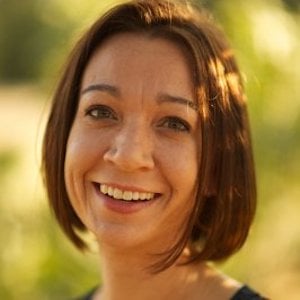 Kim Cooper
Director of Marketing, Amazon Alexa
Single Grain enables us to increase our impact without increasing our headcount
Check out Single Grain founder Eric Siu's short video on his favorite B2B lead gen strategies:
2) CIENCE
Specializes In: Outbound marketing, lead generation
Top Clients: Google, Okta, Yamaha
Pricing: Custom based on your requirements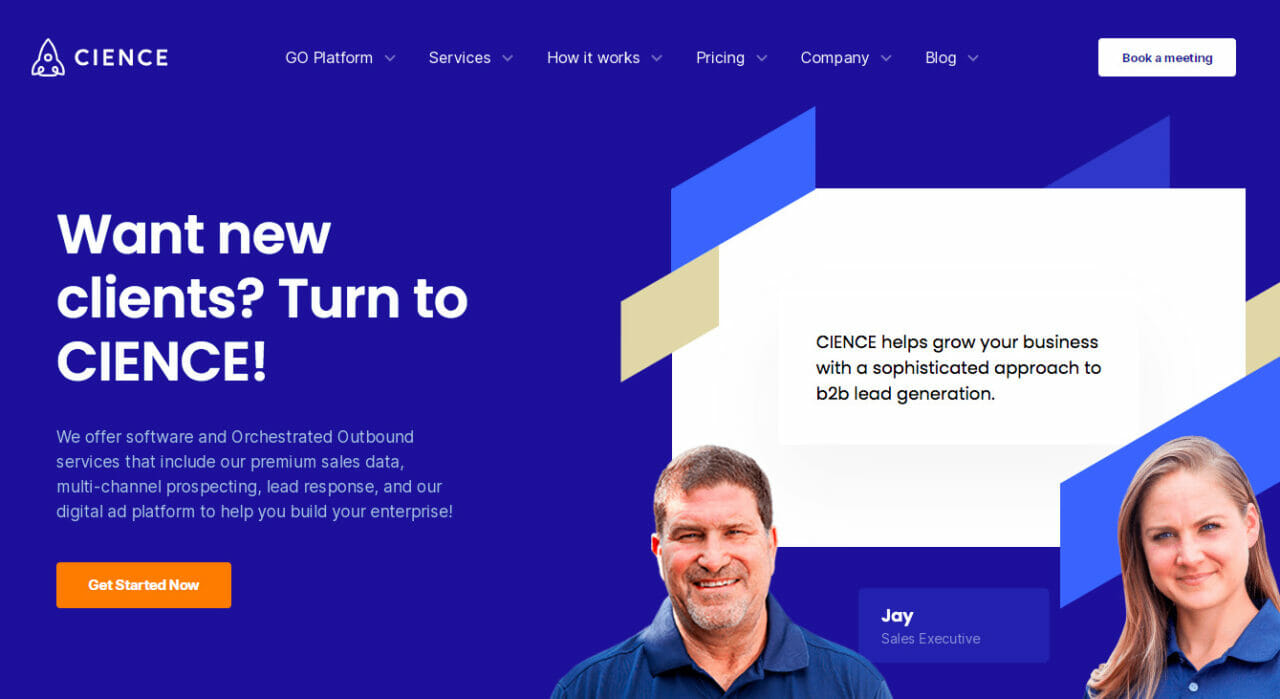 CIENCE is a data-driven lead generation company committed to helping companies find and convert more leads. The company grows pipelines using a host of outbound strategies, including email marketing, phone calls and social media marketing techniques.
Delivering bespoke services to every business, CIENCE builds highly targeted multi-tier campaigns perfect for companies in search of a reliable way to increase sales and strengthen customer relationships. The company's commitment to using the latest technology means you get access to a range of powerful tools, like AI-powered research systems.
If you're looking for a tech-focused company with access to multi-channel outreach capabilities and next-level data insights, CIENCE could be the lead generation brand for you.
Dive Deeper: Why You Should Use Multiple Channels to Maximize Your Customer Acquisition
3) Belkins
Specializes In: Lead generation, sales strategy
Top Clients: WSI, Berkeley, Texas Association of Business
Pricing: Custom based on your requirements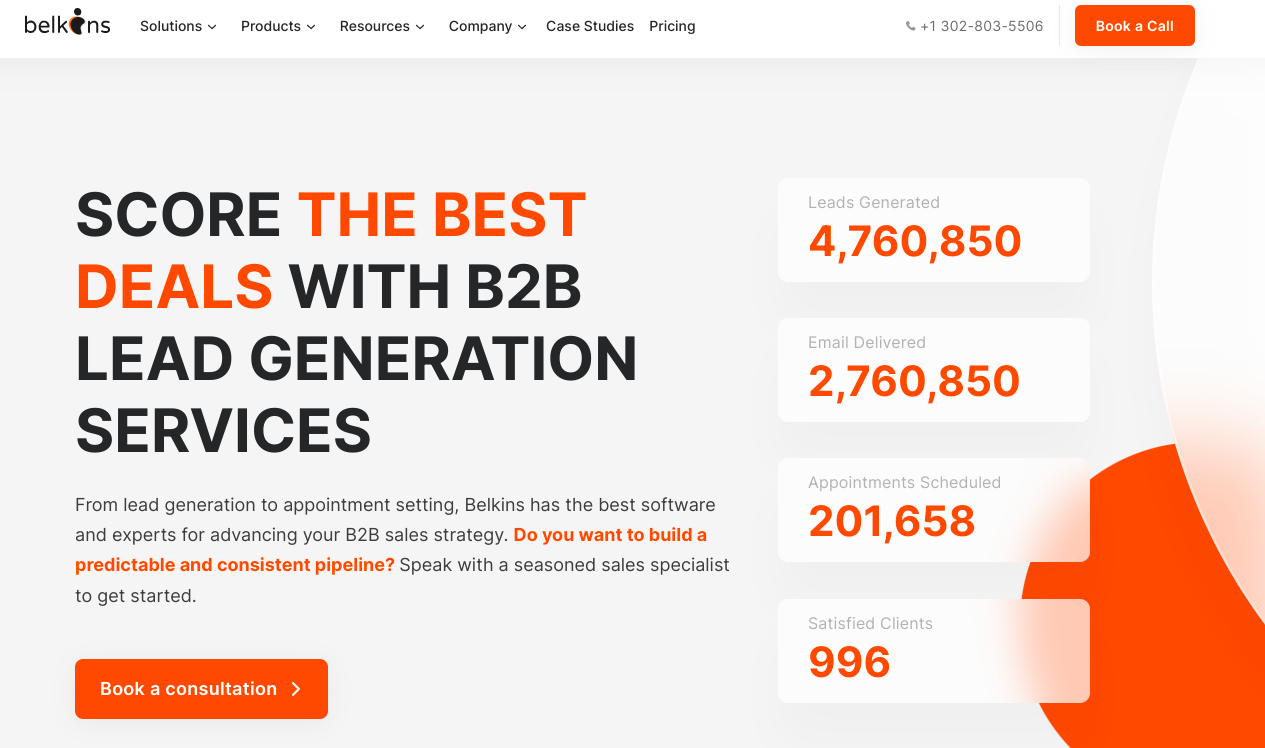 Promising exceptional support for companies growing their sales funnel, Belkins is a dedicated lead generation company committed to handling every aspect of your top-of-the-funnel needs. The company can handle everything from creating your targeted sales leads lists to arranging appointments and calls with qualified prospects.
Thanks to a team of experienced B2B sales development representatives, copywriters and marketing gurus, Belkins can offer a flexible and full-service experience for companies who need help with generating more qualified leads. The brand has earned a host of high-level reviews across the web for its commitment to customer service and its use of cutting-edge technology.
Belkins can even help you identify your potential target leads from day one, with in-depth market research and customer personal profiling on your behalf.
Dive Deeper: How to Create a Powerful Marketing Funnel Step-by-Step
4) Martal
Specializes In: Lead generation, sales
Top Clients: SoFi, Clickworker, Zoho
Pricing: Custom based on your requirements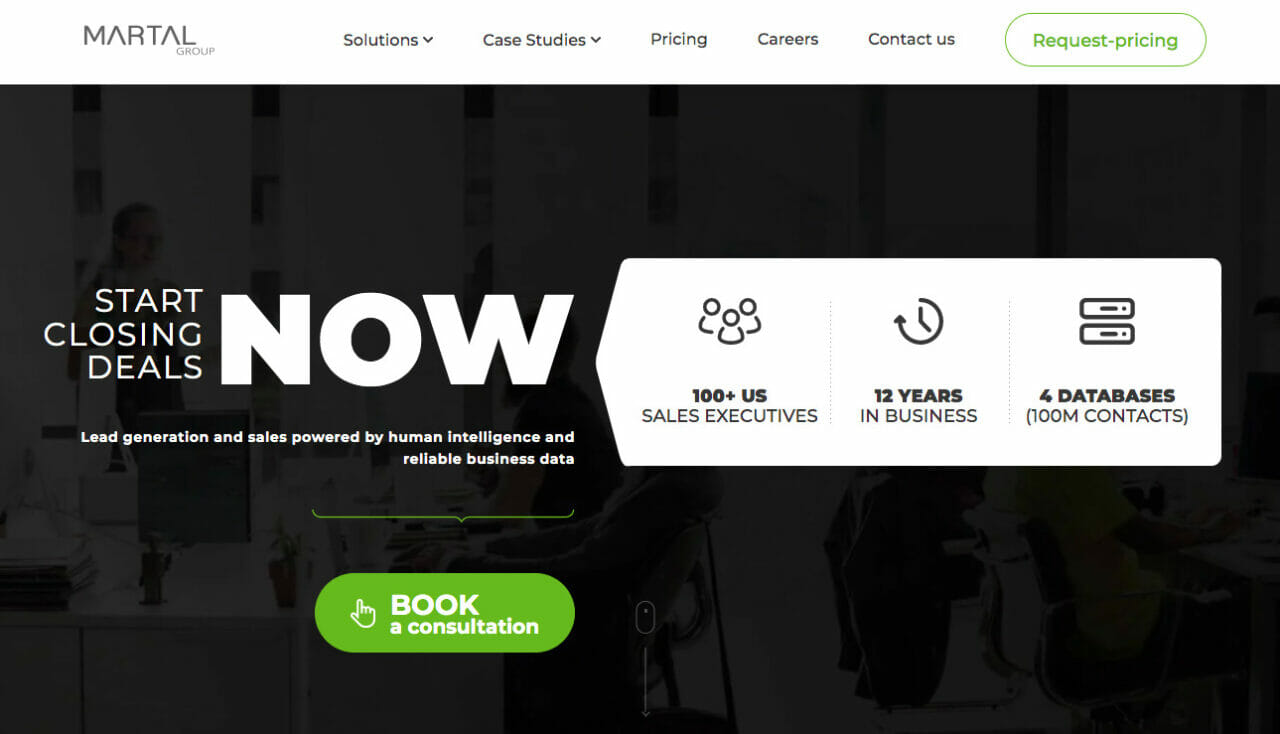 Martal is a unique lead generation company capable of offering a wide range of outsourced sales services to growing brands. The company not only assists with generating leads on behalf of your business through both inbound and outbound methods, they can also give you extra support with things like B2B appointment scheduling and sales.
Committing to helping their clients grow fast, Martal starts each lead generation process with an in-depth assessment of the company they're working with so they can provide a more tailored-approach to strategy and growth.
The company is made up of a number of leading B2B experts with in-depth knowledge selling to companies all throughout a host of industries. You can also expect access to a range of powerful tools when working with Martal for better insights into your audience and competition.
Dive Deeper: Tips for Creating a Data-Driven B2B Customer Journey Map
5) Pearl Lemon Leads
Specializes In: Lead generation, coaching services
Top Clients: Twitter, Oracle, Mitsubishi
Pricing: Custom based on your requirements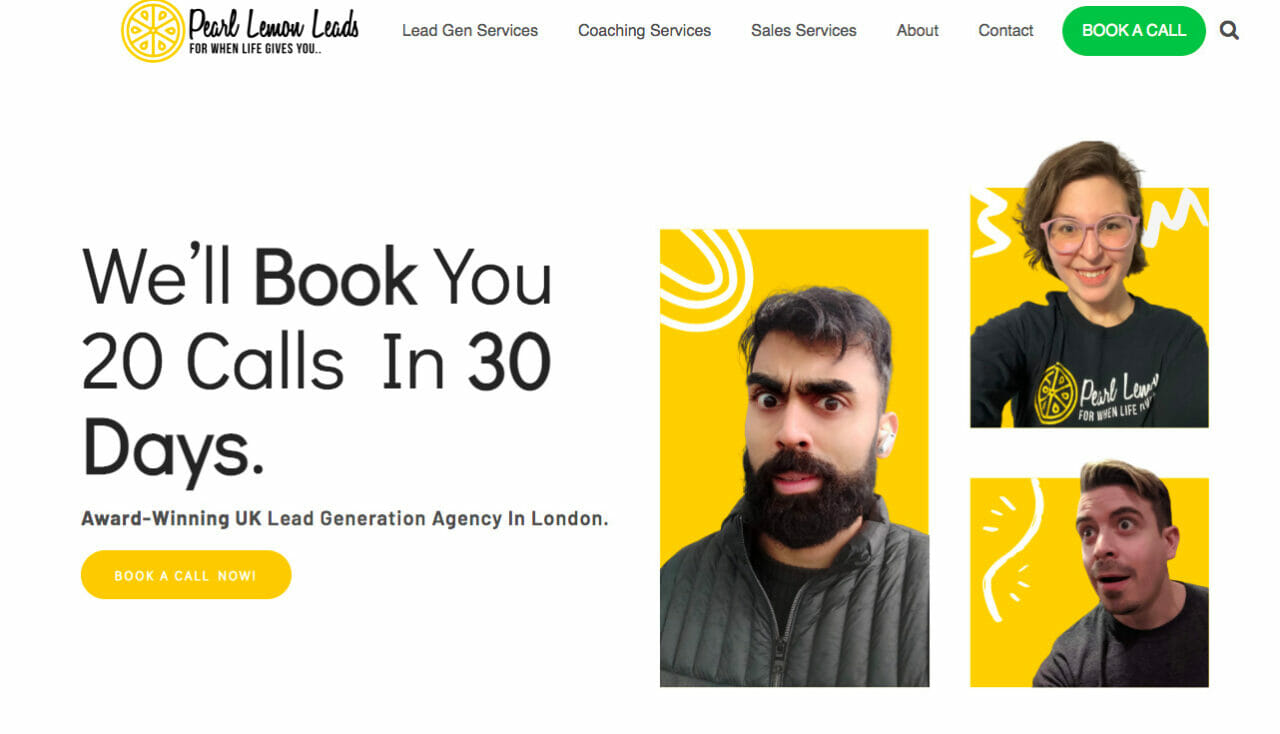 Pearl Lemon Leads is one of the most reputable lead generation companies based in the UK, with an award-winning approach to sales and business growth. With endless experience working alongside a host of the world's best-known brands, Pearl Lemon Leads has developed a strong reputation for itself as a full-service business.
With this agency, you can access a range of lead generation services in the digital landscape, including access to LinkedIn, cold email support and B2B lead generation. Pearl Lemon can also help with appointment setting and coaching services to help your sales teams perform at their best when new leads start pouring in.
If your lead generation strategies are successful enough that you find yourself in need of extra support managing all of your new prospects, you can also outsource some of your sales tasks to the Pearl Lemon Leads team.
Dive Deeper: How B2B Firms Can Acquire Leads with Programmatic Ads
What Is a Lead Gen Digital Agency?
Lead generation is the art of identifying and cultivating potential customers specifically suited to your service or product. It's one of the first stages in the conversion journey for brands, and also one of the toughest to master.
A lead gen digital agency is a marketing firm that specializes in helping brands improve conversion rates by capturing the leads best suited to their business goals and, thus, accelerating their earning potential.
The right agency identifies your target audience and helps you create personalized marketing and sales campaigns designed to increase advertising clicks, sales and brand recognition. This could include helping you build the perfect SEO campaign to attract customers organically from the search engines or working with you on paid social and search strategies.
In simple terms, lead generation agencies assist your company in finding people who will show interest in your brand or product.
Here's what a typical lead gen agency does:
Conduct market research: Generating leads consistently and effectively means using the right data to make intelligent marketing and sales decisions. Lead gen digital agencies will conduct research to guide your campaigns. This includes learning everything there is to know about your target audience and their purchasing journey. It could also mean building customer personas and working with you on competitor analysis.
Support branding strategies: A lot of lead generation involves ensuring that you make the right impression on the correct audience. Updating or improving your brand's image can help to turn an impression into a lead, and a lead into a sale. A lead gen agency is careful to make sure that everything from your tone of voice to your website makes the right impression.
Develop advertising strategies: To generate leads for your sales team, your agency needs to get the word out about your brand. Digital lead gen companies do this by leveraging various advertising strategies. They'll work with you to assess how you're going to generate attention through paid media (PPC), social media campaigns, content marketing, and more.
Create content: A lead generation agency can also help create content that's crucial for your advertising efforts. This could mean making graphics and videos to share on social media, designing ad copy for your PPC campaigns, or even writing blogs to develop your thought leadership position in your industry.
Report and optimize: Lead generation agencies focus on improving your lead capturing opportunities over time. To do this, they learn from the results of each campaign, gathering information and delivering reports you can use to make better decisions about your future marketing strategies.
Dive Deeper:
* SaaS Lead Generation: How We Improved Axure's Lead Quality Overnight
* The Anatomy of an Effective SaaS Lead Generation Strategy
* 9 Mission-Critical Lead Generation Metrics You Need to Track

The Benefits of Hiring a Lead Gen Digital Agency
Lead generation isn't always simple. In a world where your customers see hundreds (if not thousands) of different brands on a regular basis, it takes something special for your company to stand out. Often, generating and cultivating leads is a full-time job for many brands.
A lead gen digital agency can focus on finding leads on your behalf, so you have more time to concentrate on converting those leads into long-term sales.
Some of the benefits of working with a lead generation agency include:
Improved Targeting
Often, when you first start working with a lead generation agency, the first thing they'll do is work with you to identify different kinds of leads. They'll help you understand the difference between a qualified lead and a cold lead, and what kind of characteristics your target audience might have: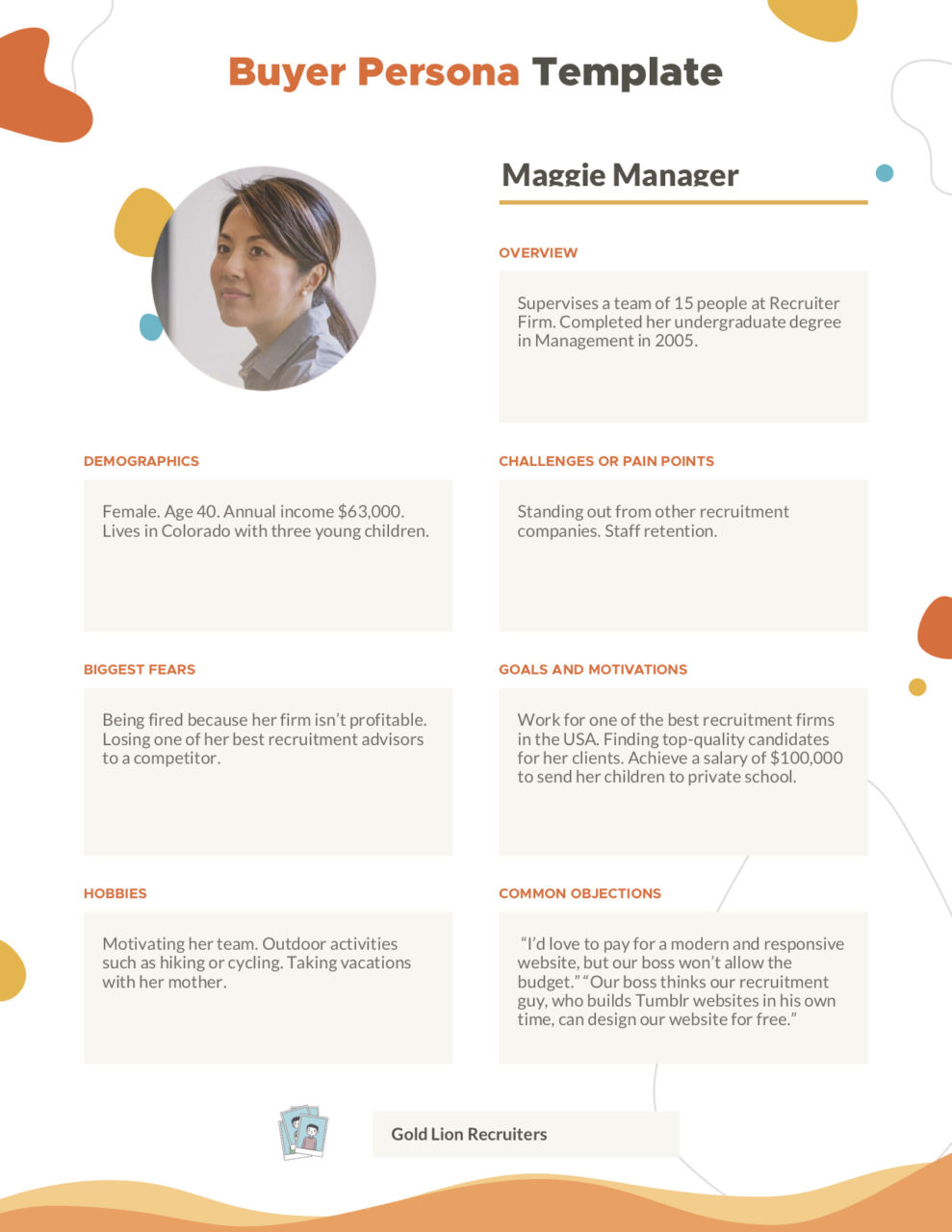 Once you've fully identified your target audience, your lead gen agency can help you develop the marketing campaigns most likely to appeal to that customer. This means you spend less time and money on efforts that won't work for your niche.
Improved targeting boosts your chances of conversions from all advertising campaigns, while ensuring that you spend less on your customer acquisition.
Higher Revenue Opportunities
A digital lead gen agency doesn't just identify your audience and help you set up Google Ads campaigns. The best companies will also examine your existing lead generation tactics and determine which steps you need to take to optimize your conversions.
These agencies can help you explore a wide range of strategies for capturing your target audience, from content marketing and SEO to social media and influencer marketing. What's more, they'll offer advice based on experience working with other companies similar to yours.
Lead gen agencies will also help you pinpoint areas where you can expand your earning potential, with things like retargeting campaigns, to give you a second chance at conversions. With reports and analytics, you'll be able to gather the data you need to boost your revenue opportunities.
Better Brand Image and Reputation
A lead generation agency works with you on presenting the best possible image to your target audience so you can have the highest chance of cultivating warm leads. They can do this by helping enhance your brand image by improving your presence (often with A/B testing) throughout your website, blog, social media pages, and landing pages: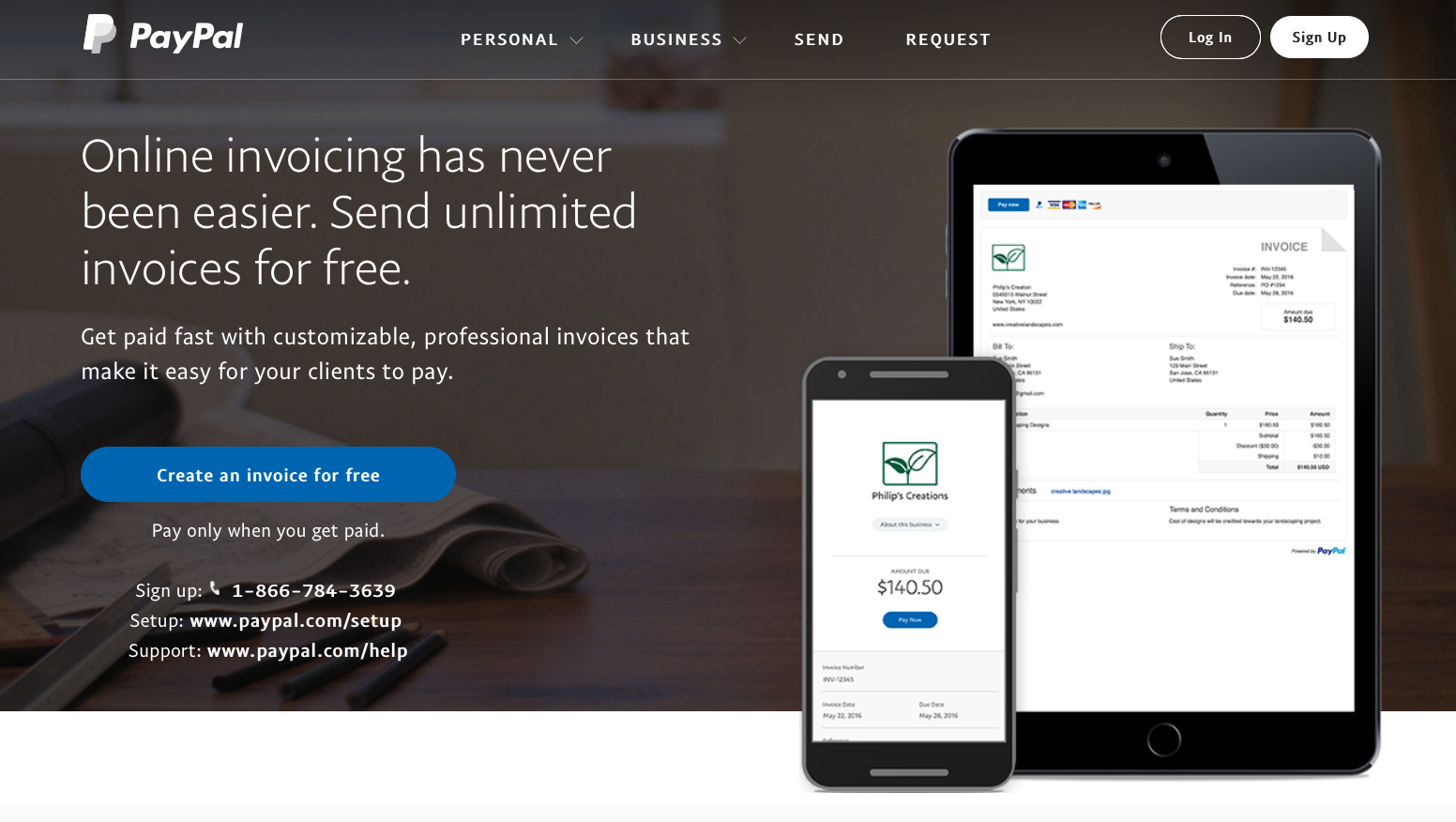 The same agency will be able to strengthen your brand voice by improving the content and copy you use to convert and engage your users. With a full brand audit and a comprehensive lead generation strategy, your agency can improve the impact you have on your audience through all parts of your inbound marketing methodology.
The result isn't just a better brand image and reputation, but also better return on investment from all of the marketing assets you use, as everything you do relies on a strong brand.
Dive Deeper:
* 15 Fast and Easy Ways to Improve Your Site's Conversion Rate
* Best Lead Generation Tactics for Content, Email & Social Media Marketing
* The Difference Between Retargeting and Remarketing

How to Choose a Digital Lead Gen Agency
Lead generation agencies can be a powerful addition to your team. They take over the complicated process of funneling opportunities towards your sales team so you can focus on converting customers, driving long-term value, and building your business.
However, choosing the right lead generation agency can be complex. While there's no one-size-fits-all to picking the perfect agency, there are a few things worth looking out for:
Industry Experience
The methods most likely to attract customers and generate a positive response in the digital world will change depending on the industry you're in. With that in mind, it's worth looking for a digital lead generation agency familiar with your sector.
For instance, if you're in the rising NFT space, you might want to consider working with a lead gen company with a good knowledge of what NFTs are, how to market NFTs, and a familiarity of using community forums and discord channels: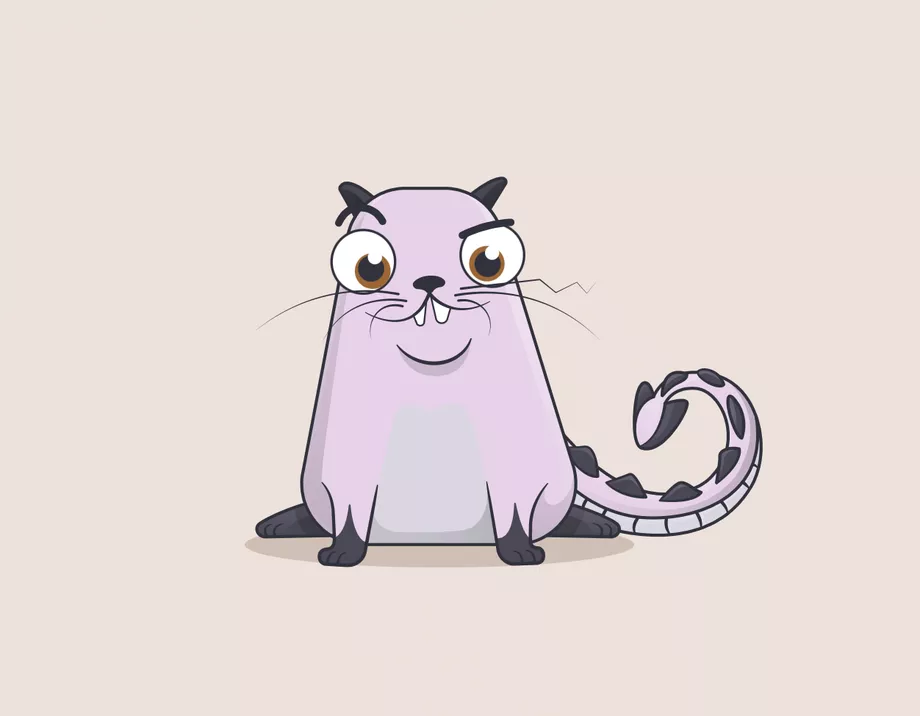 If you're in the fashion and beauty space, you're more likely to use lead generation techniques that focus on visual tools like Instagram and Pinterest.
For evidence that your agency understands your particular space, look into the case studies and testimonials they provide from other clients.
Content Creation Expertise
A digital lead generation agency should be able to audit your brand, examine your industry, and help you come up with a powerful marketing plan to help reach your target audience.
If you don't have access to a comprehensive team of content marketing experts, then you'll need your lead generation agency to help with content creation, too.
Many full-service companies can help with everything from SEO and content strategies to social media management. It's worth looking into the kind of content marketing strategies your agency might be able to help you with before you commit to a specific company.
If you're going to be working with a separate content creation agency, make sure they can collaborate effectively with your lead generation team, so you're following a consistent strategy for growth.
Research Skills
Great lead generation in today's fast-paced digital world is often heavily reliant on access to the right information and data. With this in mind, your lead gen agency should be extremely skilled at collecting and using information.
Look for an agency with the tools required to collect data about your target audience, your marketplace, and your competitors. They should be able to provide you with reports and full behind-the-scenes insights into the data they're basing their suggestions on.
A good lead gen agency should also be able to use data to highlight their benefit over time. Look for a company capable of offering regular reports and insights to show you how your lead generation techniques are paying off.
Dive Deeper:
* How to Create a Killer SaaS Content Marketing Strategy
* How to Rank Your Brand-New Website When You Don't Know SEO
* How to Conduct Smart Competitor Research for Better Customer Acquisition

Ready to Hire the Right Lead Gen Digital Agency?
The best lead gen digital agency for your business will depend on a number of factors, including what kind of leads you're trying to reach, how you want to connect with your audience, and whether you need access to extra services, like content creation.
For the most part, many companies will find they have a much better return on investment when accessing support from a holistic full-service company, capable of assisting with all aspects of lead generation and conversion.
If you're keen to start generating more leads for your business, you can kick-start your business today with a little help from Single Grain. Get in touch to find out what services we can offer.
Schedule your FREE consultation with Single Grain's Lead Generation experts to discuss your needs.👇