Is your website receiving a lot of traffic but not enough leads? And, more importantly, are the leads not converting to actual sales?
If you answered "yes" to the above questions, then the problem could be "quality traffic". Read on to find out how to tell if the traffic coming to your website is of poor quality, and if so, how to fix it.
How to Know if Your Website's Traffic Quality Is Poor
Here are some ways to easily identify whether or not your website is acquiring the traffic that it deserves:
1) Your Bounce Rate Is Higher than the Industry Average
As per Google, "a bounce is a single-page session" and the "bounce rate is single-page sessions divided by all sessions, or the percentage of all sessions on your site in which users viewed only a single page and triggered only a single request to the Analytics server." In other words, a site visitor is said to bounce when they visit a web page but then do nothing else.
If the industry average is 60% but the bounce rate of your website is 80%, then it is a signal that your traffic quality is poor. The below graph provided by Conversion XL shows the bounce rate benchmarks by industry: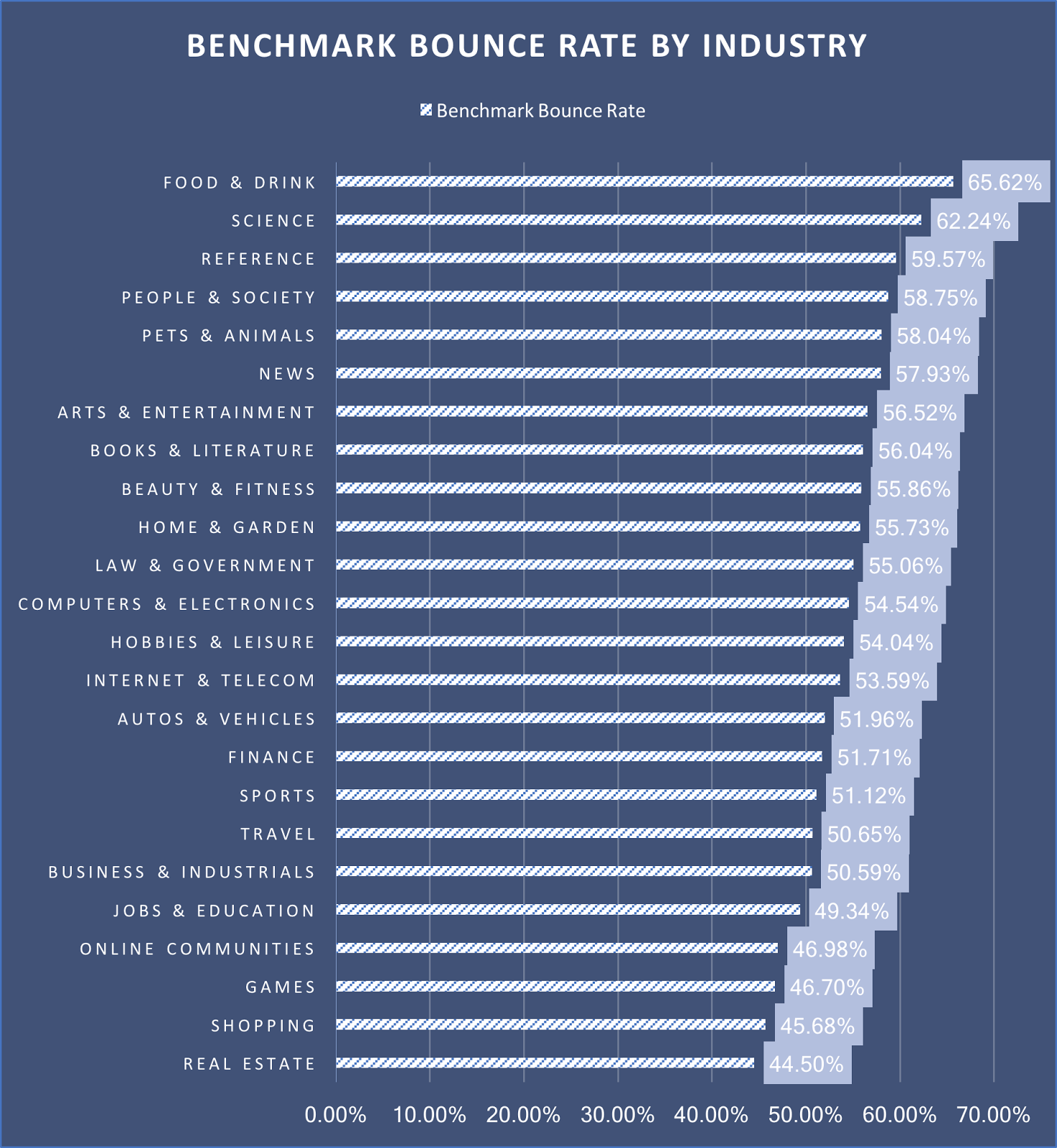 To lower your bounce rate, you will have to analyze what is going on in your Google Analytics or other web analytics tool to figure out why people are leaving your site so quickly.
2) Your Average Website Session Duration Is Less than 2-3 Minutes
According to research from Databox, around 41% of websites have an average session duration of 2-3 minutes: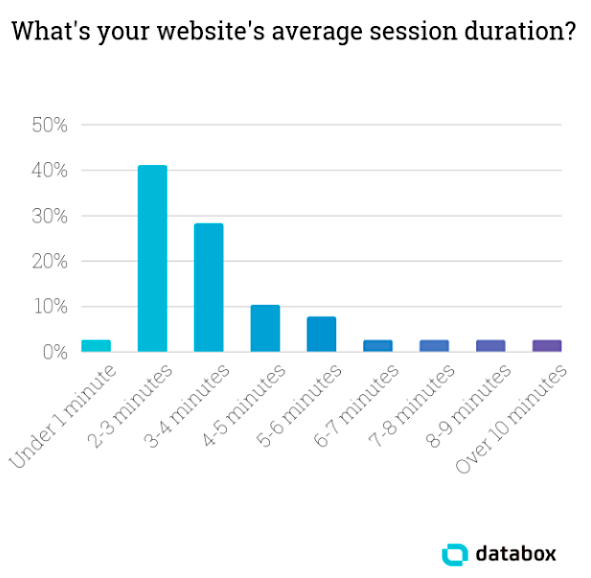 Another 55% reported an average session duration of less than 3 minutes and 27% reported more than 4 minutes.
Databox further shows that the best tactic to increase average session duration is to include visuals – such as relevant videos, charts and infographics – on your page to hold your visitors' attention.
3) Your Percentage of Returning Visitors Is Less than 30%
As per Mike Sullivan, top contributor to the Google Analytics support forum, the percentage of returning visitors to your site should be around 30%. Anything less than that is below average, while having it around 50% is considered to be good.
When you get new visitors to your website, some of them will "stick" (return), so you should always be drawing in new visitors – and Sullivan says that 50%-70% is a good range.
Most websites get more new visitors than returning visitors, but it's the latter that have higher engagement — "they bounce less, view more pages per session, and have higher session durations. They also tend to have higher conversion rates and higher sales.":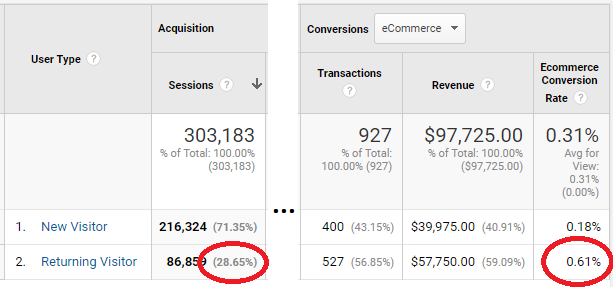 How to Improve the Quality of Traffic on Your Website
Now that you know what to look for when determining the quality of your website traffic, here are the top 8 ways to improve the quality of traffic on your site:
1) Target High-Intent Keywords
Depending on your business goals, you must target high-intent keywords that are commercial in nature.
As WordStream suggests, a search query can be divided into three types: navigational, informational and transactional: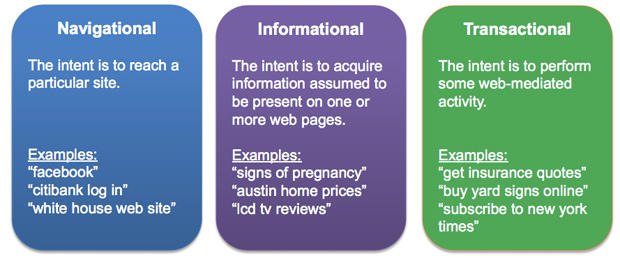 Out of these three search types, only transactional queries have high commercial intent resulting in a sale.
PPC ads around commercial intent keywords can result in good ROI. However, the definition of transactional keywords differs from one business to another. Commercial-intent keywords can be classified into two categories:
buy now keywords
product keywords
"Buy now" keywords signify that the user has already decided to purchase the product, and examples of these keywords include:
Buy
Discount(s)
Deal(s)
Coupon(s)
Free shipping
Unlike prospects searching for "buy now" keywords, people using "product" keywords might be a little hesitant to purchase the product immediately, but they also have a high conversion rate. Examples of "product" keywords include:
Brand-name goods
Specific products
Product categories
Affordable
Best
Cheapest
Comparison
Review
If the main purpose of your website is to generate sales, then prepare a list of high-commercial-intent keywords and rank your website for those keywords both in organic and paid search results.
Please note: It is still important to target informational and navigational search queries in your digital marketing strategy, although the maximum weightage should be given to high-commercial-intent keywords. Informational and navigation searches only push the customer deeper into the sales funnel but actual conversion happens through commercial searches. Hence, if your website isn't ranking for high-commercial-intent searches, then traffic will come to your site but visitors won't take any action.
2) Regularly Monitor Your Traffic Quality Level
Traffic quality level is a metric that monitors the overall traffic quality of a website. Analytics tools such as Finteza lets you analyze the traffic quality level by comparing the type of traffic your website receives on a regular basis.
Once you've logged in to Finteza, navigate to the Quality tab located in the left-hand sidebar where you'll see a donut chart comparing the traffic statistics over a selected period: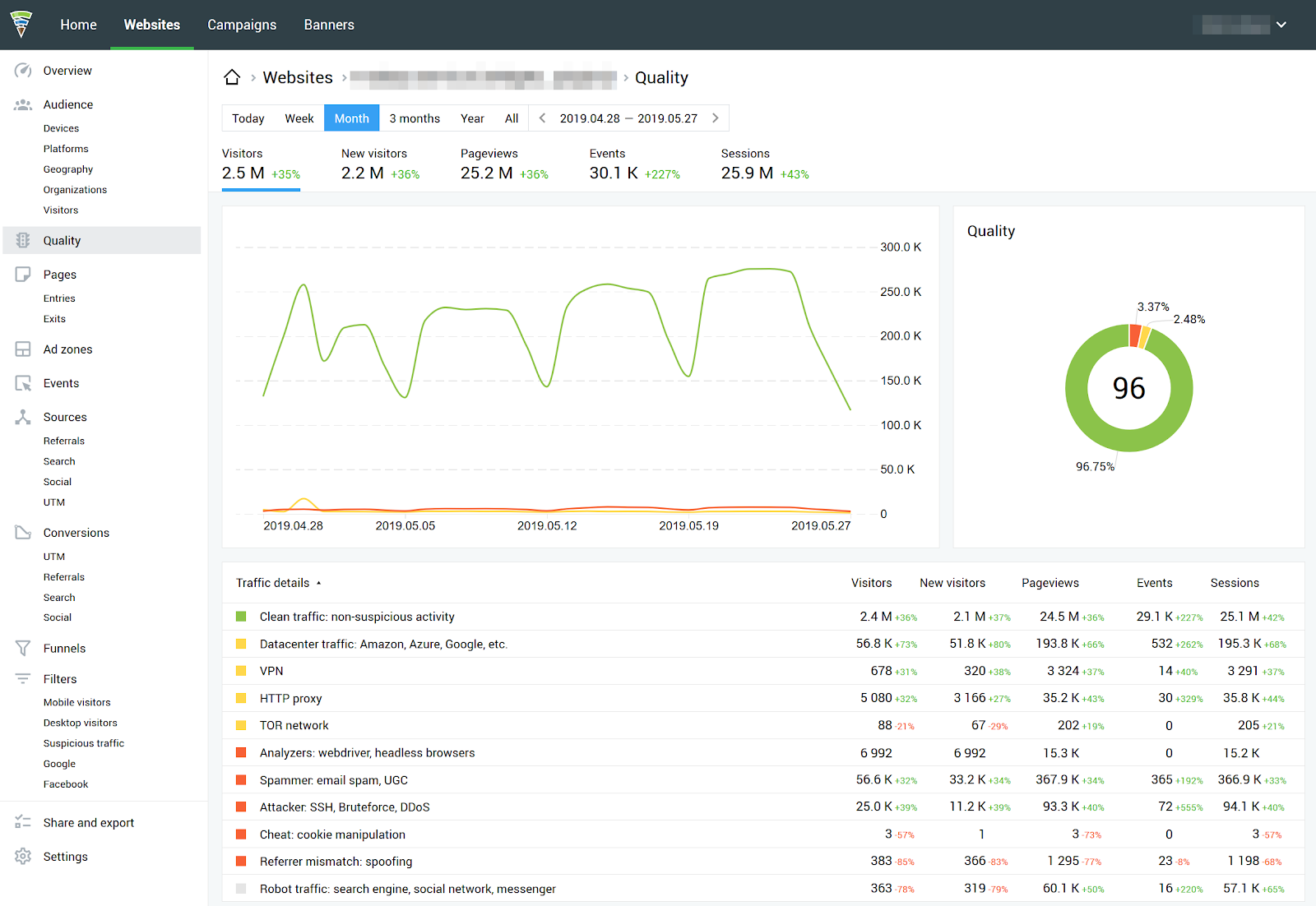 The information is grouped on the basis of color for easier viewing:
Green

indicates real traffic

Red

indicates traffic from spam IP addresses
Yellow indicates traffic from VPN and proxy servers

Gray

indicates traffic from social networks and search engine bots
The best part about Finteza is that it will alert you if there is any possibility of an external attack. You will notice a sharp increase in "Attackers: SSH, Brute-force, DDoS" column, where it will provide the reason the increase. This usually happens when there is an unexpected traffic increase on a website. You can then take steps to protect your website from unwanted traffic.
3) Send Emails that Speak to Your Customers' Interests
The highest quality of traffic are the visits from your existing customers. And there is no better way than email marketing to enable them to visit your site more often. The idea is to send emails that speak to your customers' interests.
According to DMA, a campaign that is segmented can improve revenue by 760%: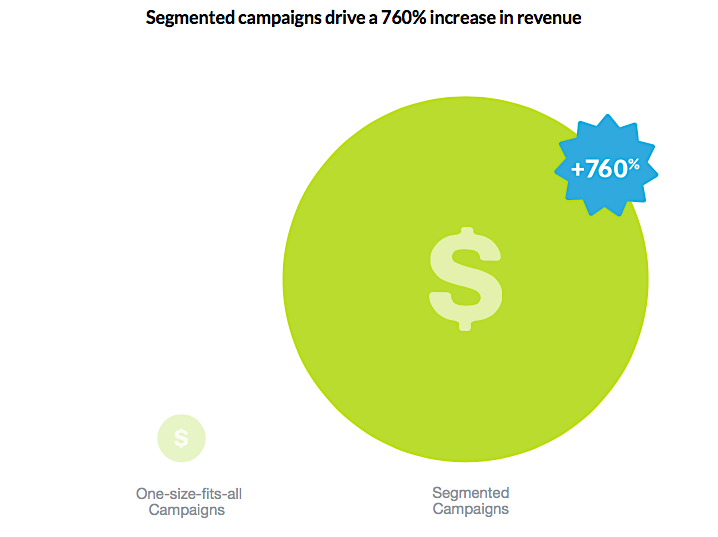 The best way to segment your list is by capturing data about your visitors in a sign-up form. Instead of sending a sales-oriented email, share tricks with them regarding how they can solve their pain points. This will make them read your emails further and take the required action (following a link) by visiting your website. Keep emails short to pique curiosity in the minds of the readers.
Here are the most important things to keep in mind while doing passion-based email marketing:
Always create a subscription-based email list, because if you start sending emails to people who haven't subscribed, you are wasting your time as well as your reader's time.
Segment your contacts based on their interests. The simplest way to do this is by asking your users about their interests. Have a look at the below email-subscription form sent by Robert Paul properties in which people are able to choose the type of listing they would like to receive and never receive an email that isn't relevant to them: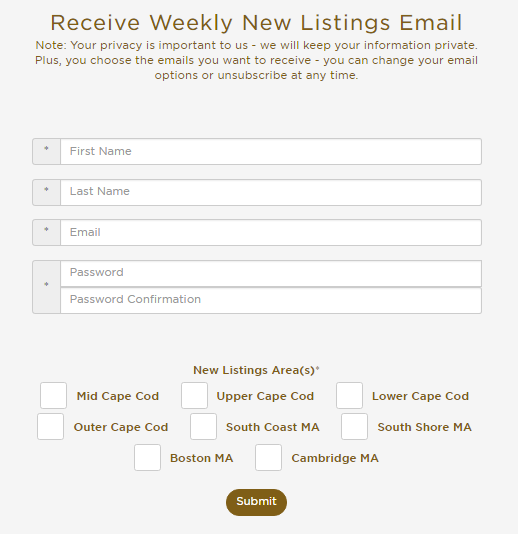 Gamify your emails for readers who are too slow to take action. Yes, there are people who like to visit your website and would like to take action, but they never seem to get around to it. For such users, a gentle push is necessary and gamification is an awesome way to do that. Have a look at the below "Bestseller Bingo" email sent by Penguin Random House to its subscribers: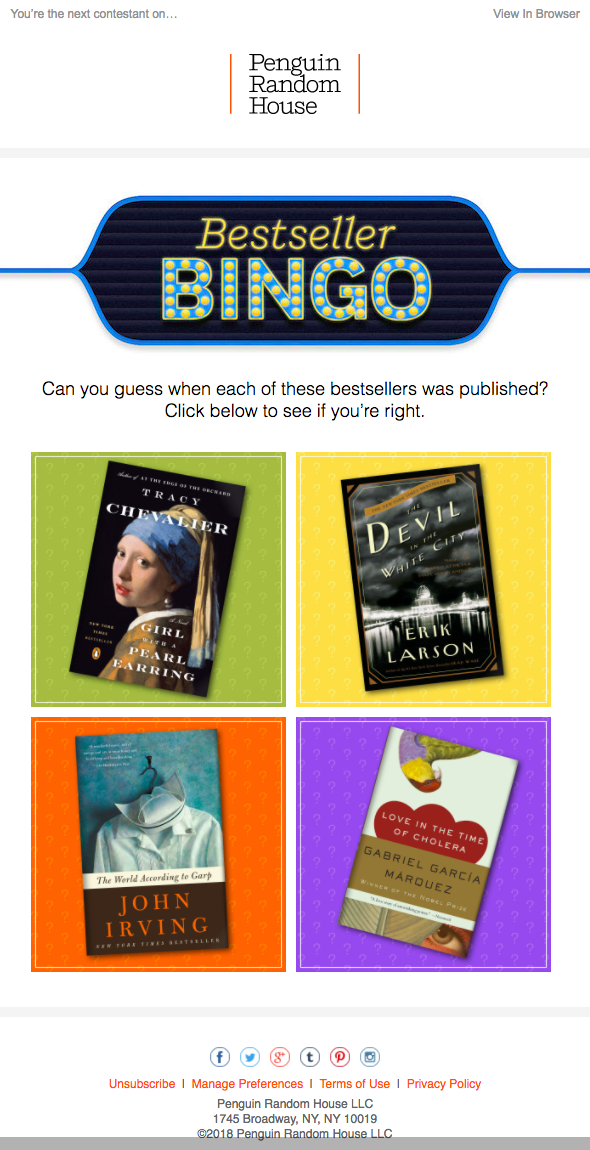 Dive Deeper:
4) Leverage the Power of Retargeting
According to Retargeter, only 2% of traffic converts on the first visit. This means that you need to follow up with the prospects in order to convert them.
Retargeting is a great way to connect with prospects who are already in the middle stage of the sales funnel. Most businesses make the mistake of spending heavily on content marketing, email marketing, PPC ads and SEO, but never take remarketing seriously. Remarketing is the best way to acquire quality traffic.
No matter which channel you are using to acquire traffic to your website, always invest in retargeting because it's a surefire way to bring interested visitors back to your website: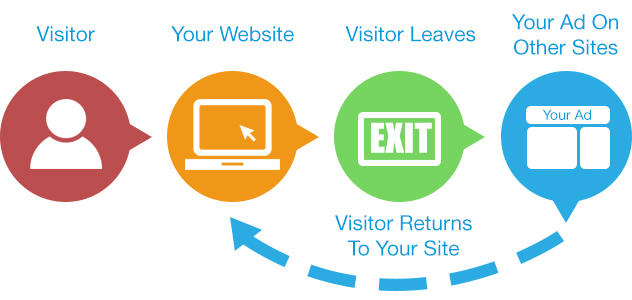 Depending on how likely your visitors are to convert, they can be divided into three stages: cold, warm and hot traffic.
Cold Traffic: People who have never engaged with your content before visiting your website are classified as cold traffic. Though it is very difficult to convert them at this stage, you can use their email address for remarketing through Google Ads.
Warm Traffic: The people who have shown some interest in your product but are still searching for products or services to find solutions to their problems are classified as warm traffic. You can use the carousel ad format to display the product that they've clicked on your site to retarget them.
Hot Traffic: People actively looking to purchase the product and are coming to their final decision are considered hot traffic.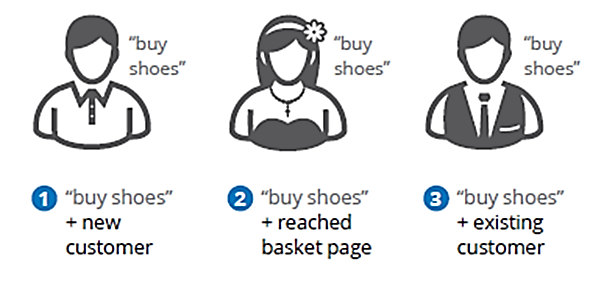 Dive Deeper:
5) Use Influencer Marketing to Boost Awareness of Your Product or Service
There are various types of influencer campaigns you can run. Affiliate marketing is a type of campaign where you compensate influencers who get sales for you by tracking ROI through custom URLs and unique discount codes.
The best way to drive engagement and get great brand exposure is by running contests and giveaways. Depending on your product's price point, you can give away a handful of products each month to the winners.
People trust influencers and if they say they have started using your product and it is really good, the audience who has never heard about your brand will be encouraged to give it a try. Set a goal and document your key performance indicators (KPIs) while building your influencer strategy.
Dive Deeper:
6) Improve Your Ad Quality Score
Google rates the quality of your ad, keywords and landing pages. The higher your ad Quality Score, the better your ad will perform. It also means that it will lead to cheaper clicks.
The ad Quality Score depends on factors such as click-through rates (CTR), the relevance of each keyword, and landing page quality. The past performance of your Google Ads campaign also might affect your ad Quality Score.
Ads with a good Quality Score get higher rankings (without increasing the bid), and if your PPC ads meet customers' needs, your ad score will increase:

You can achieve a higher ad Quality Score by improving your ad text, optimizing the landing pages and removing negative keywords. Research continuously for relevant keywords and divide them into individual Ad Groups and campaigns.
In general, the higher your Quality Score, the lower your cost per conversion (CPC). As WordStream puts it, a high Quality Score is Google's way of saying that your PPC ad meets your potential customers' needs: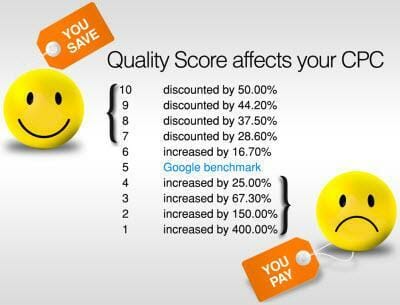 The higher that your ad ranks, the higher your traffic will be. PPC campaigns are costly, especially if you don't have a good quality score. Focus on keywords to optimize your ad.
Please note: Sometimes Google might suspend your site from being displayed in the ads section due to suspected malware. It is best to keep a backup of your website in case of such circumstances. Constant interruptions in your traffic flow might also degrade the quality of traffic that your site is getting, hence data backup is highly recommended.  
Dive Deeper:
7) Use Native Advertising to Your Advantage
Paid advertising made to look like it is a part of the content on the page is referred to as native advertising. According to ClickZ, native advertising earns 3X more time and attention and performs 10X better than traditional mobile ads.
Native advertising can overcome banner blindness and reach your target audience, and, if used correctly, it can drive high-quality traffic to your website: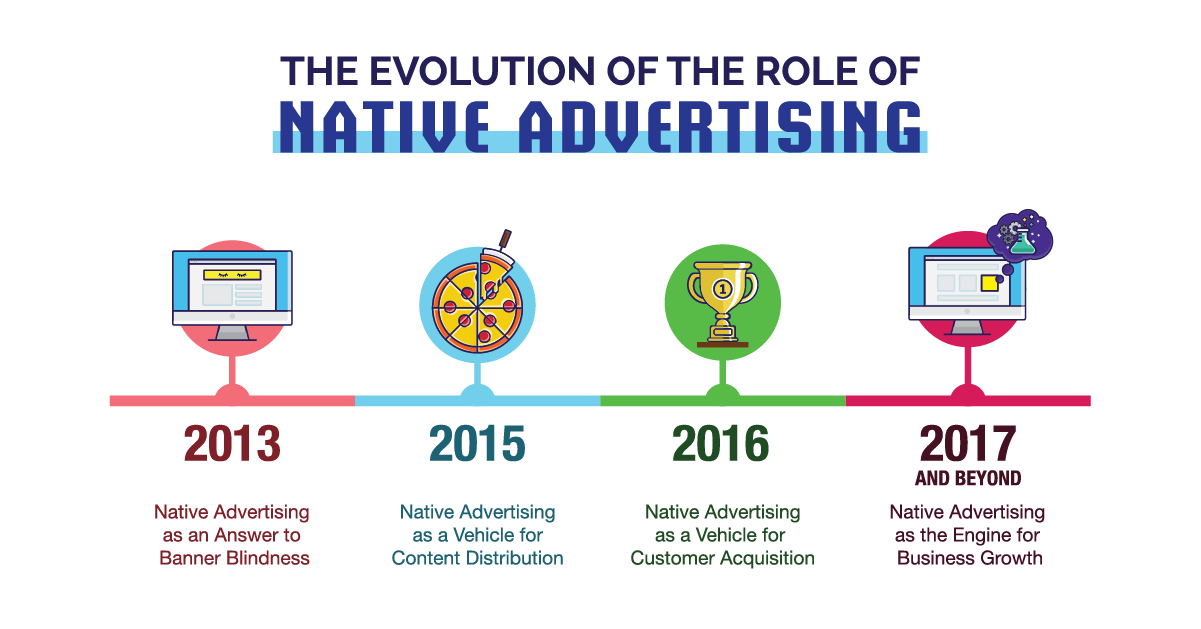 They work better than any other ads because they don't look like ads and fit naturally within the content. Native advertisements have the potential to increase your brand awareness better than any other type of ads because they have the ability to attract more attention from your readers. Another advantage of native advertising is it can pass ad blockers.
When placed in the right context, native ads can generate higher click-through rates. Focusing on native advertising can help you drive more traffic to your website, hence generating more revenue.
There are various native advertising formats such as in-feed native ad units, search and promoted listings, content recommendation widgets, custom content units, and in-game native ads.
8) Drop Under-Performing Channels
Have you ever wondered if dropping an underperforming channel could make a huge impact on your overall conversion rate? Take these numbers as an example:
SEO provides a conversion rate of 15%
PPC gives you a conversion rate of 10%
Social media conversion rates are around 20%
Email marketing conversions are about 4%
Out of these, the underperforming channel is clearly email marketing with a conversion rate of 4%. This means that traffic generated via email marketing isn't converting. If we drop this channel, then we can easily improve the quality of traffic on our website and improve conversion rates.
Final Thoughts
It's not about the number of visitors you get on your website, it's about how much high-quality traffic your website gets. Choose the source that brings you closer to your business goals. Understanding what your customers want and optimizing your strategy accordingly can help you drive high-quality traffic to your website.