The marketing strategy that most marketers completely overlook is mobile advertising.
Many of us still think mobile ads consist of flashy, annoying banners on mobile devices that only generate accidental clicks. But in reality, mobile ads have significantly progressed when it comes to quality.
Marketers have a wide range of sophisticated mobile ad options at their fingertips today, and there's a lot of money to be made doing it. According to this Ad Age article, online ad revenue totaled $88 billion, a 21 percent upswing from 2016 and mobile ad revenue increased by 66%, which is over ten times more than desktop advertising's growth.
There's a huge mismatch between the level of impact that mobile advertising can have for a brand and the level of investment that business owners are putting into it.
People are spending 25% of their time on mobile, but businesses are only putting 12% of their ad budgets towards mobile advertising.
Click To Tweet
On the other hand, consumers spend 22% of their time on desktop computers and advertisers are investing 23% of their budgets advertising on that platform.
Most marketers realize this: 82% of marketers in North America said that they were performing mobile marketing initiatives at a beginner or intermediate level.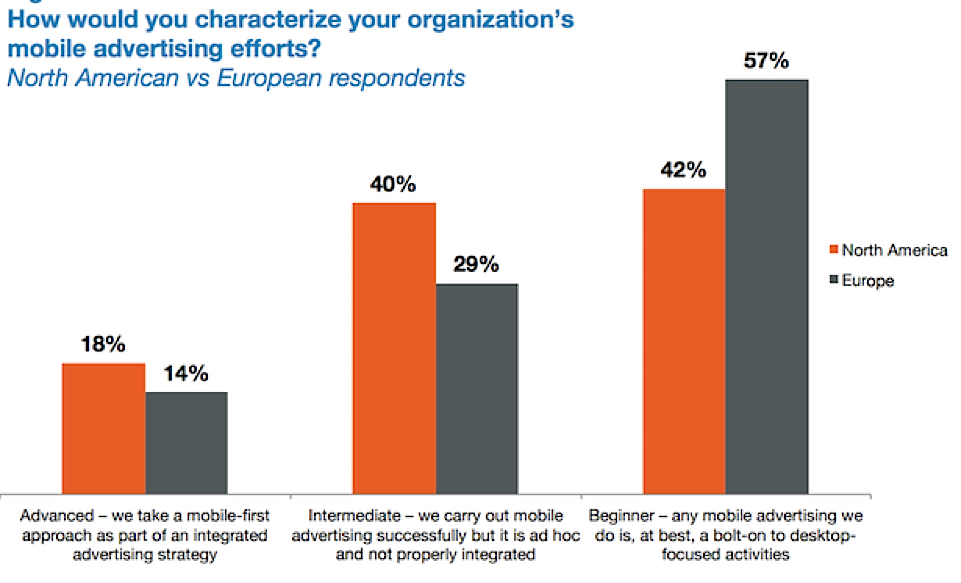 In this post, we'll break down the different types of mobile ads you can run for your business, and give you examples of businesses that are doing it well.
Different Types of Mobile Advertising
Mobile advertising has come a long way from inconvenient banner ads on mobile screens. Here are the different options you have when it comes to advertising on mobile:
Video Advertising
Video advertising is a powerful way to communicate your company's story, and ultimately get more conversions.
90% of users say that product videos are helpful in their purchasing process. Because video can help deliver a rich, visual experience that's easily digestible, it's a great way to boost conversions and build deeper brand awareness.
One third of consumers watch videos on their mobile devices — this is more than the number of people who listen to music on their smartphones! Research shows that 53% of people who watch video on their phone give it their full attention whereas only 28% of those who watch video on their TV do.
There are a variety of ways to display advertising on mobile. For example, you can simply optimize a YouTube video ad, you can display a sponsored advertisement at the beginning of video content that your audience demographic watches, or you can make use of TrueView for Shopping (advertise your product in your own video) and Shopping ads (advertise your product in other, relevant videos), which display underneath the video on smartphones (and on the right side of the video on tablets).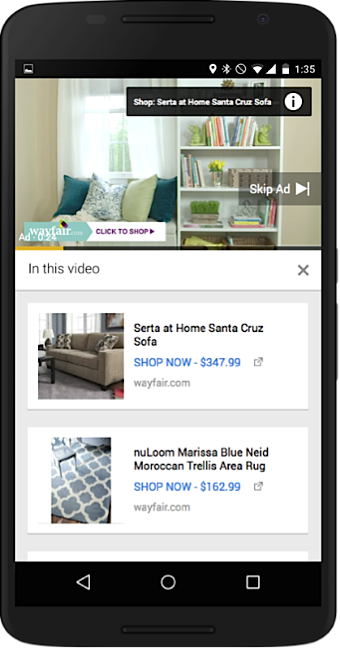 Because video advertisements require users to watch for a certain length of time, users who click through to the advertiser's page are much more qualified than those who come in through other channels.
To increase your ROI on mobile video advertising, be sure to display a specific call to action on your ad. For example, in the image above, there's a link at the top of the video that allows people to shop directly on the advertiser's site.
Learn More: How To Create CTAs that Actually Cause Action
Gamified Mobile Advertising
There's a new type of mobile advertising that savvy marketers have been adopting — gamified mobile ads. These are ads that people can interact with as they're watching them.
For certain types of products, this can be a great way to let users "test drive" the product before asking them to buy. For instance, if you're trying to market a gaming app or a mobile app that helps users solve a particular problem, you can have them complete those action steps within your video ad.
This is a great way to engage your viewers at a much deeper level. These ads also help drive higher conversion rates because they capture more attention and deliver more qualified leads.
Research shows that engagement rates for gamified mobile ads are 16.2%, while engagement rates for non-gamified ads are 10.4%. Video play rates for gamified ads are also significantly higher compared to non-gamified ads — 36.4% compared to 11.7%.
Full Screen Mobile Advertising
Full screen mobile ads are those that stay on the screen for several seconds before users are given the option to close it by clicking the "X" button.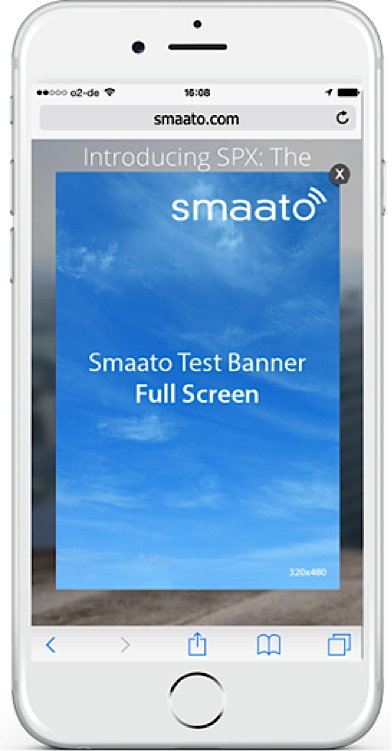 These ads are typically displayed at transition points in the flow of an app, such as getting past a particular level in a mobile game. Because they do interrupt the flow, they're only displayed after a task is completed, and users have the option to either click through to the advertiser's page or "X" out of the ad to continue what they were doing.
These types of ads can be a great way to grab attention because your ad will dominate the majority of the screen space. Keep in mind, however, that if a person is in the middle of completing a task when the ad is displayed, it could lead to a very negative user experience which won't do much to help your business.
Native Mobile App Advertising
Native mobile advertising consists of displaying an ad within an app's natural flow. This way, you can get your advertisement in front of a group of targeted users without interrupting them unnecessarily. Native mobile ads have the same buttons, appearance, and overall design elements as other elements within the app.
Check out how Vinted, Huffington Post, and MailOnline all incorporate native ads within their app: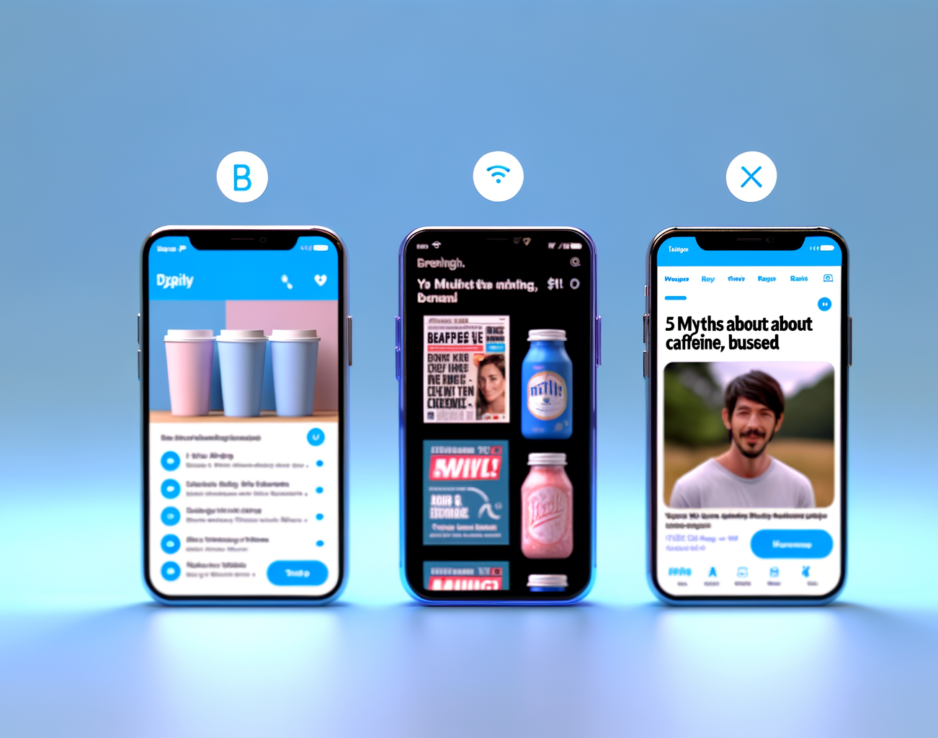 Keep in mind that in order to deliver high-quality native mobile ads, mobile marketers need to consider the following things:
URL

Thumbnail

Headline

Description

Brand logo

Brand name
Facebook ads are a classic example of what good mobile app advertising looks like. Users are able to scroll through their news feed and see ads that are specific to their interests without feeling like they've been interrupted.
Read More: Facebook Ads: 7 New Changes All Marketers Need to Know
Plan Your Mobile Ad Campaign
Next, let's look into how to plan a mobile advertising campaign.
Define Your Campaign Objectives
There are only a few reasons why you'd want to launch a new marketing campaign, such as these:
Raise awareness

Establish branding

Increase sales

Drive web traffic to a site or landing page

Drive in-store visits

Promote a special deal
Getting clarity on these goals will help you define the metrics that you need to drive in order to achieve them.
Define Your Target Audience
The next step to running a successful ad campaign is defining who exactly you want to target with your ads. Once you know what your audience likes, who they are, what they need, and how they will view your ad, you can start designing it.
Define your target demographic through customer development phone calls and surveys, as well as researching the overall mobile ad landscape.
For example, four out five people say they prefer geographically customized search ads — city, zip or even their specific location. This insight might help you make your ads more targeted to groups of users who may be concentrated in one location.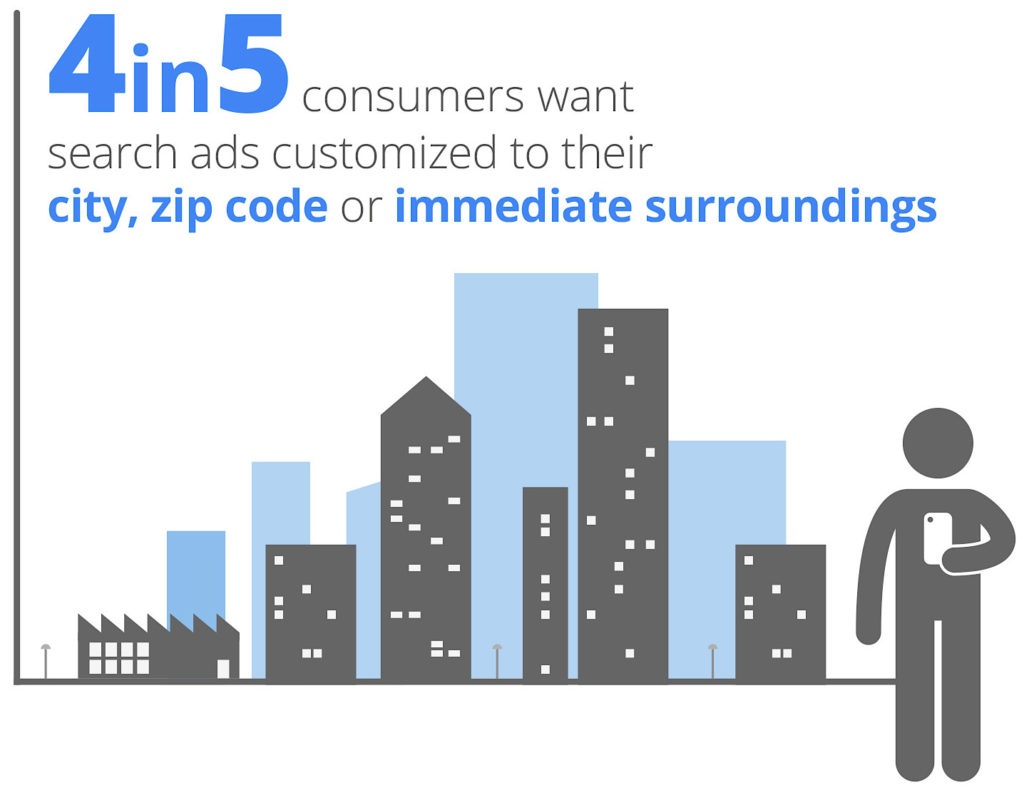 It's also important to consider the context within which users will be viewing your ads: 
33% of mobile users

access their device at home

27% access it in a public place

23% access it while traveling or roaming

17% access it while at work
In addition to this, you should think about how to adapt your advertising strategy for the mobile environment: you have smaller screen sizes to work with (so no tiny text!), mobile users tend to have shorter attention spans, and interruptions are even less appreciated than on desktop computers. Additionally, tablet users expect higher quality creatives and visuals when viewing content on their tablet vs other devices.
Knowing these small details will help you generate a high converting mobile ad campaign.
You can gather this data through sources like Google Analytics, Facebook Audience Manager, or Twitter Audience Insights.
Define Your Ad Type
Earlier in this post, we talked about a few different types of ad campaigns on mobile and their advantages and disadvantages. Depending on your product and the type of ad campaign you want to run, you can choose any of the following:
Video or animated ads.

Video advertisements take up more resources, but they deliver highly qualified leads to your business and build a deeper connection with your target audience and stronger brand awareness.



Product promotion campaign

. If your main focus is to get sales for your product or service, you'll want to get users to take action as quickly as possible after viewing your ad. In this case, you can create a YouTube ad with a CTA link to a specific page where people can buy.

Or if you want to increase the number of installs for your app, you can run a native ad within another app that your target audience uses asking them to install your product from the app store.

Other unconventional tactics.

Depending on your product or niche, you could launch a slightly more unconventional ad campaign. For example, if you have a mobile game or another app, you might include gamification in your mobile ad strategy to increase engagement and conversions.
It's important to consider:
whether you want to focus on branding or direct sales, and

whether your campaign strategy is aligned with the numbers you want to drive
Plan Your Campaign Length
Once you've figured out what type of campaign you want to run, what numbers you want to drive, and who you're trying to target, you're ready to get into the details of planning the actual campaign itself.
The first thing to consider here is how long your campaign will run. Will you have only one type of action for users to take (i.e. directing them to a site for purchase)? Or will you have multiple steps (i.e. starting off with brand awareness, then running a direct sales campaign)?
Each of these decisions has different implications for your content. If you're running a multi-step ad campaign, for example, you'll have to invest more time in creating specific content for each step.
Learn More: The Content Marketing Funnel: When to Use Different Types of Content
What Device Will You Be Targeting?
Depending on the device you're planning to run your ads on, you'll have to create different types of content. For example, users on iPads tend to expect higher quality creatives than iPhone users. Or you'll have to design for a smaller screen size and reduce the number of unwelcome interruptions if you're targeting smartphone users.
To have the best possible results, you'll want to target people across multiple different devices — desktop, tablet, and mobile.
If you're targeting users within the U.S., native in-app advertising may return better results for you compared to mobile web advertising. Check out this graph that shows app vs web impressions by region: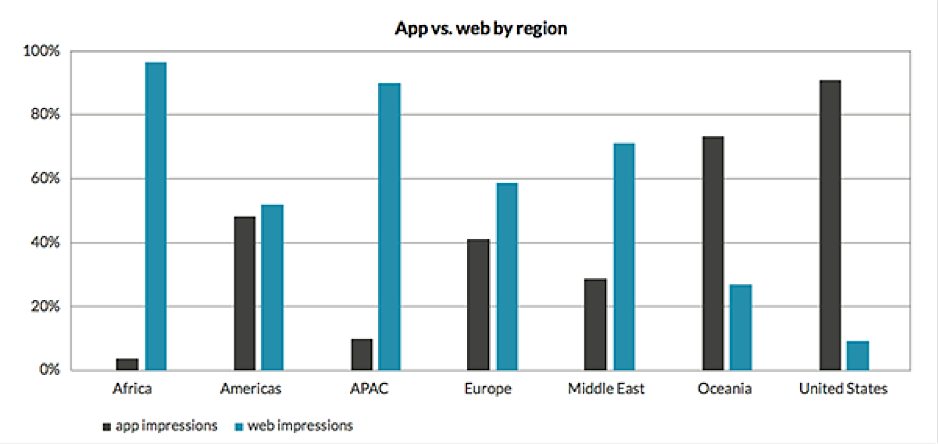 As the graph shows, over 80% of a user's time on mobile is spent within apps rather than on mobile web. However, in many other countries, users spend significantly more time on mobile web than they do in apps.
Again, this comes down to understanding who your users are. If you're targeting a group that largely lives outside the U.S., then you might want to focus on mobile web advertisements over in-app advertisements.
Define Your Metrics
The most important part of any marketing campaign is figuring out which metrics you should track. That's the only way to determine whether your campaign is a success or not.
The nice thing about mobile advertising is that ROI is relatively easy to measure. However, it requires that you think a bit differently than you would when running desktop Facebook ads or the like.
For one, the click-through rate on mobile devices can oftentimes be inflated because of the touchscreen. According to xAd, this number could be as high as 40% because of accidental taps.
So while the click-through rate might be a good gauge of user engagement for desktop ads, it's not the best metric to measure mobile ads.
A better way to measure mobile ad engagement is through a metric called Secondary Action Rate (SAR). This refer to actions that users take after they click on an ad. If the click was accidental, then chances are users won't complete a secondary action.
For example, which buttons do users click on your site once they've clicked through to it? Are they hitting the "buy now" button, the "about our team" button, or something else? If they're not taking any actions, then your ad campaign didn't drive meaningful business results, even with a high click-through rate.
Some examples of secondary actions include:

Tap-to-call to set consultation calls or appointments

Tapping on a map or driving directions (if it's a local business campaign)

Tapping on a video CTA after watching the entire video
Design Your Ad
Now it's time to design the creative and copy for your ad. Here are some overall best practices to follow when designing mobile advertisements:

High quality graphics.

This is more important in certain situations than others because users who view content on iPads tend to expect higher quality visuals than those who view content on their mobile phones.

It also depends on ad format. Interstitial and rich banner ads should have high-quality visuals.
Compelling content.

In addition to good design, it's also important to have compelling copy that persuades users to take an action. Your ad copy should clearly state what it's about and include a precise call to action, such as "tap here," or "sign up now."
Reduce friction in the UX.

It's important to minimize the number of touchpoints necessary to go from seeing the ad to completing the call to action, especially for users on mobile devices.

Even if you completely minimize the level of interruption users go through when interacting with your ad, you're still taking them away from their previous workflow, which they want to get back to as fast as possible.
Engaging content.

The more fun it is for users to interact with your ad, the more likely it is that they'll stay engaged long enough to go through the series of touchpoints necessary to complete your call to action.
Increase your campaign's targeting.

The more targeted your ad campaign is, the more users will feel like your ad was created specifically for them, which will help increase levels of engagement.

You might target users based on a specific location, specific app, or specific behavioral patterns (if you're advertising through a site like Facebook).
Test and Measure
Once you've got everything prepared, you ready to launch your ad to the world and test conversions.
You can collect measurements on your key metrics for a short span of time when running your mobile ad, and then invest even more time and resources into perfecting your advertisements once you know that it works.
Related Content: 5 Important Landing Page Elements You Should Be A/B Testing
Companies That Are Doing Mobile Advertising Right
Macy's
When Macy's was promoting its winter collection, they used rich media ads to increase their brand awareness and purchase intent.
Source: E-consultancy
Their ad copy said "Check out the new Macy's holiday lookbook" with the CTA saying "tap here." Once users tapped, they were able to see videos, browse a catalog, and look up nearby stores — all within the ad. Macy's also encouraged users to follow them on Facebook and Twitter.
The interactivity that Macy's included in their app paid off — their purchase intent increased by 134%.
Gillette
Gillette also created an interactive ad to help boost their brand awareness.
They created rich mobile ads that prompted users to shave Bruno Senna's (a race car driver) face with a virtual razor. Users could race against one another, and see how quickly they could complete the task compared to everyone else.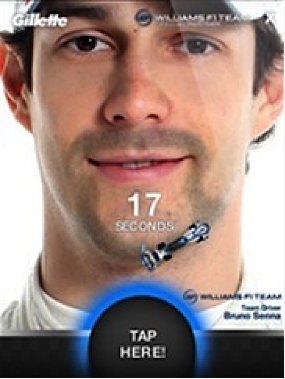 They targeted their ads to the demographic that would normally buy their razors — high-income males — and achieved a click-through rate that was more than double industry standards.
More than 20% of the users who engaged with the ad ended up replaying the game. And because of the interactive, entertaining nature of the ad, it's not seen as an interruption.
North Face
North Face wanted to increase their brand awareness among males aged 18-34 living in Germany and Italy just before the holiday season.
They created a full screen, interactive video ad that appeared between app and publisher content. Users were able to skip the video after 7.5 seconds, and the key metric of the campaign was to drive more completed views.
In Germany, there were 319,000 completed views, had a 9.5% engagement rate, and 33% of viewers replayed the video.

Conclusion
Mobile advertising is a massive untapped resource for advertisers. With more and more users engaging with mobile devices and leaving desktops, you can increase your number of click throughs and conversions by targeting users on their phones.
By choosing the right ad format and the right metrics to measure, you could be one of the few marketers who is taking full advantage of mobile advertising before the majority.
How will you implement a mobile ad strategy for your business? Leave your answers in the comments below!