7 Creative Ways to Collect Emails Without Being Spammy
You've heard it before, but we'll repeat it here: For every $1 you spend on email marketing, you can expect an average return of $32: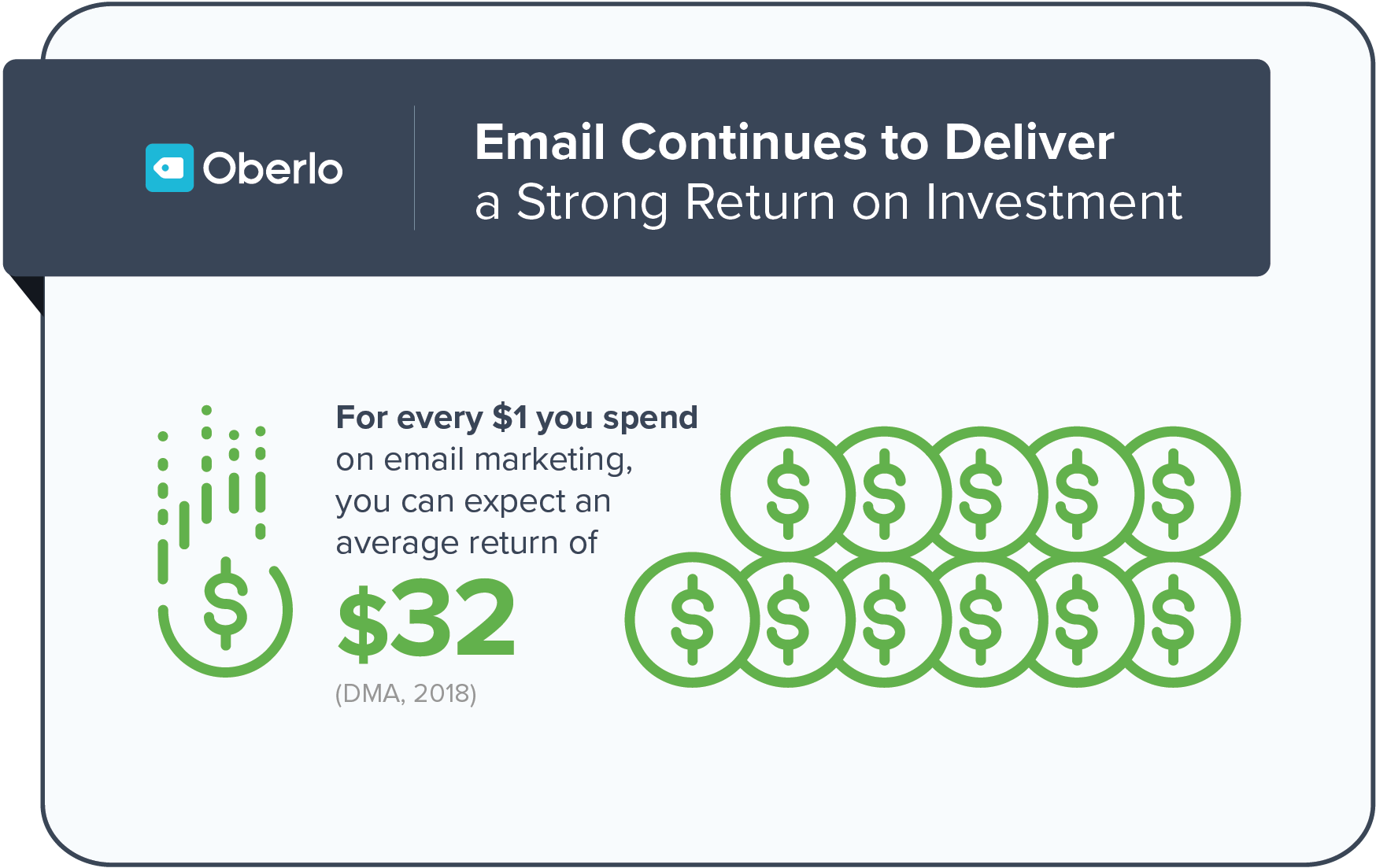 Simply put: You need to get people to give you their email addresses.
Of course, that's often easier said than done. Consumers these days are savvy. They aren't just going to hand over the keys to their inbox without good reason — and spamming them into submission isn't going to get the job done.
If you're serious about making email marketing work for you, here are seven creative ways to collect email addresses without being spammy.
Strategy #1: Get People to 'Spin the Wheel'
You may have seen 'spin the wheel' pop-ups on various websites (both Neil Patel and I have used them). The gist is that website visitors are given the option to spin a wheel — Price Is Right style — in order to claim a coupon or other incentive: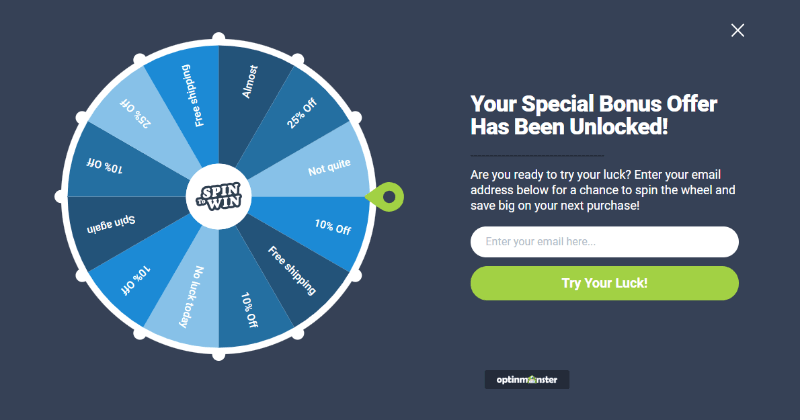 According to OptinMonster, makers of the wheel pictured above:
"Gamified opt-ins have been known to turn 2-3% conversions rates into conversions rates of 30% or more."
That makes them a great option for capturing email addresses — if you use them correctly. For best results:
Offer something really worthwhile. Even shiny new technology isn't going to be enough to inspire opt-ins if the bonuses aren't really worth it.
Use technology that allows for multiple outcomes. Because 'spin the wheel' promotions are new and fun, expect that some visitors will return to your site and enter multiple email addresses to see if they can score a better incentive. If they get the same result every time, they could lose trust in you.
The offer can weed out low-quality leads. For instance, when we used a wheel on our site, we offered 100% off our educational offerings. We found that when people won a free course, the perceived value of the course decreased and that the high-quality leads were getting lost because everyone was taking advantage of the deal. When we changed it to a 25% off coupon, only high-quality leads — who could afford our courses and services, but just needed a little push — actually bought.
Like everything else, 'spin the wheel' opt-ins are worth a test. Don't assume that they'll solve all your email capture problems. But if creating one is appropriate for your brand, put one up on your website and see what the results tell you.
Dive Deeper: 
Strategy #2: Use Visual Cues to Increase Opt-In Box Engagement
No matter what your offer is or what you're giving website visitors in exchange for their email addresses, your opt-in mechanism needs to be visually distinct from the rest of your text. Otherwise, you risk visitors missing it as they scan through your pages.
In the past, copywriters commonly used yellow boxes to set important information apart from other text. Here's an example: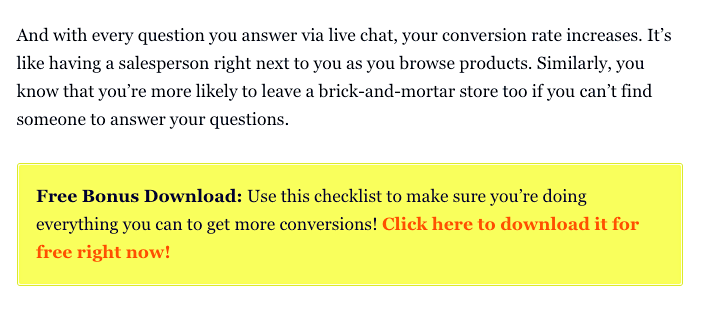 That said, this strategy has been around for a while, which means it may not be as effective as it once was. That doesn't mean you shouldn't set your opt-in mechanism apart at all. It just means that you need to test different visual cues to see which variations help you capture the most email addresses, such as:
Using a box in a different color
Testing different box borders
Adding images (either photographic images or illustrations)
Incorporating arrows or other directional cues into your design
Testing various pop-up options
Here's an example with an image: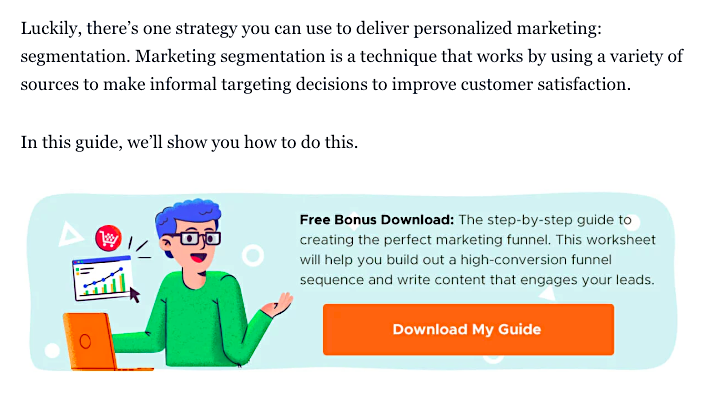 The combination that's right for you won't be the same as what's right for another website. Test variations until you're sure your visitors aren't missing your offer.
Dive Deeper: Top 10 Best Email Marketing Services
Strategy #3: Publish a Lead Magnet
Some people call this strategy a "content upgrade," but basically, you're already producing great content. Why not produce a little more – maybe an in-depth guide or something that offers additional value – and then only make it available to those who opt in?
Here's how Brian Dean used a lead magnet it in a post about using lead magnets (very clever!):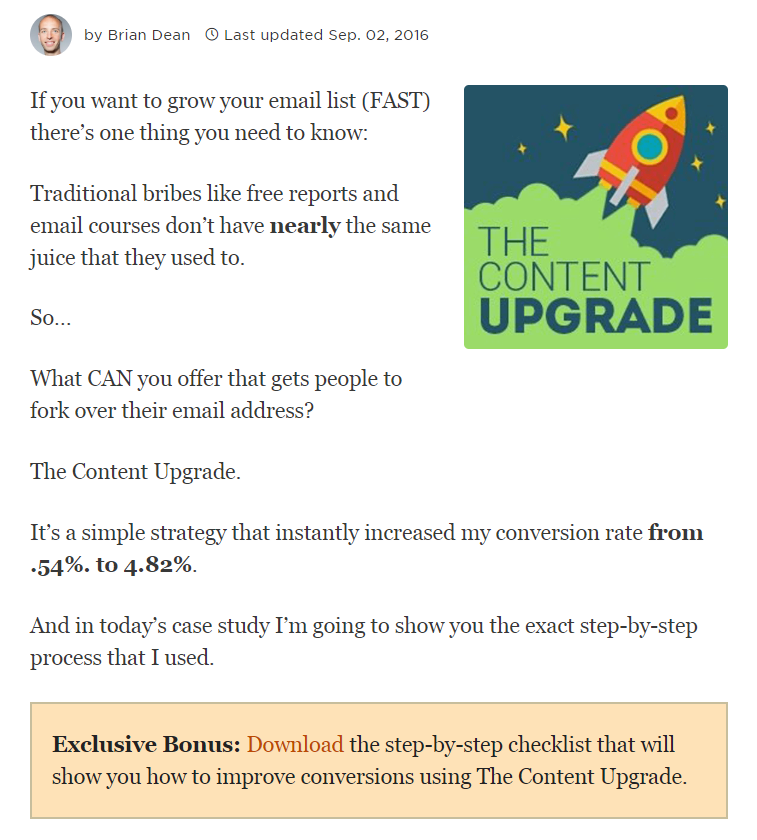 His full article is hugely valuable. But interested readers can still engage further by opting to download his "step-by-step checklist," which isn't available to the public at large.
That's just one way you could do a lead magnet. You could also:
Block off half of your original article and require readers to opt in to finish it (also called gated content)
Give away a bonus video that complements the article's content
Share free templates that help readers put the subject matter into action (for instance, we offer cold email templates and a marketing funnel worksheet)
Expand on your chosen topic at a higher level than would be appropriate for all readers
As of now, the kinds of lead magnets that are working best for us include "skyscraper-style" lead magnets (for example "400 Business Lessons from Silicon Valley's Top Entrepreneurs") and checklists (such as our Marketing Funnel worksheet, which you can access here).
As with the 'spin the wheel' promotion described above, the value of your lead magnet has to be worth the perceived cost of opting in. A lot of marketers used to recommend giving away e-books as your lead magnet, for example, but these days that strategy is so overused – and the quality of many e-book lead magnets became so low – that most visitors see very little incentive to opt in.
It all comes back to value. Test the different strategies above when choosing your lead magnet. When you see a spike in your email opt-ins, you'll know that you've hit on the right giveaway.
Dive Deeper:
Strategy #4: Share Pretty Links Across Mediums
This tip may not apply to you if you only ever publish content on your website. But let's say you do podcast tours or events like Neil and I do, or if you do video collaborations or guest articles with other websites. When you're on different mediums, what you can do is create a "pretty" link that's easy to remember.
Let's say Neil starts his own podcast called "The Neil Show" and I wind up going on it as a guest. Rather than just telling people to find me online, I could give them a special promotion hosted at a memorable link like "SingleGrain.com/TheNeilShow."
Behind the scenes, I'd use a tool like the Pretty Link WordPress plugin to set up a cloaked link at that URL. That way, when people came through it, not only could I show them a special, targeted promotion hidden behind an opt-in form, but I could also use the link to track how many opt-ins that one particular appearance achieved. That would help me figure out where I want to put my time in the future to grow my list even further.
Again, it's not spammy, because, in theory, I'm using this link to offer new visitors something that's really valuable. What exactly that is would depend on who I'm speaking to and what their audience needs, but I'm always going to be focused on leading with value.
Strategy #5: Offer Prospects a Custom Marketing Analysis
If you go on Neil's site right now, you're going to see two things. First, you're going to see the "Spin to Win" promo I described earlier down in the left-hand corner. But you're also going to see his main opt in, which asks you to enter your URL for a custom website analysis: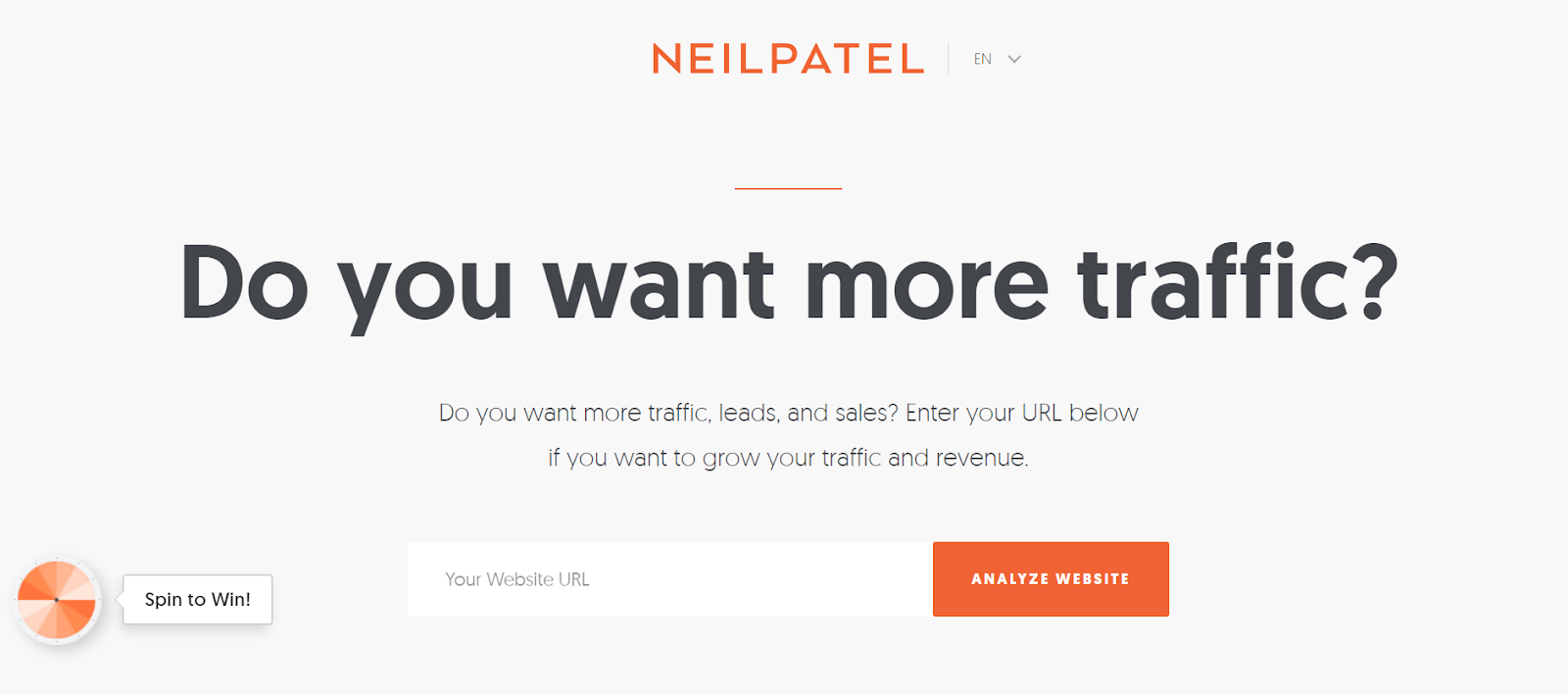 If you put in your website URL, the program crunches the numbers behind the scenes to reveal various details about your website's SEO and social presence.
Once it's complete, you'll see a screen like the one below that invites you to enter your information for assistance resolving issues that the tool has found: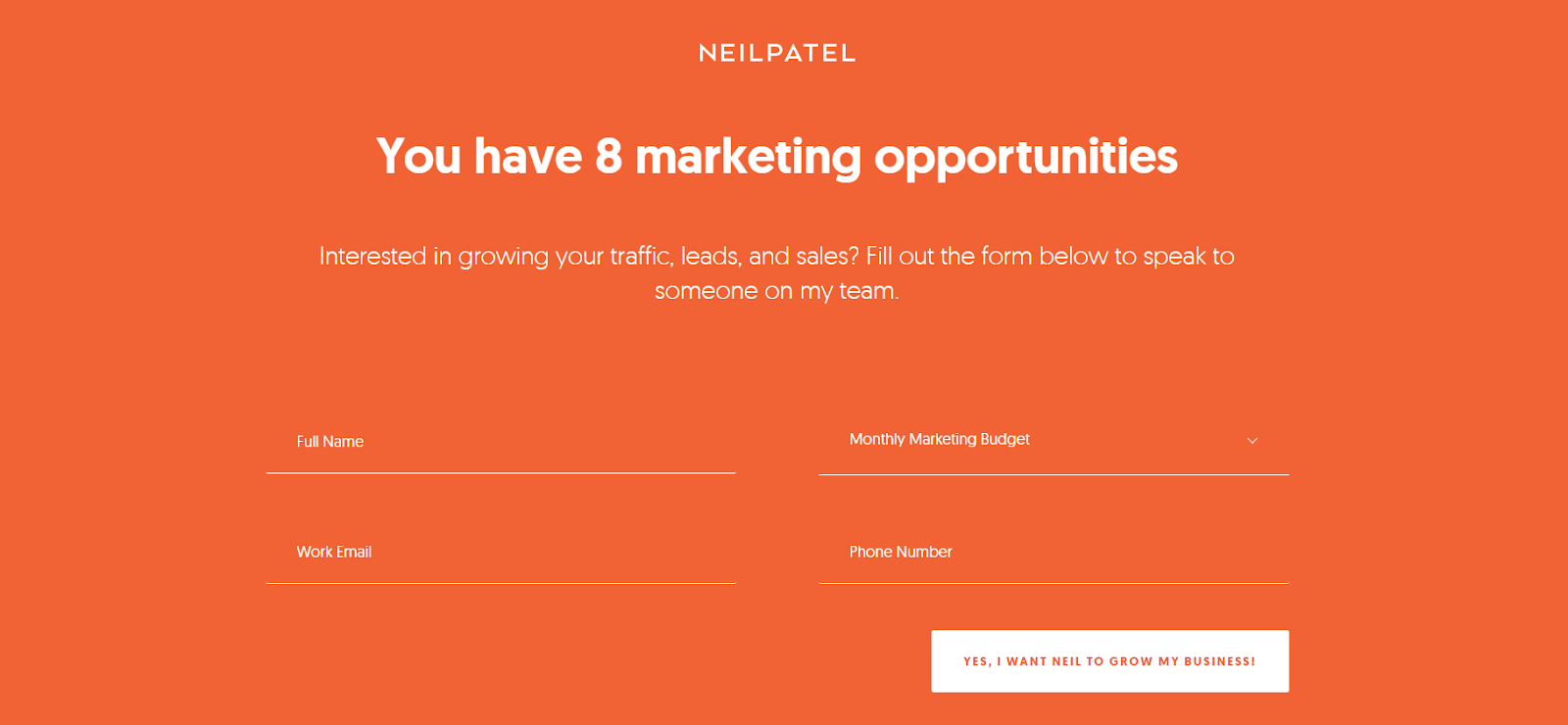 It's a great opt-in option, because it immediately proves the value of sharing your information. The tool has identified marketing problems that Neil can help with! Why wouldn't you fill out the form in order to grow your business?
Of course, setting up something like this is more complicated than dropping a spinnable wheel or lead magnet into your pages. You'll probably need to hire a developer to build your own custom tool. But once it's set up, you may find that it's one of the highest-converting opt-ins on your site.
Dive Deeper:
Strategy #6: Build a Business or Marketing Calculator
On a related note, if you don't want to put all the effort into creating a custom analysis tool, you can use a service like Outgrow to build an interactive calculator for your website.
Say you're a marketing agency. One way you could gather opt-ins on your site is to create a calculator that helps website visitors calculate the ROI of their current campaigns. People love interactive content, and chances are, if they're willing to go through the data input process that your calculator requires, they'll be willing to give you their email address as well.
Outgrow offers an ROI calculator as one of its standard templates, but you can also build your own calculator, based on your specifications:

Strategy #7: Use MobileMonkey to Capture Email Addresses
I've talked about MobileMonkey before – a Facebook Messenger marketing platform that makes it easy to build chatbots and execute marketing automations without writing a line of code: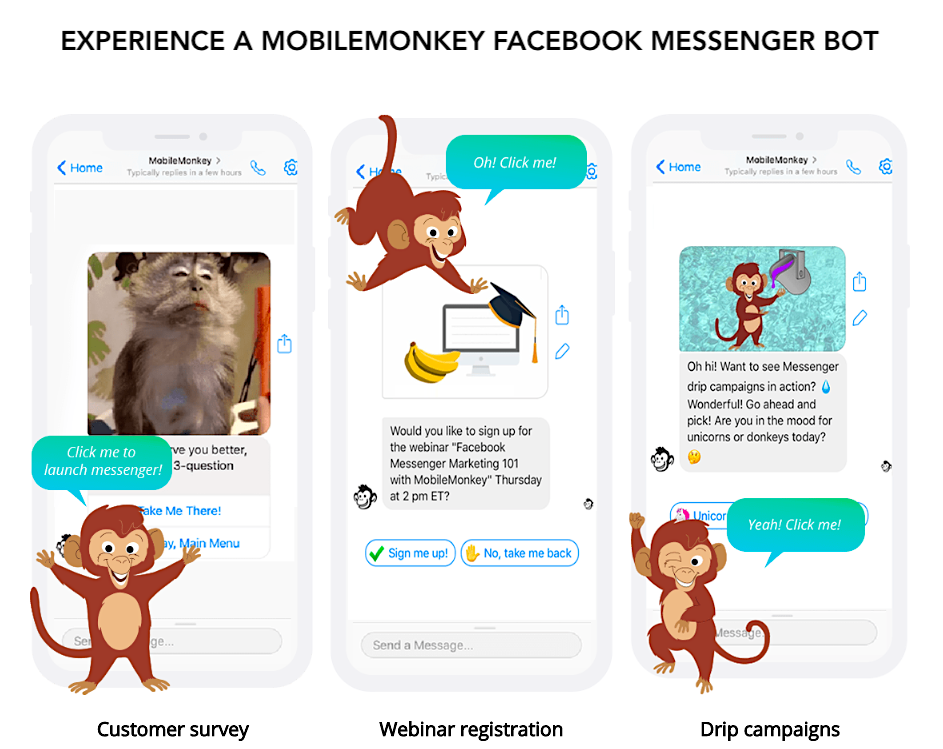 But what makes the tool so powerful isn't just that you can use it to get prospects to opt into chatting with you on Facebook Messenger. You can also use it to get people to give you their email addresses, making it a two-for-one deal for businesses that need to grow their audiences on both platforms.
What to Do Once You've Captured Email Addresses
The seven strategies described above will help you get email subscribers onto your list without running the risk of being seen as spammy by your audience.
But if you don't have a plan for what you'll do with email addresses after you've captured them, what's the point of even using these strategies in the first place?
Email marketing isn't guaranteed to deliver that $32 return on every $1 of spend. In fact, your numbers could be a lot lower if you aren't proactively managing your list. Here are just a few tips to keep in mind:
Test, Test and Test Again
In theory, every person that opts into your email list should be immediately directed down a pathway towards greater engagement with your business. That workflow is going to look very different from one business to the next, but it might involve:
Sharing your newest content with subscribers as it's published
Dynamic, customized web content (like pitching subscribers on different products or services, based on their behavior or past engagement with your company)
Asking for referrals to other potential contacts
The only way you'll know which messages will be most effective for your audience is to test different options. Just like you A/B test your website, make sure you're A/B testing both the messages you send subscribers and the way you send them.
And that doesn't just mean testing your broadcast messages. The Litmus 2018 State of Email Survey found that:
39% of brands never or rarely A/B test their broadcast and segmented emails.
65% of brands never or rarely A/B test their automated emails.
76% of brands never or rarely A/B test their transactional emails.
Make sure you're testing each different type of message you send, as well as the triggers and segmentation rules you use to send them.
Dive Deeper:
Segment and Personalize
I've talked a lot about the importance of segmentation and personalization on this blog before, but just to hammer it home, keep in mind that, according to ActiveTrail:
Nearly three-fourths of marketers report that targeted messages and personalization of emails improve customer engagement.
Personalized emails have been shown to deliver six times higher transactional rates than non-personalized emails.
Over 90% of consumers have purchased at least one product or service as a result of an email campaign.
You'll get better results from your email marketing campaigns when you're more confident that you're sending the right message to the right subscriber at the right time.
You've probably seen this effect in action yourself. If you've ever unsubscribed from a list because the messages you were receiving weren't relevant to your interests or needs, you know why segmentation and personalization matter. And with tools like Segment and Hull on the market, there's simply no excuse for sending irrelevant messages.
Developing Your Own Opt-In Strategy
If you aren't using the strategies I've described above, pick the one that seems most interesting (and most relevant to your brand) and test it. But keep in mind that this list isn't comprehensive. There are plenty of other opt-in strategies out there, so if these aren't the right fit, or if they don't produce results for you, don't get discouraged.
Do your homework. Choose another opt-in strategy to test. Keep going, because as soon as you find the right combination of opt-in mechanism and offer for your audience, you'll be able to take advantage of the huge benefits that email marketing has to offer.