Email should form a part of every business's local search marketing strategy. Return on investment from email has continued to grow: $40 for every $1 in 2017.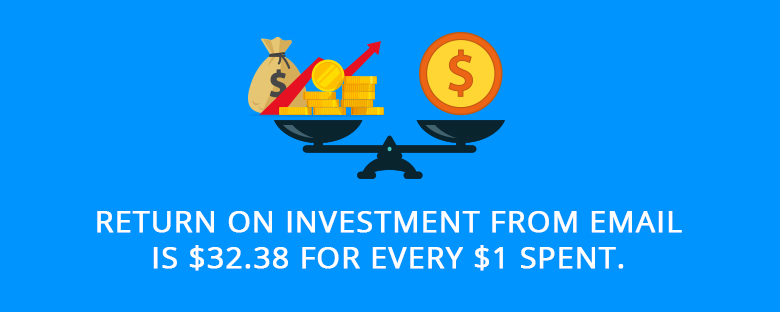 The holidays are an especially important time to send emails. It's your chance to remind customers of your brand when they're in a buying mood and offer incentives to encourage them to pick you over a competitor. You can also send emails to give users gift ideas or nurture them with premium content.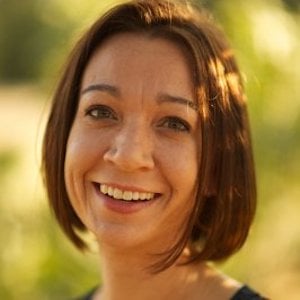 Kim Cooper
Director of Marketing, Amazon Alexa
Single Grain enables us to increase our impact without increasing our headcount
8 Ideas for Compelling Emails to Send During the Holidays
Whatever type of email you choose to send, here are 9 ideas to create a compelling holiday email message that will lead to conversions.
1) Figure Out What Worked Last Year
If you ran a holiday email campaign last year, look back over the results to see what worked and what didn't. Consider things like:
The words you used (and how many) in the subject line
Whether you included images or just used plain text
The time and day you sent out the emails
Whether your email was optimized for mobile
If you used CTA buttons or just a link in your emails: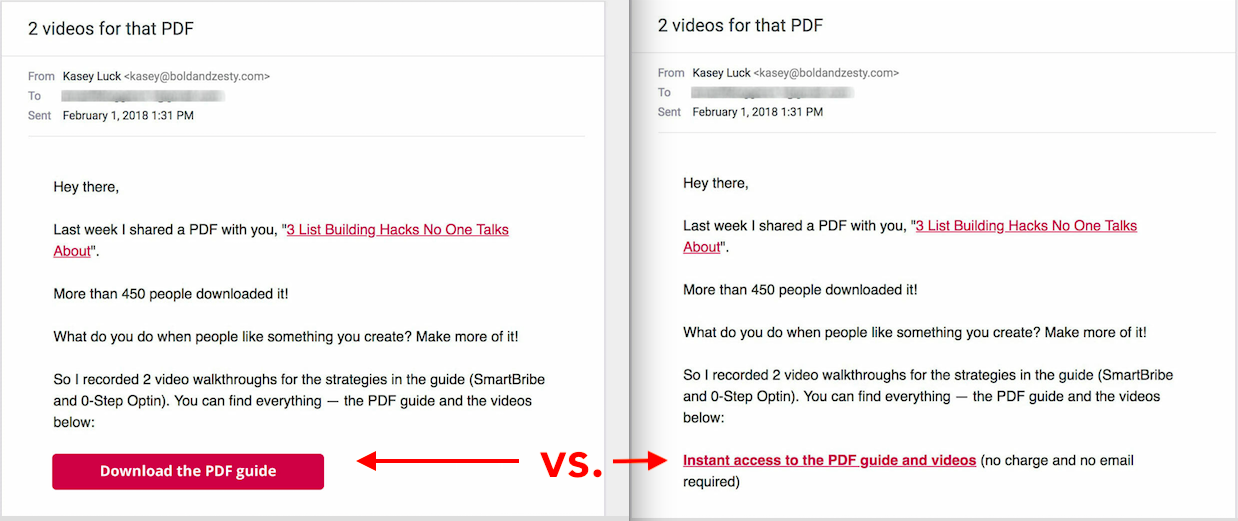 2) Use Segmentation
It's rarely effective to send the same email to everyone. This is particularly true for holiday emails when the stakes are high. Consider segmenting your list according to:
Whether the customer made a purchase this time last year. You could remind customers of their previous purchases and send them similar suggestions for this year.
If customers have added items to a shopping cart or subscribed to a free trial but never made a purchase. Push users to take the next step, pointing out the benefits of your product or service.
New additions to your mailing list who are reacting to holiday content. These users still need nurturing. Send premium content to encourage a sale based on what drew them to your mailing list.
You should also segment according to demographics like age and location, as well as interests and interactions with your brand, such as behavior on your website.
Figure out what type of segmentation makes most sense for you based on the data you have on your customers, how diverse your audience is, and whether your mailing list is made up of mainly new or returning customers.
Learn More: 
3) Send Exclusive Offers
Email offers abound this time of year — and for good reason. When people purchase a product that was marketed through an email, they spend 138% more than users who never received an email offer.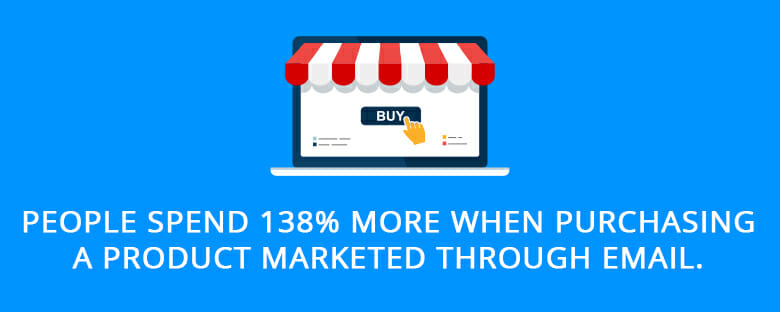 However, you do need to get creative to ensure that your emails stand out. One idea is to provide an exclusive sale just for recipients of your email. The best time to run this campaign is right before Black Friday or Cyber Monday  (the Monday following Thanksgiving, which is basically the online version of Black Friday).
Another possibility is to use special deals for last-minute shoppers — who make up about half of your audience. Last year, the National Retail Federation showed that 53% of shoppers — about 126 million people — planned to do their holiday shopping on the last Saturday before Christmas.
Identify those who continue looking at your products and services near the end of the holiday season.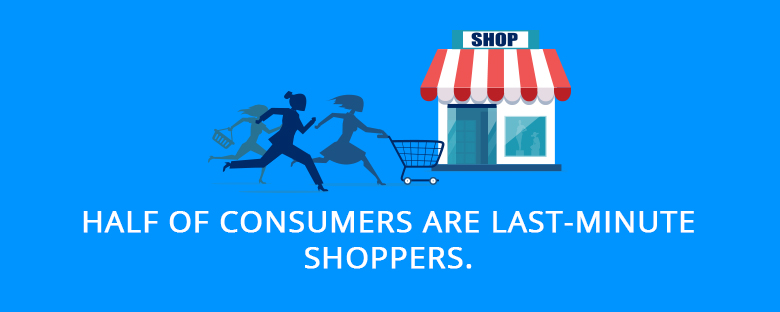 An alternative to discounts is a bonus, like a gift card. Offer this to customers who spend a minimum during the holiday period. There's a good chance that customers will give the gift card to someone else, but that's ok as this tactic can introduce your brand to new people. Last year, gift cards were the most popular present and the most-wanted holiday gift: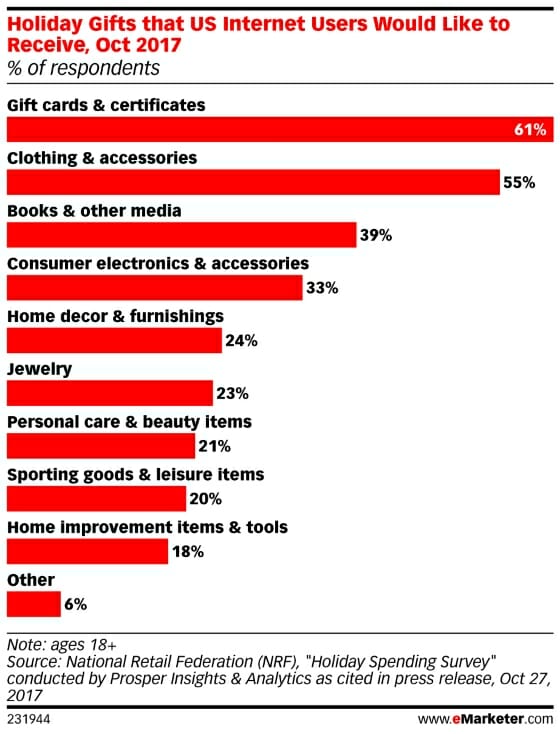 Dive Deeper: Top 10 Best Email Marketing Services
4) Make Shipping Guarantees
A concern of many shoppers is that their gifts will arrive too late, especially if they're making last-minute purchases. Ease their fears with an email that promises shipping guarantees that you can definitely keep. This will mean that customers hear about your shipping guarantee even if they don't visit your website.
A great incentive is free shipping. Make it clear that all your prices include shipping — and that customers will save money when they buy from you. One study found that free shipping, along with a returns policy, increased sales by 20%.
In addition, add a countdown to your emails that shows users when they need to place orders to ensure that packages will arrive on time. As the holiday season nears its end, start incorporating a sense of urgency into your messages. You can send these urgent email reminders to people who are still shopping or who have abandoned their shopping carts because:
40% of cart abandonment emails are opened
21% of the cart abandonment emails get click-throughs
50% of the people who clicked through made a purchase
Learn More:
5) Theme Your Campaigns
The last thing you want is for your brand to appear bland — and it will if you don't add a holiday theme to your email campaign. Deviate from your regular templates to incorporate holiday images and color schemes. Use seasonal language throughout the message.
Even better, use holiday puns in your subject line to compel users to click, such as:
Season's Eatings!
Yule adore our buyer's wrapping tips
Happy Challah-days!
Fleece Navidad
One brand doing it right is Bliss: not only does the email use the pun season's 'treat'ings, but it jumps right in with a discount offer and sets out holiday shipping terms: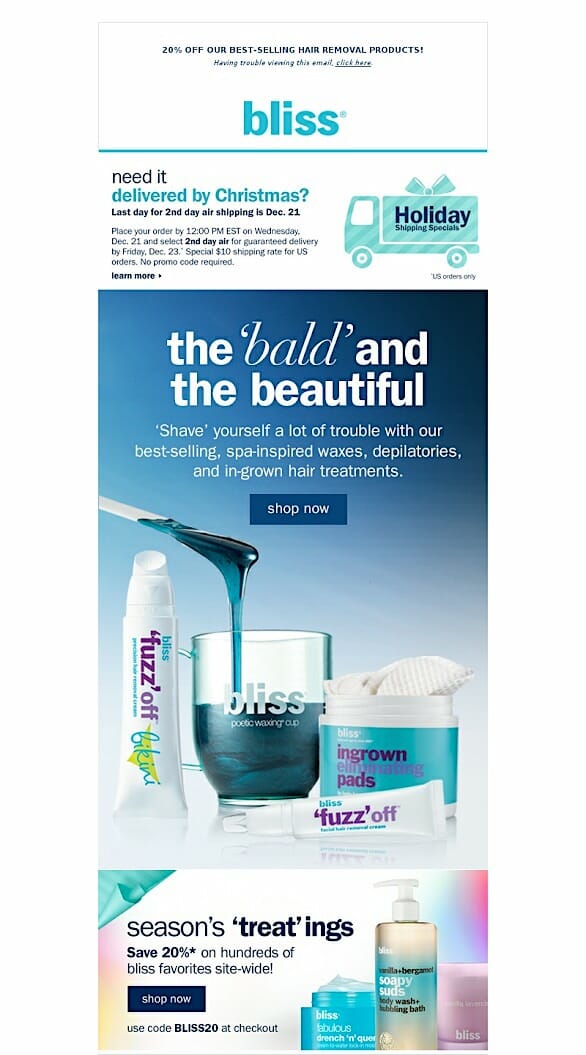 6) Release Personalized Gift Guides
Gift guides are great for customers who are unsure about what to purchase. Instead of sending everyone a generic gift guide, personalize suggestions according to what users have been viewing. For instance, you could send people emails about products that are interesting to a particular age group or gender or that fall within a certain price range. You may even like to ask users who they're looking to buy for and other basic questions to improve suggestions.
If you're unsure what a customer wants, another option is to provide links to various gift guides. Crate & Barrel did just that in this email, which lets users pick a price range:

7) Allow Customers to Sample Your Products
The chance to try free samples is another good option if you have many leads but few returning customers on your mailing list. This gives recipients a guarantee of quality and shows them exactly what they'll receive when they place an order. Free samples not only increase sales, they also lead to greater loyalty.
If you have a limited range of offerings or some of your products and services are particularly popular over the holidays, an email presenting just your top items may be effective.
Learn More:
8) Wish Customers a Happy New Year
Not all your emails need to directly push for a sale. In fact, sending New Year's wishes will show customers that you care about them. Small businesses should use the opportunity to share their achievements of this year and their hopes for the coming year, including any new products or services they intend to launch. You can also ask customers for their feedback, such as what they'd like to see from your brand in the new year.
Bonus: Add a Footer to Every Email
Each email campaign will have a specific purpose, but you can add the same footer to all your emails over the holiday season. The footer could remind customers of the last date to order for shipments to arrive on time, mention a special discount or gift card you are offering, or even provide a link to leave a review.
Experiment with what types of emails work best for your audience. It's worthwhile to send slightly varied versions of your messages to identify which elements contribute to more conversions. This will be useful for making improvements to your emails as the holiday season progresses.