Shopify is an "all-in-one commerce platform that makes it easy to launch your dream business and start selling to your customers, wherever they are."
Over a million businesses use Shopify to sell, ship and process payments for their online stores. Sometimes they need to add features that the e-commerce platform doesn't have, and that's where Shopify apps come in handy. Most apps are from third-party developers, and they're all found on the Shopify App Store.
In today's post, I'm going to go over the top eight Shopify apps that are perfect for e-commerce merchants.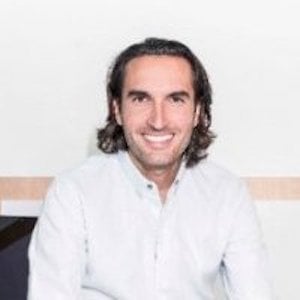 Yaniv Masjedi

CMO, Nextiva

Their expertise has helped Nextiva grow its brand and overall business
Shopify
It's no surprise that Shopify has become the preferred e-commerce platform for those million merchants.
In fact, coming off of a historic Black Friday and Cyber Monday last year, Shopify merchants sold more than $6.3 billion worth of inventory to more than 47 million customers – up 23% from the previous year.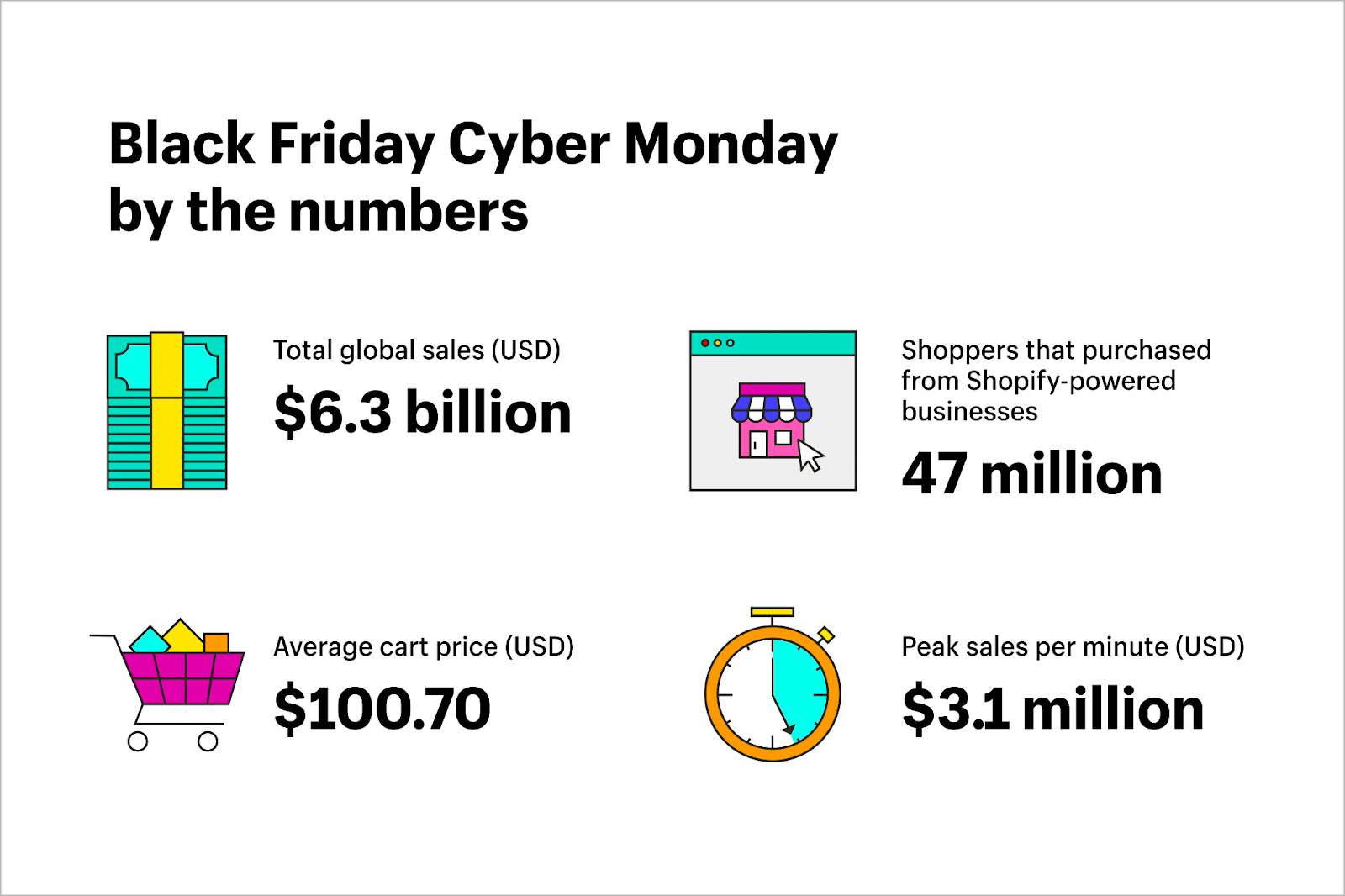 What exactly led to such a drastic jump in sales numbers?
For one, we know that COVID has accelerated the growth of online shopping – not that it needed any boost. In 2020, online retail sales increased year-over-year by more than 32% and that number got up to 39% in the first quarter of 2021. As people relied more on the Internet to get their goods and services throughout the pandemic, online commerce proved to be the backbone technology to support this demand.
Another reason why Shopify's sales numbers were booming in 2020 and 2021 was because the pandemic inspired more small and growing retailers to either launch online stores or enhance them by taking an online-first approach. Data tells us that new stores created on the Shopify platform grew 71% in 2020 with a record number of merchants added near the end of the year.
Whether you're using Shopify, Wix, BigCommerce or any other well-known e-commerce platform, getting an online storefront up and running has never been easier, especially as you begin to integrate with third-party apps.
Now, let's take a look at the top Shopify e-commerce apps to consider adding to your online store. These apps range from:
webpage builders
interactive pop ups
email marketing tools
and even drop-shipping apps
By the end of the article, you should have a well-rounded understanding of which type of apps could help you get the most value out of your Shopify store.
Dive Deeper: How to Create Digital Products to Grow Your Small Business During a Pandemic (and Beyond!)
Top Shopify Apps for Growing E-commerce Merchants
1) Privy
Privy is a pop-up, email marketing, and SMS marketing e-commerce app. It is the most-reviewed sales app in the Shopify App Store, with over 18,660 5-star ratings and nearing 25,000 total ratings as of December 2021.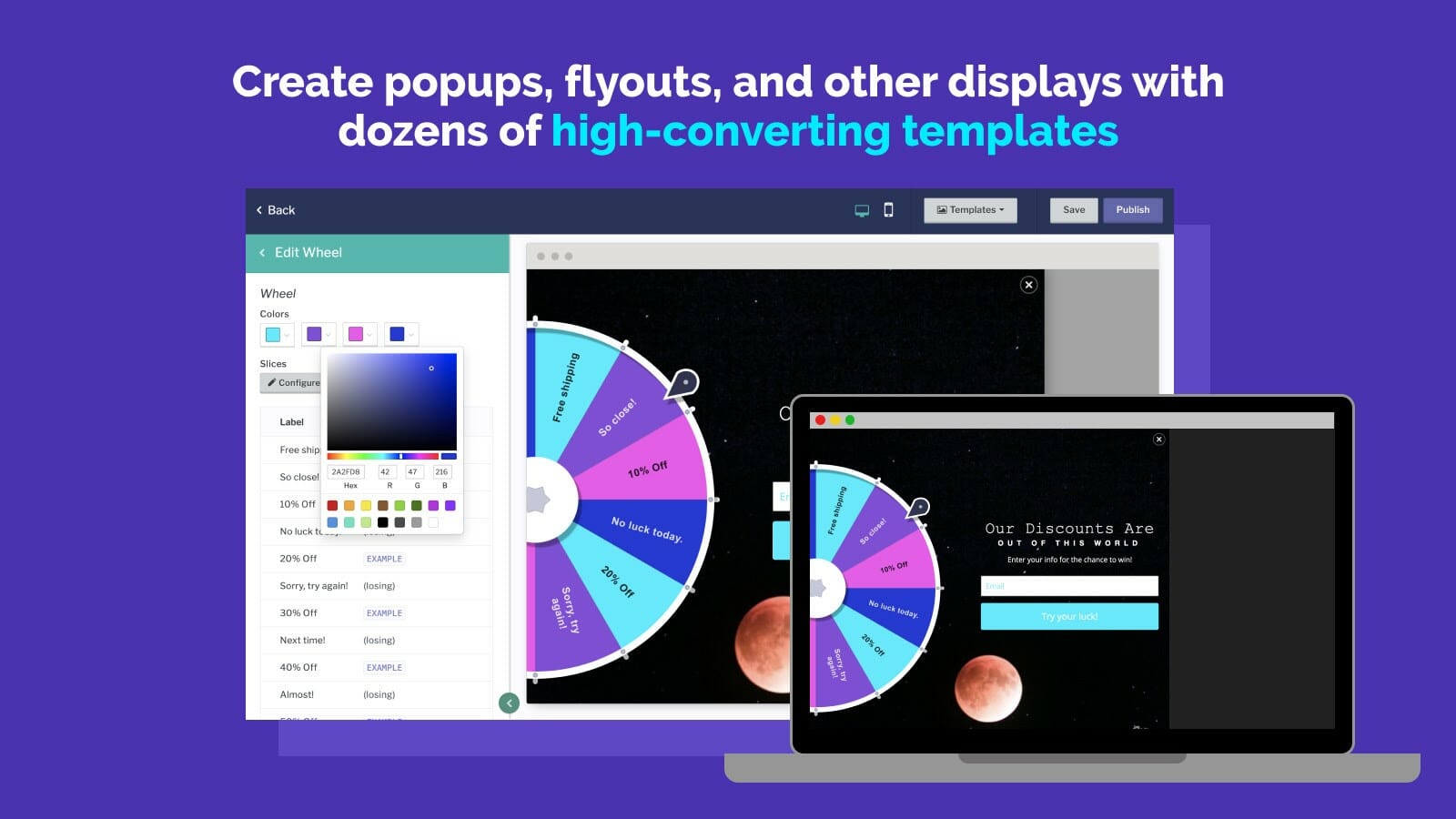 Key Features:
Pop-Ups: Choose from a library of pop-up templates or design and customize your own to capture new contacts and grow your email and SMS lists. Add an interactive spin-to-win wheel to your website and give visitors a chance to win major discounts on products. You can also add a free shipping bar at the top of your website to let visitors know how much money they need to spend in order to reach free shipping.
Email Marketing: After capturing contacts, you now get to grow your email list. Using Privy, you can send welcome emails and coupon codes to new subscribers, send your product newsletter and sync it with your Shopify store, and save abandoned carts to maximize your sales. Choose from dozens of email templates or create your own branded templates from scratch.
SMS Marketing: A reported 91% of consumers are open to receiving texts from brands they enjoy shopping with. Capture SMS opt-ins with your pop-ups and you can begin texting your customers. Send them coupon codes, send them flash sale announcements with broadcast texts, and pair welcome texts along with your welcome email. SMS marketing is one of the best ways to achieve high open rate and conversions on the devices your customers are likely using the most – their phones.
Pricing: Free 15-day trial. Costs as low as $15/month.
Similar Apps: Shopify Email, Klaviyo, Mailchimp
Dive Deeper:
* How Correctly Used Pop-Ups Can Help Increase Leads
* How to Lower E-commerce PPC Advertising Costs with Email Marketing

2) Loox
Loox is the leading Shopify app for gathering reviews, referrals, and showcasing your social proof. It has a 4.9-star rating on Shopify nearing 8,000 total ratings as of December 2021.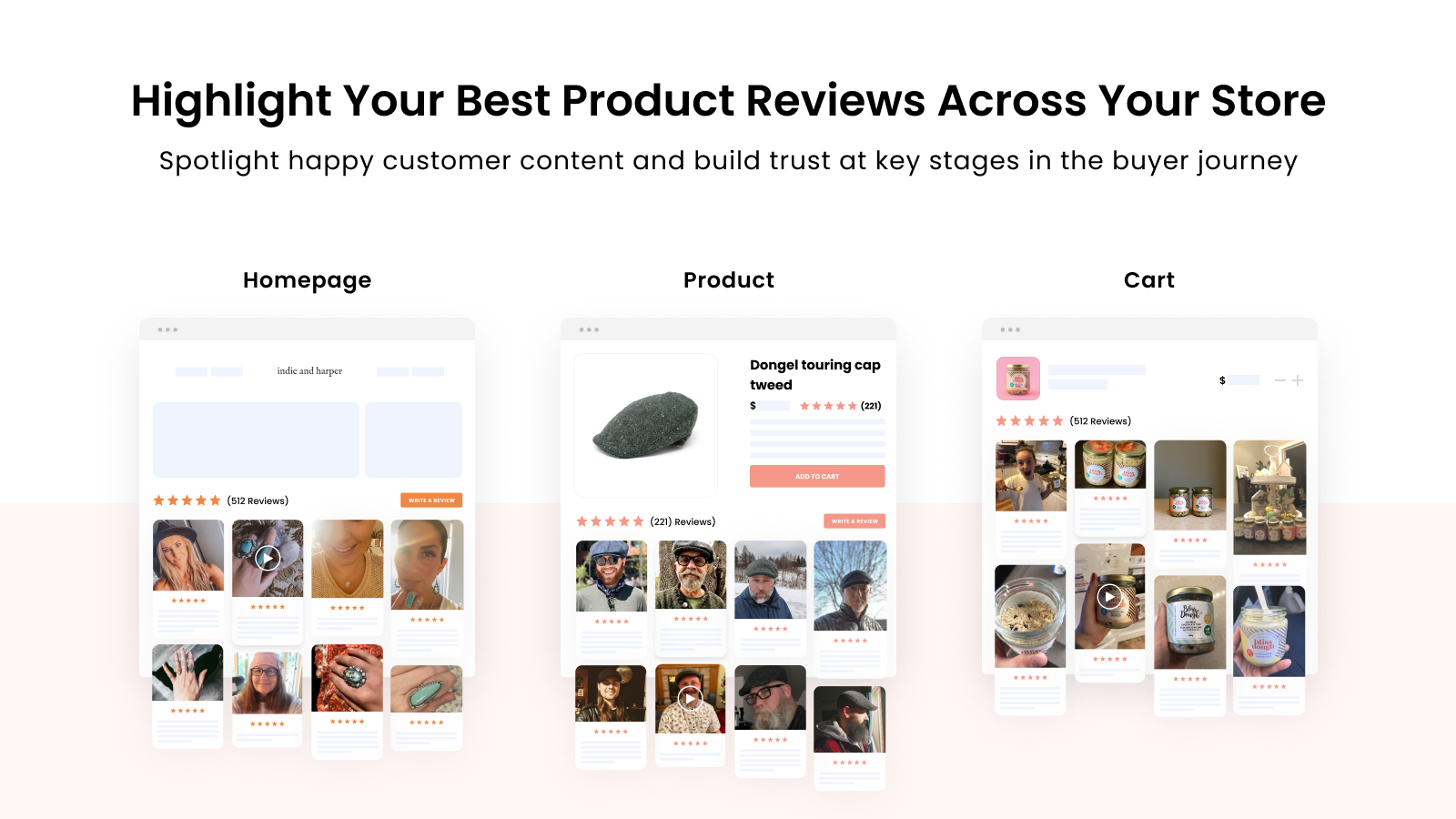 Key Features:
Product Reviews: Choose from a variety of design options for displaying your product reviews on your Shopify store. Common displays include product page reviews with high-quality images, homepage carousels, and customer appreciation pages. Loox merchants can also enact pop-ups that surface relevant reviews when someone is viewing a specific product, a sidebar that helps facilitate product review collection, and shopping cart reviews that instill confidence in customers at the point of purchase.
Customer Referrals: Make it simple to encourage and incentivize your happiest customers to refer your product to their friends, families and networks. With Loox, merchants can implement post-purchase referral pages and entice customers to enroll in a referral reward program. Customers can refer products across channels such as social media, email and SMS. Referral rewards and discounts can be customized to best suit your business.
Pricing: Free trial available. Costs as low as $9.99/month
Similar Apps: Jude.me, Yotpo, Stamped.io
Dive Deeper: Shopify Facebook Ads Case Study: 7 Campaigns that Drove Results
3) Printful
Printful is a print-on-demand drop-shipping app that allows you to create and sell custom products, like backpacks, hoodies, mugs, and more. It has a 4.4-star rating on Shopify with over 3,500 reviews as of December 2021.
Key Features:
Print-On-Demand (POD): Create customized designs and apply them to a variety of products and sell them under your brand name. You can even white-label the packaging for ultimate customization. Customers receiving orders would never know they were customized and designed using Printful's POD. For next-level customization, brands can embroider designs or get All-Over-Design (AOD) added to their products.
Warehousing & Fulfillment: After custom-designing your products, you need somewhere to store them, especially if you're a smaller e-commerce brand with little-to-no inventory space. Printful handles this for you by giving you the option to store and ship out of their warehouses. They can even fulfill and ship products on your behalf on the same day of orders.
Creative Services: Have a design in mind but can't seem to translate it on your screen? Printful offers creative services such as graphic design, photography and even video services. Their designers will be able to create custom typography, patterns, logos, blog graphics and all other types of brand designs. With Printful's photography services, you can get high-quality images of your products that can be used immediately on your Shopify site.
Pricing: Freemium available. Pricing varies depending on the services you use and how much inventory you sell.
Similar Apps: Oberlo, Printify, Spocket
4) Smile.io
Smile.io is a rewards, referrals and VIP program that helps Shopify stores gamify the rewards experience and build more loyal customers. It has a 4.8-star rating on Shopify with over 4,200 reviews as of December 2021.
Key Features:
Loyalty Points: Give your customers access to exclusive perks and rewards with Smile.io's robust loyalty program. With this program, customers can earn points for things like creating a new account, placing an order, leaving reviews or even celebrating a birthday. Merchants can save abandoned carts by running points campaigns or notifying customers that their points are expiring. These points are redeemable at checkout for items.
Referral Program: Show your brand advocates some love with Smile.io's referral program. With personalized referral links, advocates can earn points by referring new customers who place purchases. These can also earn more than just points. For example, referrals can earn free shipping perks, dollar discounts, percentage discounts or even free products.
VIP Program: For more exclusive rewards for loyal customers, this is where Smile.io's VIP program comes into play. These customers can earn points at an accelerated rate, receive special gifts with each purchase, contest entries, special invitations to events, and more.
Pricing: Free option available. Costs as low as $49/month.
Similar Apps: Marsello, Rivo, Growave
Dive Deeper: 6 Referral Marketing Strategies to Boost Sales in 2023
5) PageFly
PageFly is a landing page builder and e-commerce store design app where merchants can create their own pages from scratch or choose from dozens of templates. It has a 4.9-star rating on Shopify with over 6,000 total reviews as of December 2021.
Key Features:
Webpage Building: Whether you're building a product page, a pricing page or even a homepage, PageFly merchants can create beautifully designed pages and publish them to their storefronts with ease. Users can choose from over 80 different templates that easily sync with their Shopify stores. You can also add on page features such as a countdown timer, low inventory notification, price comparison, and more.
Search Engine Optimization (SEO): No e-commerce store can afford to have poor SEO and lose rankings on Google. Thankfully, PageFly has features to help alleviate some of the stress of managing SEO. One feature includes lazy loading, which loads your product images as users scroll past them, rather than all at once. Another feature is global styling, which makes sure your page experience on desktop and mobile are similar and page speed is optimized.
Pricing: Free option available. Costs as low as $19/month.
Similar Apps: Shogun, GemPages, Automizely
Dive Deeper:
* 9 Quick SEO Tactics That Only Take 10 Minutes to Implement
* Top 19 Shopify SEO Plugins for Your E-commerce Site
* The Ultimate Guide to Creating a High-Converting Landing Page in 2023

6) Gorgias
Gorgias is a top-rated live chat and help desk service for Shopify stores of all sizes. It has a 4.6-star rating on Shopify and just under 500 reviews as of December 2021.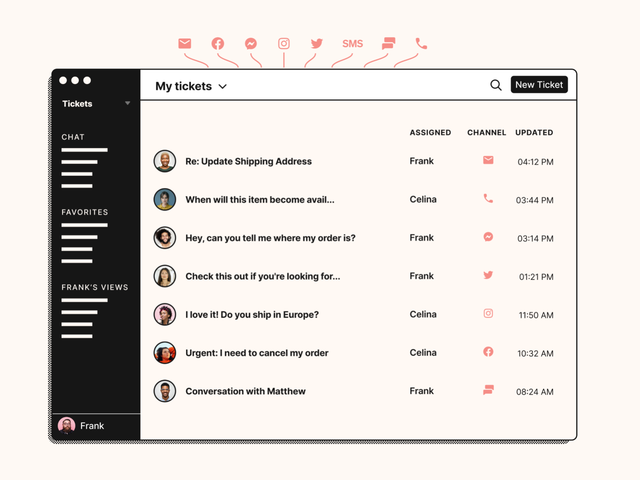 Key Features:
Help Desk: Manage your customer service conversations from email, live chat, phone and social media in a single help desk. Any rep can access the full conversation history so they can be privy to the customer's issue, which rep handled it, the status, and other customer service metrics.
FAQ Chatbot: Save time by using Gorgias' automated response bot that lives within your Shopify chatbot. This bot is perfect for answering frequently asked questions and commands such as "where's my order?", "lost item", or "tracking number". With Gorgias, you'll be able to clear up your customer service queues for more complex questions that your human reps can answer.
Rule-Tagging: Your customer service reps can clear up even more of their time by setting up rules within their inbox. For example, incoming emails with the keywords "lost item" or "refund" can be automatically escalated in your reps' inbox.
Pricing: Free 7-day trial. Costs as low as $60/month.
Similar Apps: Zendesk, Freshdesk, Help Scout
Dive Deeper: 13 Messages Your Chatbot Should Be Saying to Prospects
7) Lucky Orange
Lucky Orange is used to run replays and heat map analyses on your Shopify store to analyze customer behavior. It has a 4.6-star rating on Shopify and just under 700 reviews as of December 2021.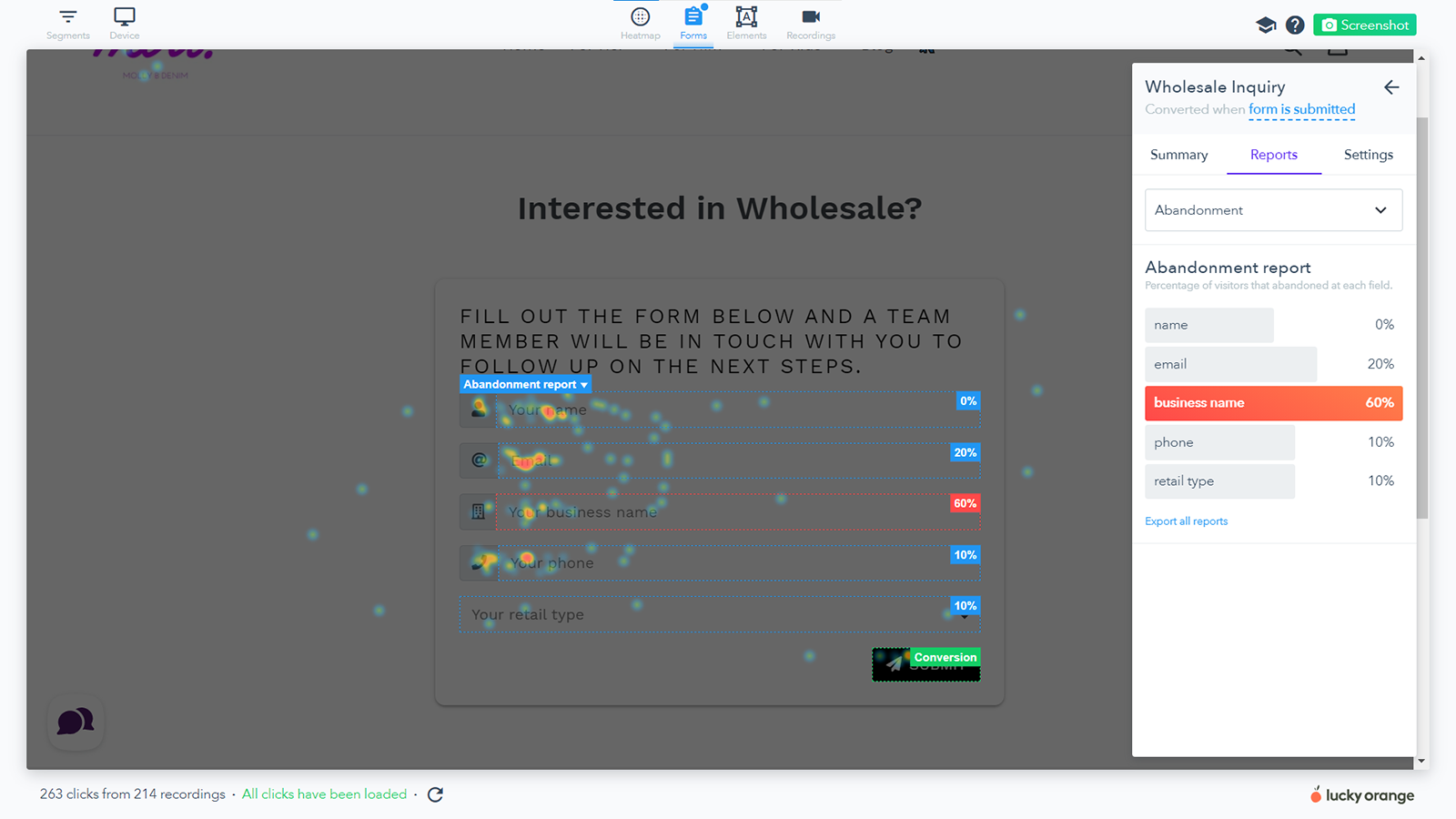 Key Features:
Session Recording: Watch from a library of session recordings of people visiting your e-commerce store and see where the bottlenecks to their purchasing an item are, see where their scroll interest is, see what buttons they're tapping, see how they interact with products, etc.. These recordings can also be reflected in a heat map format, like shown in the picture above.
Live Viewing: If you don't want to wait for recordings, you can view sessions live on your Shopify store. If an agent sees customers running into issues about finding their product or checking out, they can start a live chat conversation and guide them.
Surveys, Polls and Forms: Don't just watch and analyze your customers. With Lucky Orange, you can also run on-page surveys, polls and forms to gather helpful feedback about your page, a feature, pricing or anything else.
Pricing: Free option available. Costs as low as $10/month.
Similar Apps: Retter, Reactflow, Pulsing
Dive Deeper: Top 8 Tools to Improve Customer Experience Using Heat Maps, Feedback and Links
8) Bundler
Bundler allows you to bundle your products and plans easily to create volume-based discounts. It has a 4.8-star rating on Shopify and over just 400 customer reviews as of December 2021.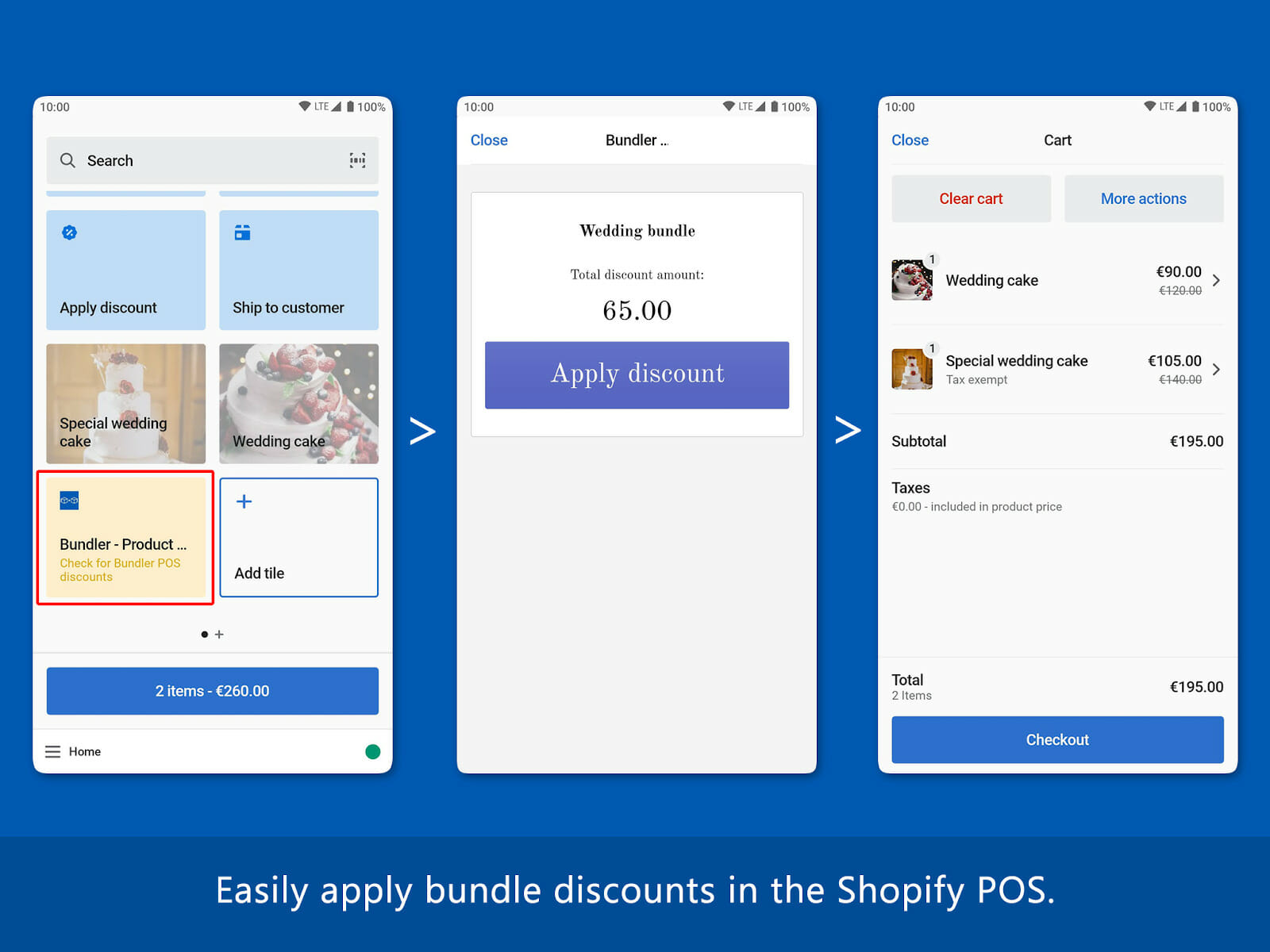 Key Features:
Bundling Discounts: Create a bundle with a fixed price and Bundler will automatically calculate the discount. Create an opportunity for customers to mix and match products to receive a bundle discount. Offer volume-based discounts when customers reach a certain threshold for products in their carts. Finally, offer free shipping when customers
Bundle Savings Pop-Ups: Notify customers with a bundle pop-up when they're close to receiving a bundle discount. This increases urgency and conversion rates.
Pricing: Free option available. Costs as low as $6.99/month.
Similar Apps: Bundle Bear, Bundle Builder, WideBundle
Dive Deeper: 25 In-App Advertising Statistics to Supercharge Your Strategy
Which Shopify Apps Do You Need for Your Store?
Whether you're looking for webpage builders, interactive pop-ups, email marketing tools or drop-shipping services, the list of Shopify apps I provided above should be more than enough to round out your e-commerce store. Keep in mind that not all of these apps will be relevant to each e-commerce brand.
For example, if you're an upstart clothing brand with designs in place but you have nowhere to print or ship your items, an app like Printful could be the solution for you. If your website looks and feels great but struggles at converting your traffic into customers, an app like Privy could prove to be a game changer.
Read through the apps I provided above, or even click through to their Shopify listings to get more details on what exactly they provide and the sort of value you'd get out of using them.