SEO for E-commerce Sites (Beginner & Intermediate)
E-commerce businesses are run almost entirely, if not exclusively, online and getting traffic to their sites is crucial for success. You can't make any sales if your customers can't even find you on the Internet.
Most e-commerce businesses are familiar with the basics of search engine optimization (SEO) best practices like adding meta descriptions to your pages or picking relevant keywords.
However, some online stores aren't that familiar with SEO or have only dipped their toes in it. But if you want to see better online traffic and increase sales, you absolutely must implement SEO on your e-commerce company.
And if want to grow your business, you really need to go above and beyond the bare minimum with your SEO work to edge out the competition. Most e-tail shops are doing the basic, so you'll need to leverage more advanced SEO best practices to increase your position in the SERPs, attract more customers and outperform your competitors.
Let's take a look at the six specific types of SEO work that all e-commerce companies should absolutely do to increase their ranking potential.
1) Optimize for Local Organic Traffic
Not all e-commerce companies are focused on local traffic since they may not have brick-and-mortar stores, but keep in mind that optimizing for local traffic can give you an edge, particularly in local searches. And as a nice bonus, local shipping costs may be less than shipping your goods halfway across the country.
That being said, if you do want to incentivize local pickup or emphasize your business' activity in your local community, optimizing for local organic search traffic can be very beneficial.
You can do this by taking the following steps:
Set Up a Google My Business Profile
Google My Business plays an important role in dictating local search traffic. Every month, there are over:
5 billion searches on Google for restaurants

3 billion searches for hotels

1 billion searches for clothing stores

600 million searches for hair and beauty salons

5 million searches for coffee shops
Some of those people could be your customers!
The benefits of having a GMB account include:
You will have more than just a business listing. Your free Business Profile lets you easily connect with customers across Google Search and Maps.
You can post photos and offers to your profile to show what makes your business unique, and give customers reasons to choose you every time.
You can display your business hours and contact information, with a link to your website: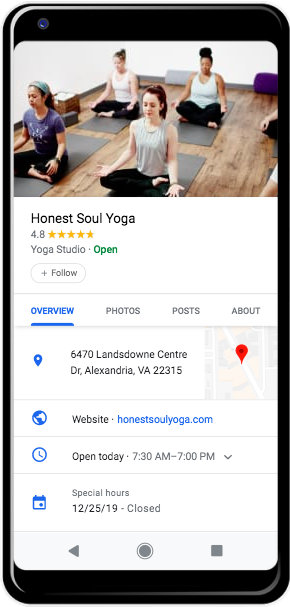 You can showcase as many of your reviews as possible, with the overall star rating: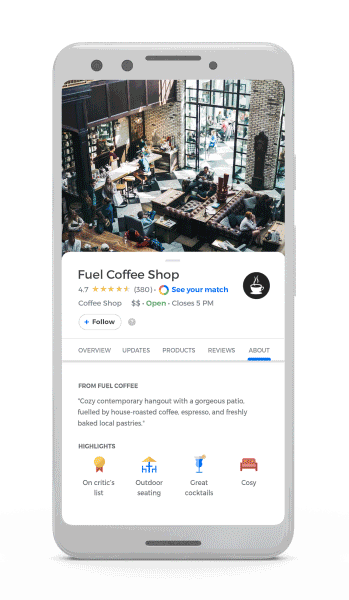 Having a Google My Business profile offers you the potential to perform well in local searches, giving you a strong competitive edge. When your potential customers are already online, searching for a business in Google Search or Google Maps, that means they're ready to connect – and with more ways to transact, you can do more business.
Dive Deeper:
* Your E-commerce Sales Chore Chart for a Profitable 2020
* How to Improve E-Commerce Landing Pages with Paid Ads Data
* How to Create an E-commerce Website Step by Step

Optimize for Location-based Keywords
Plenty of e-commerce businesses try to optimize specifically for broad-appeal keywords. Think: "silk flowers" and "content marketing."
Location-based keywords, on the other hand, are exactly what they sound like: keywords based on a specific location. Another term for this is geotargeting, which is defined as "a marketing tactic that uses geographical locations derived from a user's IP address to serve city- or neighborhood-specific content or advertisements to them."
So, continuing with the above examples of broad-match keywords, you'd have: "silk flower creators in Orlando" and "SEO content marketer Los Angeles."
Location-based keywords aren't going to be as popular as general appeal, but they'll help you reach a more niche audience. And nothing is stopping you from hitting those larger-appeal keywords, too. Google's Keyword Planner makes that easy:

Optimize Your Metadata for Local Search
You have the option to add structured metadata and schema to your site in order to give Google additional context about your site.
Schema is a structured data vocabulary that defines entities, actions, and relationships on the Internet (webpages, emails, etc.)…. As a result of adding schema tags to your website, Google can supplement your website's search results with additional info in the form of Rich Snippets, which are proven to help click-through rate in organic search results.
Among other elements, schema markups are often used to point to local businesses with snippets of code in order to help Google understand what your website is about and thus better connect you with relevant searches: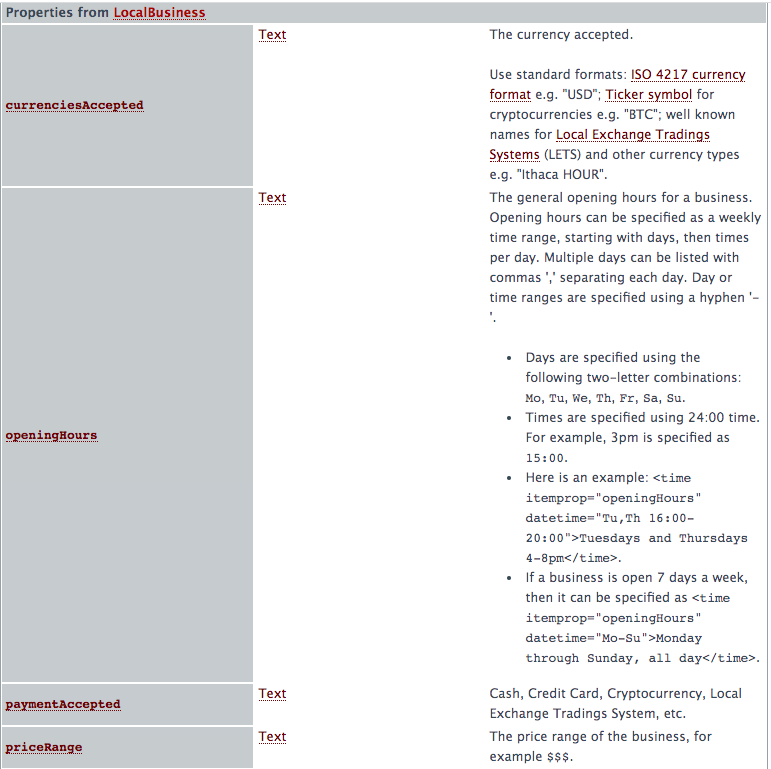 Here's an example of the search results that included web pages with schema markup for events:

The organization schema is another important schema for e-commerce sites to use in order to inform the search engines about where you're based: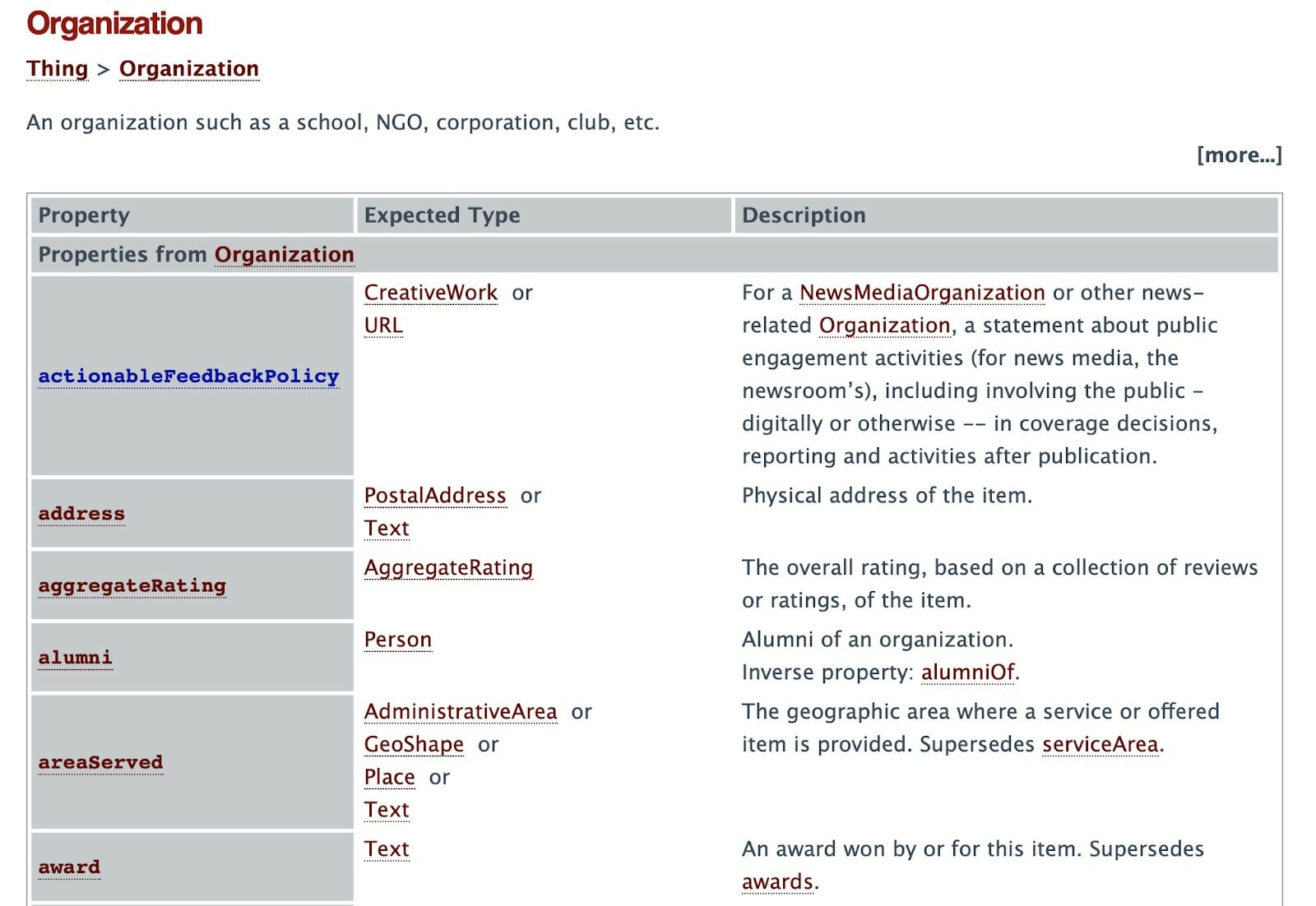 Here are two excellent resources to learn more about implementing schema markup for your e-commerce (or any) site:
2) Check & Upgrade Your Technical SEO
One of the best e-commerce SEO strategies is to simply make sure that the technical part of your site is in line with best practices. This is key.
There are plenty of e-commerce sites that neglect the technical side completely because it seems intimidating, but the right tools can help you fix a few common problems quickly.
When we say "technical SEO," we mean what's happening on the backend of your site. Technical issues may include:
broken links
error pages
having pages that can't be (or haven't been) crawled or indexed by Google's bots
slow site speed
These factors all play an important role in your SERPs positioning. If your site speed is slow, for example, it can cause high bounce rates and decrease your ranking.
An increase from 1 second to 3 seconds in web page loading time will cause a 32% increase in bounce rates!
And if Google can't crawl your page for whatever reason, they can't index it, which means it won't show up in their search results pages.
For the technical side of SEO, I strongly recommend using a site auditing tool. This is particularly important for e-commerce companies with large sites and plenty of product pages, where small mistakes can be easily missed and add up quickly.
My personal favorite is SEMrush's Site Audit tool, which is pictured below and will flag all technical SEO issues that need to be addressed, explain how they're impacting your currently, and offer actionable advice on how to fix them: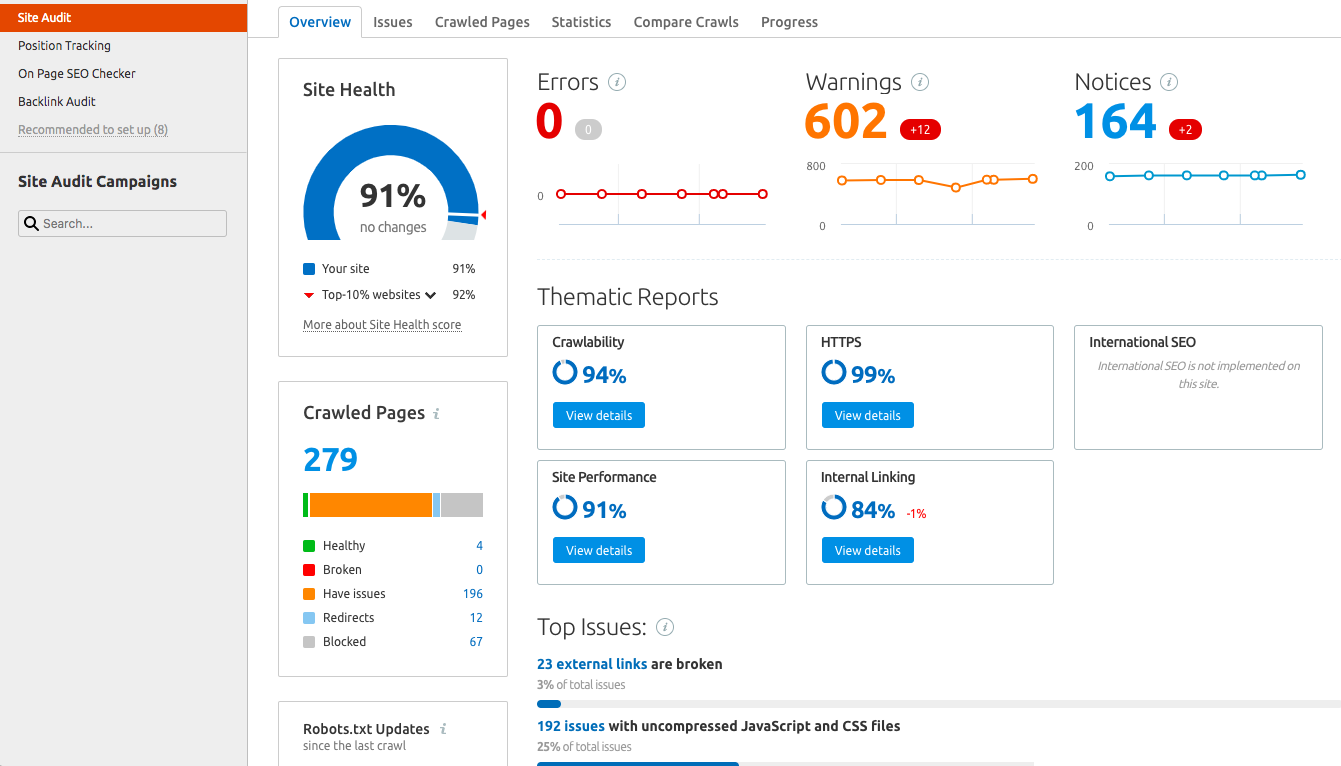 If you really aren't comfortable with the technical aspects of SEO, use a site audit tool to check on the status of your site and then hire an SEO expert who can help you resolve any potential issues on your site.
Dive Deeper:
* Creating a Winning SEO Strategy for E-commerce Companies
* How to Fix 15 Common On-Site Technical SEO Issues
* 6 Tips to Combat Cart Abandonment on a Magento E-Commerce Store
* 8 Absolute Best Ecommerce Website Builders

3) Do Diligent Keyword Research
Keyword research is something that most people are relatively familiar with if they know the basics of SEO, but good keyword research can be a little complex and it's essential that you get it right.
Last year, for example, I helped a client who was trying to sell tea sets online. They were optimizing for keywords like "tea kettle," even though their products weren't technically kettles, and "tea infusers," even though their target audience wasn't searching for that.
A little research helped us pinpoint the specific keywords that their audience was using – "tea pot set" and "cast iron teapot" – and their relevant traffic started increasing significantly. These were the terms their audience was looking for.
You also want to consider search intent when choosing your keywords. High-intent keywords – which are typically specific and signal that a customer is actively in the research stage of the sales funnel – can be great for product pages (don't forget that you need SEO for product pages, too!).
"Wood flowers for wedding," for example, is incredibly specific, as opposed to just "wood art" or "non-perishable flowers":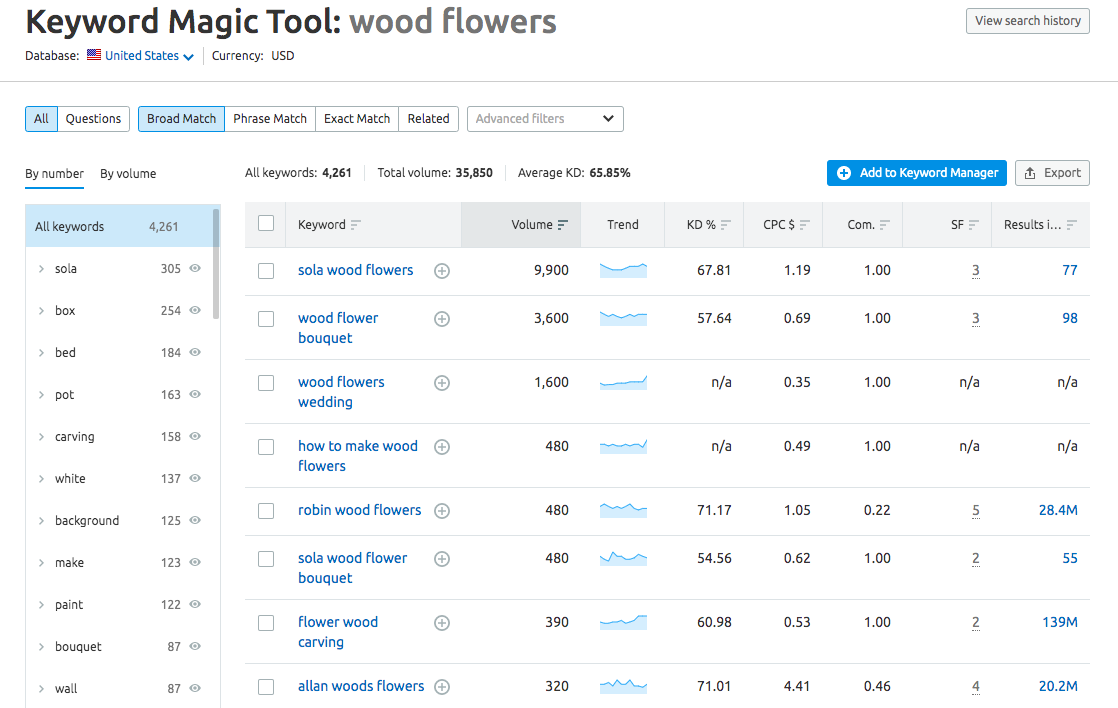 There are plenty of great keyword tools available to choose from:
Google's Keyword Planner is available for free, and will show you the volume of monthly searches and the competition that each keyword has.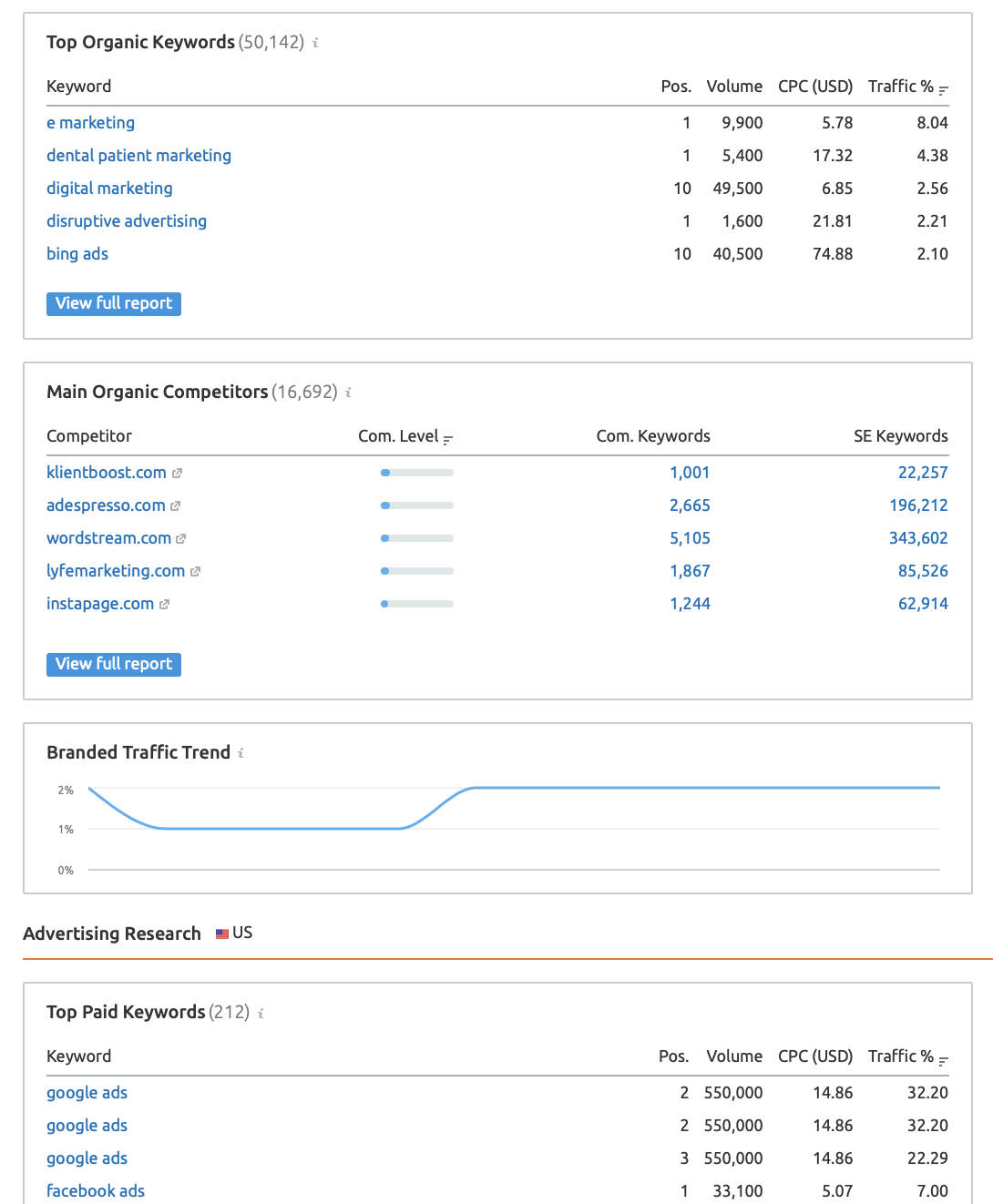 Make sure that every single page on your site (including each individual product page) is fully optimized for the relevant keyword that you've assigned to it. Place it in the text on-page, add it to alt image tags, and use meta tags and meta descriptions to re-enforce what you're optimizing for.
Dive Deeper:
* How to Understand Searcher Intent and Use It to Boost SEO Rankings
* SEO Keyword Research Made Easy in 2023
* Targeting Branded vs. SEO Keywords: Which Should You Focus On?

4) Create a Link-Building Strategy
Link building is one of the most effective ways to increase your SEO ranking while simultaneously driving traffic to your site and establishing your brand as a reputable resource in your industry.
Unfortunately, plenty of sites rule out link building because it does take some time. But not you!
Link building is the practice of trying to get other reputable sites to link back to yours (called backlinks).
Google looks at your backlink profile when they're assessing the overall quality of your site; if they see that you link out to great sites and that high-authority, well-trusted publications are linking back to you, they take it as a powerful indicator that you're creating quality, reputable content. This will dramatically help increase your ranking overtime.
In many cases, some form of content marketing is your best bet at a solid link-building strategy: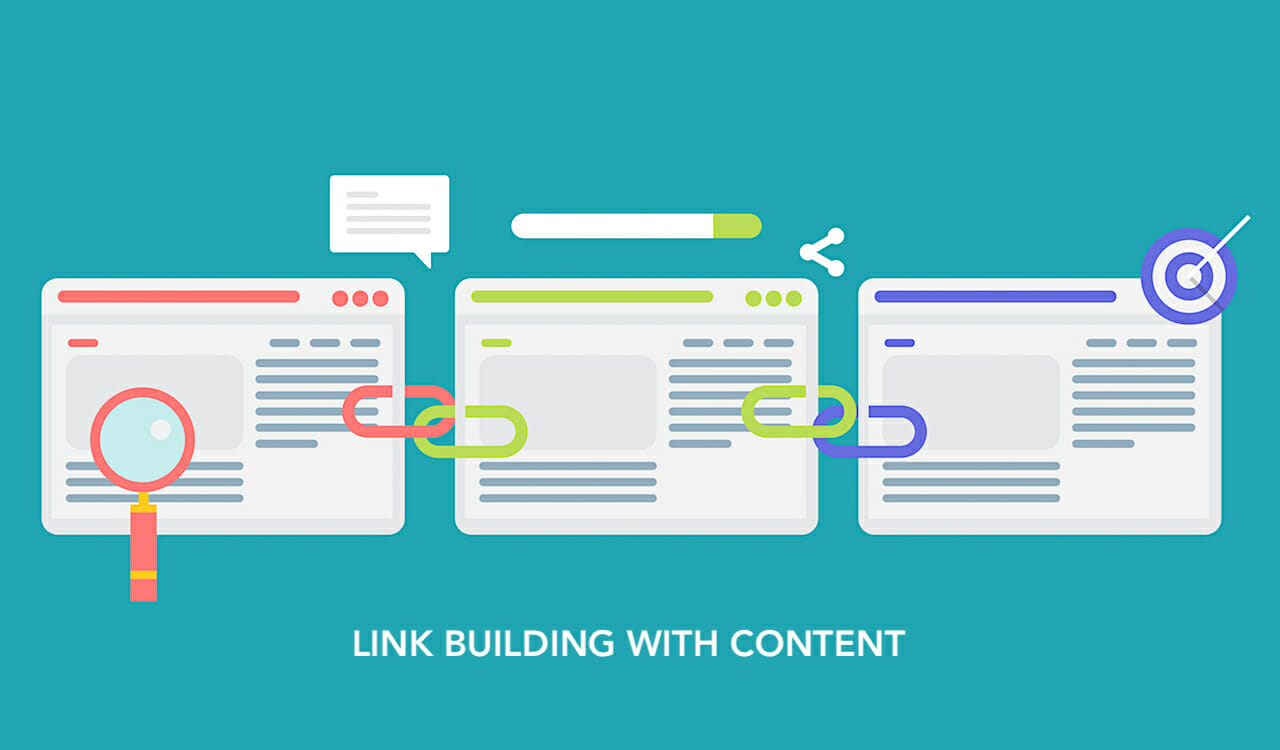 When you write your own high-quality educational content, people may link back to it in their own post.
You can also write guest posts to submit to other sites, including well-known industry publications that accept guest contributors. My client who sells wood flowers for wedding bouquets, for example, looked at writing wedding planning resources and reached out to local wedding planners who had active blogs.
It's important to note, however, that links aren't all created equal. The links that will benefit you are those that come from high-authority sites.
All sites are given a Domain Authority Score, which can be anywhere from 1-100. This score predicts how well the site will perform in Google's SERPs based on factors like the length of time the site has been around and how many backlinks they have.
Though the Domain Authority Score is only a predictor and is not a metric that Google uses, it's a good indicator to keep in mind when you're considering what sites that you'd like to contribute to or target for link building.
Note: Never engage in link-building schemes of any kind. While a sponsored post is ok, you don't want to buy links from someone who is using private blogging networks, or even a blogger who can promise to get you on a big publication. Both of these can get you penalized by Google, and the latter could get you blacklisted from reputable sites that may have otherwise helped you.
Dive Deeper:
* The Ultimate Guide to Link Building with Content for SEO
* The Marketer's Guide to Link Building
* 5 Types of Guest-Post Content that Support Your Link-Building Efforts

5) Leverage Content Marketing to Increase Organic Traffic
Content marketing is valuable for link building, but it also works well to drive organic traffic to your site, too. And organic traffic = free traffic, which is always a plus.
A good content marketing strategy can be a game changer for e-commerce companies even if your direct competitors aren't using it themselves. It gives you a chance to educate your customers and answer any questions they have. This not only helps you nurture a relationship with members of your target audience, it also establishes you/your brand as a trusted expert in their eyes, too.
Content marketing most often takes the form of regular blogging, but it can also mean creating video content on YouTube, creating lead magnets like webinars or e-books, and guest posting.
Blogging on your own site gives you a chance to reach interested customers who are at the very top of the digital sales funnel: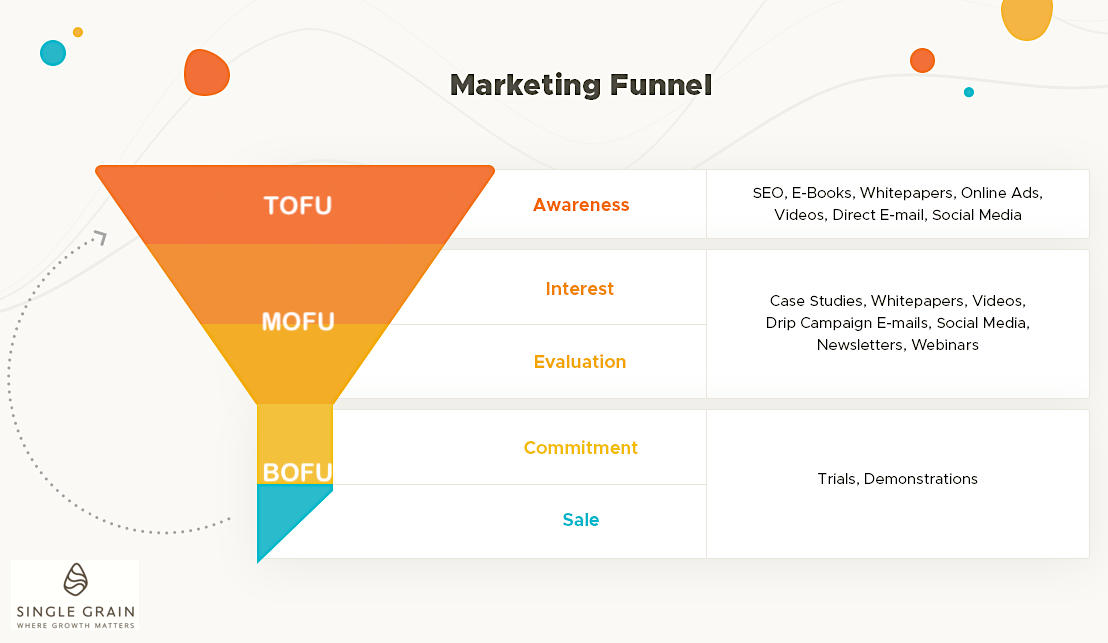 And just because someone is at the TOFU, that doesn't mean that they aren't high intent.
Someone who is searching for "what do I need to go camping," for example, may not know to search for the "portable fire pit" that you're selling, but that doesn't make them any less of a high-intent audience; they just need to know what to buy and why they need it so they can start purchasing.
Without feeling confident that they understand what they need and why, they'll scroll right past product recommendations in the search results to find more information: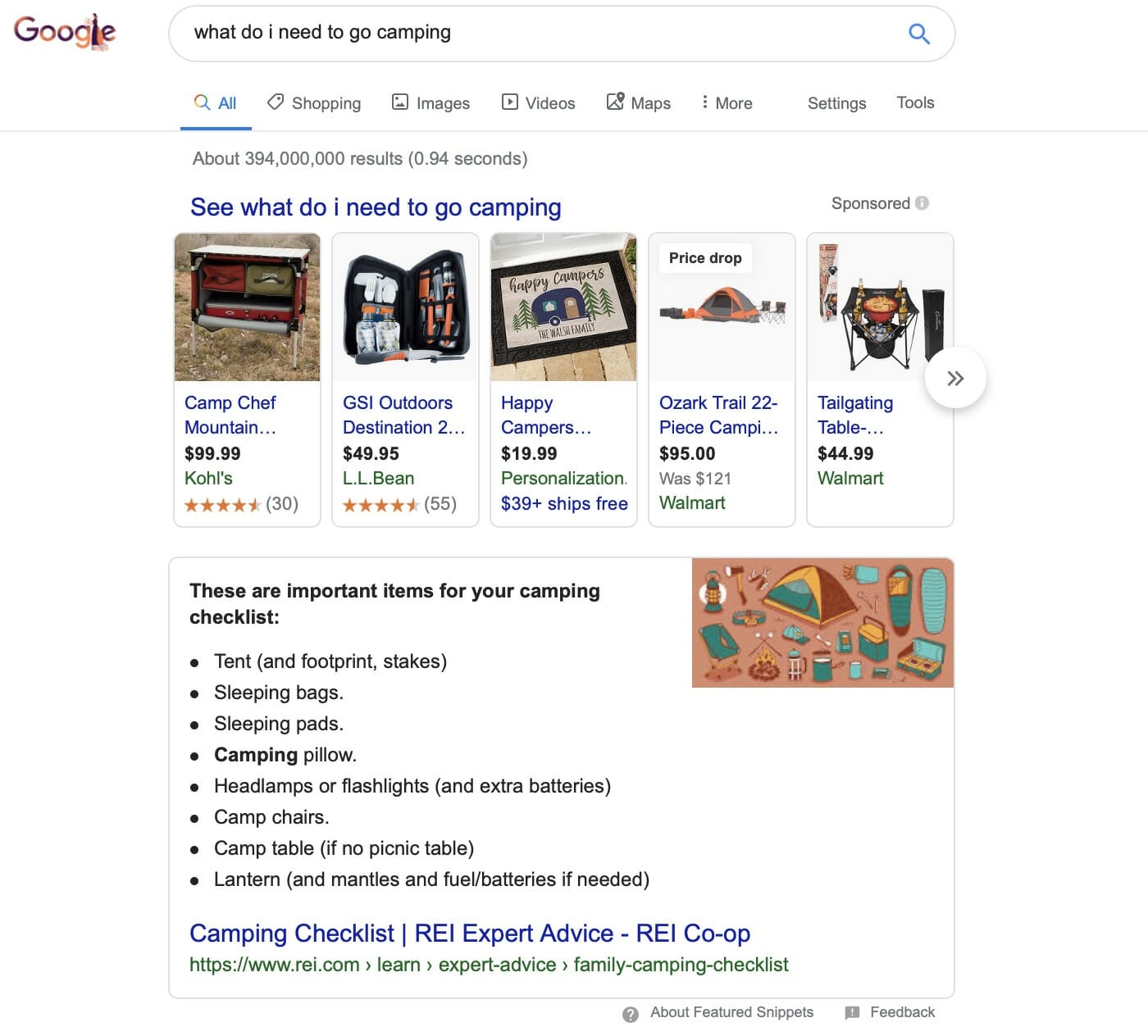 So make sure that every single post is optimized for a specific keyword, and base your post on the intent associated with the keyword so that it's relevant to the searchers who find it.
Dive Deeper:
* How to Implement User Intent to Build an Audience for Your Content
* The Beginner's Guide to Creating a Content Marketing Strategy
*How to Build a High-Performance Content Marketing Strategy

6) Track Performance with In-Depth Analytics Tools
There's one common mistake that we see e-commerce businesses making over and over again: They do the basics of SEO work but then never actually follow up on it.
It's essential to track your site performance with analytics. Not all strategies will work, so it's important to see how well your strategies are driving traffic to your site, which keywords are most effective, and what links seem to be helping you increase your SERPs ranking the most.
Google Analytics is a good place to start. It's free and easy to install on your site, and it will help you assess which platforms are driving the most traffic that's beneficial to you. Identifying keywords that most consistently result in sales, for example, can be enormously valuable:

There are other third-party tools that are great alternatives to Google Analytics that can help with this, too, and may offer more advanced tracking:
SEMrush, for example, offers automatic position tracking so that you can be alerted when any of your site pages increase or decrease in ranking in the SERPs.
Ahrefs is another great tool with an incredible interface. They've also got analytics that no one else does, including their own Ahref's Rank, which is similar to Moz's Domain Authority.
Moz has an incredible suite of analytics tools to help track site rank and positioning, and they also have exceptional resources that help you analyze page performance and optimize accordingly: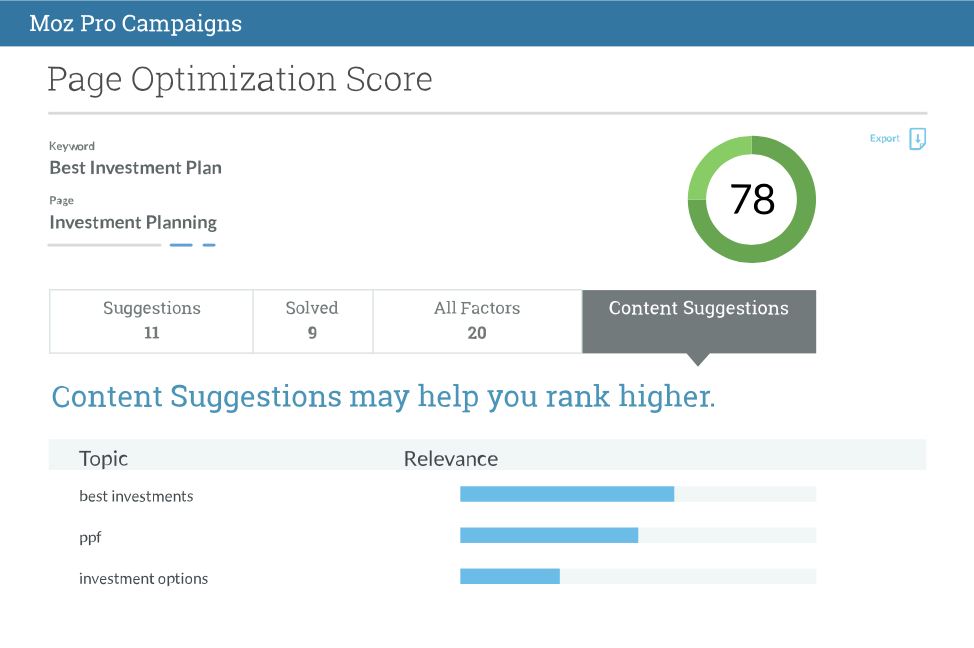 Dive Deeper: Google Analytics for Content Marketing: How to Track and Improve Your ROI
Final Thoughts: Is SEO Really that Important for E-commerce?
If you're wondering why SEO is so important for e-commerce success, remember that customers can't buy from you if they can't find you. It also helps that any SEO strategy for e-commerce companies is relatively easy to implement and yield exceptionally low-cost traffic.
You're only paying for any tools or e-commerce SEO services that help you get the strategy up and running, as opposed to paying for every click or conversions like you would with PPC campaigns.
And if you're wondering which e-commerce platform is best for SEO, keep in mind that any platform that allows you easily optimize for keywords and add technical SEO (like alt image tags or structured data) are great choices.
You can opt for a platform like WordPress and WooCommerce, but Shopify and BigCommerce have great SEO options, too. All these platforms have tools that are essentially aids in e-commerce SEO for beginners, allowing you to easily optimize your site even if you're new to marketing.
Whether you're new to marketing or you have plenty of experience in SEO for e-commerce websites, take the time to create an intentional SEO strategy, going through the different tactics discussed here. It's a big time investment up front, but it's one that will be well worth it!
Check out this case study: Ecommerce Advertising Strategy: How We Doubled PPC Sales for ThinSlim Foods (with a 3X+ ROAS)