"Hey Siri, where's the closest coffee shop?"
"Hey Google, is it going to rain tonight?"
"Hey Alexa, can we order more home supplies?"
If these questions sound familiar to you, congratulations! You are part of the voice search revolution that has been making quite an impact on online search in the recent years. Popular voice assistants like Microsoft's Cortana, Apple's Siri, Amazon's Alexa, and Google's Assistant are becoming increasingly popular.
Here are some impressive stats to show that we're in the midst of the voice search revolution (produced by the 2018 Voice Search for Local Business Study by BrightLocal):
58% of consumers have used voice search to locate local businesses in 2017
46% of voice searchers use the feature on a daily basis to find a local business
27% of online shoppers land on a website of a local business thanks to voice search
25% of online shoppers consider trying local voice search
Impressive, right? And this is just a beginning.
The devices used to search for local businesses online are quite diverse. Although Internet users prefer smartphones, they also use this feature on desktops/laptops, tablets and smart speakers.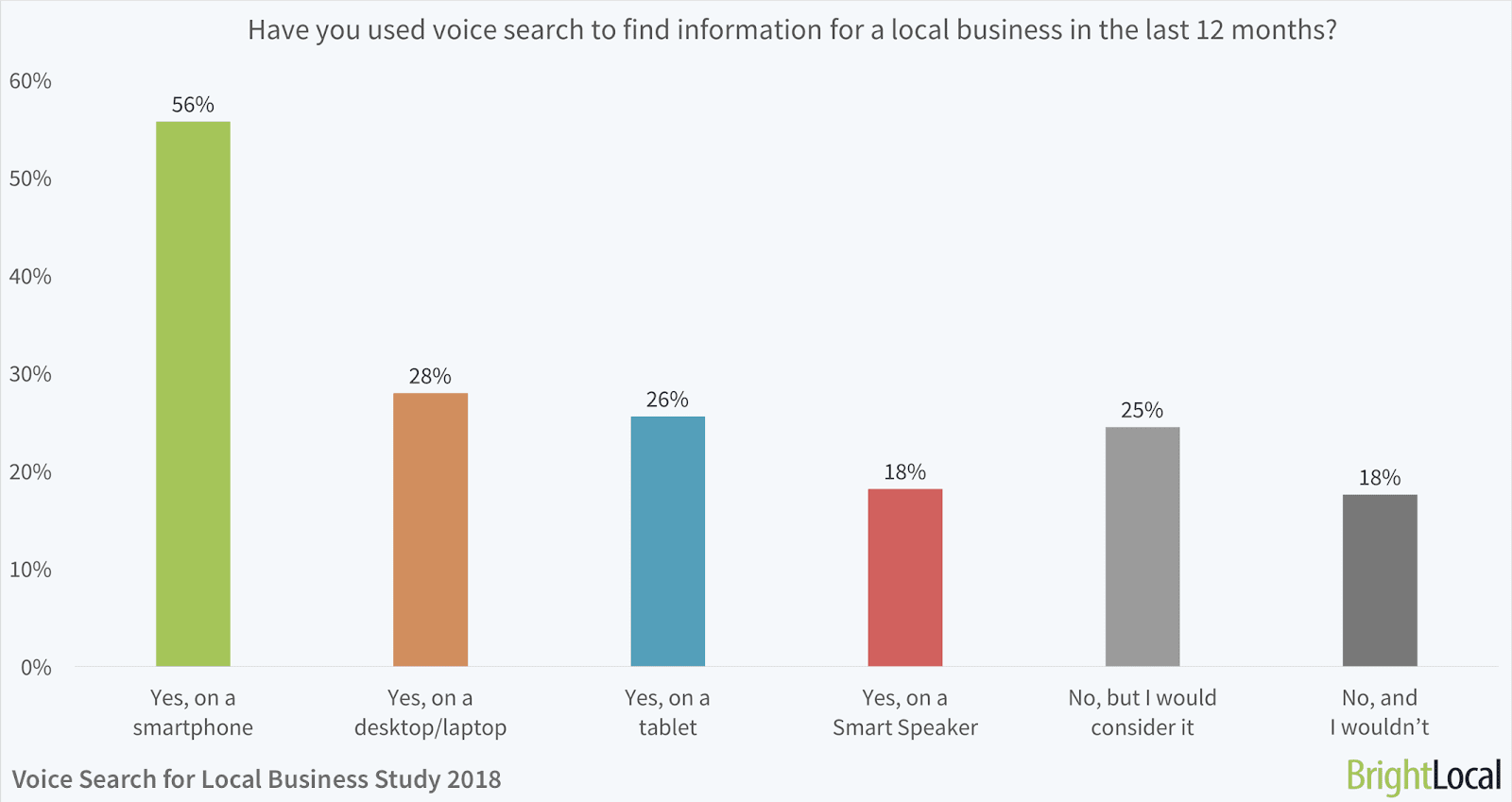 Voice search is definitely becoming more popular, so businesses must adjust their SEO strategy to meet the needs of people who use voice search.
In this guide, you're going to learn everything you need to about how to optimize your website and content for voice search.
What Is Voice SEO?
A simple example of voice search is asking personal assistants such as Cortana, Siri or Alexa for information on weather, traffic conditions, the closest ATM or the best Japanese restaurant nearby. It's a lot like regular search, except the user actually asks their question out loud, so it's usually phrased as a full sentence. Very simply, voice SEO is a strategy for optimizing your website and content specifically for voice search.
Search engines have already begun changing to accommodate the needs of voice searchers; in addition to being a search engine, Google is also becoming an answer engine.
You've probably noticed this change. Instead of generating ten results from a search query, Google tries to provide one, definitive answer to it (it still generates ten others, but puts a specific emphasis on the one answer).
For example, let's ask Google what Barack Obama's age is. For that, we use the "search by voice" function (the little colorful microphone) in the search bar. Here's what Google came up with, accompanied by a voice answer: "He's 56 years old."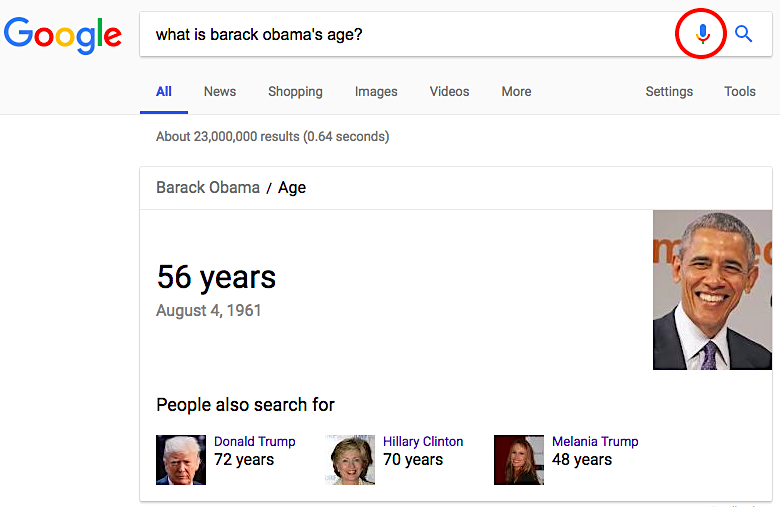 Asking Microsoft's Cortana the same question shows that Bing follows the same strategy of providing a single answer: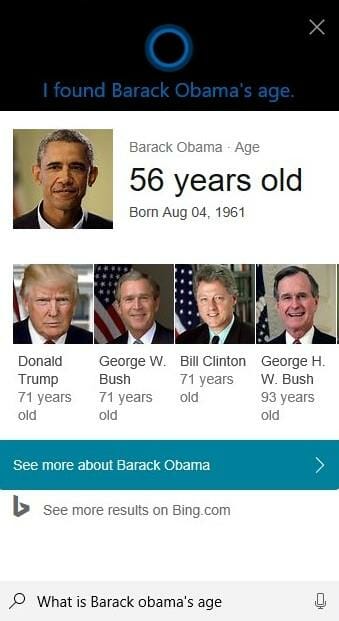 Clearly, search engines are becoming "answer engines" because they are shifting towards providing one answer to a query. Google has made it possible by introducing innovations such as Knowledge Graph and snippets.
Voice search, which receives an oral response from a digital assistant, has contributed to this shift to a single answer where possible.
Of course, it's way too early to claim that voice search will change search engine optimization in a profound way, but it's already making quite an impact.
Further Reading:
How Voice Search Will Change Traditional SEO
According to Search Engine Land, 50% of all web searchers in 2023 will be made with voice. This means that businesses and marketers should begin preparing for this revolution as soon as possible to avoid being left out by search engines.
But how exactly does voice search change the current SEO practices?
1) Having a Mobile Site Is an Absolute Must
People are increasingly using mobile devices such as smartphones and tablets to search the web, and this trend will accelerate. As the aforementioned BrightLocal study found, 56% of web searchers use smartphones to find information about a local business using a voice search.
This means that a large share of potential visitors and customers prefer to use mobile devices to view web pages, so if your site doesn't load quickly or looks awful on mobile, people will certainly bounce. Naturally, if you fail to adapt for too long, your website's rankings will fall accordingly.
Google has already given fair warning to everybody about the needs to go mobile by changing its algorithms to prioritize mobile-friendly pages. Test your site for mobile friendless with a free tool from Google and read the generated report so you know what improvements should be made to improve the experience of mobile users.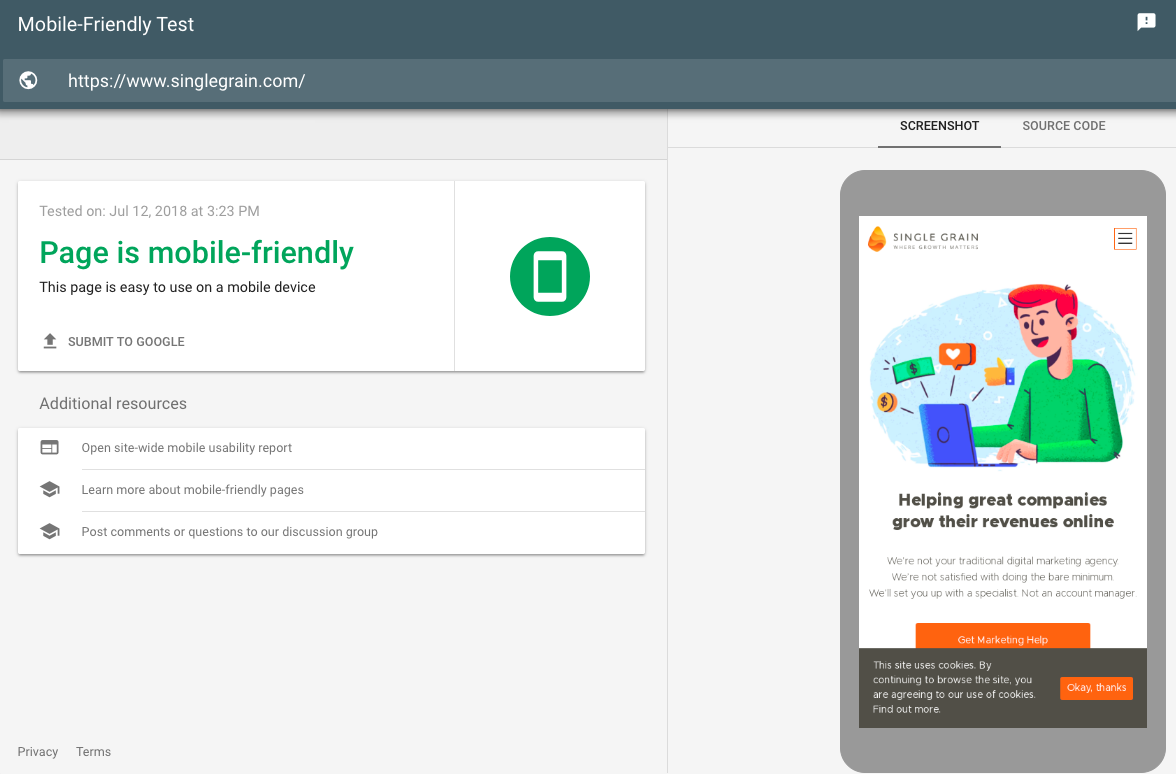 2) Directories Will Become Even More Important
According to the BrightLocal study, 97% of online shoppers use search to find online reviews for local businesses (Google Maps, Bing Places for Business, Yelp, etc.), so rather than looking for local businesses, they tend to search for "best [product/business]."
Since review and directory websites manage these searchers, it's safe to assume that businesses will have to register and optimize their Google My Business listing, Bing Places for Business, and other similar services.
The more complete your listing is – comments from owners, lots of reviews (positive ones, of course), photos of  the interior, and other content – the better the chance that your business will pop up on the local 3-pack on Google: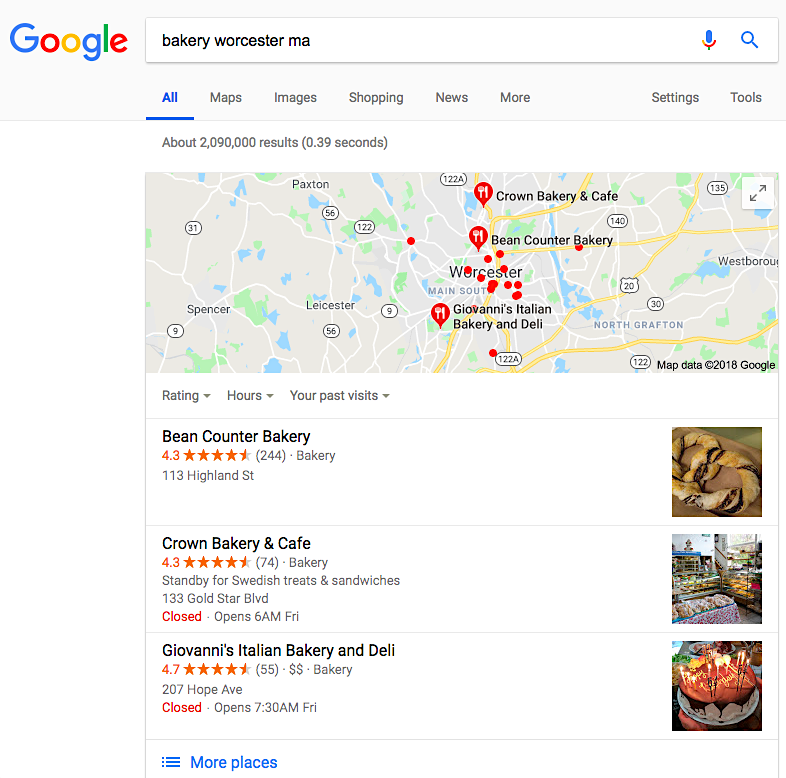 3) SEO Keyword Stuffing Is No Longer Necessary
This strategy was successful in the past but now things are changing, and voice search is one of the main reasons. Most voice searches are different from typical keyword-based queries because they are much more conversational. Plus, an article or web page stuffed with keywords doesn't provide a lot of value to Internet users.
In other words, keyword stuffing doesn't exactly provide the best user experience because it makes the text sloppy and spammy to a reader (just imagine a text with short-tail keywords in every sentence!). In fact, this technique directly contradicts the "user-centric" content vision of Google. The company's guidelines to creating a Google-friendly website make that very clear:
"Don't fill your page with lists of keywords, attempt to 'cloak' pages, or put up 'crawler only' pages."
So, the takeaway here is clear: people are using conversational phrases when asking search assistants for something and want immediate results. Keyword stuffing cannot provide these results because it will have way too many irrelevant keywords (Google warns about irrelevant keywords as well), so it's a good idea to design user-centric content.
Quick Wins to Optimize for Voice Search SEO in 2018
Now that we've learned what voice SEO is and how many people use it, one thing is clear: Voice search optimization is a must.
If a business fails to respond to this fast-growing trend, its search rankings will suffer, so new ways should be found to tailor existing SEO strategies to optimize for voice search.
There are three characteristics of voice search that will make the most impact for search engine ranking:
Voice queries have conversational style. As described above, people tend to have a "conversation" with virtual assistants because it's that much easier than exerting the physical effort to type long phrases into a search bar.
Voice searchers are looking locally. 58% of consumers have used voice search to locate local businesses, which translates into millions of people using voice for finding local information! This makes a perfect sense because many people conduct "near me" searches on their phones when they're out and about to find interesting (movie times) or necessary (gas stations) places around them. This means that your voice search SEO strategy should contain "near me" keywords and phrases used to describe your neighborhood.
Voice searchers want immediate results. To provide them with answers right away, search engines are turning into "answer engines." So your business should strive to pop up as the answer by encouraging positive reviews and having lots of useful content.
Now, let's see how you can change your current SEO strategy to meet the needs of voice searchers.
Further Reading:
1) Use Long-Tail Keywords
Let's suppose you're searching for "best PCs for gamers" on Google. In this case, you're not letting the search engine know whether you want to research the products or buy one. Also, you're not being specific about price range and capabilities of the desired product.
On the other hand, if you ask a voice assistant "what are the best medium price ranged PCs for gamers?" chances are that you'll get much more information than using the typical keyword-based search. In this case, you're giving Google something to work with: end user, price range, and intended use.
It's much easier to say a longer, richer and specific search query than to type one, and many voice searchers prefer to do that. For online businesses, this means that you should research relevant long-tail, conversational keywords and integrate them into your content (blogs, web pages, product descriptions) to increase the chance of being found by search engines.
Typically, the following keywords work great with voice search:
Use "near me" in anchor text, meta description, and title tags.
Incorporate names of local sights, landmarks, and other words commonly used to describe the area of your location.
Structure your long-tail keywords around the 5 Ws (Who, What, Where, When and Why)
Here are some free tools that you can use to research popular long-tail keywords in your industry or niche:
Google suggestions (just type your primary keyword into the search bar and see what variations are suggested)
2) Get Page Speed Right
Remember how we talked about how important it was to ensure a flawless browsing experience for mobile users because a lot of them use voice search? Page speed is a critical factor because as of July 2018, Google's voice search algorithm will use it as a key ranking signal. Although page speed has been a ranking factor for a while, this new "Speed Update," as Google is calling it, will move the focus from desktop to mobile search.
As Backlinko discovered, the average speed of voice search results is just 4.6 seconds, which is much faster than the average speed of typical search: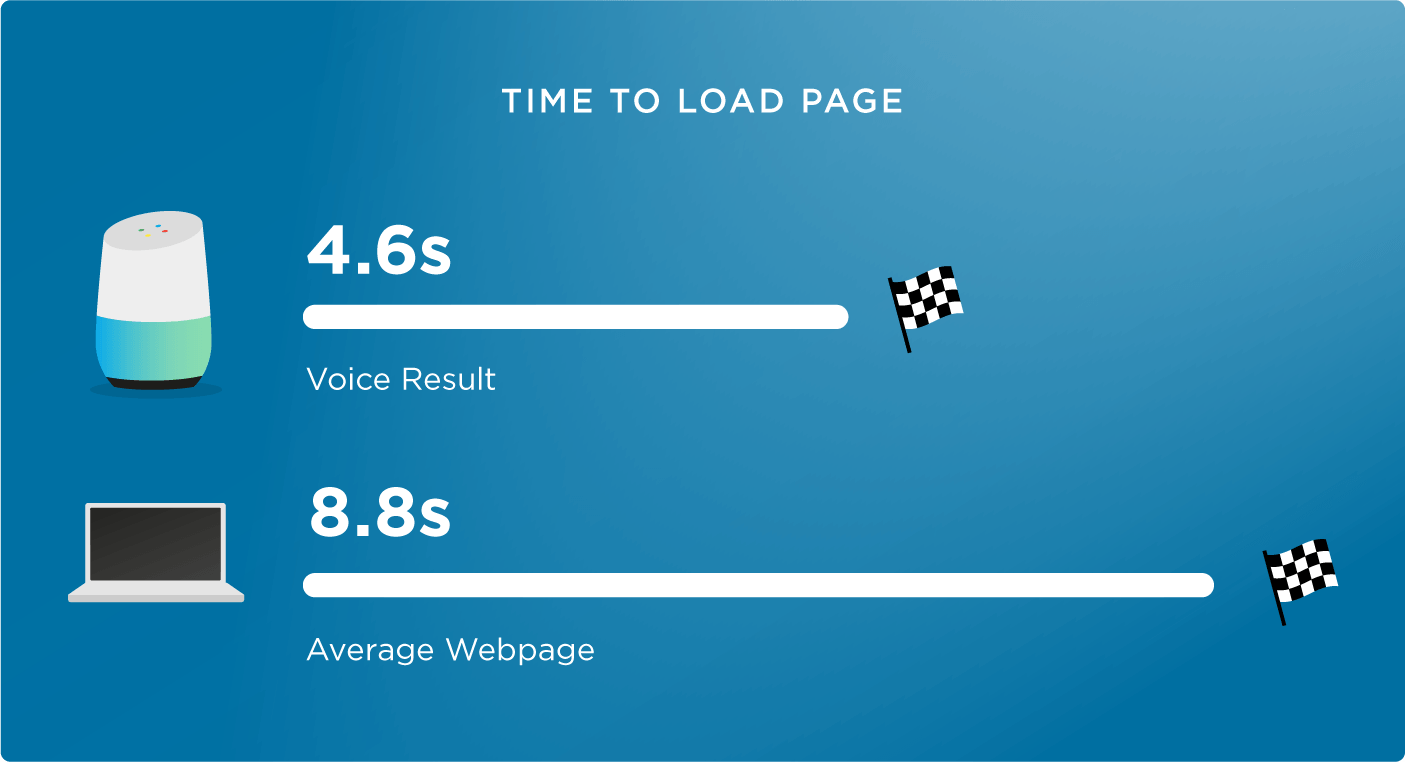 This means that you should make sure your site loads as fast as needed! Checking its speed with free tools such as Google's PageSpeed Insights and Mobile Test is a good start to see if your site is a subject to this problem.
3) Optimize Your Business Listing
As was also mentioned previously, having a Google listing for your business is a must these days. It's a critical part of your voice SEO because people are increasingly using Google Maps and similar services to discover places around them.
Here's how to optimize your business listing:
Encourage your happy customers to leave positive reviews. The more positive reviews you have, the better the chance that your business will appear in the local 3-pack.
Update all information about your business: name, category, business hours, address, phone, URLs, photos, attributes, menu, and services. Read Google's tips on editing business listing and update everything so viewers get only relevant information.
By making these adjustments, you'll increase the chance of getting your page as a featured snippet, or the main answer, on Google. There's no surefire way to do this, so optimization is pretty much the only thing you can do.
4) Get Answer Length Right
According to the aforementioned Backlinko study, the average voice search answer was just 29 words:

As a business, this means that you should optimize your content to rank in Google by making the answer snippet as short as possible (within 29 words) without sacrificing the quality of that answer.
In other words, voice SEO optimization requires the results to be succinct, so you should create your content with voice-ready – and featured-snippet-ready – snippets. This will make it easier for Google and other search engines to find a relevant answer in your content.
5) Produce Easy-to-Read Content
According to Google's Voice Search Rater Guidelines, the search giant cares about the level of readability of the answers provided to Internet users. For online content creators, this means that if your content sounds like a professional essay, it's likely to fail the "easy-to-understand" requirement.
In fact, Backlinko found that the average reading level of a typical Google voice search result was 9th grade:

In other words, the easier your text is to read, the greater the chance that your content will be displayed as an answer in voice search results.
Here are some tips for you to improve the readability of your text for voice search: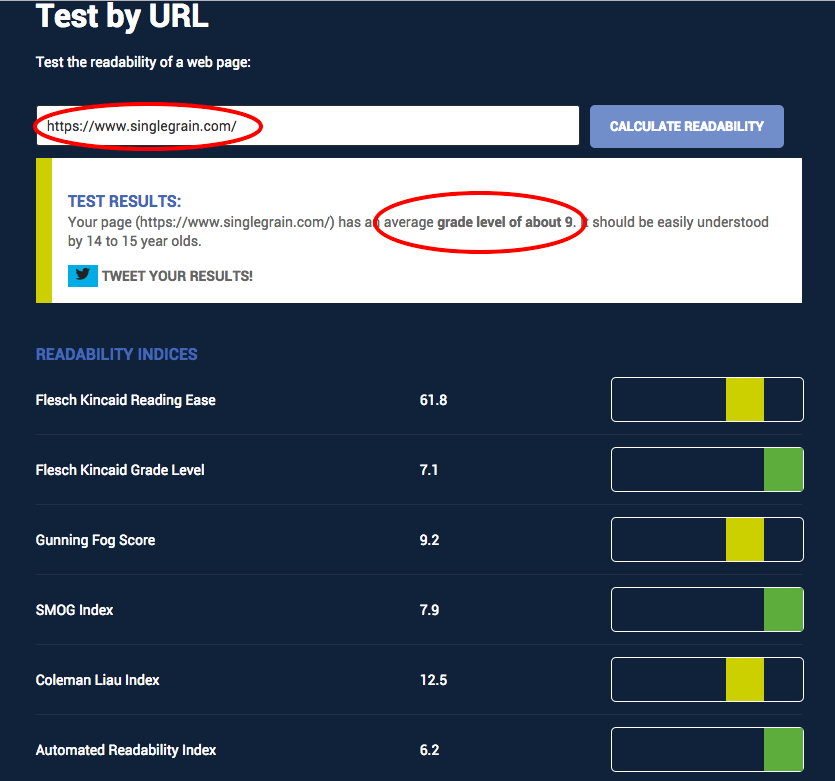 Further Reading:
Final Thoughts
This year will certainly see an increasing number of voice searchers, so adapting to this trend is something that you must do if you want to stay ahead of the competition. I hope these tips will help you to take advantage of this ubiquitous trend and get your fair share of voice search this year and beyond.