Top NFT Research Tools for Finding High-Quality NFTs
NFTs are a relatively new market within the crypto industry, and there's a reason for the hype. Bored Apes, Crypto Kitties, and Crypto Punks are scratching the surface of what the NFT industry has to offer.
So, you're excited to buy your first NFT but, being a newbie, you know that before diving in you need to do some research. But where to start?
This list of NFT research tools will help you find the information you need for a pleasant, informed and profitable NFT journey.
Why Are Tools Necessary for NFTs?
With a variety of NFT tools, you can evaluate and review an NFT before investing in it. This helps you stay ahead of the game and make wise decisions. Think of these tools in the same way you would think of a shovel or ax: Using the right tools allows you to uncover those small nuggets of NFT gold.
The tools listed below will aid you as you search for new NFT projects in which to invest. They'll help with NFT rarity identification, NFT news sources, and marketplaces. These resources are an important part of your toolkit as you perform your due diligence. Wrong or misguided data can make or break an investment or even get you involved in a scam.
Whether you're new to NFTs or already have your own collection, you need the right tools to evaluate the availability and rarity of specific assets. Let's take a look at some of those NFT research tools.
By the way, if some of these terms are alien to you, be sure to check out our NFT Glossary!
Learn More:
* What Are NFTs and How Do They Help Business?
* NFT Strategy: Everything You Need to Know to Get Started
* NFT Marketing Agencies: Best Way to Promote Your NFT Project

What Tools Do I Need for NFT Research?
To make it easier for you, we've broken down the list of NFT research tools by category:
Tracking NFTs
Trading NFTs
NFT News Sources
NFT Rarity Identifiers
Best NFT Tools for Tracking NFTs
In an effort to view what's going on in the NFT marketplace, you need a way to track individual sales and market trends. With a tracking tool, you'll have the data you need to make informed and educated investment decisions. Here are a few tools that can help you track NFTs.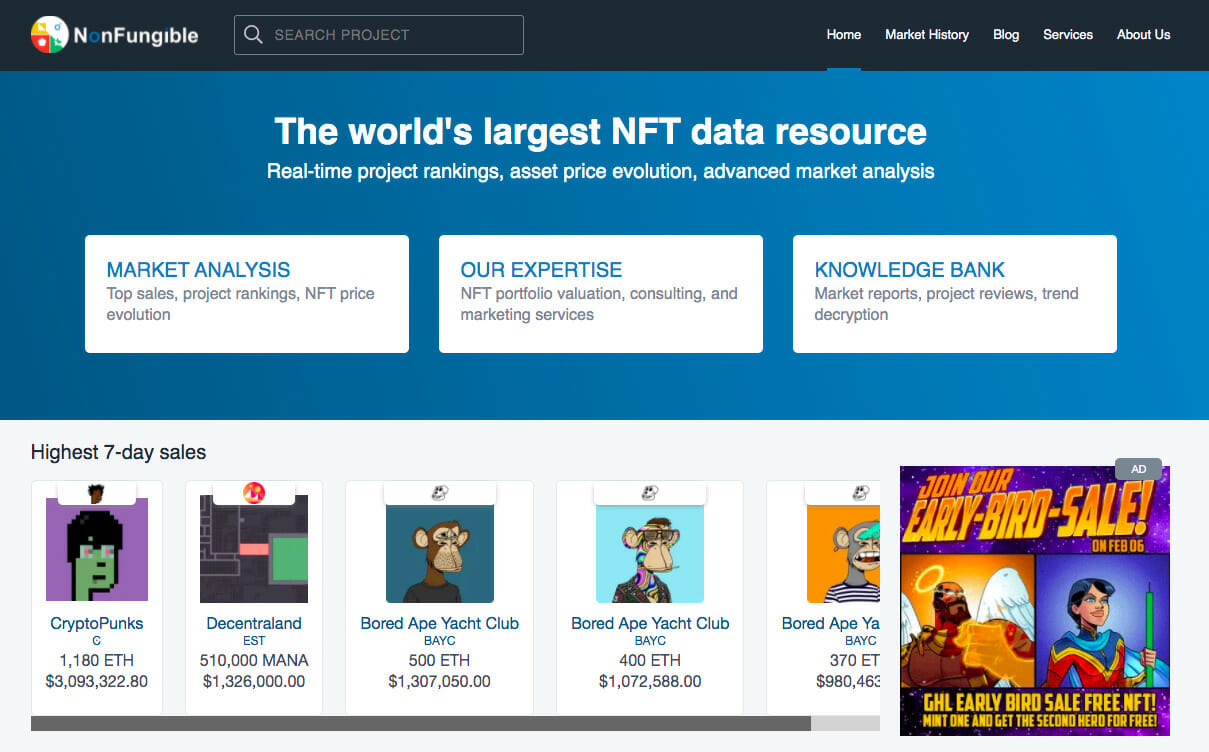 With real-time project rankings, asset price evolution and advanced market analysis, NonFungible touts itself as the "world's largest NFT data resource." If its claims aren't true, it's not from a lack of trying. With NonFungible, you have access to a massive database of blockchain collectibles and gaming markets. If you want to know about a specific NFT, NonFungible is the place to look.
This tool grants you transparency into the NFT market, which provides a way to build a valuation model. This means you'll know exactly what an NFT is worth at any given time. As a result, you'll have a leg up on other investors through in-depth market analysis.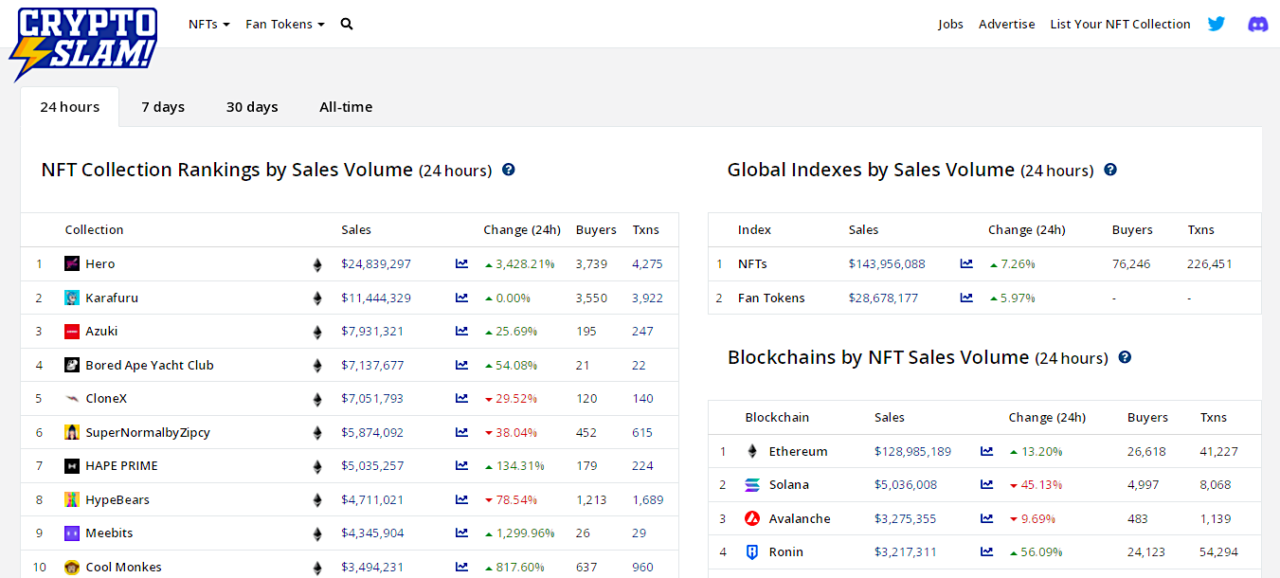 A second tool you can use for tracking NFTs is CryptoSlam. While the interface isn't as refined as NonFungible's, you'll still have plenty of data at your fingertips. For example, CryptoSlam lets you view NFT collection rankings by sales volume. Plus, you can sort by the last 24 hours, 7 days, 30 days, or all-time.
Users can also view blockchains by NFT sales volume and Global Indexes by sales volume. CrypoSlam also lets you list and track your personal NFT collection on its platform. If you're looking for a great tool that lets you track your favorite NFTs, CryptoSlam is an excellent choice.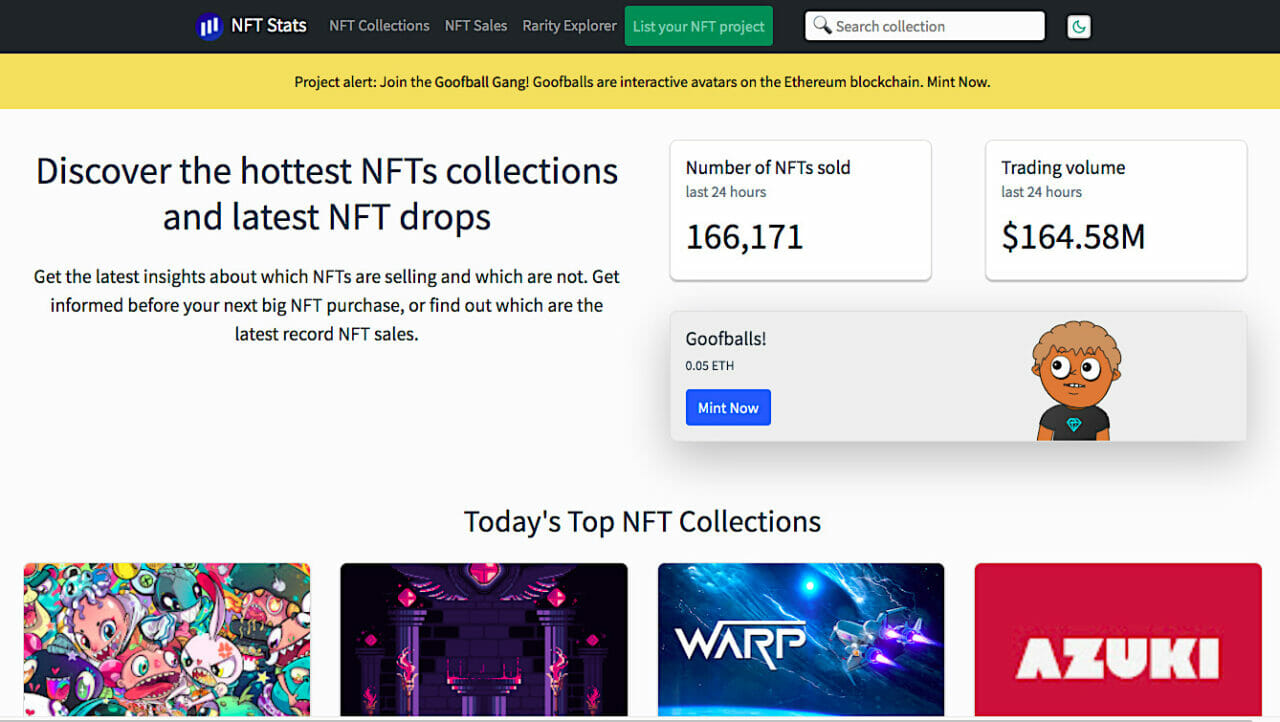 The third NFT tracking tool on our list is NFT Stats. This site is similar to NonFungible and CryptoSlam in that you can view sales of the top NFT collections while sorting by the time frame most applicable to you. This allows you glean the latest insights about the best-selling NFTs.
With NFT Stats, users can also see the latest and upcoming NFT drops. This is a great tool to find all the statistics and data you need on your favorite NFTs.
Like CryptoSlam, you can list your NFT project on NFT Stats, allowing you to track your own NFTs. The site also offers educational materials like how to determine which NFTs to purchase and other helpful articles. If you're just getting started in the NFT world, NFT Stats is a solid tool for learning more.
Best Tools for Trading NFTs
There are plenty of NFT marketplaces out there that allow you to buy, sell and trade your favorite collections. But which ones make the most sense for you? Here are a few to consider as you continue your search for the best NFT research tools.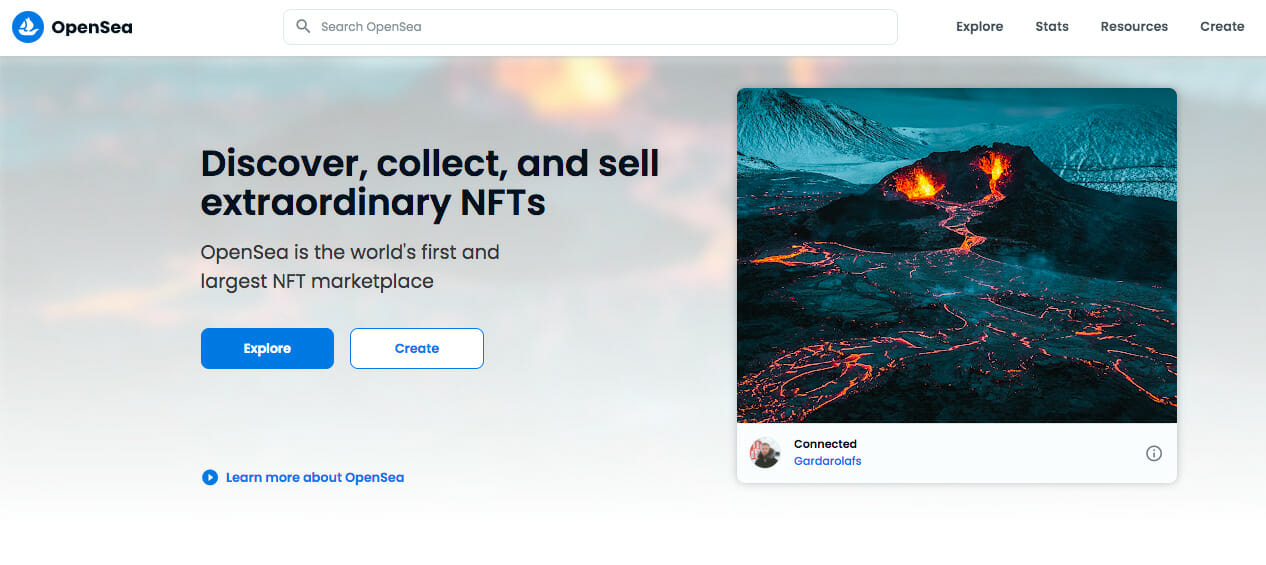 OpenSea is without a doubt the biggest and most well-recognized NFT marketplace. On this platform, users can buy, sell and trade NFTs, virtual collectibles, digital assets, and gaming items. These are all available on a site with advanced cryptographic capabilities.
Using OpenSea, users can trade their NFTs with any other person from around the globe. There are over 4 million digital assets on the marketplace, and you can browse by category, so you'll have no trouble finding something that interests you. Plus, you can take OpenSea with you on the go as it's available on mobile devices.
This platform also provides some helpful resource material for getting started, including tips for avoiding scams and staying safe on the decentralized web.
Learn More: The Best Wallet to Use with OpenSea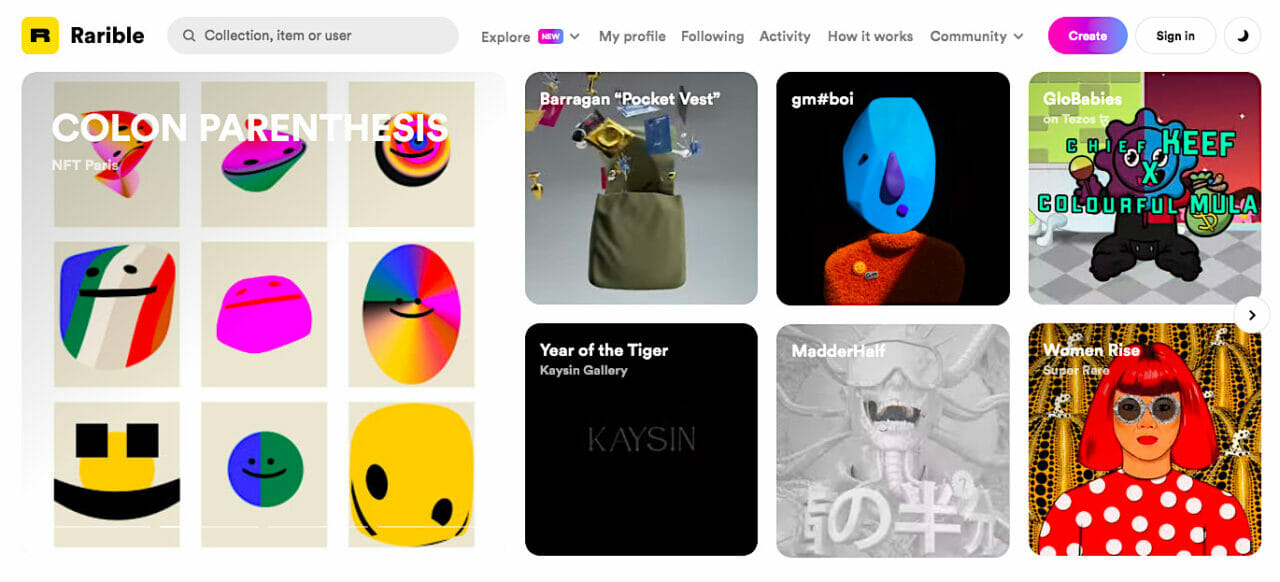 After OpenSea, the second-most recognizable trading platform for NFTs might be Rarible. As a great OpenSea alternative, Rarbile gives you everything you need to buy, sell and trade NFTs. You can view NFT categories like games, music, photography and, of course, art.
With Rarible, you'll have access to a significant marketplace with verified creators and plenty of volume, so liquidity shouldn't be a problem. Creators are confirmed through the use of badges, so you know any NFT you're purchasing is legit. Plus, you can create and mint your own NFTs without needing to know how to code.
They also provide a nice educational resource page, with info on their verification system, their governance token $RARI, and guides to becoming an advanced Rarible user.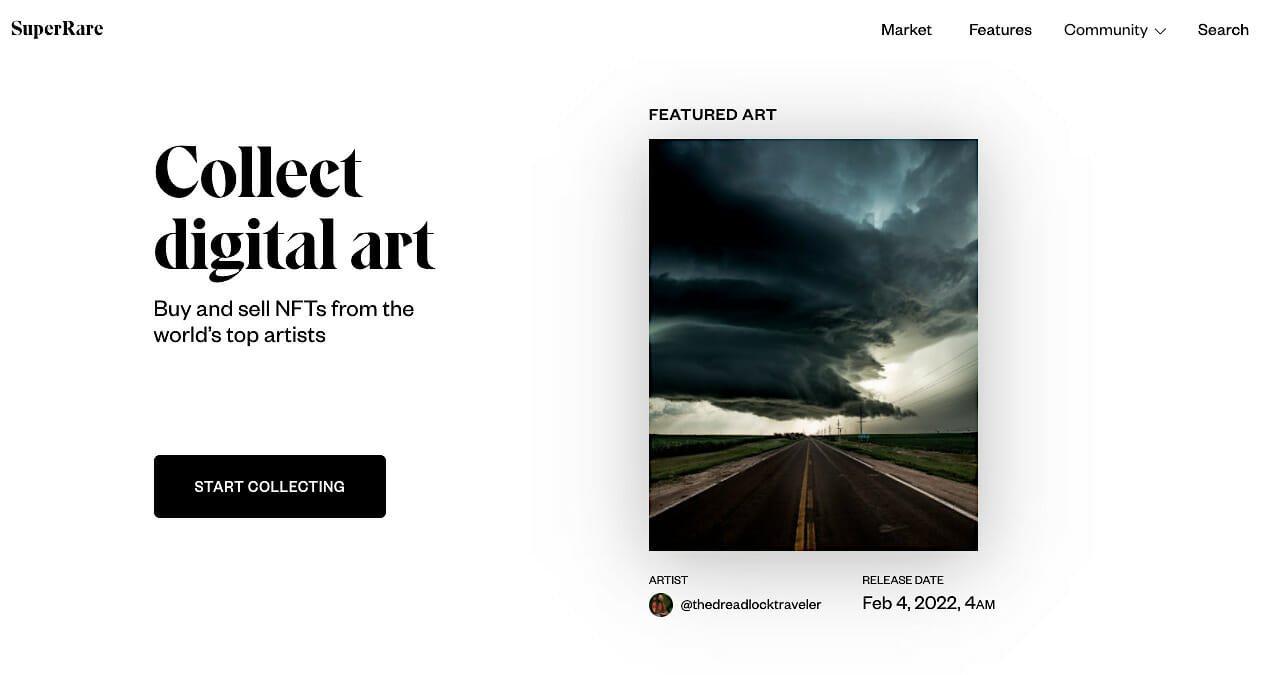 The third trading platform on our list of NFT research tools is SuperRare. This marketplace is ideal for those who want to trade exotic and rare digital assets. However, only the best artists are invited to use it, so you know you're getting some of the highest-quality NFTs in the industry.
SuperRare makes it easy to find NFTs since the site isn't cluttered with a lot of other content. If you're the type of collector who likes to find up-and-coming artwork, SuperRare is an excellent platform.
Learn More: 5 Best NFT Marketplaces for Beginners in 2023
Best NFT News Sources
To stay on top of the goings-on in the world of NFTs, it's important to have accurate, up-to-date resources that provide NFT news. These sites specialize in NFT news, so they aren't as well-known as more popular crypto and blockchain news sites. Still, you'll get all the NFT information you need to make educated decisions.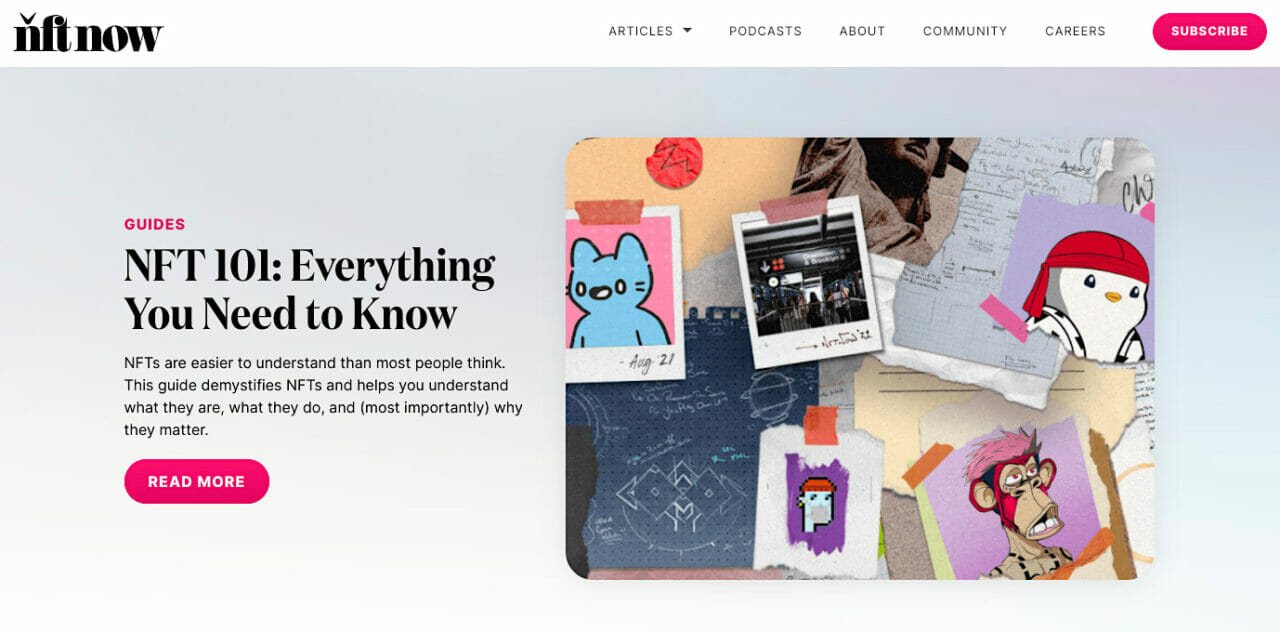 NFT Now focuses on redefining the way in which NFT creators and communities share information. With an emphasis on putting the power back into the hands of artists and other creators, NFT Now wants to help drive a new economic model for all who create.
The site offers valuable insight into all things NFT: the latest industry news, analyses on trailblazing artists, collectors and technologists, and lists like the top 10 historical NFTs or five NFTs to watch this month. You can also sign up for their weekly newsletter to get all this delivered right to your email inbox.
Not only will you have all the latest on what's going on with NFTs, but you'll also have access to NFT Now's expansive library of educational articles, like a guide to demystify NFTs, as well as podcasts and videos. Learn everything you need to know about NFTs and get the most recent news all in one place. What's not to like?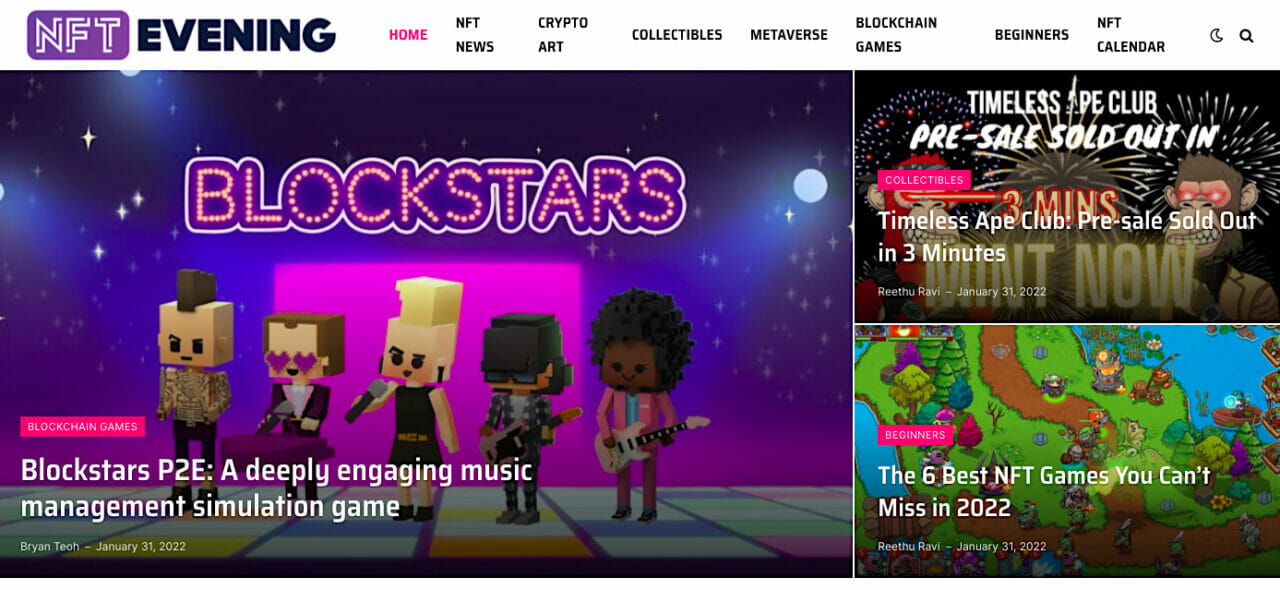 With 820,000 qualified users visiting their website each month, NFT Evening has made a name for itself in the NFT market. This resource offers a well-rounded aggregate of NFT-focused news, such as stories on Nike taking legal action against an NFT sneaker company, OpenSea bugs, NFTs in the film industry, and Tokenproof's new NFT verification app.
Whether you want to know about crypto art, collectibles, blockchain games, the NFT calendar or the metaverse, be sure to bookmark NFT Evening to stay up to date. With the goal of creating content accessible to everyone, NFT Evening is a great resource for any NFT enthusiast.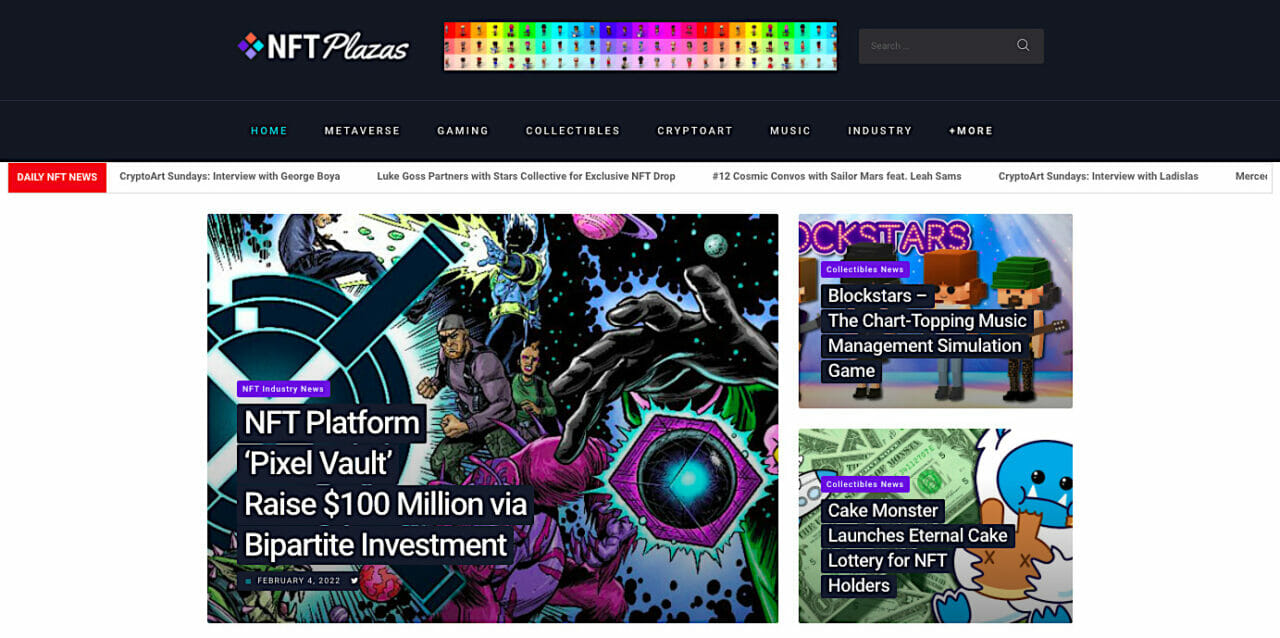 NFT Plazas is an NFT news site formerly known as DCL Plazas. The site officially launched in 2018 and has since grown into the number one news source for all things NFT-related. The site's stated mission is to "spread the word about the associated benefits that come with these exciting new experiences and technologies."
As a result, NFT Plazas is the go-to site for anyone who wants to educate themselves on NFTs and the market as a whole. You'll find information about a wide range of topics, such as collectibles, crypto art, music, gaming, sales trends, the NFT industry, and the metaverse, with plenty of informative articles that delve deep into the world of NFTs.
Best NFT Rarity Identifiers
Once you've minted an NFT, or prior to purchasing an NFT from your favorite marketplace, you may want to determine how rare the NFT is. This is referred to as "Rarity Identification." For example, many NFT collections only offer a limited number of certain digital assets. As a result, they are considered more rare than other NFTs.
With a Rarity Identification tool, you can look up your NFT using an ID code. This will then tell you if you've hit the proverbial NFT jackpot.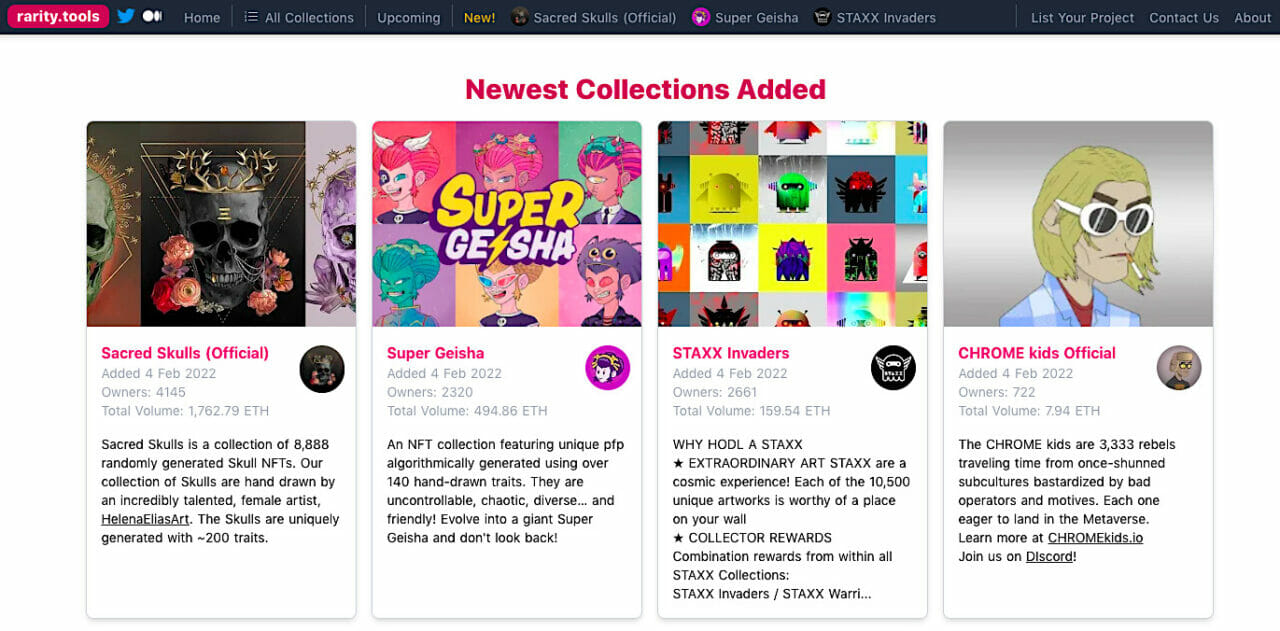 The most popular NFT research tool for rarity identification is Rarity Tools, a site that is "dedicated to ranking generative art and collectible NFTs by rarity." Rarity is a top factor in determining an NFT's value, and the higher the Rarity Score, the better.
You can view information in real-time as you filter by owner count, total sales, average price, and more. Plus, you'll have access to existing collections like CryptoPunks, Bored Ape Yacht Club, and Chubbies, along with any upcoming projects, to see how rare a specific ID is.
Rarity Tools is an excellent tool if you want to get a solid idea of the value of your NFT. Plus, you can list your own NFTs on the platform, though bear in mind that you'll have to pay 2 ETH to do so.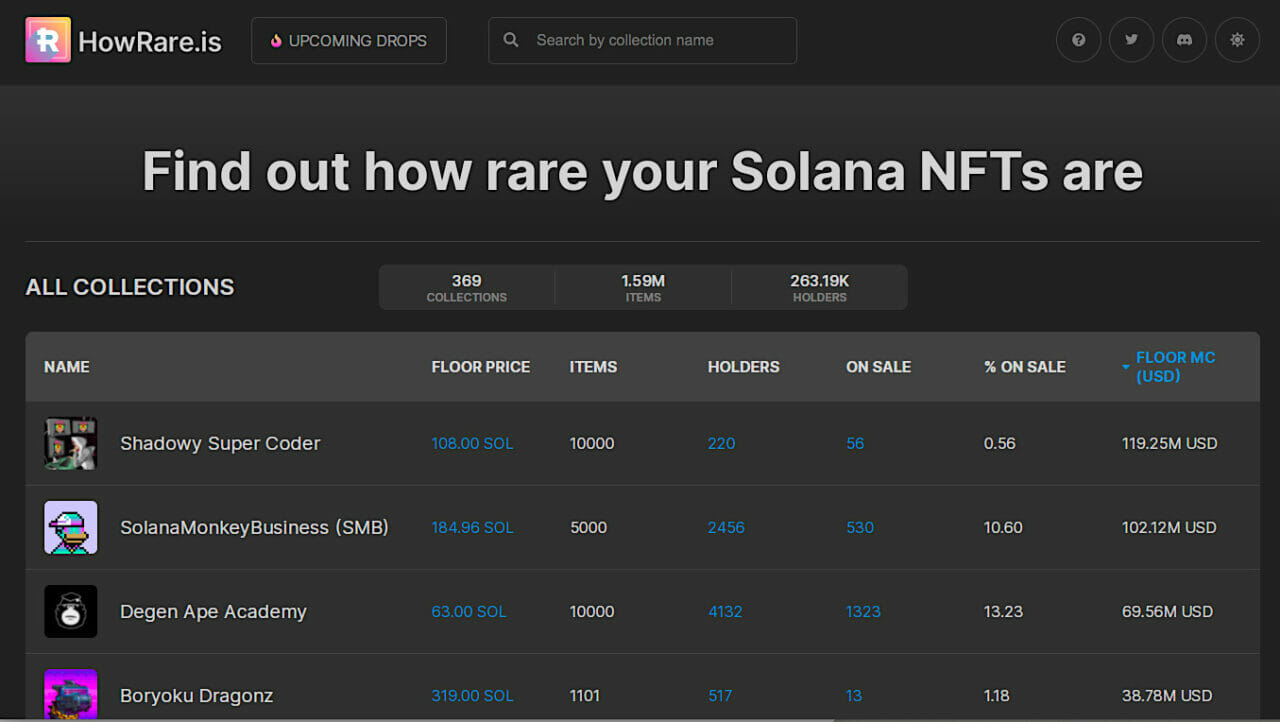 If you prefer to invest in Solana NFTs, then HowRare.is might be the NFT research tool for you. There are almost 300 Solana-based NFT collections listed on the site that include information such as floor price, number of assets, and who holds them. With each collection, you can view items based on their rarity identification.
Users can look up the rarity of an NFT on this site by using an asset ID. Plus, if you're looking for upcoming collections on the Solana platform, HowRare.Is has the information you need. As always, be sure you dig a little deeper before you purchase an NFT to ensure its legitimacy and avoid scams.
Learn More: How to Buy Solana NFTs Safely and Easily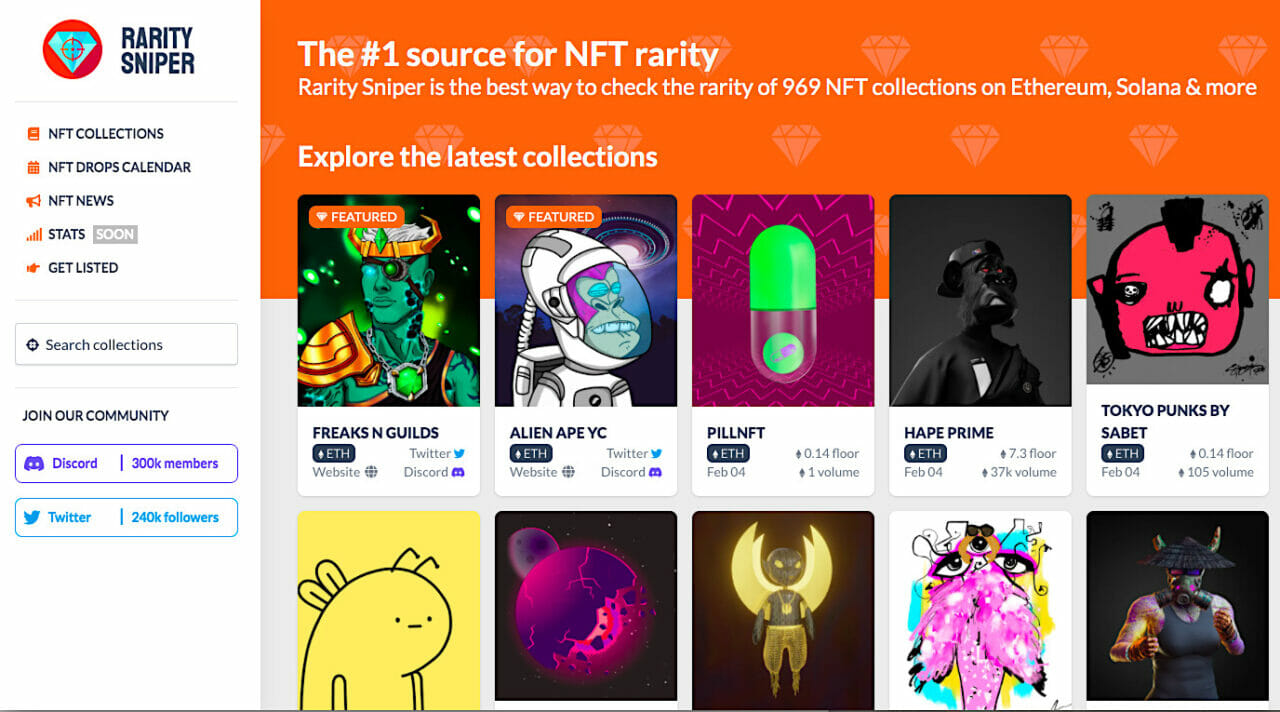 The last rarity identifier on our list is Rarity Sniper. This popular NFT research tool showcases nearly 800 collections across both Solana and Ethereum. Rarity Sniper offers an easy-to-use interface that displays an item's rarity rank, floor, score, and much more.
As with our other two rarity identifier entries, you can use the ID to determine the rarity of a given NFT. This is a quick and easy method for finding how rare your NFT is (or isn't). You can filter your search by floor price, total volume, or blockchain.
Of course, Rarity Sniper only provides information for collections it supports, so if you don't get any results, you may have to visit another platform.
Learn More:
* How to Find Legit NFT Artists & Work With Them Effectively
* How Gary Vee Sold 1 Million Copies of His Book Through NFTs
* 5 Examples of Brands Using NFTs to Monetize Their Work

Level Up Your NFT Game
Even though NFTs are a fairly new phenomenon, there are plenty of research tools available to help you take your NFT game to the next level.
Whether it's a portfolio tracker, marketplace options or getting the latest news, having the best NFT research tools will put you in the driver's seat when it comes to securing and expanding your NFT collection. Some of these tools have premium options that give you a leg up on other investors or provide a high-quality portfolio that allows you to closely track your digital assets.
Overall, you can use these NFT research tools as a way to develop your own NFT investment strategy.
Hopefully, these NFT research tools helped you to start your NFT journey! But if you just want an expert NFT agency to do it for you, click here.