The Best Wallet to Use with OpenSea
Your non-fungible token (NFT) is already costing you an arm and a leg (after fees) on OpenSea, so it only makes sense to keep it in the most secure wallet possible. To do that, you'll need the best OpenSea wallet.
In this post, we'll take a look at the most popular (and secure!) wallets for storing NFT private keys. We'll also provide an overview of OpenSea, a step-by-step guide to creating an account, and a review of the best wallet for storing your NFTs.
But first, what exactly is an NFT wallet, and why do you need one?
What Is an NFT Wallet?
Over the past year, NFTs have quickly grown into an unstoppable force. Because of this, non-fungible tokens can be more valuable than they currently appear to be and is why investors, collectors and players all require the finest wallet for holding their NFTs.
A cryptocurrency wallet that works with the blockchain protocol on which NFTs are based is called an NFT wallet. It must also support the currency in which you'll trade NFTs, such as Ether, Zilliqa or Solana.
Unlike your physical wallet, you don't store NFTs or cryptocurrency in your back pocket; they're on the blockchain. You keep private keys in the wallet that grant access to the tokens.
An NFT wallet will let you buy, store, sell and trade NFTs, so this is essential if you want to trade NFTs.
What Is OpenSea?
OpenSea is the world's largest NFT marketplace. It allows users to buy, sell and trade a wide range of digital assets, from gaming collectibles, to artwork, to entire islands.
Everything from virtual property to The Weeknd's sound effects can be found on the OpenSea marketplace, which can be filtered by price and sale status: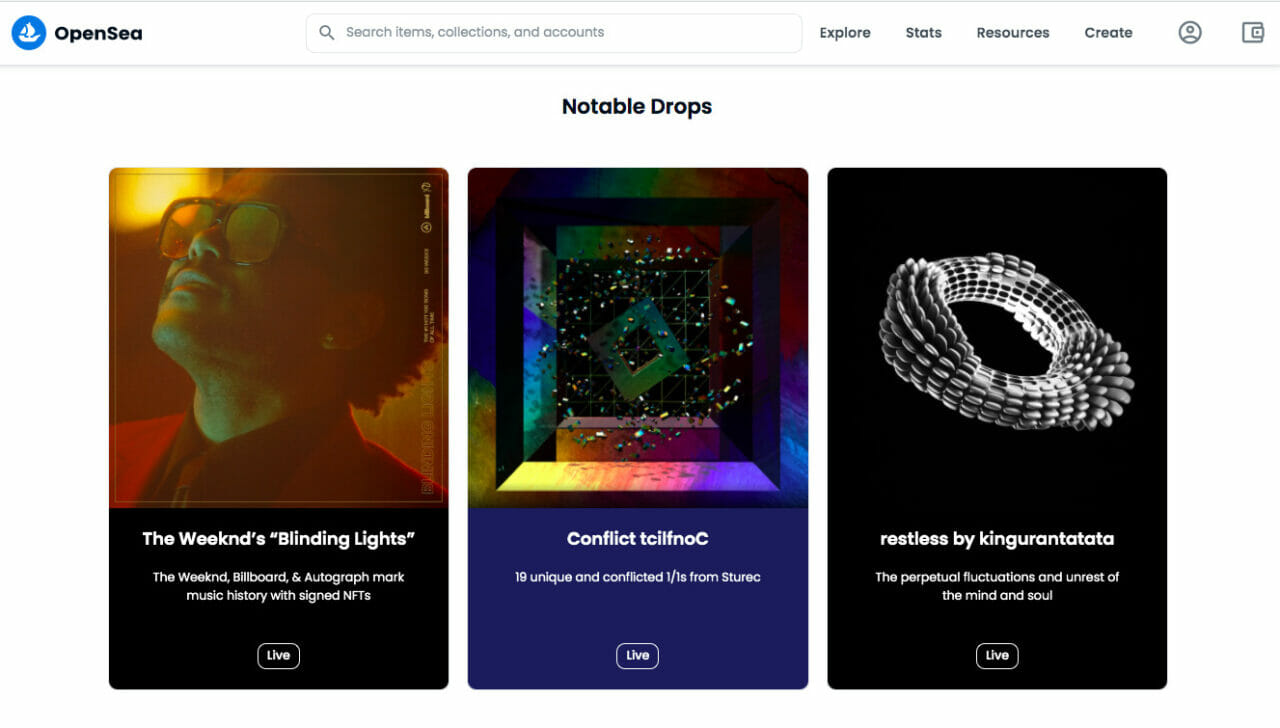 Using the stats tab, which functions much like a stock ticker, you can see which sellers have sold the most assets, at what price, and at what volume: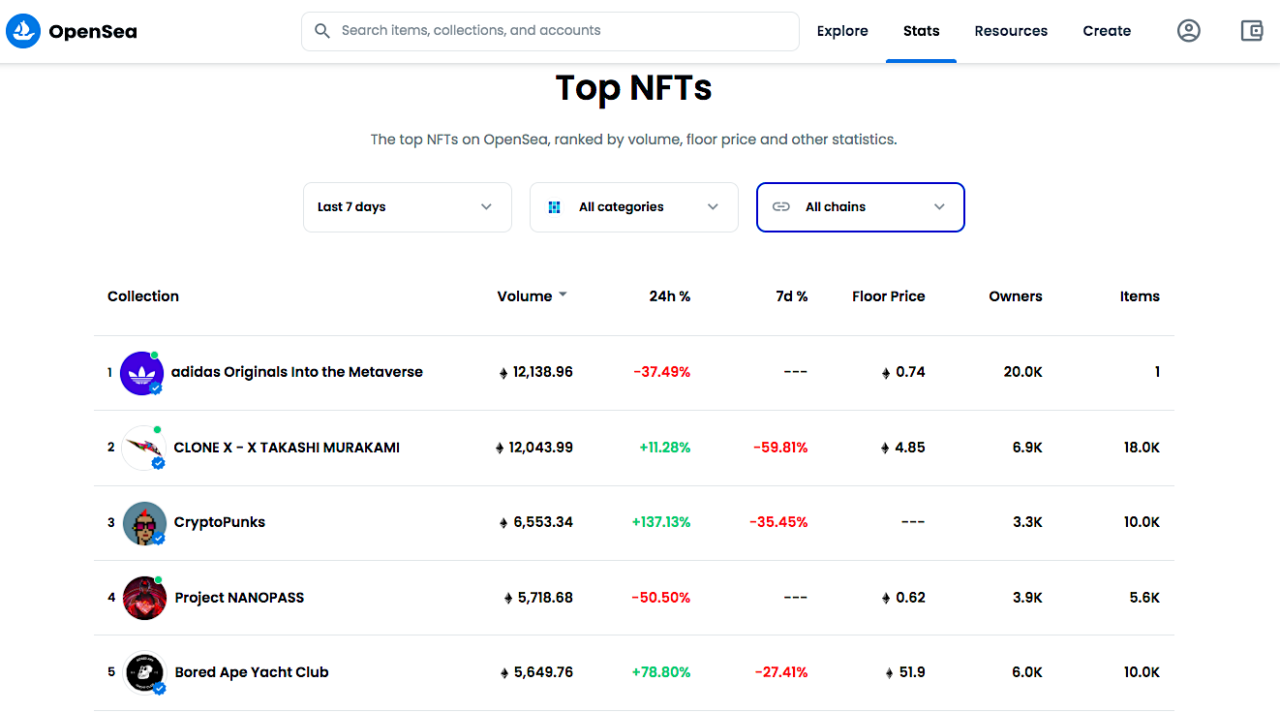 More than 150 payment tokens may be used to acquire fixed-price NFTs, including ether, USD Coin (USDC), and Dai (DAI), which can be saved on a user's profile.
Why Is OpenSea a Popular Choice?
OpenSea has quickly become the go-to place for NFT traders and investors. This is because OpenSea offers several features that aren't found on other platforms. These features include:
User-friendly interface
Wide variety of NFTs to trade
The ability to auction off assets
Browse by category
You get to chat with other traders
Examples of NFTs Offered on the OpenSea Marketplace
NFT categories on OpenSea include: digital art, music, games, domain names, virtual worlds, sports, collectibles, trading cards, web3.0 domain names.
Examples of NFTs listed on OpenSea are: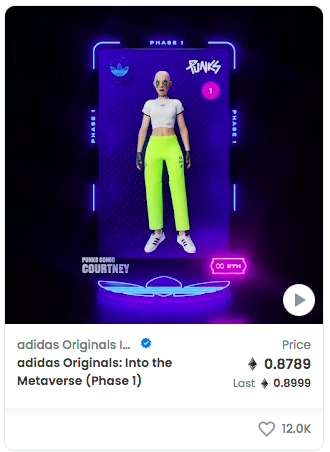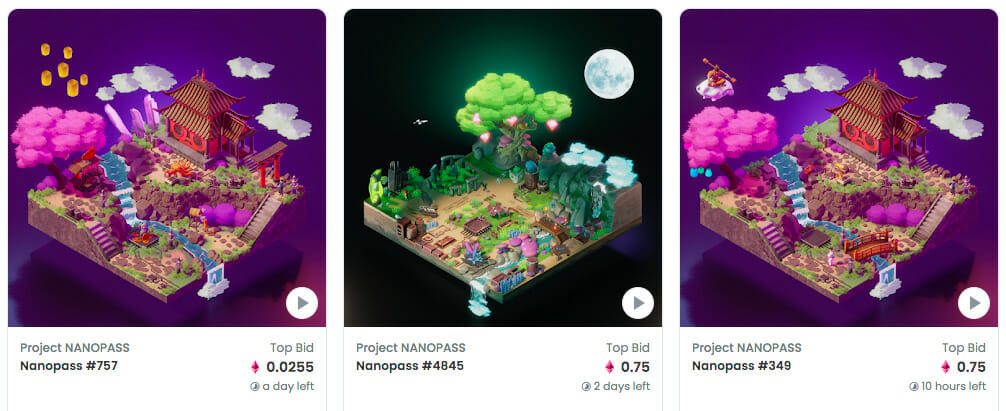 Dive Deeper:
* Top 5 OpenSea Alternatives
* 5 Best NFT Marketplaces for Beginners in 2023

How to Create an OpenSea Account
For starters, you will need to have a few things before starting to trade on the OpenSea marketplace. As you may have guessed, the first thing you'll need is a wallet.
Note: For the purpose of demonstrating how to open an account on OpenSea, we'll use the MetaMask wallet, as it is web-based and thus a lot easier to explain.
Step 1: Get an NFT Wallet
The fastest approach is to first set up a wallet on MetaMask, a crypto wallet and gateway to blockchain apps, to store all of your cryptocurrency and NFTs before opening an account on OpenSea. 
If you do not have MetaMask already you can easily download the Firefox or Chrome extension. To begin using your new NFT wallet, you'll need to load MetaMask with some cryptocurrency to make a purchase. We strongly recommend Ether (ETH), seeing as it is the most popular currency for trading NFTs on OpenSea.
Currently, OpenSea does not support transactions in non-crypto currencies such as the USD or the Euro.
Step 2: Open an Account with an Exchange
Second, you'll need to open an account with an established exchange like Coinbase for buying, selling, transferring, and storing digital currency: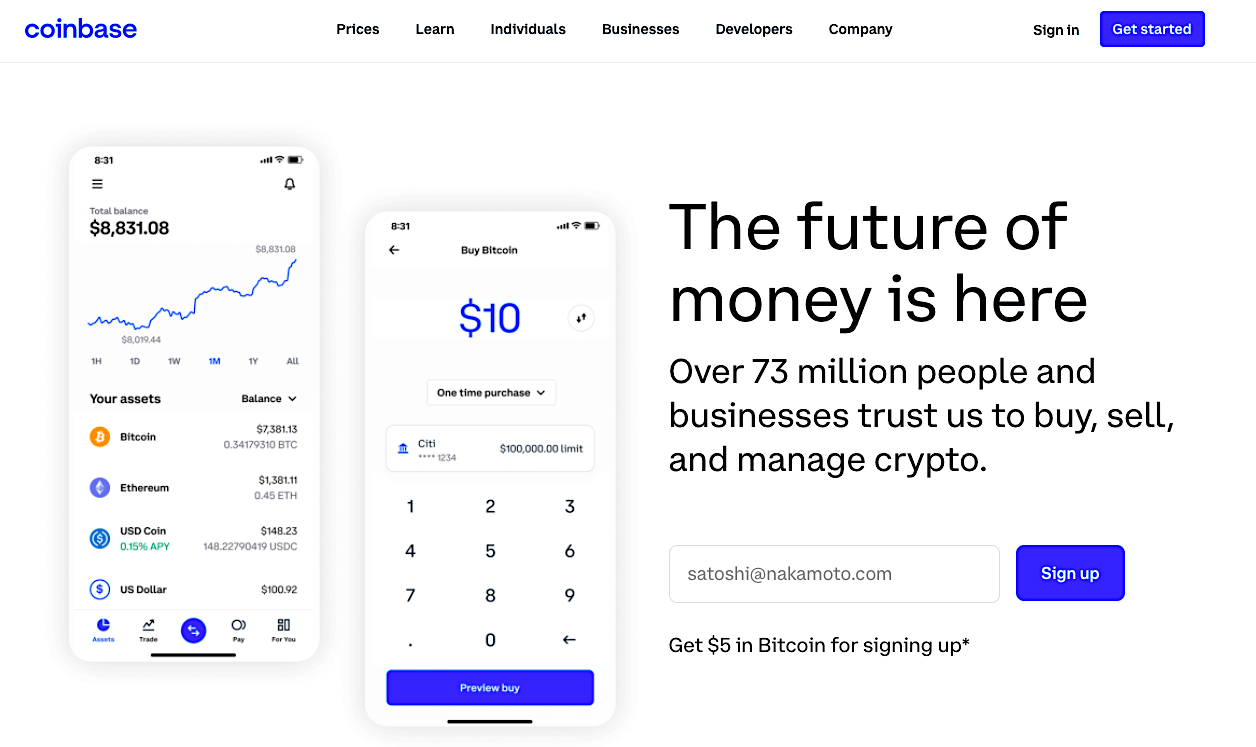 It's as simple as entering your debit card or bank account information into Coinbase to complete the verification process. You can buy Ethereum (ETH) and other cryptocurrencies on Coinbase as soon as you've been verified.
If you use a debit card to buy cryptocurrency, the funds are usually available right away. However, if you buy cryptocurrency with a bank account, it may take 3-5 business days before you are credited with the crypto purchase.
Then send your ETH from Coinbase to your wallet as soon as it becomes available (up to 15 days).
Now that you've got some cryptocurrency in your wallet, you're ready to create an OpenSea profile.
Step 3: Create an OpenSea Profile
Creating an account is required if this is your first time visiting the OpenSea NFT marketplace and you plan on trading. 
To sign up for an account on OpenSea, first you'll need to connect your wallet to OpenSea. Go to the Create tab on the desktop version, and select whatever wallet type you have (in this case MetaMask):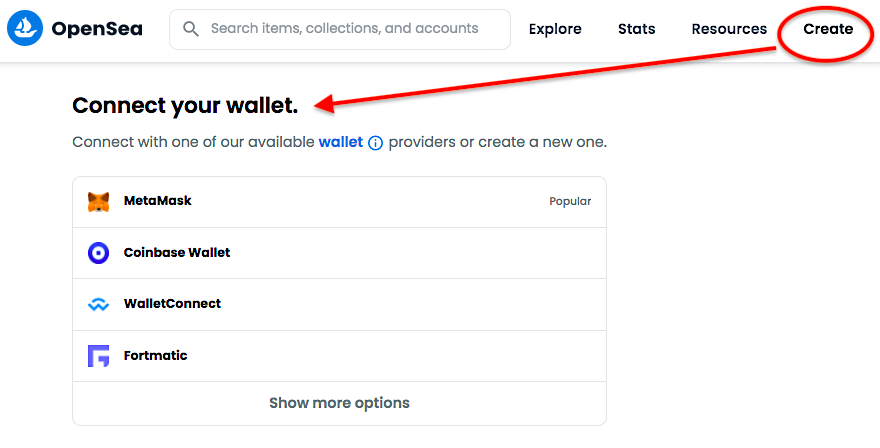 The OpenSea marketplace will ask you to digitally sign to confirm that you want to link your wallet to it.
Once you've linked your wallet to the service, OpenSea allows you to add profile information, including your username, bio, email, and social media links.
You're all ready to go from there. Once you've set up your OpenSea account, you'll typically log in using your wallet's digital signature.
Selling NFTs on OpenSea
Using OpenSea, you can choose which of your NFTs you want to sell by going to menu > account menu > profile. 
To sell your NFT, select and then press the Sell button within your profile: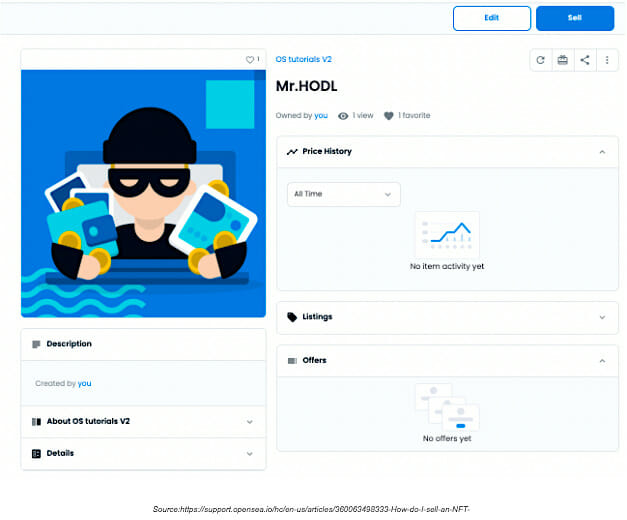 This will allow you to set the pricing of your NFT and schedule the listing.
You can put your NFT on sale at a buy now price using the fixed pricing option. This listing method is simple and effective if your selling NFT has a predetermined price.
Using the Dutch auction technique, you specify a starting price, a final price, and the auction period when you post your NFT for sale. You start with a high price and then reduce it until a participant accepts the price or it reaches the predetermined lowest possible price. The original price falls over time until it reaches the predetermined floor price.
The typical English auction is another auction listing option. You list your NFT at a fixed price but allow purchasers to bid on it. Set your reserve price and accept any offer that comes your way.
If you want to sell multiple NFTs to the same buyer, a bundle is a perfect option. A single transaction is required instead of numerous transactions when you bundle various NFTs, saving you money on OpenSea fees.
Human error is the only way for a scammer or criminal to steal an NFT. The truth is that in all cybercrimes, the human is the weakest link. Hence, accepting bids should always be done with caution, and you should make sure the offer is in your preferred cryptocurrency (not USD) before accepting it.
Dive Deeper: NFT Strategy: Everything You Need to Know to Get Started
OpenSea Fees, Payments and Royalties
OpenSea has simplified the payment process for its customers.
Every time a transaction is made, they charge a fixed 2.5 %. Beyond that, NFTs can be generated for free and at any time.
Additionally, you have the right to determine a royalty rate of up to 10% as the original NFT creator. As a result, you'll be able to make money every time your NFT is sold (or resold) on the market.
Unfortunately, OpenSea does not support contract level splits. Hence, if you want to split revenue between two parties, you'll need to do so outside of OpenSea.
Dive Deeper: 5 Examples of Brands Using NFTs to Monetize Their Work
Buying NFTs on OpenSea
Once you've logged into your OpenSea account, you can search for an NFT that piques your curiosity by clicking on the Explore page or using the Search option: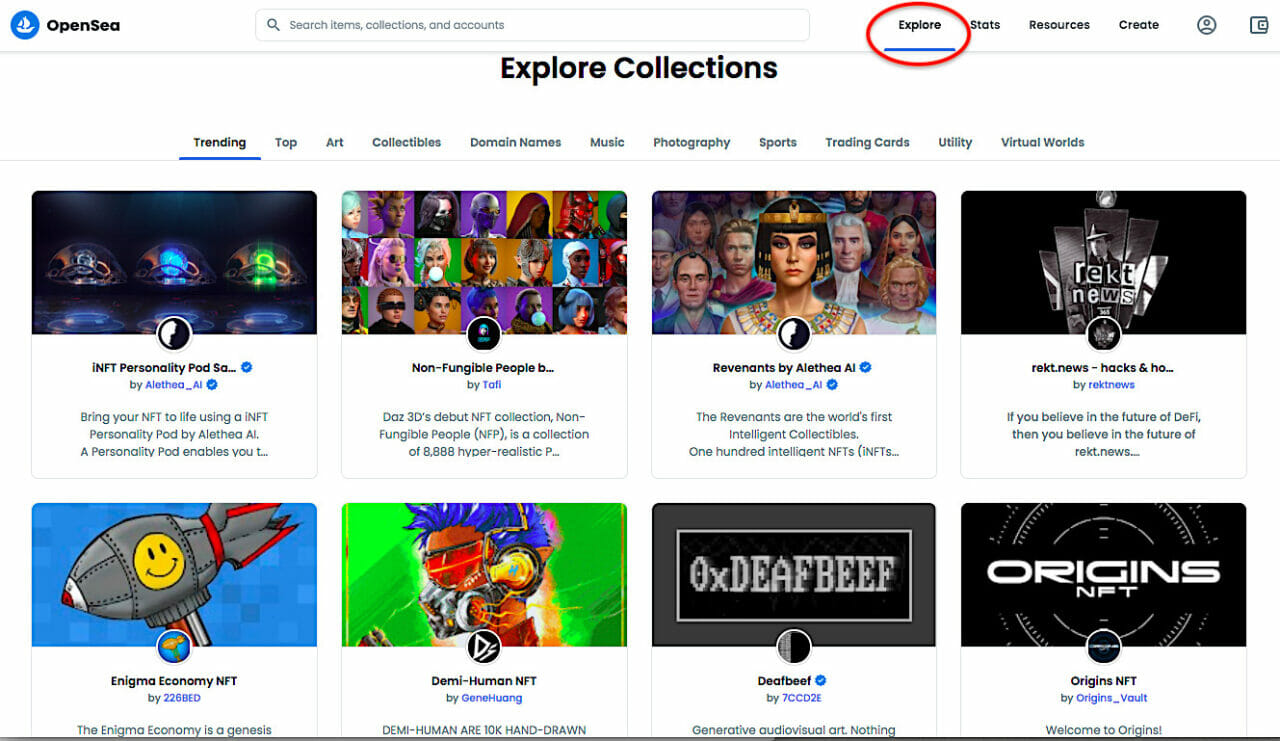 As soon as you've located an NFT that you want to purchase, choose it and then select either Buy Now or Make an Offer. Your digital signature will serve as a final affirmation of the transaction.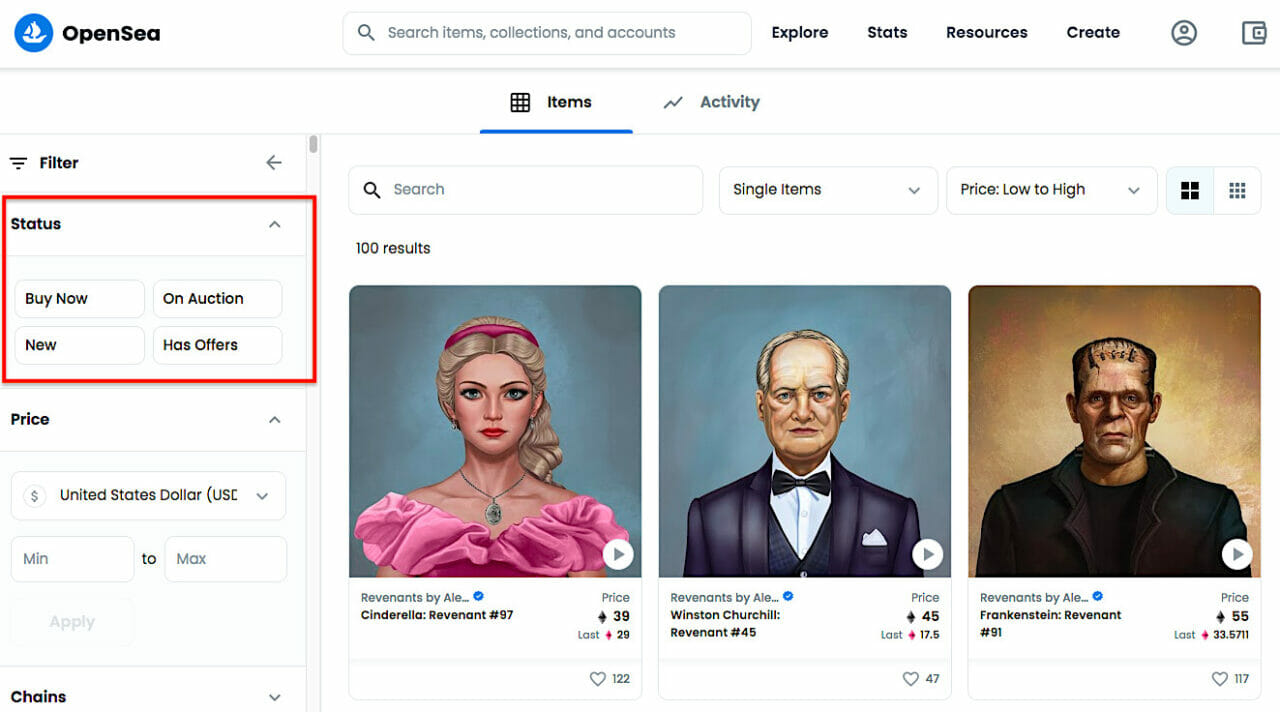 The buyer will either accept or reject your offer if you put in an offer. A gas cost is borne if you decide to withdraw your bid. To avoid any delays, click Buy Now to complete the transaction right away, and the asset will be delivered to your wallet within a few minutes.
Suppose you want to check to see whether your NFT has arrived. Once you're in the OpenSea menu, click on Account > Profile > Collected. To see all the NFTs you've accumulated on your wallet address, this is the place to go.
What to Look for When Choosing an NFT Wallet
NFT wallets have several critical traits to check for, including:
NFT marketplace compatibility is essential. To begin with, if the marketplace is not supported, there will be no way for you to purchase/store the NFTs you desire.
The level of protection the wallet offers should be high. NFTs can be valued in the tens of thousands (or even hundreds of thousands) of dollars, depending on their value. You are looking for the most secure option.
A user-friendly graphical user interface is essential. NFT trading will be a snap if you have a good user interface.
An NFT wallet that offers the ability to use it on multiple platforms and devices at once should be preferred. Your NFTs may come in handy if you can access them on both your PC and your mobile device simultaneously.
Multi-chain capability is crucial. Several alternative platforms allow NFTs, even though the majority of them are on the Ethereum blockchain. The more chains your wallet is compatible with, the more NFTs you'll be able to access.
Dive Deeper: How to Promote Your NFTs the Right Way
OpenSea Wallet Options
OpenSea supports a wide range of wallets, including:
MetaMask
Torus
TrustWallet
Portis
Format/Magic
Arkane
Authereum
Bilski
Dapper
Kailas
OperaTouch
Coinbase Wallet
WalletConnect
WalletLink
Some of these, like MetaMask, Kaitas, and Dapper, are used as browser extensions. Others like TrustWallet are mobile phone compatible. Still others are both PC and mobile compatible. Torus lets you sign in with your Facebook, Google, and other OAuth (Open Authorization) accounts with minimal effort.
We'll take a closer look at the top three.
MetaMask
MetaMask has consistently been rated as one of the most effective wallets for storing NFT collectibles: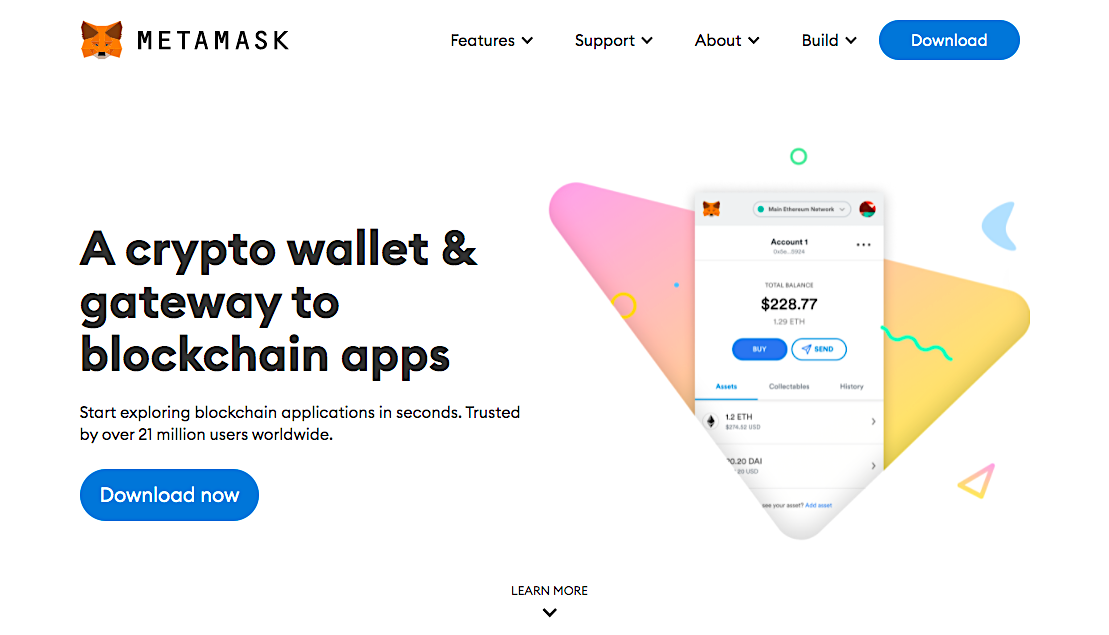 This is actually a little puzzling because it isn't even one of the best mobile wallets. It is only available in Chrome and Brave browser extensions for desktop computers. If you want to make a purchase while on the go or while using a mobile device, this may not be the best option.
However, its excellent security features account for a significant portion of its appeal. It has a secure identity vault that allows you to sign blockchain transactions and manage your profiles on a variety of different websites. 
While it is only compatible with Ethereum (so a good understanding of ETH network is necessary), it does support ERC20 and ERC 721 tokens. 
The gas fees are quite high on MetaMask, though you can pay more for faster transaction processing. It also has a 0.875 percent service charge in addition to all transaction costs.
And although the UX is not great, it is one of the more user-friendly wallets.
Torus
Torus allows you to generate private keys using social identities (like your Google, Facebook or Discord accounts), making it extremely simple for new users to gain access to decentralized applications.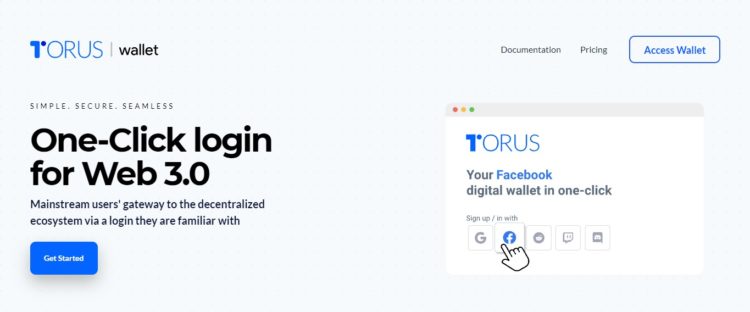 Rather than having to download a Chrome extension such as MetaMask, which handles key management and interaction with dApps (Decentralized Applications), you can use a digital identity account to log in and then use the dApp right away. This means it's compatible with all browsers, and you aren't required to download or installation anything to use this wallet with your dApp.
Torus is a cryptocurrency project based in Singapore that was among the first batch of projects released by Binance Labs. It supports several crypto companies such as Ethereum, Etherscan and, of course, Binance.
They offer flexible pricing options from small projects to big enterprises, and you can create an account for free. This is definitely a good wallet for beginners because it's easy to use without your own private keys.
Trust Wallet
NFT collectors really like Trust Wallet, a mobile wallet with over 5 million users.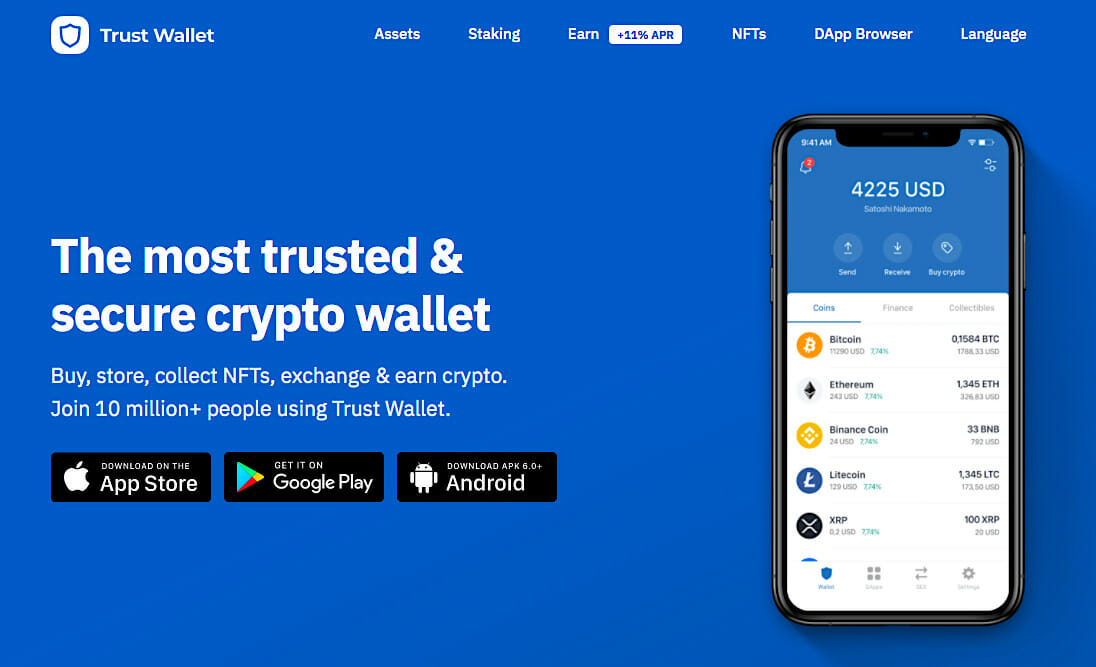 Users can access art marketplaces like OpenSea, MyCrypto Heroes, Axie Infinity, and more with just one click in the software. User assets can be safely stored and managed through Trust Wallet.
Trust Wallet has native support for public blockchains, including Binance Smart Chain, Ethereum Classic, TomoChain, ThunderToken, GoChain, and Calisto. Keep in mind that because it collaborates with Binance, Trust Wallet pushes Binance-based products more than others.
The user interface is pretty straightforward and you can buy crypto from within the Trust Wallet app. There are no dApp, crypto swapping or wallet fees. It is, however, only accessible via mobile device for Ethereum and ERC20/ERC223 tokens.
Best Wallet for OpenSea: Trust Wallet
Because of Trust Wallet's zero-fee concept (it is free to download and use), ease of use, and great security system, this digital wallet ranks as the best wallet for OpenSea. All five million users can enjoy the full benefits of bitcoin and blockchain applications! 
Tips for Safeguarding Your NFTs
To keep your digital asset(s) secure, it's crucial to understand how to use your NFT wallet.
Never reveal your password to anyone. That phrase you've memorized serves as a password for your wallet. In addition, it provides complete access to your assets while maintaining confidentiality at all times. Please don't post it online. Avoid sending it by email and save a copy on your computer or smartphone instead. It's much better to jot it down on paper and store it somewhere safe.
Keep your password/passphrase in a secure location. Along with writing it down offline, you should keep the piece of paper safe by storing it in a fireproof and waterproof box or a safety deposit box. You can also laminate it. This is a cheap way to preserve it from damage.
Dive Deeper: NFT Marketing Agencies: Best Way to Promote Your NFT Project
Conclusion
In the NFT ecosystem, strong security is guaranteed through blockchain technology. However, consider a famous saying among crypto enthusiasts: "Not your keys, not your crypto." Hence, we recommend you follow our tips and get the best out of your NFT trades.
To get Free NFT Marketing Consultation, click here 👇