How to Conduct a Blog Post Audit
NOW WITH MORE! This post was updated for 2016 to provide much more information to help you conduct your own blog post audit. Enjoy!
Running a successful blog is an incredibly challenging process, all the more so considering how much competition you're facing:
There are 5 million blogs on WordPress alone.
WP adds about 50,000 new sites every day.
3 million new posts are published on WP blogs every month.
409 million people visit WP blogs every month.
And leave 48.4 million comments on these blog posts every month.
Sifting through the mountain of advice on the latest best practices for blogging can be overwhelming. Where do you start?
At Single Grain we're all about ROI, so today I'd like to help you get a positive return on your blogging efforts with the auditing process I use to determine whether a blog post is on target or falling short. (Not to be confused with a content audit, which is related but focuses on all your content as a whole, whereas this post is about auditing individual blog posts.)
Identifying areas of improvement can take an average blog to good, and a good one to great – because no matter how good it is, it can always be better. Learn how to create excellent content, a.k.a. 10x content, here.
Whether you're a business owner, freelance writer, hobby blogger, or content marketer, I know you'll find this framework useful when it comes to improving your own blogs or those of your clients.
Content
The first thing I look at is the quality of the content, because if you're not giving your reader something of value (whether it's educational or entertaining), nothing else will matter. Blogging is a highly personal, text-based medium, and in order to be successful, it must deliver content that's informative and engaging, while standing out from other posts in its niche.
To evaluate the quality of a blog's content objectively, we should look at a number of different factors:
1) The Headline
If your headline is weak, it's game over before you even get started.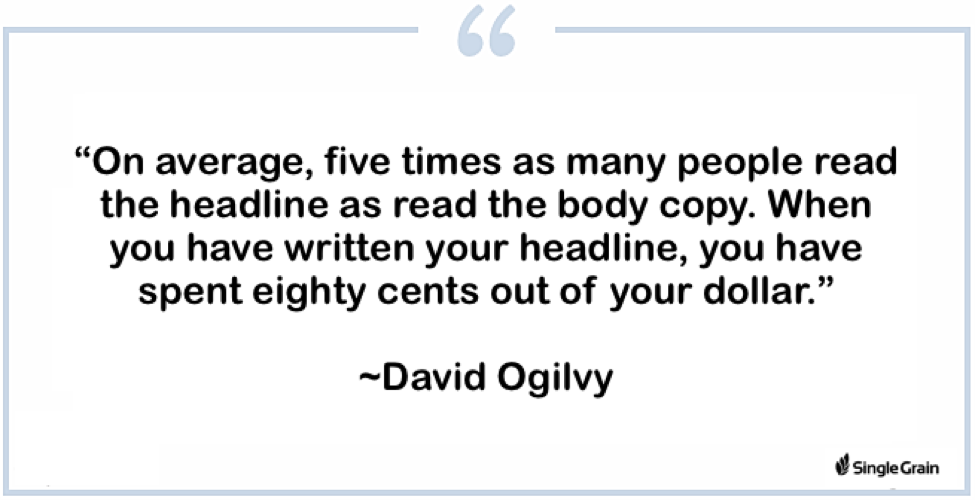 Listen to Mr. Ogilvy. He was Don Draper before Don Draper was even a thing. A strong headline is attention-grabbing, informative, and makes you want to read on. It shouldn't be mysterious or vague or nobody will click on it, so remember: it's better to be clear than clever.
To make your headlines more compelling, try a few of these quick tips:
Include numbers (people love lists) and facts
"Who" and "How" headlines generate more clicks
Limit it to 65 characters or less for good SEO
Use your keyword(s) near the beginning of the headline
Piggyback on a successful headline formula or template
Headlines with a bracketed clarification like [Infographic] or [Podcast] at the end did 38% better than those without one
Evaluate your headline with an online Analyzer for suggestions to improve it
Too many writers or marketers use the first headline that comes to them. It shouldn't be an afterthought. It shouldn't be a throwaway. Your headline is pivotal to blog success. For example, which headline is better?
Get More Traffic for Your Blog (meh)
7 Easy Tips for Instant Blog Superstardom (wow!)
Give them an exciting reason to stick with you.
2) The Introduction
The job of the headline is to get people to click on your post. But you're not in safe waters yet. Now you must continue to keep their attention with the post's introduction.
A great introduction should build on the headline and let the reader know exactly what to expect by illustrating what the benefit is to them (why should they spend their precious time reading it?).
Check that your intro gets to the point without too much preamble or beating around the bush. You don't need five paragraphs of build-up.
According to Neil Patel, the best introductions have three parts:
The Hook – the first sentence or two to grab the reader and pull them in, often a question, controversial statement or awe-inspiring statistic to arouse curiosity
The Transition – a sentence that connects the headline and body
The Thesis – this explicitly states the benefit from reading the post in its entirety (what's it all about, and why should they care?)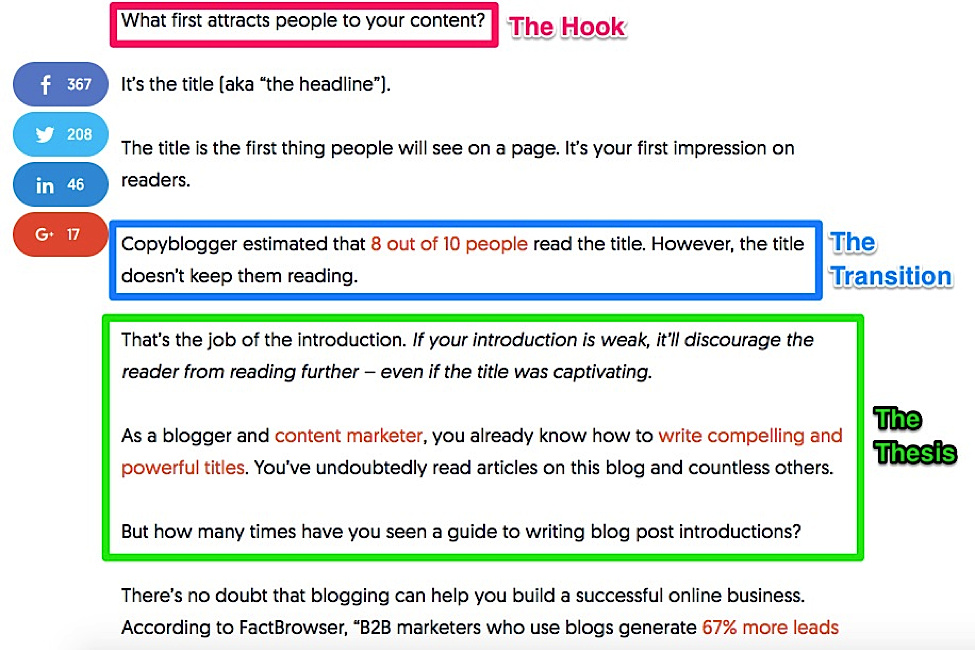 3) The Visuals
Let's just state the obvious: you need high-quality and engaging visuals for your blog. If you don't have any, add some. Why?
Visuals – images, screenshots, infographics, GIFs, videos, graphs, charts – increase click-throughs, shares, and engagement, to say nothing of the fact that we process visual information 60,000x faster (yes, you read that right!) than text. We also retain visual info better: 80% of what we see versus 20% of what we read.
The proof?
Starting to get the picture (pun intended, naturally)?
When it comes to the images on your page, there are a few best practices to keep in mind:
Compress images with a tool like TinyPNG for faster load times and less data consumption.
Use file names, titles, and descriptions that are informative and include the keyword(s) for the post (if relevant). Avoid names that are just a series of numbers, as that provides zero information for the search engine bots.
Consider adding a relevant caption under each image. Kissmetrics found that people read them on average 300% more than the body text itself.
Ask yourself: does each blog post contain at least one high-quality and relevant image? Have you used a variety of images? If not, consider mixing things up a bit. Using elements like infographics can increase the reach of your blog posts. Our Enterprise SEO post is even better with an infographic: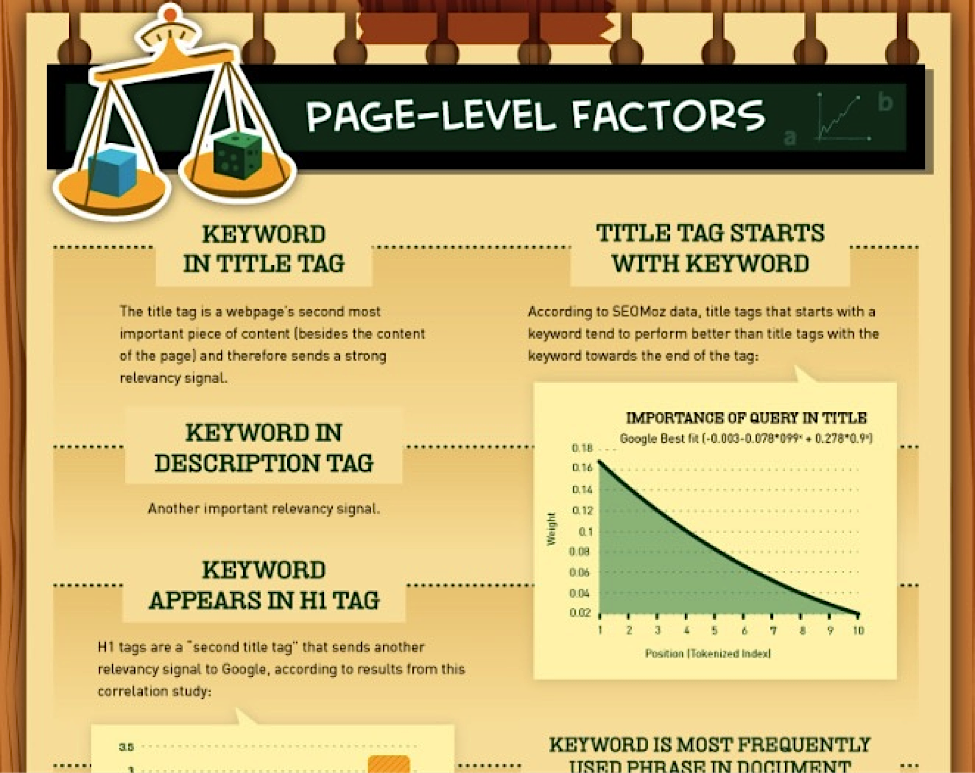 Finally, and perhaps most importantly, ensure that you have permission to use the images and videos.
4) The Format
Stand back and look at the post as a whole. Is it scannable? Does it look good (this may be partially subjective, but answer truthfully)?
You want a post that's easy to navigate and consume for your readers, and that means using headers to break it up into sections (and subheadings to further break down large sections), bulleted and numbered lists to neatly group info, bold/italics/underlines for important words and phrases, and a good text-to-image ratio (try and include at least one high-quality and relevant image for every 500 words).
Your headers and subheadings should make it clear what each section is about and give a decent summary of the post itself when considered together. Use the H2 tag for main headers, and the H3 or H4 tags for subheadings within each section (these also help the crawlers get a handle on everything).
Keep paragraphs fairly short – no longer than 3-4 average-length sentences – and use a variety of sentence lengths for flow.
Consider the whitespace on the page. Is there enough? Too much? Proper use of whitespace allows you to highlight and frame the important bits, while giving the content the space it needs to breath. No one likes to read a page where everything (text, visuals, margins) is squished too close together.
5) The Overall Quality
Spelling matters. Grammar matters. Always proofread your writing, and if you know you don't see the mistake in the following Grammarly sentence, hire a copyeditor.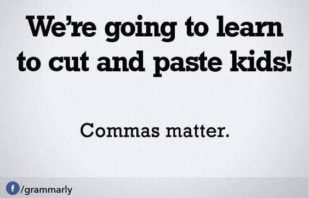 Have you included your keywords in the key spots? Use them and their variations in the headline, introduction, URL, title tag, meta description, headers, and images in a natural and relevant way. Keyword stuffing or unnatural use will get you penalized, so don't do it.
6) The Statistics
Statistics are a great way to beef up your content and support what you're saying 73% of the time (since I didn't cite stat, you can't verify it, and thus I lose some of my authority). People like to see the evidence behind your advice and opinions.
Make sure your stats are current and pertinent to your point. Anything older than 1-2 years, depending on the topic, is likely outdated. You can find more up-to-date data using the Search Tools > Any Time > Past Year command on Google.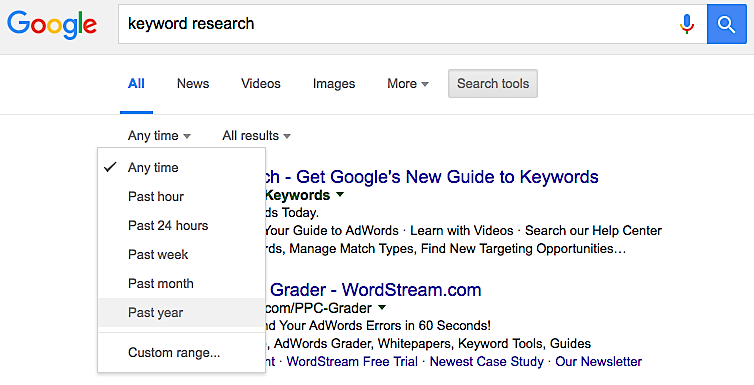 7) The Conclusion and CTA
Often times, a reader will scan the intro and the conclusion to get a quick idea of your post, and even for those who read the whole thing, they appreciate a concise summary and a call-to-action or next step. What should they do next?
A good CTA might be to:
read a related post (provide the link)
leave a comment about some aspect of what you covered
sign up for your e-mail list (give them a compelling reason to do so)
answer a question you've asked
download your e-book
share the post on their social media accounts
like/+1 the post
try something you've described for themselves
It all depends on your particular goal for writing the piece, but ultimately, it's about extending the engagement. Get them to do something.
Learn More: How to Create CTAs that Actually Cause Action
8) Length of Post
Once you've gone through the piece from top to bottom, consider the length of it. While there's no magic word count for a blog, remember that it's difficult to say anything substantive on any topic in fewer than 500 words.
In addition to that, the shorter your posts are, the less opportunity you have to get your content indexed for particular keywords within the SERPs. Fewer than 300 words, and you're probably going to be ignored.
When analyzing content length, look for a combination of both short, "newsy" update posts – like Growth Everywhere's This Week in Growth marketing series – and longer, evergreen "authority" posts – like this epic post, called Content Expansion: How to Maximize Your Content.
A healthy mix is your best bet. Quick posts will be appreciated by your readers because they can manage them in a short period of time. Longer posts will deliver the biggest organic SEO bang for your buck.
In fact, according to recent studies, the 2,250+ word range is ideal for the engines to sit up and take notice. Neil Patel advocates for 3,000+ words. Hubspot found that posts with 2,500+ words got the most social shares, while those between 2,250-2,500 words received the most organic traffic.
9) Breadth of Topics
At the end of the day, people read blog posts to learn something or help them solve their own problems. Whatever you're writing, you need to make sure that you address the concerns and fears that your audience has around that topic.
You can ask your audience questions through your e-mail list or with a tool like Qualaroo to display survey questions in order to ask them what their biggest challenges are around the subject that you want to write about.
While the specific niche you've chosen for your blog may influence how wide of a range you'll be able to cover, look for any missing holes or unanswered questions that arise from past blog posts. Chances are if you've stumbled across any gaping holes missing from your breadth of topics, your visitors will have noticed these omissions as well.
Use a tool like BuzzSumo to find popular content from your competition – and then use the Skyscraper Technique to really improve it.
Take it a step further and consider which posts worked best, which were shared the most, and which ones resonated with your audience. Google Analytics can give you a detailed breakdown. You may want to revisit and expand on those topics.
Learn More: Never Run Out of Ideas: 7 Content Creation Strategies for Your Blog
Visitor Connections
Of course, unless you're writing for yourself, improving the quality of your content is only part of the battle. As blogging is an inherently social medium, it's also important that you provide your readers with the tools necessary to share your content with the world.
Here's what to look for when conducting your own blog post audit:
1) Social Media Icons
Every page on your site should have links to your social networking profiles to encourage readers to connect with you on these platforms. For maximum visibility, most blog owners include these icons in their blog sidebars or footers.

CMS platforms like WordPress make this easy. You can use a plugin like Ultimate Social Media or the Social Media Icons widget. Go the extra mile and find a custom icon set that reflects your blog color scheme and style at iconmonstr, Iconfinder, or Social Media Stickers.
2) Social Sharing Tools
In addition to encouraging readers to connect with your brand on social networking sites, it's even more beneficial to get them to share your content on their own profiles (since this is what typically causes articles to go viral).
To do this, you'll need to have social sharing tools (for example, the WordPress plugins Digg Digg or Shareaholic) installed on every single post-level page on your site. A floating icon bar stays with the reader for easy sharing.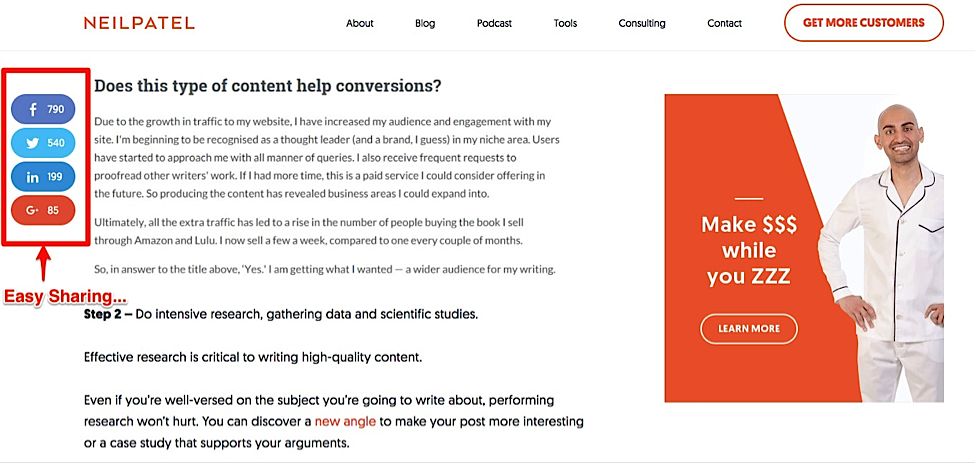 Allowing your readers to easily share content can increase the likelihood that your content will spread virally. In fact, according to HubSpot, using social sharing can lead to 7x more mentions.
To further increase your chances of scoring that valuable share, you might consider offering a content upgrade in exchange for a reader sharing your post with their network. Tools like Pay with a Tweet (which works with all the major platforms and not just Twitter) reward those who share with something extra and exclusive, like a template, resource list, e-book, checklist, or white paper mentioned in the post.
3) E-mail Subscriptions
Finally, keep in mind that not all your visitors will be active on social networking sites, so make sure that an e-mail opt-in is clearly advertised to give these readers additional opportunities to follow your blog.
A pop-up box can be an effective way to grab visitor details, and you can set it to appear when they arrive on a page, after X number of minutes, or after scrolling down X% of the page (the last two of which indicate clear interest in whatever it is you're writing about).
And while people claim to hate these pop-up boxes, they're marvelously powerful tools:
SumoMe's Welcome Mat (whole page pop-up) and Scroll Box (less intrusive slide-in box) are two free tools to try out.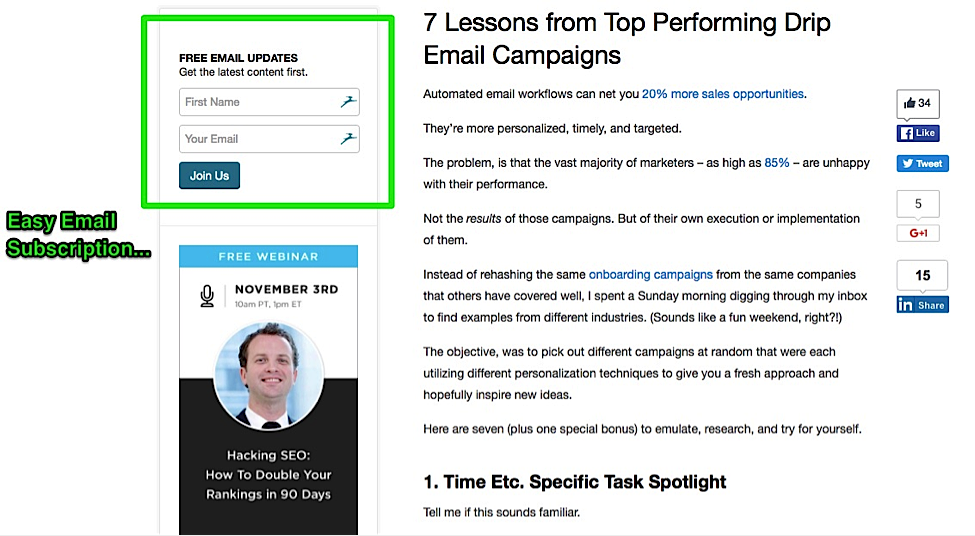 A simple way to do this is by having your opt-in copy presented above the fold with an opt-in incentive, like Noah Kagan does on his site.
In addition to displaying forms prominently on your site, be sure that the benefit of subscribing is clearly advertised to encourage signups. People love a little social proof, so if you have a lot of subscribers already, highlight that number.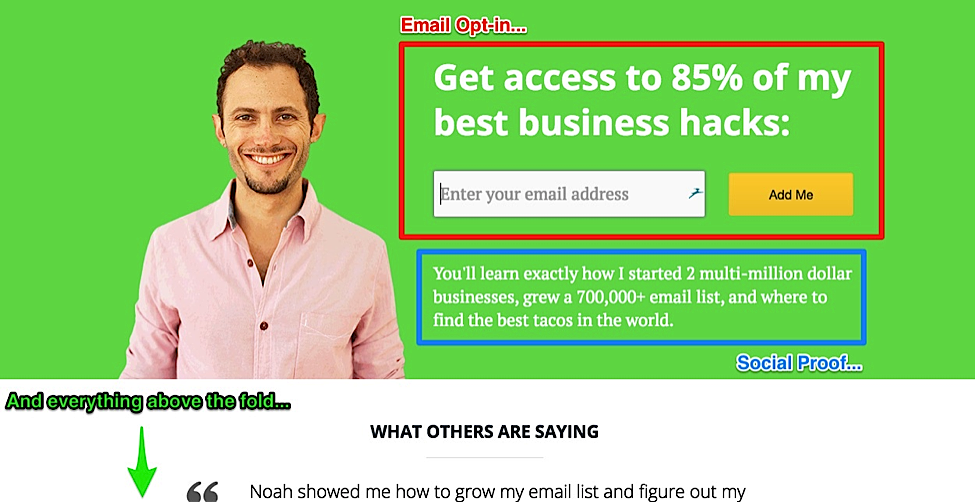 Site Structure
Part of what makes blogging so challenging is that, in addition to making your site as engaging as possible to readers, it must be appealing to the search engines in order to generate a steady stream of natural search traffic.
Any good blog post audit should include a look at your site's structure, as well as the identification of any issues that could be preventing it from being indexed correctly by the engine spiders.
Related Content: 22 Potential Reasons Why Your Organic Traffic Recently Dropped
1) Permalink
For maximum keyword exposure, ensure that the permalink structure you've chosen for your blog incorporates your post titles in some way. This is better for your readers and the engines. Win-win.
The default style in WordPress includes a lot of random numbers but no title, so click on the "Edit" button and change the permalink to the title of the post.

2) Post Level SEO
WordPress and other blogging platforms make post optimization a snap with handy plugins like All in One SEO or Yoast SEO. However, these plugins only work if you use them correctly, so make sure that you've installed and optimized for each post on your site for best results. The Yoast SEO plugin for WordPress gives you a green, amber or red light so you can see where you need improvement. As you can see, this blog post gets a green light for keyword, meta description, and SEO title:
3) Category Page Optimization
When readers choose to delve into your past posts, they'll likely do so by examining your category archives (collected by related topic) instead of reading past articles by date.
For this reason, it's a good idea to ensure that your category pages are optimized for both readers and search engines to improve your overall SEO.
Categories are a required field in many platforms like WordPress. It's best to assign each post to a single broad category. You can then use optional tags to specify individual elements about the post. For example, your grandma's famous brownie recipe might be stored under the category "Recipes" with the tags walnuts, chocolate, dessert, brownie, and cocoa.
Think of categories as the table of contents for your blog (the big, broad topics) while the tags are the index at the back of the book. Categories and tags help your readers and the engines find what they're looking for, and to identify what everything is about. It's all about usability.
Keep in mind that changing categories and tags down the road will most likely result in losing your search engines rankings and backlinks, as well as creating 404 errors.
It's wise to optimize them both. You'll find categories and tags on the right-hand side of the blog post that you're working on: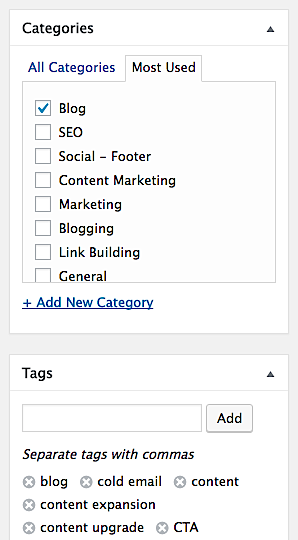 4) Search Engine Accessibility
Because WordPress relies heavily on scripts to function, it's important to make sure the presence of these code snippets isn't preventing the search engines from indexing your content correctly.
To learn more about accessibility for both readers and search engines alike, check out this introduction by Moz.
5) Meta Description
The short paragraph that appears under the title of your post in the SERPs? That's your meta description, and it tells readers and searchers exactly what the post is about. It's like the blurb on the back of a book or a DVD.

Each post should have its own unique description included in the <head> section of the HTML. A plugin like Yoast SEO has a convenient section labeled "Meta Description." Use it. Include your targeted keyword and keep it to 160 characters or less to avoid it getting cut off when displayed.
6) Title Tag
When you hover the cursor over an open tab on your browser, you see the name of the page. That's your title tag. It may be the same as the post headline, but it doesn't have to be.
You can change the title tag for your website under "Settings > Site Title" and include the optional Tagline if you wish, as well as for individual pages on the page dashboard under title (or SEO title using a plugin like Yoast).
Keep it short (60 characters or less), include the keyword, and make it relevant. The title tag is a ranking factor for your SEO, so make it count.
7) Alt Text for Images
When you add an image to your blog post, one of the available fields is the alternative text field, or "alt-text." This will be displayed if the image doesn't load for some reason, so fill in a descriptive title that includes your keywords. Often the title of the post is a good choice.

Alt-text gives the engines more to go on when determining what your post is all about, acts as a placeholder should the image fail for any reason, and provides blind and visually impaired readers with the necessary details (via a screen reader app). It's a very good and simple bump for your on-page optimization.
Metrics Tracking
Finally, when conducting your blog post audit, keep in mind that blog posts should be treated like any other web property when it comes to metrics. If something isn't being measured, it isn't being managed, so use your audit to ensure that all of the following areas are addressed:
1) Monetization Strategies Offered
Take a look at the different monetization strategies being used and ask yourself the following questions:
Are my chosen monetization strategies a good fit for my audience?
Are my monetization elements featured prominently or are they buried in content?
Do my monetization elements provide demonstrated value for my users?
If you've approached monetization haphazardly in the past, taking an objective look at the strategies you've used could help uncover opportunities to make your blog even more successful. Many high-profile bloggers, for example, consider ad programs like AdSense to be a non-starter in 2016.
Your monetization strategy should work for your audience. It might be affiliate marketing, it might be online courses, or it might be original e-books and other resources. Whatever it is, make sure it provides genuine value and is prominently featured.
2) Goal and Funnel Setup
As with traditional websites, blog owners should have explicit website goals that are being measured with web analytics goals and funnels.
If these important tracking features aren't present on your site, add them as soon as possible in order to improve the effectiveness and results of your blog.
You can create Google Analytics goals on the Admin tab, in the View column.

Click on the red +New Goal button, select a template or custom goal, and a destination, duration, pages/screens per session, or event as the goal type.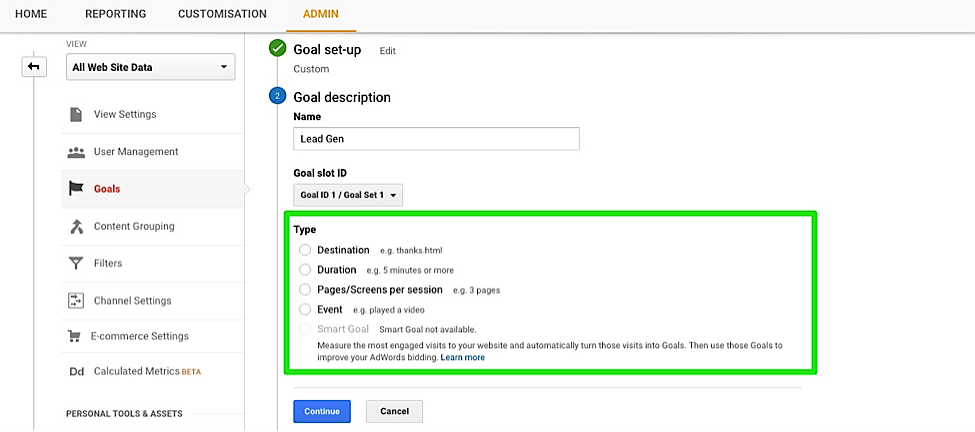 If you select "Destination" as the goal type, you'll be presented with the option to create a multi-step funnel in the next step. This is a very good thing.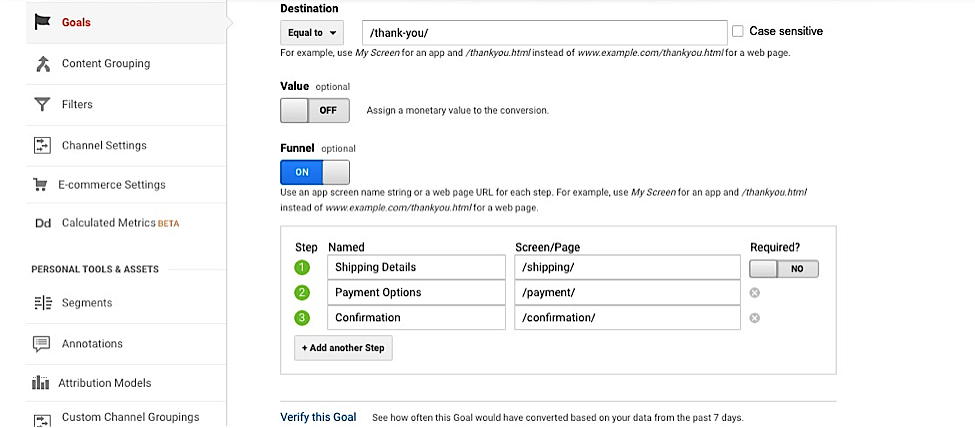 Once created, your funnel can show you exactly where customers are leaving, where there's a bottleneck, and where you need to improve the customer UX. You want to gently walk them from Point A to Point B (whatever action you want them to take). If they're disappearing before then, you need to know where so that you can determine why, and then fix the problem.
3) Gather Feedback
A great way of knowing whether your content is being well received by your audience or not is the simplest of all: just ask them.
By using a tool like Intercom, you can start real-time chat conversations with readers as they're engaging with a post. For example, when reading a post on our site, users will see a message that asks them which marketing topics they're most interested in learning about.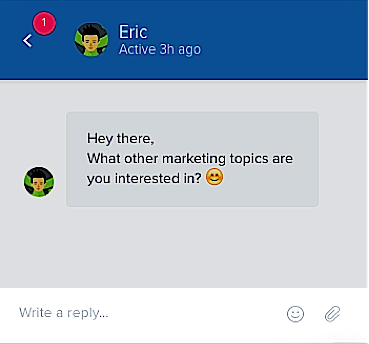 When they answer, this gives us a better sense of what marketing content to create in the future.
You can also use SurveyMonkey to collect reader feedback, ask questions of your followers and fans on social media, or send a quick follow-up e-mail to those who purchase or sign up on your website.
Ask, and ye shall receive. Most people are more than willing to share their opinions.
4) Split Testing
Split testing (running different website versions against one another to determine which combinations of factors give the best results) is a vital website development task.
Although setting up split tests on blogs can be more challenging than on static websites, several services like Optimizely and WordPress plugins like Nelio AB Testing exist that can take the pain out of the process.
With a concrete A/B testing strategy, you can incrementally improve everything about your blog. A different headline here, a specific color there, a more relevant CTA button, and your blog takes off like you wouldn't believe.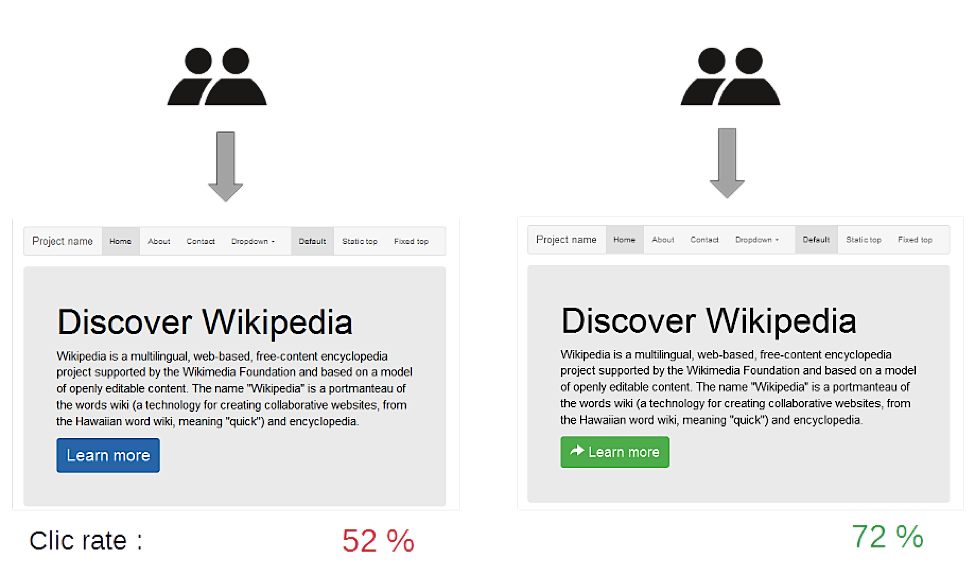 Read More: 5 Important Landing Page Elements You Should Be A/B Testing
Obviously, this audit isn't totally exhaustive, as a successful blog post involves other factors beyond just these criteria. But checking in with these basic blogging principles through regular blog post audits should give you enough of an overview to determine where improvements can (and should!) be made in order to make your blog as successful as possible.
To paraphrase a wise man (Ray Goforth): "There are two types of people who will tell you that you cannot make a difference in this world: those who are afraid to audit their blog posts and those who are afraid that you will succeed with your audits."
How have you successfully audited your blog posts and what kind of results did you see? Let us know in the comments below!