What Is a Content Optimization Tool and Why Do You Need It?
Content optimization should be an integral part of your content marketing strategy, but it can be hard to do it right without the help of a good content optimization tool.
In this post, I'll cover:
So if you want to improve the relevancy of your content and beat other similar content pieces trying their luck to rank on the first page, keep reading!
What Is Content Optimization?
Content optimization is a technique to ensure that your blog post is SEO-friendly in order to acquire maximum traffic and conversions.
Without content optimization, your articles and blog posts will fail to reach the top of the organic search results and won't generate the desired leads.
Nearly 7.5 million blog posts are published every day, but 90% of published content gets no traffic from Google.
So unless you apply proven content optimization tactics, your content might never reach page one of the SERPs to attract relevant clicks.
If you need a deeper dive into what content optimization is, click below to read this in-depth guide first👇
Learn More: What Is Content Optimization? (And How to Ace It!)
What Are Content Optimization Tools?
Content optimization tools (aka content optimization software) help you with your SEO efforts as well as help you build a scalable content strategy to acquire higher rankings and clicks.
With the help of a content optimization tool, you can compare your blog posts with other pieces currently ranking on Google and find suggestions to strategically outrank them.
Because content optimization platforms analyze your topic and create a structure in which to prepare your content, they allow writers to remain creative, address user intent, include all the right keywords, and reach the required word count to gain an exceptional content readability score.
Content optimization software leverages machine learning technology to offer you insights into your content strategy gaps and help you prepare content that attracts visitors.

Dive Deeper: 48 Content Marketing Tools to Make Your Life Easier
Why Do You Need Content Optimization Software?
You need a content optimization tool to help you:
Increase your chances of ranking higher on search engines
Include Latent Semantic Indexing (LSI) terms that you might not have added in your content
Discover relevant topics along with the topic density
Identify relevant long-tail keywords to include in your content
Recommend keywords into your title tags and meta descriptions
Optimize the headline of your content to improve keyword relevance score
Update word counts and topics in real-time
Compare your content with similar content pieces to identify any gaps or missed topics
Add FAQs by using a powerful question finder
Identify content where topics are overused or underused within the corpus of results
Content optimization software is beneficial for businesses of all sizes. Let's explore some of the advantages of using a content optimization tool for individual marketers or companies.
Small Companies
Small businesses often have a limited marketing budget, so it is not feasible for them to pay SEO agencies hourly to optimize the content on their site.
Investing a few hundred dollars a month in one of the best content optimization tools available helps them reap the full benefits of content optimization without the need to pay a hefty SEO fee.
Large Businesses and E-commerce Companies
Large businesses or e-commerce enterprises have an in-house marketing and/or content team to manage their SEO campaigns. 
For large websites, one of the primary issues faced is content decay. Many sites lose their rankings because they don't update the (vast amounts of) content on their site. A content optimization tool helps them quickly identify the pages that need refreshing/updating to gain back their lost traffic.
Digital Marketing and SEO Agencies
SEO and digital marketing agencies should subscribe to a content optimization tool because it helps them gather relevant content insights for every project they are handling. Content optimization is critical to improve organic traffic.
A robust optimization tool will easily identify the issues in your content and suggest quick fixes to improve the relevance score for your target keywords. Improved rankings will lead to higher traffic and sales, making your clients happier. 
Individual Marketers
The new era of freelance digital marketers is growing. Every freelance marketing expert is aware of SEO audit tools such as SEMrush or Ahrefs.
However, many of them haven't tried exploring the powerful features of some of these amazing content optimization tools. Individual marketers should begin investing in a content optimizer to improve the performance of their projects and make more money.
SEO Experts
Content optimization software is an SEO's best friend. Two factors are necessary for ranking: content and backlinks. If your site content is optimized, you have the maximum chance of ranking higher even without links.
Since the primary job of an SEO expert is to improve the organic presence of a website, a content optimization tool assists them in optimizing articles and blog posts for the search engines to beat the existing organic competitors. 
Dive Deeper: The Skyscraper Technique: How to Build High-Quality Backlinks to Your Content
Content Optimization Tools
Clearscope
Clearscope has one main feature: the Content Editor. It uses IBM Watson technology to help you find the language, entities and topics that ranking sites use. This allows you to benchmark yourself against your competitors and their content.
Just enter your primary keyword, sit back and wait for Clearscope to deliver the data needed to create optimized content for your site or clients. The thing it has going for it is that it's incredibly easy to use — there's no steep learning curve. On the other hand, it doesn't have an SEO testing feature, so you have to track results yourself in Google Analytics or Google Search Console.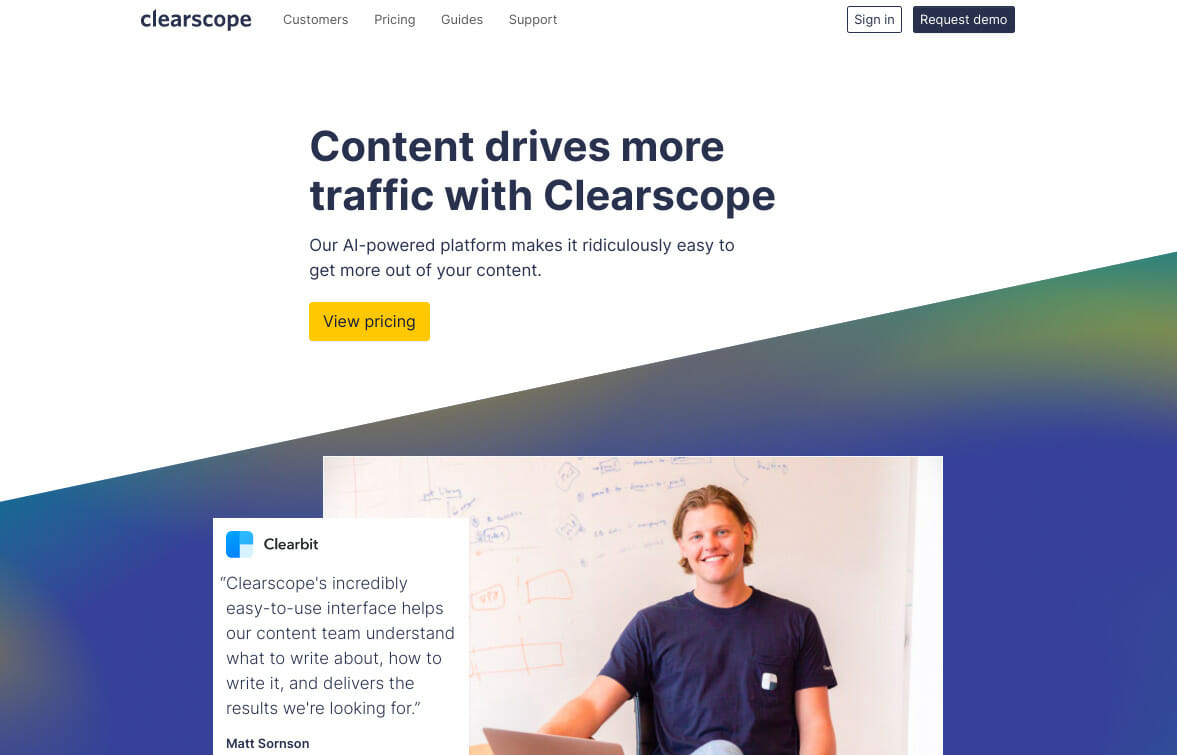 Surfer SEO
SurferSEO is both a SERP Analyzer and Content Editor. It analyzes over 500 data points based on the keyword you want to create content around and brings them into one interface so that you don't have to manually collect data. It helps you analyze why the top pages in the SERPs are ranking. This means that you can focus on the right data points for the niche you're in.
Its data collection is a massive time saver — reducing analysis by hours, if not days, but on the down side, there's no testing platform, which means that you have to test somewhere else, like Google Search Console.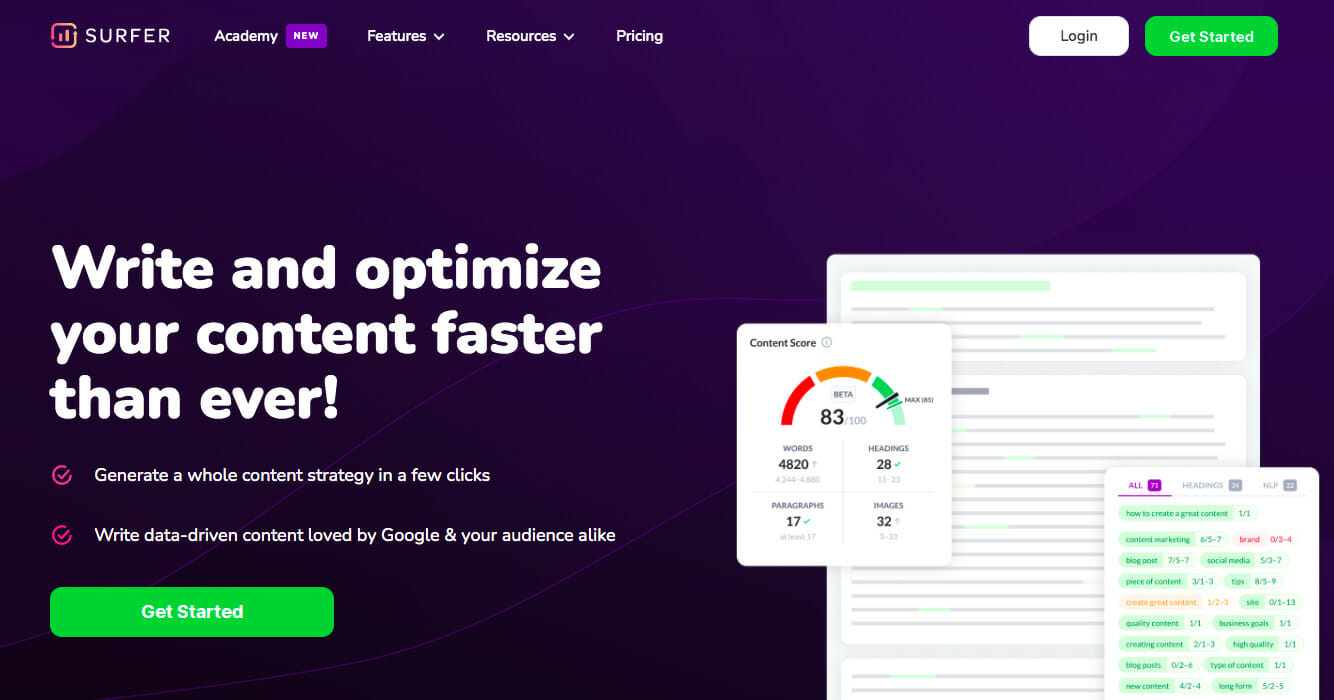 Frase
Frase is made to help businesses get their content to the top of the Google SERPs. In other words, it's designed to help you get a bigger ROI on your content marketing efforts.
This tool uses AI and data analytics to gain new insights into Google's algorithm and what makes content rank high in the SERPs. Essentially, it collects data about top-performing content and serves up actionable insights about how you can beat it.
Frase is much more focused on content ideation and strategy (i.e. pre-production), rather than on testing and experimentation to ensure that your published content stays optimized (i.e. post-production).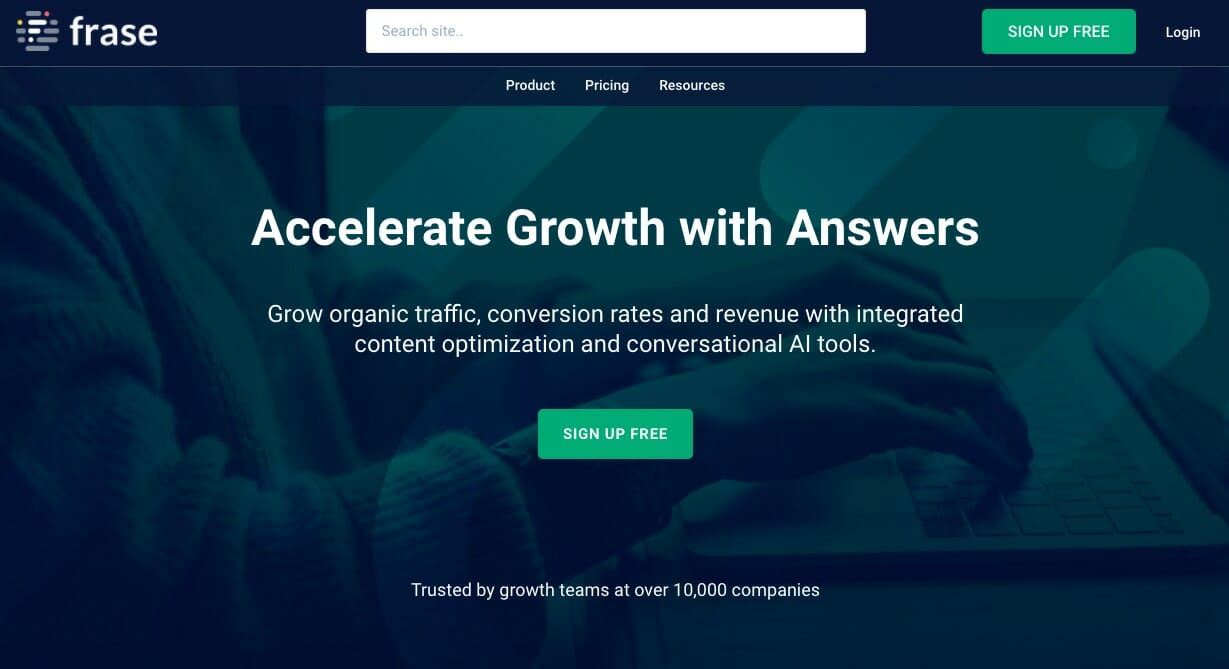 MarketMuse
MarketMuse is a cloud-based tool that uses AI to help content marketers craft, plan and improve their content so that it ranks high in the SERPs. It includes four main features: content research, strategy, creation and optimization. Its AI abilities will even create first drafts of content that can be used as a jumping off point for human-written content.
The downside is that not every MarketMuse plan offers all those features. The lowest tier only offers content optimization tools, but for the full package you'll have to spend $1,499/month.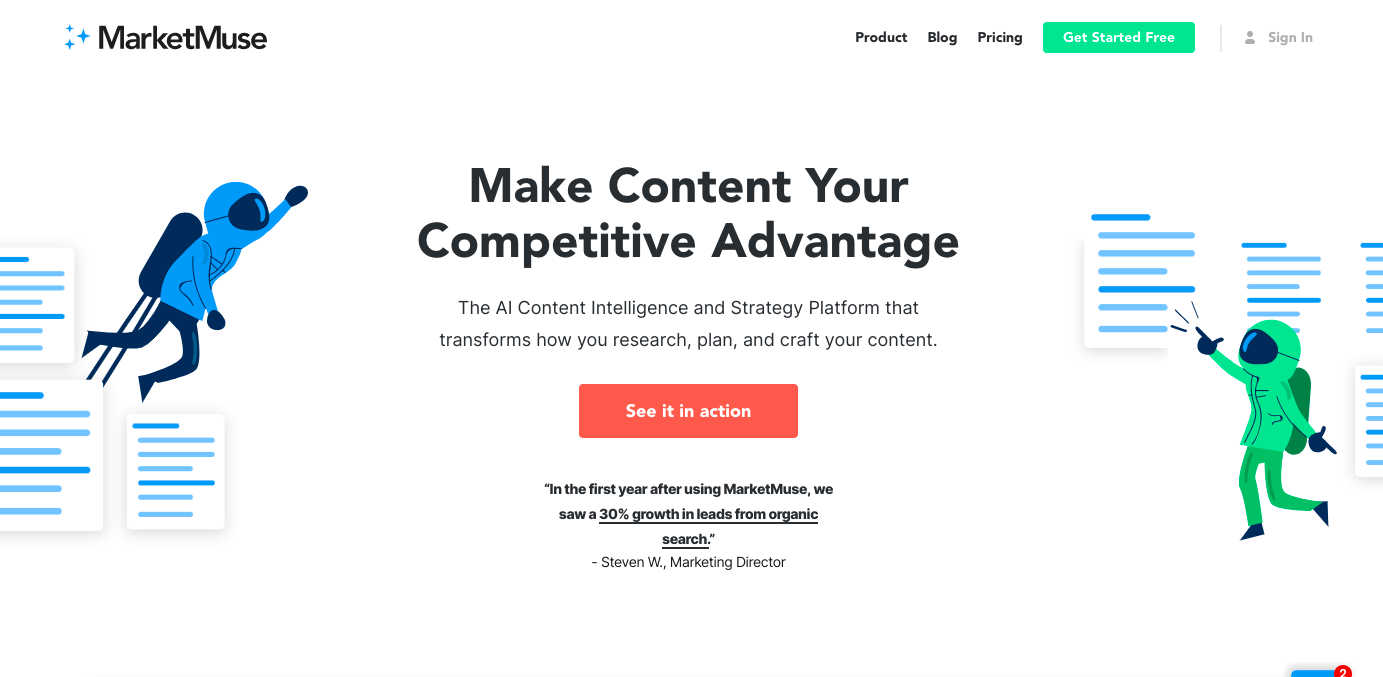 SEMrush
Semrush's Writing Assistant tool gives you an overall grade that predicts how well your content will rank on Google, a readability score, which tells you how difficult your content is to read, and a word count. Semrush's Content Template is pretty handy for helping you write SEO-friendly content, too.
The downside is that Semrush's Writing Assistant is only a Google Docs plugin, not a web app, and Semrush's feature set doesn't focus on content experimentation like split testing.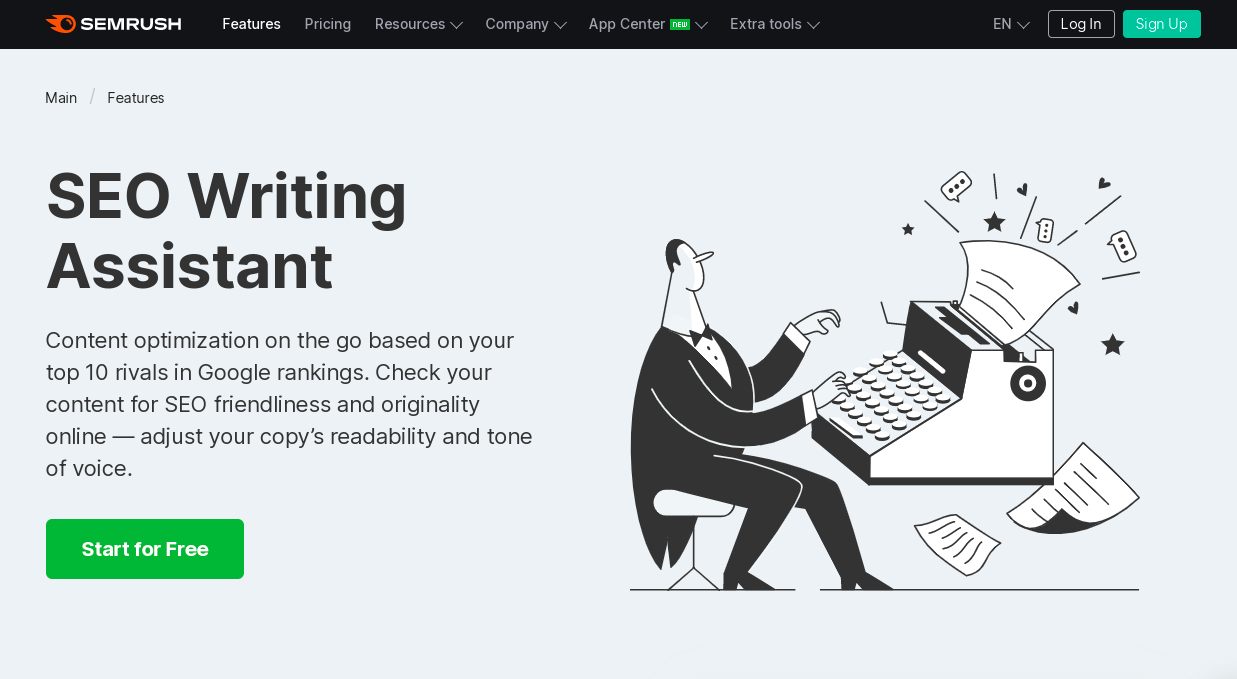 Final Thoughts 
With the increasingly competitive content landscape, every business is putting a lot of time into creating quality content. Therefore, you have to be proactive in optimizing every piece of content on your website to get the best ROI.  
Remember, optimizing your existing content is as important as creating content.
Choosing the right content optimization software for your business and following the tips suggested in this article will help you achieve the desired results.
---
Content Optimization FAQs
What is the difference between content optimization tools and content optimization software?
In this context they are interchangeable. Some articles say "business software tool," others say "content optimization software is a tool" and still others will use both "content optimization software" and "content optimization tool" in the same article.
The bigger difference is between software/tool and solution, with the latter being a full package with professional services, including an account manager, etc. 
Is there a difference between content writing software and content optimization software?
Yes. The main differences between content writing software and content optimization software are…
The goal of the software: Content optimization software finds content gaps after comparing your content with the competitors' content, whereas content writing software only assists you in creating the content.
How they work: Content optimization software helps you find the the right keywords, topics and subheadings from Google SERPs data, whereas content writing software focuses on improving readability scores, reducing grammatical errors, etc.
What is enterprise content optimization software?
Enterprise content optimization is a large-scale and strategic approach to ranking your content higher in search engines, and enterprise content optimization software helps achieve this goal. This type of optimization software specifically helps enterprise-level companies manage large and complex websites with hundreds or thousands of pages of content.
What is content writing software?
Content writing software is an automated program that enables you to prepare content faster. There are two kinds…
Automatic content writing software that leverages artificial intelligence to prepare content for you. It's not high-quality writing, but it definitely save a lot of time. Some examples of this software are Articoolo, Wordsmith, and Quillbot.
Content writing software that that helps writers keep their content error-free, like Grammarly, Hemingway, and Slick Write. This content writing tool saves time and improves productivity.
How do you optimize content for featured snippets?
By answering all the relevant questions related to your seed keyword in your blog article. Using a content optimization tool makes it much easier to rank your content as a featured snippet. You can also use an FAQ section to answer all the questions on your page (like this one!), which makes it more likely that Google will display them as a featured snippet.
How do you optimize content for voice search?
Most voice search queries contain question words, such as how, what, when, why, and where. Include long-tail and conversational keywords and cover all the specific questions related to your primary search query.