If your analytics show that your blog or social media channels are not reaching as many people as before, you are not alone. Businesses, large and small, are affected with this problem, and they are looking for ways to turn the problem around.
Facebook alone has 1.28 billion daily users. And with the sheer amount of content these users share, coupled with that of other channels, the decline in organic reach comes as no surprise at all. Everyone is vying for attention. The question now is, how do you turn that problem into an opportunity?
The answer is: boost your video content marketing.
Studies show that most people prefer to watch videos than read. In fact:
4X as many people would rather watch a video than read an article about the same topic.
Click To Tweet
Why? Watching a video is not as mentally intensive as reading. Our brains process visuals, including video, 60,000 times faster than text.
So, it's no wonder that the average consumer watches as many as 206 videos per month because his or her brain hardly has to exert any effort at all.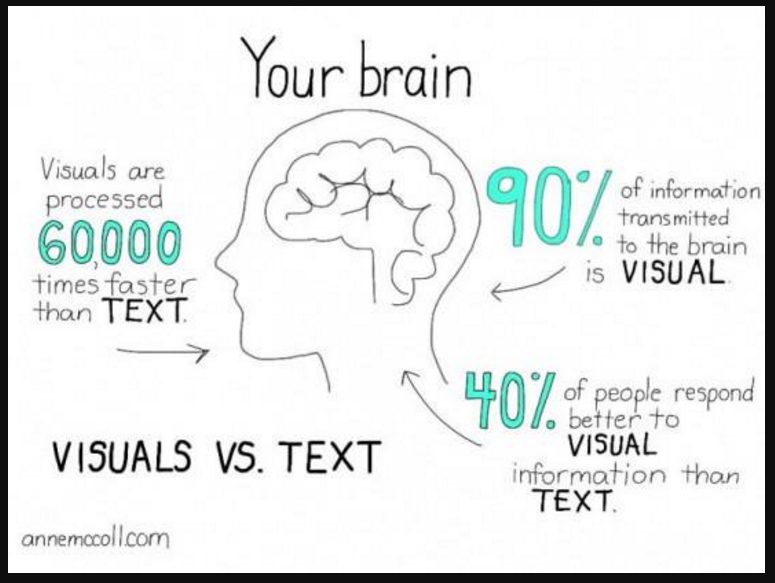 So whether it's on YouTube, Snapchat, or other integrated channels, here are some tips on how you can use video content to boost your organic reach. First, though, let's look at some useful stats on some of the leading platforms that you can capitalize on.
Fun Facts About Leading Social Media Platforms
Facebook has averaged more than 1 billion video views every day since 2014.
Facebook users are mostly 25-34 year-old men and women.
It has a strong mobile presence in its local market, with the Facebook Messenger app ranking second in usage.
The amount of video from people and brands in the News Feed has increased 3.6x year-over-year globally.
More than 50% of people who come back to Facebook every day in the U.S. watch at least one video every day.
Learn More: Facebook Lead Ads: How to Increase Mobile Conversions
YouTube has more than 1 billion users, which is almost a third of the Internet population.
YouTube reaches more 18-34 and 18-49 year olds than any cable network in the U.S.
More than half of YouTube views come from mobile devices.
The number of channels earning six figures each year on YouTube has increased by 50% year-over-year.
Learn More: A YouTube Video Marketing Guide to Increase Prospects in Your Funnel
More than 400 million people use Instagram daily.
Most Instagrammers are between 25-34 years old. The social network's second-largest user group are 18-24 year olds.
80% of Instagram users follow a business.
Every day, more than 200 million Instagrammers use Stories, a 24-hour snapshot of personal photos and video.
Learn More: 18 Reasons Why Your Instagram Posts Fail (And What to Do About It)
Snapchat has 166 million active daily users.
More than 50% of Snapchat users in the U.S. are 25 years old and older.
Snapchat is used mostly at home, restaurants, concerts, gym and the airport.
Learn More: 10 Ways to Get More Snapchat Friends for Your Business
82% of Twitter users watch video on the social media network.
90% of Twitter video views happen on a mobile device.
Twitter users say they want to see more videos from celebrities, other Twitter users and brands.
Native video on Twitter drives a higher level of engagement than third-party videos.
Learn More: 10 Content Marketing Tools that Can Help You Increase Engagement on Twitter
How to Leverage the Shift in Video Content
Before posting that video, here are some helpful tips from Facebook itself:
Your video needs to be something that your audience will want to watch and share. Post video clips that no one else will have, which are more compelling and thought inspiring.
Callaway Golf, for example, regularly posts raw video highlights of golf tournaments on their Facebook Page. An awe-inspiring bunker shot by Wesley Bryan at the US Open garnered more than 500,000 views, 1,600 likes and 199 shares.
Check out their rather amusing raw shot of Patrick Reed at TPC Scottsdale, which has earned more than 100,000 views, 1,600 likes and 255 shares:
With the launch of auto-play and the ubiquity of social media on mobile, it's getting a lot harder to attract attention. So the first frames of your video are crucial. Auto-play videos play silently in the News Feed until someone taps to hear sound. Videos that catch people's attention even without sound often find success.
MasterClass videos on Facebook, for example, showcase short video clips about learning "from the world's best," including Steve Martin (comedy), Hans Zimmer (film scoring) and Jane Goodall (conservation). These videos feature striking visuals overlaid with a transcription of what's being said, which makes it easier for people to consume the video content without turning the sound on.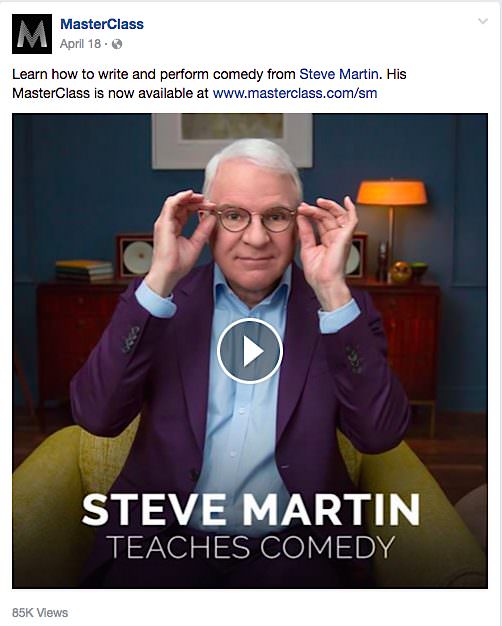 Shorter and timely video content tends to do well in the News Feed. Videos up to two minutes long get more engagement according to research.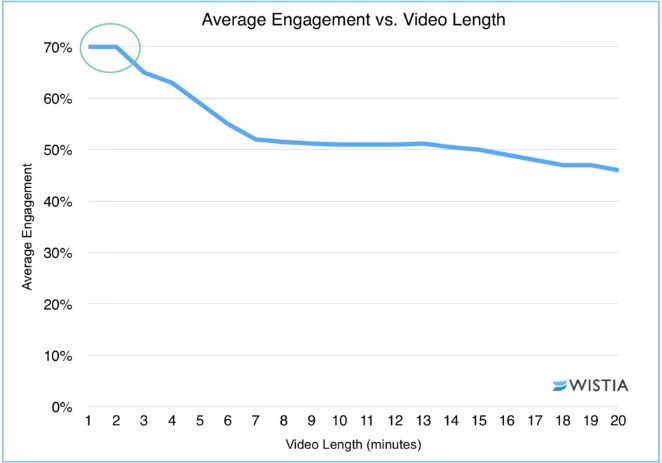 Break up videos in a series instead of posting one long video to make it easier to digest. It will give the audience something to look forward to. Plus, it will give you time to study the insights to know what people enjoyed seeing and what didn't work well, so that you can improve the next video in the series.
When posting a video on social media, always include a call to action to direct users to your landing page. Use directional cues within the video, such as a physical action, like an arrow or person pointing, or a verbal instruction. The CTA button can be shown at strategic times throughout the video, presented at the end, or permanently visible.
Learn More: How To Create CTAs that Actually Cause Action
Include videos on your landing page to increase the time that your audience spends on the page, which will provide a better chance of converting them.
Embed video about new and upcoming products in your e-mail newsletters. Adding a video to marketing e-mails can boost click-through rates by 200-300%. You can also include instructional or how-to videos for some of your products to demonstrate its features and build up interest. Publish the same video on YouTube or your chosen social media channels for easy access and sharing.
Growth Everywhere's YouTube channel includes a clear image and descriptive title as the thumbnail image for their entrepreneur interview series: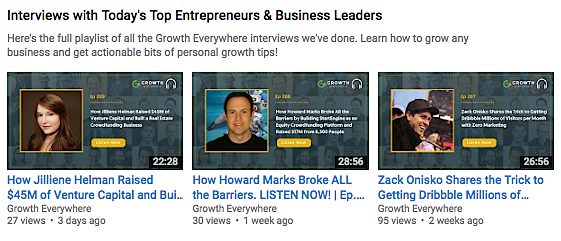 Other Types of Compelling Video Content You Can Create
1) Videos that Involve Your Customers
Encourage your most loyal fans or customers to send in their video testimonials as a form of social proof. Ask them to include few sentences about why they like and follow you, or how your product and service has benefitted them. Most people love to be asked for their opinion and excited about being featured on their favorite company's website or social media channel.
2) Videos that Tell a Story
People crave authenticity, so let them have it. Use Instagram Stories or Snapchat to show your audience what goes on behind the scenes when it comes to how your product is made or how you render your services. You can also feature a day in the life of your employees with the theme "what makes them inspired to go to work every day."
Better yet, tell your own story. What is your day like? How did you start your business? What's your success story? What were your challenges and struggles as you founded your company?
3) Instructional and Q&A Videos
Whether via Facebook Live or Periscope, update consumers with your latest or upcoming offerings. Ask industry influencers to guest on your Live video and talk about the trends in your niche, provide tips or offer nuggets of wisdom on how to achieve success like they have.
Learn More: 12 Engaging Types of Video Content that Viewers Love to Watch
Conclusion
In its earnings call for first quarter 2017, Facebook Chairman and CEO Mark Zuckerberg said they are going to keep putting video at the center of all the channel's services.
Twitter has rolled out its In-Stream Video Ads and has expanded its premium video streaming service.
And Snapchat's Lenses has now expanded into augmented reality with environment detection.
All these and other developments only prove that video content will continue to be a game changer in digital marketing. It's a very powerful medium and quite versatile when done right. The most important thing to remember is to be honest to your audience. Authenticity builds trust by allowing you to show your uniqueness and your brand's personality.
If you haven't yet included video content in your marketing strategy, right now is the time to get started! It's one of your best bets to get out of this organic reach slump.
What other video content marketing tips can you share? Let us know in the comments and begin telling us your brand story.