Did you miss the previous post in this video marketing series? No worries, you can catch up right here: A YouTube Video Marketing Guide to Increase Prospects in Your Funnel
Snapchat may have started out as a simple app for teens (originally called "Pictaboo") in which photos disappeared once you sent them, but now it is one of the fastest growing social media platforms today: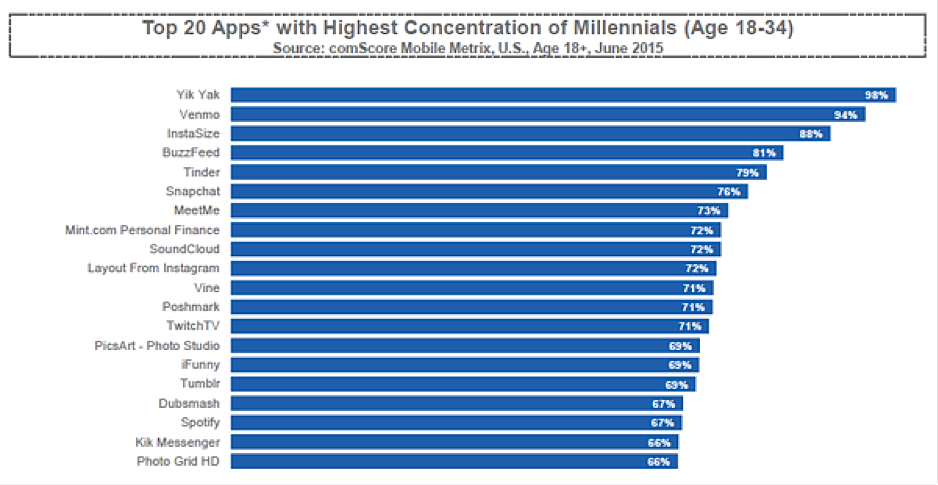 Although brands, such as Taco Bell, were making good use of this platform as early as 2013, it wasn't until 2015 that Snapchat started monetizing and McDonald's became its first client with a geofilter advertising campaign. Now, just a year later, Snapchat is proving to be a great way for brands to engage followers.
Getting Started with Snapchat
In this section, we'll dive into the different features of Snapchat and define some of the terms before we get into the marketing strategies.
Snapchat Stories
Snapchat stories are a collection of individual snaps that be viewed for up to 24 hours. Snaps can either be a picture or a video that lasts anywhere from 1 to 10 seconds.
To record a video, press and hold the button at the bottom of the main screen. To take a picture, just tap the button instead.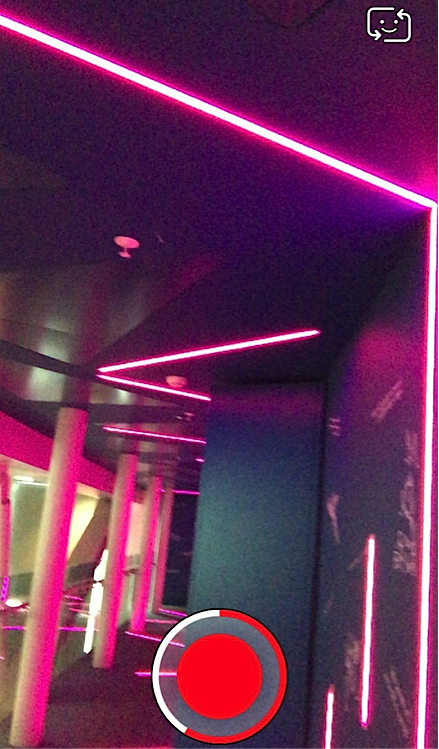 Your snap stories are viewable for up to 24 hours by everyone who follows you and you can also view stories published by anyone you follow.
Some metrics you can track here are:
1) number of people who viewed your story
2) number of screenshots
3) which individual users viewed your story
The Chat Feature
By swiping right on the main screen, you'll reach the chat page, where you'll see options to chat individual users. To chat with someone, you can swipe right on their name after viewing their story or tap the chat icon in the upper left corner.
You can bold, underline or italicize your text by pressing and holding your caption. You can then send them a message that will disappear after they've read it, or if you or the recipient want to save the message, just press and hold it.
Here's a short video (1:04) from Snapchat that explains how the chat feature works:
Lenses
Snapchat launched the lenses feature to let users overlay fun animations on their selfies.
Open the main screen of the app, make sure that the front-facing camera is activated, and press-and-hold on your face until a series of lenses appear at the bottom of the screen.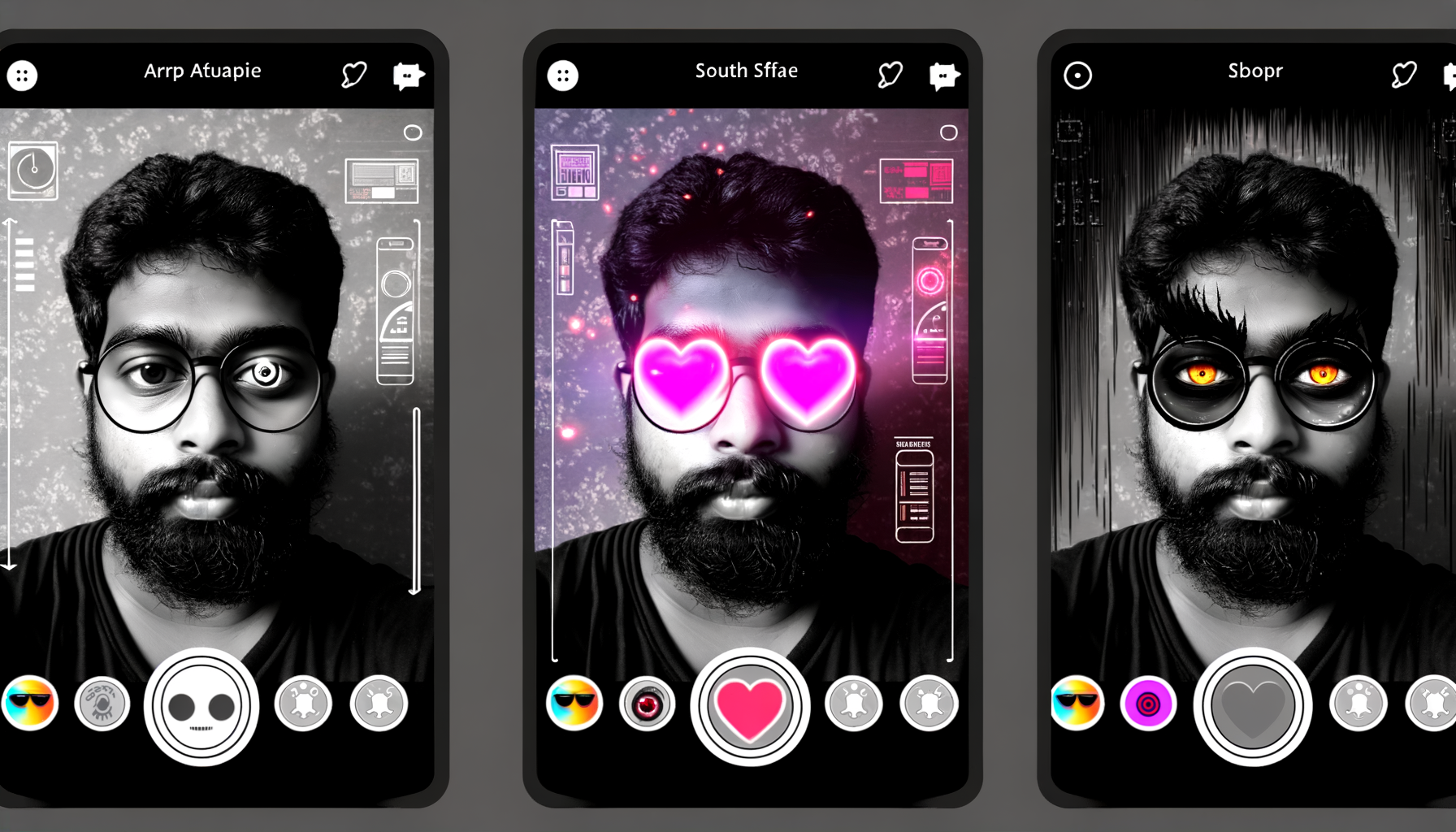 Source: PC Advisor
Users can make rainbow vomit flow out of their mouths, add an animated mustache on their face, "face swap" with a friend, or choose from a variety of other animations.
For larger brands, Snapchat sells custom sponsored lenses. Gatorade developed a lens that allowed users to experience a virtual Gatorade dunk like the NFL pros do after a Super Bowl win, and it was viewed over 165 million times — more than the Super Bowl itself.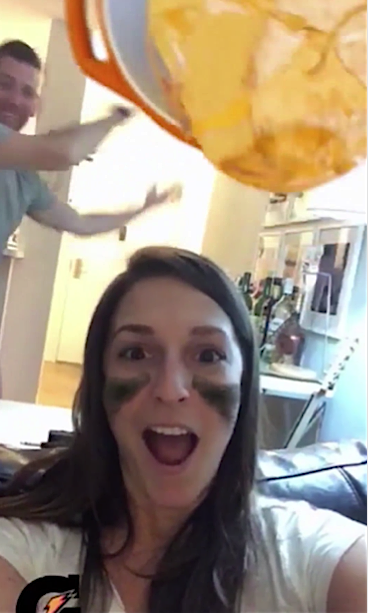 Source: Snapchat
Kraft also partnered with Snapchat for a sponsored lens campaign. Through the campaign, users were be able to virtually catch macaroni in their mouths, and score points for each catch. According to the case study, the lens reached nearly 20 million users with an average engagement time of 20 seconds.
Free Bonus Download:
Get the perfect accompaniment to Snapchat video marketing with this detailed guide on YouTube video advertising!
Click here to download it free.
The campaign also gave Kraft a 5-point increase in brand favorability and a 13% boost in purchase intent.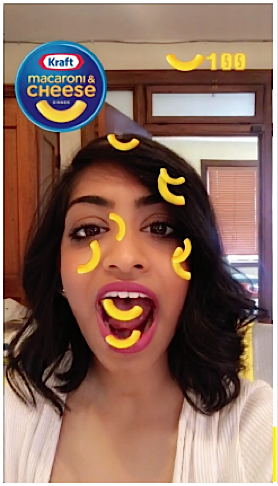 Source: Snapchat Case Studies
The Fox television show Empire also partnered up with Snapchat to create a sponsored lens campaign. The main goal was to drive more viewers to an upcoming season premier, as well as grow their Snapchat following. Once users unlocked the lens, they could record audio vocals (which fit the theme of the show) and share them with friends.
According to the case study, they were able to reach 27 million users with an average engagement time of 20 seconds. They also saw a 16-point boost in brand awareness and an 8-point increase in intent to watch.
Ultimately, the results speak for themselves: Empire's season premier after the sponsored lens campaign was the top rated and most-watched show on TV.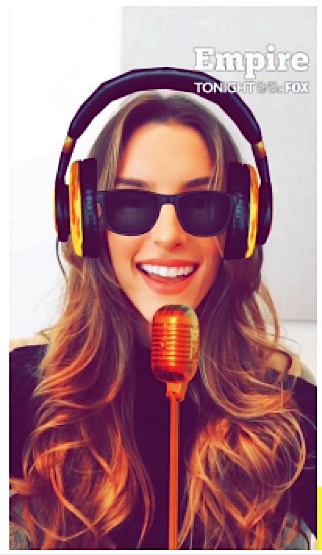 Source: Snapchat Case Studies
Filters
Applying filters is another way to enhance your Snapchat content. After taking a photo or a video, swipe right over it to choose a specific overlay filter.
One type of filter that's only available in specific locations is called the "geofilter." Here are some examples from Beverly Hills, Brooklyn, and Paris: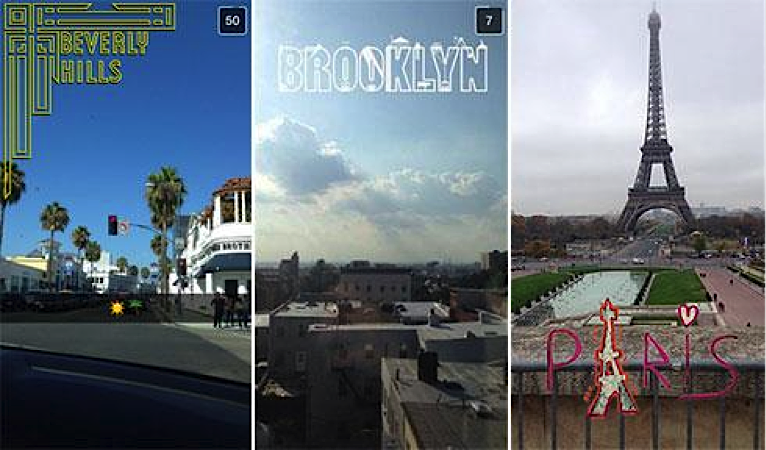 Source: 248am
For businesses, Snapchat has On-Demand Geofilters available. For a small charge, you can design your very own geofilter for a location of your choosing (minimum 5,000 square feet, maximum 5,000,000 square feet).
You can learn more about these On-Demand Geofilters in this video (0:50):
If you're hosting a local event or meetup at an office, an On-Demand Geofilter could help you spread the word more effectively.
Gary Vaynerchuk used this type of geofilter to "brand" his book launch event as well as a keynote presentation.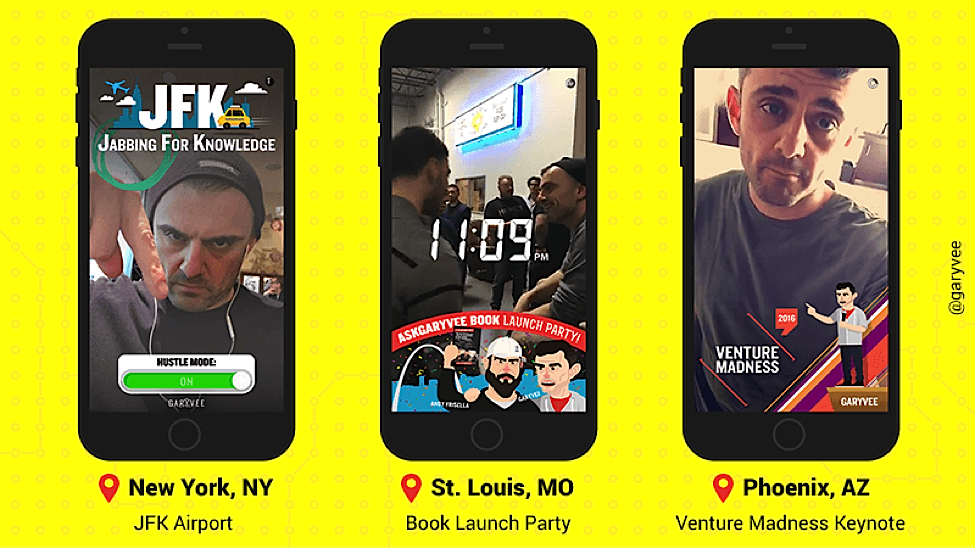 Source: Gary Vaynerchuk
Vans partnered up with Snapchat to add a custom On-Demand Geofilter in various locations throughout the U.S. to highlight spaces that represent Vans' history. The geofilters featured eye-catching art to accurately represent the Vans brand.
According to the case study, 20% of people who unlocked the geofilter chose to send it to their friends. Vans saw a 34-point boost in purchase intent — which is 2.5x greater than standard benchmarks for mobile retail. They also saw a 20-point boost in brand favorability, which is 3x greater than standard benchmarks for mobile retail.
Adding friends
To add friends on Snapchat, tap the Snapchat logo at the top of the main screen of the app.
Click "add friends" to add your pals by username, from your contacts list, by snapcode, or to add people who are nearby.
Snapcodes are unique QR-like codes that you can use to quickly add new friends. Just screenshot someone's snapcode, go to "add friends -> add by snapcode," and then allow Snapchat to scan the snapcode from your photos.
This can also an effective way to build a following on Snapchat. For example, Forbes replaced their Twitter profile picture with their snapcode so that their Twitter followers can easily screenshot the code and follow them on Snapchat with just a couple of clicks.
Learn More: 10 Ways to Get More Snapchat Friends for Your Business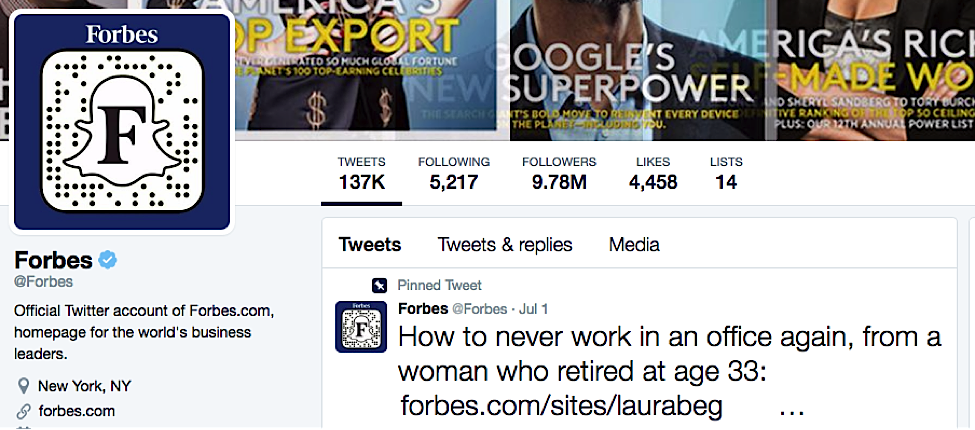 Our Single Grain CEO Eric Siu did something similar with his own Twitter profile: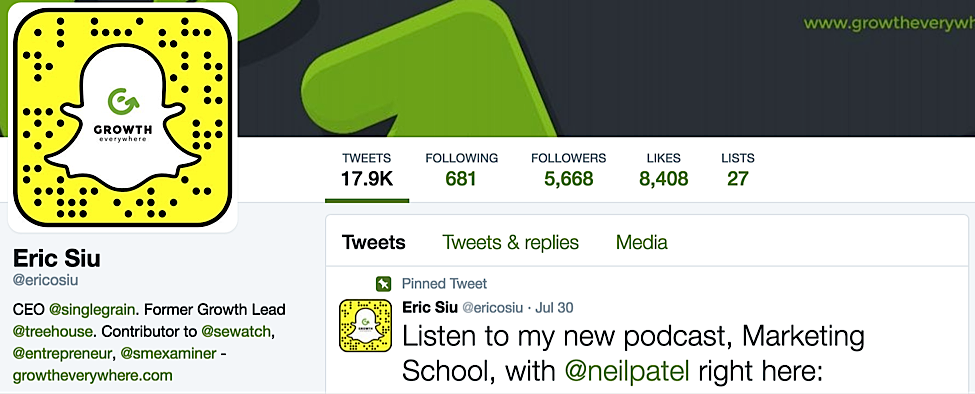 Now that we have a good sense of the components of the platform, let's dig into how to leverage them in your overall video marketing strategy.
Free Bonus Download:
Get the perfect accompaniment to Snapchat video marketing with this detailed guide on YouTube video advertising!
Click here to download it free.
How to Leverage Snapchat for Video Marketing
Before diving head first into trying a new marketing tactic, it's important to take a second to understand how the platform fits within your overall marketing strategy.
Let's break down the marketing funnel, and where Snapchat would fit in.
Source: KISSmetrics
The first stage of the standard marketing funnel is the "awareness" stage, where prospects first become aware of your business, your products, and what you have to offer.
Next, there's the "interest" stage, where you get customers from the awareness phase interested in your product. A common way to do this is by offering a lead magnet, such as a webinar or an e-book, to get people to sign up to an e-mail list. You might also engage leads with an autoresponder sequence where you give them more information about their problems, how they can solve them, and how you can help.
Lastly, once customers are aware of your product, have expressed interest, and have made their way down the buyer's journey, it's time to convince them to buy. At this stage, you might engage them with sales calls or free trials, etc.
Snapchat doesn't have a proper way to discover new users within the platform yet. You can only add friends if you know their username, snapcode, or have them on your contacts list. You can't discover new user accounts of people who you don't know.
Because prospects who haven't heard of your business can't become aware of it through Snapchat, we can't include Snapchat in the 'awareness' stage of the funnel.
Learn More: The Marketing School Podcast with Neil Patel and Eric Siu
However, Snapchat is excellent for engaging followers. Wicked Society found that Snapchat got a nearly 4x higher engagement rate on video compared to Instagram. In fact, they found that a brand on Snapchat can have the same reach with 100,000 followers as it would with 2 million followers on Instagram.
This makes Snapchat great for middle of the funnel content.
You can spend some time answering questions one-on-one, or use the ability to snap a follower individually to build a personal relationship with them. Snapchat is great for engaging with your followers.
From there, you can include a snap in your snap story with a link to a page with a discount code or promo. That way you can drive people from the middle of the funnel to make a purchase decision once they're ready.
Now that you have a good sense of how Snapchat fits into the overall mix of things, let's get into the tactics of using Snapchat in your video marketing.
Encourage Story Replies
One of the biggest features of Snapchat is the story, where users can post a series of snaps for all their followers to see for 24 hours.
Your followers can respond to each one of your individual snaps in your story. You can use this feature to get feedback on your snap story and measure user engagement as you would through a blog post (i.e. via blog comments).
Businesses are using the story replies feature to conduct Q&As, informal contests, polls, and more. For example, on The New York Times Snapchat account, staff members held a Q&A session with a former critic from The New York Times, and used story replies to gather questions and feedback.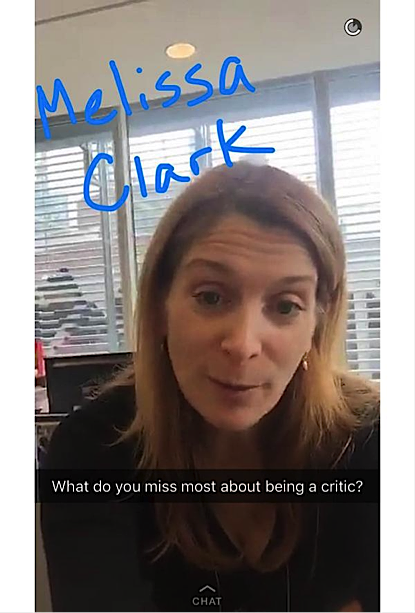 Audience feedback can give you some overall direction on the kind of content you should be producing, and the type of material your followers resonate with most.
Offer Promo Codes
Because Snapchat isn't flooded with marketers yet, it still has significantly higher engagement rate compared to other platforms.
That's why brands have seen a high success rate using coupon codes in Snapchat. You can post a snap on your story, or snap followers individually with a promo code or URL that they can go to for a special offer.
This is a great way to generate ROI through the platform.
For example, GrubHub used this strategy to get their followers to make more orders on their site: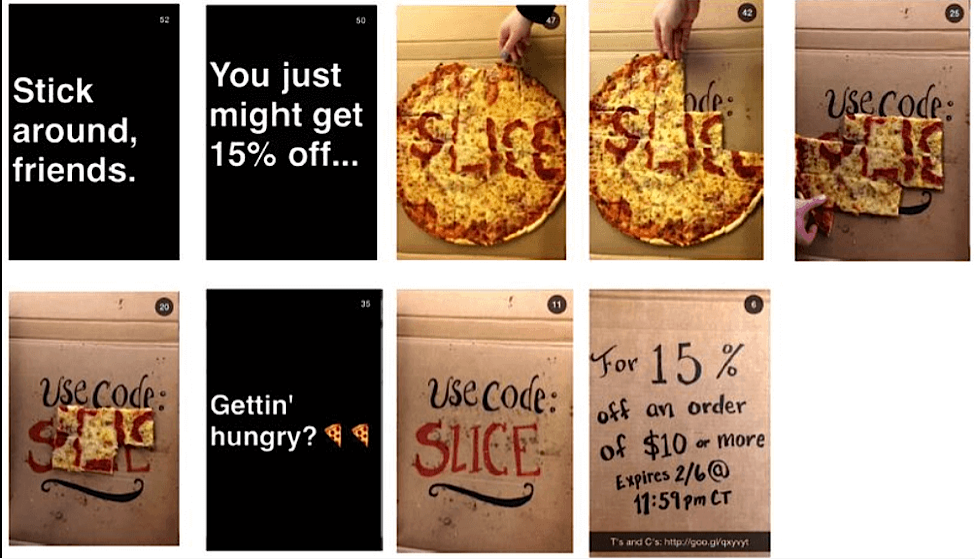 Asos also used Snapchat to promote discount codes for their products. Urgency is a known sales trigger, and because Snapchat has built-in urgency (due to the disappearing images on the platform), users had to screenshot the images to use the codes for purchase.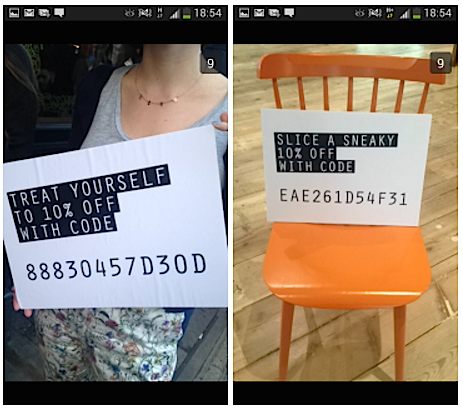 Since you're directing your followers to a specific link, you can easily measure engagement by tracking how many people visit that URL. That way, you can estimate the ROI of Snapchat.
Launch Products
According to WPcurve, NARS turned to Snapchat to promote its latest cosmetics collection.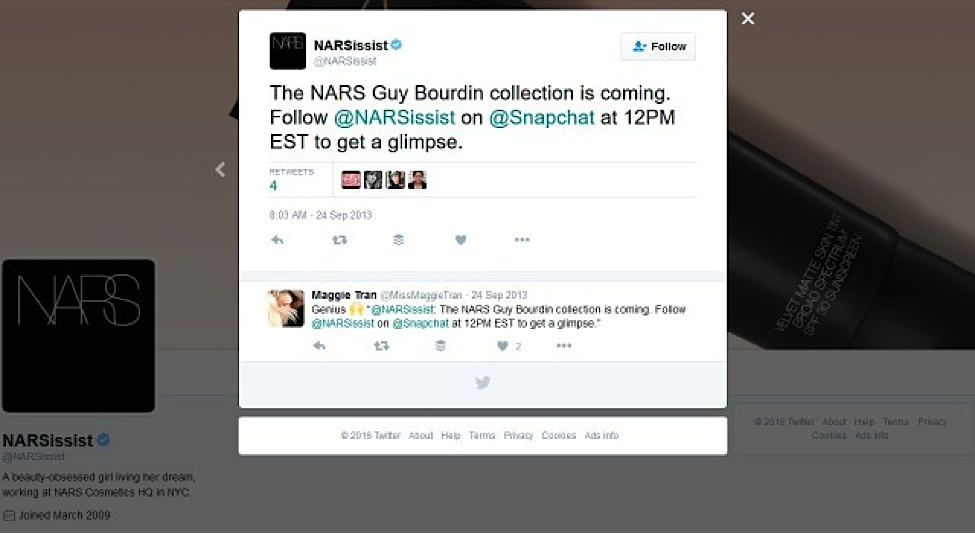 They mentioned on both their Instagram and Twitter accounts that they had a new collection coming, and that only their Snapchat followers could get a glimpse. Only people who added NARS on Snapchat were able to get a look at the new product line.
According to WPcurve, content on Snapchat can be quickly and easily produced, but it also needs to be shot in the moment. This gives businesses an opportunity to come off as more relatable to their audience.
Free Bonus Download:
Get the perfect accompaniment to Snapchat video marketing with this detailed guide on YouTube video advertising!
Click here to download it free.
Use Influencer Marketing
One of the quickest ways to build a following and generate sales on your own is by borrowing the platform of existing influencers.
For example, Audi wanted to target millennials, so they partnered up with Pretty Little Liars, a TV show with a large millennial viewership.
Just before the season finale (which would have extremely high viewership compared to all the other episodes), Audi posted a series of snaps asking people to tweet what they think might happen on the show's season finale.
Learn More: Influencer Marketing 101: How to Succeed

Audi gained over 115,000 followers on Snapchat from this campaign alone.
Snapchat's engagement levels are significantly higher than other platforms due to the lack of major brands overcrowding it.
If you have a small business and want to get in front of a larger audience through Snapchat, you can leverage influencer marketing by doing something called an "influencer takeover."
Influencer takeovers are essentially events in which an influencer posts snaps on behalf of your brand for a certain period of time. For example, Adidas worked with Pharrell to do a takeover of an Adidas event. The snap story of the takeover ended up getting over 3.4 million views in just 24 hours.
By finding influencers in your niche and getting your content in front of their audience, you can build a larger following relatively quickly.
Conclusion
Snapchat is an up-and-coming platform that still isn't crowded with brands and advertisements — which means that marketers who jump on it now will get tremendous results.
Stay tuned for the next post in this video marketing series tomorrow: How to Craft a High Converting Explainer Video
Will your company be developing a Snapchat strategy? Let us know in the comments below!