Everyone's on social media. The number of social media users worldwide is 3.484 billion, up 9% year over year. And to put that into perspective, the world population is 7.7 billion.
According to Brandwatch:
Facebook boasts a whopping 2.375 billion daily users
YouTube has 1.9 billion users
Instagram has one billion users
LinkedIn has 610 million users
Twitter has 330 million users
Snapchat has 190 million users
That's an awful lot of social media users.
Almost every brand is on one or more social networks running marketing campaigns, which means that social media advertising spend in the U.S. alone is expected to reach $18.4 billion this year! And that number is likely to increase to $37.71 billion by 2020: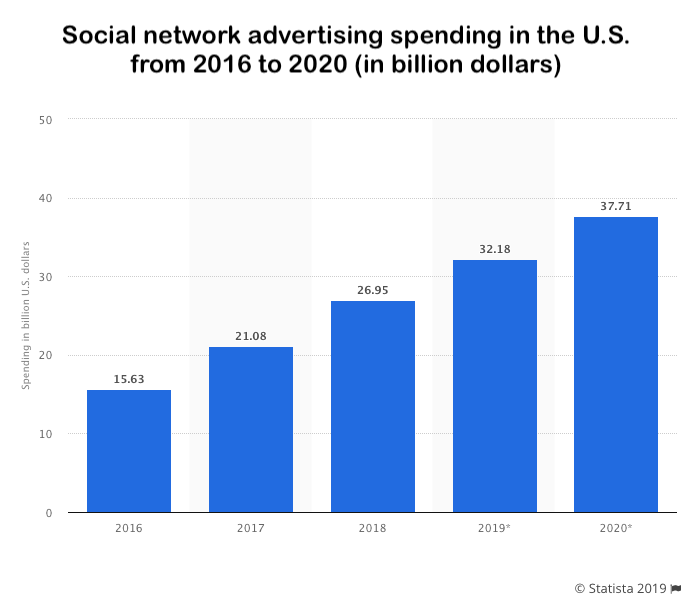 Further, 73% of small businesses are investing in social media marketing with nearly all (95%) planning on increasing their marketing budgets in 2019.
The reason why social media is important to marketers is because it allows them to put their brand out there while implementing strategies, measuring outcomes and, ultimately, influencing their target audience to act in a certain manner. Very few brands, however, taste success.
While there's no one-size-fits-all formula to ensure a winning social media campaign, there are certainly lessons to be learned from brands who have managed to pull it off and are now reaping the benefits.
Here are a few success stories from companies using social media to boost your inspiration!
Starbucks
When Starbucks used Instagram to promote their Unicorn Frappuccino, their global same-store sales and same-store sales in the Americas increased by 3% for the second quarter.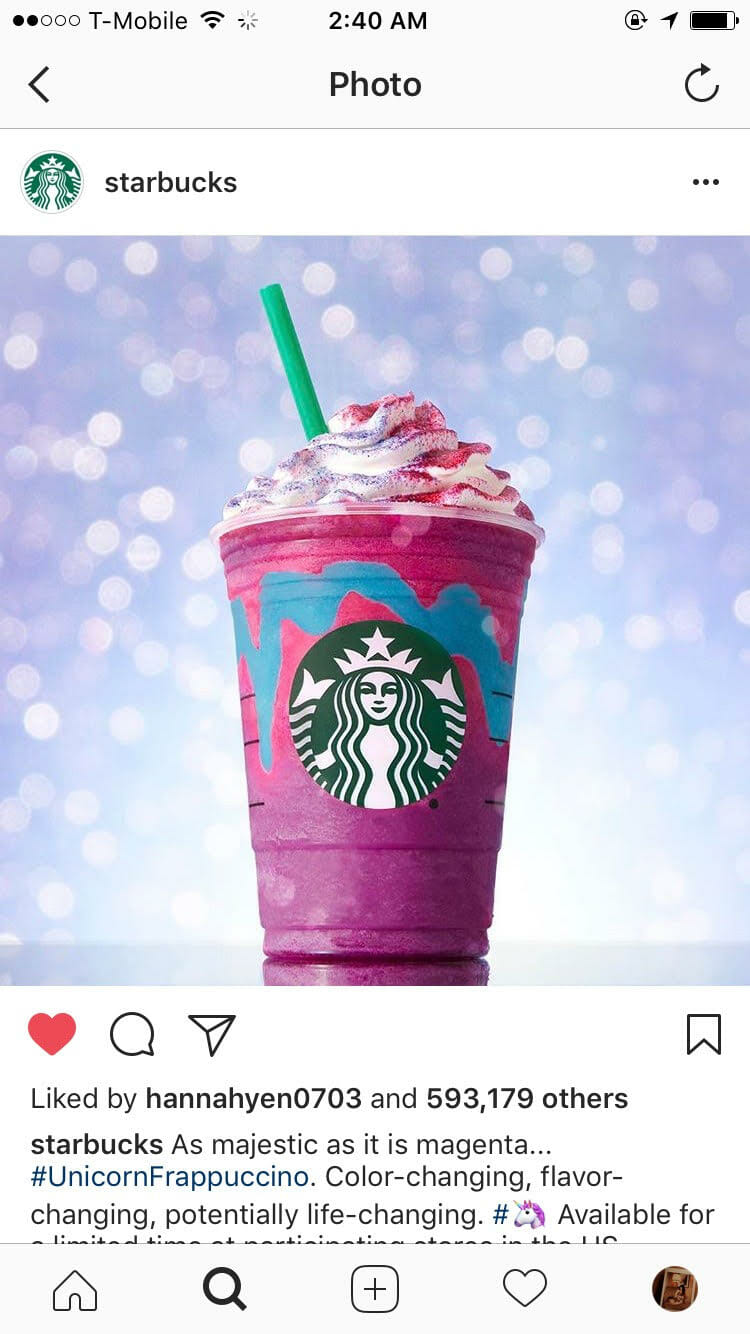 In unveiling their Unicorn Frappuccino, a neon-colored pink-and-purple fruity drink that changes color as you consume it, Starbucks not only piqued their younger customers' curiosity, but they successfully aroused feelings of FOMO (fear of missing out) among Millennials due to the limited-time of the beverage.
The photogenic concoction attracted innumerable eyeballs with an army of consumers posting pictures of themselves with it on Instagram, as well as Facebook, Pinterest and Twitter: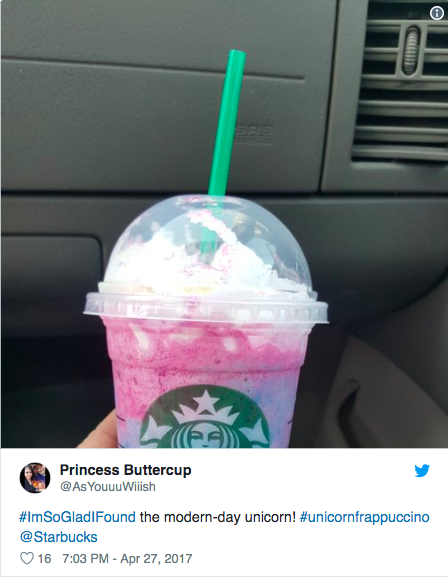 The Unicorn Frappuccino and its hashtag #unicornfrappuccino generated nearly 155,000 posts and directed huge amounts of foot traffic to the physical stores, keen to taste the beverage before it sold out.
Creating scarcity is an age-old marketing trick, which seems to be effective even in modern times as exemplified by Starbucks's successful campaign on Instagram. Capitalizing on this tactic via social media can create opportunities for your campaign to go viral in no time.
Starbucks played smart and knew exactly how to trigger its social-media savvy audience and wasted no time in implementing their strategy. The results were for everyone to see (and learn)!
Dive Deeper: 
IHOP
The International House of Pancakes decided to become the International House of Burgers for a short while in the summer of 2018: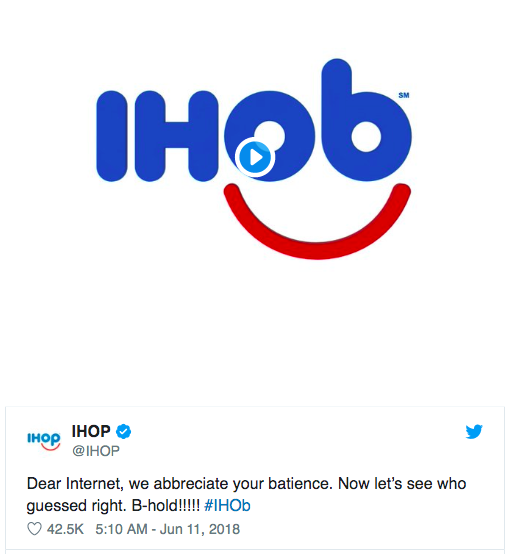 IHOP leveraged Twitter to announce a temporary name change to "IHOb" by asking its followers to guess what the letter "b" stood for. The result? Mass engagement with over 30,000 users responding with their guesses. When IHOP/b finally shared the new name, their tweet received almost 15,000 retweets.
The campaign certainly accomplished its goal of setting tongues wagging about its brand. It even managed to attract other brands' attention. Wendy's couldn't help but take a little dig at their potential new competitor by commenting, "Not really afraid of the burgers from a place that decided pancakes were too hard."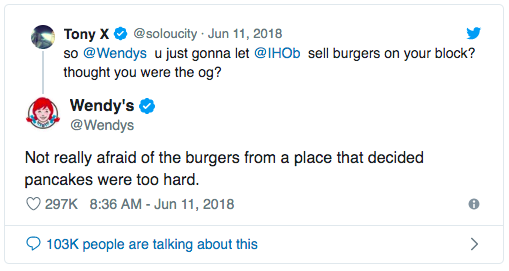 YouGov, which tracks the perception of more than 1,500 brands daily through its BrandIndex, stated that IHOP's Word-of-Mouth Score rose in the week after the announcement. In addition, its burger sales quadrupled as a result of their marketing gimmick.
Dive Deeper: 10 Content Marketing Tools that Can Help You Increase Engagement on Twitter
Wix
Because of the $5 million price tag for a 30-second spot during the Super Bowl, Wix decided to make sure that as many people as possible saw their ad – so they used Facebook's and YouTube's Live Video features to air a teaser of its Super Bowl ad:
The Super Bowl campaign, starring Gal Godot and Jason Statham, was shot by director Louis Leterrier, known for his work in the Transporter movies and The Incredible Hulk, among others.
Since Facebook and YouTube announce when a brand goes "live," Wix's video teaser got 3.2 million Facebook likes, 3.2 million Facebook follows and 50,000 YouTube channel subscribers. Using these social media platforms helped the website-building brand attract much a lot more attention than they ordinarily would have, considering that the younger demographic doesn't watch traditional television as much. Furthermore, the engagement was easily quantifiable.
Omer Shai, Chief Marketing Officer at Wix, said that the campaign built brand awareness and that millions of users had interacted with the campaign online within 24 hours of seeing the video.
Dive Deeper:
Airbnb
Airbnb launched a series of live videos with the tagline "We Are Here," which showed travelers using Airbnb's new "Places and 'Experiences" options. This campaign came at a time when Airbnb wanted to grow and become more than just an accommodation provider for travelers.
In this endeavor, the company announced the launch of its "Trips" platform using Facebook Live: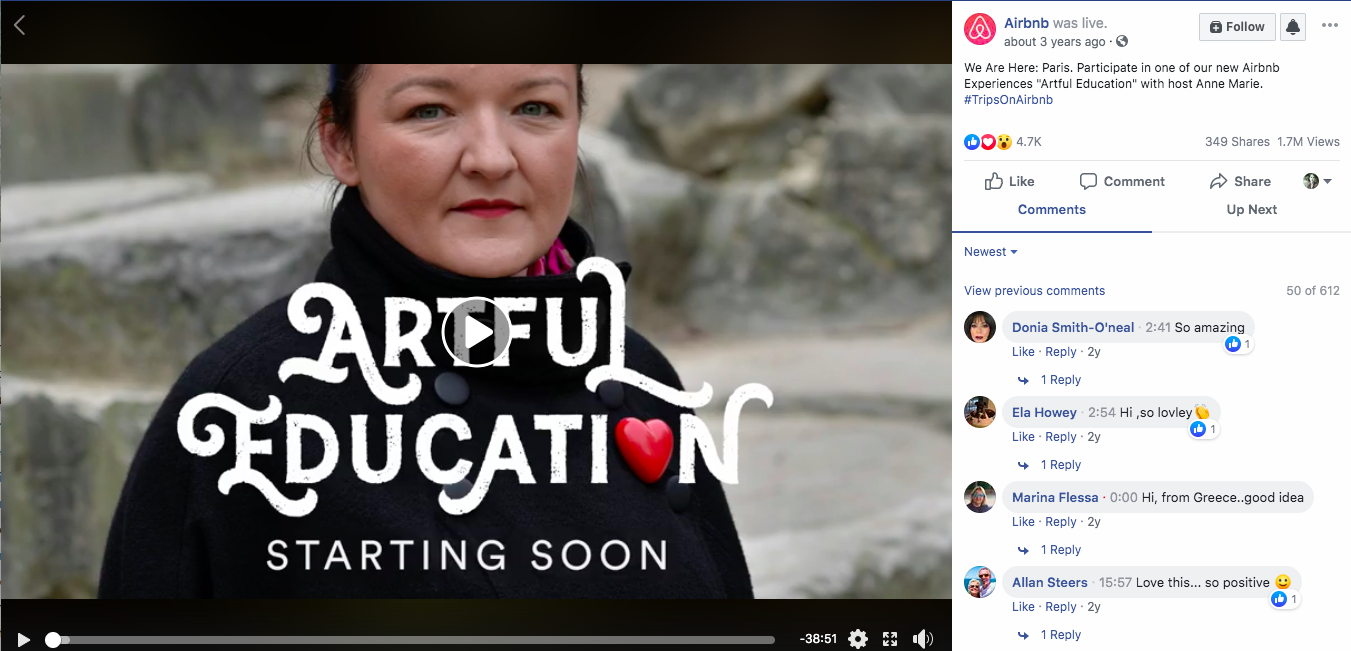 During the 24-hour launch period, people could post live videos of themselves indulging in exciting activities at their travel location. These included surfing in L.A., cooking authentic Venezuelan cuisine, partaking in performance arts in Paris, street dancing in SEOul, and more. All these breathtaking experiences were transported to Facebook users via the Live feature.
Airbnb used their Facebook Live campaign to show potential customers the wide array of thrilling activities that are available to participate in all over the world. And, most importantly, they can easily experience these activities with Airbnb.
The campaign attracted over 6.2 million views of the six live streams around the world. Miami, Paris and Tokyo were the top-viewed streams with Miami alone receiving more than 2 million views: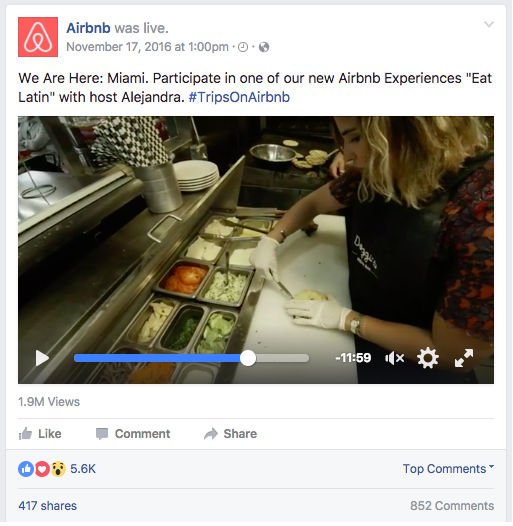 According to Shorty Awards, the campaign squarely hit the "target demographic for Trips with views from millennials contributing to over 22% of those that tuned in (ages 25-34)."
They also noted that the engagement and views were coming from over 13 countries, which enabled the successful launch of Trips.
Dive Deeper: How to Use Live Video (Facebook & Instagram) to Grow Your Business
Casper
If you think cross-channel marketing is overrated, think again! Casper, the sleep products e-tailer, did a great job of leveraging multiple channels to reach a wider audience base. The logic? Not everyone uses every social media platform. It is, therefore, a good idea to create a strong presence on a few networks and share the same content on each.
Apart from harnessing the most popular networks such as Instagram, Facebook and Twitter, Casper made good use of platforms like YouTube, Spotify and IGTV to telecast their new Casper Sleep Channel. This was done to help listeners doze off with their sleep-inducing segments of sounds, meditations and bedtime stories (interestingly, the mattress brand's products were never mentioned):
Casper shared all its new Sleep Channel episodes on each of the three platforms while promoting a teaser on their other social media profiles simultaneously. This proved to be a great way to create buzz around their sleep channel, increase their following on other platforms, and cross-promote content.
As Elise Dopson puts it: "Getting maximum ROI on your content marketing is almost impossible if you're not using an omnichannel approach to distribute your content and ensure that it's actually seen in a world saturated with content."
CROss-channel marketing may seem like a time-consuming endeavor, but using modern social media management tools can go a long way in simplifying things.
Dive Deeper:
Taco Bell
Who doesn't love Snapchat filters? Taco Bell capitalized on this social media gem and created a Snapchat filter in honor of Cinco de Mayo.
As part of the campaign, the filter allowed users to transform their face into a giant taco shell that's seasoned with Diablo sauce. With this filter, Taco Bell aimed at providing users with an exciting way to share Cinco de Mayo with their friends and, at the same time, included subtle branding with the taco-shaped head playing the chain's famous "bong" sound: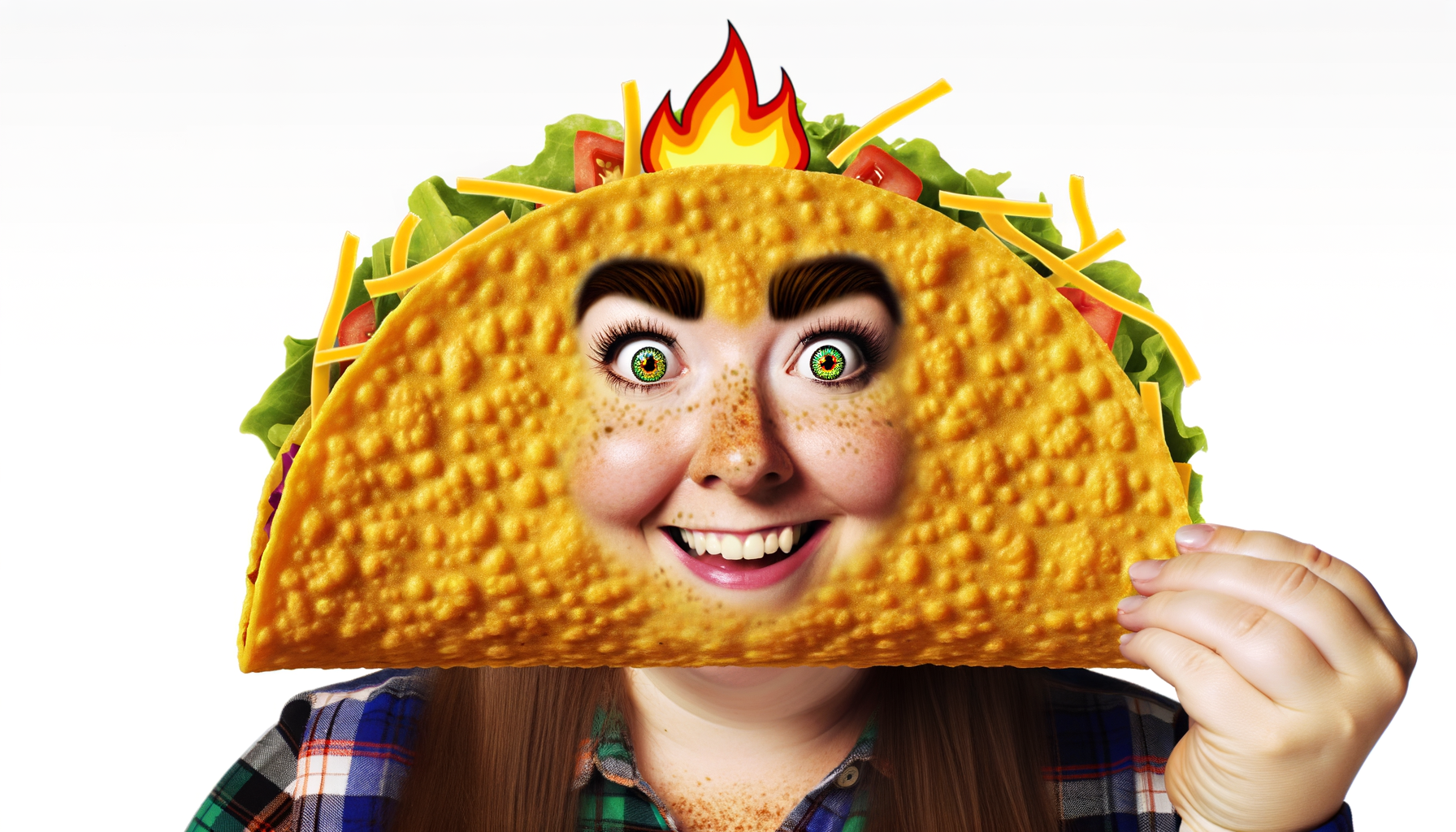 Taco Bell successfully shattered a Snapchat record with its filter: even though the campaign went live for just a single day, it managed to become the most-viewed Snapchat lens ever. As per TINT, "it generated a whopping 12.5 years' worth of play in just a single day," even beating Gatorade's Super Bowl campaign that had more than 165 million views.
TINT also observed that "the lens was viewed more than 224 million times in one day, with Taco Bell dishing out $750,000 for the pleasure – at a cost of just 0.3 cents per view." What more could a fast food chain ask for?
Dive Deeper: The Marketer's Guide to Snapchat
Red Bull
Red Bull implemented their marketing campaign on Instagram with the goal of creating extended awareness of the brand and increased sales of their Summer Edition tropical energy drink in the Australian market: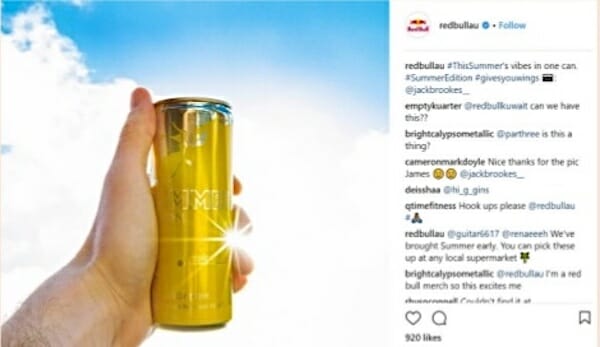 Red Bull decided to keep things simple and focus on brand-building initiatives. It kickstarted the campaign with a promotional teaser that was launched right before the arrival of summer. To bring the audience's attention to the updated appearance of their cans, they included yellow filters across an array of images and videos that displayed summery days.
One of the main obstacles for energy drinks is their taste, so this campaign also used the hashtags #thissummer and #redbullsummeredition to superimpose the idea of customers sipping on their refreshing, tropical-flavor summer drink.
The campaign was immensely successful, resulting in:
10-point increase in top-of-mind awareness among customers
9-point rise in favorability
7-point decrease in the unconvinced market
1.2 million – number of consumers reached
Give customers an engaging social media campaign and you're sure to have them eating – or drinking! – out of your hand. When used well, Instagram can be a potent tool to drive engagement – and Red Bull hit the nail on the head!
Dive Deeper:
Museum of Ice Cream
The Museum of Ice Cream leveraged Instagram as a platform to serve as a digital extension of their physical stores: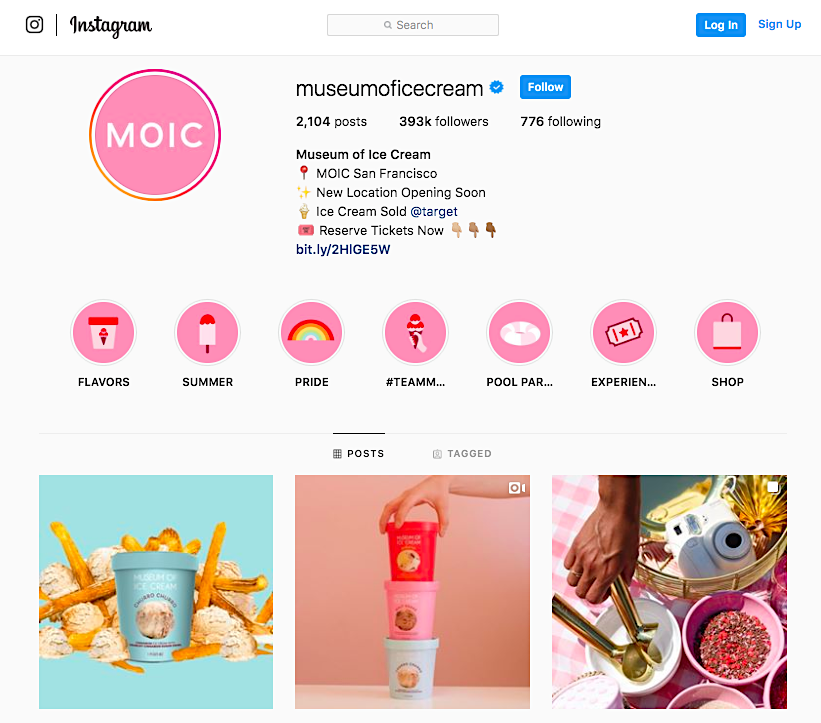 This helped make the brand more appealing to customers both offline (at their four pop-up outlets) and online (social media), and Instagram is known for creating a sense of unification of digital and physical environments.
The Museum of Ice Cream made good use of its presence on Instagram:
They accumulated a following of 393K organic followers
They grew their organic reach to 280 million
The hashtag #museumoficecream is reported to have 72 million engagements
All four of their locations received a combined footfall of more than 500K people (with celebrities such as Beyonce, Gwen Stefani, Chance the Rapper among them)
The campaign presented the Museum of Ice Cream with opportunities for making real connections with customers and encouraged them to share their experiences.
Dive Deeper: 18 Reasons Why Your Instagram Posts Fail (And What to Do About It)
Conclusion
When created with a vision and a specific purpose, and implemented in a well-thought-out manner, social media campaigns can produce encouraging results.
With careful planning and collaboration, and a hefty dose of creativity, the brands in these examples managed to make the most of these social media platforms and achieve their marketing objectives. Hopefully, their success stories will inspire you to leverage social networks to your advantage and create a customer engagement record of your own!