Though it is only eight years old, Instagram has set many popularity records for social media.
Within three months of its launch, it had reached the magic figure of 1 million downloads, becoming the fastest social media platform to reach that figure. In under two years, it had reached 25 million users and by last year, it had crossed the 1 billion active users mark! It is now second only to the behemoth of social media platform Facebook.
With more people accessing the Internet from mobile devices, Instagram hits a nerve as it works extremely well on the mobile platform. Moreover, it is primarily an image-sharing app and we all know that images rule the roost on the Internet.
Instagram is constantly making itself more attractive to its users by introducing new functions and features. After launching the Stories feature, which has become one of its most popular features, Instagram introduced IGTV.
Though videos have been part of Instagram for nearly five years, they were short-form only. IGTV supports long-form videos of up to an hour's duration. Moreover, this video app is built for mobile user engagement as the videos are played full-screen and vertical in portrait form. So no need to twist your phone around to enjoy the video full screen!
IGTV is a service within Instagram and has its own standalone app, too. You can watch IGTV videos within Instagram or on the separate IGTV app that is available for download on both Android and iPhone.
For branding purposes, it is another exciting new opportunity to make the best of Instagram. Here are some numbers to consider:
Images on Instagram generate 23% more engagement than on Facebook
Brands report a regular engagement of 4% from their followers (compared with 0.1% on Facebook and Twitter)
Brand engagement is 10 times higher on Instagram than on Facebook
70% of users look up brands on Instagram with almost 80% following at least one brand
Over 200 million people look up a business profile at least once a day on Instagram
The fact that videos are the number one engagers on the Internet, along with the above numbers and the amalgamation of best features of YouTube and Snapchat Discover should convince you to give your brand a marketing makeover this year with the use of IGTV.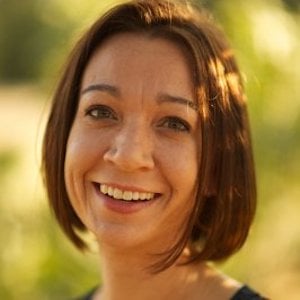 Kim Cooper
Director of Marketing, Amazon Alexa
Single Grain enables us to increase our impact without increasing our headcount
How to Use IGTV for Brand Promotion
With the introduction of IGTV, Instagram has enabled brands to engage and interact with their audience in an entirely new way. The crucial inclusion of long-form videos allows brands to capitalize on this enormous new opportunity. Here are some ways you can start engaging your followers on Instagram:
❏        Company event videos
❏        Tutorials/ How-to videos
❏        Behind-the-scenes
❏        Educational videos
❏        Reality/game shows
❏        Host Q&A sessions
Company Event Videos
Let your followers be a part of all the excitement and buzz by sharing your event videos with them. These videos can be taken at exhibitions, awards ceremonies, conferences, publicity events, product launch parties, etc. Company event videos are excellent at conveying the impression and emotions of the moment to the audience, thus making them a part of your process and forging a greater relationship with them.
Learn More:
Tutorials/How-to Videos
This is one of the most popular formats for videos at the moment, and its popularity is not going to wane any time soon.. Tutorial videos present an easy-to-understand method of imparting knowledge, and as such are best for things like how to use or assemble your products or how to do something with your product. It is a hands-on approach to educate or teach a new skill – like making a snowflake cake: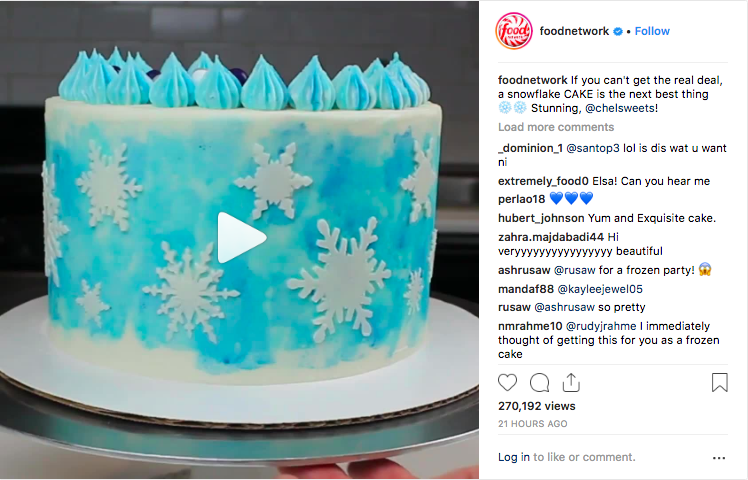 Behind-the-Scenes Videos
Invite your users to look at how the products and services they love are made available to them. Let them be a part of the process by posting behind-the-scenes videos of your facilities, employees and processes so they can better  understand and appreciate, as well as identify, with the brand. These videos are great when there is an interesting event taking place – like the commissioning of a new facility, the building of a new plant, a new product launch, etc.
For example, Saturday Night Live used an IGTV video to show their audience how Colin Jost's transformation was done: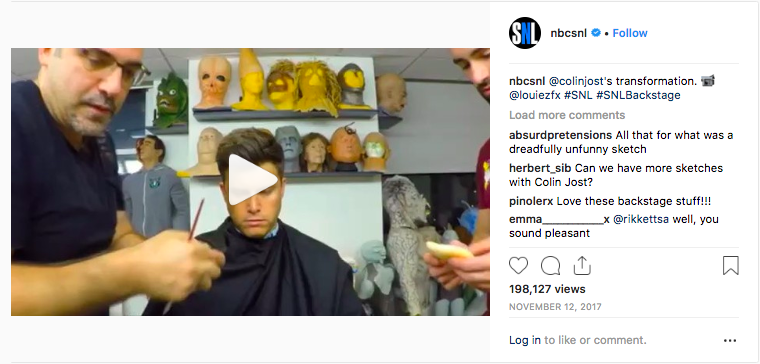 Educational/Documentary Videos
These videos provide an in-depth view of your brand. They can be used to educate the viewer about an important issue or cause. They are excellent to put your point of view across in a convincing manner. The documentaries can be about your people, products, their development, etc.
NASA uses Instagram to showcase their videos about astronomy as well as animated videos that illustrate astronomical events, like this one about the collision of two neutron stars: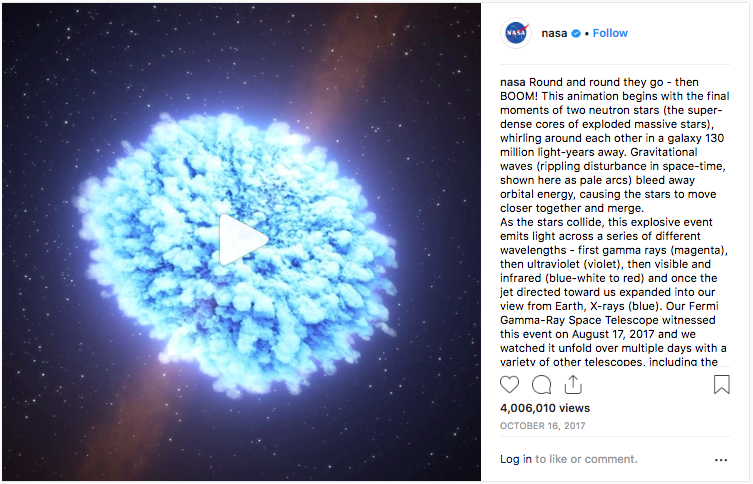 Reality Games/Shows
Posting reality games and shows are audience magnets. They keep users coming back to view the next episode to see what happens next. These shows can be released one episode at a time and later compiled into a series. These videos can be repurposed as highlights to enhance engagement, shares, and likes. IGTV with its support for long-form videos is an excellent launch pad for these videos.
Learn More:
Q&A/Interview Sessions
Posting videos with questions and answers is another way you can use IGTV. Create videos of FAQs to answer common queries and problems that the users face. Also, when you are launching a new product, this format can be used to explain the working and use of the product. These videos will be an extension of your customer support efforts.
Customer Stories and Testimonials
Let your audience hear about your brand from another fan. Testimonial videos are a powerful way to create a positive association with your product. When actual users speak about the way their life was impacted by the brand, it sends a positive message out to the others to associate with your brand — like this video from Starbucks about one of their baristas helping out a regular patron who needed a new kidney: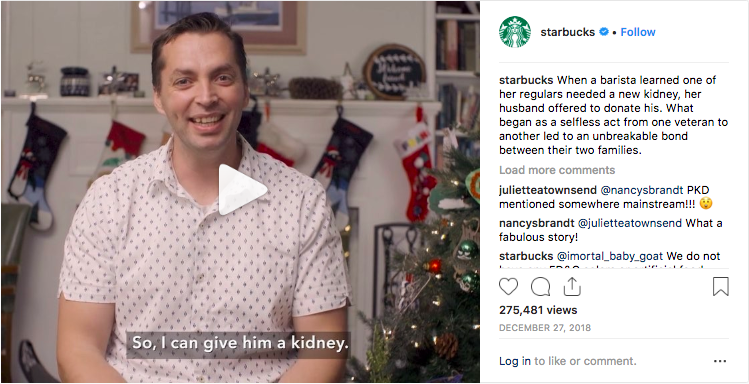 Now that you know the types of content you can create on IGTV, here are a few important requirements for an IGTV video:
It should be between 15 seconds and 10 minutes long.
Its file format should be an MP4
It should only be vertical with an aspect ratio of 9:16.
To get the most out of IGTV, we've put together a set of best practices you must follow. Read on!
Making the Most of Your Videos with These Best Practices
If you want to create your own channel on IGTV and get the most out of it, here are a few things to keep in mind:
❏        Repurpose your blog content into videos and reach a new audience
❏        Optimize your videos
❏        Test out different video lengths
❏        Use IGTV video insights to track engagement
❏        CROss-promote your videos
Repurpose Your Blog Content into Videos
Convert your blogs and stories into videos, and use long-form videos on Instagram to reach a new audience. Your old videos from other social media platforms can be reused on IGTV, but videos shot in landscape mode will need to be edited to fit the vertical portrait format of IGTV, but it is worth the effort to connect with new users.
Optimize Your Videos
Make sure that your channel and videos are searchable by optimizing them. Write a compelling title that uses keywords to make it SEO friendly, and don't use long titles; keep it short and sweet at 15-20 characters. Add descriptions with keywords and use many hashtags, which will both help people discover your videos. Including clickable links in your description will also help generate traffic to your website or landing page.
Test Out Different Video Lengths
Since it is still a new format, it is difficult to know the ideal length for a video. So, experiment with the video length by posting videos of varying lengths to see which ones are the most effective.
Use IGTV Video Insights to Track Engagement
Use IGTV's "View Insights" option from its menu to see how your video has performed. Track the engagements and get a clear idea of the percentage of people who watched your video, as well as see an audience retention chart. Check the likes, shares and comments in your feeds as with Instagram.
CROss-Promote Your Videos
With IGTV, cross promotion is easy. Use your YouTube channel to post teasers for your IGTV videos in the new vertical format. Create fresh new videos for IGTV and post them on Instagram, Facebook, and other social media platforms.
Learn More:
How IGTV Is Helping Brands
Instagram is the place for influencers and IGTV is helping them consolidate their positions. Some brands have already recognized this huge new opportunity and have started using it for their brand promotion. Here is a quick look at how some of them are making the best of IGTV:
The Food Network
When it comes to tutorial videos, nothing works better than food preparation. The Food Network has made great use of the IGTV platform to post quick and simple cooking videos, restaurant reviews and features, taste tests, and cooking competitions to take its viewer engagement up a notch.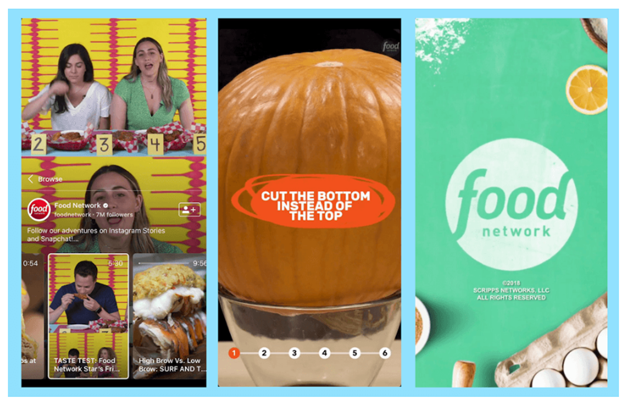 NASA
Now that they already have great video content and a large following (38.2 million followers), NASA has been repurposing their videos to post on IGTV. They are making the best of it by providing updates about their latest mission and stunning views of spaces they have captured. They have included content that is user-generated, captured by the astronauts which include videos of life on the space station. Their content is interesting, unique, educational and highly entertaining. They have ticked all the boxes and are making the best of IGTV.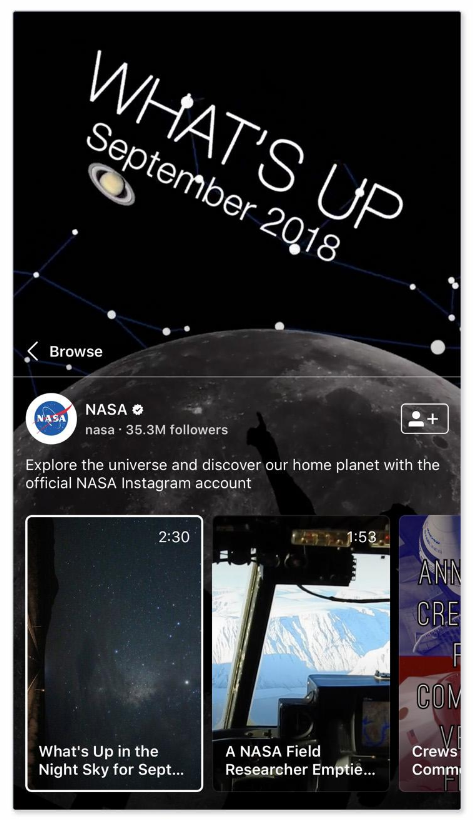 BuzzFeed
This trending content provider has found another way to provide you with the latest and the best  – BuzzFeed has transitioned to IGTV well with videos on interesting topics, exclusive interviews, and challenges. As is consistent with their brand, they keep their videos short and sweet to keep the audience engaged and wanting more.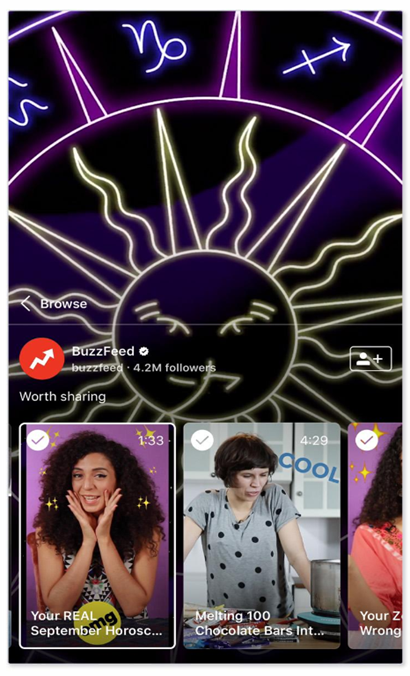 National Geographic
Like NASA, National Geographic is known for its stellar content. They launched their IGTV channel by sharing the first episode of their TV show "One Strange Rock," hosted by Will Smith, which features an interview with astronaut Peggy Whitson. They've also been reposting their old videos in the new vertical format. All their content is interesting, beautiful, optimized and aligned to draw viewers.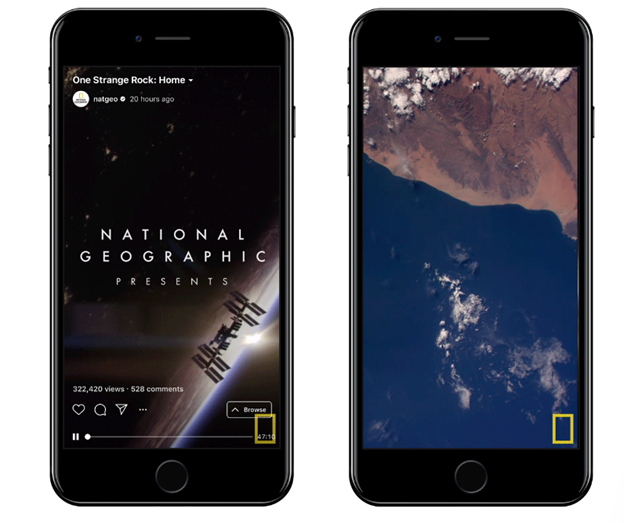 Learn More:
Netflix
Netflix is known for setting social media abuzz with its innovative content. It is making a killing at IGTV, too, by creating content that is completely aligned to the platform. They're doing everything right to appeal to millennials by including special promos, behind-the-scenes videos, interviews, and a lot more to keep its viewers glued to its channel.
For example, Netflix launched their IGTV channel by posting a 60-minute video of the actor Cole Sprouse, from the popular show Riverdale, eating a hamburger. Believe it or not, this video got 967K views and around 6.6K comments! It was done to promote the latest season of Riverdale and appeal to a younger audience.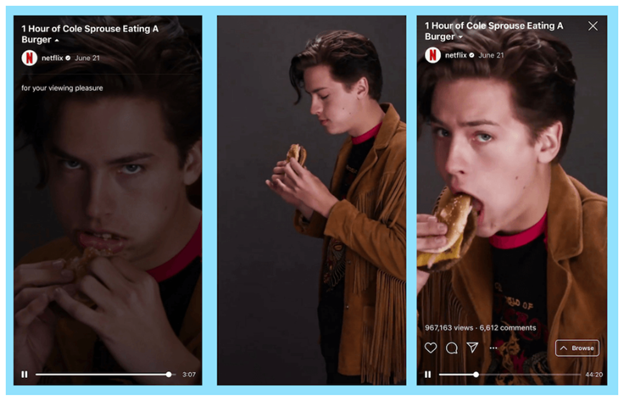 Wrapping Up
IGTV has opened up a whole Pandora's Box of opportunities for businesses and brands to capture and engage its audience. Its mobile-friendly vertical video format is definitely catching on with over 2.5 million installs since its launch in June 2018. It is still early to predict how it will progress, but one thing is for certain – the early bird gets the worm, so get your branding strategy together and include IGTV in your social media marketing.