Facebook Launches 2 New Tools for Advertisers
Facebook has made leaps and bounds since its inception in 2004 when it was just a simple social media site. These days, it's an advertising powerhouse.
On Monday, Facebook released their latest revolutionary features for digital advertisers: Value Optimization Targeting and Value-Based Lookalike Targeting.
These features will be used to target potential customers while enhancing the value of advertisers' campaigns. Brands can now more seamlessly run their businesses while simultaneously increasing revenue.
Recent News Articles: Facebook Instant Articles' Publishers Can Now Show More Ads
Value Optimization Targeting
Value Optimization Targeting uses Facebook's machine learning capabilities to optimize campaigns for brands by targeting valued users and customers. It relies on Facebook Pixel to mine even greater data from websites.
By closely monitoring user behavior, it will estimate how much a person may potentially spend on a brand over a period of time. This will let digital advertisers effectively target businesses that are willing to spend more.
While the benefits of Value Optimization Targeting are obvious, businesses are going to have to wait to access it. The new feature is not readily available yet, although Facebook claims that Value Optimization will become accessible to "eligible businesses over the next few months."
Value-Based Lookalike Targeting
Value-Based Lookalike Targeting allows brands to allocate qualitative and quantitative values to their customer lists. That way, brands can target users who emulate the values of their buyer personas. The new tool is available in Facebook's Ads Manager self-serve system, seen below: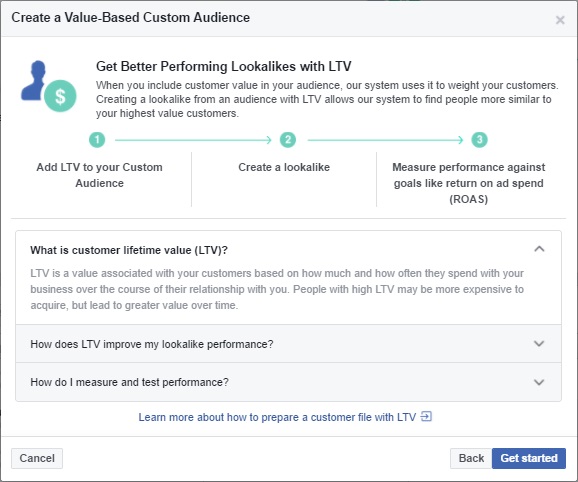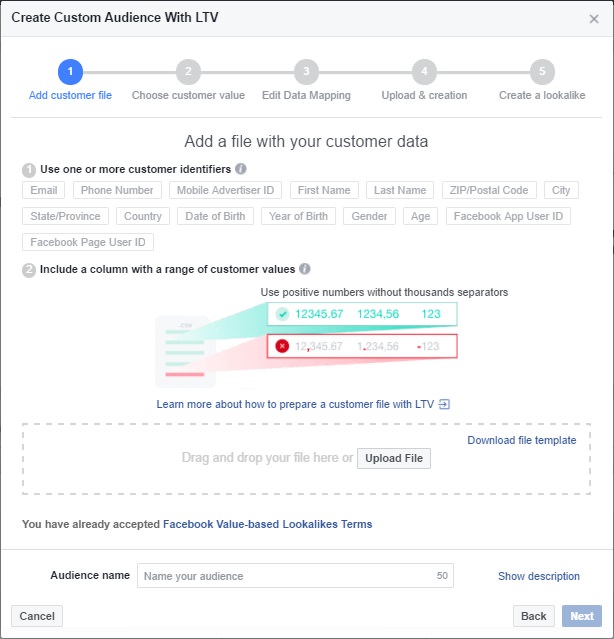 According to testimonials provided by Facebook, these new features have been working wonders for digital advertisers. David Rose, director of performance marketing at Pocket Games, stated that he tested the enhanced Lookalike feature on the mobile storytelling app Episode. "The campaign saw a 13% decline in cost per install and a 53% increase in return on ad spend, according to the blog post."
Related Content: How Small Businesses Can Take Advantage of Facebook Audience Insights to Get More Leads
Only time will tell if these new Facebook features live up to their expectations. You can read more on Facebook's Media and Business sites.