When you're looking for a new pair of workout leggings, what do you do? You open up your favorite browser and type in "best workout leggings."
The first page of search results that pops up include the links that are best optimized for the search engines. They're the websites that Google thinks you'll find most valuable and relevant, based on the content and what other websites think of them.
But how does Google know which sites to list first? One big part of it is off-page SEO.
So what exactly is off-page SEO? And how do you implement it?
In this guide to off-page optimization, we'll answer these questions and give you 8 easy 0ff page SEO strategies you can do right now.
---
---
What Is Off-Page SEO?
Off-page SEO refers to the methods used to increase a website's position in the search engine results pages (SERPs). This includes link building, social media marketing, blogging, and local listing.
For example, let's say you have a great blog post that shows up at the top of the search results for "best vegan recipes." You might get some of your readers to share and like it on Facebook or Twitter. That might inspire people who saw it on social media to link back to it from their own blog posts about vegan recipes.
The more links you receive pointing back to your blog post, the higher it will rank in search results for "best vegan recipes" (and dozens or hundreds of related queries), which will increase your traffic and give you even more opportunities to build backlinks.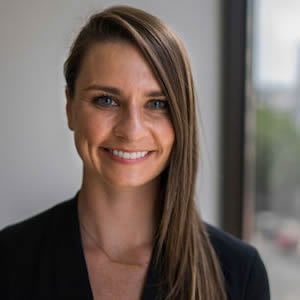 Jacqueline Foster
Demand Generation Marketing, Lever.co
We can count on them to bring new ideas to the table consistently
Why Is Off-Page SEO Important?
The reason off-page SEO is so crucial to SERPs ranking is that Google uses links throughout the Internet as a way to understand how authoritative your site is.
As you can see in this chart, the more quality links you have, coming from reputable sources, the better your chances of improving your rank will be. And because the goal of all webmasters (who want to make money) is to improve their ranking in the SERPs, off-page SEO has become an essential part of any good marketing sales and marketing strategy.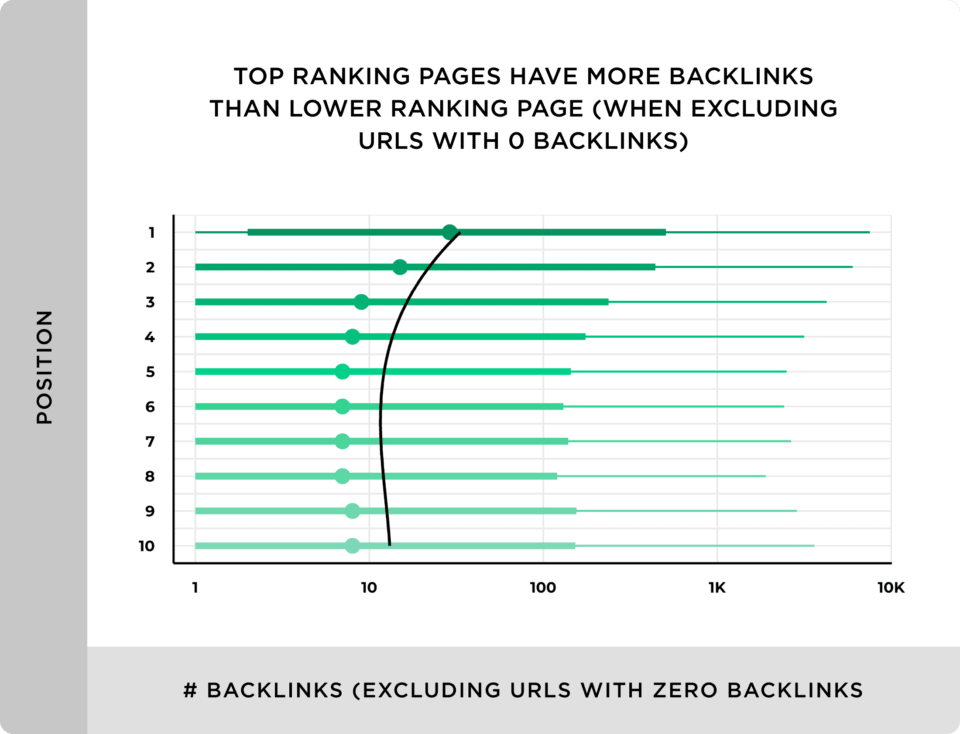 Beyond helping with SERPs ranking, off-page SEO also helps you build brand-name awareness.
"Off-page" also refers to all activities that occur on other pages that don't physically exist on your website (such as social media, Quora answers and forum posts).
Building brand awareness requires you to be present in various places across the web — and off-page activity is the sum of that.
Dive Deeper:
* 14 Effective SEO Techniques to Drive Organic Traffic in 2023
* How to Rank Your Brand-New Website When You Don't Know SEO
* The Complete White Hat SEO Guide: Google-Validated SEO that Works like Magic!

8 Off-Page SEO Strategies You Should Be Implementing Right Now
With so much competition in the digital marketing world, it's important to stay on top of what works and what doesn't.
Here are my top strategies for growing your business with off-page SEO, starting with the absolute basics and moving up to some techniques that require a bit more skill.
Let's dive in!
1) Build Trust with a Robust Citation and Link-Building System
A citation is an online mention of your business' name, address and phone number (also known as NAP). It doesn't have to be a link—it can simply be text (a linkless mention). Google uses citations from across the web to validate your business information so they know you're a real, legitimate business.
The more citations you have from high-quality websites, the better. And, generally speaking, the more consistent your NAP is across all these citations, the better as well. Google needs to see that your name is spelled consistently across all these sites and that your phone number and address are the same, as well.
Pro Tip: Make sure you add your NAP info to your site's footer and that is clearly visible. This is an easy on-site trust signal you can implement to help Google see you're a legit online enterprise.
Here's an example from my site, added with RankMath's Local SEO module (this also injects business schema into the source of the site):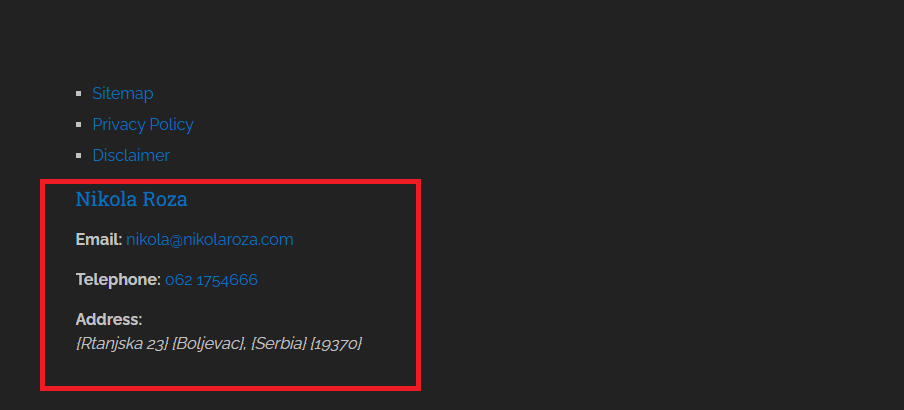 Link building, on the other hand, is another crucial aspect of SEO. The best backlinks are the ones that come from authority sites in your niche. Those are the links that Google values the most.
So, what makes a high-quality backlink? In the past, marketers used to focus on the quantity of link building. All they needed was hundreds or even thousands of low-quality links pointing to their sites. (That was when ranking at the top of Google was easy.)
But things have changed since then (and not just with Google). Today, it's all about link quality. You need quality backlinks from authority sites in your niche if you want better search engine rankings.
There are three main types of links on the web, each with its own unique characteristics:
Natural links: Users, customers or readers who simply like your content and want to share it with others will link to your page. These links are built naturally and aren't gained through any direct link-building effort. When a trusted user with a large following shares your page, you are gaining an endorsement. These backlinks are quite rare though.
Manually built links: These are gained through direct link-building efforts. You may ask customers to directly link to your products or services. You may also ask influencers to share your content on their social media feeds. These links are best as they're predictable and often targeted to the most valuable pages on your site.
Self-created links: These are created when you post your website link in comments (comment signature), or in web directories, forums, press releases, and so forth. In most cases, these do not provide any value for SEO but can still help drive traffic to your website if placed properly. These links are mostly a waste of time if you build them manually, but are still good for link pillowing if you can outsource their creation to a team member or a VA.
When you're strategizing about where to get backlinks from, you have to avoid bad links at all costs. Links that do not do anything for your website will negatively affect your search engine rankings. This means staying away from ads (followed links from ads), foreign language sites, bookmark websites, automatically generated backlinks, article directories, overusing the same anchor text, and irrelevant backlinks.
Pro Tip: I suggest you use either Ahrefs or Semrush to check the potential backlinks you wish to build. These two tools stand neck to neck when it comes to backlink index and backlink discovery rate, but Semrush offers a generous free trial. Ahrefs also has a trial, but it is a paid $7, 7-day trial. 
Dive Deeper:
* 8 Ways to Use External Links to Improve Your SEO
* The Ultimate Guide to Link Building with Content for SEO

2) Get Your Groove on with Blog Commenting
Blog commenting is a simple strategy that bloggers and marketers use to drive traffic to their own sites. When you leave great comments on blogs, you're able to share your unique perspective with others, which can lead them back to your website.
And once they are there, they will hopefully sign up for your email list or follow you on social media.
Here are a few blog commenting best practices that you can follow:
Identify the industry: Make sure that you identify the blogs within your industry. Take a look at the content and be sure that it's relevant to your brand/business before leaving any comments.
Read what the blog is about: Now that you've found the blogs on which you want to comment, take the time to actually read the post. It's important for you to have a thorough understanding of what is being discussed so that your comments add value to the conversation rather than derailing it.
Aim for three sentences or more: Be sure not to write anything shorter than three sentences when commenting on blogs. This will help make your comments more meaningful and will allow them (and, by extension, your brand) to generate more traction in terms of engagement and clicks:
Link to internal pages and social media profiles: Wherever possible, share internal pages and social profiles on your comment. This can help improve your SEO and increase engagement with your content. Your links should be relevant to the post or topic at hand. For example, if I wanted to comment on a blog post about Grammarly, I would insert into the "website" field one of my Grammarly blog posts, while within the comment sharing my tips on using the Grammarly App better.
Don't comment for link juice: dofollow blog comment links are useless and might even hurt your SEO.
Use your real name wherever possible: Use your first name as often as possible. It helps you humanize your brand, and it shows you're not a spammer.
3) Engage with Comments on Social Media
You can maintain a social presence by sharing content on social media or commenting on conversations on other people's channels: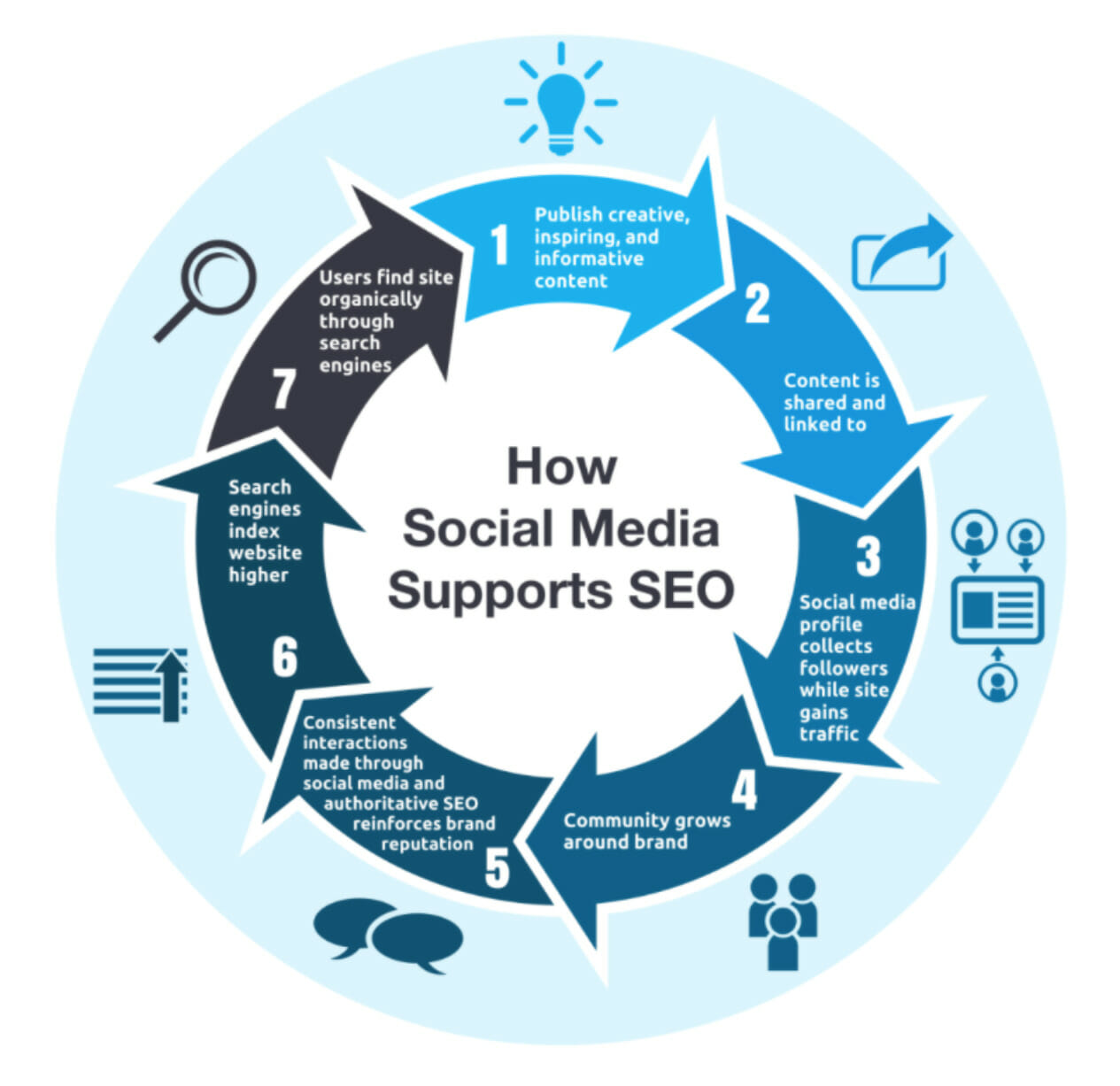 For example, if you have a Twitter account, you can engage with anyone who mentions the keywords you're targeting to increase the odds that they'll visit and link to your website. If there are any popular hashtags associated with your industry, you should use them as well.
People often promote upcoming webinars, video conferences, or different types of events on Twitter and Instagram. If they are relevant to you, then connect with them and share your resources. The more useful the resource, the more likely they are to share it with their audience.
Another way to ensure that other people share your content is to first extensively and strategically share theirs. What do I mean?
I mean you need to create a spreadsheet of influencers in your niche along with their blogs and Twitter handles. And then you need to set up a system (using some social automation software) to share their content every few days and by persistently tagging them.
This will quickly get your name on their radar and if you do it long enough they'll soon start to look at you as part of their family. 🙂 Of course they'll return the favor by sharing your content extensively.
For example, here's how I promoted a recent blog post from PikWizard: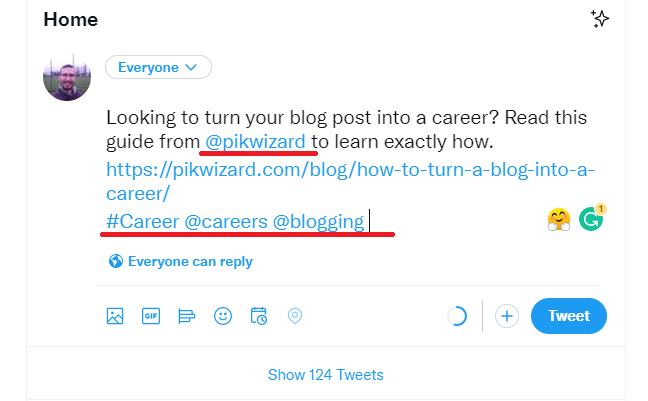 Notice how I tagged them and also how I included hashtags for wider reach for their post. These little touches matter in the blogging world. They show you care.
It is also important to monitor your social media reputation. If a customer leaves a comment on your Facebook page or says something nice about you on Twitter, reply! Even if it's just a simple "Thank you so much for your kind words!" – show them that you care.
Pro Tip: The best way to keep track of what people are saying about your business online is by using a monitoring tool like BrandMentions that can alert you when someone mentions your brand name, product or service.
These social media analytics tools are often part of a larger reputation management system that can also help you respond to positive reviews, provide incentives for positive reviews, and even notify you when negative reviews appear.
Dive Deeper:
* How to Use Social Media to Substantially Improve Your SEO
* Influencer Marketing Strategy: The Ultimate Guide to Growing Your Business with Brand Partnerships

4) Do Not Shy Away from Quora and Forum Marketing
When it comes to off-page SEO techniques, forums are a great place to promote your website. Quora and Reddit are also popular web hubs to showcase your expertise in the field to which you belong.
For example, within Quora, you can create new spaces and share your knowledge and insights with other community members. You may also answer questions posed by their members, and you can also ask your own. It's an easy way to build your brand and also get some valuable referral traffic from the links you drop within your answers.
A few more best practices for forum engagement include:
Be an active member, upvote, like, and participate in discussions with other members.
Make an informative profile on forums with your details like location, website URL, work experience, etc.
Avoid making multiple accounts for each forum as it will be a violation of terms and conditions.
Post regularly on forums but keep the frequency in moderation (once or twice a week).
Answer questions related to your industry.
Pro Tip: Quora is all about scale. Answering one question per week won't do anything for you. You need to speed up, so I suggest you use Jasper AI  to help you write faster.
Even though there are plenty of AI writing assistants on the market (with more being introduced seemingly every other week), I mention Jasper specifically because it has a Quora answer template you can use to whip up useful answers in minutes.
5) Guest Posting Still Works Great
Guest posting is the practice of publishing articles on another website with a byline attached to it. In its simplest form, guest blogging means writing an article for someone else's blog.
When you're guest posting, your primary objective should be to reach a new audience, get in front of a related site's traffic, and build your brand. It's not really about gaining a ton of links—that's just a bonus.
Guest posting is an effective off-page SEO tactic for several more reasons:
Via the author bio link you can signal to search engines that your business is an industry expert, which helps boost your organic search rankings. This also boosts your website's E.A.T. rating.
You can often earn a contextually relevant backlink within the article to an important target page on your website, which helps boost your website's domain authority and organic search rankings.
If you include a compelling call-to-action within the content (using power words), you'll be able to drive traffic from the publisher's website to yours, which improves your traffic quality and engagement metrics (like referral traffic, time on site and bounce rate).
To get started with guest posting, just follow these easy steps:
Create a list of industry publications you'd like to write for. Make sure they have high domain authority and are relevant to your business. How do you find blogs that are open for guest posts? Use the following keyword combinations on Google: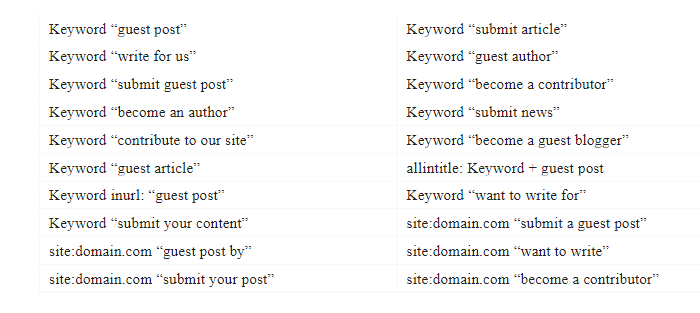 Be sure not to contact any competitors—guest posting should be used to complement and build on top of your existing SEO strategy, not replace it. Once you have this list, reach out to each publication.
Study their existing content. Before you submit or even think up an article subject, take a good look at their blog posts to familiarize yourself with the type of content they publish, the tone or voice they use, and the format they prefer. You should also study their editorial guidelines if they've posted them.
Pitch the blog's editor your idea. Before putting all that work into writing a lengthy and detailed article only to be rejected, first pitch your idea and wait for it to be accepted. You never know if they'll be open to your particular idea. If they accept guest posts, they usually have a submission portal on their site, or an email address on their editorial guidelines.
Follow up if you don't hear back from the editor. Periodically (every 2 weeks) reach out to them until they respond. Don't be passive. On the other hand, don't be a stalker. If you don't hear back after three or four attempts, move on.
Write high-quality content that will appeal to the blog's readers, while also showcasing your expertise in the field. If possible, add a link to your site. Then send it to the editor in a timely fashion (wait too long and they might forget you or they may have already published an article just like yours) and wait for it to be published (or for a revision request from you).
Don't just rely on one guest post to skyrocket you in Google. It doesn't work like that. Instead, establish an editorial calendar for guest posts and continually push more of them too several sites/publications.
Here's a guest-posting template that I use and that you can borrow:
Hi [name],
My name is [your name] and I blog at [yourwebsite.com].
I'm a big fan of your website and I'd love to contribute a high-quality guest post on your awesome blog. I already found a great keyword your blog could rank for. It's [keyword] and has a Keyword Density of [number] and Search Volume of [number]. 
In fact, I've already created a thorough outline for my future guest blog. Please let me know what you think. I'm ready to start writing right away.
Thank you for your time.
Cheers!
[Your name]
This template is proven to work and my guess is because you're doing the work for them. They just have to say yes.
Here's an example of such a branded author bio link from my guest post over at Wishpond. That link simultaneously builds my brand, my E.A.T., and my site's total PageRank score: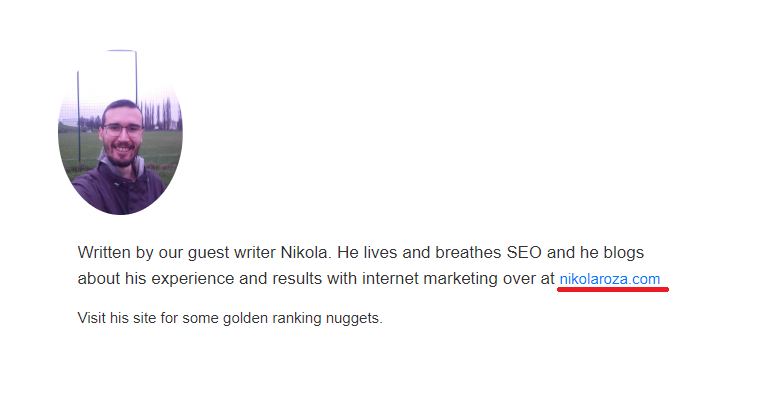 You also want to get contextual links from within the blog post itself. These are way more powerful because they're higher up the page (links higher in the HTML pass more value) and because they can be keyword rich which will help more directly with your target page's rankings.
Here's a great example of a contextual link from my previous Single Grain contribution: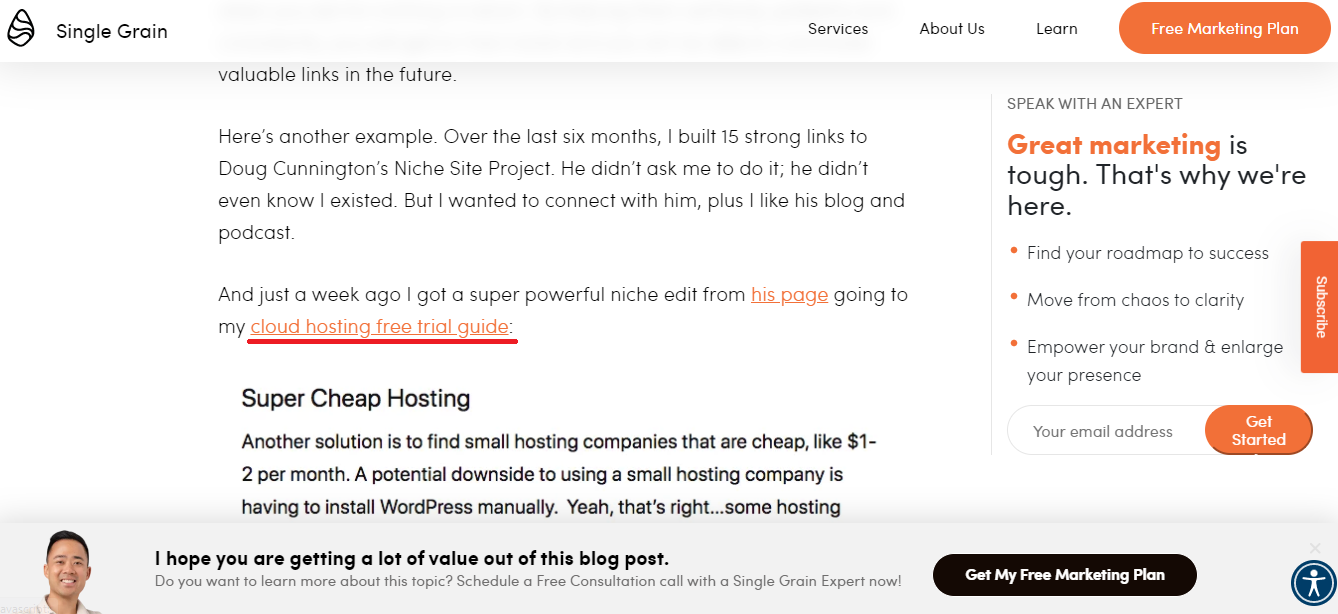 Pro Tip: I mentioned in the bullet section above that the author bio link contributes to your online E.A.T. Author bio backlinks also directly help with SEO as they pass link equity and are branded links that make your link profile look natural. They also free up space for more target anchors down the line.
Dive Deeper:
* The Power of Guest Blogging (And How to Get Started!)
* 5 Types of Guest-Post Content that Support Your Link-Building Efforts

6) Create Valuable & Shareable Infographics
Insightful and cool-looking infographics have long become a popular way for people to absorb information in a fun, easy way. And when it comes to off-page SEO, it can be an easy way to get your content noticed, shared, and bombarded with links.
So, once you are done creating your cool infographic, submit it to various infographic submission websites like Reddit, Visual.ly, Infographics Archive, and Submit Infographics: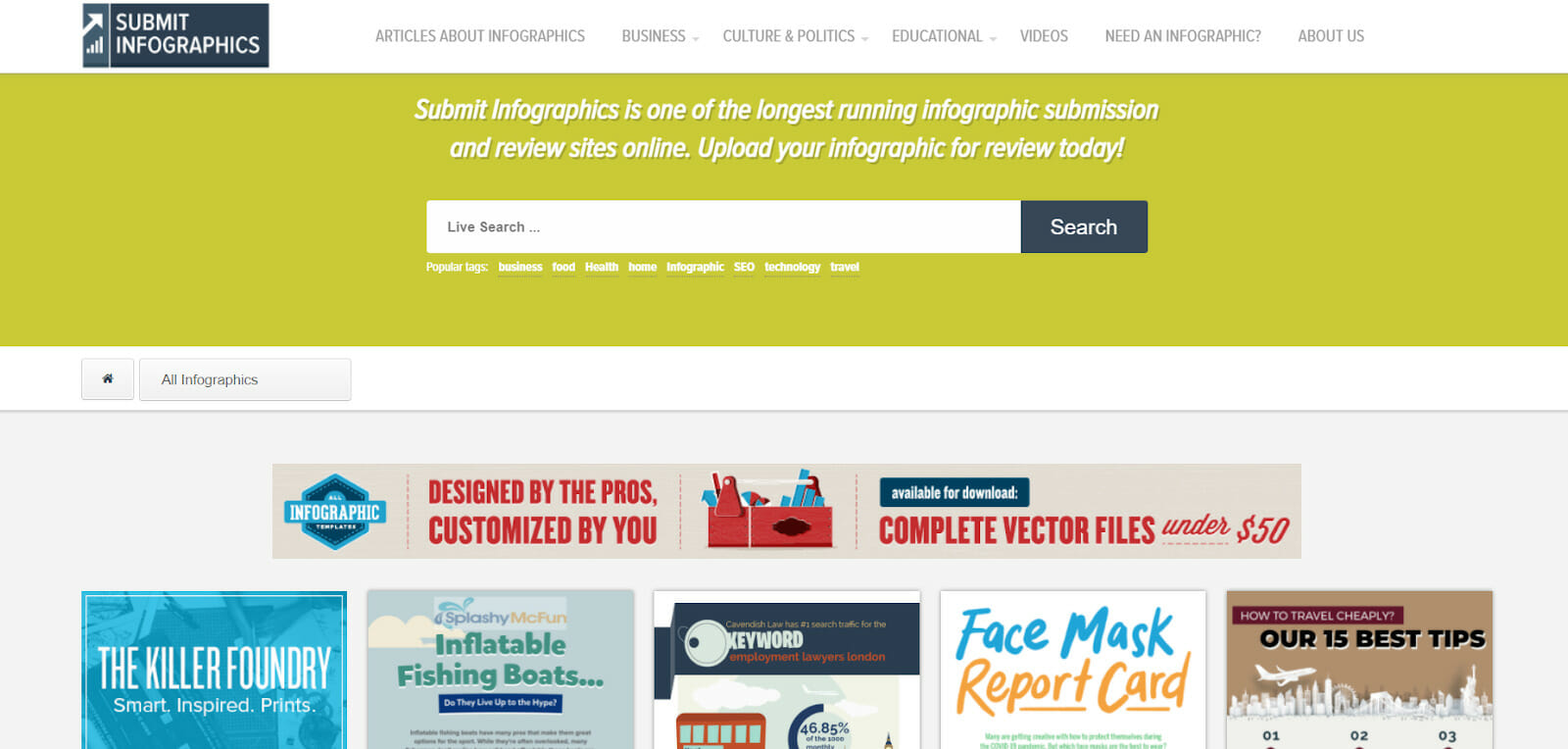 Don't forget to include a clickable link to your website or blog at the bottom of the infographic!
Not every infographic will be a massive success. In fact, most will be complete duds. This means you need to go for volume so you have your hits, too.
But instead of hiring a pro designer to create graphics for you (very costly), I suggest you learn to make them yourself. It's not hard, especially with the free tools like Canva, Visme and others that have infographic templates ready to use.
Pro Tip: Remember to embed your infographics within your blog posts. This is because infographics are a very shareable type of content and the more exposure you give them, the higher the chances of passive link building.
7) Don't Neglect Niche Edits and Link Exchanges
Niche edits are links placed within existing content on blogs or websites. They're written to fit seamlessly into the surrounding context. Niche edits work best when the surrounding text has already been approved (indexed and ranked) by Google as high-quality content because this shows that search engines trust the page hosting the link.
This type of off-page link-building strategy is effective because it doesn't rely on just one factor, but rather a combination of factors: quality content, high content relevance and aged PageRank.
The result is a powerful SEO campaign that gets real results.
Speaking of link exchanges, it's a practice where you trade links with other websites. In other words, they place a link to your site on their page and, in return you place a link to their site on your page. Not only are these easy to set up, but they can also help you gain some quality backlinks in an organic way – all without having to pay for them.
There are AB link exchanges, and ABC link exchanges. AB link trades is when two sites trade links directly, while ABC link swaps is when there's a third site involved:
AB link exchanges are an acceptable way to build links, but only in moderation because Google can pick up on that pattern pretty quickly.
ABC link trades are untraceable and you can do as many as you want. The more, the better, as long as the links are of high quality.
You get links to your crucial money and most linked pages; you give links from posts that are not important to you and that have no internal and external backlinks pointing to them.
That way you give a minimal amount of PageRank and you get PageRank to the pages that are the most important to your business. I suggest you keep a spreadsheet of the most important pages.
For example, I'd never give a link to anyone from my Jasper AI free trial. That's because that page is in the menu and everything on my site links to it, so one link from that page is worth 50 backlinks from other blog posts on my site. And it's also my money page, so it makes no sense for me to be linking from it.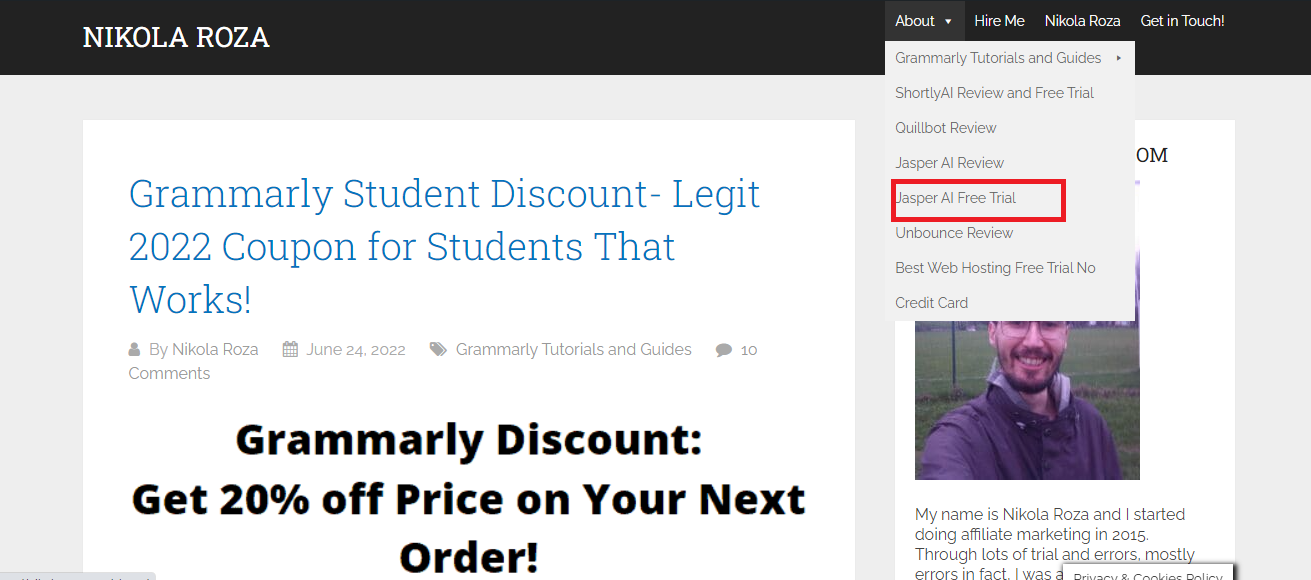 This sounds like it's nitpicking, but it's really not. You're cleverly manipulating the PageRank flow to benefit your site the most. It's worth doing.
Here's a simple link exchange template you can use:
Hi [name],
I really enjoyed your blog post about [topic]. It was very helpful and I think my readers would like it, too. I'd love to link to it from my site! And I just did! You can find your link [link] with the anchor text [anchor text].
Hope you like it!
I also have a few guest posts linked up where you might want further links from me:
• [title]
• [title]
Let me know if you're interested in swapping links. I'd love to get a link from your site as well.
Cheers!
[Your name]
Pro Tip: You need to be very strategic when you trade links from your site. That's because, even though you get new links, you also give links away, which takes away from your site's authority. There's a solution to this and it's pretty ingenious as long as you understand how PageRank flows around your site:
8) Build Relationships with Industry Webmasters
Your content is only as strong as the people you know and the relationships you build. And when it comes to creating a marketing campaign that will be viewed and shared, the power of a well-connected network is what will get you there.
Start by building relationships with your industry's webmasters. This means not just looking at their follower count, but at their authority and influence in the industry you work in. It's likely that some of the most influential people have fewer followers than someone else with less authority who is more active on social media.
Build a relationship by following their social profiles, commenting on their blog posts, sharing their content, thanking them when they share your content, and tagging them with questions they're experts in and can answer easily.
The key is to get on their radar and be helpful, and over time these people will start to help you and it'll happen sooner than you think.
You'll be pleasantly surprised!
Final Word on Off-Page SEO Strategies
As you can see, there is a wide range of different off-page SEO elements you should be looking at when trying to strengthen your SEO strategy. It's important that you make sure each one of these elements is in place, and that they are as strong as possible.
If you want the short version, here it is:
Keep it up and you'll get there, I promise.
Off Page SEO FAQs
What is the difference between off-page SEO and on-page SEO?
Off-page SEO refers to the optimization that takes place outside of the webpage or website itself. It includes practices like link building, forum and Reddit marketing, social media marketing, and directory listings.
On-page SEO refers to the optimization that takes place within the website or webpage itself. It includes practices like title tags, meta descriptions, keyword density and placement, image alt tags, and internal linking.
What are the best practices for off-page SEO?
Off-page search engine optimization (SEO) is a powerful way to get your website noticed. By building up a network of sites that link to your brand, you can increase the chances that your site will appear at the top of the search results.
Other practices include blog commenting, guest posting, forum marketing, link exchanges, social media, content marketing, influencer outreach, etc.
Are blog comments cool for off-page SEO?
Yes, blog comments can be good for off-page SEO.
When you leave a quality comment with a relevant link on a blog, it can help increase your website's visibility in search engines. It also shows readers that you are a real person who is interested in the topic at hand and can help build your brand's reputation.
What should you look for in your off-page SEO tools?
If you're looking for off-page SEO tools, there are a few key features that you'll want to look out for:
Backlink checker: Semrush, for instance, allows you to compare your website to your competitors, and offers details about their anchor texts, linking authority, and more.
Keyword tracking: It should allow you to monitor your own keyword rankings as well as those of your competitors.
Link monitoring: This should monitor all the links pointing to your site so you can keep track of how well they're performing.
When should you start doing off-page SEO and off-page marketing?
A common mistake most bloggers make is that they put off off-page marketing until they make a "perfect" website (and they're often scared because they think off-page is not white hat SEO). But hat moment never comes and they never start marketing their site, or they start too late when their competitors are already heavily entrenched.
You need to start off-page marketing as soon as you can, and even a little bit is better than nothing. If you can't do everything from this list, then start with link building. Guest posting+ link exchange is a powerful combination.
Hopefully you learned how to implement off-page SEO strategies! But if you just want an expert digital marketing agency to do it for you, click the orange button 👇