17 FREE SEO Tools That Will Drive Traffic & Improve Your Ranking
[LIMITED SPOTS] Want To Uncover Your True Potential and Achieve Financial Freedom? We invite you to join a FREE Masterclass with award-winning business leader, Eric Siu, where he shares his 5-Step Blueprint to Starting Your Dream Online Business That Gives You Freedom & Fulfillment.
Click Here To Reserve Your Spot Now.
As an SEO, you definitely want to accomplish more tasks in less time.
Whether it's fetching all the meta tags from a domain within minutes or identifying all the crawling issues of a website without manually reviewing each and every URL, tools have always been the savior for savvy marketers. SEO tools help you to complete a set of tasks as fast as possible and with as close to perfection as you can get.
In this post, I will present a list of awesome free SEO tools to improve your Google ranking that are either free to use or offer a freemium version (meaning that you need to pay only if you wish to use extra features).
If you are working on a tight budget and need to perform a limited set of tasks, it's best to use the free version. You can opt for the paid version only when you see the need for all the features of the tool.
Ready? Let's discuss the 17 best free (or freemium) SEO tools that will improve your ranking!
Page loading speed is one of the most important elements of a website. Better site speed leads to increased user satisfaction and higher rankings.
Google PageSpeed Insights is a free tool that checks the speed of your site and provides suggestions to improve it.
How to Use This Tool
Enter your site or blog's URL, click the "analyze" button, and the tool will automatically check the speed and overall user experience of your site and provide a score – for both desktop and mobile UX.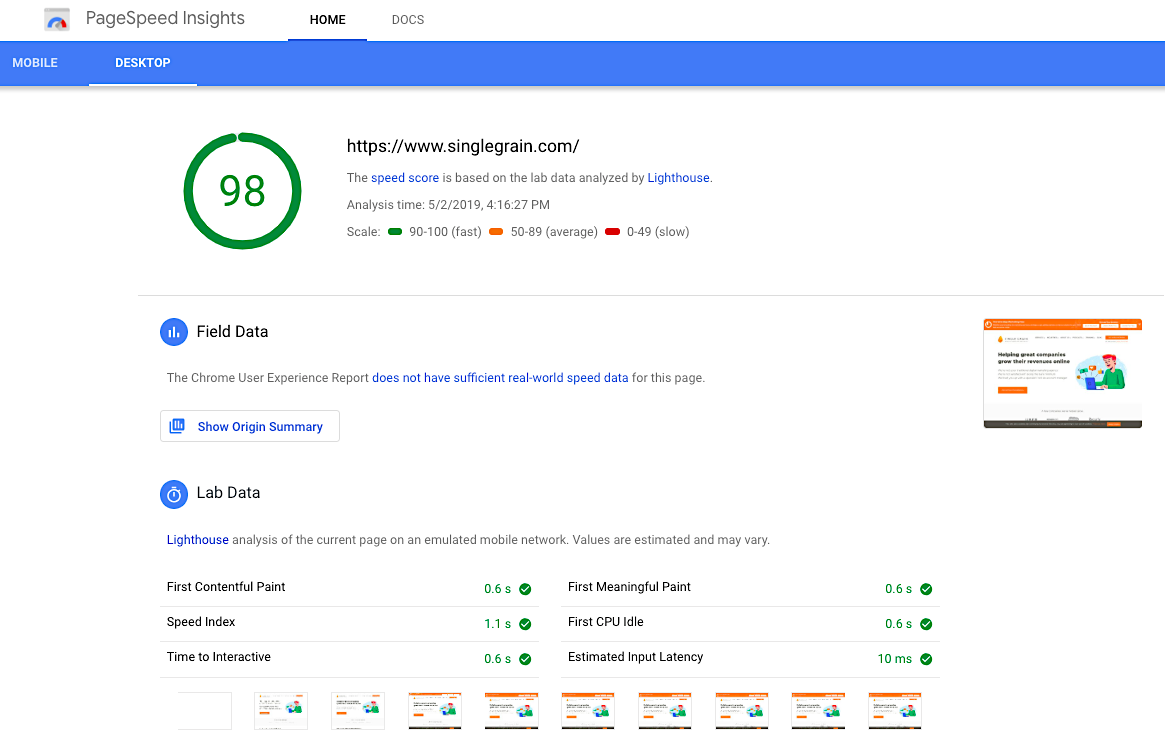 Here's how the scores rank:
A score of 90+ means that your site is FASTER than most other sites.
A score between 50-90 is considered AVERAGE.
A score below 50 means that your site is SLOW.
You need to opt for a score above 90 to offer your users a better site experience and to increase your chances of ranking higher in the search results.
Top Features:
The tool checks the speed of your website on both desktop and mobile.
You can quickly classify your website as fast, average or slow.
It also provides suggestions to improve your page's performance metrics.
Why It's Useful
In July of 2018, Google announced a major update to its mobile ranking factors: page speed became a top ranking factor for mobile searches. So Google PageSpeed Insights is useful because it helps you optimize your site for page speed which is important to avoid any penalties.
Learn More:
Speaking of mobile – search queries on mobile devices are increasing day by day and therefore it's important to optimize your site for mobile devices.
Mobile-Friendly Test is a free tool that lets you check the responsiveness of your website on a mobile device.
How to Use This Tool
Enter the URL of the site that you wish to test and then click the "run test" button. In just a few seconds, you will know if your website is mobile-friendly or not.
Top Features:
The tool quickly checks whether your website is mobile friendly or not.
It suggests various ways to optimize your site for mobile devices. Some suggestions include using legible font sizes, sizing content to viewport, and sizing tap targets appropriately.
Why It's Useful
Creating a responsive site that automatically adapts itself as per the mobile device used by the visitor is a great way to improve the user experience. Google's Mobile-Friendly Test tool quickly checks whether your website is suited for mobile audiences or not. It also provides a list of suggestions that you can implement in order to make your website mobile friendly and avoid higher bounce rates from frustrated site visitors.
Ahrefs offers a free backlink checker that allows you to check the top 100 links pointing to any website.
How to Use This Tool
Enter the URL that you want to analyze and the tool will not only show you your domain rating score (DR):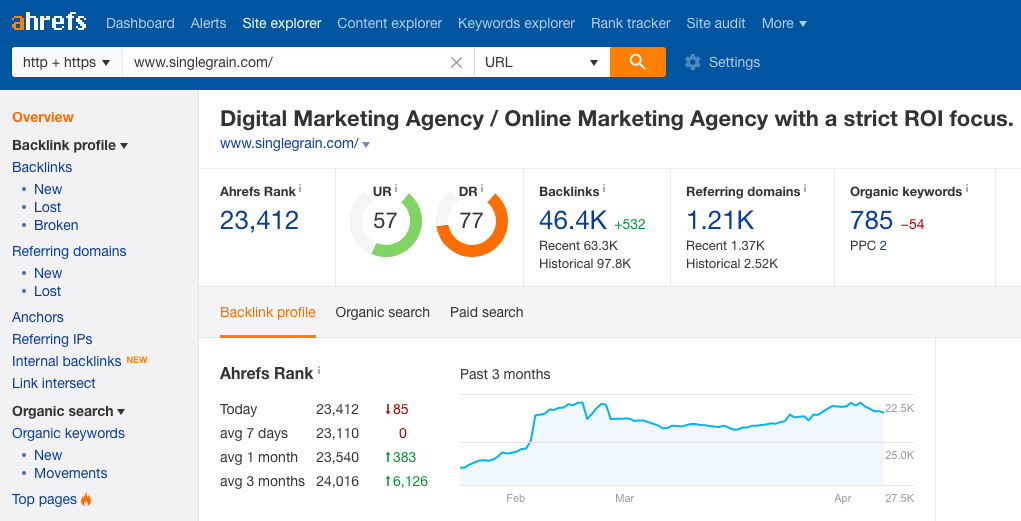 But it will also generate the top 100 links (one link per domain) pointing to the site: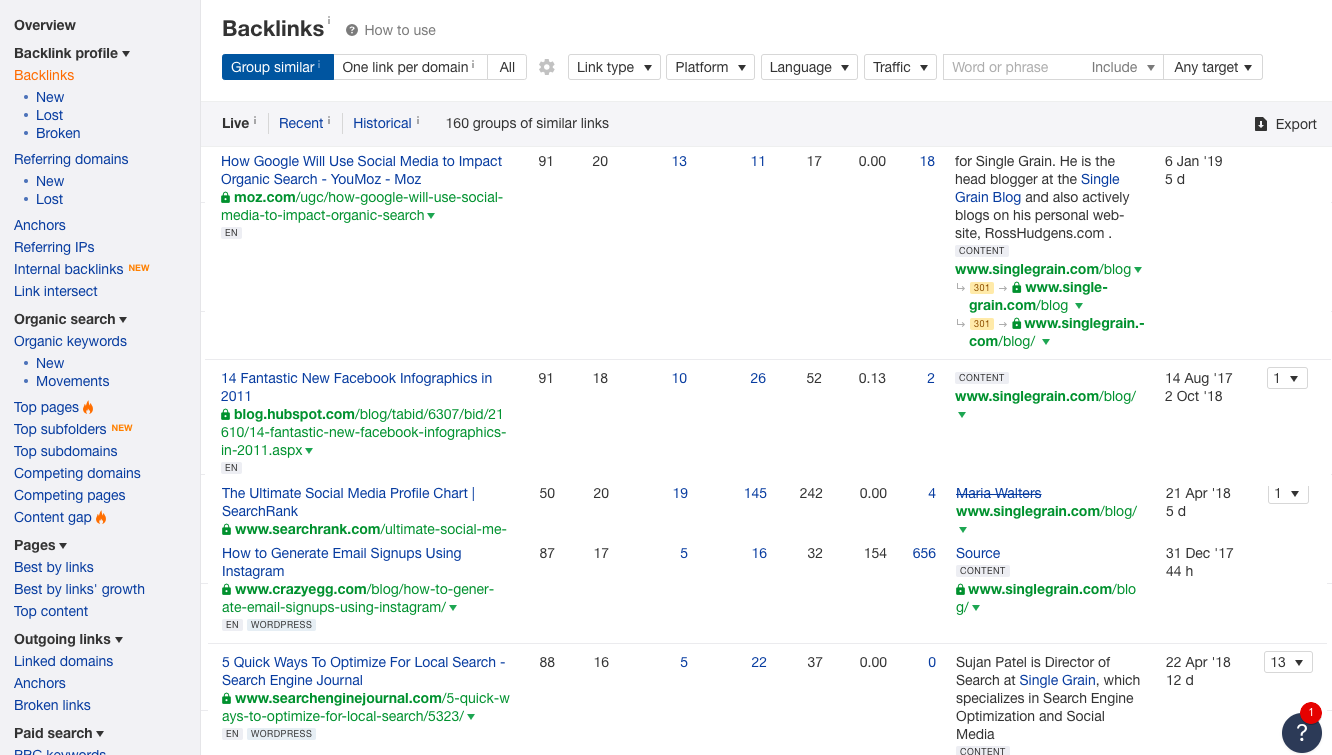 Top Features:
It offers one of the most powerful link checkers that accurately checks the top backlinks.
The tool is extremely fast and generates results within seconds.
You can check the total number of backlinks and the total number of referring domains pointing to any site.
The tool also displays the anchor text and domain rating.
Why It's Useful
Ahrefs' link checker lets you conduct a quick analysis of the top backlinks pointing to any domain so that you can easily plan your link-building strategy accordingly.
Premium Version
If you want to discover each and every link pointing to any domain, increase your number of campaigns, increase the number of keywords you can track, etc., then you need to subscribe to the Premium version for $99 a month.
Dive Deeper:
SEMrush is one of the best SEO software that every marketer must use. It conducts a comprehensive SEO audit and displays the percentage of search traffic and the number of backlinks that a site has. You can even conduct keyword research, topic research and detailed competitive analysis using this tool.
How to Use This Tool
Login to SEMrush and enter the domain that you wish to analyze. The tool will quickly analyze the amount of traffic the site receives, the top keywords that are sending that traffic, the total number of backlinks along with the referring domains, and the main organic competitors. SEMrush also offers a comprehensive overview on anchor text and link type.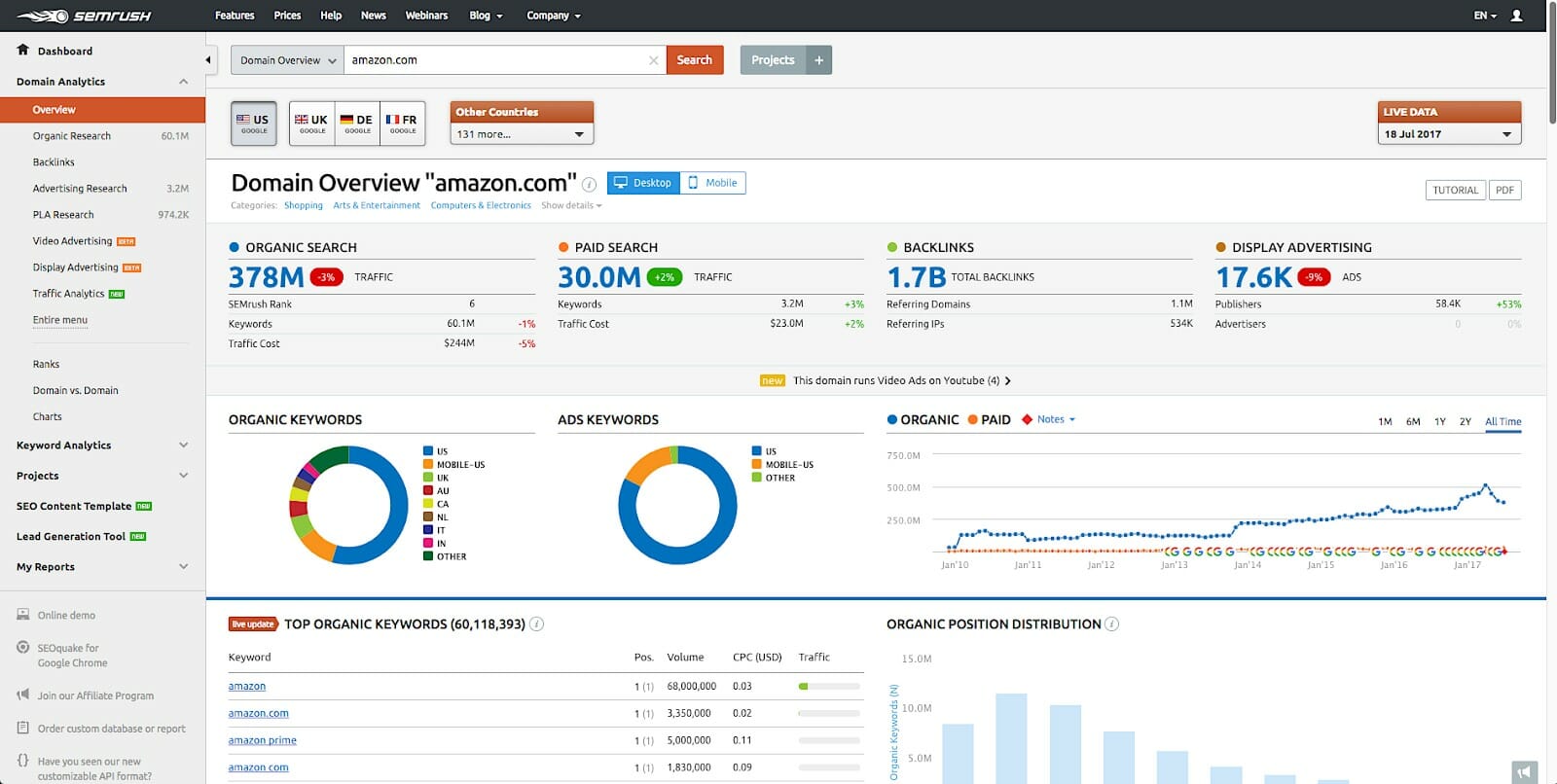 Top Features:
This tool enables you to conduct a comprehensive technical site audit.
You can conduct a Domain vs. Domain competitive analysis.
The backlink analysis tool helps you to dig deeper to analyze the links pointing to any domain.
The keyword research tool lets you find the best keywords for your campaign.
The content analyzer measures the quality of content on your site and highlights the major issues in it.
Why It's Useful
SEMrush is one of the most popular SEO tools available in the market. If lets you look at each and every aspect of SEO right from keyword research to link building. If you want just one tool to get started, then SEMrush should be your first choice.
Premium Version
The free version lets you conduct 10 searches per day. If you need more than that, then you will have to subscribe to the Premium version starting at $99.95 per month.
Keyword research is undoubtedly one of the most important tasks that every SEO needs to perform, but researching keywords is a time-consuming process without access to the best tools.
Keyword Tool is dubbed as the free alternative to Google's Keyword Planner and it offers lots of relevant keyword suggestions for every type of research.
How to Use This Tool
Enter your main "money" keyword in the search box, click on the desired search engine or platform, and then select the targeted country from the drop-down list:

The tool will return the best keywords to target based on your main keyword.
Top Features:
It provides upto 750+ search terms for every keyword research.
The best part is that the tool includes long-tail keywords in the results. You can also choose which country to search for keywords, on which platform (Google, YouTube, Amazon, etc.), and in what language.
In addition, you can filter out negative keywords and sort by keyword suggestions or common questions that use your keyword.
Why It's Useful
This tool is great when you're looking for those very specific phrases that your audience is using to try and find you. It's similar to doing an incognito Google search, but with more added value.
Premium Version
You can generate up to 2X more keywords if you opt for the Premium version. Search volume, CPC and AdWords competition are hidden unless you upgrade to a pro account from $69 per month.
Learn More:
A tool created by Moz, Link Explorer is mainly a link analysis tool. It offers a comprehensive view of a website's backlink profile and includes page link metrics such as domain authority, page authority and established links.
How to Use This Tool
Enter the URL that you want to research in the search box and this tool will provide a comprehensive analysis of the URL, including the domain, linking domains and anchor text.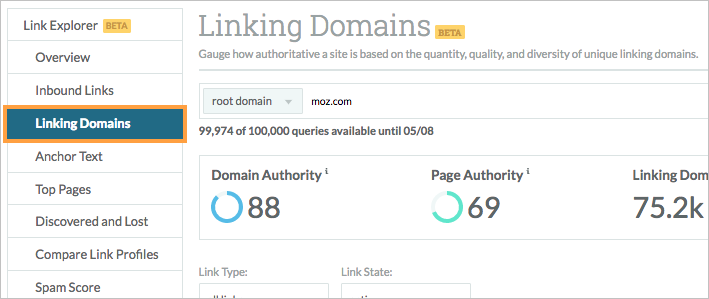 Top Features:
It lets you research your competitor links and compile them on the basis of DA and PA.
You can easily find and fix broken links to your site.
You can check the spam score of links pointing to your site so that you can remove such links.
The tool allows you to quickly discover link opportunities by letting you know who is linking to you but not to your competition.
You can see new and lost links and discover the top-performing content on your site.
Why It's Useful
Links are not going to die any time soon, meaning that the only effective way to make your site rank higher in the search results is by earning links. Moz Link Explorer lets you analyze your site's link profile, compare it with your competitor's link profile and then it provides link opportunities that you can use to defeat your main competitor in the organic search results.
Premium Version
With the free version of Link Explorer, you can research just 10 queries with 50 rows of data. For conducting a comprehensive research with unlimited queries, you need a Premium version starting at $99 a month.
As defined by XML.com, "A schema is a model for describing the structure of information. It's a term borrowed from the database world to describe the structure of data in relational tables. In the context of XML, a schema describes a model for a whole class of documents."
Schemas provide users with an enhanced experience in which they are presented with specific details about a particular company or organization on search engine results pages (SERPs). With this tool, you can customize how your business looks in the SERPs, including your reviews, operating hours, events, etc.
How to Use This Tool
Select the type of markup you wish to create from the drop-down on the left side and enter the details related to your business. The tool will automatically generate a JSON-LD schema data on the right side of the page. You can copy the code and paste it in the <HEAD> section of your HTML document.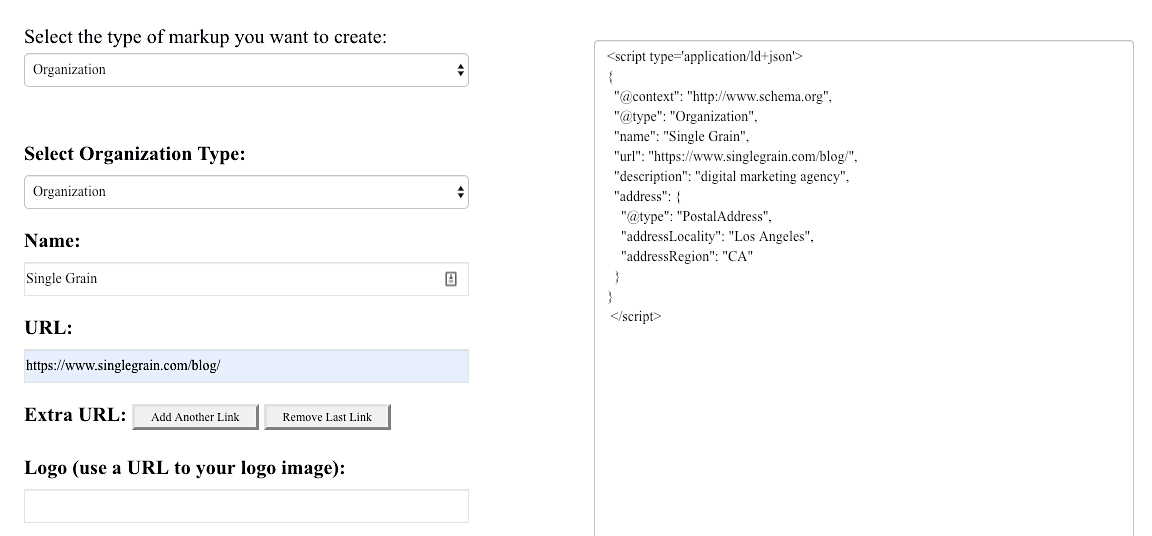 Top Features:
You can integrate the schema code easily – it's as simple as copying and pasting.
The tool has a free WordPress plugin version.
There's also a Schema app which you can try for free for 14 days.
Why It's Useful
Most businesses are still missing accurate schema data on their website. With the help of this tool, you can quickly generate the required schema data and add them to your important business pages. This will enable search engines to better understand the content in your web pages and will enable your pages to rank higher in the search results.
As defined by Google, "A sitemap is a file where you provide information about the pages, videos and other files on your site, and the relationships between them. Search engines like Google read this file to more intelligently crawl your site. A sitemap tells the crawler which files you think are important in your site, and also provides valuable information about these files."
Having a sitemap is another way to have a highly indexable website. This tool allows you to create a sitemap for your website with both XML and HTML variants.
How to Use This Tool
Just enter the full URL of your website and the tool will start generating the sitemap: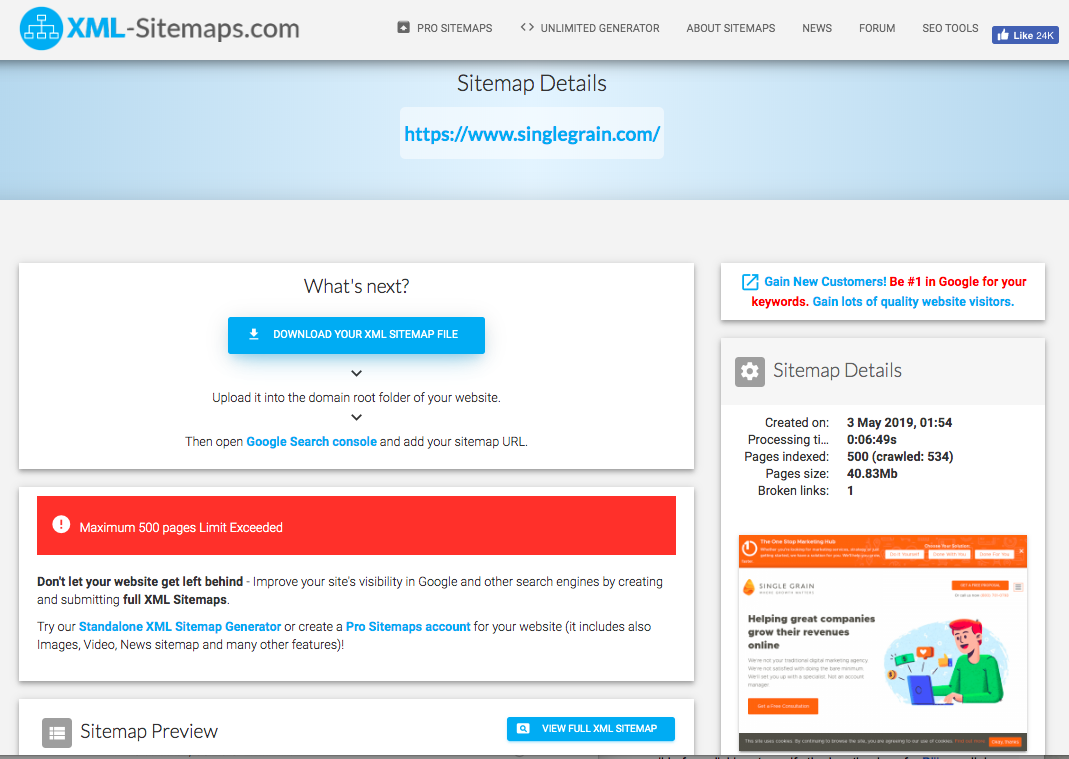 Top Features:
You can get your sitemap ready quickly without the need for any registration.
The tool emails you the generated sitemap so that you can put it on your site at a later time.
The results include the number of pages, broken links, XML file content and the link to the sitemap file.
Why It's Useful
Sitemaps helps to improve the crawlability of a website. With the help of XML Sitemaps, you can create separate versions of HTML and XML sitemaps that is beneficial for both the user and the search engines.
Premium Version
You can create a sitemap for up to 500 pages in the free version. If you have a large site, then you need to purchase the premium version for $3.49 per month. This will let you create a sitemap for an unlimited number of pages.
Learn More:
Robots.txt is a special file that tells search engines which pages to index from your website. The tool lets you generate the robots.txt file that commands the search engine crawlers which pages on your site should be crawled and which ones are to be left out.
How to Use This Tool
Choose the command (disallow or allow – by default every file is allowed) and enter the name of the file or directories. The code to be added in the robots.txt  file will get displayed in the text right below the rules area.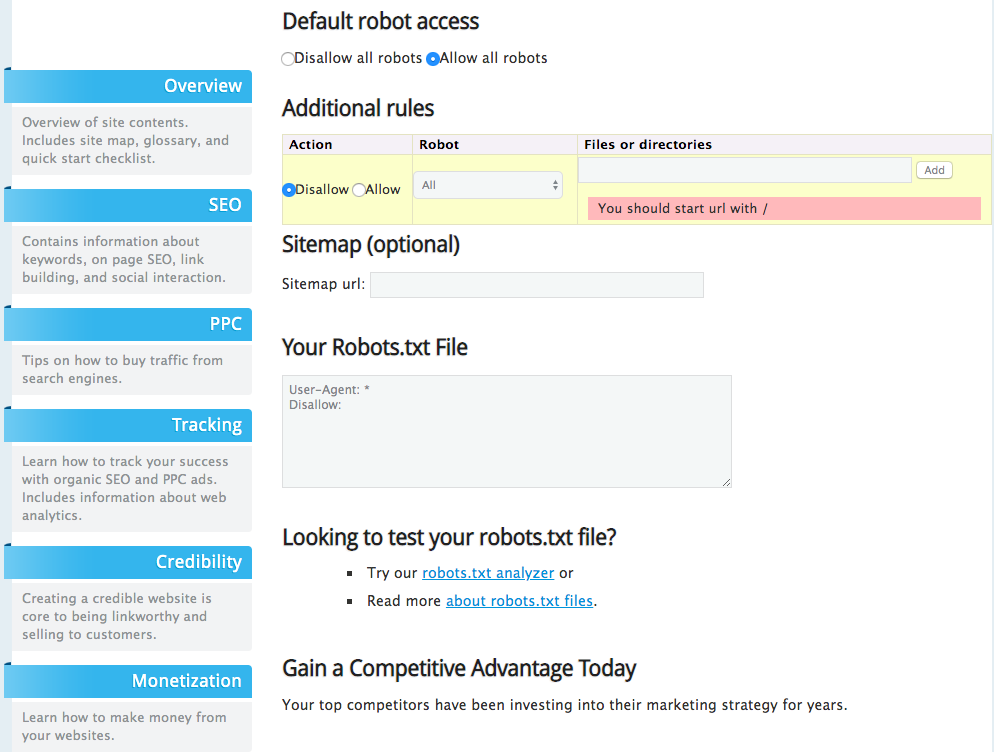 Top Features:
You can easily disallow crawling of directories and files and instruct the robots how to crawl your site.
The tool is free to use and generates the required text file in seconds.
Why It's Useful
You definitely don't want search engine bots to access confidential information related to your customers and make them public. This is where robots.txt file comes handy. The Robots.txt generator from SEO Book helps you to generate the required code in seconds so that you can add it to your site.
SEOquake is one of the most popular SEO tools that is free to use. It's an extension that displays an SEO overview of any given page through a toolbar or SERP overlay.
How to Use This Tool
You need to install the SEOquake extension on your browser. Chrome, Mozilla, Safari and Opera are supported. Once the extension is installed, you will see a toolbar in your browser. You can quickly run a complete SEO audit of any website using this tool: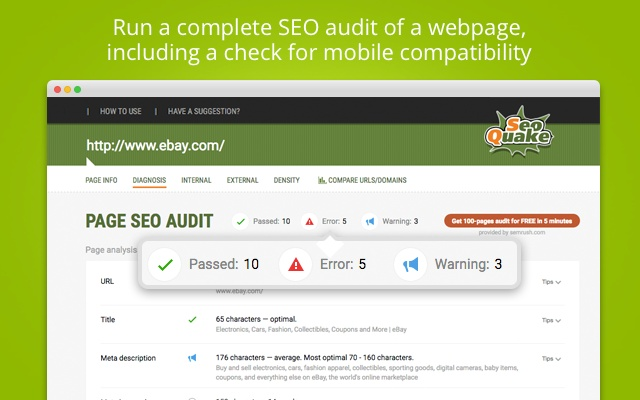 Top Features:
It displays the total number of indexed pages, domain age, social shares and external links.
This tool's shining quality is its fluidity. Instead of individually checking sites through a standalone tool, you can view real-time stats as you browse.
SEOquake also offers a free on-page audit tool so that you know if there are any errors on your site – and, of course, they offer tips on how to correct these errors.
Why It's Useful
It's pretty useful because you can conduct a complete SEO audit in a flash. This tool comes in handy when you are short on time and need to examine a lot of URLs fast.
SEO Site Checkup lets you instantly analyze SEO issues, understand your competitor's SEO profile and generate reports that you can act upon.
How to Use This Tool
Simply enter the URL of your website and click on "Checkup!". The tool will analyze the URL and provide a score out of 100. The greater the score, the better your website is in terms of SEO.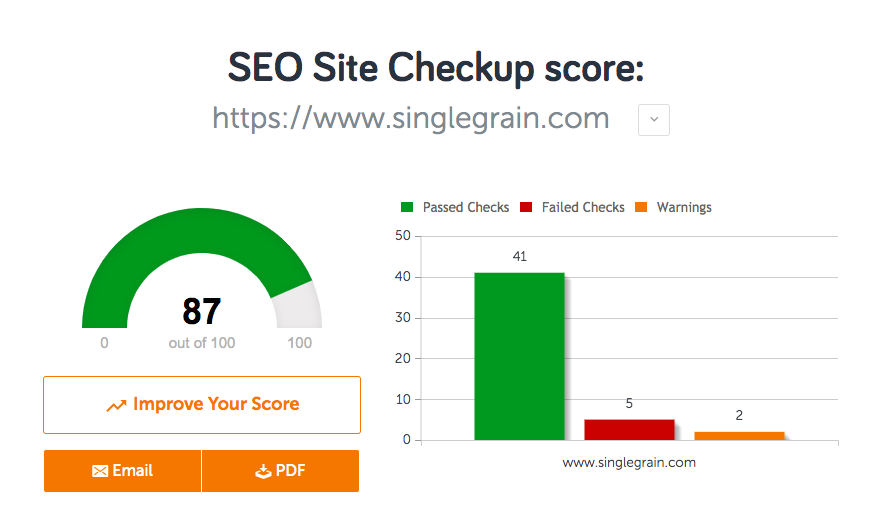 Top Features:
The tool checks the on-page factors of the website, like meta tags and keyword usage.
It checks the speed and security of your website.
It conducts a mobile design check which helps to see whether the site is mobile friendly or not.
It also conducts structured data test, 404 pages test and canonical tag test.
Why It's Useful
Other than the SEO score of your site, this tool also relays information on how you can fix the analyzed issues pertaining to SEO, such as speed, security and mobile usability. You simply enter your URL to see how your website is currently performing.
Premium Version
The free version allows up to five check-ups in one day, though you must create a free account in order to check more than one website each day. If you need to generate more than 300 reports per month for more than three websites, you'll need to purchase a paid plan starting at $24.95 a month.
Learn More:
It's essential that you know how each of your pages are performing based on their keywords – and this keyword rank checker can help. You can search for the keyword and domain or the keyword on both Google and Yahoo. You can also see the current ranking depending on the device used.
How to Use This Tool
Simply enter the keyword that you wish to track and the domain name. The tool will automatically check the rankings of the particular domain for the selected keyword.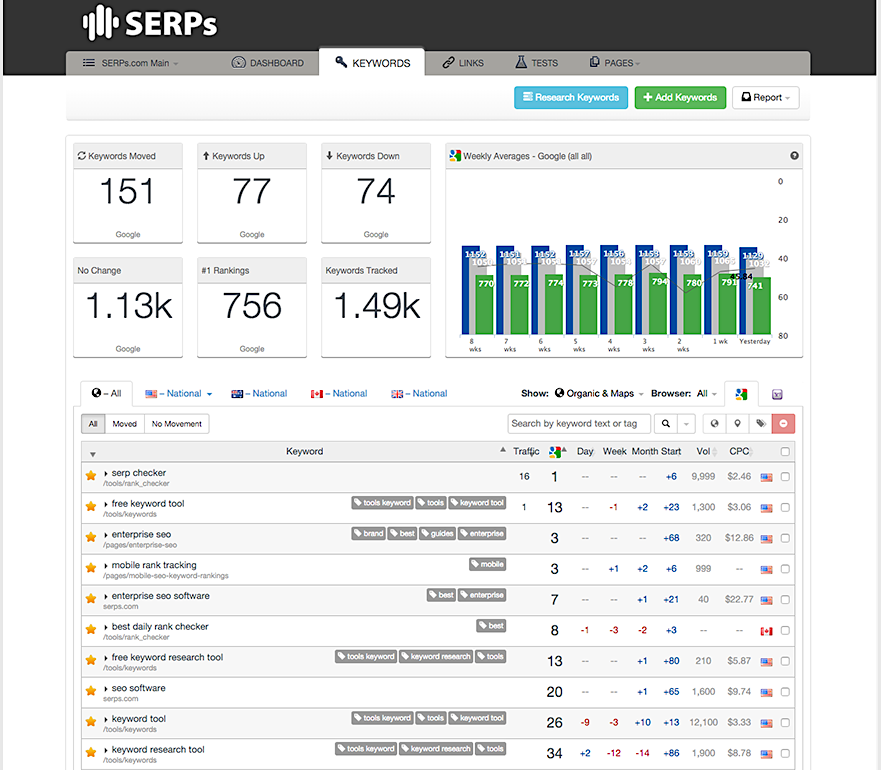 Top Features:
You can easily track the ranking of your website on selected locations without manually checking them on Google and without the use of VPN.
SERPs also offers other free tools like Keyword Research Database and Google Location Changer.
With the help of the Location Changer, you can track the position of your keywords on several locations.
Why It's Useful
You can easily track the rankings of keywords without having to manually check them on Google.
Premium Version
With the free version, you can check just one keyword at a time, but for tracking up to 1,000 keywords, you need to purchase the Premium version for $99 a month.
Duplicate content is the bane to your SEO success, so you need to check your website to see if there are any duplicate pages. This is where Siteliner comes in handy.
How to Use This Tool
Simply input your URL and click "Go." From there, you'll see all the pages that have duplicate, common or unique content. This tool will also check for broken links on your site.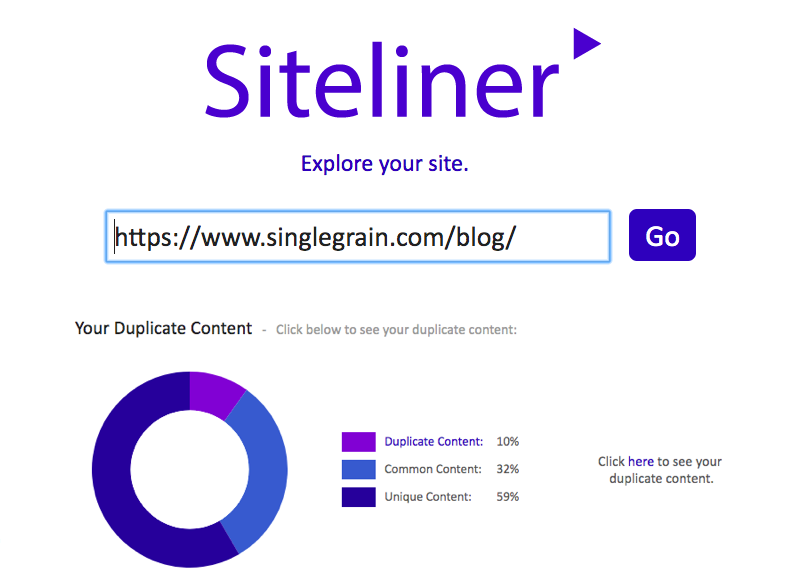 Top Features:
The tool checks the total number of duplicate pages on your site.
It also checks the number of broken links and skipped pages.
You can download the report as a PDF file.
Premium Version
Signing up for the premium version is free and allows unlimited monthly checks on up to 25,000 pages. Above that, you need to pay for the tool. Cost is $0.01 for every page scanned.
Screaming Frog is a desktop program that can be installed locally on any PC. It works as a website crawler and log analyzer for conducting comprehensive technical audits of any website.
How to Use This Tool
You need to download the software by clicking on the download button. Once installed, click on the Screaming Frog icon on your desktop to open the tool.
Enter the URL you wish to crawl and click on start. The tool will automatically crawl and fetch all the data related to the URLs for further review.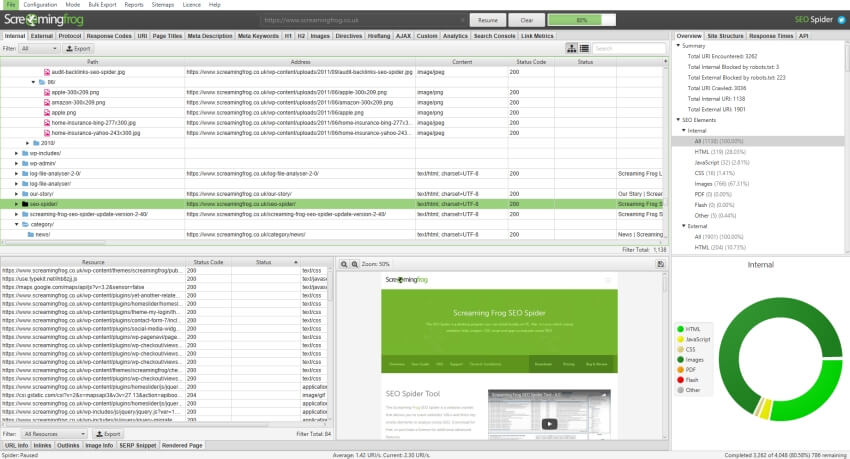 Top Features:
This tool helps to evaluate onsite SEO factors, including server errors, broken links, duplicate pages and blocked URLs. It also crawls your website to analyze title and meta descriptions, determining required length and relevance.
It can also outline whether there are any missing elements. For additional data, the tool integrates with Google Analytics where users are able to generate error reports.
Why It's Useful
Screaming Frog is extremely useful in fetching a set of URLs and analyzing the important details like the meta tags or broken links. This tool saves a lot of time and helps to improve SEO.
Premium Version
With the free version, the tool has a crawl limit of 500 URLs. If you wish to analyze more than 500 URLs then you need to subscribe to the Premium version priced at £149 (~$195) per year.
This is an option in Google Chrome that allows you to browse in private mode.
How to Use This Tool
Open Chrome and click on the File Menu. Now, choose New Incognito Window from the list. Continue to browse the Internet under the Incognito mode without the need to track cookies and browsing history.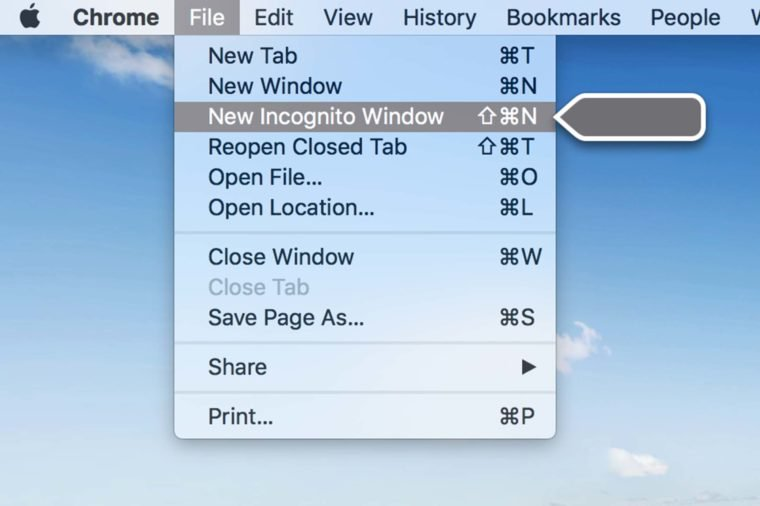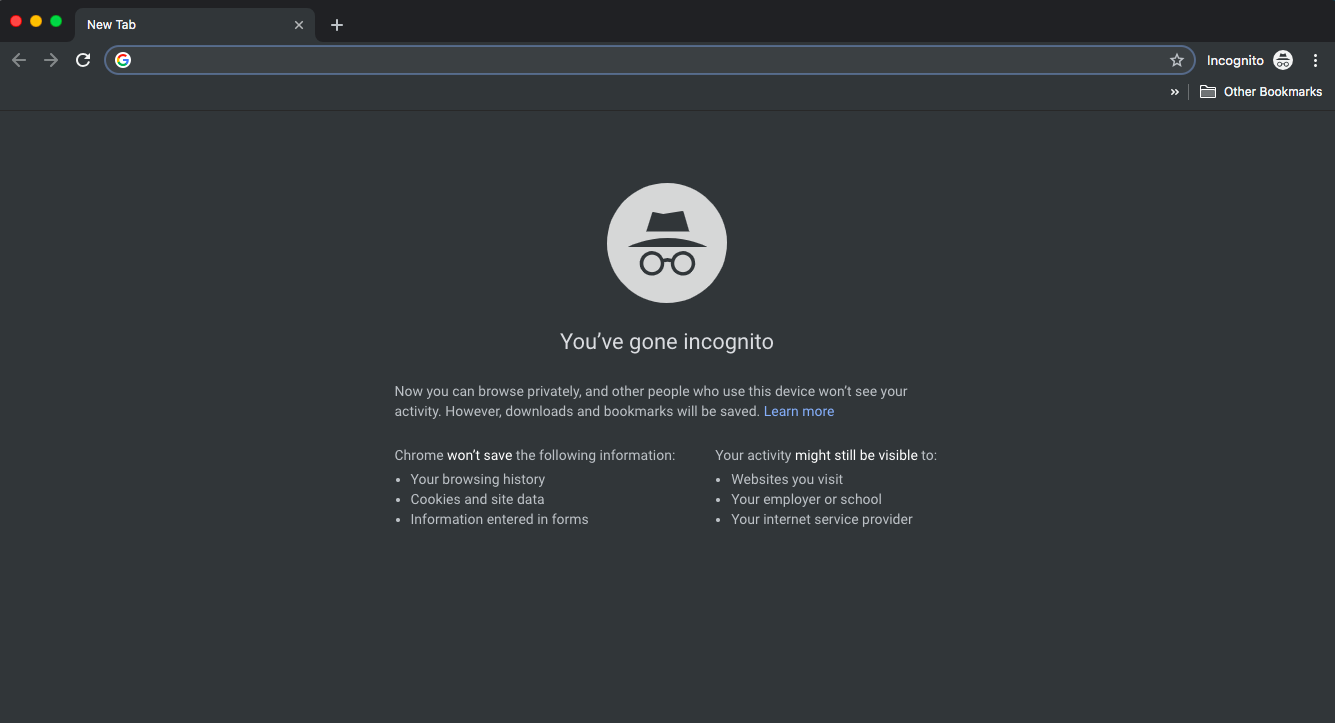 Why It's Useful
Incognito searching is a great way to see how popular your keywords are, as well as what the most popular search terms are within your niche.
Because the autofill options are not affected by your previous searches and browser history, the keywords that you see, as well as the search results, are exactly in the order that Google would rank them. Use Incognito for preliminary research on where you rank or popular keywords you could rank for. But for an in-depth analysis (which you probably will need), you should definitely combine this method with other tools on this list.
I am assuming that you are already using this, but for those who are very new to SEO, this is the tool you must definitely use on a weekly basis at least. Google Analytics should be the hammer in any SEO toolkit. This free and easy-to-use tool is what all your other tools should complement.
How to Use This Tool
You need to sign in to your Analytics account to start using this tool. First-time users can create a new account for free. Thereafter, you need to add your website in Google Analytics as a property. The instructions for adding a new property is provided here.
Once you have added your website as a property, navigate to Tracking code under the property column and copy your tracking code. Paste this tracking code right after the <HEAD> tag on each page of your site.
Once this is done, you will be able to obtain valuable information related to your site when you login to Google Analytics. You can see the number of visits to your site, the channels that are sending you the maximum visitors, time on page, bounce rate and other important metrics.

Top Features:
With Analytics, you can see how much traffic is coming into your site, and the ways in which people are getting there.
With the help of Campaign Parameter tracking, you can easily find out which campaigns are generating the maximum traffic and conversions.
With the help of Goal Tracking and Funnel Conversion Path, you can find out how many users are converting and which path they are using for conversion.
With the help of the Audience Reports, you can better understand your audience, like their age and the device they are using to reach your site.
Why It's Useful
The tool provides a lot of data that comes directly from Google. You can identify the total traffic to your site, the total conversions and the total revenue generated from your site. You can trust the data and take the required actions in order to further optimize your site.
Learn More:
Netpeak Spider is an SEO crawler for regular SEO auditing, quick issues search, system analysis, and website parsing. It's a desktop tool that can be installed on Windows OS.
How to Use This Tool
You need to create a free account with Netpeak software and install the Netpeak spider on your computer or laptop. Once it is installed, click on the Netpeak spider icon on your desktop in order to open the software.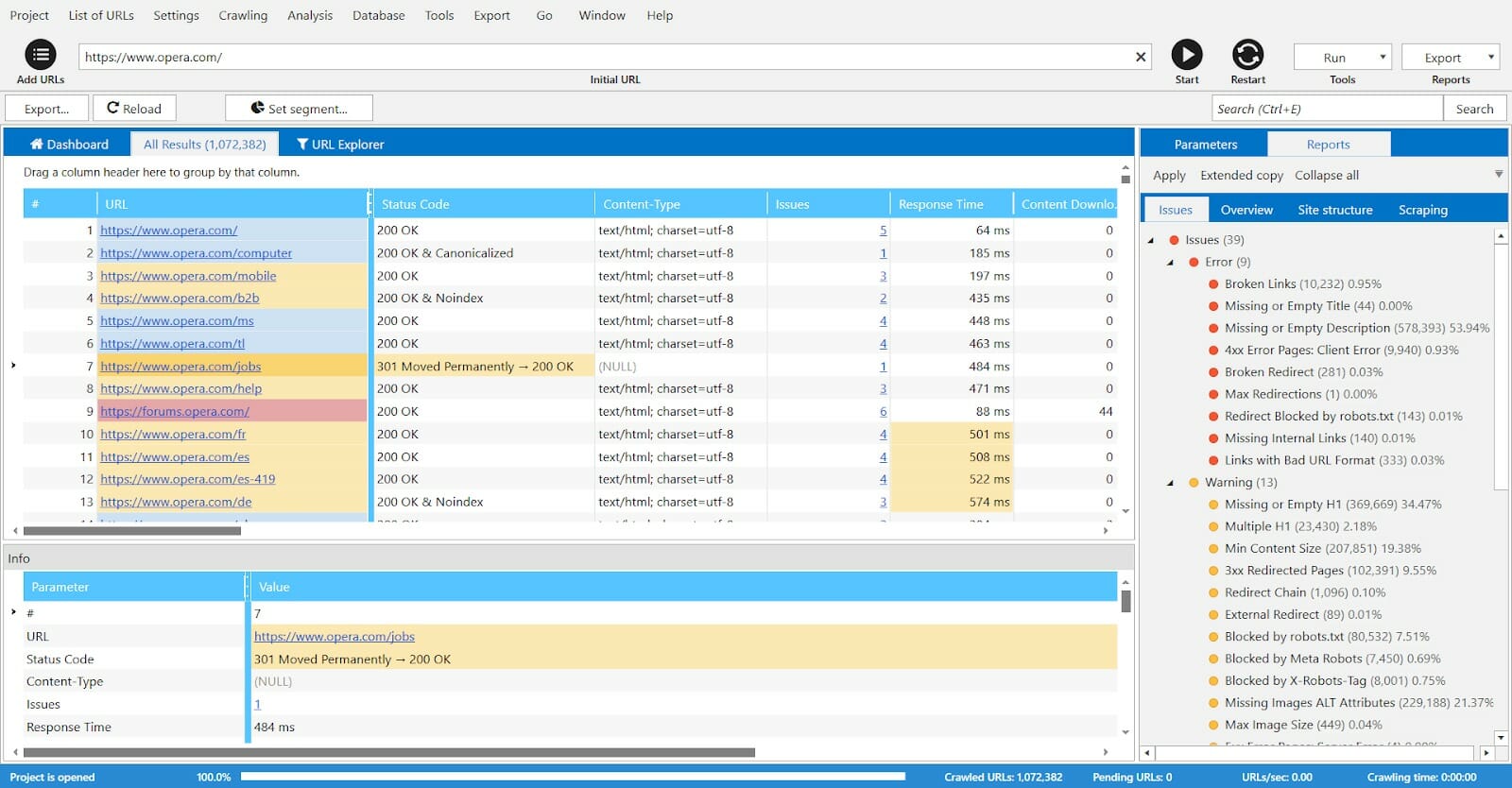 Once opened, you need to enter the URL to be analyzed in the "Add URL" bar. The crawler will start fetching the URLs and present the issues within minutes.
Top Features:
Using this tool, you can analyze incoming and outgoing links, find broken links and redirects, consider indexation instructions, and identify duplicate content.
You can quickly analyze titles, meta descriptions, H1 headers, full pages, etc.
Another unique feature is the 'Scraping' function. It provides custom search and extraction of source code or text via four types of search: 'Contains', 'RegExp', 'CSS selector' or 'XPath'.
Why It's Useful
This tool works as a standalone desktop software and makes it easier for you to analyze URLs in a comprehensive manner. The tool checks 62 issues according to 52 parameters in the shortest possible time – a task that would be time consuming if performed manually.
Netpeak Spider is available for free with no limitations in terms of use, number of analyzed URLs or settings customization.
Final Thoughts
These are just seventeen of the most important tools that an SEO must use. You can start with the free versions of the freemium tools to determine if these are the right tools for your conversion goals, and if one or more work well for you, you always have the option to upgrade to a paid plan.
You are sure to find a tool that fits your needs and budget, and once you find one that works well, stick with it. Whichever tool and plan you choose, make sure that you are maximizing all the value you can possibly get from it.
Implementation and experimentation are perhaps the most important aspects of search engine optimization – but all the results and recommendations in the world are useless if you don't follow through and execute.
Check out our 4-minute video on the top 5 SEO tools to skyrocket your organic traffic: