When it comes to communications systems, RingCentral is perhaps one of the best-known and most well-respected communications providers around.
But RingCentral isn't the only viable option out there. Before making any long-term decisions or significant investments, it's important to look into and understand all the options that are available to you.
That's exactly what we'll do in this article. Here, we'll compare and contrast some of the top RingCentral alternatives and competitors to help you decide which one is the best fit for your business. We'll cover features, pricing and what type of business each option is best for.
What Is RingCentral?
Founded in 1999, RingCentral has been a mainstay of the cloud-based communications space.
Along the way, it has picked up several accolades, including Best Unified Communications Platform of the Year award from UCToday and the title of Gartner Magic Quadrant leader in the UCaaS category for the past four years.
Needless to say, RingCentral is doing something right. Between its high-quality VoIP, video conferencing, chat and SMS offerings, plus its more unique features, like analytics, RingCentral is a platform that is absolutely worth considering when setting up a communications structure for your business.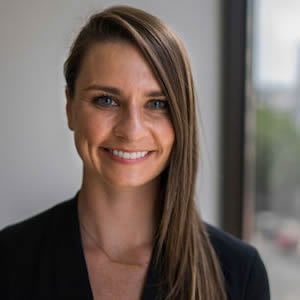 Jacqueline Foster

Demand Generation Marketing, Lever.co

We can count on them to bring new ideas to the table consistently
8 RingCentral Alternatives and Competitors for 2023
Nextiva
Website: Nextiva.com
Pricing: Starts at $19.95/user/month

Nextiva is a high-quality communications platform that offers VoIP, SMS, video and audio conferencing, chat and fax, along with a slew of other features that help improve functionality.
It's also one of the few UCaaS providers that offers a full-blown CRM among its feature set. This helps businesses not only connect with leads and customers, but also organize their information to boost the efficiency of sales and communications. Nextiva prides itself on its various integrations, like Salesforce, G Suite, HubSpot and Outlook.
Caller AI, one of Nextiva's most unique features, ties everything together by providing information on the person you're talking with as soon as a call begins. Now sales reps won't need to scramble around to find a file before they call a lead, and customer service reps will always have a customer's information right in front of them as soon as they receive a call.

(You can see a deep dive into the differences between Nextiva vs. RingCentral right here.)
Other useful features in Nextiva's UCaaS offering include a multi-level auto-attendant to route calls and automated transcriptions, which can make it easier to skim through past calls for important information.
Nextiva's pricing starts at $19.95/user/month, which is just about average for this space. It is a solid product that will work well for businesses of many different sizes.
Mitel
Website: Mitel.com
Pricing: Starts at $20.99/user/month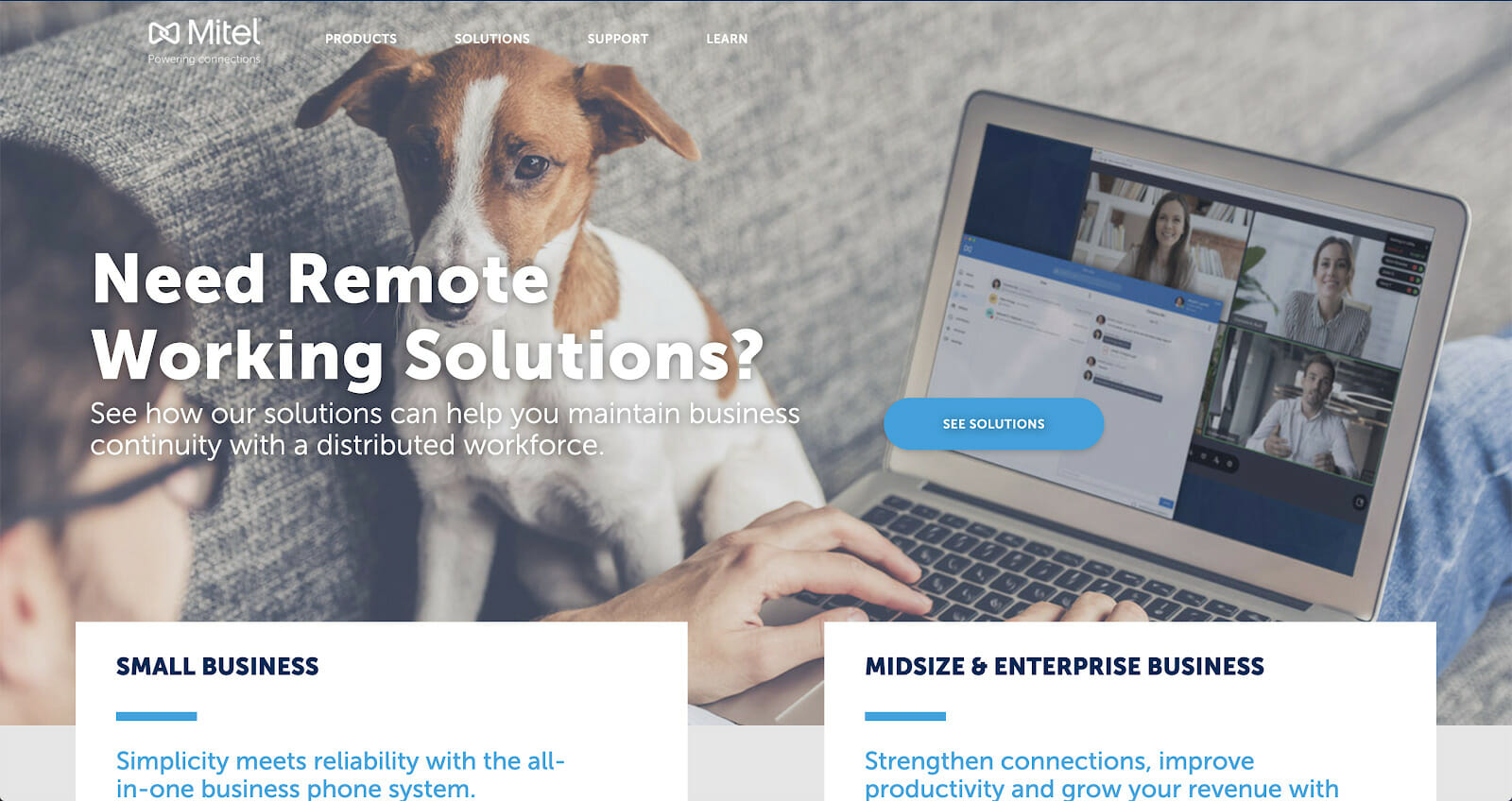 Mitel is a company that is dedicated to providing communications services and remote working solutions. It's unique in that it's the only communications platform we've reviewed that includes a VPN (Virtual Private Network) among its feature set, which helps keep communication and web usage secure and private.
Mitel's system is built on the Google Cloud architecture, so if reliability is a priority for you, you can rest assured that you have one of the biggest and most well-respected tech companies backing all your communications. Mitel is a very flexible product, as it can be deployed as either a cloud-based system or an on-premises system depending on the needs of the individual business.
The provider also has quite a few hardware options, which makes it a good choice for businesses looking to implement a UCaaS solution for the first time.
Starting at $20.99/user/month, Mitel is priced just above the industry standard of $19.95/user/month. This makes it a good choice for businesses of all sizes, and if you're planning to use a VPN, it can also save you some money on a separate VPN subscription.
Dialpad
Website: Dialpad.com
Pricing: Starts at $15/user/month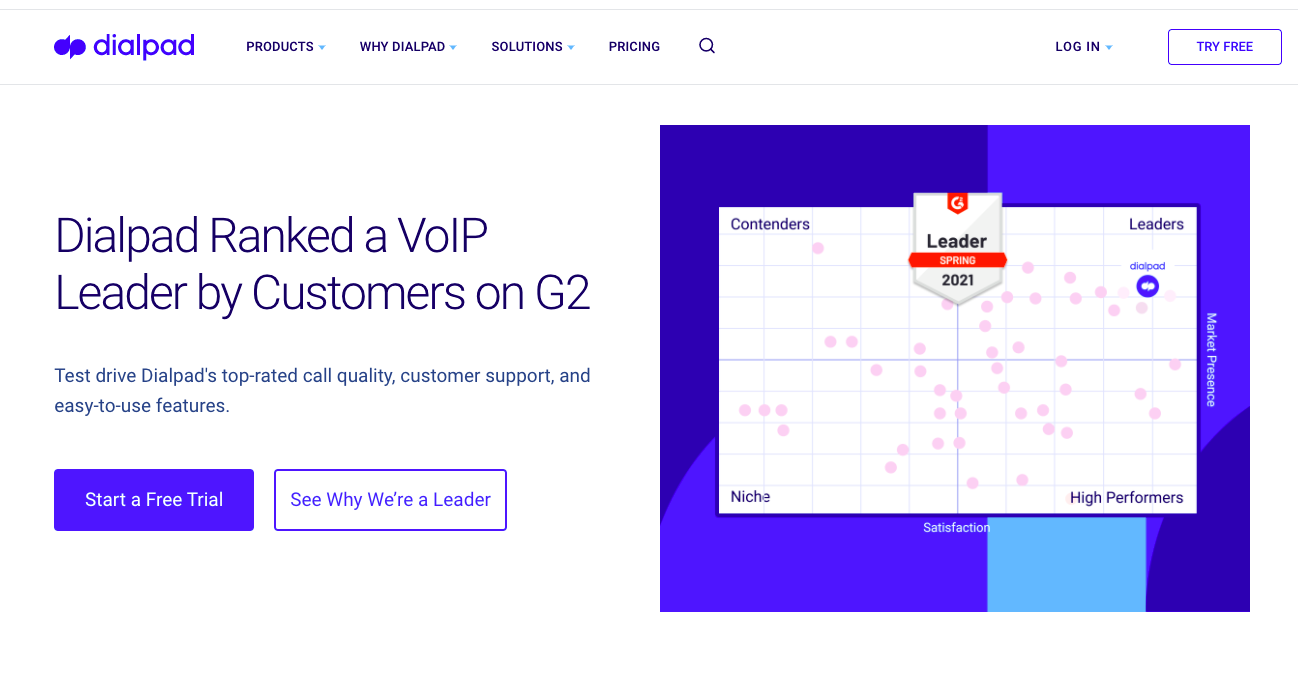 If you want a communications system that truly stands out from the rest of the pack, Dialpad deserves your attention. While its base features are exactly what you'd expect, (VoIP, chat, SMS, video conferencing, etc.), its Voice Intelligence feature kicks analytics up a notch.
In short, Voice Intelligence is an analytics tool that uses NLP (Natural Language Processing) to handle your phone conversations and derive meaningful insights from them. While other platforms, like RingCentral, offer analytics tools, most focus on pure numbers — how many calls your team made, how many minutes spent on the phone, etc. Voice Intelligence is the only analytics tool we've come across that provides data on individual calls. These insights can then be used to improve your sales strategies or make your customer service experience better.
However, this type of cutting-edge technology doesn't come cheap. Although Dialpad starts at $15/user/month, if you want to make use of features like Voice Intelligence, you'll need to shell out $25/user/month.
That said, Dialpad isn't tied down to any one device, so you won't need to invest in Dialpad-specific hardware upfront.
8×8
Website: 8×8.com
Pricing: Starts at $12/user/month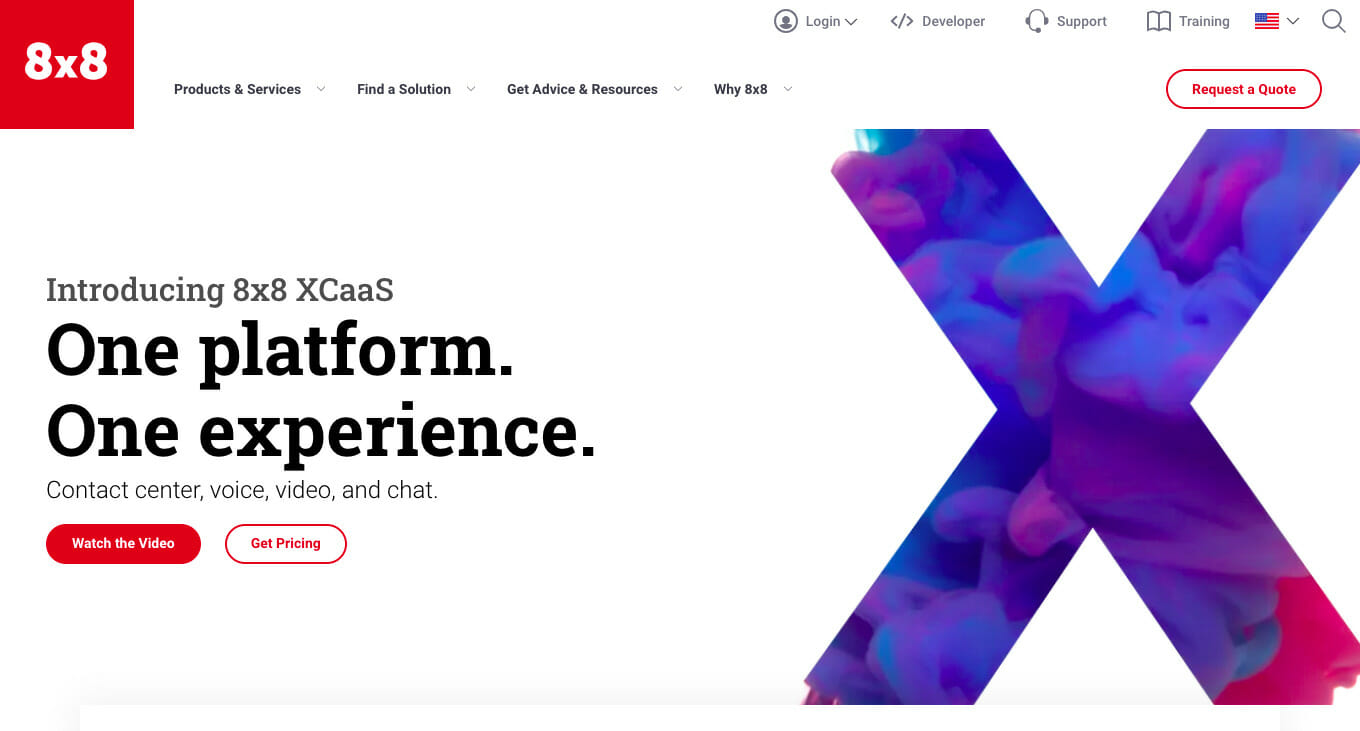 8×8 got its start as a computer chip company before transitioning into communications. Its roots in deep tech shine through even in its current offerings, which include more advanced features than some of its competitors, such as SIP (Session Initiation Protocol), trunking, which allows you to use your phone system over the Internet instead of a traditional phone line.
Among its features is an API that you can use to build your own apps or expand on 8×8's current feature set. It's a useful addition that will be especially appealing to businesses that have a tech team that can get into the nitty-gritty of the API.
Overall, 8×8 stands out as a company with a focus on international business. While its lowest-tier plan offers unlimited calling only in the U.S. and Canada for $12/user/month, the next tier up offers unlimited calling to 14 countries for $24/user/month, and the tier above that offers unlimited calling to 47 countries for $44/user/month.
You'll also notice that 8×8's plans start at a very low price — just $12/user/month. That's significantly below the industry norm of $19.95/user/month. However, for that price, you won't get video and audio conferencing (although video calls are still available), and SMS, MMS and team chat aren't on the table either.
Still, for just $12/user/month, this is a solution that will work exceedingly well for small businesses on a budget. If you're a larger business (particularly one with a lot of international communications), 8×8's higher pricing tiers will likely suit you quite well too.
Ooma
Website: Ooma.com
Pricing: Starts at $19.95/user/month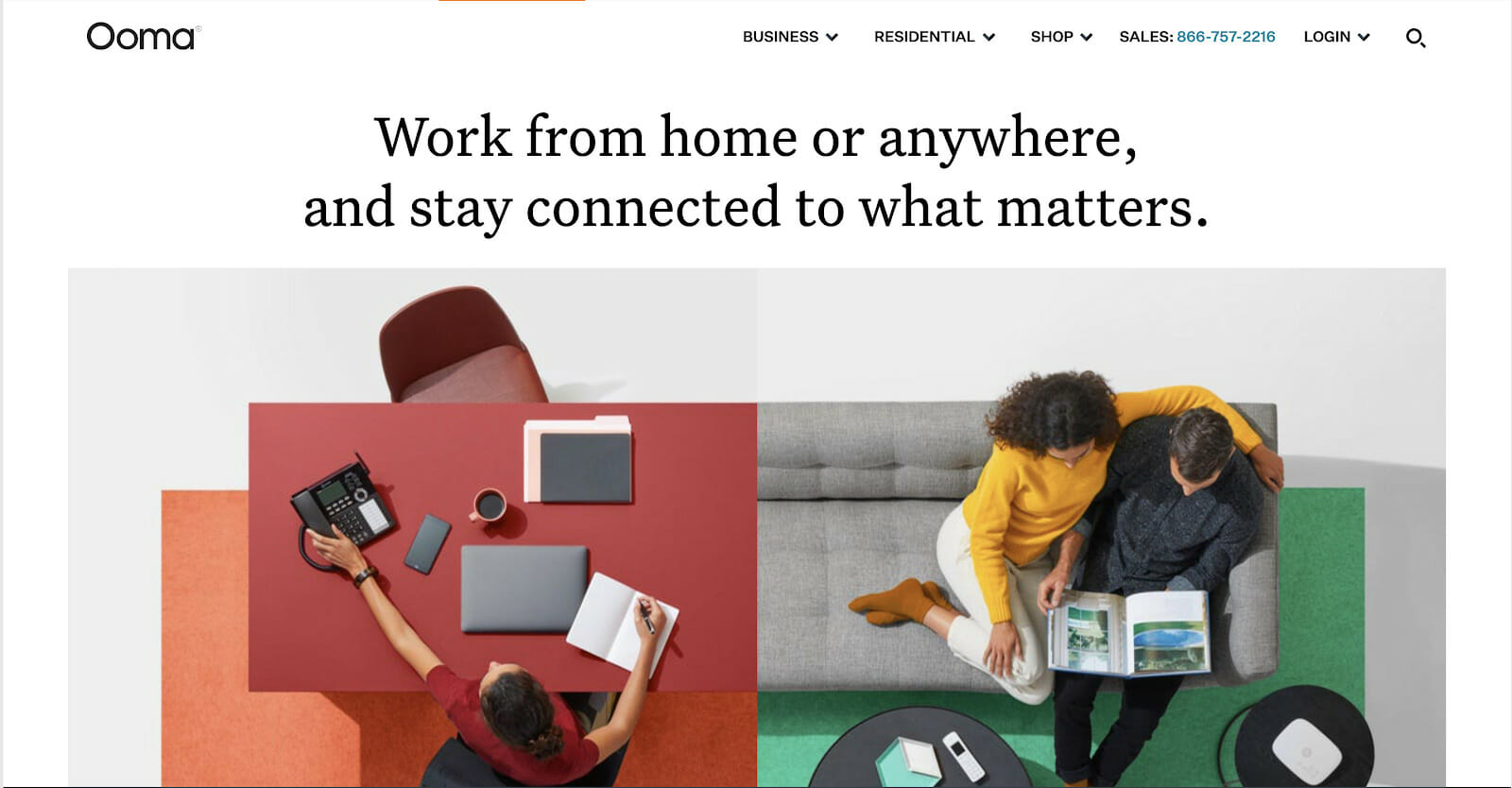 Although the last UCaaS platform we discussed was device agnostic, Ooma is not. And that's one of its defining features.
Ooma is a powerful, turnkey solution that gives off something of an Apple-like vibe — its hardware is designed to be used specifically with the software and vice versa. Overall, this leads to a system that "just works," to borrow a phrase. Ooma advertises that businesses can have their phone system set up in just 15 minutes.
This hardware/software dependency is a benefit to some but a disadvantage to others. While it makes for a very easy-to-use and well-integrated product, it also makes for a higher upfront investment, and one that will be particularly painful for businesses that are switching from another provider and already have hardware.
That said, Ooma does offer a softphone app that works on desktop and mobile. This provides similar functionality to its hardware solutions, but it loses some of the tactility of a business phone, which is a major selling point for Ooma.
At $19.95/user/month, Ooma's services are reasonably priced. The call quality is good, and the system is easy to use. Just make sure you take into account the cost of hardware if you want to get the full Ooma experience.
Vonage
Website: Vonage.com
Pricing: Starts at $19.99/user/month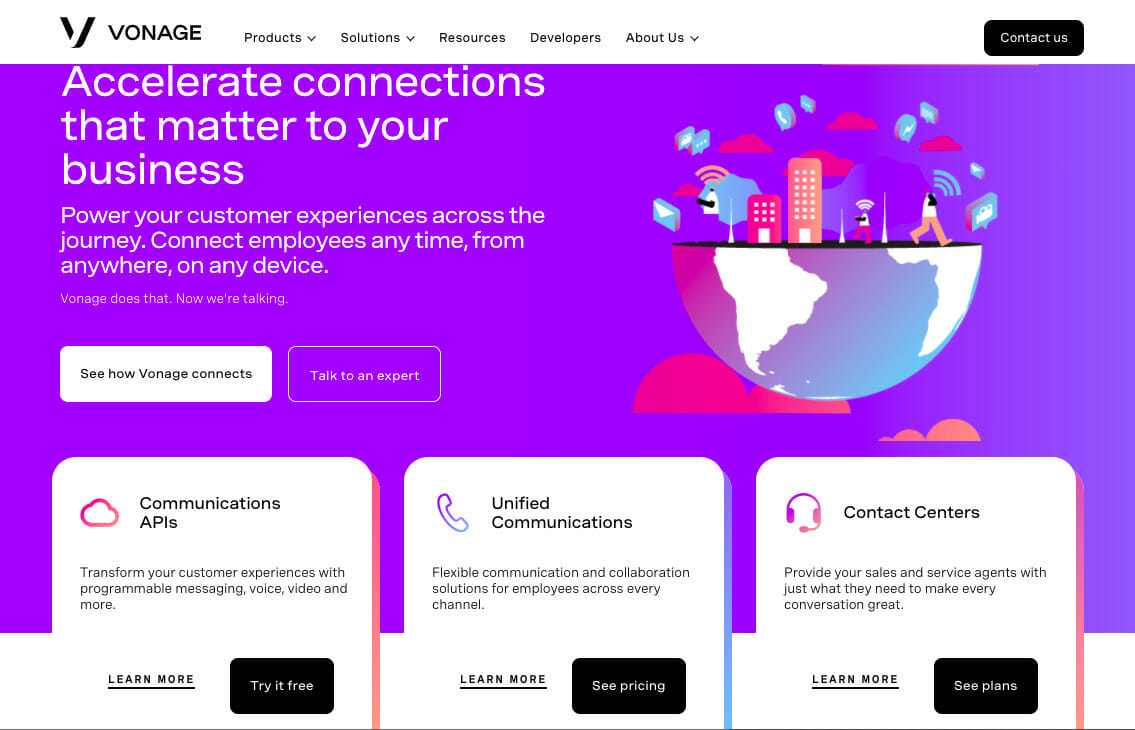 Vonage entered the hearts and minds of millions during the early 2000s when it ran its iconic TV commercials with orange branding and catchy whistling. While Vonage originally made a name for itself as a residential VoIP provider, it has since switched its focus to business communications.
Now Vonage offers several products for businesses: communications APIs, unified communications, and solutions for contact centers. If you're planning to develop a communications app or need to design a very specific functionality for your business, Vonage's API can be extremely useful.
If a turnkey solution is what you're after, Vonage's unified communications products offer a high-quality way to connect your team, your clients and your leads. Or consider Vonage's contact center solutions if you have a large team. One advantage of Vonage's unified communications offering is its app center, which lets you connect Vonage to different applications like G Suite, Salesforce, and others.
Overall, Vonage can serve many different types of businesses well, especially given the flexibility that comes with its API, but it seems to serve small businesses particularly well.
GoToConnect
Website: GoTo.com
Pricing: Starts at $19.95/user/month for 50+ users, $29.95/user/month for <50 users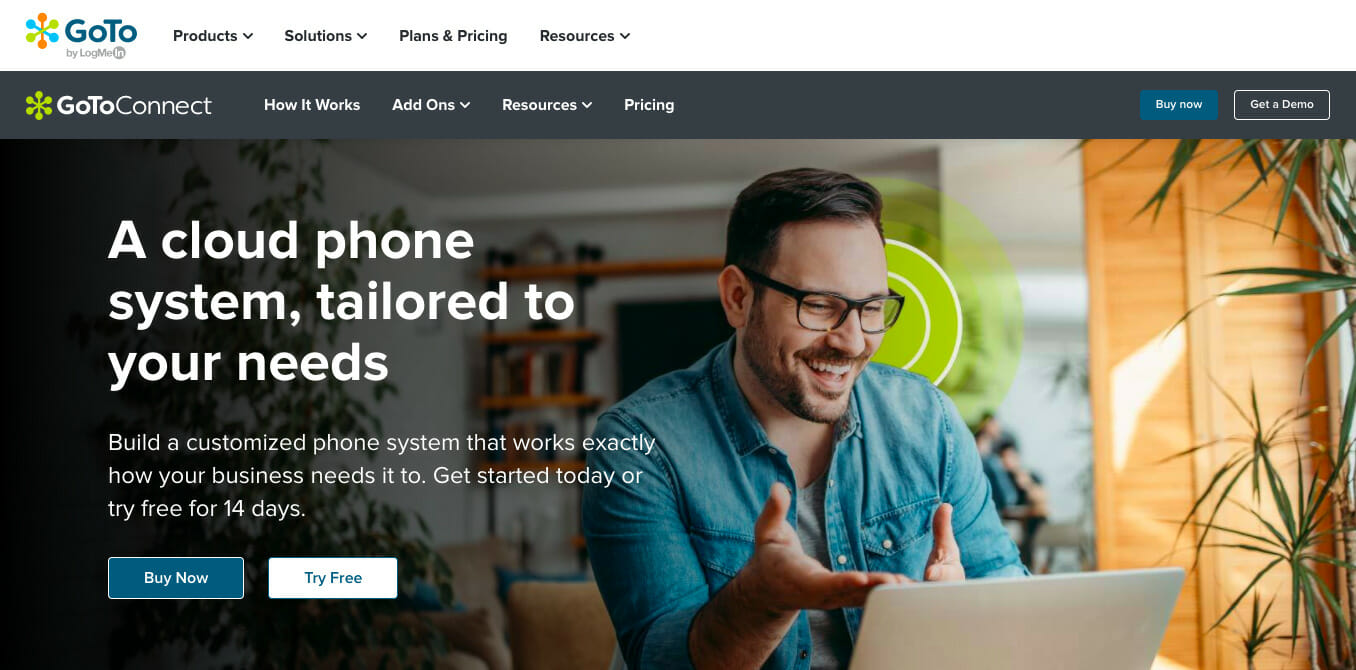 To many, GoToConnect may sound familiar. Indeed, in the 2000s, GoToMeeting was one of the leaders of the video conferencing movement.
While GoToMeeting still exists, GoToConnect has become the parent company's unified and business communications branch. As you would expect from a pioneer of digital communications, GoToConnect still offers a strong and reliable product with a focus on video — in fact, every license comes with HD video calling.
GoToConnect is one of the few RingCentral alternatives that clearly caters towards large businesses. This is evident mainly from its pricing, not its feature set. For businesses with 50 or more users, GoToConnect is available for $19/95/user/month. However, businesses with fewer than 50 users will need to pay $29.95/user/month for the same service.
This makes GoToConnect a poor choice for small businesses despite it remaining a viable option for larger ones. On the whole, GoToConnect is a strong product, but its pricing means that most small businesses will be better served elsewhere.
Grasshopper
Website: Grasshopper.com
Pricing: Starts at $26/month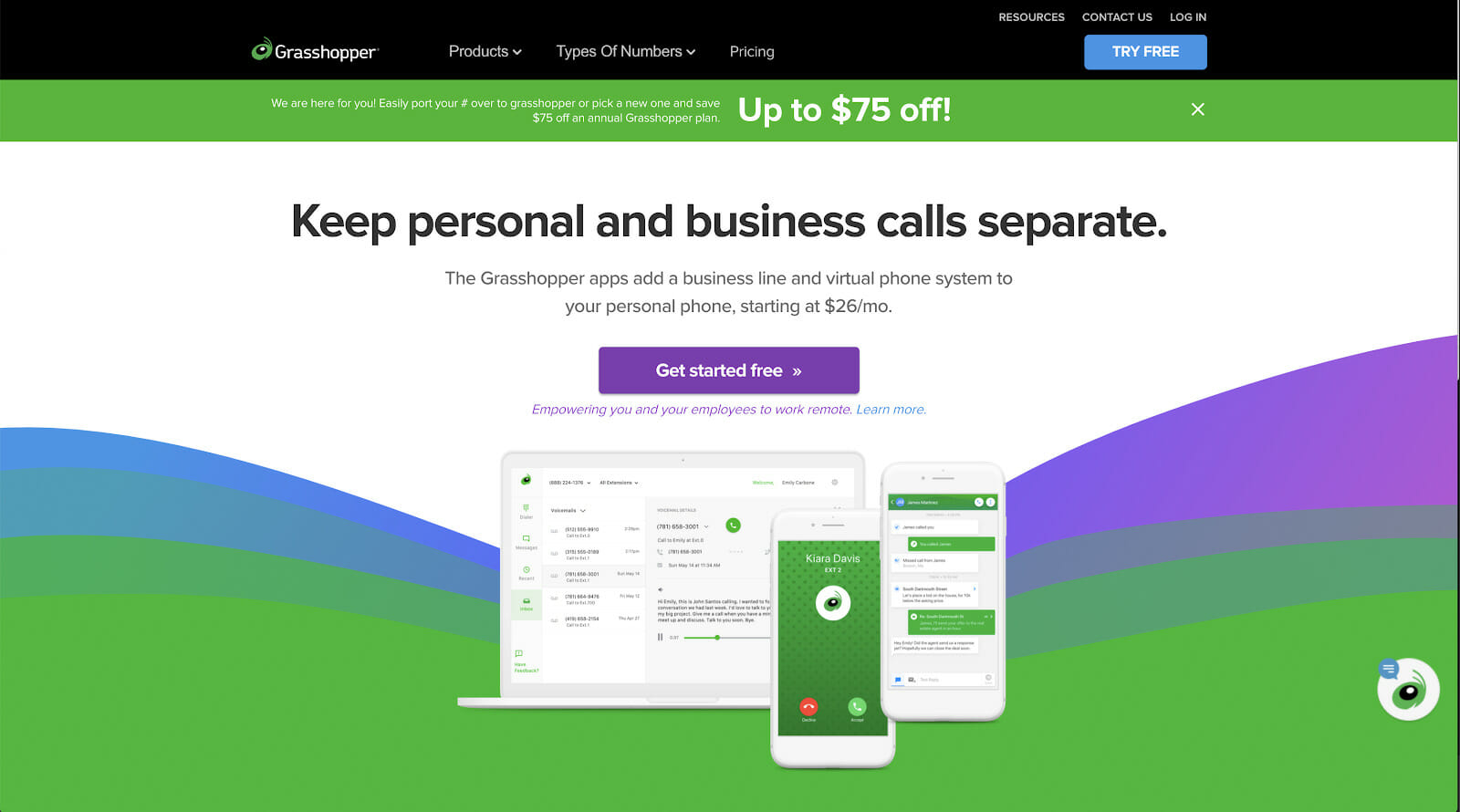 Grasshopper is a business phone service that is designed specifically for freelancers, solopreneurs and small teams. Unlike many of its competitors, its feature set is fairly limited (video is absent, for example), but it makes up for these omissions by offering features that are particularly useful for its target market.
Grasshopper runs exclusively through a softphone app, so you don't need to worry about investing in hardware. The softphone app allows you to use your smartphone for personal and business situations, while maintaining separate numbers for each.
One of its most useful features includes an instant responder to reduce the chance that you'll miss out on potential business just because you didn't answer a text soon enough.
However, Grasshopper is quite expensive, with plans starting at $26/month for one phone number and 3 extensions. If you have a small team, you'll need to look into the higher tiers, which offer 3 to 5 numbers for $44/month and $80/month respectively.
Overall, Grasshopper is a good choice for very small teams and freelancers, but its price may be a barrier to entry for many.
Key Takeaways
Unfortunately, there is no easy answer as to which business communications platform you should invest in. Each offering has benefits and disadvantages.
The best thing you can do for your business is to carefully evaluate your specific needs and find a platform that lines up with them the best. This guide should provide you with enough information to start your search, but you'll ultimately want to look deeper into each of these options to figure out which one is the best fit for your business.
---
More Comparison Articles:
6 Best Cloud Hosted PBX Providers for 2023
* 7 Best UCaaS Providers for Your Business for 2023
* 9 Best Web Hosting Providers
* 8 Absolute Best Ecommerce Website Builders
* Top 10 Best Email Marketing Services
* 8 Best Business Phone Services in 2023
* 11 Best Video Conferencing Software
* Top Grasshopper Alternatives and Competitors for 2023
* Top 8×8 Alternatives and Competitors for 2023
* Call Center Phone Systems: Everything You Need to Know