8×8 is a technology company that offers VoIP (Voice over Internet Protocol) phone, video conferencing, chat, and unified communications systems. Originally founded in 1987 as a chip designer company, 8×8 has evolved over the years to become one of the most successful business communications companies.
It's no secret that communication between team members is essential to the efficacy of any business endeavor, but although 8×8's offering is robust, it isn't the right choice for every company.
8×8's offerings include:
All-in-one communications (unified communications)
Team chat
Contact center
APIs and embeddable apps
SIP trunking
Business services
Phones and accessories
In this guide, we're going to go over some of the best alternatives to 8×8. By the end, you should be on the right track to choosing a business communications suite that's equal to or better than 8×8 – and perfect for your business needs.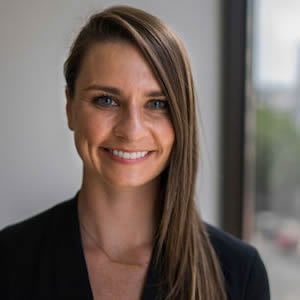 Jacqueline Foster
Demand Generation Marketing, Lever.co
We can count on them to bring new ideas to the table consistently
Top 8×8 Alternatives and Competitors for 2023
Before making any investment in a business communications service, it's important to carefully consider all the options that are available to you. The communications space is home to many helpful tools, and many more are jumping on board now that COVID-19 has led us to a socially distanced world in which more employees than ever are working remotely.
Nextiva

Nextiva is a well-known communications provider that offers phone, chat, video, SMS, fax, and unified communications services. The icing on the cake is that Nextiva also offers a CRM to help keep you organized and boost productivity.
One of Nextiva's major strengths is that it comes fully loaded with high-tech features like automation and voice transcriptions. There's also a multi-level auto-attendant, which can help you improve efficiency by routing calls automatically based on caller input.
If you want to take things a step further, Nextiva's API connectivity lets you integrate with your favorite business tools. It can also help streamline your calls with Caller AI, which integrates with the Nextiva CRM to provide caller information as soon as you start a new call.
Pricing: With prices starting at $19.95/user/month, Nextiva packs in a lot of features for a very reasonable price.
Mitel

Mitel is a communications software that covers all your bases: phone, video, SMS, and instant messaging. It even features a hosted PBX system, which is particularly useful for enterprises and larger companies.
Mitel's services are largely built on the Google Cloud architecture, so it's a good choice for businesses that are immersed in the Google ecosystem already. Plus, this also means that you'll have the reliability and robustness of one of the world's leading tech companies in your communications system.
Mitel differentiates itself from the pack by offering a built-in virtual private network (VPN) with its communications packages. This can help businesses add an extra level of security and privacy to their day-to-day efforts and defend against malicious actors.
Their softphone app is another nice feature as it lets users enjoy all the benefits of Mitel's VoIP business phone products without having to invest in any hardware. It essentially allows you to take your office phone on the go, wherever you are.
On the whole, Mitel's offerings are best suited towards small businesses that rely heavily on mobile phones or don't want to invest in hardware.
Pricing: With prices starting at $20.99/user/month, it's a bit on the more expensive side, but still quite reasonable.
Dialpad

Dialpad is perhaps the most unique offering on this list. While there are no surprises with the services it provides (phone, video, audio, SMS, etc.), some of the features it brings to the table can't be found anywhere else.
Specifically, Dialpad uses natural language processing (NLP) in its Voice Intelligence feature to bring a whole new world of insights into your communications. When you're on the phone, Dialpad's NLP algorithms comb through your conversations to find important moments and actionable insights that you can use to improve your customer experience. It's a truly unique feature that can bring a world of value to any business.
Another benefit of Dialpad is that it's device agnostic: You don't need to use its proprietary hardware to get your business phone service up and running. Any device is fair game with Dialpad — even your smartphone, thanks to the Dialpad softphone app.
Pricing: Unfortunately, the service isn't cheap. With prices starting at $25/user/month and reaching as high as $75/user/month, Dialpad is on the expensive side of this list. However, Voice Intelligence may make the extra expense worth it for some. If you don't think you'll make use of Voice Intelligence, then you're likely better off with a cheaper and simpler option.
Ooma

Ooma is a well-known tech and communications company that specializes in VoIP products. However, Oooma has also expanded into video conferencing, audio conferencing, SMS, and MMS.
Ooma has a professional polish to it — everything from its website design to its name to its feature set exudes a degree of calm professionalism and efficiency. Some of Ooma's standout features include a virtual receptionist, spam protection, hold music, multi-ring solutions, a mobile app, and much more.
Additionally, its API allows businesses to develop their own software to expand on Ooma's capabilities or automate certain processes. Plus, it also lets Ooma integrate with industry-leading software like G Suite and Salesforce.
Unfortunately, unless you're using the Ooma smartphone app on your mobile device, you can only use the service with Ooma hardware. Although some other business phone hardware will end up working, only Ooma devices are officially supported. Because of this, it generally isn't the best choice for businesses that are switching from one communications provider to another and hoping to keep the same hardware.
Pricing: With pricing starting at $24.95/user/month, Ooma is by no means the cheapest solution on this list. However, if you're a business that wants a reliable option that fits perfectly in the modern workplace, it's a great option to consider.
RingCentral

If a good reputation is what you're looking for in a communications provider, then RingCentral takes the cake. It is easily one of the best-known communications companies, and it took home the prize of Best Unified Communications Platform of the Year for 2023 by UCToday.
For the most part, RingCentral offers what you'd expect: VoIP, SMS, video and audio conferencing, and instant chat.
But it does have some surprises up its sleeve. Like Dialpad, RingCentral provides real-time analytics while you're on calls to help you navigate the conversation and make more effective decisions while conversing.
There are no user limits for RingCentral, so large teams will be right at home. Additionally, RingCentral provides unlimited calling and SMS within the U.S. and Canada, which is a nice bonus feature.
Overall, RingCentral is a robust and full-featured communications company. Small businesses may find that RingCentral is overkill, but medium-sized businesses and enterprises will likely enjoy many of its extra features.
Pricing: Pricing for RingCentral starts at $19.99/user/month, which puts it on the lower end of the options we've covered so far.
Vonage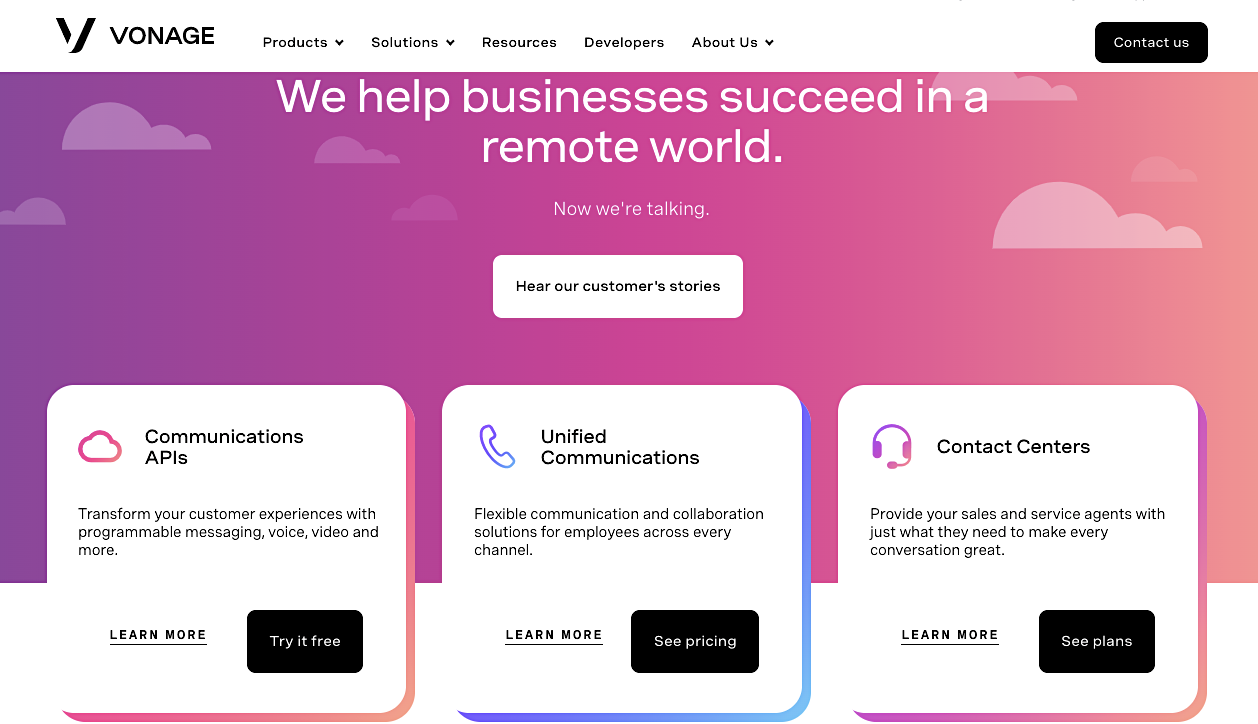 Who could forget the Vonage ads that were a mainstay of 2000's TV? The woo's and orange branding of those ads were burned into most people's memories, and the name Vonage is tinged with nostalgia.
Over the past 20 years, Vonage has shifted its focus from residential VoIP to business communications services. Now, Vonage's primary offerings are communications APIs, unified communications, and contact centers.
If you have developers onboard, Vonage's communications APIs can provide you with a basis for unparalleled control over your communications.  If you're ready and willing to develop your own communications software based on Vonage's APIs, the sky's the limit for what you can do with Vonage. Keep in mind, though, that this level of control and fine-tuning is overkill for most businesses, and many companies will prefer to use a more streamlined service.
If you fall into that group, then Vonage's unified communications offerings may be more up your alley. It gives you access to phone, SMS, fax, social meetings, and team messaging without the need to program your own software. For many businesses, this turnkey solution is preferable.
Pricing: Vonage's unified communications pricing starts at $19.99/user/month for a mobile-based solution. If you want to use a business phone device, you'll need to upgrade to the next tier, which is $29.99/user/month.
GoToConnect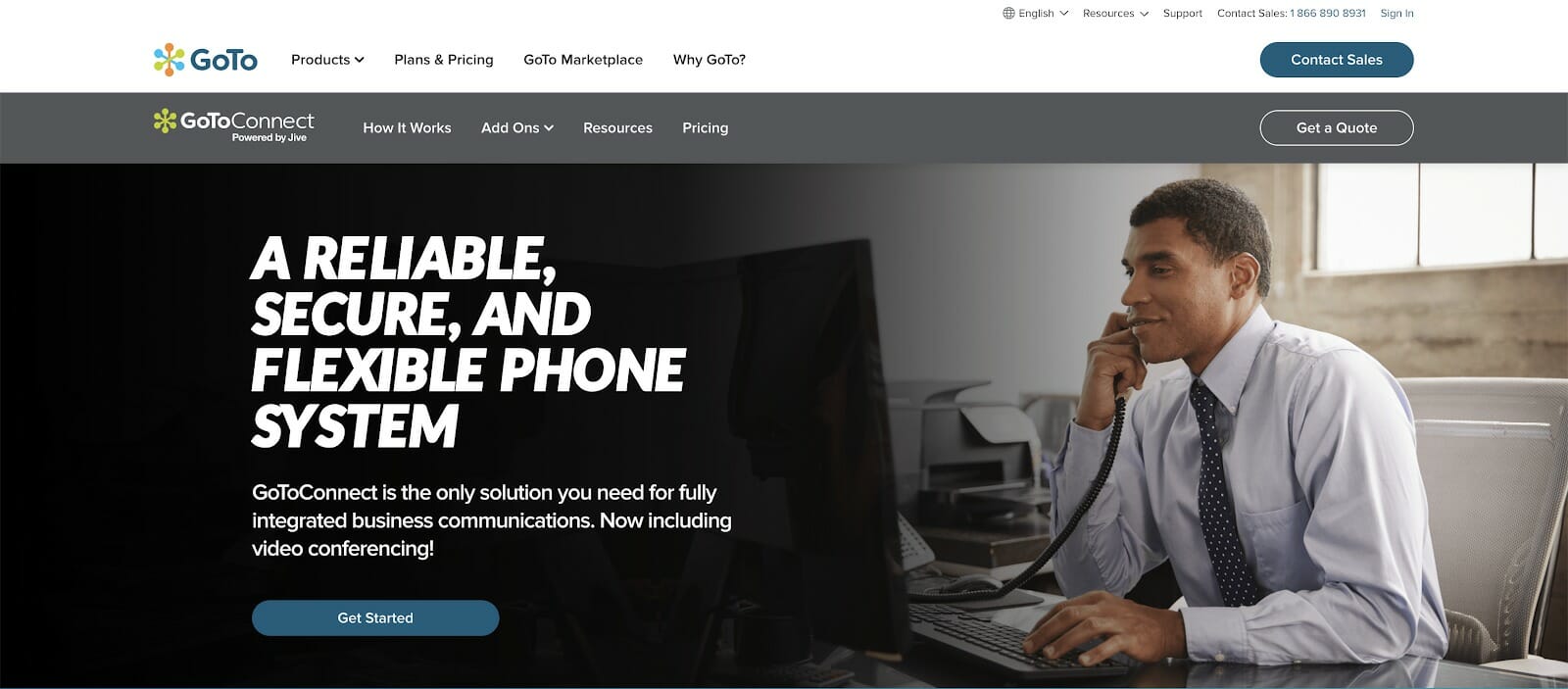 GoToConnect is another well-known communications provider that offers VoIP, SMS, video calls, chat, and cloud-based PBX. You may have heard of one of GoTo's subsidiary companies, GoToMeeting, which is one of the flagship video conferencing solutions.
Overall, GoToConnect is best suited for remote businesses. In fact, it was built around their needs. Its features, like virtual voicemail, unlimited auto attendants, a softphone app, automated routing, and virtual fax, can help businesses streamline their communications and improve efficiency.
One nice feature of GoToConnect is its visual editor, which allows you to configure your communication system's settings with a user-friendly and intuitive interface. This facilitates fast and easy setup of the system.
If video quality is important to you, then you will be pleased to learn that it delivers HD video conferencing with every license, so you can enjoy crystal-clear calls with your team members and customers.
Additionally, if integrations are important to you, GoToConnect integrates with major business tools like G Suite, Salesforce, and more.
Pricing: Its pricing is based on how many lines you'll be setting up. If you have more than 50 users, pricing is quite reasonable, starting at $19.95/user/month. However, if you have fewer than 50 users, you'll be looking at a much steeper price tag of $29.95/user/month.
Key Takeaways for 8×8 Alternatives and Competitors
8×8 is a great communications solution that is right for many businesses. However, it's not the only communications product out there, and any business that's considering investing in a new solution owes it to itself to consider all the leading alternatives.
By now, you should have a good grasp on the alternatives that you should look into. Of course, there are many more communication tools on the market, so if nothing on this list strikes your fancy, don't hesitate to do further research on your own to find something that ticks all the boxes.
However, we believe that these are some of the finest offerings, and your search should start here. Overall, it's hard to go wrong with any of the choices on this list, so focus on finding something that fits your budget and covers the base features that you need.
---
More of Our Best-of Articles:
* 6 Best Cloud Hosted PBX Providers for 2023
* 7 Best UCaaS Providers for Your Business for 2023
* 9 Best Web Hosting Providers
* 8 Absolute Best Ecommerce Website Builders
* Top 10 Best Email Marketing Services
* 8 Best Business Phone Services in 2023
* 11 Best Video Conferencing Software
* Best Small Business Phone Systems of 2023
* 31 Best Digital Marketing Campaigns You Can Swipe
* 22 Brands with the Best Content Marketing Campaigns