As your business grows, you'll eventually need to invest in new tools that can scale with you. Out of all the applications, services, tools and devices you could possibly bring on board, a solid communications system is perhaps the most fundamentally important.
With a marked societal switch to digital, UCaaS (unified communications as a service) systems are standing out as a practical and economical answer to the needs of modern businesses. Simple voice-only communications systems are becoming a thing of the past for modern organizations.
Between a faster and more personalized experience for your customers and a better way to communicate and collaborate across your teams, many of whom work remotely on their own devices, UCaaS could be a solution for you.
In this roundup, we're going to cover seven of the best UCaaS systems and how they can help your business. We'll also give you a rundown on why you should be using unified communications and how to choose the best system for your business.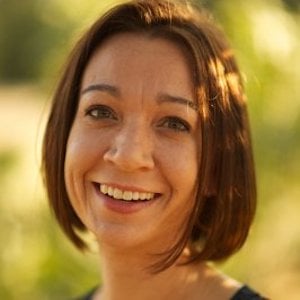 Kim Cooper
Director of Marketing, Amazon Alexa
Single Grain enables us to increase our impact without increasing our headcount
---
TABLE OF CONTENTS:
---
What Is UCaaS?
UCaaS stands for Unified Communications as a Service and, as you may have figured out from the "as a service" part, is a cloud-based system that offers a variety of communication methods in one place.
UCaaS unifies…
video conferencing

business phone

email

SMS

team chat

team presence

online faxing 
…in a single platform, making communication and collaboration easier and more efficient. You can also integrate other tools with UCaaS, like a CRM.
Plus, since these offerings take a cloud-first approach to communications, they're a good way to not only future-proof your business, but to save money on on-site solutions like traditional PBX systems.
Essentially, unified communications systems are able to deliver the same benefits of traditional communication systems without the additional expenses of costly installations and expanded staff, while also keeping communications integrated and consolidated for ease of use.
Here's a quick tour of the evolution of unified communications: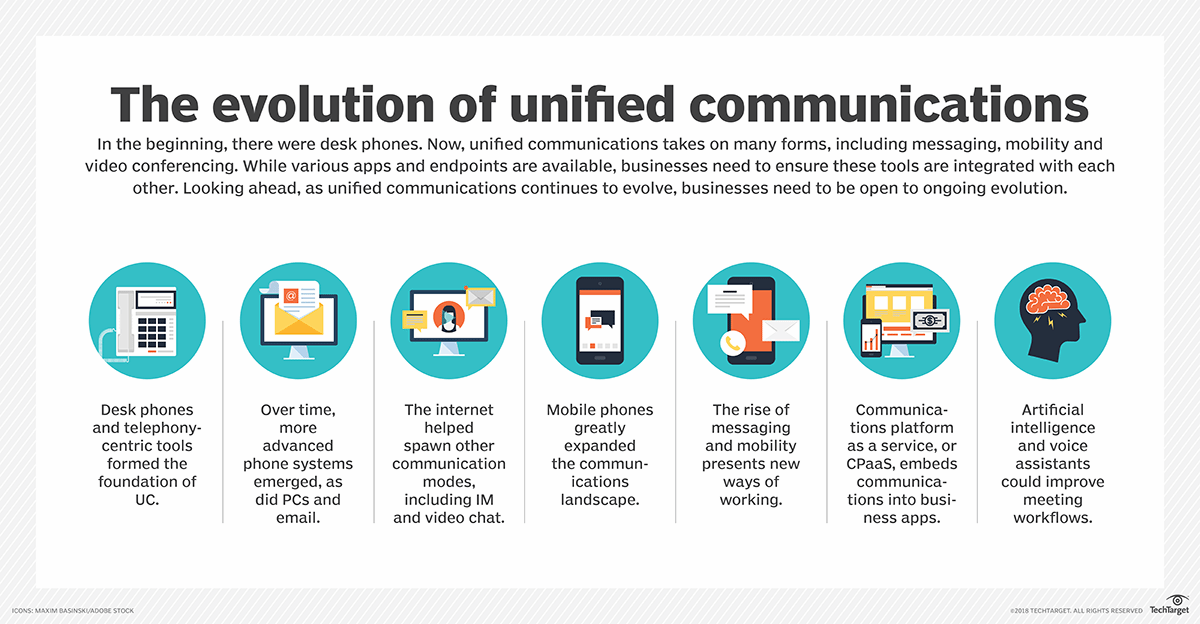 Why are more businesses looking for UCaaS providers than ever before? Here are the top 5 reasons:

Top 7 UCaaS Providers
1) Nextiva

Nextiva is best-known for its VoIP (voice over internet protocol) and business phone services.
Recently, they launched a new product, the Business Communications Suite, which includes VoIP services, chat, SMS messaging, video conferencing, online faxing, and even a CRM. Their UCaaS suite provides an integrated customer experience "without the complexity of fragmented applications."
Features
With Nextiva's business communications suite, organizations can automate parts of their workflow with the included multi-level auto attendant, such as: make use of voice transcriptions, integrate with major software like HubSpot, Salesforce and G Suite, and enjoy unlimited virtual faxing.
One of the most interesting features is the integration between Caller AI and the CRM, which instantly provides essential information about a customer when you start a call with them.
Additional features include:
Auto attendant

Call recording

Advanced voicemail

Unlimited calling

Local & toll-free numbers

Call routing

Call forwarding

Software integrations
Overall
Nextiva offers a great mobile app, superb customer service, and a vast set of features. If you're a consumer-facing business or need lots of omnichannel communication both within and outside of your company, Nextiva is a solid choice.
However, it's not particularly intuitive and it lacks MMS (like SMS texts, but includes images and videos).
Essential Plan:

$19.95/user/month

Professional Plan:

$20.95/user/month

Enterprise Plan:

$27.95/user/month
2) GoToConnect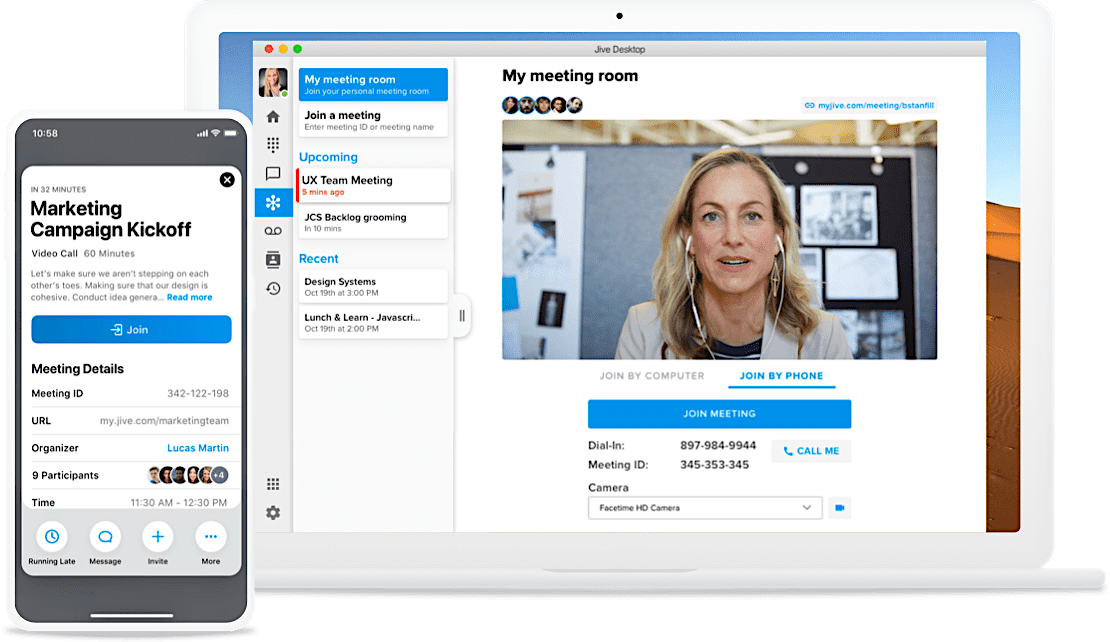 GoToConnect is a unified communications system that was built with remote companies in mind. At heart, it is a cloud-based PBX (private branch exchange) unified communications system that offers VoIP, SMS, video-calling, chat, and several voice management features.
Features
Some of its most popular features include unlimited auto-attendants, virtual voicemail, automated routing, a softphone app, and a virtual fax, as well as:
Overall
GoToConnect shines as a reliable UC provider with high-quality video, an easy-to-use feature set, and a very reasonable price tag. It's particularly good for remote teams that rely on telephone communications.
However, it suffers from poor customer service, a problematic mobile app, and a number porting process that can be a real headache.
1-4 Users: $29.95/user/month
5-9 Users: $25.95/user/month
10-24 Users: $23.95/user/month
25-49 Users: $21.95/user/month
50+ Users: $19.95/user/month
100+ Users: Call for pricing
3) 8×8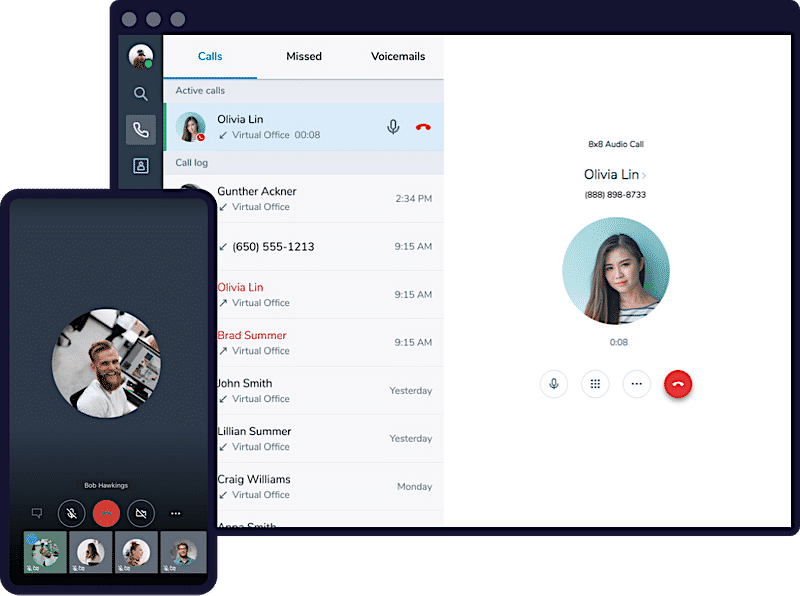 8×8's All-in-One cloud communications product combines unified communications, team collaboration, contact center, and analytics in a single platform.
It is particularly well-suited to large enterprises that have a need for constant omnichannel capabilities. Medical centers, government agencies and retailers will feel at home with this tool. Real-world customers include Regus, McDonald's and Farmer's Insurance.
Features
8×8 is an eight-time Gartner Magic Quadrant Leader for Unified Communications as a Service, and provides cloud PBX with free unlimited calling and SMS within the U.S. and Canada. Unlimited free calling extends to 47 countries as well.
This product is HIPAA compliant, which makes it a perfect choice for medical facilities, doctors and hospitals. It also allows for remote desktop control, anonymous meeting attendance, employee status updates, number porting, and IVR customer self-service.
Additional features include:
Auto Attendant
Business SMS/MMS
VoIP Fax
Barge, Monitor, Whisper
Instant Messaging
HD Video & Audio Conferencing
Meeting and Supervisor Analytics
Security, Compliance & Certifications
Overall
Set up is fairly simple, they've got the lowest price for the basic plan and there are a good number of useful features even on the lowest-tier plan.
However, the app isn't very user friendly, some of the features are hard to find and use, and there is a limit on conference calling participants (15).
Express Plan: $12/user/month
X2 Plan: $25/user/month
X4 Plan: $45/user/month
You can also "build your bundle" by entering the quantity of licenses that you are interested in for each tier, and get a tailored quote.
4) Mitel
Mitel's cloud-based business phone systems, like MICloud Connect and MICloud Connect CX, is a unified communications system that's built on the Google Cloud infrastructure. This makes it a solid option for businesses that are already well-integrated with the Google ecosystem and feel comfortable relying on Google's architecture.
Note:
MICloud Connect is an all-in-one cloud communications, collaboration and contact center service that delivers seamless voice, collaboration and contact center solutions from a single provider.
MICloud Connect CX was launched in partnership with Talkdesk and is an all-in-one cloud contact center powered by Talkdesk and backed by Mitel's extensive global unified communications (UC) and unified communications as a service (UCaaS).
Features
Features wise, it provides a hosted PBX system, web, video, and audio conferencing, SMS, and instant chat messaging. It also offers a softphone app, call routing by presence, SIP trunking capabilities, one-click audio and video calling, and up to 100 audio and video conference participants.
One of its most unique features is the inclusion of a built-in VPN, which can help businesses stay safe throughout their communications.
Additional features for MICloud Connect include:
Robust client for settings, call control, chats and events
Available for PC, Mac, iOS and Android
Audio and video conferencing with web sharing
Business SMS
Native integrations with leading CRMs and calendars
Softphone and web dialer
Additional features for MICloud Connect CX include:
50+ pre-built integrations (Salesforce, Zendesk, Google, etc.)

Cloud-native architecture

Intelligent Routing

Real-time and historical reporting

Speech analytics

One-click app ecosystem

Advanced voice services

20+ certifications including SOC2 and HIPAA

Artificial Intelligence
Overall
Mitel MICloud Connect is best for smaller businesses with a focus on mobile communications. It's easy to set up and use and highly customizable.
However, its feature set won't go deep enough for businesses that have more complex communication needs.
Pricing:
Essentials Plan: $20.99

/user/month

Premier Plan: 

$26.59

/user/month

Elite Plan: 

$38.49

/user/month
If you'd like to integrate MICloud with Mitel's contact center and CX, that's also available for an additional fee.
5) Ooma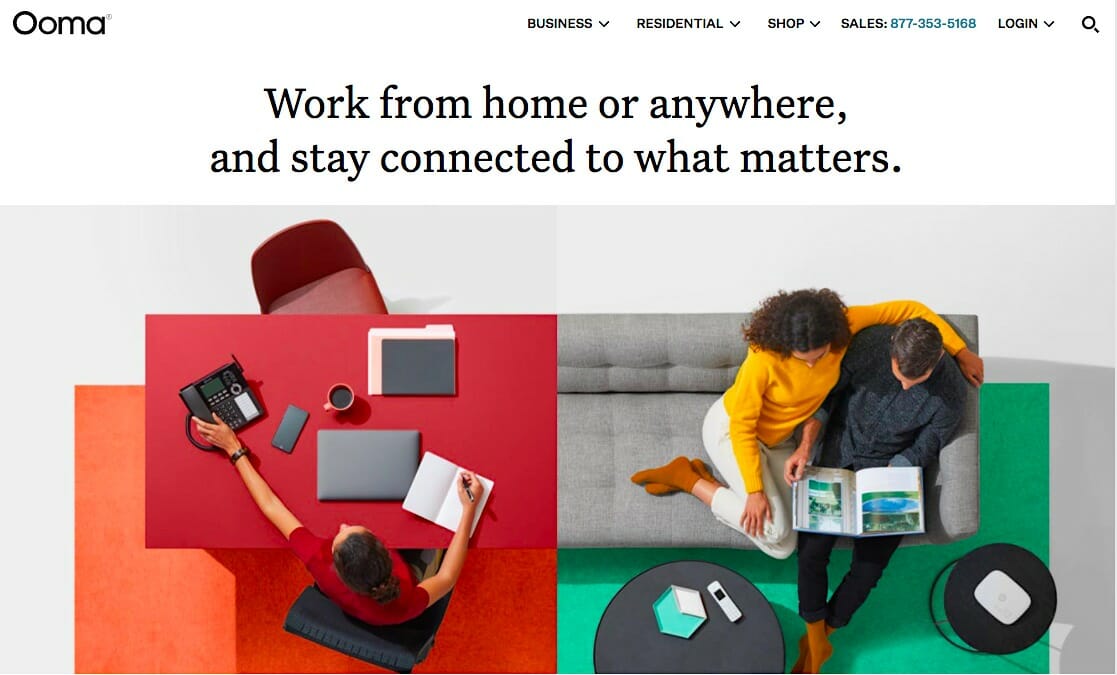 Ooma is a UCaaS tool that is designed for both small businesses and enterprises. Like most of the tools on this list, it offers online telephony, SMS messaging (plus MMS), video conferencing, and audio conferencing.
With its API, Ooma customers are able to expand and alter the tool's functionality to better suit their needs. This makes it a particularly flexible solution for businesses that have the tech know-how to engineer their own custom solutions based on Ooma's framework.
Plus, this API-centric approach also means that Ooma integrates with lots of industry-standard software like G Suite, Salesforce, etc.
Features
When it comes to features, Ooma has quite a few, including a virtual receptionist, mobile app, spam protection, call recording and hold music.
Additional features for the basic plan:
SMS and MMS Messaging

Enhanced Call Blocking

Multi Ring (which enables your business phone number to ring your office phone, mobile app or external device)

Ring Groups

Online Fax

Intercom

Call Log
Additional features for the enterprise plan:
Everything the small business plan has, plus:

IM, video chat

Video conferencing with chat

Open and documented APIs

Application Integration and customization

Dedicated Customer Success Managers
Overall
Ooma is easy to set up and use (especially for people who aren't particularly tech savvy), easily customizable and offers 24/7 support.
However, the fact that phones must be configured by Ooma is a little off-putting. Still, this is a solid solution for small businesses looking for something between a high- and low-end system.
Ooma Office Pro Plan: $24.95/user/month
Ooom Enterprise Plan: $34.99/user/month
Call Center (integrated into Ooma Enterprise): $74.99/user/month
6) Dialpad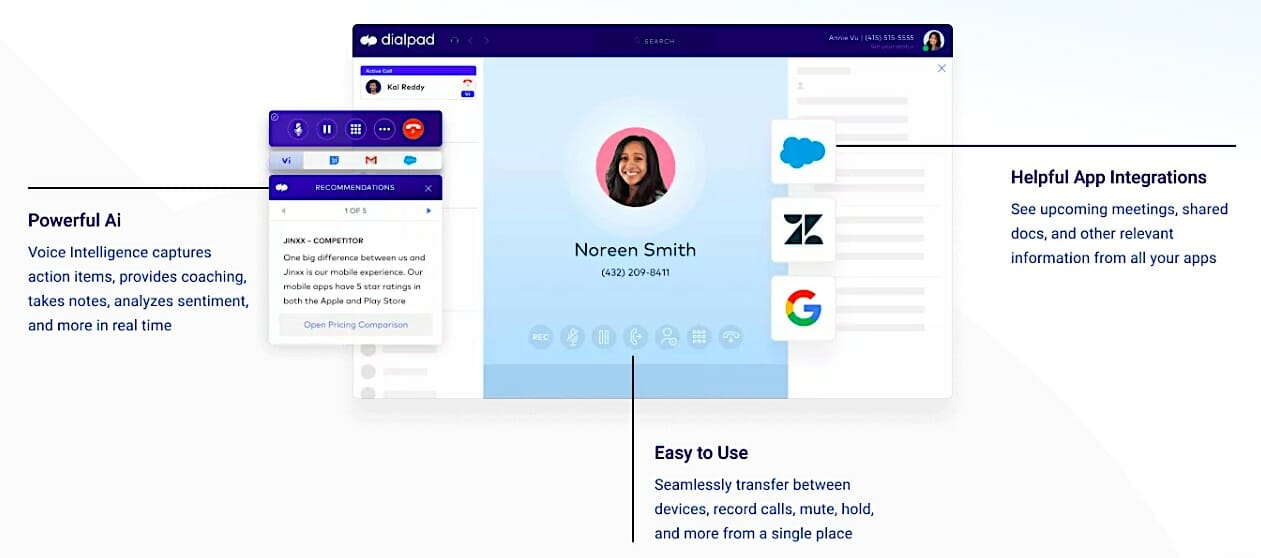 Dialpad is an AI-powered unified communications platform for businesses that allows you to easily collaborate with your team by connecting your employees through voice, video, messages, and online meetings. It provides a comprehensive suite of advanced features to help streamline your business communications and improve productivity.
Features
Dialpad a standout on this list because its Voice Intelligence feature implements natural language processing (NLP) to help improve the customer service experience. This is a fairly unique feature, and it can be very useful for businesses that are expecting a lot of external communications with customers and clients. Essentially, it monitors your calls for key moments and insights that you can act on at a later time.
Another feature that separates Dialpad from the other entries on this list is that it's a BYOD (bring your own device) solution. That means that team members are free to use whatever device they'd like with Dialpad.
Additional features include:
Call Analytics
Porting Number
Call and Screen Recording
Interactive Voice Response (IVR) System
Integrations
Local Presence
Virtual Fax
VoIP
Data Backup
Post-call Automation
Overall
Like many of the other solutions we've covered, Dialpad provides voice calling, web conferencing, chat tools, business SMS, and more. It's also one of the few solutions that supports MMS, which can be useful in some situations.
That said, the real meat here is Dialpad's Voice Intelligence features. If you don't think you'll make use of those, it may be worth considering other options.
Depending on whether you choose the Business Phone System, Video Conferencing, Contact Center or Sales Dialer options, each of which has multiple price points, prices start at $15/user/month and go up to $95/user/month.
7) RingCentral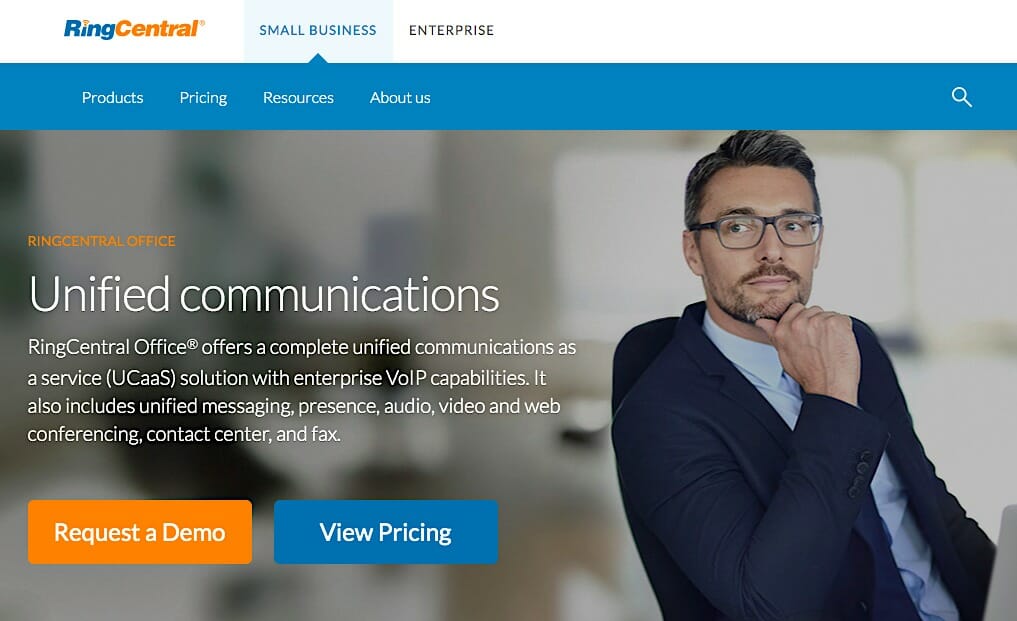 RingCentral is one of the best-known VoIP and business phone providers, so it should come as no surprise that it has a robust UCaaS offering: RingCentral Office. In fact, RingCentral's UCaaS solution was named 2020's Best Unified Communications Platform of the Year by UCToday.
Features
The features are pretty standard: RingCentral Office provides a cloud telephone, enterprise VoIP capabilities, SMS, instant messaging, virtual fax, and video, audio and web conferencing.
Large teams will appreciate that there are no user limits, which gives businesses room to expand and scale. Unlimited business SMS and calling within the U.S. and Canada can prove useful as well. Like Dialpad, it also comes with real-time analytics that can help you adjust your call strategy and gain new insights. You can also automatically record calls to review later for reference.
Additional features include:
Automatic call recording
Multi-site admin and management
Up to 8-digit extensions with site codes
Hot desking
Advanced call handling including whisper, barge and more
Video meetings with up to 200 participants
Real-time analytics
Popular CRM integrations with Salesforce, Zendesk, and more
Industry-specific integrations with Canvas, Smarsh, and more
Developer platform and custom integrations
Overall
RingCentral is best for mid-sized to enterprise businesses with a focus on remote work.
Essentials Plan: $19.99/user/month
Standard Plan: $24.99/user/month
Premium Plan: $34.99/user/month
Ultimate Plan: $49.99/user/month
Why Should My Business Go with Unified Communications?
Every organization reacts differently to new technologies, depending on what you need to effectively run your business; some welcome the new changes, while others dig their heels in and do whatever they can to avoid overhauling the old systems they're used to.
No matter which side you fall on, here are some reasons that it's worth considering UCaaS for your communications.
Cost Savings
Businesses run on money, so it can never hurt to have a bit of extra cash in your pocket. UCaaS solutions are cloud-based, so you don't need to pay for expensive and lengthy on-site installations when ditching your old legacy systems.
Additionally, unified communications systems are paid for on an as-needed basis. That means that you won't have to pay for phone lines that go unused. Instead, you'll only pay for the number of lines you need.
Scalable
UCaaS systems are easily scalable. Some plans allow for an unlimited number of users, which means that as your organization grows, you can keep adding additional users (phone lines).
Plus, since all the infrastructure is in the cloud, there's never any need for extra installations. Just add the users you need, and you're good to go.
Limited Hardware Requirements
Today's technologies aim to create an experience that fits neatly into users' lives, not the other way around. Since UCaaS solutions are cloud-based, complex and expensive hardware isn't necessary.
Instead, you can use your UCaaS solution entirely from your smartphone when you're on the move with one of the many softphone apps. Or, if you're willing to invest some money, you can buy VoIP phones that work with your chosen tool.
Enables Remote Workforces
With record numbers of businesses shifting over to remote work, the ability to stay connected over large physical distances has become more important than ever. UCaaS solutions enable this socially distanced collaboration through desktop and mobile apps that allow team members to stay in touch no matter where they are.
Enterprise-Grade Security and Reliability
UCaaS providers understand that even the best tools are useless if they can't provide safe, reliable and secure services to their users. With this principle in mind, unified communications companies have developed robust security solutions that use encryption to keep communications safe from unwelcome eavesdroppers.
It cannot be emphasized enough how important security is to all businesses, large and small. Here are a couple articles on keeping your website and employees safe:
Robust Integrations with all Your Existing Systems
UCaaS solutions are built around digital, so they integrate easily with other tools you may be using like G Suite Salesforce, HubSpot, etc.
Plus, some systems also offer an API, so you can code your own customized integrations if necessary. This gives you a nearly unlimited amount of control over how your UC system can fit into your current tech architecture.
Improved Customer Service
Since all the pieces of the UCaaS puzzle are provided by the same company, you can easily get customer support for any of them from the same place. This makes troubleshooting issues easier, especially when there's a problem with how one channel is communicating with another.
Flexible Pricing Models
UCaaS pricing is typically tier- and user-based, so you don't have to lock yourself into a final price plan early on.
For example, if you're a small business with only five employees, you can start with the lowest tier that charges only for five users. As you grow, you can subscribe to a higher tier and add new users. Or, if you find that you only need four users, you can easily cut one of the lines.
How to Choose the Right UCaaS Provider
The options we included on this list are just the tip of the iceberg to get you started. If you want to research other options, here's what you should look for.
Can they integrate with my existing software?
Whenever you add a new tool into the mix, you want to ensure that it plays nicely with all the other ones. UCaaS exists to simplify and unify your platforms, not make them more complicated.
Check whether the UCaaS provider you're considering integrates easily with your current tools or provides an API so that you can write your own integrations.
How robust are the features?
If your provider integrates with your tools but doesn't give you what you need, that's not very useful for you. When considering a UCaaS provider, look into all the features it offers and see whether they line up with your specific business goals.
For example, do you need AI analytics to improve your customer service experience? Or are you really just looking for a system that will help facilitate phone and video conferences?
How reliable is its conferencing?
If you're looking for a UCaaS solution, you likely want a system that has reliable video conferencing. Carefully examine each provider you're considering to ensure that it's robust enough to handle all the functionality you need.
Are they secure and compliant?
Security is a major business concern these days, and with the recent Zoom security scandals, it is particularly relevant to consider when choosing a UCaaS provider.
You will also need to assess what level of security you need. For example, health care providers may need a specific solution that is HIPAA compliant, like 8×8, while other businesses may not need that level of protection.
How is their customer service and tech support?
Using a new software or system always requires some getting used to. Plus, there's always the risk of technical issues occurring at very inopportune times.
Take a look at customer reviews and listed features to get a better idea of how responsive the provider will be to service requests and support tickets. Some providers will offer around the clock phone and chat service, while others may only offer support by email.
How is the pricing and transparency?
Staying within budget is essential. Evaluate whether each provider you're considering is able to provide you with the features you need at a reasonable price point. If not, make sure you really need those features before breaking the bank.
Any respectable provider should make their pricing clear and transparent. If it's overly confusing, that's a red flag. Some providers may also offer a free trial period, so check for that as well.
What are customers saying?
Reading through customer reviews – and not just the ones on the UCaaS provider's own website – can help you get a clearer idea of what your experience with the provider will be after using their service for a while. Sites like G2 and Trustpilot can provide insight into how customers are enjoying or not enjoying their experiences.
Key Takeaways
Unified communication systems allow business to keep all their communications in one place, making for a more streamlined business environment.
UCaaS providers are diverse in pricing, features and reliability, so you will need to carefully research each one before making a final decision.
The suggestions on this list are some of the best solutions that we've found, but there are many more out there. As you search, make sure to check whether any individual provider is reliable, reasonably priced, offers the features you need, and has a solid reputation.
---
More best-of review posts: