Want to go straight to our recommendation? The best call center phone system for most companies is Nextiva.
Could you benefit from a business phone system that allows you to receive and route calls more efficiently?
A study by Microsoft shows that

44% of the participants

still prefer phone or voice as their primary customer service channel.

Moreover, a PWC report suggests that

75% of people

want human interaction for customer support. 
Call centers are built to handle a high volume of phone calls, customer service, telemarketing, telesales and collection functions. To manage all these functions and maximize productivity, call centers use specialized phone systems.  
Around

66% of call center businesses

are looking forward to investing in advanced analytics to provide better customer service.

Moving to a

VoIP-based call center phone system

brings substantial savings for businesses.

This is a phone system that runs through the internet instead of a phone line. It allows you to automate multichannel customer support and self-service options.
If it's time to upgrade your contact center, check out this list of the top call center phone systems and learn how to select the right call center service provider.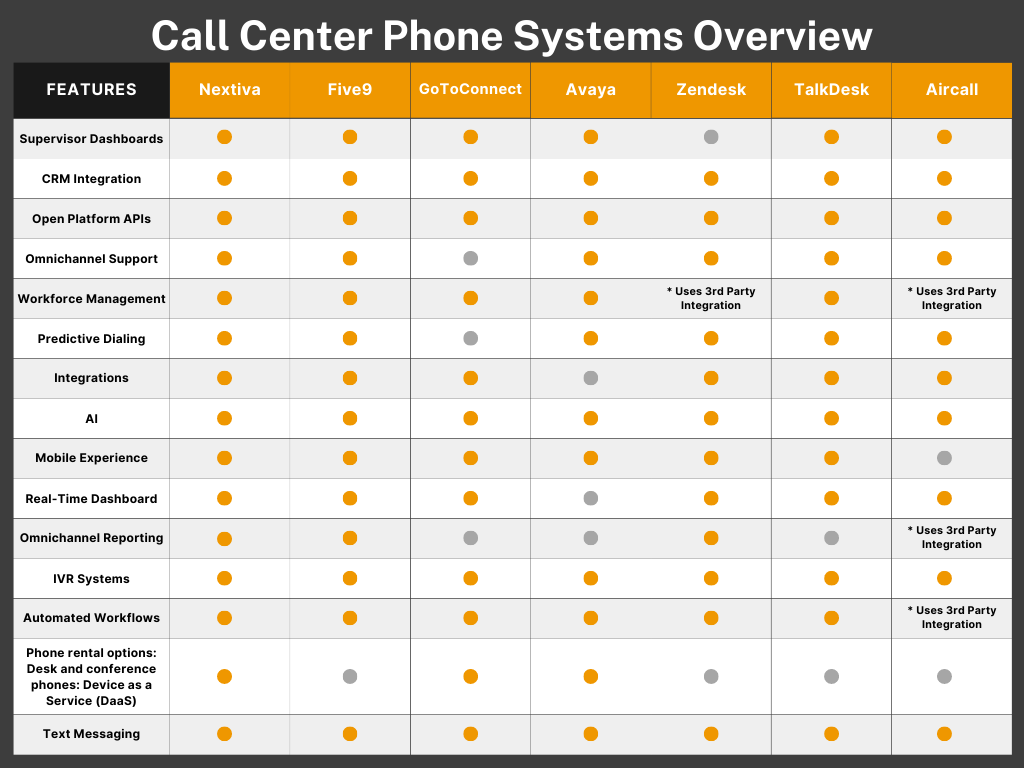 Top Call Center Phone Systems 
Here is the list of the seven best call center software solutions with an in-depth review of each provider: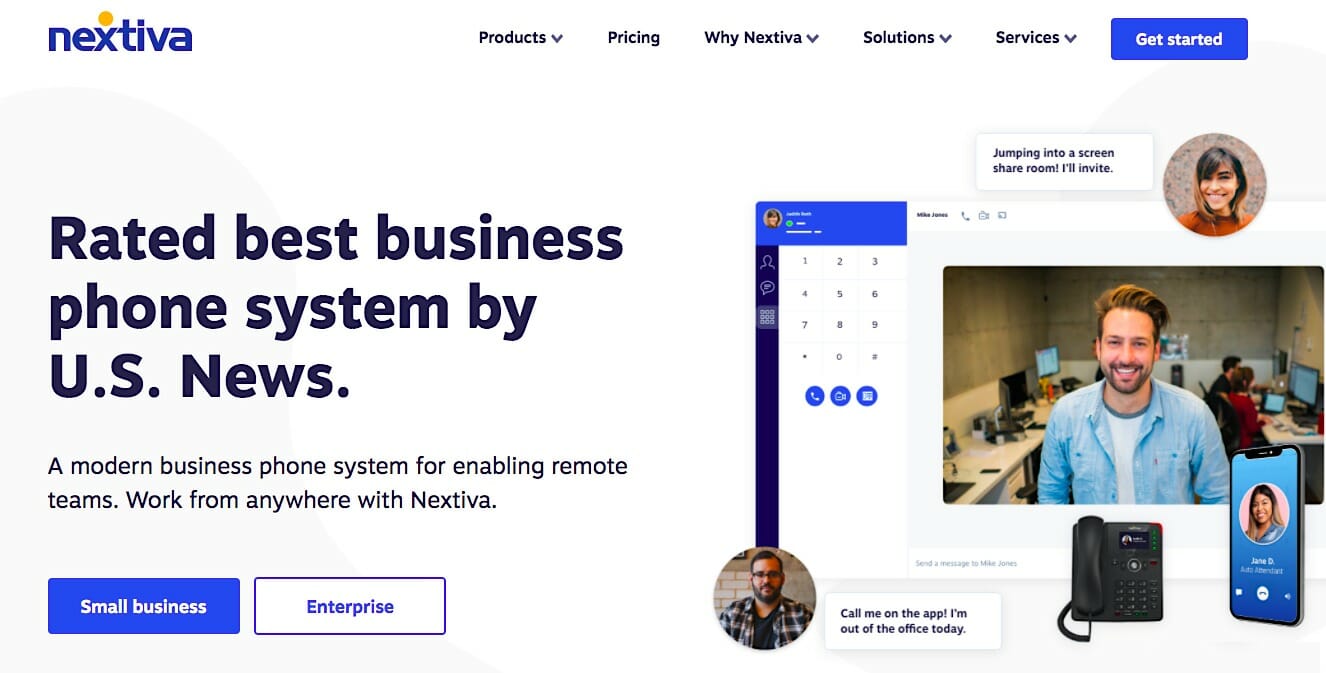 Nextiva is a VoIP call center software that helps to optimize your call flow, improve your call routing, and run leaner with fewer agents. 
Nextiva uses the internet instead of traditional phone lines to make calls. It runs in the cloud and answers as many inbound calls as you need. 
The benefit of using Nextiva is that call center agents can be located in an office or even can work from their home. 
You can also leverage the virtual agents feature provided by Nextiva. It helps you to automate interactions and streamline the customer experience.
Features:
Call Monitoring:

Record, pause, and listen to customer interactions with built-in reporting.

Call Disposition:

Distribute calls based on business hours, technical support level, and IVR options.

Agent Availability:

Set up your IVR and send incoming calls to the right call center agents. 

Supervisor Dashboards:

Access to over 40 advanced features & reports to measure the efficiency of your VoIP call center. 

Call Queuing:

Organize employees, teams, and departments into queues to route the caller to the next available agent in the selected queue.
Pricing Options:
Pro plan at $50/month per user.

Enterprise plan at $100/month per user.  
Click here to learn more about Nextiva's call center phone system solutions.
2) Five9
Five9 provides workforce management tools, predictive dialing, and computer telephony integration (CTI) screen pops to help your agents provide better service. 
It adopts the cloud contact center to the needs of your business. Five9 delivers a crystal clear voice, strong security, and a 99.99% uptime rate.
Features:
CRM Integration:

Leverage your existing systems using cloud APIs, UC connectors, web connectors, and pre-built CRM connectors.

 
Open Platform APIs:

Enable advanced software integrations with other applications and services.

 
Call Routing:

Provide intelligent routing, voice-enabled self-service, and CRM integration.

 
Omnichannel Support:

Enable agents to move seamlessly between web, video, live chat, email, social media, and voice calls while maintaining the customer journey. 

Global Voice:

Provide modern cloud platform with in-region voice points of presence (PoPs) around the world.

Analytics:

Utilize over 120 standard reports, including both real-time and historical reporting options. 

Workforce Management:

Leverage tools for WFM, quality management (QM), performance management, and gamification to keep your representatives engaged.

 
Predictive Dialing:

Leverage automatic dialing modes to improve customer contact rates and boost upsell with more live conversations. 
Pricing Options:
Five9 has flexible pricing based on seats, usage and features. It starts at $100/ month.
3) GoToConnect (formerly Jive)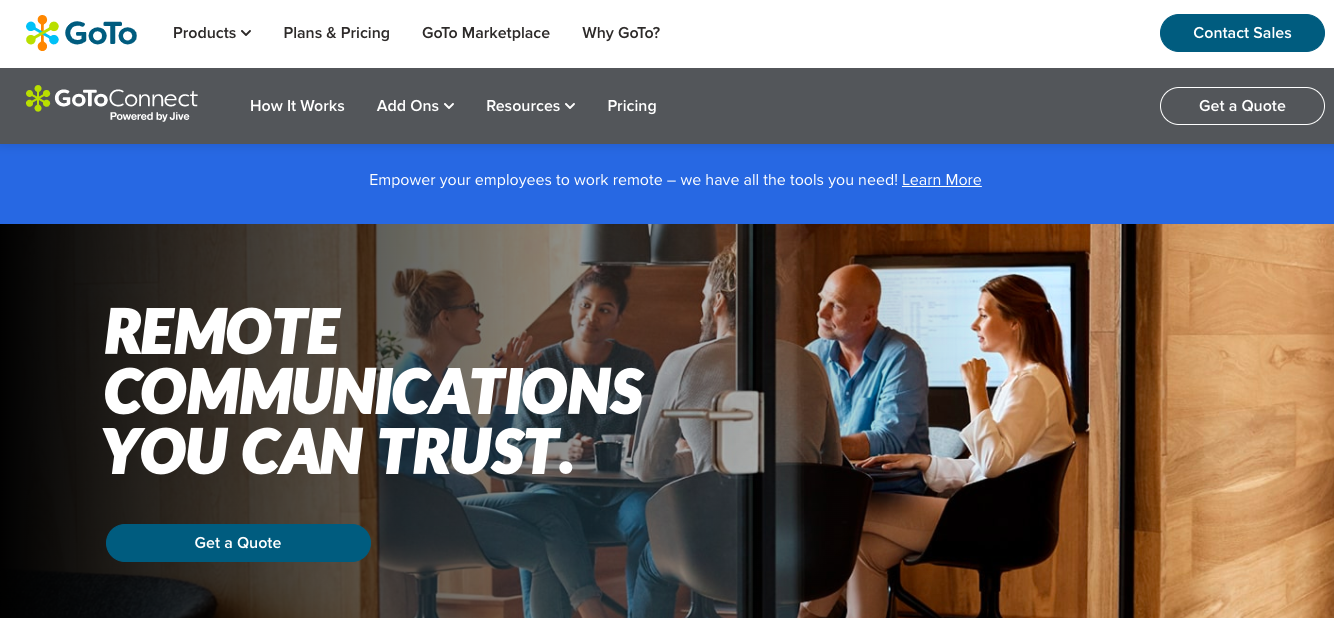 GoToConnect, formerly Jive, provides enterprise-grade hosted VoIP and unified communications to businesses.
It provides call encryption, meeting lock with password protection, and adheres to the latest security standards, such as SOC 2 Type II and GDPR.
GoToConnect integrates with the systems of record, making it easier for agents to make calls and record them. It also helps you to personalize your customer interactions.
Features:
Calls:

Place phone, video, and conference calls over the internet.

Desk-to-Desk Calls:

Connect with other representatives through mobile phones and landlines.

Screen Sharing:

Share screens over the internet. 

Instant Messaging:

Send instant messages over the internet.

Hold Music:

Leverage the option to play music for contacts who are on hold.

Automated Attendance:

Provide an option to set up an automated attendant to field calls and information when agents are unavailable.

VoIP Number:

Provide a unique number that can be dialed from anywhere.

Software Pairing:

Download the tool as an add-on to subscriptions to specific services such as Outlook 365.

Browser Extension:

Download it along as an extension to their browser of choice.

Individual Download:

Allow users to download the software on its own.
Pricing Options:
4) Avaya
Avaya provides an automated solution for inbound and outbound speech, video, email, and chat applications. It allows Interaction recording, voice analytics, and automated scheduling.
Its OneCloud ecosystem empowers businesses to deliver experiences that matter to customers and employees alike.
Features:
AI and Knowledge:

Provide AI solutions to enhance human decision making, simplifying operations, and automating processes. 

Mobile Experience:

It can identify mobile callers and offer them a mobile web experience that will be unique for their device.

Self-Service:

Give customers self-service options with tools such as proactive outreach, virtual assistants, biometrics. 

Public Cloud Option:

Provide self-service, routing, and agent tools to create an effortless experience for customers. 
Pricing Options:
Basic plan starts at $109/ month per user.
Advanced plan starts at $129/ month per user.
5) Zendesk
Zendesk Talk is built on the Twilio cloud communication platform that integrates with the Zendesk support ticketing system. 
It connects a voice channel into Zendesk's omnichannel solution and allows representatives to resolve complex issues faster. Also, it offers a call center solution for all business sizes.
Features:
Call Handling:

Create a new phone number, port an existing number, or add a digital line to start managing calls from your mobile device or browser.

Real-Time Dashboard:

Adapt to changes in call volume, optimize agent productivity, and improve phone support operations in real-time.

Omnichannel Reporting:

Track and measure operational performance across channels.

IVR Systems:

Route customers to the right department and provide recorded responses for frequently asked questions with multi-level IVR systems.

Call Blocking:

Compile a blocklist of phone numbers to automatically disconnect bots, spammers, or other unwanted callers.

 
Virtual Voicemail:

Provide voicemail support that can be tracked and followed.
Pricing Options:
Lite:

Starting at $0

Professional:

Starting at $19/ month per user

Enterprise:

Starting at $59/ month per user
6) TalkDesk
TalkDesk is a robust call center solution for enterprise teams to manage phone support at a fast pace. 
It is a cloud-based contact center platform with voice, digital channel, and workforce engagement management capabilities.
TalkDesk elevates your customer service experience by leveraging intelligent routing, contextual customer data, CSAT, etc. 
Features:
Call Routing:

Route calls to the most qualified representative to handle customers.

 
Automated Workflows:

Increase agent efficiency with automation while reducing average handle time.

Voice Analytics:

Identify CSAT issues and improve agent engagement by using AI.

Sentiments:

Capture customer happiness with customer mood assessments and CSAT surveys.

 
Callbar:

Navigate information across CRM systems without losing focus on the customer.

 
Granular Reporting:

Provide actionable insights with live and historical reporting.

 
Pricing Options:
TalkDesk provides two pricing plans – Enterprise and Professional.
7) Aircall
Aircall offers a VoIP system for businesses to support contact centers. 
It is a cloud-based voice platform that integrates seamlessly with helpdesk tools. 
Aircall features IVR and automated call routing, conference calls, shared call inbox, call notes, unlimited concurrent calls and calls queuing, and integrations with CRM. 
Features:
Provide cloud call center IVR menus, skill-based routing, and live call monitoring to make the customer experience a competitive advantage.

Use PowerDialer, click-to-dial, real-time coaching, and more cloud capabilities to book more meetings and close deals quicker. 

Easily integrate with the cloud business tools to pave the way for more satisfying customer journeys.

The cloud-based phone system, used by remote teams, helps to stay connected and seamlessly work from home or anywhere.
Pricing Options:
Essentials: $30/ month per user.
Professional: $50/ month per user.
Custom: Customized package aligned with business needs. 
Why Should Your Business Use a Call Center Phone System?
Considering the important role that a call center phone system plays in simplifying customer relationship management, here are the top benefits that businesses can avail of from a call center software. 
1) Cost Savings
Businesses that employ a predictive dialing feature integrated with call center software reduce costs to a great extent.
The dialing feature automates and captures all-important call activity directly into the software. 
It enhances lead management while keeping track of the ideal times to call clients and providing useful real-time metrics. Thus, it boosts sales without installing any other costly telecom hardware.
Businesses can save up to 60% of their call center costs by switching from on-premise to the cloud.
As both hardware and software are based in the cloud, capital expenses and ongoing system maintenance get significantly reduced. 
2) Installation
The implementation of on-premise call centers requires buying the necessary hardware, figuring out-licensing, setting up the infrastructure, and finding compatible software. 
However, upgrading to the cloud is seamless!
The cloud-hosted system is very simple to install. Setting up cloud-based call center software is no more difficult than installing an app on a computer. It just requires IP phones, the necessary bandwidth to support your call volume, and voice prioritizing software. 
3) Maintenance and Upkeep
It is not only expensive to upkeep an on-premise system, but maintenance can disrupt your call center completely. 
Premises-based call center systems are maintained by a combination of internal resources, vendor support, and on-site visits from service technicians.
With cloud-based, as long as you are connected to the internet, you can receive calls with ease. 
Cloud-based systems allow you to outsource the implementation, hosting, operations, and day-to-day maintenance requirements for your contact center.
Outsourcing system maintenance enables you to optimize internal IT resources while providing great technology to global contact center representatives.
4) Flexibility for Remote and Distributed Workforces
Onsite call centers require desk phones to be linked to the server in your office. 
Unless the customer service agents are physically present at their desks, they will not be able to complete their tasks.
However, with a cloud-based system, it does not matter where agents are based. They just need a web browser and a strong internet connection. 
Representatives can route their office phone to their home phone, take a phone home, and plug it into a broadband connection. 
A cloud-based call center platform allows representatives to work remotely. 
Thus, you can have a virtual call center for your business that results in decreased costs and less agent turnover. 
5) Enterprise-Grade Security and Reliability
Your business information is safer when stored in a cloud data center in compliance with national and global security standards and certifications. 
Due to the proliferation of software-as-a-service (SaaS) applications, the security for cloud-based contact centers and data centers has increased.  
Besides, cloud providers also employ thousands of security experts that are constantly testing the system.
By moving your communications from premise systems to the APIs, you can expect uptime that exceeds the 99.99% SLA. It means that the cloud platform is only down by less than 0.01% of the time. 
Additionally, in a cloud-based contact center, calls are optimally routed to reduce latency and provide the highest quality experience. 
6) Robust Features
A cloud-based contact center with APIs allows you to add new features and channels as you need. It also provides access to the most recent software updates.
It provides features, such as IVR, auto-attendant, calls analytics, dashboards, and reporting. 
However, it takes efforts to change on-premises contact center systems. In fact, just adding prompts to the IVR or opening a new call destination can consume a lot of time. 
7) Improved Customer Service
Cloud-based contact center supports omnichannel or multichannel experiences. A unified cloud solution easily connects a customer's journey across any channel.  
It means that your representatives can connect with customers wherever they are most comfortable. It may include the phone, email, video chat, texting, or Facebook messaging. 
Thus, customers will have more confidence in interacting with your business knowing their issues will be resolved faster.
For example, a customer connects with you via chat and then switches to phone. In that case, the representative can access the full interaction history to support the customer across all channels.
8) Flexible Pricing Models
The cloud is far more economical as it allows for flexible pricing based on your needs.
Modern call centers are moving towards call center software that is priced to fit any budget. The focus is to provide a seamless and effective customer experience at an affordable price point.
How to Choose the Right Call Center Phone System Provider
If you are planning to upgrade your call center phone system, then you should know how it will integrate with your other business systems and what type of support you can expect from your vendor.
Below are the questions that you need to consider before selecting a call center phone system. 
1) What is your inbound call volume like?
It is important to know the number of users on a call center phone system. 
But it is even more crucial to know the number of concurrent calls that will happen at any given time as it affects your bandwidth requirements. 
Try to accurately gauge your call volume and estimate how many representatives you might need.
You can determine your bandwidth requirement by doing the below calculation.
Bandwidth in Megabits Per Second (Mbps) needed = Concurrent Calls at Peak Time x 100 Kilobits Per Second 
2) Which features do you need?
Some of the features of a cloud-based call center include automating mundane tasks, eliminating manual dialing, and integrating with artificially intelligent bots to boost your productivity.
Figure out what features you need for your business and check whether the vendor supports your requirements. 
If you want to create relationships with your customers, then look for software that supports omnichannel communication. The software should allow you to be present where your target audience is. 
If you need access to real-time data and reports to track call center operations and the representatives' performance, then find software that provides real-time dashboards, reports, and call recordings.
3) Are they secure and reliable?
For any business, security becomes challenging when they share space on the public cloud with others.
General Data Protection Regulation is a challenge for many cloud service providers. 
Some countries ask vendors to have data stored within the country for security purposes. Therefore, it is safe to stay informed about your vendor's data center to ensure a smooth workflow.
Short-term and long-term plans differ in your vendor's product offerings. Thus, it becomes important for businesses to not compromise on the scalable capabilities of the product.
The products offered by the vendors should meet continuous business innovation standards while scaling. 
Also, the vendor must ensure representatives are not able to store customer data by disabling screen-recording and call recording to maintain data privacy and security. 
4) How is their customer service and tech support?
Before you choose a call center phone system, have an idea about how accessible a provider's support team is to assist you in the process. 
Ensure that your call center software provider will be there for you when something goes wrong. 
Additionally, make sure that they are responsive to your queries and offer round-the-clock technical support. 
5) Does their pricing options and transparency meet your needs?
It is important to have a budget framework for any business before selecting a call center phone system. 
Check with your provider about the various bundled services that they offer.  
If you opt for a bundled service that ensures software capabilities, then verify the billing cycle and package validity to ensure a smooth calling experience.
Businesses that depend upon the outbound and inbound calling process may lose their business if the system stops with the exhaustion of the calling package. 
Therefore, understand from your vendor what will happen after the calling package exhausts. Ask your vendor to share the cost implications that will be imposed on recharging the package before the next billing cycle.
6) What are their customers saying?
Customer reviews provide a great way to understand how a company is performing when it comes to customer experience. 
You can check sites, such as Trustpilot, G2, Yotpo, or Capterra, to get a feel for the ratings and reviews and see what customers think.
Look for their average response rate for customer support issues and the average time to close a ticket. 
They provide great customer service if they respond in less than an hour to emails and resolve issues in less than a day.
Final Thoughts
Call center phone systems handle higher call volumes than a typical inbound call center. These phone systems include Automatic Call Distributors (ACD), Predictive Dialer, Desktop Integration, and Interactive Voice Response (IVR).  
For businesses, it is usually cheaper to install and maintain a VoIP phone system as it does not require on-premise hardware. It eliminates typical maintenance and infrastructure costs that traditional phone lines have and improve customer experience.
And finally, if none of these options look like the right fit, it's possible to start your own call center.
Use these options above to make a call and move your business forward.