Grasshopper is a business phone service that's designed with small companies in mind. Unlike many of its competitors, which depend on business phone hardware, Grasshopper doesn't require hardware at all. Instead, it runs entirely on mobile phones and desktops, understanding that small business owners aren't always sitting at a desk. 
With Grasshopper, you can get a separate business phone number to ensure a professional appearance. You can also forward incoming calls to your regular cell number and automatically send out texts when you miss calls from a new number.
Grasshopper starts at $26 per month, which is a bit more expensive than most of its competitors. This may be a sore point for many entrepreneurs. And although Grasshopper's offering is robust, it isn't the right choice for every company.
In this guide, we're going to cover some of the best Grasshopper alternatives and competitors for 2023. We'll cover their features, pricing and what makes them unique. By the end of this article, you should have a solid idea of which service is the best fit for your business's unique needs.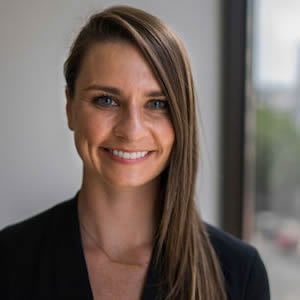 Jacqueline Foster

Demand Generation Marketing, Lever.co

We can count on them to bring new ideas to the table consistently
6 Grasshopper Alternatives and Competitors
Nextiva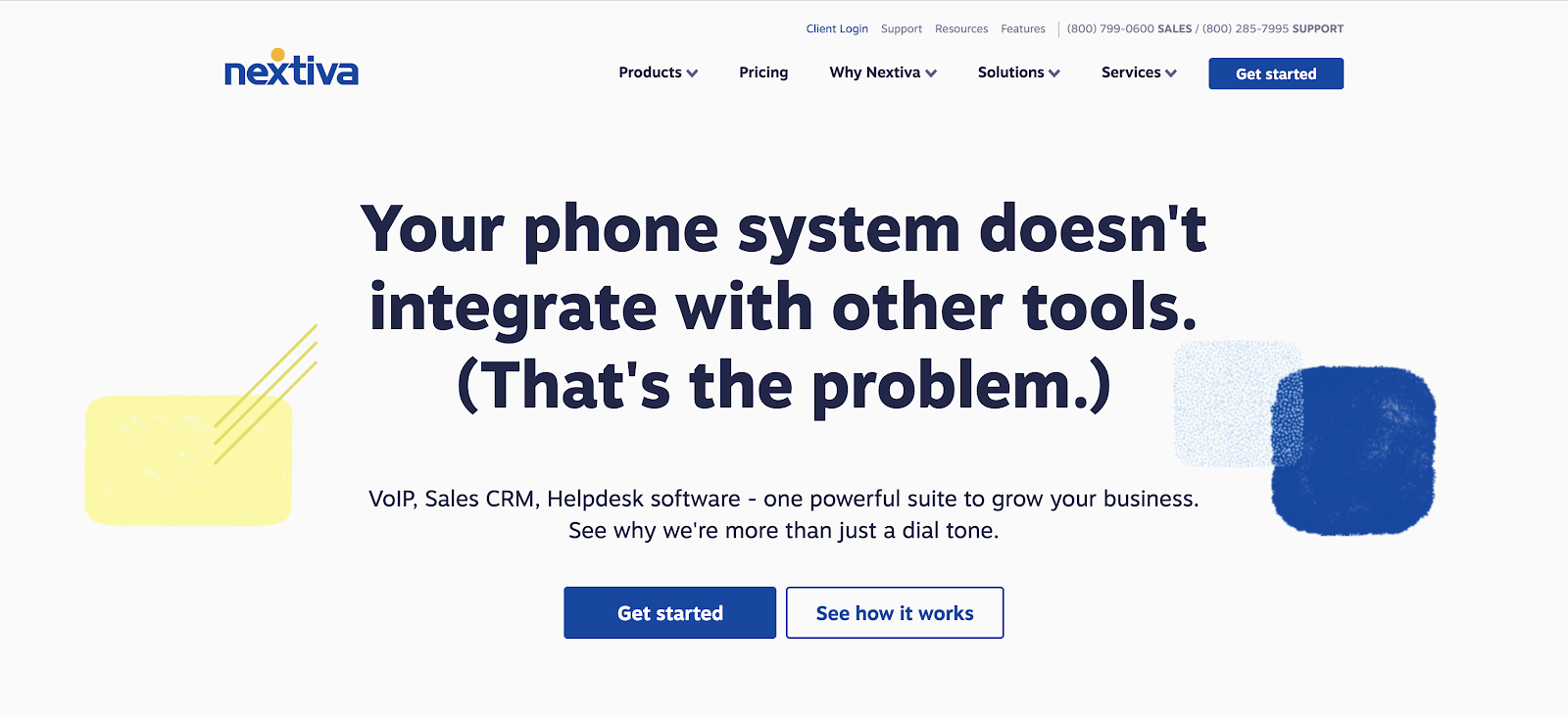 Nextiva is a well-known communications brand that offers unified communication products. It's a one-stop shop for everything you need for both internal communications with your team and external communications with your customers and partners.
Nextiva offers VoIP (Voice over Internet Protocol, "a technology that allows you to make voice calls using a broadband Internet connection instead of a regular, or analog, phone line") services, but it also offers video and audio conferencing and a full-blown CRM to help you keep track of customer data and streamline your organizational processes.
One of Nextiva's most unique features is Caller AI. Whenever you start a call, Nextiva's Caller AI feature will automatically pull up all the information you have on that contact — think of it like Caller ID on steroids. This way, you won't find yourself fumbling around looking for a customer's basic information while you ask them to hold. It's a useful feature that gives you one less thing to think about when making calls.
If you have a sales team or find yourself doing a lot of cold calling, Nextiva also offers real-time calling analytics that can help you keep tracking of KPIs like total talk time, total calls, etc. However, this feature won't be as useful to small businesses and solopreneurs as it will be to larger businesses.
Pricing: Nextiva's pricing starts at $19.95/user/month, which is about average for this space and $6/month cheaper than Grasshopper. Although Nextiva isn't designed specifically for small businesses like Grasshopper is, its price tag definitely is.
Phone.com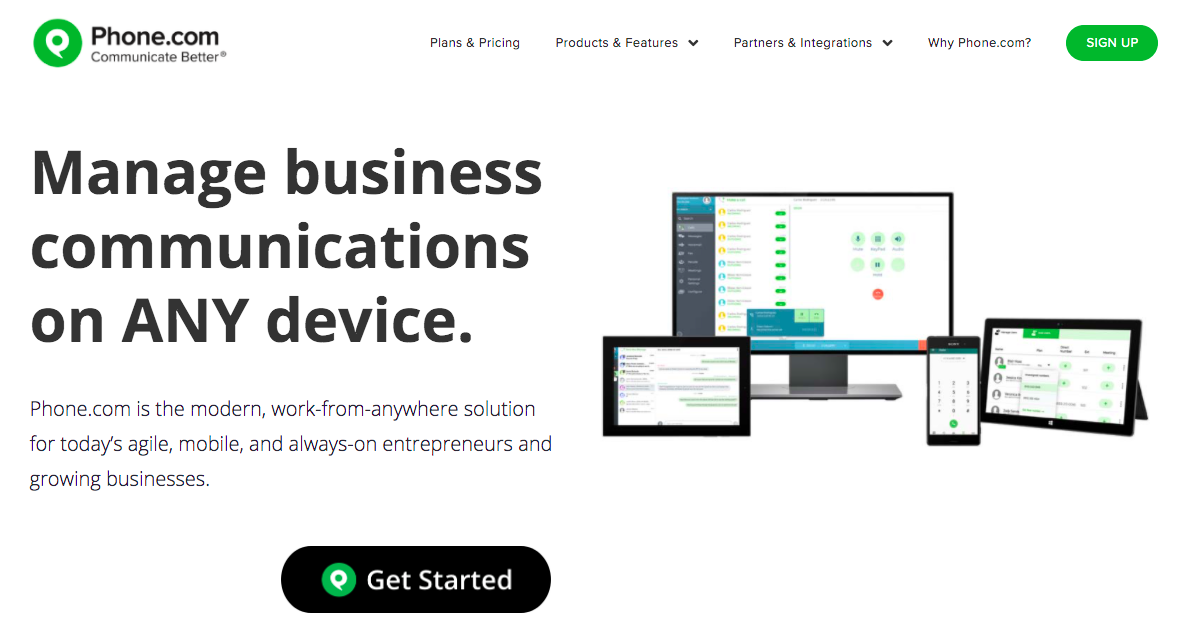 Phone.com is another business communications service that's designed specifically for entrepreneurs — and this time the price reflects that. Phone.com is one of the cheapest business phone providers around.
One of the reasons it can keep its prices so cheap is because the base package doesn't come with very much. While all of Grasshopper's plans include unlimited minutes, Phone.com's lowest-tier plan only gives you 300 minutes — that's five hours of calling per month.
If most of your communications don't take place over the phone, this isn't a problem; you can use Phone.com to maintain a professional image without paying for unlimited minutes you won't use. But if you anticipate having even just twelve 30-minute calls per month (that's only three per week), you'll run into trouble with Phone.com's cheapest plan.
Of course, you can upgrade, but you only get into unlimited minutes territory with Phone.com's highest plan, which costs $29.99/month ($3/month more than Grasshopper's lowest tier).
That said, Phone.com does provide video and audio conferencing and HIPAA compliance, which Grasshopper does not. There are also a lot of add-on features you can pay for, like a live receptionist, call recording, and more.
Overall, Phone.com is best suited for healthcare businesses thanks to its HIPAA compliance as well as entrepreneurs that simply want a phone service to appear more professional.
Pricing: At $12.99/month starting price, Phone.com provides a great way to get a separate business number and maintain professionalism without breaking the bank — just don't count on getting a lot of functionality from the cheapest plan.
RingCentral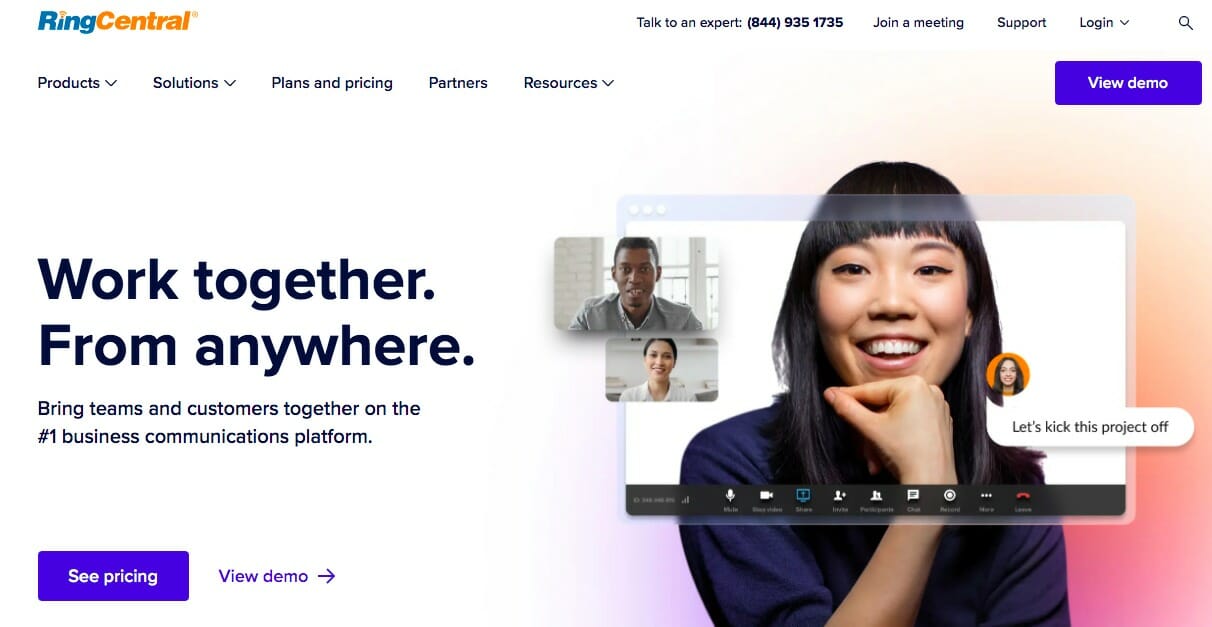 RingCentral is one of the world's leading VoIP and business communications providers. In 2020, it was honored as the Best Unified Communications Platform of the Year by UCToday, and it's been a Gartner Magic Quadrant leader for the past four years in the UCaaS (Unified Communications as a Service) category. Those two accolades alone should tell you all you need to know about RingCentral's quality.
Feature wise, RingCentral offers all the standard features you'd expect in a business communications platform, like VoIP, video conferencing, audio conferencing, instant chat, and more.
Compared to Grasshopper, RingCentral is designed with larger teams in mind. While it can still work for solopreneurs and very small teams, RingCentral specifically advertises itself as "Designed for teams of 10 and 10,000." That's just an advertising slogan, of course, but it is representative of RingCentral's market.
For the most part, small teams simply won't be able to make use of some of RingCentral's selling points, like team collaboration and real-time call analytics. Team collaboration tools are clearly irrelevant for solopreneurs, and real-time call analytics is designed more for businesses that have a large sales team to keep track of.
That said, RingCentral is a robust and user-friendly solution.
Pricing: Starts at $19.99/user/month. If you plan to expand in the future, it could be worth the investment.
Ooma
If hardware is important to you, Ooma is a solution worth considering. Unlike Grasshopper, which doesn't use hardware at all, Ooma is almost entirely hardware based. While it does offer a softphone app for desktop and mobile, many Ooma users will want to purchase an Ooma business phone to go along with their subscription.
Plus, if hardware is what you're after, Ooma offers a very streamlined experience. Unlike other device-agnostic providers, Ooma has a certain Apple-like appeal: all of its devices are specifically designed to work with the Ooma communications platform, so compatibility is ensured, and you can expect smooth sailing.
Pricing: Starts at $19.95/user/month. If you want features like video and audio conferencing, Ooma has you covered. This makes Ooma a strong contender to Grasshopper for solopreneurs and other teams that may be on a tight budget. While Grasshopper may be designed for entrepreneurs, Ooma's pricing reflects that better.
8×8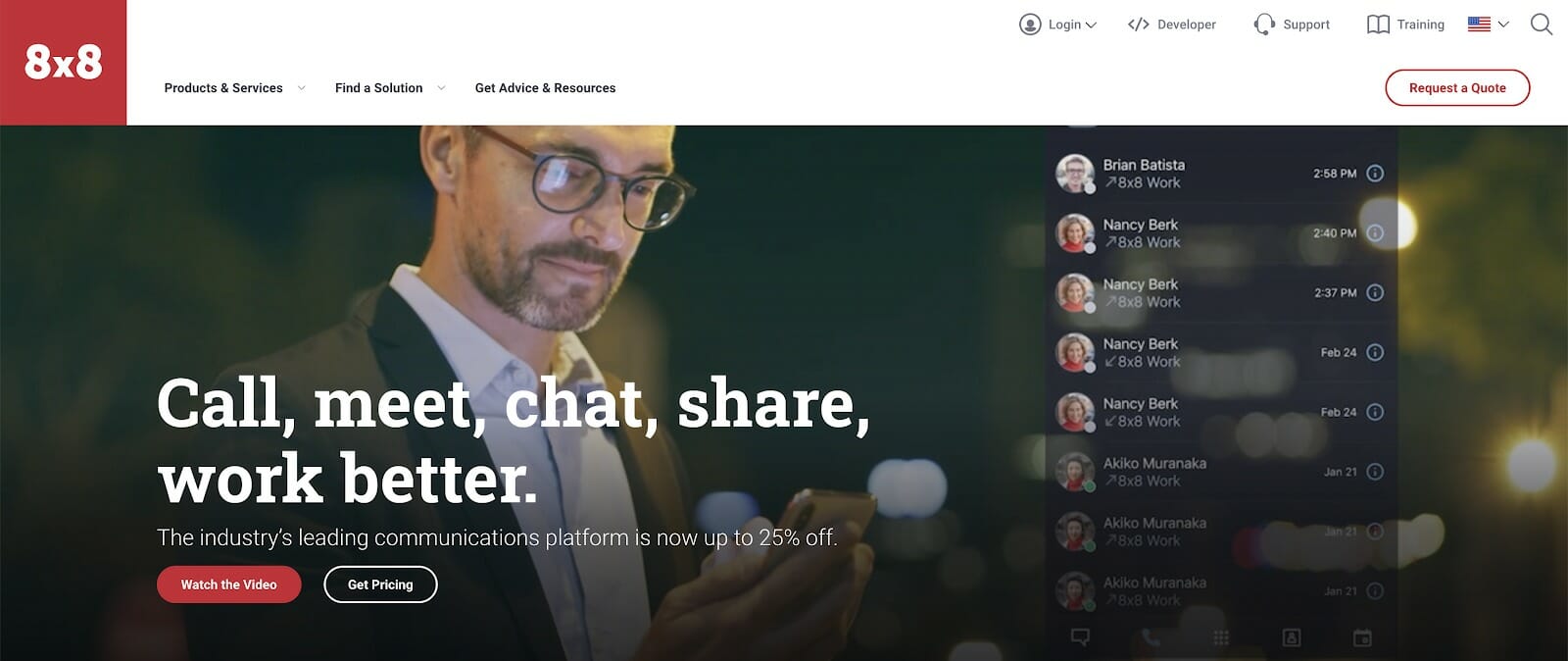 8×8 is another reasonably priced business communications system. Although its branding is clearly focused more on larger businesses, its pricing can't be ignored by budding entrepreneurs and solopreneurs.
For just $12/user/month, 8×8 users will enjoy unlimited calling in the U.S. and Canada, video and audio conferencing, an auto-attendant, hold music, intelligent call routing, and voicemail. At a whole $14 per month cheaper than Grasshopper, this should catch the attention of any frugal business owner.
However, keep in mind that 8×8 likely won't hold your hand in the same way that Grasshopper does, which is clearly designed with the user experience in mind as its branding has a very hands-off quality to it. 8×8, on the other hand, has a distant and corporate feel to it. While this doesn't necessarily affect the products themselves, the way a company represents itself is likely to affect your experience to some degree.
Pricing: Starts at $12/user/month. If you frequently deal with international customers and clients, 8×8's higher-tier plans may be of interest. For $24/user/month, you can get unlimited calling to 14 countries, and for $44/user/month, you can get unlimited calling to 47 countries. These upgraded plans also come with additional features like SMS, MMS, and call quality reporting, depending on which plan you choose.
Vonage
Vonage is one business communications platform that's sure to stir an emotional reaction in people. Practically anyone who watched TV in the early 2000s will fondly (or not so fondly) remember Vonage's TV commercial that featured catchy whistling and brash orange branding.
While Vonage originally started as a residential VoIP, it has almost entirely shifted its focus to business communications. In fact, Vonage has relegated its residential offerings to a completely different site.
Aside from the nostalgia, Vonage offers a solid array of features and the type of reliability you'd expect from a VoIP pioneer and mainstay: you can make use of fax, phone, SMS, team messaging, social meetings, and more.
Vonage also offers an API. If you're a developer or have developers onboard, you can use this to expand Vonage's feature set. The API gives you unparalleled control that you simply won't find in Grasshopper's offerings.
Pricing: Starts at $19.99/user/month, which is just about average for unified communication services. It is significantly pricier than some of the platforms we've looked at already, like Phone.com and 8×8, but it's also cheaper than Grasshopper.
Key Takeaways
If you're a small business, entrepreneur or solopreneur, Grasshopper is a great solution that caters specifically to your needs. That said, Grasshopper is quite pricey for the features that it does offer, and it offers fewer features than many of its significantly cheaper competitors. And some businesses will find that those benefits simply do not justify the higher price tag.
Luckily, Grasshopper isn't the only communications option that can work for SMBs. Some companies will need platforms with more extensive feature sets that include video conferencing, audio conferencing or PBX (private branch exchange). And small businesses may simply want something a little less expensive.
This list offers some of the best Grasshopper alternatives and competitors for 2023. Hopefully, you now have a solid idea of which service is the best fit for your business's unique needs.
No matter what platform you ultimately choose, it's hard to go wrong with any of the solutions that are on this list. 
---
More of Our Best-of Articles:
* 6 Best Cloud Hosted PBX Providers for 2023
* 7 Best UCaaS Providers for Your Business for 2023
* 9 Best Web Hosting Providers
* 8 Absolute Best Ecommerce Website Builders
* Top 10 Best Email Marketing Services
* 8 Best Business Phone Services in 2023
* 11 Best Video Conferencing Software
* Best Small Business Phone Systems of 2023
* Top 8×8 Alternatives and Competitors for 2023
* 22 Brands with the Best Content Marketing Campaigns