Are you ready to take your website to the next level?
In this in-depth Elementor review, we'll put the popular WordPress website builder to the test and show you how it stacks up. This plugin may have collected glowing reviews since it first launched in 2016, but with a host of top competitors looking to steal its thunder, is it still a good option for creating your site?
From the pros and cons, to creating professional-quality websites, you'll have all the information you need to make an informed decision.
What Is Elementor?
Elementor is a widely used plugin that takes the beginner-friendly drag-and-drop capabilities of site builder platforms like Wix and brings them to the WordPress environment.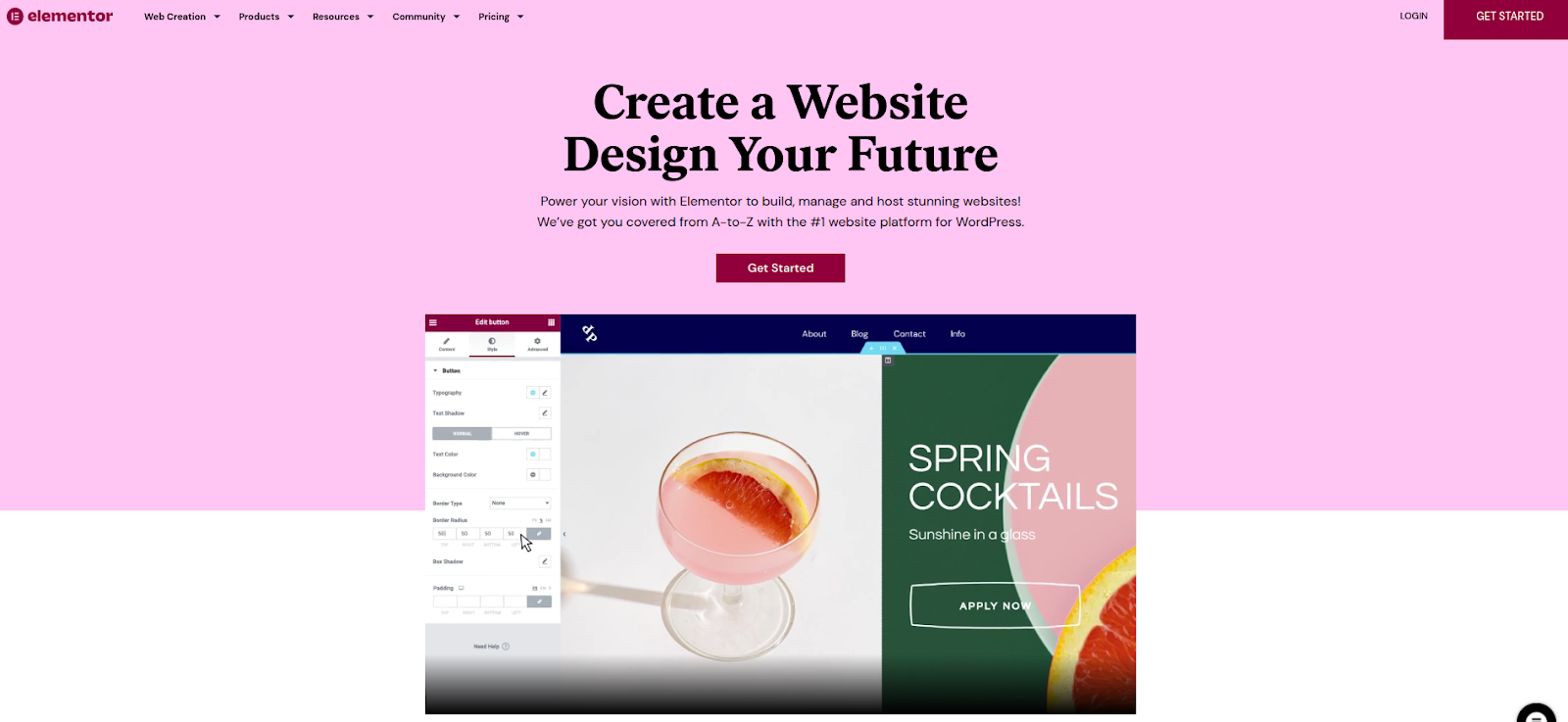 At last count, Elementor powered over 10 million websites, accounting for 7% of all websites on the Internet.
The tool can be used to customize your existing theme and build bespoke templates, pages and layouts using an intuitive editor that makes WordPress more accessible to those for whom its complicated set-up process may be off-putting.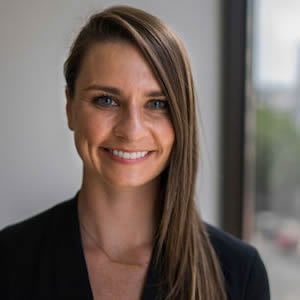 Jacqueline Foster
Demand Generation Marketing, Lever.co
We can count on them to bring new ideas to the table consistently
Elementor Key Features
1) 300+ Website Templates and Kits
While experienced web designers may love the ability to create stunning websites from scratch, beginners will find that they can achieve the same results thanks to the substantial library of pre-made website templates: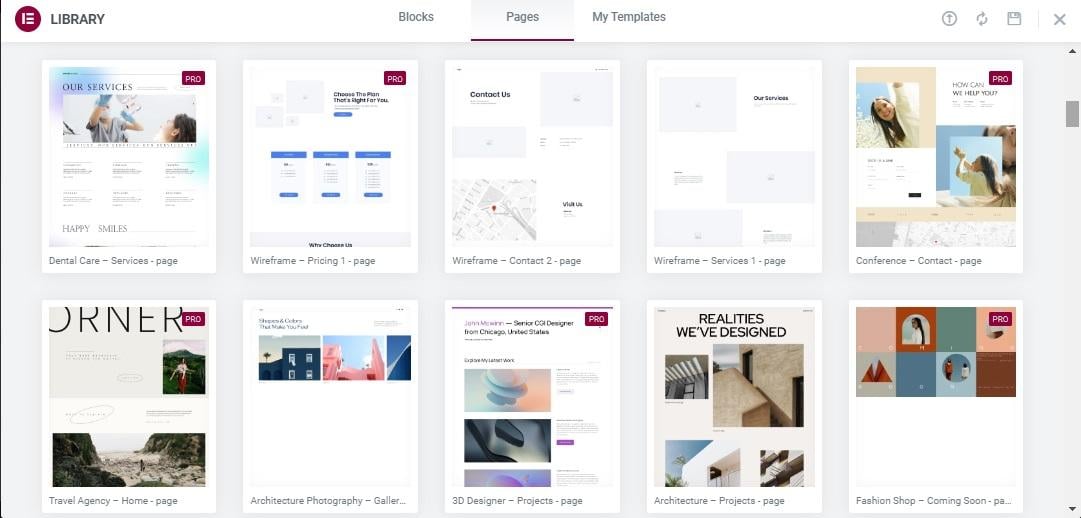 The plugin offers an extensive range of full-page templates to suit any niche and purpose.
Whether you're making an "about" page for your bakery, a sales page for your travel agency or a home page for your business consultancy, there's a template to suit.
The search function allows you to find the template you need in moments. You can also use a limited number of filter options to narrow your choices. One thing that is a little annoying s is that Elementor doesn't offer a way to filter between its free and premium templates.
While that's fine for Elementor Pro users, it can be a bit frustrating to those using the free version of the plugin.
If none of the full-page templates are quite right for you, you can always use the plethora of blocks to build your own template section-by-section.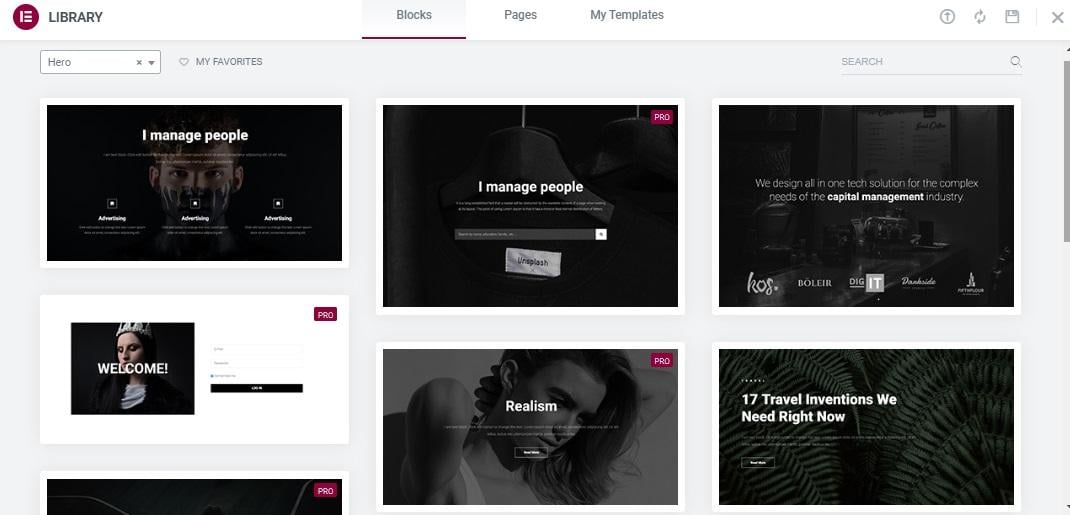 Look around, and you'll find beautifully designed blocks for just about every possible section a web page could need, including hero sections, CTAs, contact sections, pricing, form builders, and more.
Related Content: Top 8 Best Ecommerce Website Builders for Small Business
2) 100+ Customizable Widgets
Thanks to its vast collection of widgets, there is little you can't do to your website with Elementor: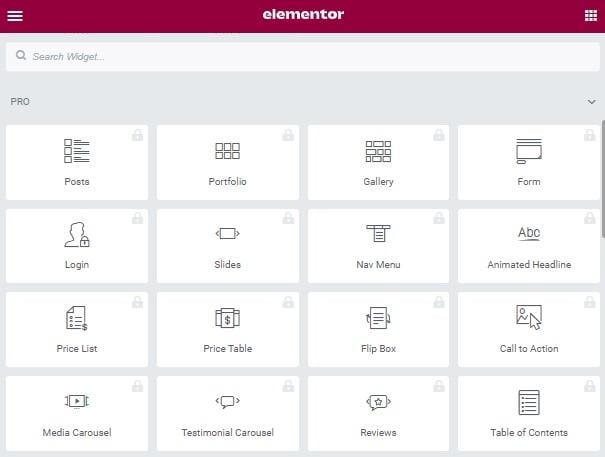 While free users are limited to adding essential content elements such as text, images and buttons, Elementor Pro users have access to over 100 advanced features including, but by no means limited to:
Galleries and portfolios
Blog post displays
User logins for membership sites
Price lists and pricing tables
Carousels
Reviews
Social media buttons
Table of contents
Author boxes
The customization options extend to every single one of these elements to suit your branding and deliver the best possible on-page experience for your users, all without the need to install a myriad of other plugins.
Though you may still need other tools to take care of behind-the-scenes tasks such as site performance, search engine optimization and security, this vast catalog of tools does ensure that Elementor comes as close as any tool can to being a proper all-in-one solution for WordPress users.
3) Beginner-Friendly Drag-and-Drop Editor
At the heart of Elementor is a wonderfully intuitive drag-and-drop interface that takes all the hard work out of creating professional quality pages.

Whereas web design was once the reserve of tech-savvy developers and those with a professional design background, the rise of drag-and-drop site builders has opened up the process to those with minimal technical ability.
Still, even though almost all website tools are relatively easy to use, that doesn't take away from the brilliant beginner-friendly approach employed by Elementor.
The whole interface is well laid out, and though each section and individual element comes with a wealth of customizable options, the editing menus are designed to make finding what you need a breeze.
4) E-commerce Capabilities
There are thousands of e-commerce theme builders to help you create an online store with WordPress. I've used many of them in my time and always come away slightly disappointed that so few of those themes offer the deep customization needed to create a genuinely one-of-a-kind store.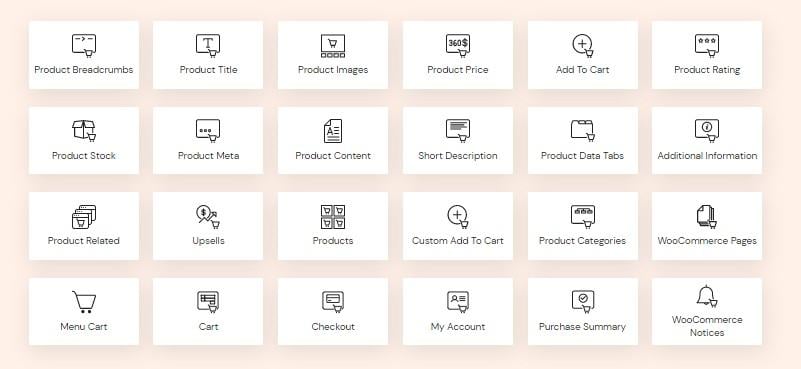 If you've had a similar experience, you'll likely appreciate the range of e-commerce widgets built into Elementor.
Fully compatible with WooCommerce, Elementor not only offers beautiful page and block templates for all types of online stores, but also packs in 24 e-commerce-specific widgets, including:
Add to cart buttons
In-menu shopping carts
Related products
Product displays
Product ratings and reviews
Upsells and cross-sells
Altogether, these widgets give you the freedom and control to create a customized e-commerce site that looks and functions exactly how you want it. One of the best e-commerce website builders we've come across, Elementor offers practically unlimited options for store owners.
If you're tired of WooCommerce's standard page designs and how they make your store look like everyone else's, you will love using Elementor's widgets and templates to create custom product pages that are 100% unique to your store.
If you're running a blog that you monetize by selling products, those same widgets can be added to your posts and pages as a CTA, encouraging readers to buy products related to the content they've just read.
Related Content: How to Create an Ecommerce Website Step by Step
5) Lightweight and Optimized for Performance
Elementor packs in so much that you'd be forgiven for dismissing it as a bloated, heavyweight plugin that will hinder your site performance. But look a little closer, and you'll find this isn't true.
The under-the-hood code is fully optimized to eliminate bloating, while the use of lazy loading, minimal use of Javascript and CSS libraries, and Elementor's performance-first approach ensures that it won't hinder your site speeds.
Of course, it's always possible that you could slow down your site by getting carried away and cramming as many Elementor widgets as possible onto one page. Still, if you avoid doing that, the plugin won't affect your performance.
This image shows the results of a speed test I ran on one of my Elementor-created websites: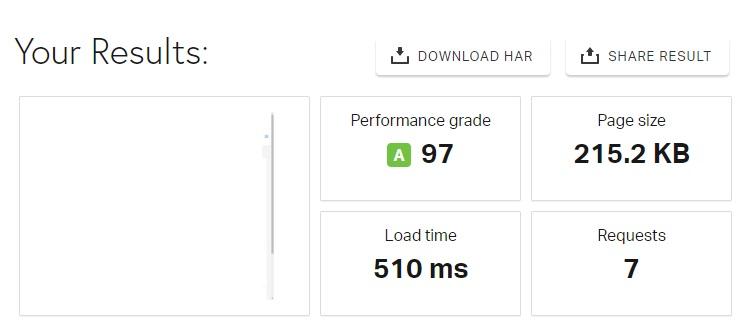 As you'll see, it loaded extraordinarily fast and fell a smidgen shy of top marks in terms of performance.
How to Get Started with Elementor for WordPress
1) Install the Elementor Plugin
The first thing to do is add Elementor to your WordPress website. You can do this by navigating to Plugins > Add New from your WordPress dashboard: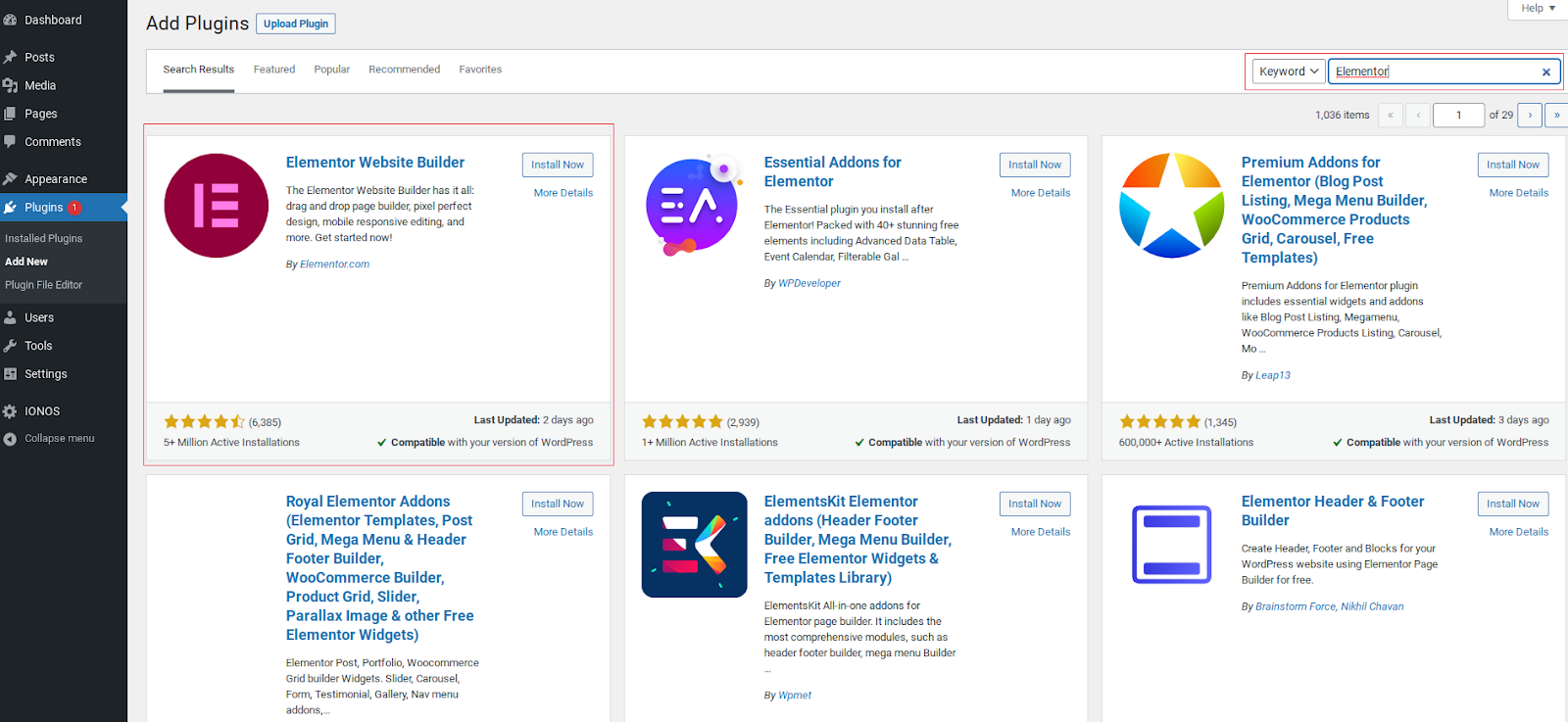 Search for Elementor, then install and activate the plugin as you would with any other: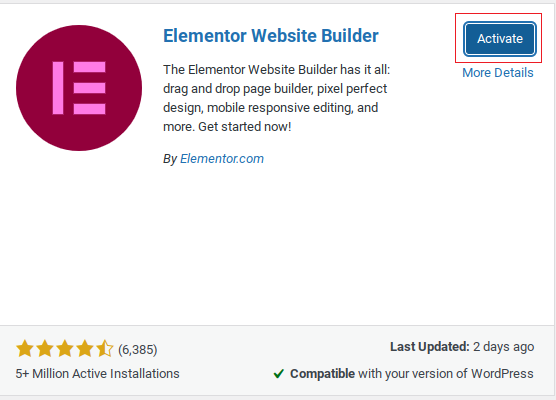 Related Content: Essential WordPress SEO Plugins: The Marketer's Toolkit
2) Create Your First Page with Elementor
To build your first web page with Elementor, go to Pages > Add New.
With the new page in the default WordPress editor, click the Edit with Elementor button:

This gives you a blank page which you can either build from scratch or use a template:

3) Building a Page from Scratch
To take complete control of your page layout, you can begin building with a blank template by clicking the '+' sign: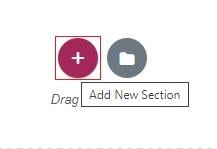 From here, you can select the structure for the first section of your page. You can choose to have this section be full width, a 50/50 or 75/25 split between two columns, or opt for any three- or four-column combination that works for you.
Whichever one you decide upon, click on it to add this new section to your page:

You'll now see your chosen section structure reflected on the page with an Edit Section menu that you can use to customize everything from size and position to background, border, typography settings, and more:

To start adding content to your section, select a widget from the left sidebar, drag it to wherever you want it on your page, and then drop it into place.
In this example, I dragged an image widget to create an image placeholder. I can then click on it to add an image to my page:

You can do the same thing with other content widgets, selecting anything from headers and text blocks to videos and buttons, and then using drag-and-drop to add them to your page.
When you've got your section looking how you want it, just click on each element you added to customize it.
Clicking on the header, for example, allows you to change the text on the page and use various options to add links, change the style, HTML tag, and more: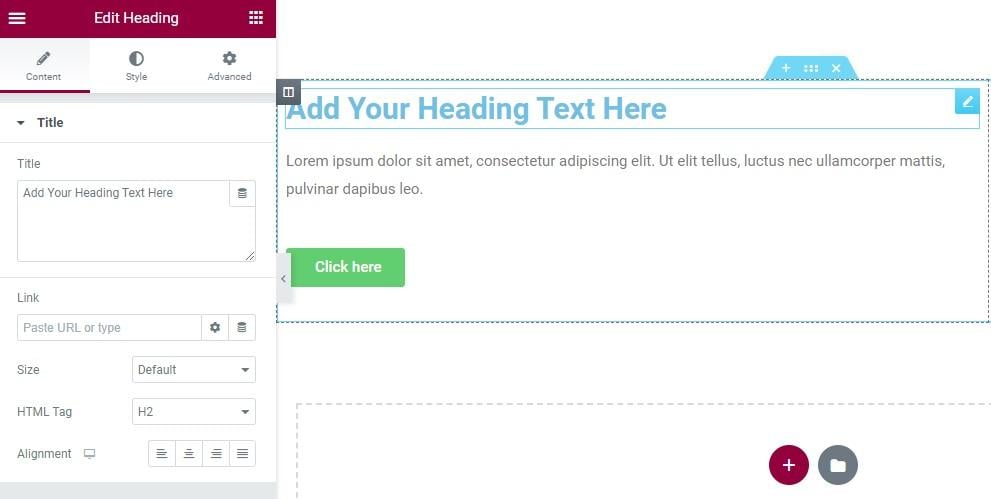 When that's done, you should have something that looks a bit like this:

Repeat this process for as many sections as you need to provide value for your visitors, and you'll have created a brand new page in no time.
Related Content: My 10 Favorite Plugins for WordPress
4) Building a WordPress Page from an Elementor Template
If creating a page from scratch is too much work, you can always click the folder icon to access all those pre-designed templates we discussed earlier: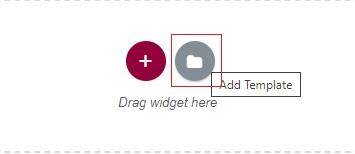 The template library has full-page templates and individual blocks that you can mix and match to create the perfect page for your needs.
If you're using a full-page template, you can filter by new, trending and popular options or use the search to find your ideal template: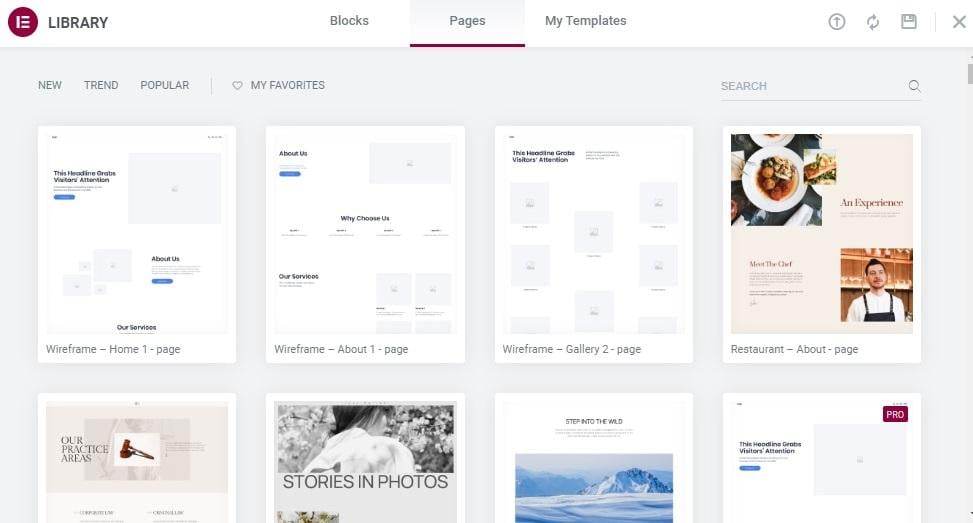 If you're building a page with blocks, a handy drop-down menu makes it easy to find the type of content you need quickly:
With that done, you can customize your template using the same drag-and-drop and editing tools used to build a page from scratch.

5) Publish Your Page
No matter which approach you take to building your WordPress site with Elementor, the live version of your page will only showcase your hard work once you hit Publish. You'll find this at the bottom of your widgets and editing menus on the left-hand side of the Elementor editor: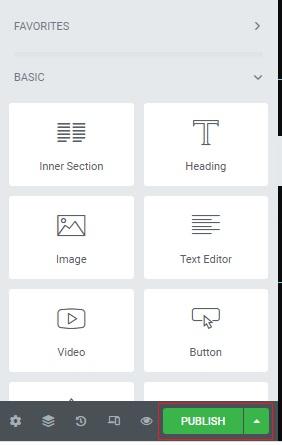 Once you've done that, your new page will be accessible to visitors, and you can continue to repeat this process across the rest of your website.
Elementor Pricing: How Much Does It Cost?
There are two versions of Elementor, a free version that provides basic widgets and a select number of templates, and a paid version that unlocks every available template and widget (all the paid plans contain the exact same features, just the number of site licenses is different).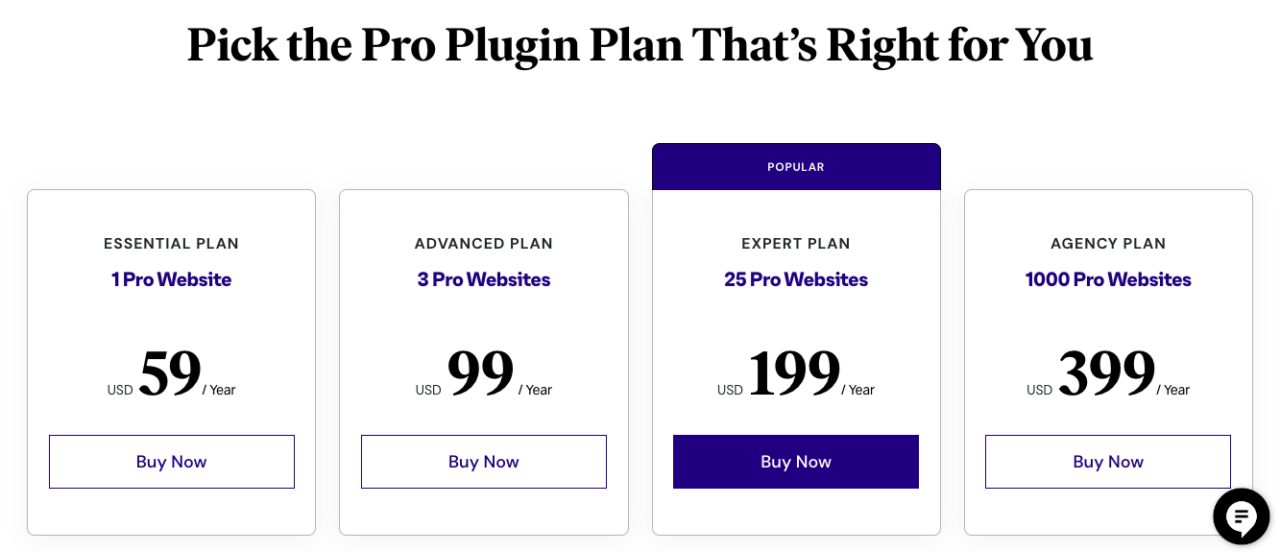 The Elementor free version is a great place to start for anyone building their first website, but it does mean that you can only use ten elements, including:
Inner sections
Text blocks
Images
Videos
Buttons
Dividers
Spacers
Google Maps
Icons
As such, if you want to add things like galleries, forms, price forms and social media embeds to your site, you'll have to use separate tools. Not only is this likely to slow your site down, but it may also prove more costly if you opt for the paid version of those essential WordPress plugins.
To gain access to all 100 widgets and the stunning premium templates, you'll need to upgrade to Elementor Pro.
How much you'll pay for this depends on how many sites you want to customize with the plugin, as the following plans are all determined by the number of site licenses they offer:
Essential Plan – $59 per year for one site license
Advanced Plan – $99 per year for three site licenses
Expert Plan – $199 per  year for 25 site licenses
Agency Plan – $399 per year for 1,000 site licenses
This makes Elementor a very affordable option compared to other WordPress site builders. For example, Divi's entry-level plan costs $80 (with a 10% discount) and Beaver Builders' plans run from $99 to $546 annually.
Elementor Plugin vs. Elementor Cloud Website Builder: Which Is Better?
In its effort to become the ultimate WordPress solution, Elementor released a new product, Elementor Cloud, back in February 2022: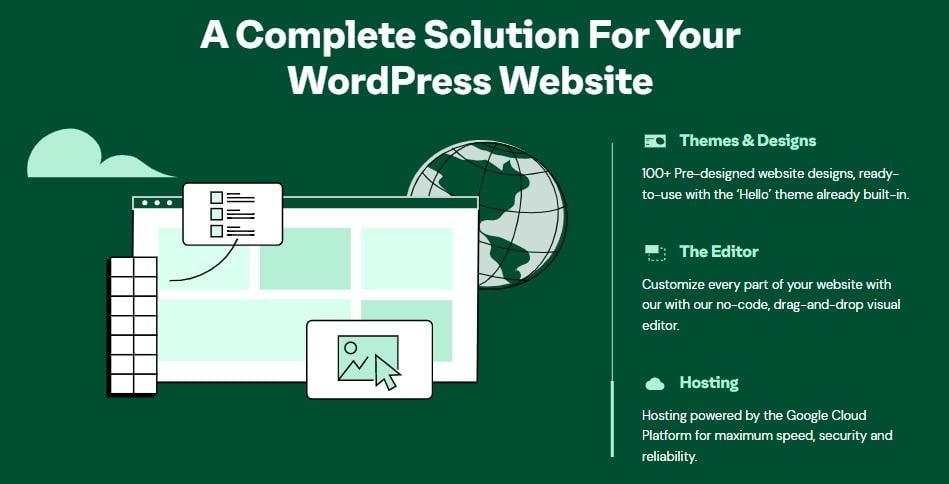 Billed as an ultimate all-in-one website builder to rival the likes of Wix, Elementor Cloud comes with reliable hosting via the Google Cloud Platform, 100+ high-quality website design options, and the Elementor Pro plugin already configured on your site.
This comes at an attractive cost of just $99 per year, with a 30-day money-back guarantee if you're unhappy with it.
Which is the better option, Elementor Cloud or manually installing WordPress, your theme and the Elementor plugin?
There's a strong argument for buying Elementor Cloud, especially if you're only ever going to build one website. When you consider that Elementor Pro costs a minimum of $59, and you're going to pay anywhere from $30-$100+ per year for web hosting, the cloud solution is a cost saver.
On the downside, opting for an all-in-one solution like this limits your freedom. If you want to create a second website on your hosting server, or if you decide to migrate away from Google Cloud to a different hosting platform, you will need some help.
Of course, you can do all this, but it's likely to cost you more time, trouble and expense than you'd deal with if you purchased a hosting plan and set everything up the old-fashioned way.
Does Elementor Have Good Customer Support?
On the whole, Elementor offers excellent customer support. However, there's no denying that Elementor Pro users will find the company's support options more beneficial than those using the free Elementor WordPress plugin.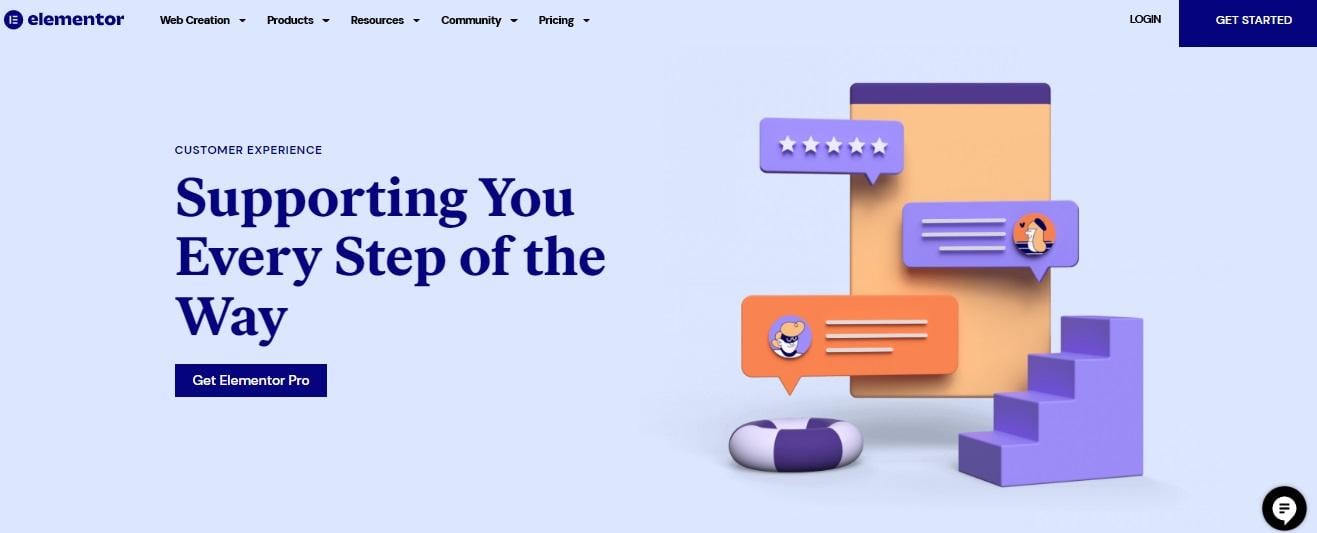 Free users are limited to communicating with a chatbot that goes by the charming name of EVA (a.k.a. Elementor Virtual Assistant):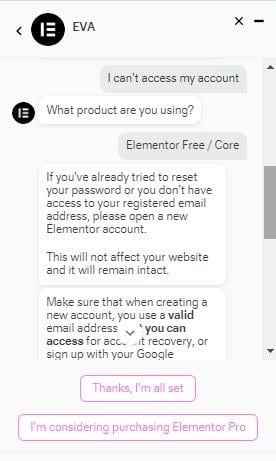 EVA's main job is to provide basic instructions to help you troubleshoot the most common problems Elementor users face and direct you to the vast number of helpful articles and tutorials in the knowledge base, as well as plenty of videos on their YouTube channel.
Both free and Pro version users can also access the Global Elementor Community group on Facebook, where you can ask questions and get genuinely helpful feedback from experienced Elementor users.
But if you want to speak to a support agent, you'll need Elementor Pro.
The good news is that those agents are available 24/7 via live chat and prove efficient, helpful and dedicated to solving your problems as quickly as possible.
Related Content: 6 Customer Service Trends You Can't Ignore in 2023
Is Elementor Still Good in 2023? Our Final Verdict
Only you can decide if Elementor is still worth using in 2023 to build your WordPress website, but if you want our honest opinion, we say that it's still as good as it's ever been.
Yes, the plugin has been challenged by a seemingly never-ending list of competitors over the years, but though many of those WordPress site builders certainly have their appeal, none pack as many features and customizable options into an affordable plan as Elementor Pro.
In other words, if you're looking for a quality site builder that isn't going to break the bank, this one is certainly worth considering.
Elementor Pros:
Elementor offers tremendous value for money with a functional free plan and a very affordable premium option.
The large widget library eliminates the need to use additional plugins for added functionality.
The plugin is easy to learn. Although the number of features can get overwhelming, everything is intuitive and clearly laid out so that you can always find the feature you're looking for and use it without any trouble.
Elementor Cons:
Updates and new feature rollouts have caused issues for some users.
There isn't a way to filter between free and premium templates.
---
Elementor FAQs
Is there anything better than Elementor?
Nothing beats Elementor in terms of features, usability and general affordability, though Divi builder and Beaver Builders are both excellent Elementor alternatives.
How long does it take to learn Elementor?
Although there's an enormous array of features, Elementor's learning curve isn't that steep. Once you've learned the basics, such as selecting templates and customizing your widgets, you'll be able to build a great-looking site with no other technical skills required.
Does Elementor require coding?
Absolutely not. Elementor's impressive visual editor makes it easy to build websites without coding, though experienced developers can undoubtedly add code if needed.
---
More of our reviews:
* GetResponse Review: Is It Worth It in 2023?
* Hostinger Review: Is This the Best Web Hosting Provider in 2023?
* ConvertKit Review: Is It Worth It in 2023?
* Kicksta Review: A Legit Way to Automate Your Instagram Growth
* Supermetrics Review: Is It Worth It in 2023?
* Moosend Review: Is This the Best Email Marketing Tool for Beginners?
* AWeber Review: Is It Worth It in 2023?
* 9 Best Web Hosting Providers