If the six biggest marketing trends are likely to show us anything, it's that some old cliches are absolutely true:
The more things change, the more they really do stay the same.
What am I talking about?
Simply the fact that while we may see new trends emerge from out of nowhere and sweep the marketing landscape unexpectedly this year, what we're actually going to see is a lot more of the things that you and I may already be familiar with. They may prove themselves to be more important, prominent, and valuable than possibly ever before.
Don't just take my word for it, though.
Instead, let me share with you the six marketing trends that will be emerging or becoming even more well established, and exactly why we're all going to be talking a lot more about each trend this year.
6 Marketing Trends That Will Crush It & Beyond
1) Twitter Reestablishes Itself as a Major Marketing Player
When Twitter first hit the scene in 2006, it was quickly praised for its untapped potential as a marketing tool.

Though the likes of TikTok would go on to steal a lot of Twitter's spotlight in that regard, it wouldn't surprise me at all to see Twitter once again establish itself as a major marketing player and finally live up to some of that potential.
The reasons for this are three-fold:
A) Twitter Remains an Active and Engaged Marketing Channel
Whether your audience is software founders, investors, business owners, cryptocurrency experts or anything else, those people are building communities on Twitter.
They're talking about products and services like yours. They're engaging with one another, and sharing insights and information that can help you in a myriad of ways. I'm not just talking about the average, well-informed person, either.
Twitter gives us a form of direct access to the key players in just about any industry.
In the past, I've connected with both presidential candidate Andrew Yang and former NFL receiver Dez Bryant.
We've talked, we've discussed collaborations, we've potentially created new opportunities for each other that would have otherwise never materialized, so even if you and I aren't using Twitter as a tool for direct sales, the real power is in its communities, the shared knowledge, and the access to high-profile figures.
B) Twitter Is a Blue Ocean for Advertising
You might remember me talking recently about why Twitter ads are still worth it.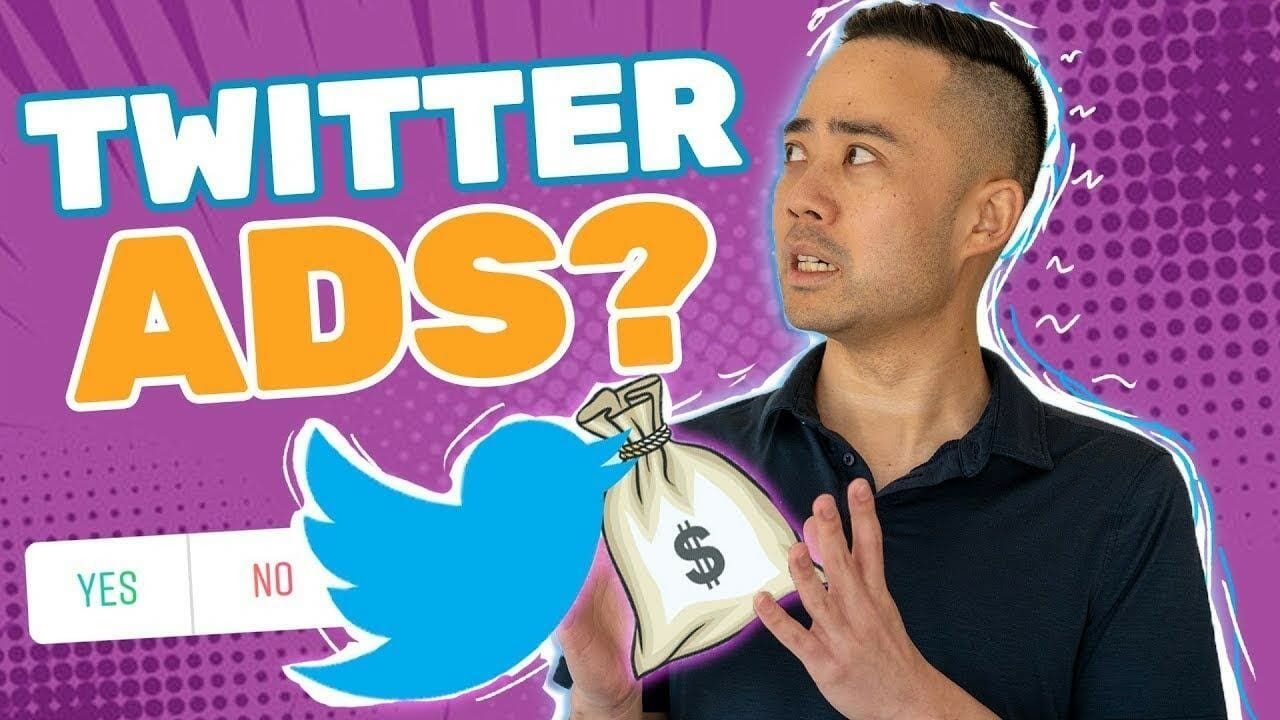 If you read that post, and especially if you watched my YouTube video on the subject, then you'll probably recall how I talked about Twitter being a blue ocean for advertising. In other words, it's more cost-effective to advertise in a relatively uncrowded market like Twitter and is likely to produce a better Return on Investment than if you threw all of your advertising spend into an oversaturated red ocean market like Facebook or TikTok.
As long as your ads are targeted to the right people, the site represents a goldmine of advertising opportunities.
C) Curated Feeds Can Help You and Your Brand Grow
Of course, Twitter isn't just about you getting your message out there. It's also a platform for checking out what others are saying, and thinking about what information is out there that can help you learn, grow and potentially find even more opportunities for collaboration.
Going forward, it's a good idea to think about how you can carefully curate your feed to ensure that when you log in, you're getting a stream of good, useful information.
Book My Free 2022 Marketing Consultation
2) NFTs Prove Their Value
NFTs (non-fungible tokens) created a huge buzz, but many people still struggle to see them as little more than a novelty gimmick with no real, intrinsic value in the real world.
As we dive deeper into 2022, what we're going to see is NFTs proving that they're far from meaningless and actually have a lot of value for entrepreneurs who can use them to grow their brand and grow the community around that brand.
How do I know this? Because we're already seeing it starting to happen. Tom Bilyeu, the founder of Quest Nutrition And Impact Theory, released a series of NFTs at different tiers, including Legendary, Heroic and Relentless: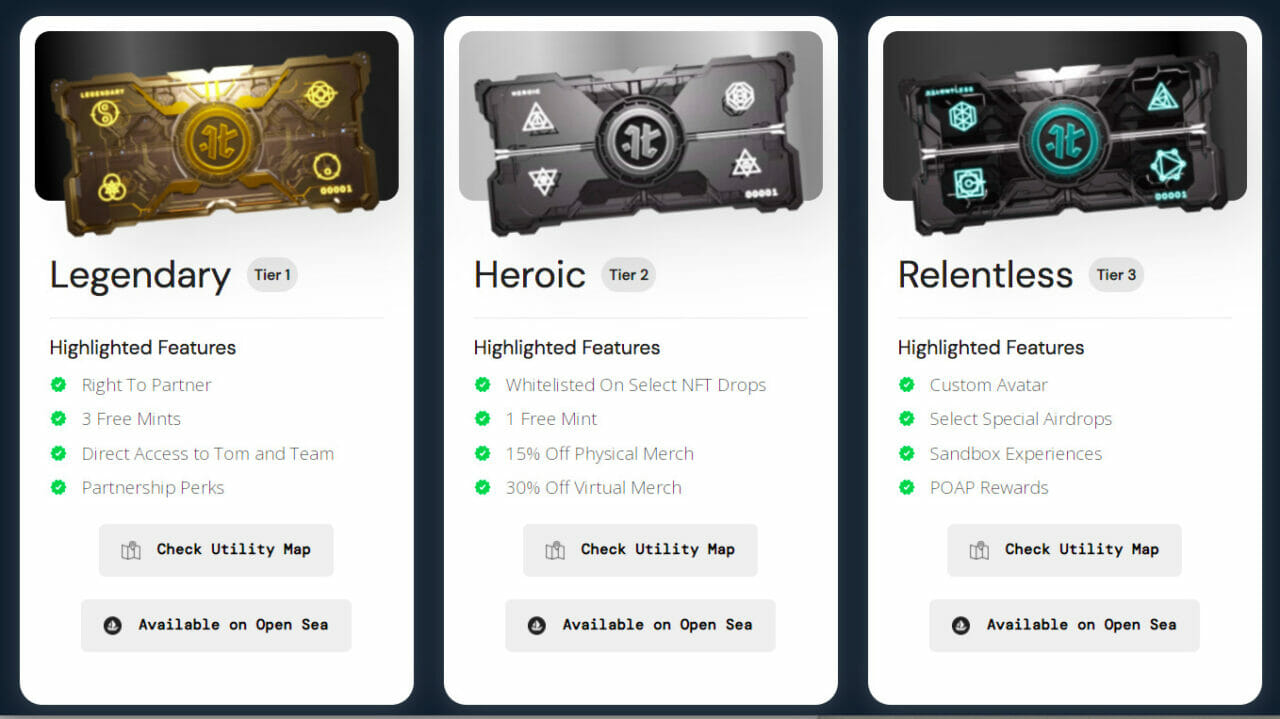 I recently purchased one of these NFTs myself, and that now gives me direct access to Tom, his team, his courses, and any events that he runs. This is Impact Theory's road map for the brand's Legendary Tier NFT, detailing what it unlocks access to: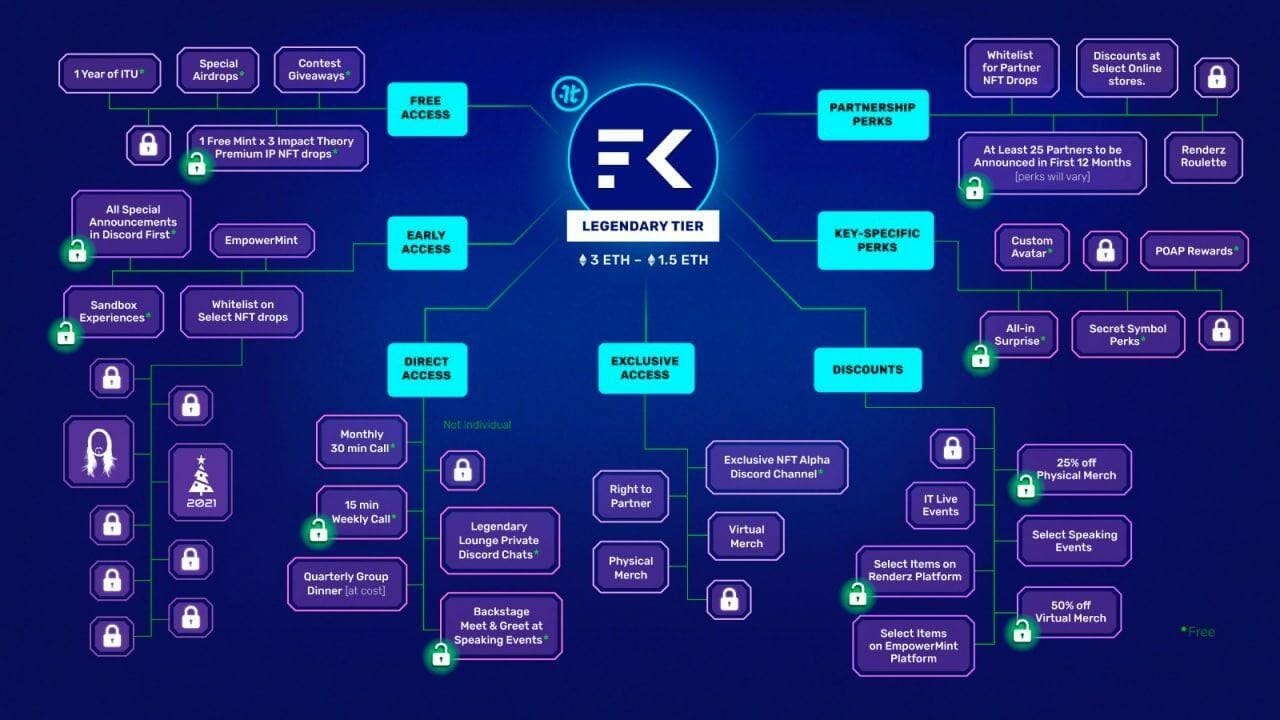 By using NFTs as a form of alternative currency, Tom isn't just making profit directly off NFT sales, he's also using them to create a community of die-hard loyal followers who interact, engage and ultimately buy from Tom's brands, all within his own Impact Theory Metaverse.
This approach is going to be replicated by other brands too, as more and more people are looking at moving away from being reliant on the likes of Facebook and YouTube and set out to do their own thing in terms of developing communities.
As you might remember from my post on the 8 Hot Marketing Careers, communities are going to be more important than ever in the coming year, meaning skilled community managers are going to be in demand like never before as brands work out how they can best leverage NFTs to create those communities.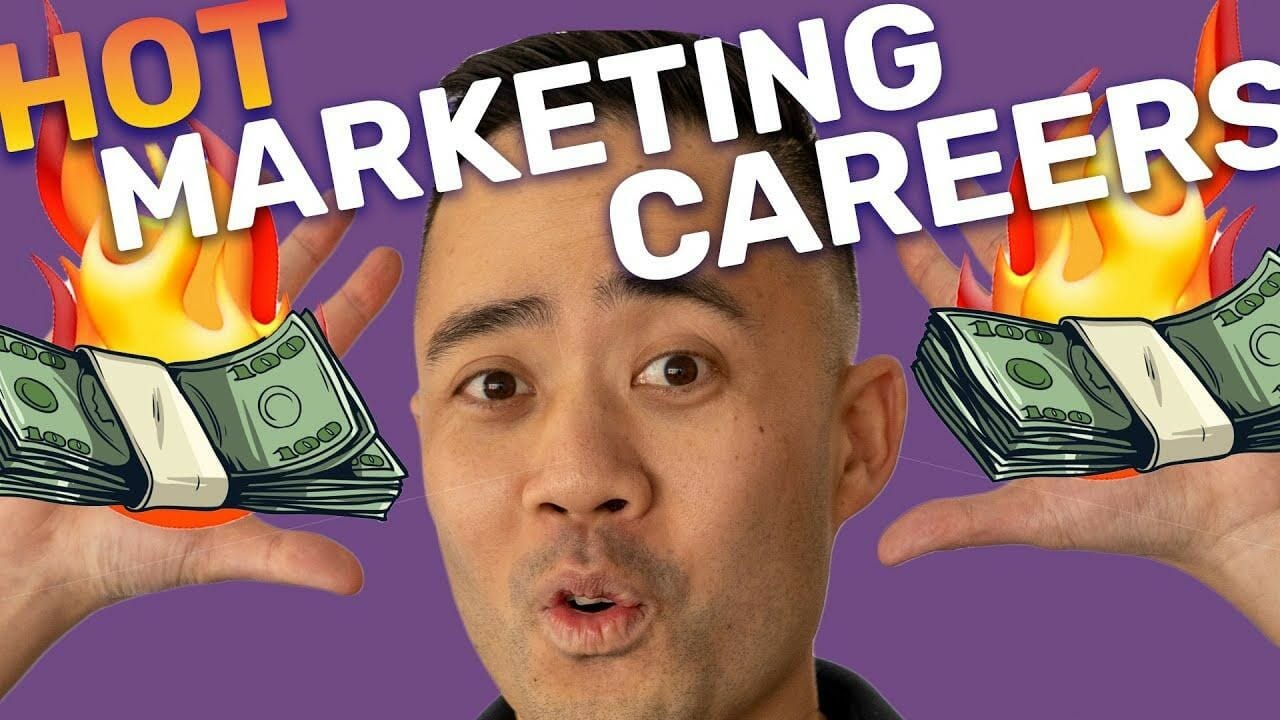 Watch my video on the 8 hottest marketing careers.
Elsewhere, the infamous Garry Vee has raised over $80 million in sales via NFTs, with his serious fans buying them in order to gain premium access to him, whether that's sitting courtside with him at a New York Knicks game, sitting down to dinner with him, or joining an exclusive group.
Going into 2022, more and more brands are going to follow where the likes of Tom Bilyeu and Garry Vee have been leading, and NFTs are more than going to prove their worth.
Dive Deeper:
* How Gary Vee Sold 1 Million Copies of His Book Through NFTs
* 5 Examples of Brands Using NFTs to Monetize Their Work
* What Are NFTs and How Do They Help Business?
3) YouTubers Thrive with Repurposed Content
This next point is a perfect example of what I was talking about in the introduction: the fact that even as new platforms emerge and hog all the spotlight, some tried-and-trusted marketing channels are going to continue to flourish, even if they're used in a slightly different way.
This is never more true than with YouTube, which will continue to prove a worthwhile marketing tool, especially for creative entrepreneurs who can learn how to effectively leverage repurposed content.
My friend Anthony Pompliano has done this to great success with his YouTube channel. Each day, he and his brothers go live with a YouTube broadcast called The Best Business Show. This show, which usually lasts between an hour and 90 minutes, is then chopped up into multiple individual videos, each with their own optimized title, thumbnails, and descriptions.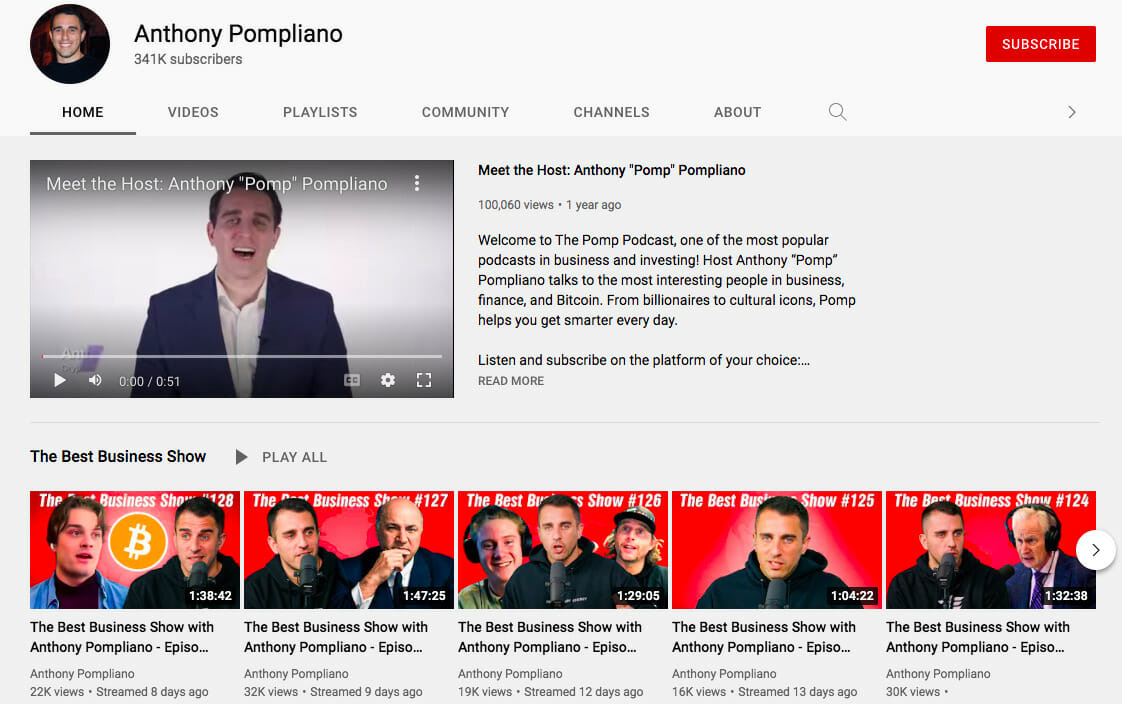 Doing this, Anthony (or "Pomp" as he's better known) has grown his channel to new heights. One single daily live stream can produce a series of videos that generate anywhere from 12,000 to 48,000 views, while his subscriber count can increase by as much as 6,000 in a single day, depending on just how hot his content gets. العاب قمار كازينو
Pomp isn't the only one doing this, either. Another friend, George Gammon, runs the Rebel Capitalist YouTube channel, which, at the time of writing, boasts around 48,000 subscribers and has been known to clock up as many as 80,000 views in a single day.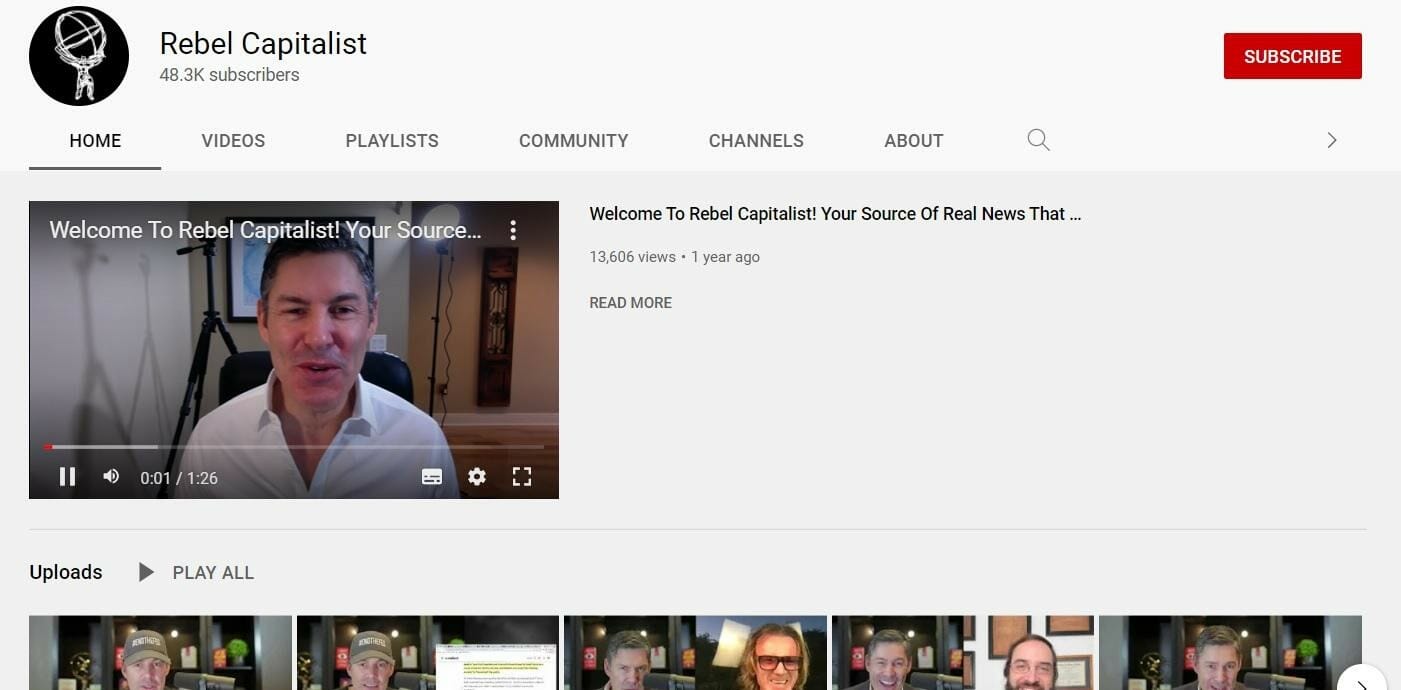 Much of George's success has been gained by doing a very similar thing: creating longer-form videos and live streams, then chopping them up and repurposing them into smaller videos that are optimized to bring in more views.
It's a strategy that clearly works and a strategy that we're going to see more brands with a YouTube presence utilize over the coming year. موقع قمار
Dive Deeper:
* 9 Ways to Repurpose Your Old Blog Content
* 17 Engaging Video Content Types that People Love to Watch
4) Email Lists Give Brands and Creators More Control
It's no secret that email marketing remains as prevalent today as it ever was and is always going to be one of the most effective ways to grow a brand online.
As I mentioned in my guide to the top 10 best email marketing services, close to 60% of marketers say that email marketing is their biggest source of ROI. This in itself is hardly a new trend, but it's the way that we're going to see email marketing, and email lists in particular, used that is so interesting.
As I mentioned earlier, we're going to see a big overall emphasis on decentralization over the coming year as content creators, brands, experts and influencers all see the benefits of investing their all into one major platform and taking more control over their message.
With that in mind, it should come as no surprise to see people giving up their day jobs as editors and full-time contributors for major brands like The Verge and start to use email lists to build their own audience.
If you're reading this, now might be a good time to start thinking about how you can do the same. Can you start to build your own email list? How about an SMS list and/or a push notification list? If so, how can you best use them to build, strengthen, and engage with your community without relying on a major third-party brand?
Book My Free 2022 Marketing Consultation
5) The Rise of Shoppable Content
Here's a newly emerging 2022 marketing trend that is really a cause to get excited about for many marketers and business owners alike:
Worldwide e-commerce sales grew by 27.6%.
And part of that rise is simply down to the fact that brands have a whole wealth of new tools at their disposal to help them sell to customers.
While traditional e-commerce sites still have their place, we're seeing more and more companies move towards making digital content that adds value to people's lives in its own right while also presenting shopping opportunities.
As we go forward into the new year, it will be interesting to see how many more companies look to enable people to buy products directly from their TV during their favorite shows, while watching YouTube content via their television, or simply by engaging with social media content:
Shoppable content may still be somewhat in its infancy, but if brands, marketers and content creators alike can learn how to combine compelling stories with relevant products, then there's a great opportunity for increasing sales to be had here.
Dive Deeper: The Power of Social Shopping on Instagram (and How to Sell More)
6) The Next Podcasting Boom Emerges
Last but not least, I couldn't finish talking about the hottest marketing trends without mentioning the next wave of the podcasting boom that has already begun but is going to become much more prominent over the coming year.
What we're going to see more regularly over the coming months is that podcasting is going to go from a largely independent, DIY thing that podcasters do on their own, to going back a big-money industry with major deals signed left and right that really take podcasting to another level.
Spotify has been famously buying up a whole bunch of well-known podcasting companies and doing exclusive podcasting deals with major names like Joe Rogan:
Even my own Leveling Up podcast has been the source of discussion with well-known broadcasters. Just recently, we've been in talks with both iHeartRadio and Morning Brew about quite literally leveling up the Leveling Up podcast and getting out to a greater audience.
As an increasing number of podcasters and podcasting brands follow suit, what we're going to see is podcasting becoming more mainstream than it has been in years past.
What this means, then, is that there's never been a better time to create a podcast than right now, though keep in mind that to build a truly great podcast takes time and a lot of work.
Invest both of those two things, however, and what you've got is a great way to build an audience, give that audience a chance to get to know, like and trust you, and once again foster that all-important sense of community.
Dive Deeper:
* 7 Creative Ways to Monetize Your Podcast
* Podcast Production 101: The Complete Guide to Starting Your Own Show
* Audio SEO: The Complete Guide to Ranking Your Podcast Successfully
What 2022 Marketing Trends Tell Us About the Year Ahead
If most of the 2022 marketing trends that we've looked at above really tell us anything, it's that, with the exception of the exciting world of shoppable content, most of what we're going to see in the coming year are savvy entrepreneurs and creators adapting existing tools to really take more control over the way they reach and grow their audiences.
Building email lists, starting podcasts, and utilizing NFTs to generate revenue and build communities all allow an opportunity to rely less on major platforms and provide greater autonomy, flexibility and even greater potential revenues than you'll get from relying solely on third-party platforms.
Take advantage of these opportunities while continuing to see the value in tried-and-trusted marketing channels like Twitter and YouTube, and 2022 could well be your brand's best year yet!
Ready to learn more about how you can better take advantage of the emerging marketing trends this year? Book your FREE consultation today, and let me help you level up! 👇
Book My Free 2022 Marketing Consultation
---
This topic originally appeared on our Leveling Up YouTube channel, where you can find tons more videos on all things digital marketing, like SEO, content marketing, NFTs, web3, paid media, email marketing, growing your business, and much more!