Considering that 50% of the world's population are social media users, and these people spend an average of 2 hours and 25 minutes on social networks each day (in the U.S. it's 2 hours and 3 minutes), social media has transformed marketing. 
And with 1 billion users, 90% of whom follow at least one business account in-app, Instagram is still one of the most popular (and fastest-growing) social media platforms. 
Knowing the latest Instagram trends is a great way to make the most out of your business' Instagram presence and give your potential customers what they want this year and beyond.
Here are the top 14 Instagram trends that you should implement into your Instagram marketing strategy.
---
---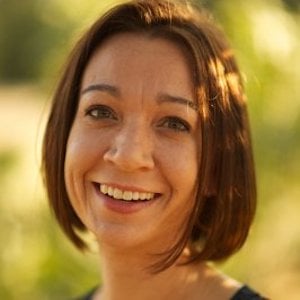 Kim Cooper

Director of Marketing, Amazon Alexa

Single Grain enables us to increase our impact without increasing our headcount
Trend #1: The Demand for Instagram Shopping Is on the Rise
Consumer behavior has changed dramatically in recent years. People discover, research and buy products on social platforms they use often – and the average Instagram user spends 28 minutes in-app every day.
As a visual platform that engages users, it's no wonder that shopping on Instagram is growing in popularity. The numbers speak for themselves:
70% of people discover new products or services on Instagram.
87% of people say influencers have inspired them to make a purchase.
130 million Instagram accounts tap on a shopping post to learn more about products every month.
With the ever-increasing demand for shopping in-app, Instagram rolls out e-commerce specific features like product tags, shoppable stickers, Instagram store, and in-app checkout that make it easy for both companies and consumers take advantage of Instagram shopping.
Calvin Klein is a great example of a company that promotes and sells products on Instagram: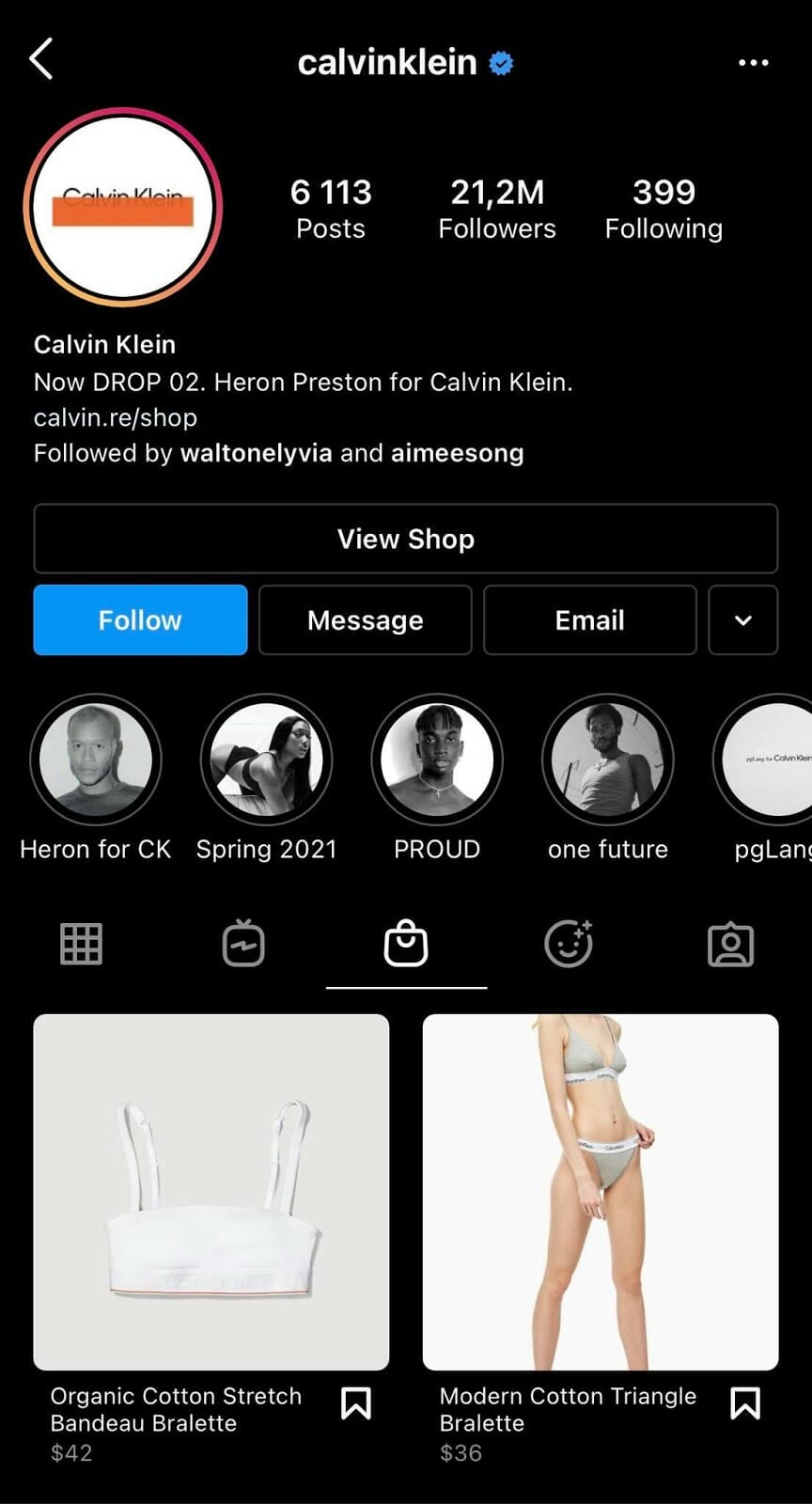 When people scroll through the feed, they can simply tap on a shopping bag icon to learn more about featured items, like prices and descriptions. Here's what a shoppable post looks like: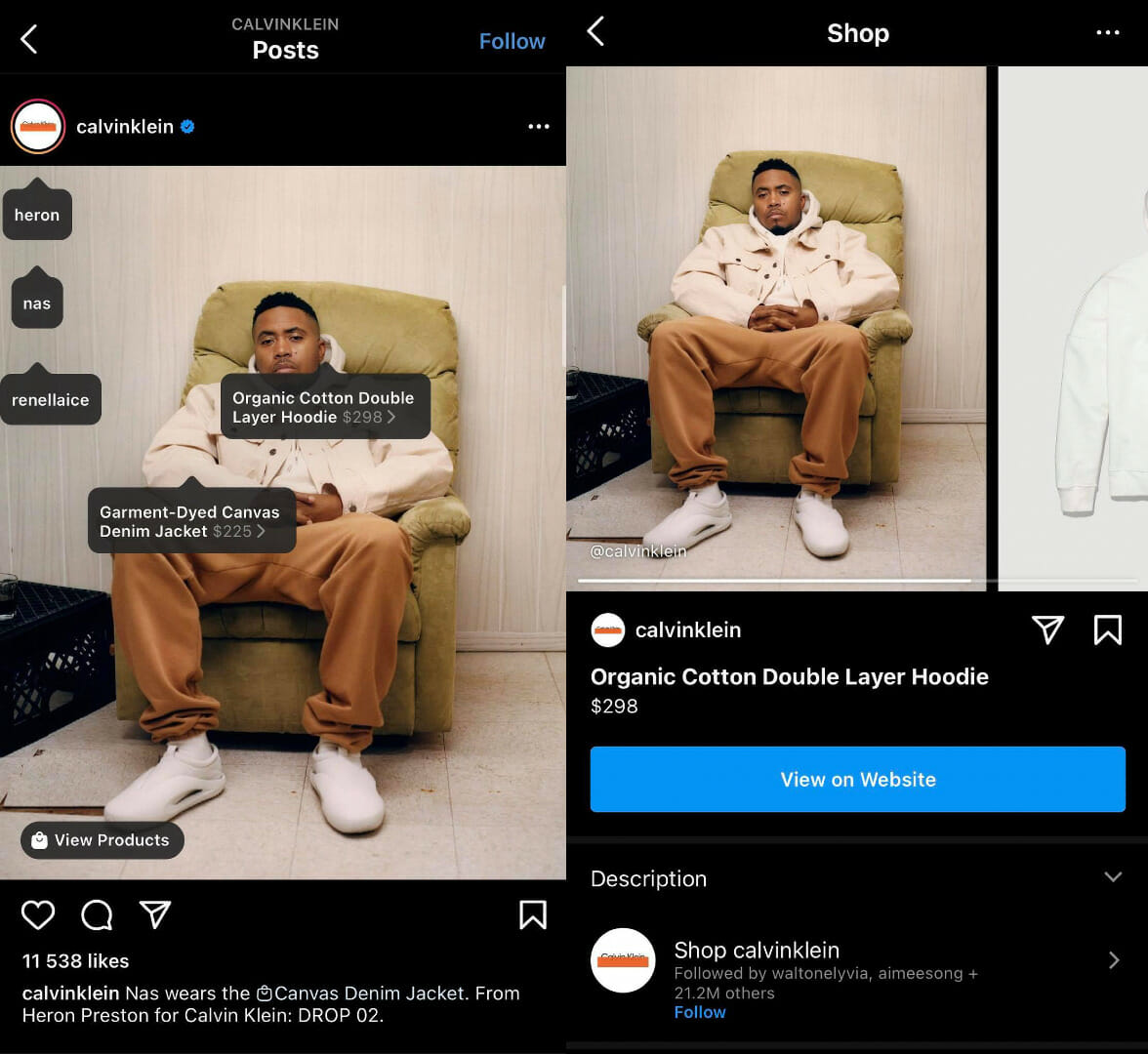 What is more, customers can even discover products when watching ephemeral content (Instagram Stories) and then learn more about featured items once they tap on shoppable stickers, just like in the example below: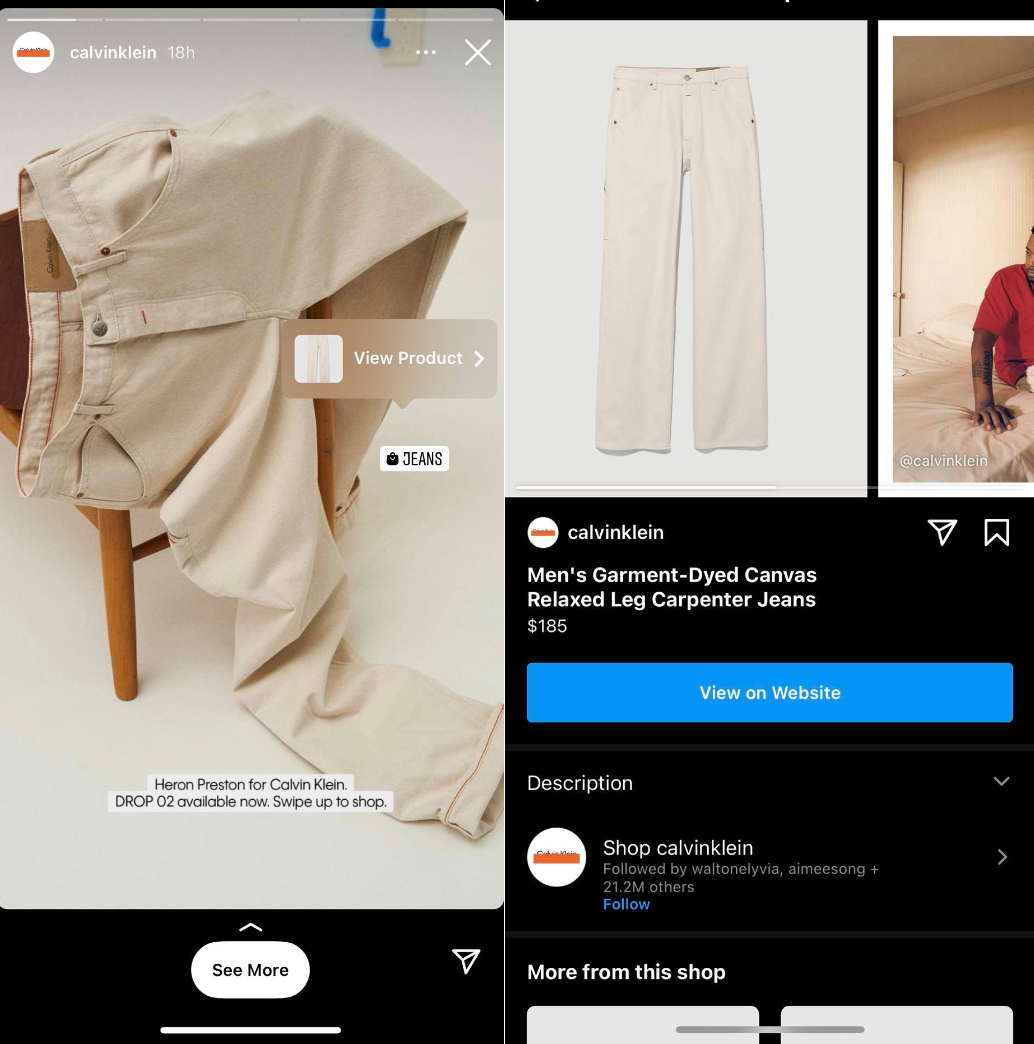 Instagram offers a great number of functions that make it easier for customers to find, research and buy products in-app, so companies of all sizes and niches should jump on the bandwagon and start selling their products on Instagram.
Dive Deeper: The Power of Social Shopping on Instagram (and How to Sell More in 2023)
Trend #2: Creators Will Have More Ways to Make Money on Instagram
Instagram has become a great place for creators to make money by doing what they do best.
90% of marketers say that Instagram is the most strategically important social media channel for influencer marketing. In fact, most creators say that Instagram Posts (78%) and Instagram Stories (73%) are the most effective content formats for influencer marketing.
From creating branded content for companies to using badges in Live to creating IGTV ads to posting shoppable posts in partnership, there are various ways to get creative and get paid on Instagram: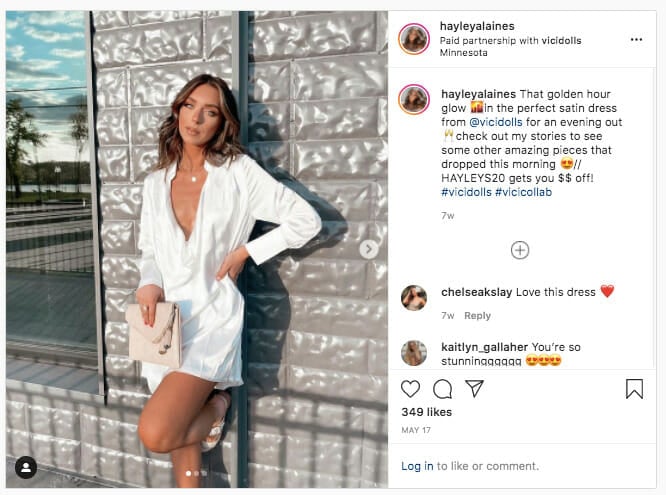 What is more, creators can sell online courses or make their own merchandise to earn more. According to Sellfy, Instagram is a great place to give potential customers a sneak peek of your cool designs, since you can create posts and Stories in which you are wearing your own merch.
Dive Deeper: 9 Influencer Marketing Trends You Can't Ignore in 2023
Trend #3: Companies Will Work More with Relatable Nano Influencers
Influencer marketing has been gaining in popularity, certainly, but gone are the days when companies only work with celebrities to gain customer traction.
But there's no need to spend thousands of dollars on influencer endorsements, because today's customers trust nano influencers – those with small but loyal followings – more than big Instagram stars, since they have closer relationships with their audience. In other words, working with nano influencers on Instagram is where it's at in 2023.
Consider these facts:
Case in point: When Dunkin' Donuts decided to target a younger and digital-centric generation, the company teamed up with nano influencers who could help reach an authentic audience and produce a high engagement rate: 5.2%. The campaign helped Dunkin' Donuts reach 1.1 million Instagram followers and generate 21,975 likes and 965 comments in combined results from 25 posts. Not bad, huh?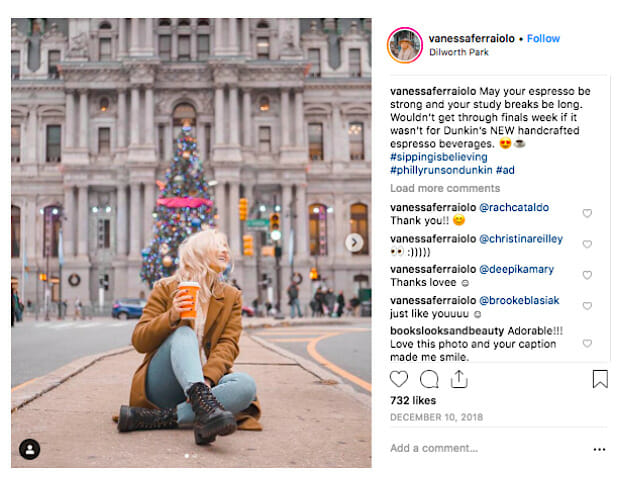 Additionally, Dunkin' Donuts keeps building relationships with nano influencers, so the company interacts with their audience and features their fan-made content on their profile. Check out this example: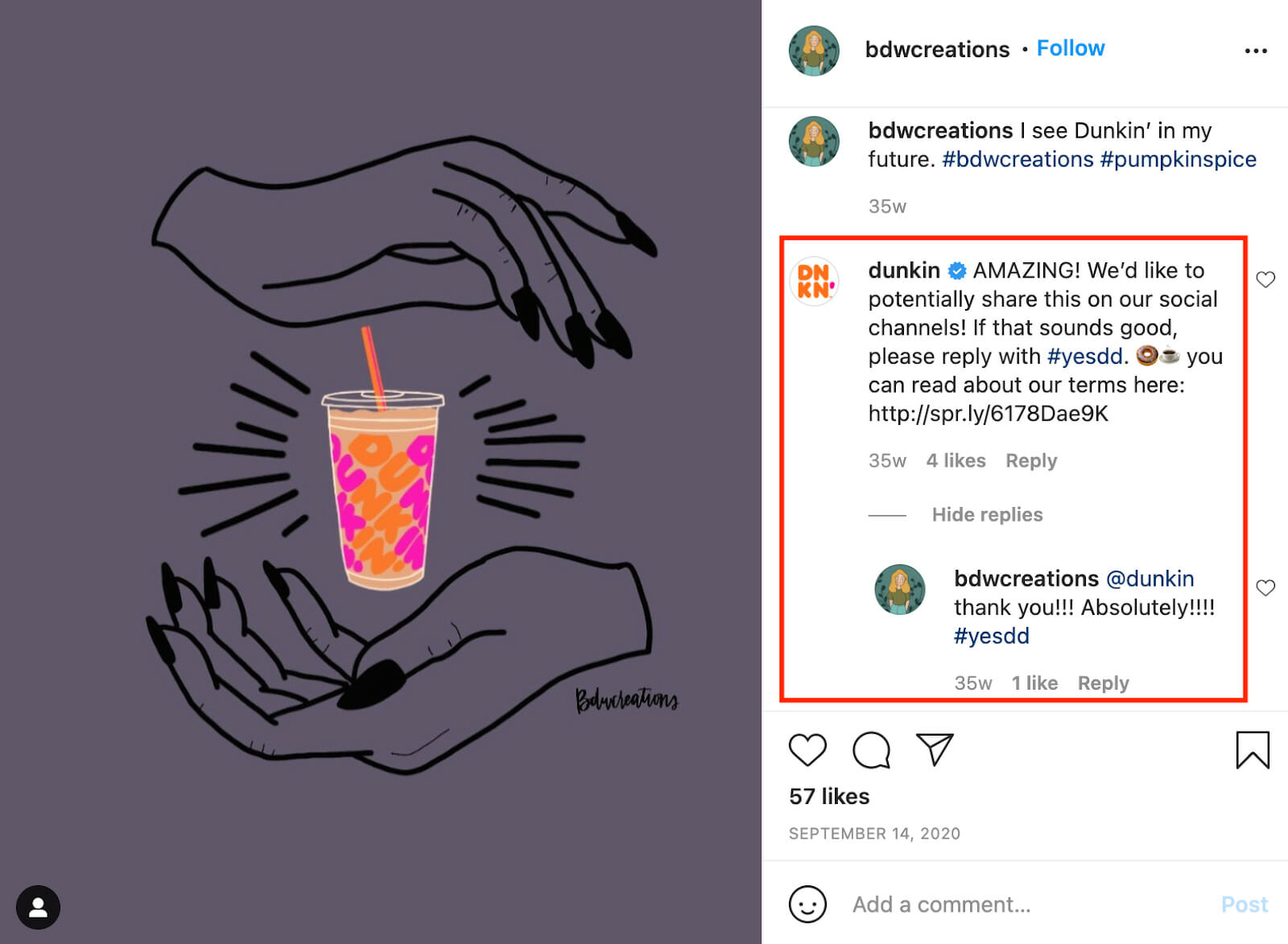 The bottom line? Nano influencers offer brands a cost-effective way to reach a whole new audience, so it's no wonder that companies are teaming up with these influencers.
Because of their growing popularity, it can be a problem to get a reply from influencers on Instagram, so you can use a tool like SignalHire to find contact information like email addresses or other social media profiles to stay ahead of your competitors.
Dive Deeper: The Ultimate Guide to Growing Your Business with Influencer Marketing
Trend #4: Live Streaming Keeps Growing in Popularity
Video content is the future of social media, but live streaming is the most preferred video marketing strategy. In fact:
Today, people value authenticity more than ever. Not only do viewers show interest in real-time videos, but they also experience the fear of missing out if they can't join the live stream. As a result, more and more companies use live video for business.
With the popularity of live streaming, Instagram has rolled out features that help to make live streaming even more engaging and interesting. For example, the platform has introduced Live Rooms, a feature that gives users a possibility to go Live on Instagram with up to three people:
Live Rooms gives creators more opportunities to grow their business and earn money: Viewers can buy badges for their favorite hosts as well as use other interactive features like Shopping and Live Fundraisers. 
To attract as many viewers as possible, it's important to announce your live stream session in advance, just like in this example: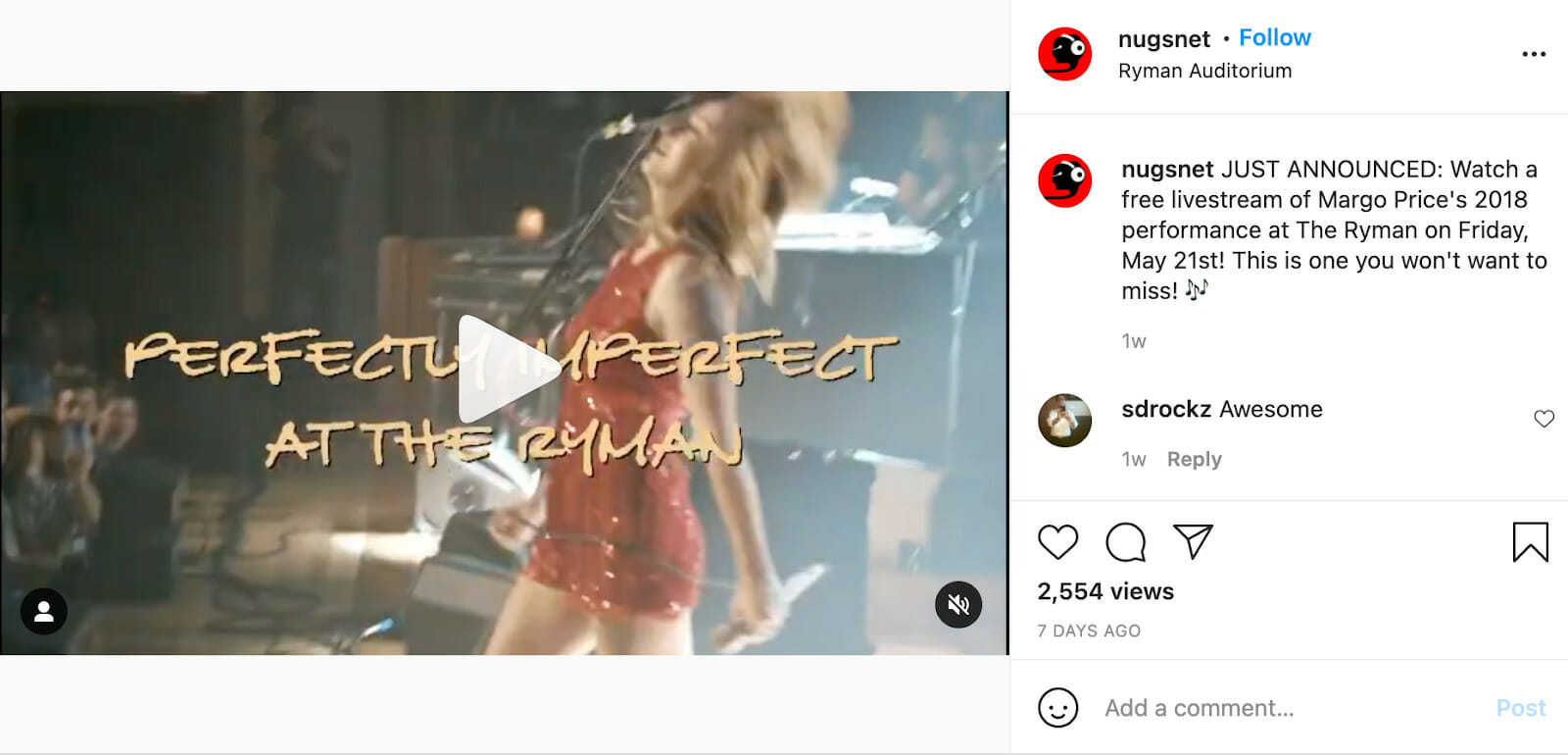 Dive Deeper: Quick Tips to Optimize Your Facebook & Instagram Live Broadcasts
Trend #5: Followers Want to Communicate via Direct Messages
Instagram Business claims that  90% of users follow at least one brand in-app, and two out of three people say Instagram enables interaction with brands:

This means that customers are choosing Instagram as the most preferred channel for brand communication, so it's no wonder that they also reach out to brands on the platform when they have some questions or concerns: Instagram Direct has 375 million monthly active users. (Instagram Direct was introduced in 2013, but it has rolled out more features since then. It's increased popularity shows that customers are eager to use Instagram for private communication with brands, so companies should be ready for it.)
Since brands get more and more direct messages, they can use the quick reply feature that allows them to send saved responses to frequently asked questions: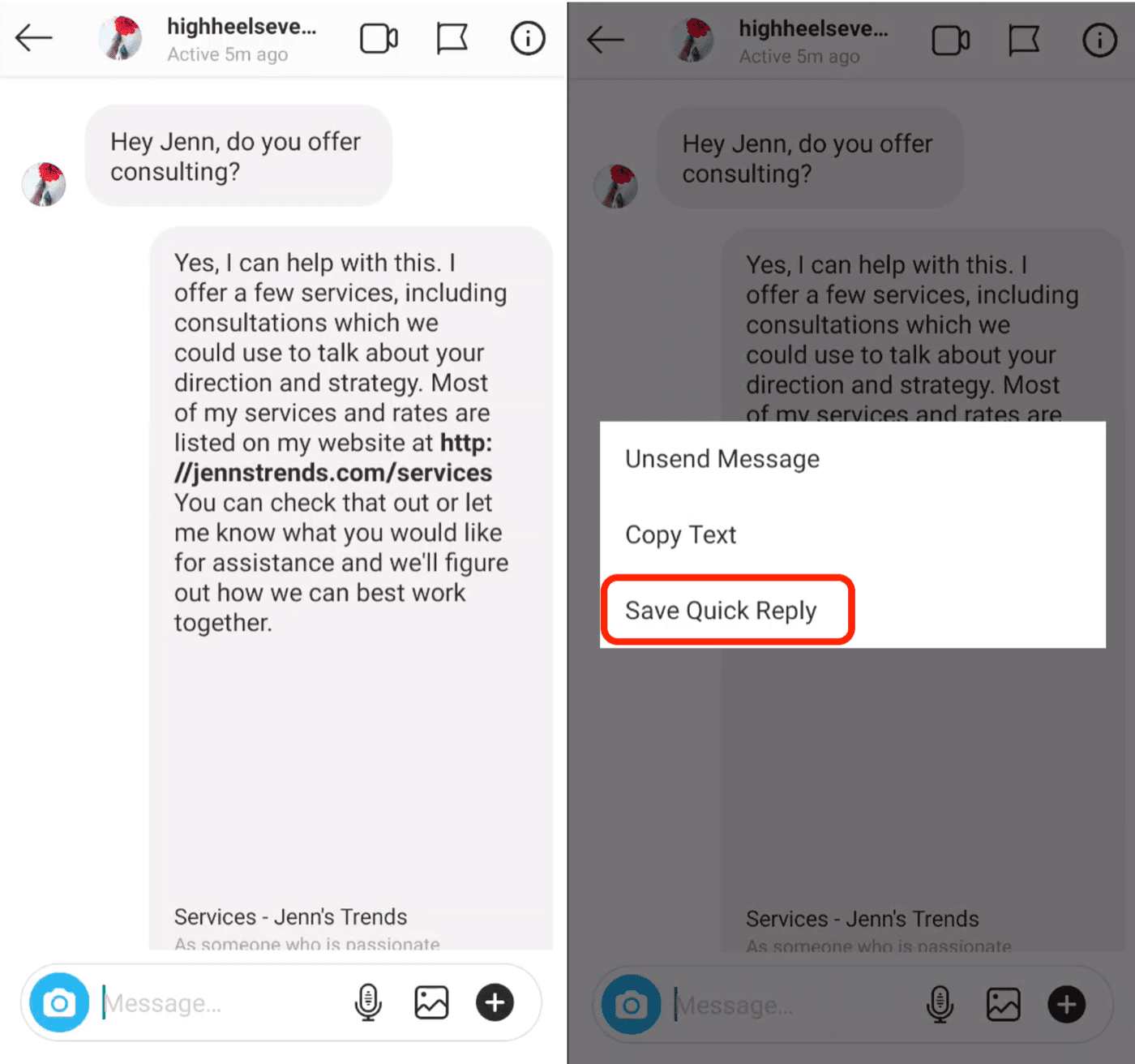 For brands, this means an opportunity to send replies faster and, therefore, deal with customer concerns and complaints on a personal level.
Trend #6: People Crave Instagram Customer Care
Not only do customers send direct messages on Instagram, but they also share their customer experiences and customer requests on the platform. 
In fact…
70% of customers plan to send more customer service messages to businesses in the future. This means that the demand for Instagram customer care is only going to grow.
As a result, it's important to train your customer service team to monitor customer requests and provide users with accurate and prompt replies. Why? Instagrammers expect to get a reply from your company even if you don't provide customer service in-app – as with this Ryanair example: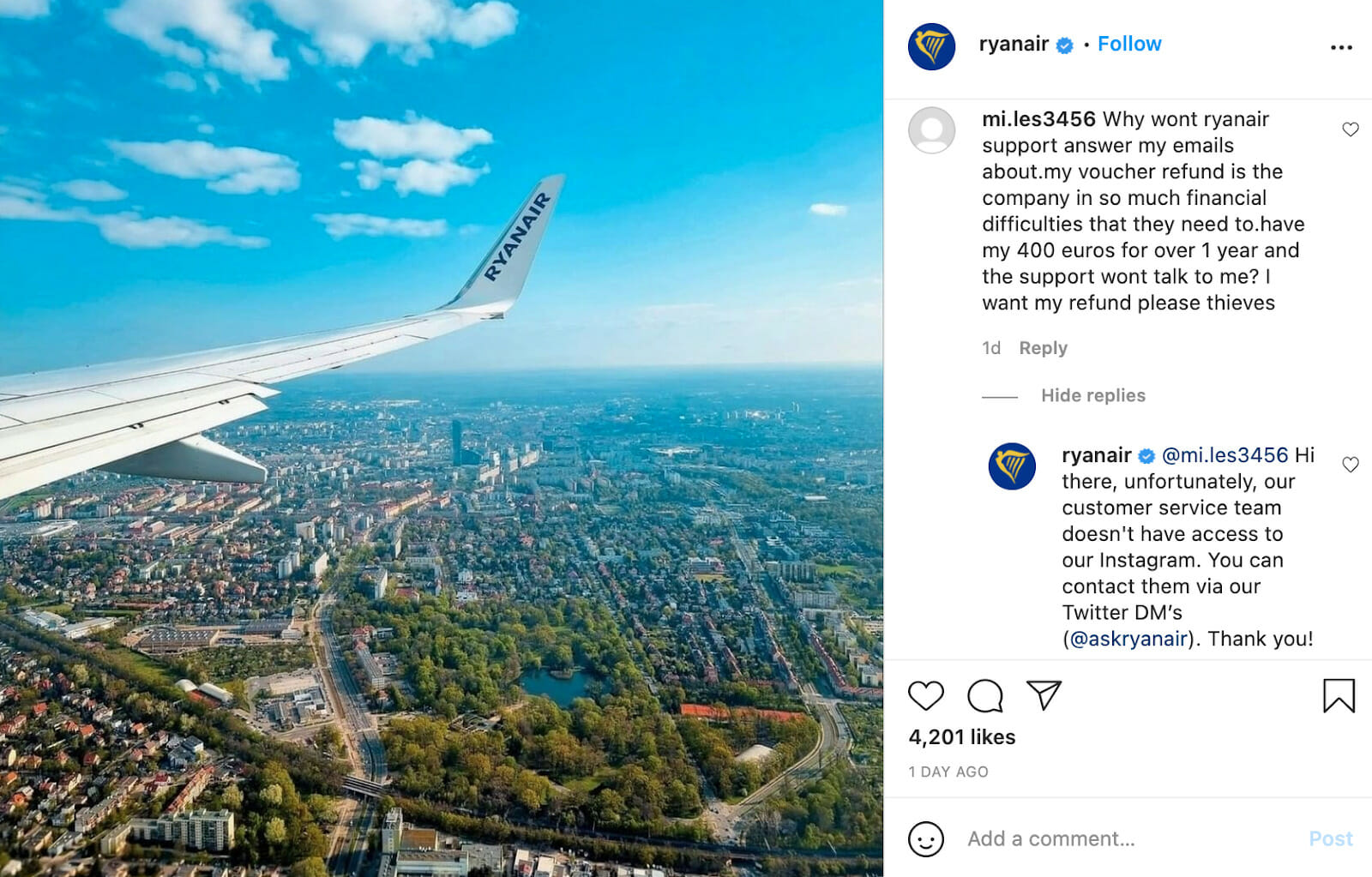 If you don't have the money or budget to provide Instagram customer care, it's important to tell your followers and visitors about alternative ways to get customer support. For example, you can add a link to your live chat in the bio section or create an FAQ Instagram Story Highlight album. Simply put, customers should feel that you will take care of them.
Dive Deeper: 6 Customer Service Trends You Can't Ignore in 2023
Trend #7: Instagram Guides – a New Way to Provide Users with Information
Between the ease of Instagram users discovering information on the platform and the popularity of storytelling on the rise, people are craving curated and scrollable content. As a result, Instagram has rolled out Instagram Guides, a new feature that allows creators to keep all important posts in one place and therefore make step-by-step guides: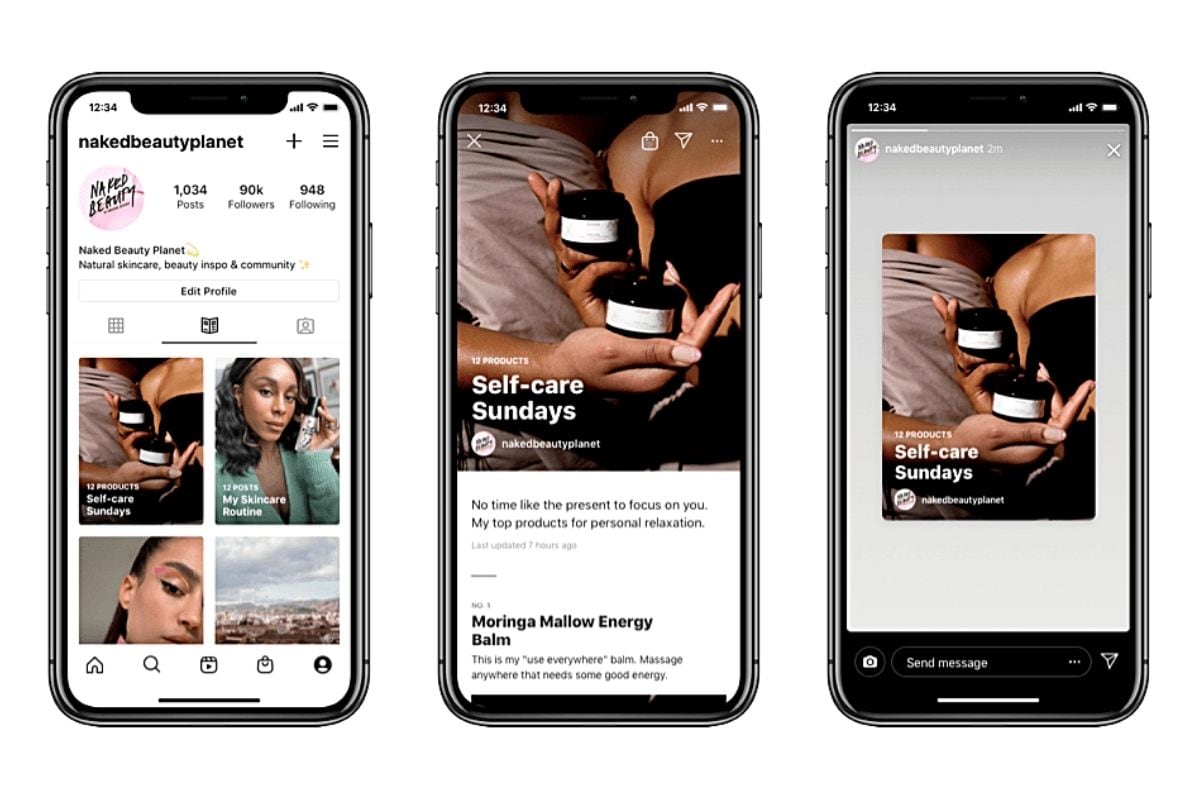 Your followers want to get useful information from you, so this feature offers a great opportunity to achieve Instagram growth, whether you want to create gift guides, ranked lists or easy-to-follow instructions.
Here's how it looks on the profile: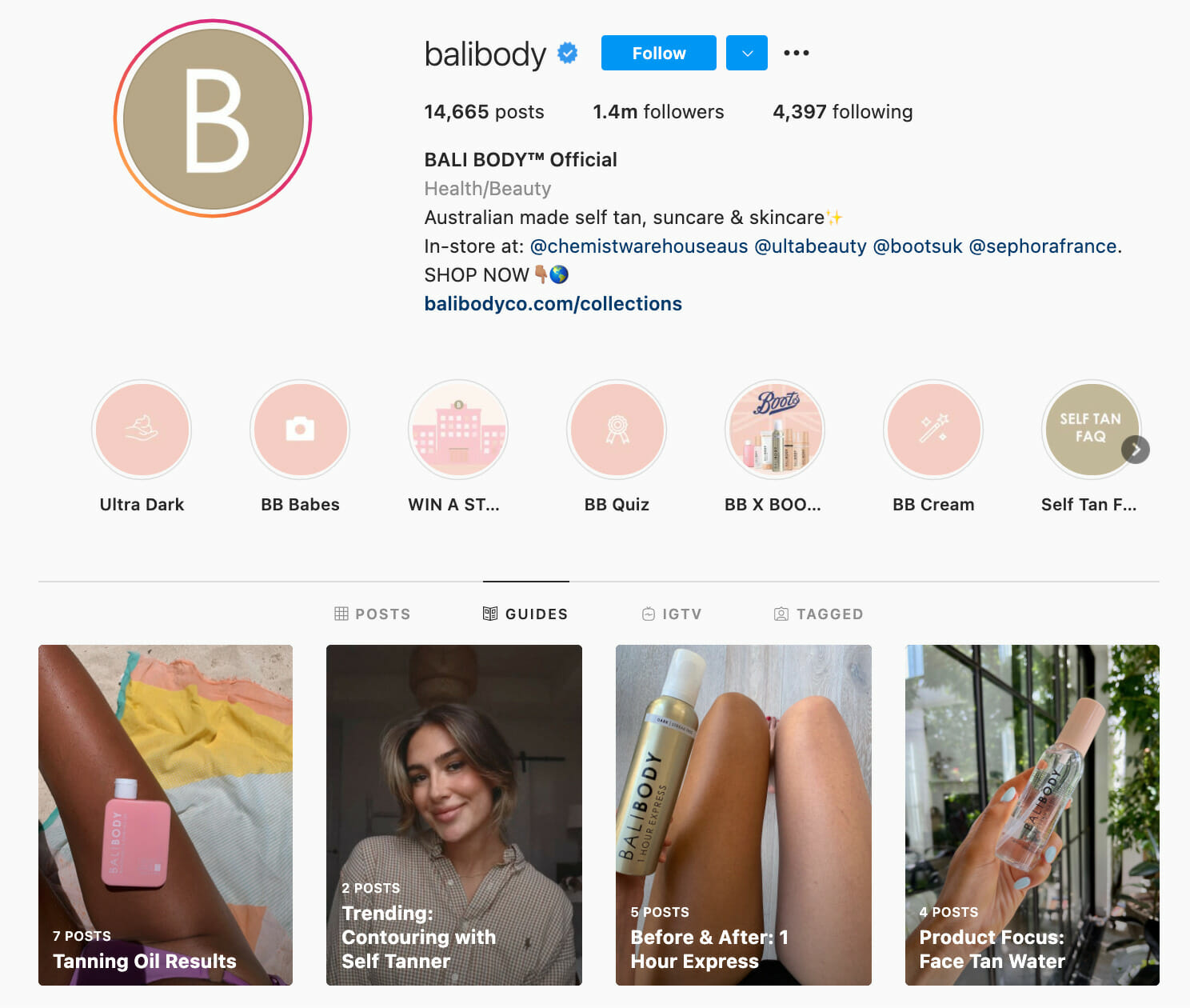 As Instagram states:
"An Instagram Guide is a way to more easily discover recommendations, tips and other content from your favorite creators, public figures, organizations and publishers on Instagram."
This means that businesses can create catalog-like collections of content on Instagram and therefore provide their followers and visitors with useful information about their products, services or tips on a given topic. Moreover, using Instagram is one of the best content marketing strategies for small businesses.
Trend #8: Users Are Ready to Support Small Businesses
Living in the era of COVID-19 in which the pandemic has affected many businesses worldwide, small businesses are seeking help and support from their customers on all communication channels, including Instagram.
As a result, Instagram has introduced the "Support Small Business" sticker that gives loyal customers an opportunity to show their love and support for their favorite small businesses in Instagram Stories: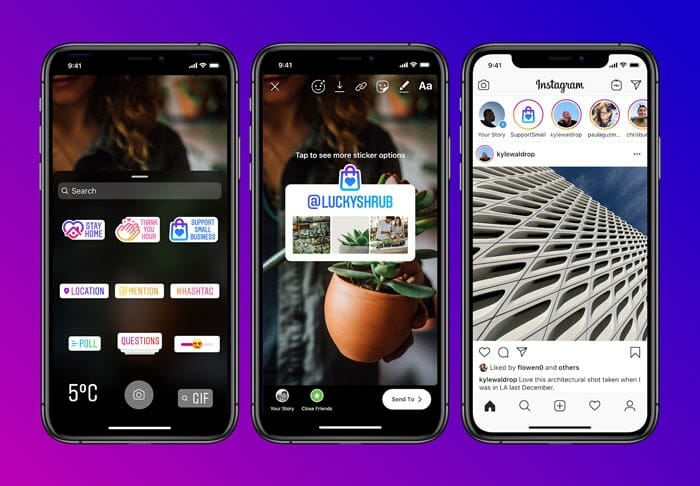 The more people know about your small business and hear positive feedback from existing customers, the more new customers you can acquire. Plus, this sticker helps to get more Instagram followers and even drive website traffic because interested people can tap on the sticker and see a small pop-up with details about the tagged business (your Instagram account, a CTA button to follow you or your website link).
Since Instagrammers are ready to support small businesses, this platform is the right choice for smaller companies that need promotion.
Trend #9: The USe of Instagram Stories and Reels Will Rise
Ephemeral content creates a sense of urgency as users are afraid of missing out on something important. And when it comes to Instagram Stories:
500 million users now use Instagram Stories every day.
1 in 4 Millennials and Gen Z-ers look for Stories of the products and services they want to buy.
15%–25% of people swipe up on a link in branded Stories.
One-third of the most-viewed Instagram Stories are from businesses.
People are also watching Instagram Reels, short, entertaining videos that are similar to Stories. The difference is that Reels offers a lot more video editing effects and other tools, and they're able to be seen by anyone (not just with your followers). Reels also does not allow you to use photos in the content, only video.
For businesses, using Stories and Reels is an opportunity to beat the Instagram algorithm. Because Reels can be uploaded to your feed, your Stories and Instagram's Explore page – which not only has a search function, but anyone can see all content regardless of whether they're followers or not – you can reach a wider audience of potential customers.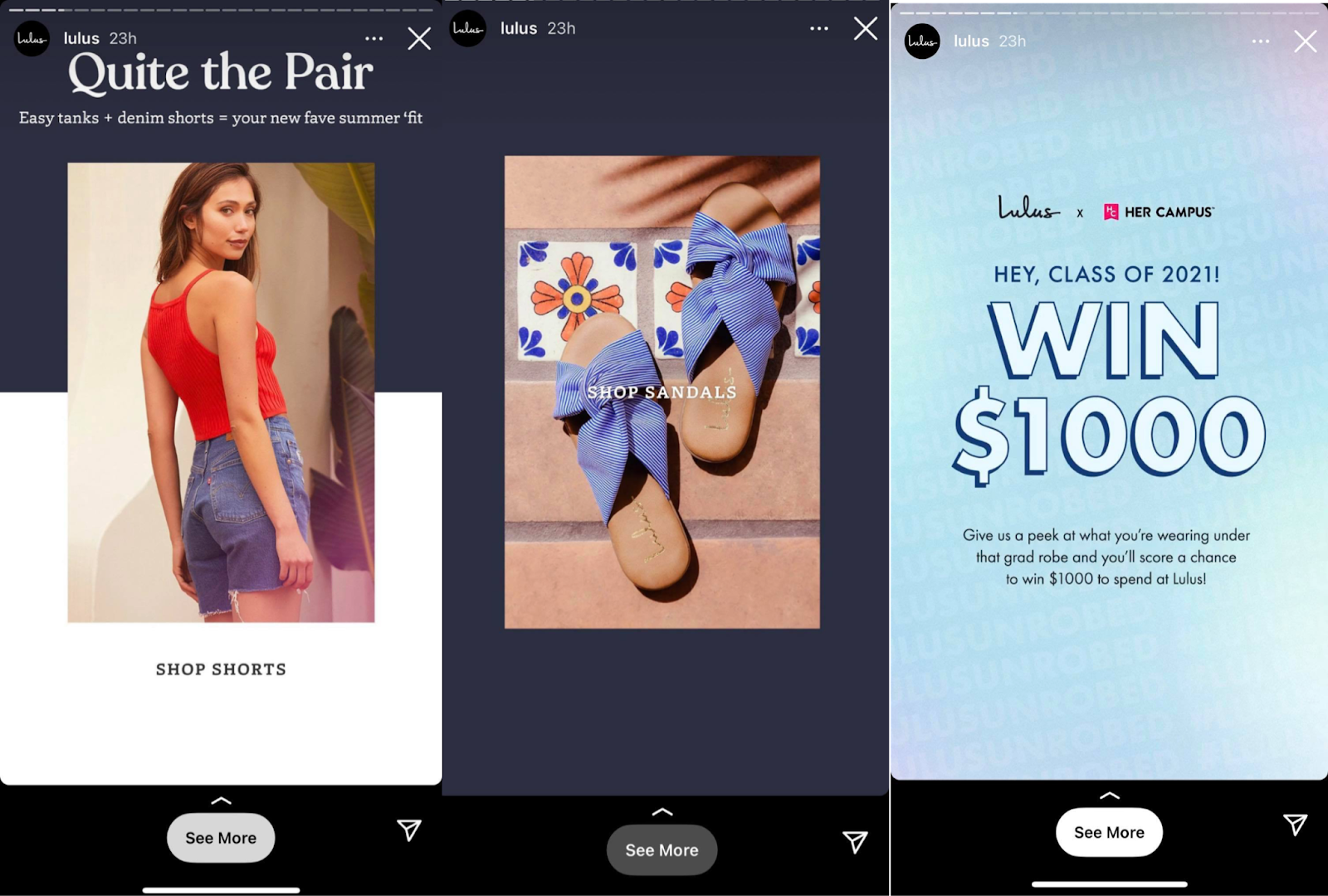 Because this type of post is predicted to grow in the future, it's important for businesses to use different creative Instagram Story templates that match their brand identity and create eye-catching content to stand out from the competition.
Trend #10: The Popularity of Cause Marketing Is Increasing
It's the era of the belief-driven customers. These days, people choose to buy from businesses that share a common belief or social commitment. As a result, consumers pay more attention to companies that support a charitable cause or a social issue. In other words, they buy more from brands that use cause marketing.
Instagram is a great place for cause marketing because popular issues get in-app traction fast. Implementing this tactic in your Instagram marketing campaigns can therefore get you more attention from potential customers who support the same cause.
Dove is a great example of a company that uses cause marketing. Not only does Dove fight against unrealistic body images in the media, but the company also provides social proof on its Instagram account.
First, the company writes about its views in the bio section so that all visitors can easily see if the brand shares the same values: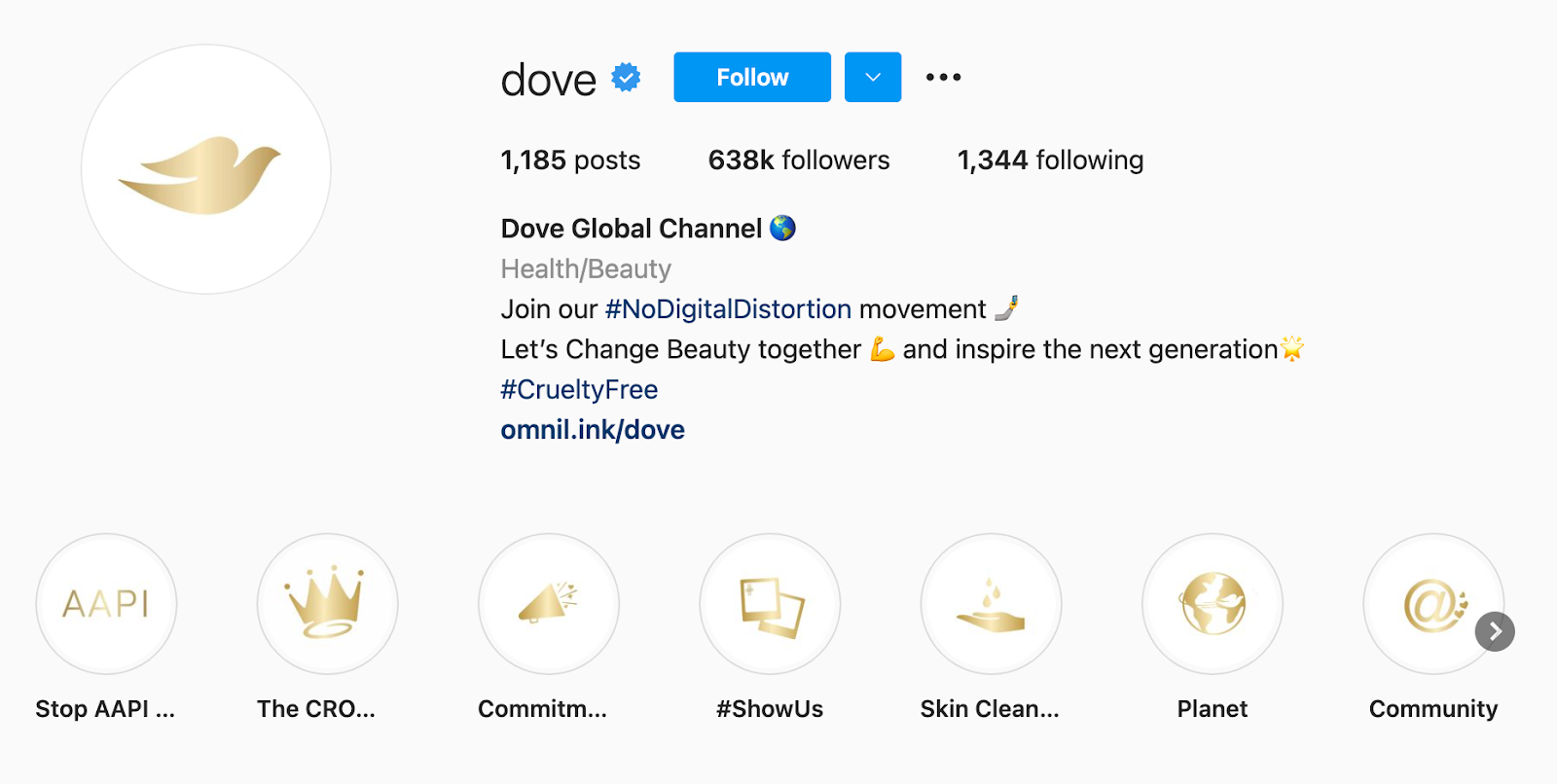 Second, Dove regularly publishes posts on important social issues on its feed: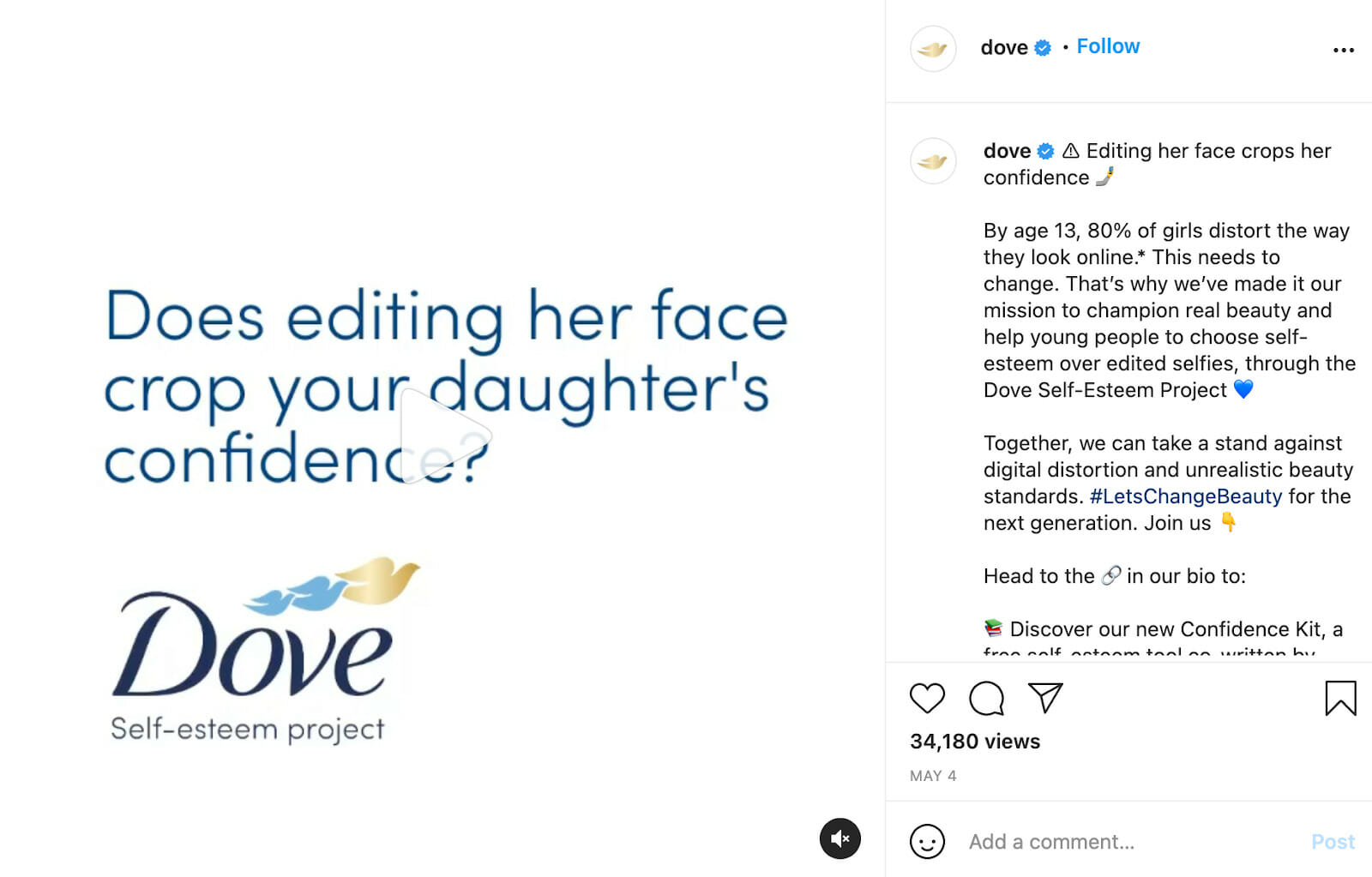 Cause marketing allows businesses to tell their potential customers more about their principles, values and beliefs. This honest and transparent attitude gives people an opportunity to follow brands with the same views, so customers have more options to buy from companies they trust and feel good about.
Trend #11: Interest and Functionality of IGTV Is Increasing
Video content is the king of content:
78% of people watch videos daily
People retain 95% of the information after watching a video
87% of marketers use videos as a marketing tool
What's more, vertical video content is getting more popular. As specified in a study by Breadnbeyond:
People hold their phones vertically 94% of the time
and, therefore, vertical videos have a 90% higher completion rate
IGTV gives an opportunity to upload long-form vertical videos, so there are many ways to grow your brand with IGTV. Instagram TV has gotten more functions like clickable links or shoppable product tags that help businesses promote their products and services within vertical videos. Here's what they look like in posts:
And here's a quick demonstration of how a shoppable video looks:
Dive Deeper: Growing Your Brand With IGTV: A Complete Guide
Trend #12: Explore Page/Tab Helps to Reach a Wider Audience
Instagram has become a great place for discovering new products and services. In fact, 50% of Instagrammers use the Explore page every month to learn more about interesting items from accounts they may not already follow on the platform:
The Explore page helps users delve deeper into their niche interests because it suggests relevant content on topics that users love, they can browse by category and simply refresh the page to see new photos and videos. The Explore page includes topic channels, a shopping feed, Instagram Stories and IGTV videos.
For brands, this is an excellent opportunity to reach a wider audience of potential customers who already express an interest in a topic that you're an expert in (i.e. your products/service). Plus, you can check out your Instagram Insights to find out how many views your posts are getting from the Explore page. Go to the Discovery tab and find impressions "From Explore."
Trend #13: More Companies Create Branded AR Filters
With the introduction of Instagram Stories, people have started spending much more time on the platform. Since Stories are engaging, users discover and research products while browsing content from friends and brands.
Companies can create branded AR filters to spread the word about their products or even give their potential customers an opportunity to "try on" products before buying them, like RayBan:
Even local businesses can create AR filters to spark interest in their products. Take Taco Bell, for example. The company made several fun, interactive filters for Instagram: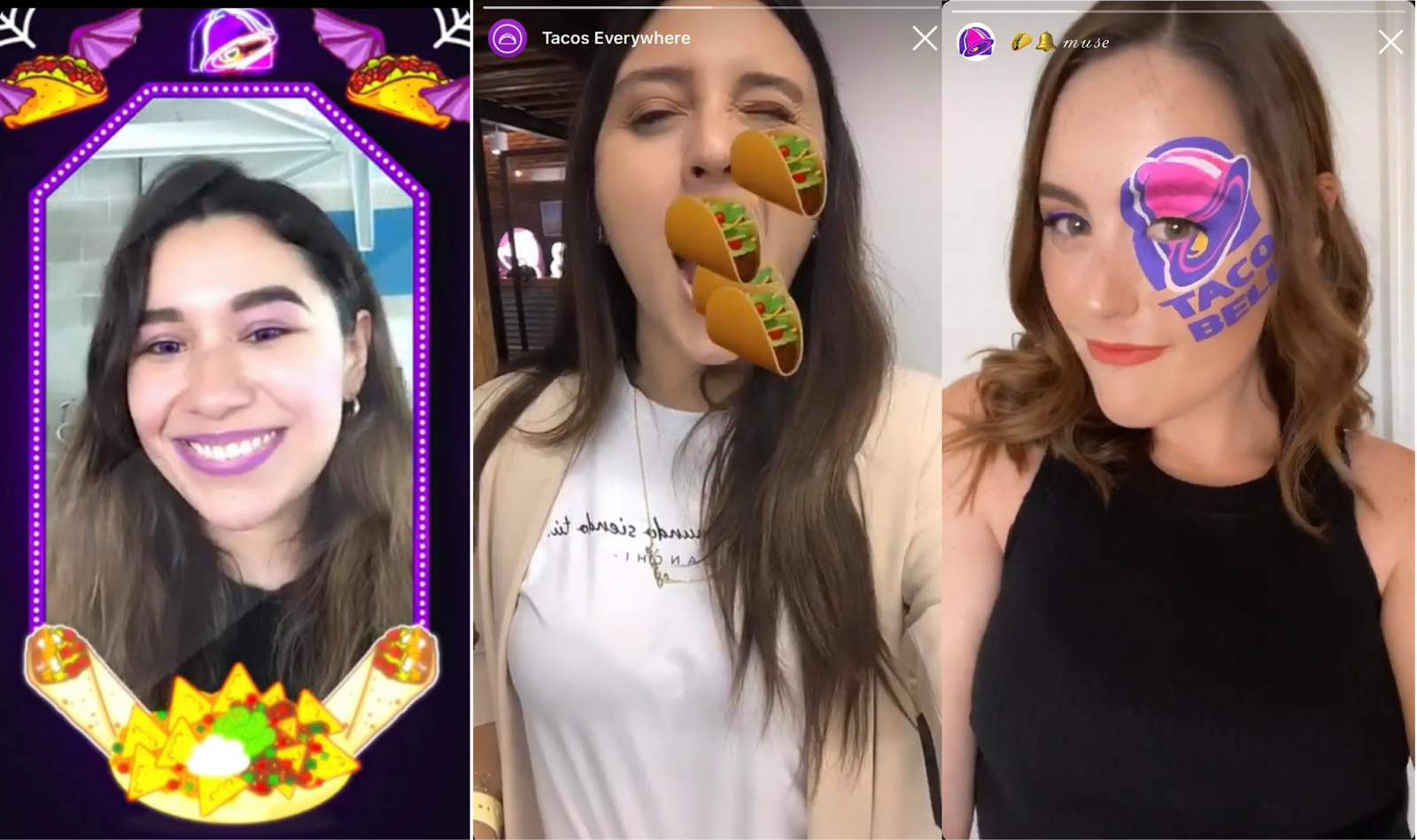 If you want to create similar filters for your business, you can team up with a graphic design tool like InstaSize to create something that helps your potential customers learn more about your company and its products.
Dive Deeper: How to Create Instagram Stories Ads that Your Ideal Customer Will Swipe Up
Trend #14: The Growth of Instagram Ads Is Continuing
The competition is getting harder as customers are bombarded with product options from all sides, so it's no wonder that companies run paid ad campaigns to cut through the noise. Indeed, an average Internet user sees around 5,000 ads a day, so most people want to have the option to skip annoying ads and keep watching engaging content.
Choosing the right ad placement helps your company cut through the noise and interact with people who are interested in your ad. The solution? Instagram ads!
When it comes to Instagram marketing, the popularity of Instagram ads is on the rise, too. Today, over 2 million advertisers promote their products with Instagram ads and the platform offers more options to pick and reach the right audience.
And if you choose an engaging ad format like Instagram video ads, you can reach even more potential customers and spark their interest in your business, just like Bulgari did it. The campaign got over 6K video views, a 3-point lift in ad recall, and generated $368,100: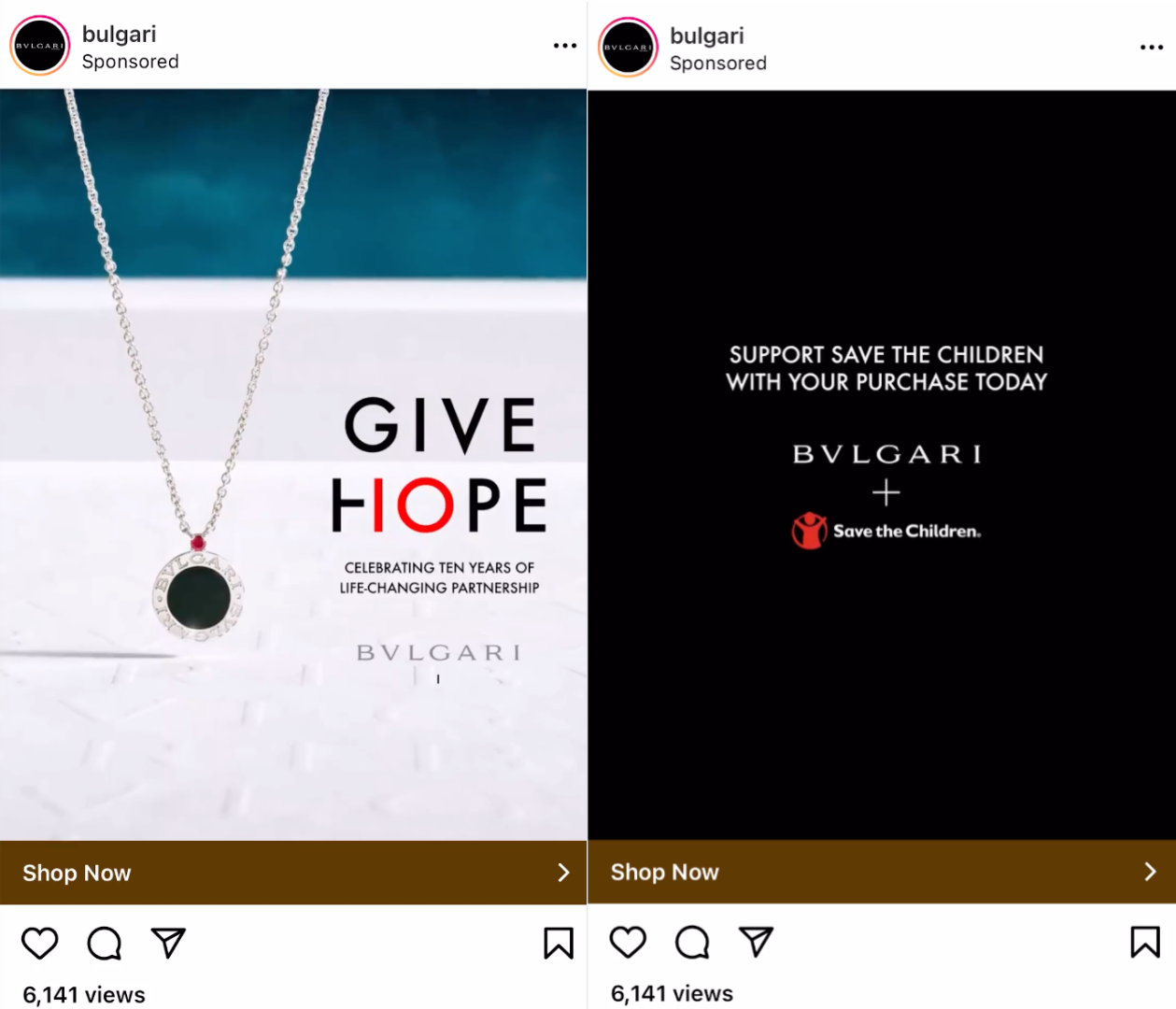 Wrapping Up
From Instagram shopping to the Explore page discovery and AR filters in Stories, there are many trends that marketers need to take advantage of when working on Instagram marketing strategies. After all, giving users what they want is a proven way to spark their interest in your product and therefore make the most out of your Instagram presence.