Podcasting is one of the most unique mediums to reach your audience in the most human way. People can listen to you while working, driving, walking, etc., which is rarely possible with any other medium.
When you establish a connection with your audience by using your voice, it becomes one of the strongest forces to win the hearts of the people. This is the reason that so many marketers, businesses and freelancers are using podcasts as a content delivery channel to reach their target audience.
Podcasts are growing in popularity. In 2019, around 90 million Americans listened to a podcast on a monthly basis – a number that is expected to reach 132 million by 2022.
Wondering how to start your own podcast show?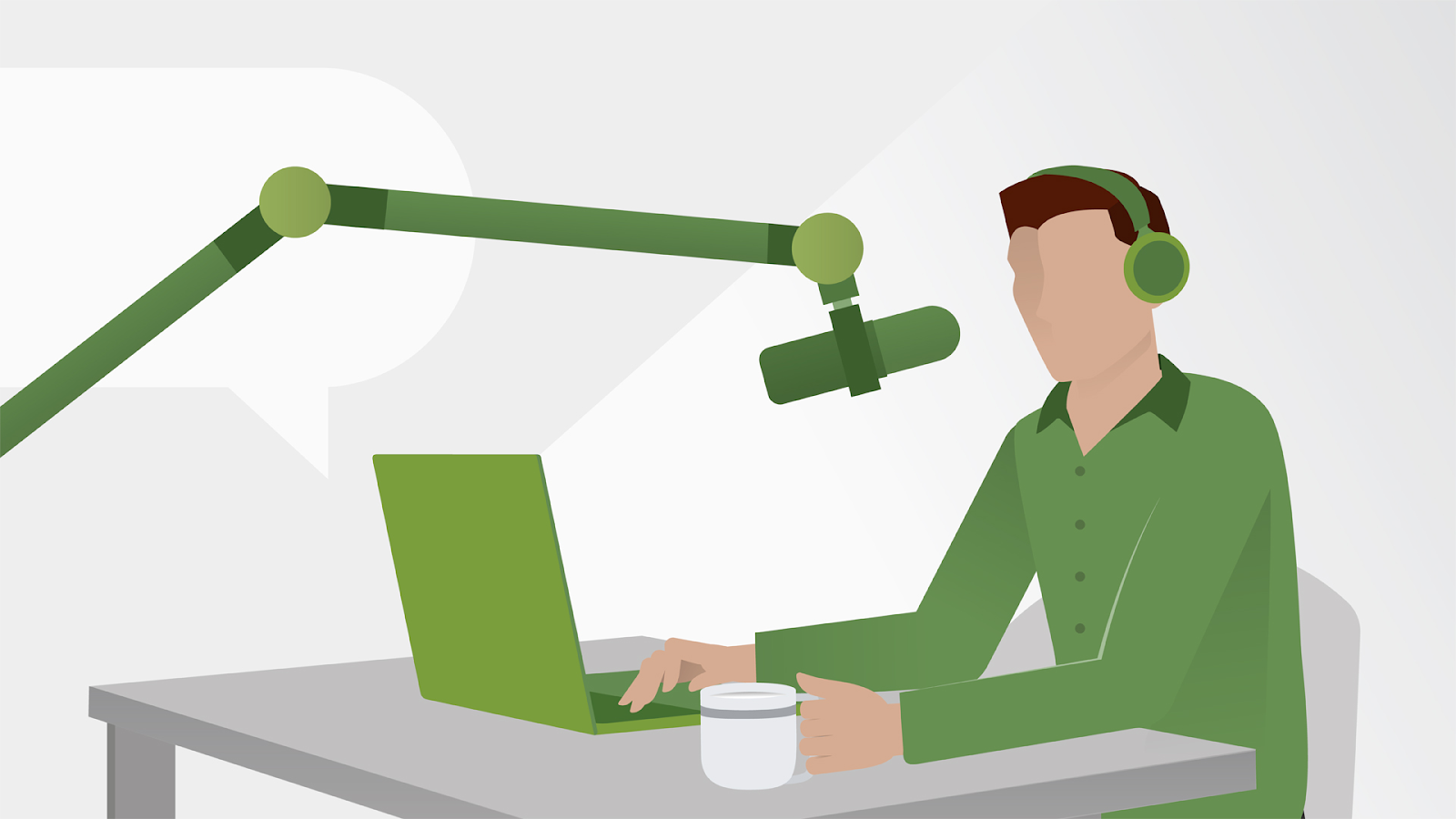 This article will help you to choose a theme for your podcast, select the equipment needed to run your show, decide the content for your first episode and also share some ideas to monetize your podcast.
Ready? Let's begin!
Coming Up with an Idea for Your Podcast Show
Nobody wants to hear you ramble on about the thoughts that pop into your head, so the very first thing you need to do is to come up with a theme for your podcast show.
You need to decide whether you will have guests on your show, like Eric Siu's Growth Everywhere podcast, or whether it will just be you – or you and a co-host, like Eric Siu and Neil Patel's Marketing School show.
You'll also need to decide whether it will be a weekly show (like Growth Everywhere) or a daily show (like Marketing School).
Running Your Show as a Solo Host
When you decide the format of your show, just think about your audience. If you have a good number of followers on social media and you audience loves to hear your thoughts on the topic and/or niche you're in, then you can comfortably launch your own show as the sole host.
Keep in mind, however, that as the only host of your show, you need to come with the idea, work on it and host it all by yourself. You should be an especially compelling speaker because you won't have anyone to banter with or throw in his or her own thoughts. You'll need to keep your energy up, which can be harder on your own.
If you are ready to take on this responsibility, then being a solo host is for you.
Running Your Show as a Co-Host
If you think you need a partner to produce your show because you will need help to brainstorm topics, produce content and maximize popularity with two sets of followers and fans, then it is better to include a co-host. Eric and Neil do a great job at this because they are both naturally conversational, neither one of them takes over the show, and they both contribute different experiences and opinions.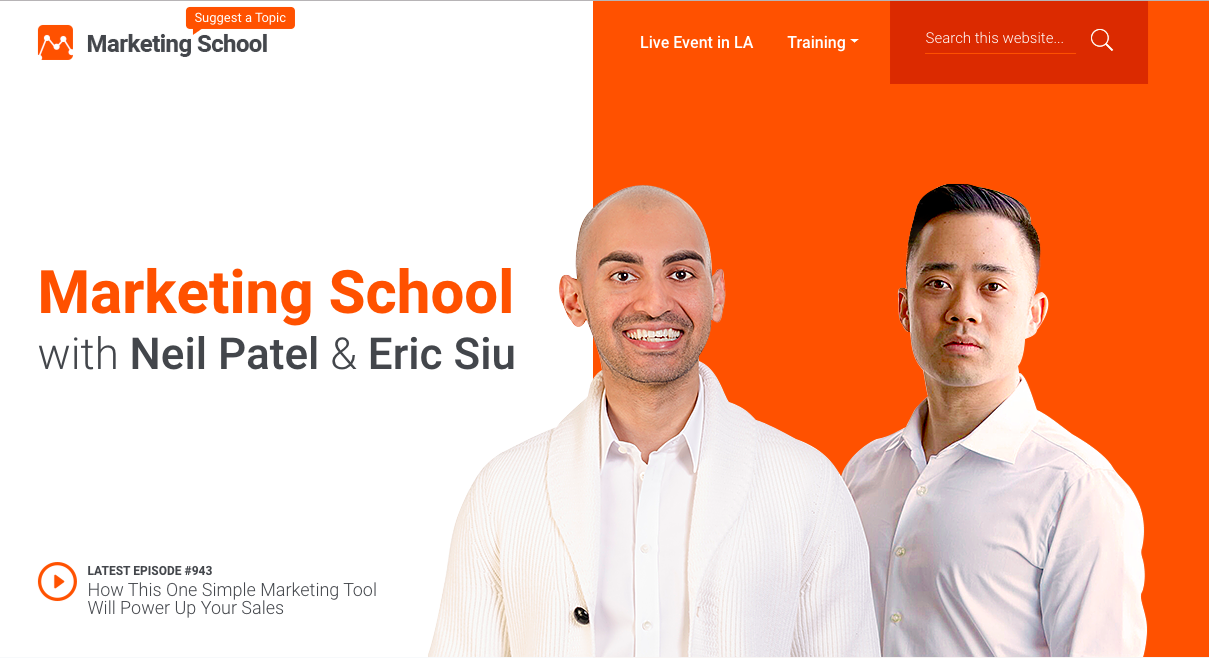 The choice rests entirely on you.
Deciding on the Idea of Your Show
Once you decide on the format of your podcast, you need to come up with a general topic idea. Keep in mind that the overall topic should be meaty enough that you'll be able to come up with episodes for years, especially if you've decided to run a daily podcast.
Growth Everywhere is a weekly show, while Marketing School is daily. It's easy for Eric and Neil to come up with topics because their show "brings you 10 minutes of actionable marketing advice every single day." Not only is the general topic of digital marketing rich with never-ending ideas, but their 10-minute format ensures that each episode will be rich with content.
Here are some tips on brainstorming ideas:
Before you start your research, think about your audience and their likes/dislikes. Remember, a lot depends on your audience's needs.
Examine a few popular podcasts related to your industry and evaluate the pros and cons of each.
Use Quora to find the most popular topics/questions in your space that people are looking for answers to.
Consider surveying your audience to ask them directly what they want to hear from you.
Dive Deeper:
What Kind of Equipment Do You Need to Record and Edit Your Show?
When you're just starting out, you probably don't need everything here (many beginners have produced satisfactory podcasts with a good mic and basic recording and editing software). But if you can afford it and you have no doubt that you will continue to grow your podcast show, then you should get professional equipment.
Here is a list of equipment you'll need in order to start your own high-quality show.
1) Computer/Laptop
You will need a computer or a laptop to record and upload your podcast to the podcast hosting platform. Obviously, just about everyone has a computer, but make sure that it is not too old or the RAM is not too bogged down with a zillion videos of every event in your life or it may crash when you're in the middle of your award-winning soliloquy on the dangers of rock climbing without a harness.
2) Microphone
Your podcast is all about audio, right? Hence, you need to have a good microphone. And no, your laptop microphone or smartphone earbuds are not high-quality enough for a professional podcast.
A good microphone will make sure that the audio quality of your podcast remains superb. Choose a mic with an XLR output (an electrical connector to ensure a balanced output) like the Blue Yeti Pro, Shure SM7B or Neumann TLM 103: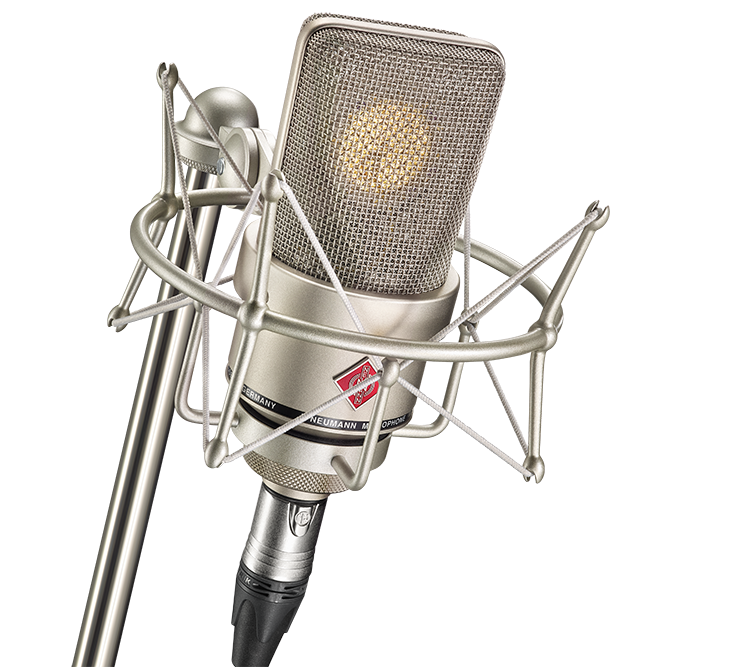 3) Audio Interface
You will need an audio interface to connect your microphone to your computer/laptop, which will also allow you to play back your recordings after eliminating all forms of noise. Some of the best audio interfaces for podcasting are the BEHRINGER Audio Interface, 4-Channel (UMC404HD) and the Focusrite Scarlett Solo (2nd Gen):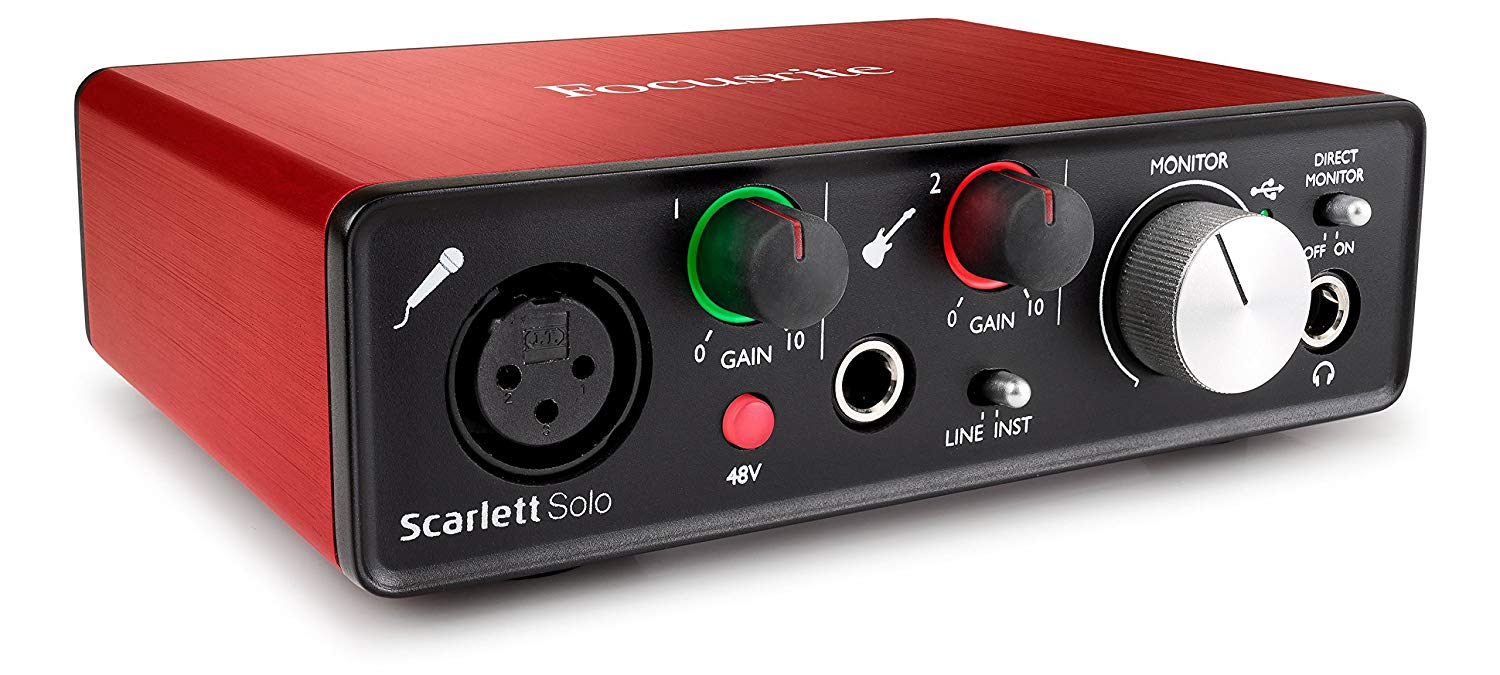 4) Mixer
A mixer is required when you are conducting a live interview or adding music to your show. It lets you control the sound and add special effects during post-production. The Behringer XENYX Q802USB or the Mackie ProFX8v2 are among the best podcast mixers available in the market: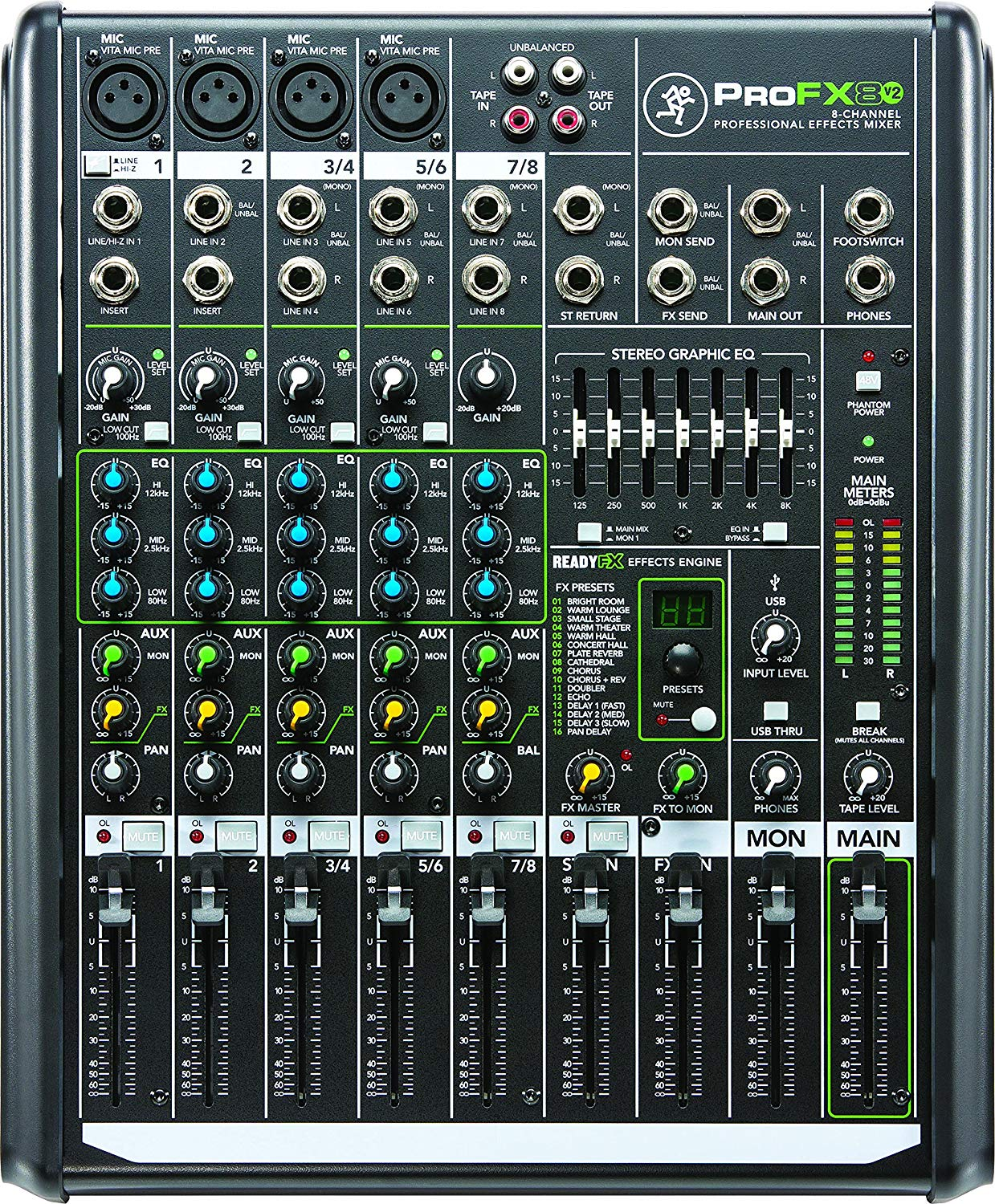 5) Headphones
Having a pair of headphones is important because they allow you to listen to your own voice during the show. When you hear your own voice, you can make adjustments to minor tweaks or background noise and adjust your voice accordingly so that it is pleasing to hear.
All professional podcast presenters (or any kind of audio pro, like a radio DJ) use headphones during their show. Some of the best headphones for podcast production include Audio Technica ATH-M50x, Bose QuietComfort 35 Series 2 (QC35) and the Sony MDR 7506: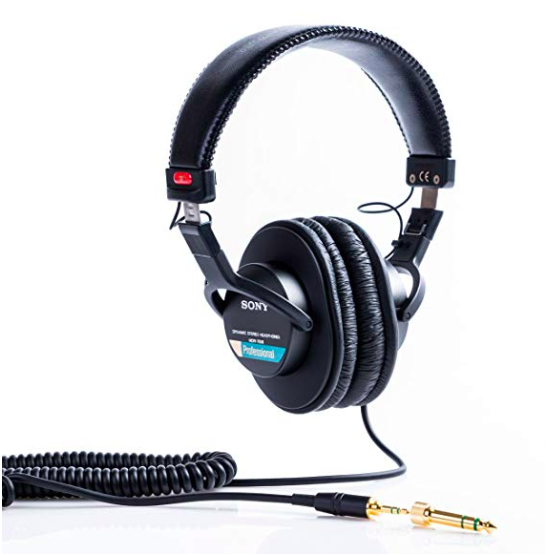 6) Pop Filter
Get yourself a pop filter because this will minimize or eliminate the effects of sounds that pop, such as when you say "terrific" or "party." When you say words that start with "t", "b" or "p", the sound gets amplified and it usually produces an air blast that can ruin your entire podcast.
Hence, a pop filter is extremely necessary and some of the best are the Stedman Corporation Proscreen XL, Nady MPF-6 and Auphonix 6-inch Pop Filter: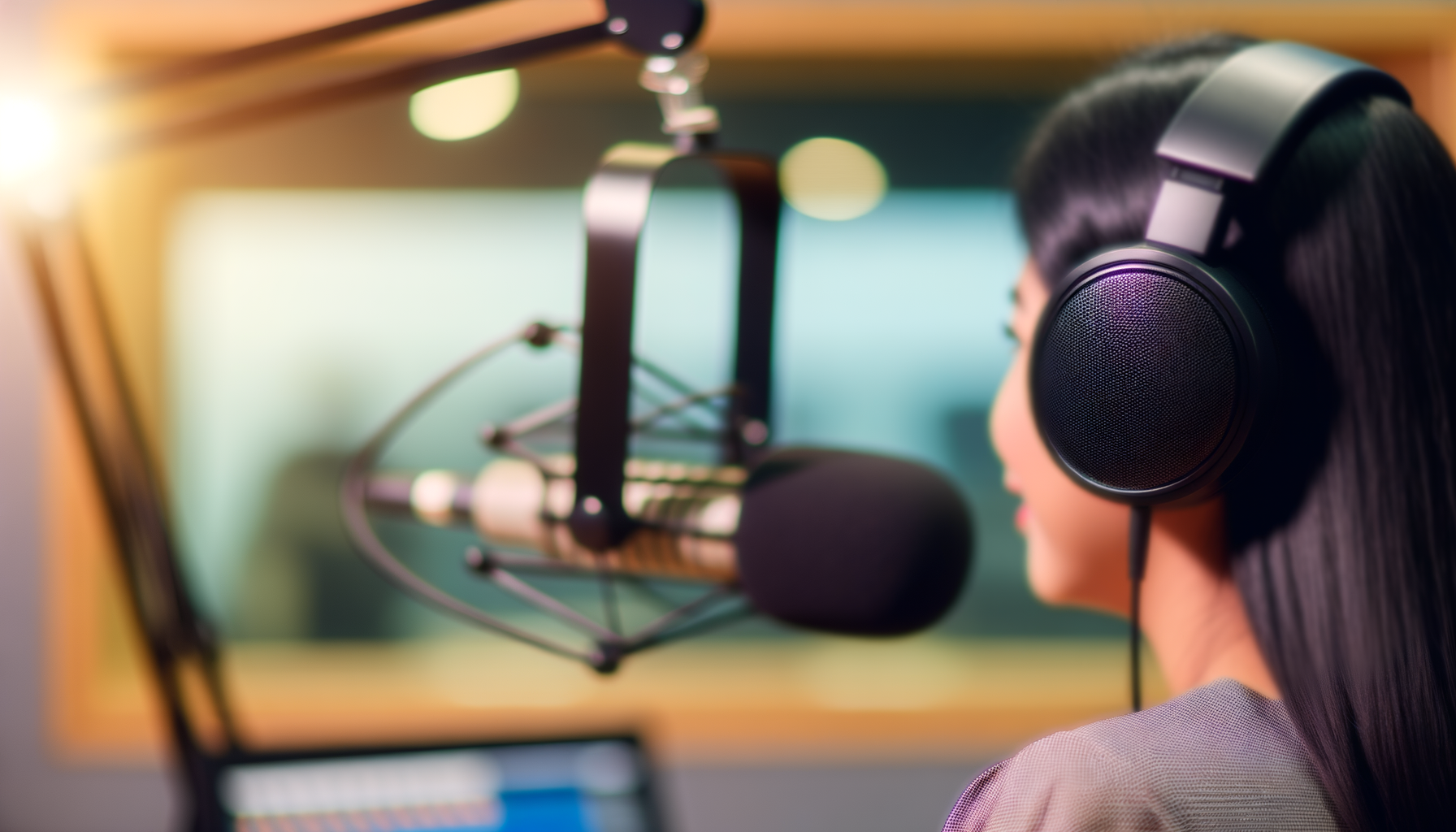 7) Headphone Amplifier
When you are hosting your show with a co-host, you will definitely need a headphone amplifier because it allows you to use multiple headphones with separate sound controls. Behringer HA400 headphone amplifier is the best amplifier for controlling sound during your podcast show: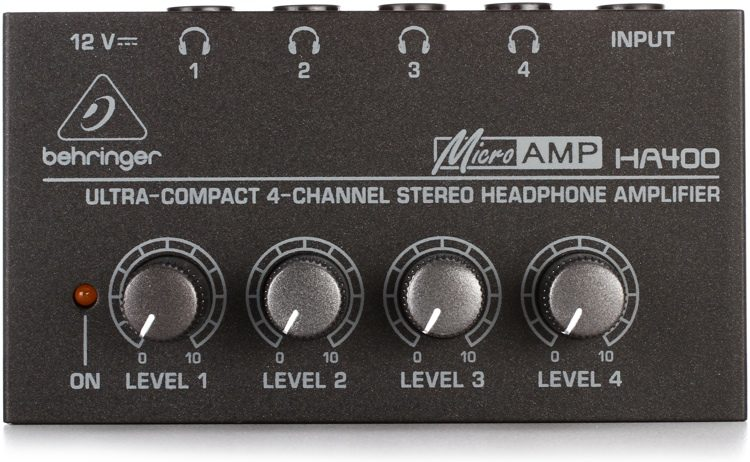 8) Mic Stands
You want to be comfortable while recording your show, and if you have to hold your microphone or have it propped up against your "Podcast for Dummies" book, you can pretty much be guaranteed trouble. Every time you move it, the sound will be amplified. A mic stand allows the mic to be easily and soundlessly adjusted at any point during the show as per your own needs.
Quick note on microphone placement:
Position the mic about a hand's width (tip of thumb to tip of pinkie) from your mouth.
Aim the mic directly at your mouth and position it so that it hangs down from above to avoid picking up your exhalations, which are generally directed downwards.
Play with the volume before your first podcast episode to ensure that your regular speaking voice is neither too loud nor too quiet.
Make sure to keep your head straight toward the mic, which is particularly strange when you're chatting with a co-host and have to give them the side-eye rather than turn your head to talk to them

 –

like Eric is doing in this image: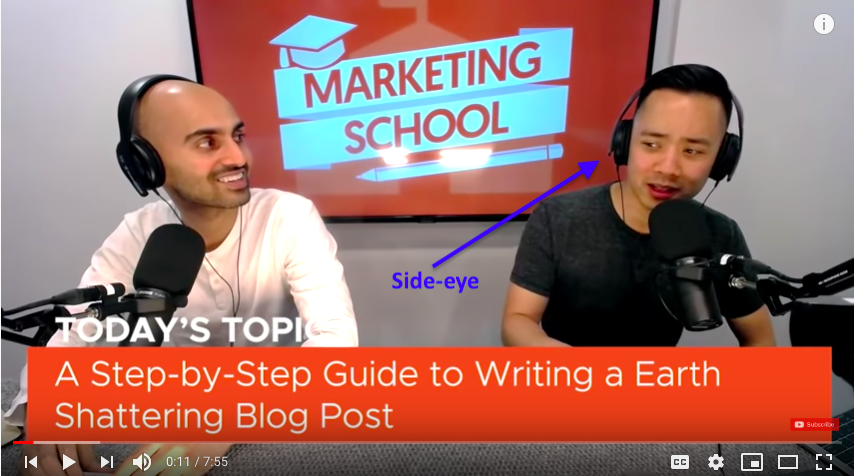 Mic stands offer a pain-free and hands-free experience adding a level of comfort to the presentation of your show. The Konig & Meyer 25400 Boom Mic Stand and Hercules MS533B Hideaway Boom Stand are among the best in the industry: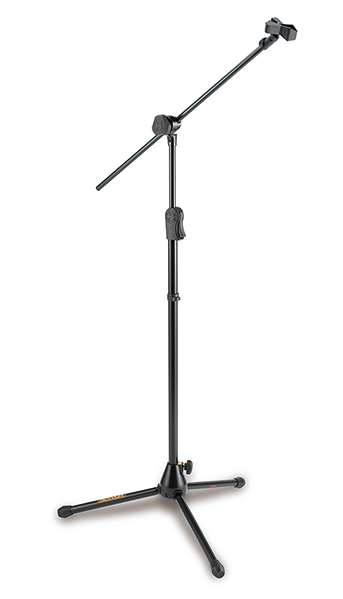 9) Shock Mount
In order to get rid of all the rumble and vibrations that you might experience when your mount your mic on the mic stand, you need to use a shock mount. A shock mount will clean the bass and ensure that your audio quality remains excellent. Samson SP01 spider shockmount can be a good choice: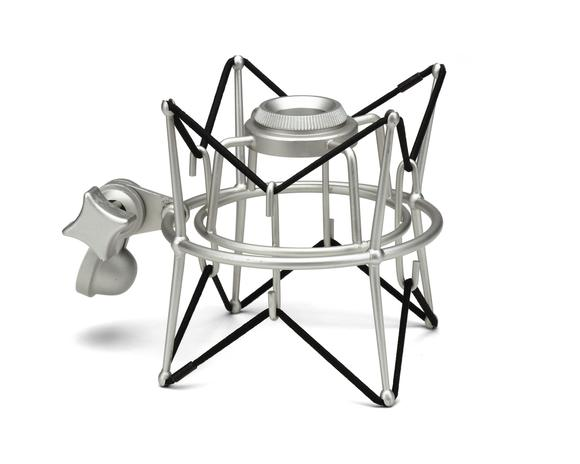 10) Editing Software
No matter how prepared you are, you will need to edit your podcast to fix conversations that have lengthy pauses, too much repetition, "ums" and "likes" or moments when you or your guest have to stop to fix a sound problem. A professional podcast always go through levels of editing to make it sound perfect before it goes live and Adobe Audition, GarageBand and Audacity are some of the best editing software for beginners: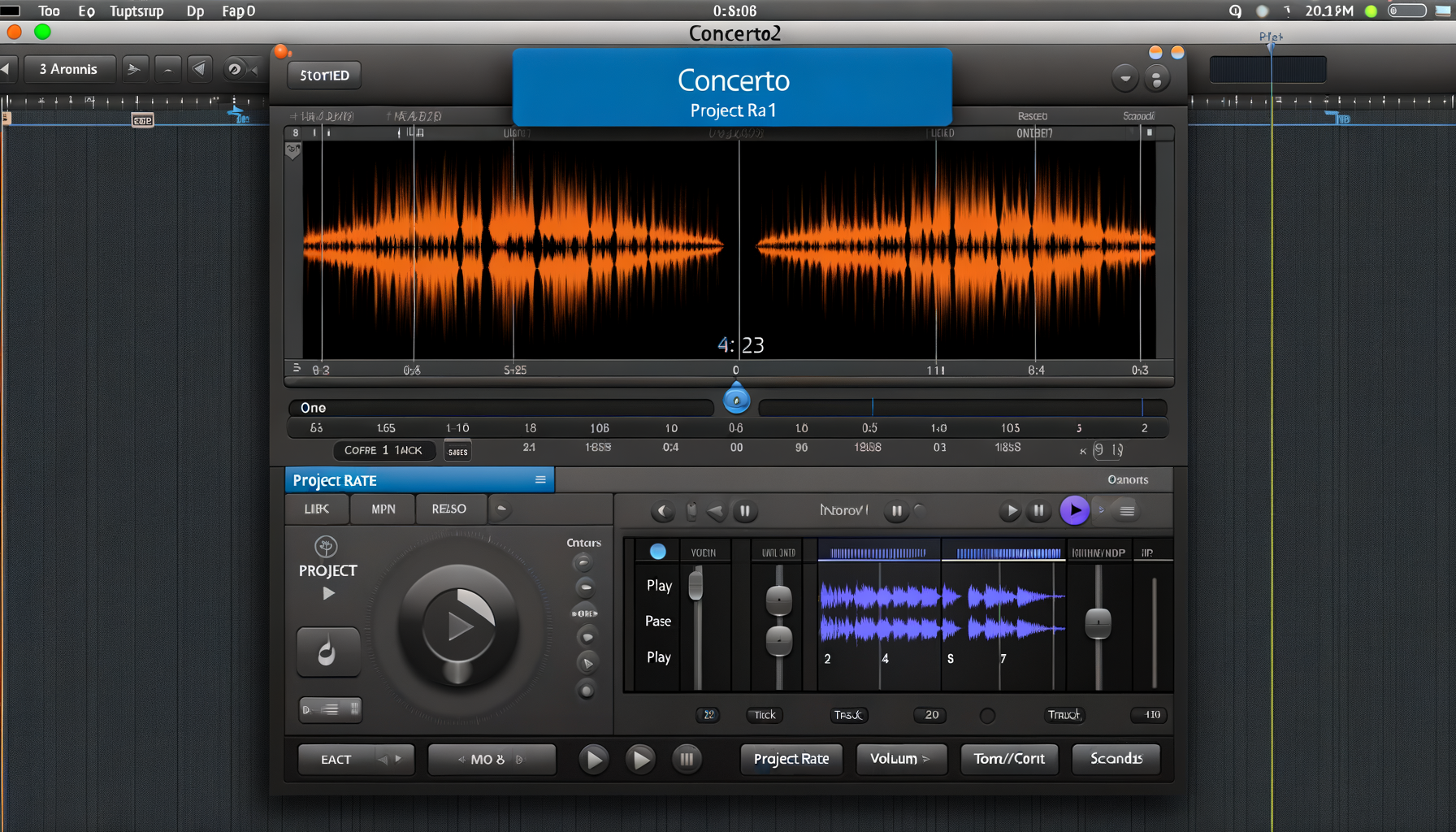 11) Hosting Platform
Obviously, you will need a hosting platform to host your podcast once it is ready to roll. You can create an account on sites like SoundCloud, Simplecast, Captivate, Castos or Buzzsprout: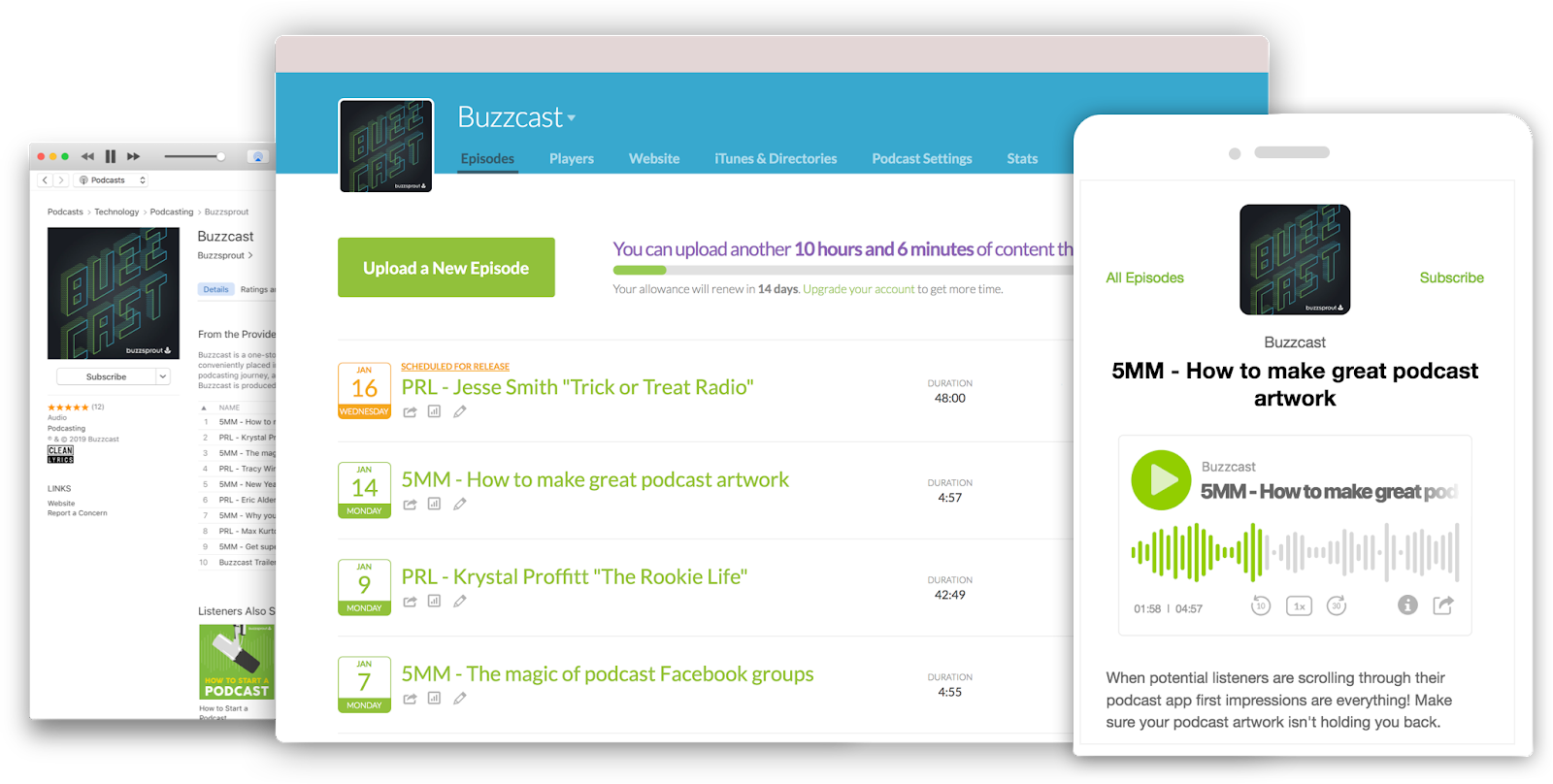 Dive Deeper:
How to Record Your First Podcast Episode
Now that you've got all your equipment, it's time to record your first show! First things first: don't expect it to go perfectly. Practice makes perfect. Remain calm and relaxed and just try to enjoy your show. Follow the below tips to ensure the best start:
1) Plan Your Show
The planning stage is extremely crucial because it will decide the outcome of your entire show. In the planning stage, you must decide on the following:
The main topic of your show.
The exact title of your podcast.
The mission of your show

 –

what do you want to achieve?
Your target audience. Whom are you doing the show for?
The format of your show.
The length of your show. (The average length of a podcast is around 43 minutes, but many people listen to podcasts on their commute to work, which is, on average, 26 minutes. And, as mentioned above, Marketing School is just 10 minutes.)
2) Prepare an Outline of Each Episode
It makes good sense to prepare an outline of each episode before you hit the record button. It really helps relax your nerves! If you are the sole presenter of your show or if you do not have guests on, then list all the topics that you want to cover. This will ensure that you don't ramble on, forget what you want to say or go off topic.
You should even decide what you'll cover first and what you want to wrap up with. Provide a logical structure to your entire episode, revise it for 10-15 minutes and then start your show. This will give you more confidence.
3) Have a Set of Questions for Your Guest
If you are inviting guests on your show, then prepare a set of questions ahead of time when you are doing your research on this person so that you never have to resort to "So…what's your favorite Starbucks drink?" You should have an entire outline of the episode at hand, particularly when you are just starting out. Don't try to improvise too much!
Your questions/outline is not just for you; this will help keep you within the timeframe so that you don't go long or short. You may have to respectfully interrupt your guest if they talk on and on, because that could seem boring to the audience, especially if they go off topic. There should be a proper back and forth between you and your guest, with the guest speaking more than you. Don't talk too much yourself (otherwise, why have a guest format?).
4) Set Up Your Show
You already have a set of equipment in place. Now, it's time to set up your show so that the recording is done smoothly. Keep all the equipment in one place if possible. This will be easier if you have a dedicated room to record, but if not, it's still best to store it in one place. You don't want to sit down to record and discover that your mic is in your car!
As this is your first show, it will be necessary to boost your confidence, so you may want to perform a demo recording to make sure everything is running smoothly and give yourself a "warm up." Once you become an expert in recording your show, then this demo recording won't be required.
5) Find Your Voice and Start Recording
Once you have the equipment in place and the script in your hand, it's time to start recording your first episode. Prior to this, you should have decided on the idea of the show, and during that brainstorm you may or may not have concluded what the tone of your show will be. For example, will you joke around by yourself, with a co-host, or with your guests or keep things serious? Will it be a strict question and answer format, or more conversational?
This is the most important part of your entire podcasting experience because people won't always remember what you said, but they will remember how you said it. Film and TV writer Ken Levine has many episodes in which he shares stories and insights about his career and the industry in general, and most of the time it is just him talking for 20-25 minutes, but he is so well-spoken and humorous, that you often remember the voice of his show more than the specific details: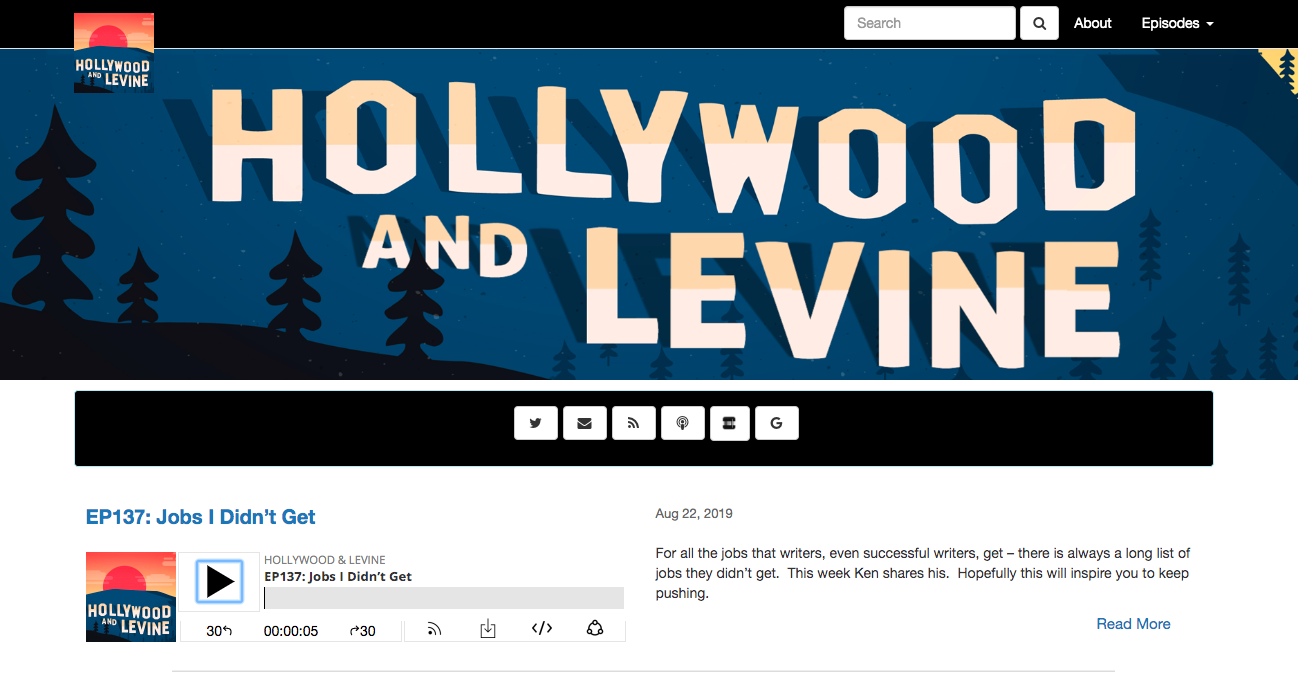 Keep these examples in mind when trying to find the right tone for your podcast:
If you are hosting an informational show, communicate clearly and with confidence. Add pauses and weightage to your words wherever required.
If you are hosting an intimate show, then you need to have a natural tone with a soft voice.
If you are hosting a news show, then you should have a 'formal' tone of voice.
If you are selling humor then you need to become a master of 'storytelling' because you should be able to represent various characters using different voices.
Dive Deeper: 7 Examples of Storytelling Content You Can Use in Your Marketing Campaigns
6) Edit Your Podcast
You'll need to edit your podcast prior to publishing it in order to make it perfect in every sense. Using one of the tools we mentioned, Audacity (which is free), your editing process might look something like this:
Import the audio you recorded
(Re)listen to your material
If you have background hiss, computer noise or other wanted noise remove it
Delete unwanted material
Go through the audio and fix all the unwanted noises
Make the volume consistent throughout the podcast
Improve the audio quality (optional)
Add music or sound effects
Export your finished podcast as an mp3
If you have the budget, you can hire a professional audio editor or even a full podcast production company to do this for you. Here are some of the top podcast production services:
7) Publish Your Podcast
When you have successfully recorded and edited your show, then it's time to rock the charts! It is vital to choose a good podcast/platform to host your show. A good platform should be able to host your audio files, create an RSS feed for people to subscribe to your show and offer an excellent bandwidth. Buzzsprout and Podbean are two of the best platforms to host your show: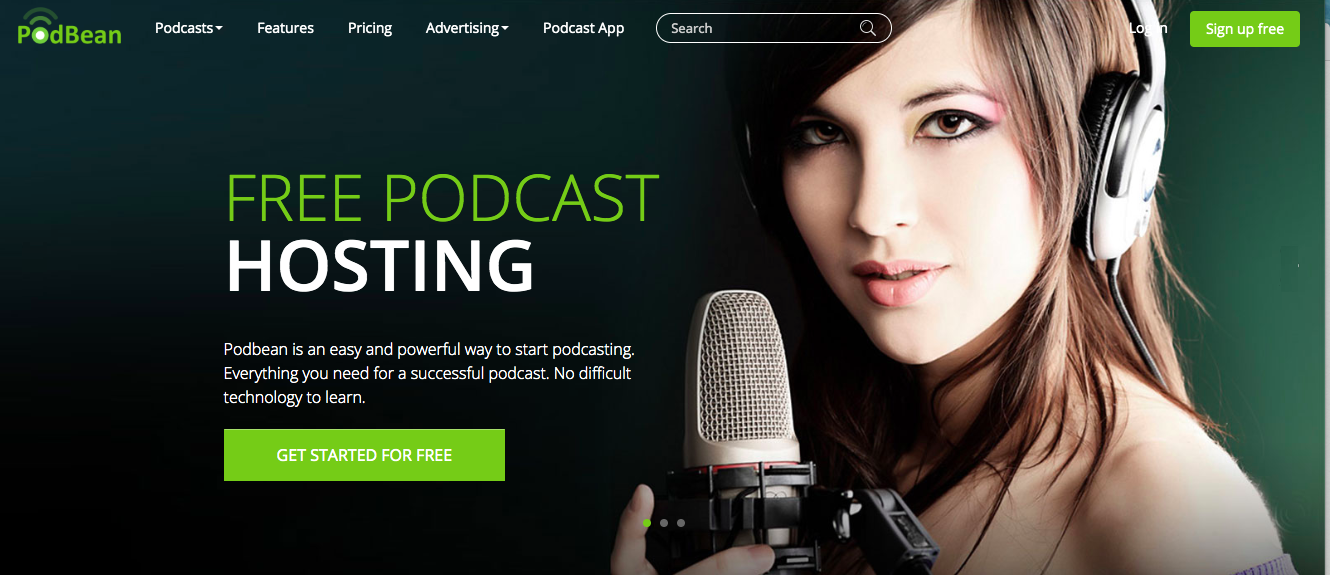 How to Promote Your Podcast
Successfully recording your podcast is just the first step, because if no one knows about it, what's the point? Growing your podcast audience might seem a daunting task at first, but with regular promotion, you will be able to acquire a lot of eager listeners for your show. Here are some of the best ways to promote your podcast:
1) Submit Your Podcast to Apple, Google and other Platforms
In order to get more listeners for your show, you need to submit your podcast to podcast directories. Apple iTunes and Google Play are two of the biggest channels where you should definitely publish your show. Other platforms include:
2) Join a Community of Podcasters
A great way to get more talk about and action on your podcast is to invest in the podcast community. When people discuss your show, comment on it and share it to their social media, this will create more buzz for you on the web.
Here are some of the best podcast communities that you should join:
3) Promote Your Podcast on Social Media
Create a professional account on the top social media platforms under the name of your podcast and start sharing updates of your new episodes on every channel. Share the link to your episode every time you post an update so that it is easier for your audience to directly click the link and listen to the episode.
Many platforms make it easy to post an audio file that allows people to listen to it right there in their feed, rather than have to click away to another site: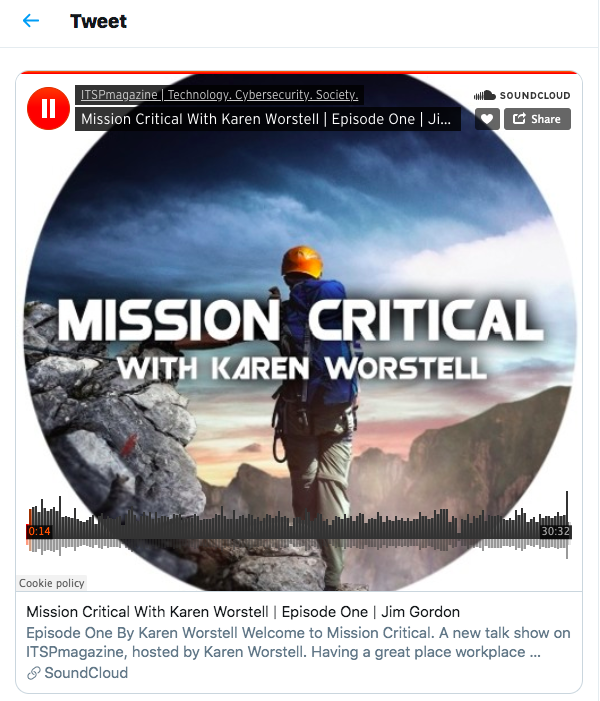 If you have guests (influencers) on your show, then tag the name of your guest to attract their followers to your show: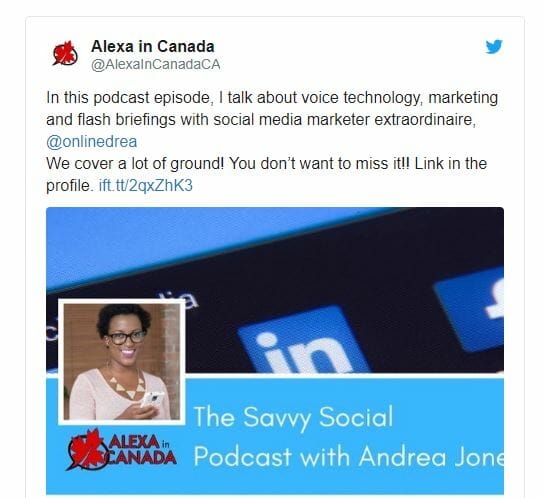 Social media platforms also give you a chance to host giveaways. People can be lured into watching your show by the thought of winning something.
4) Collaborate with other Podcasters in Your Niche
You can always work together with other podcasters who are popular in your niche by offering to become a guest on their show and/or inviting them as a guest on your show. This is an awesome way to support each other and grow your audience at the same time.
Dive Deeper:
5) Participate in Events and Shows
Prepare a list of events related to your industry and start participating in them. Events are a great way to network with other relevant prospects in your niche. You can publish business cards with the name of your show and its URL.
You can even become a presenter at certain events and invite people to listen to your podcast. An event is always full of life and action and you will never return empty-handed!
6) Leverage the Power of Transcripts for Content Repurposing
Get the transcript of your podcast (from a service like Rev) and publish it along with the audio file as a content on several content distribution networks. This will help to increase the visibility of your podcast from an SEO standpoint.
You can also use the Content Sprout Method and turn the transcript into a blog post, thereby giving your audience multiple ways to consume your content.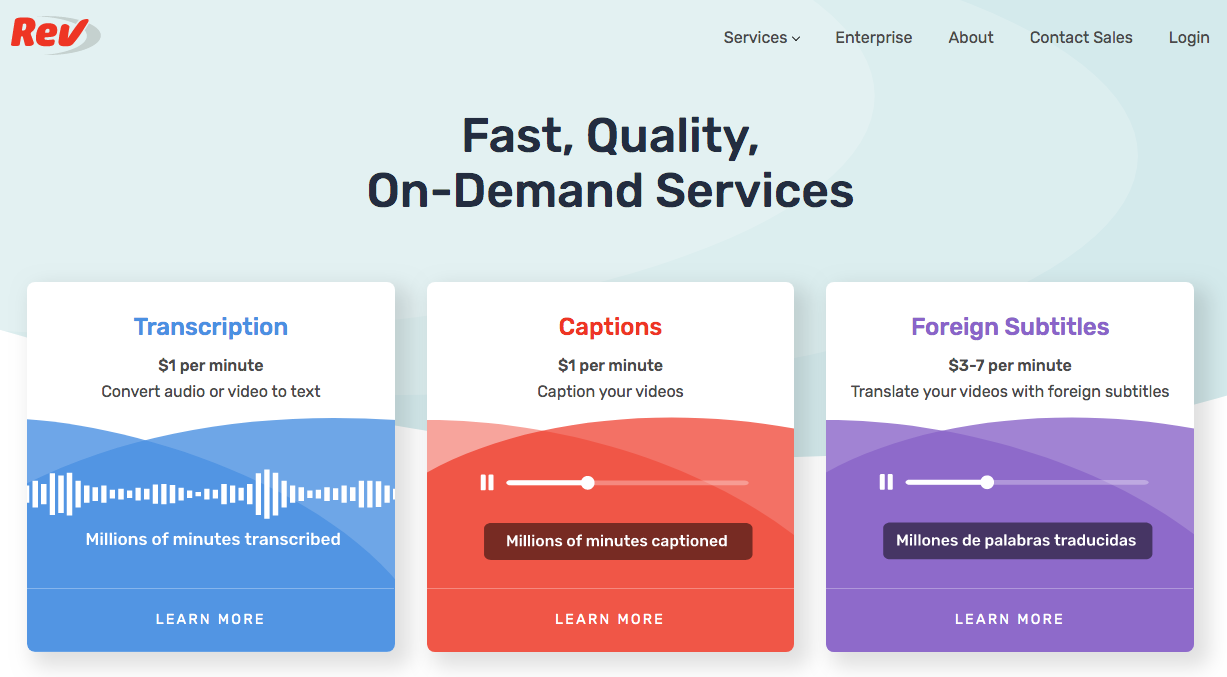 7) Use Word-of-Mouth Advertising
There is nothing better than word-of-mouth advertising, but how can you get that for your new show? Well, there are few ways to do that:
Invite someone from your audience onto your show. When people who listen to your show are invited as a special guest, they will readily share it with their peers, leading to an increase in word-of-mouth advertising.
Create a referral program for your audience. Reward them with incentives when they invite their friends to hear your show.
Invite influencers to your show because this will give you a chance to expand your audience base and generate more opportunities of word-of-mouth advertising.
Monetizing Your Podcast
Whatever the reason for starting your podcast, you can actually make money from it. As per Statista, podcast advertising spend is expected to reach $863.4 million by 2020: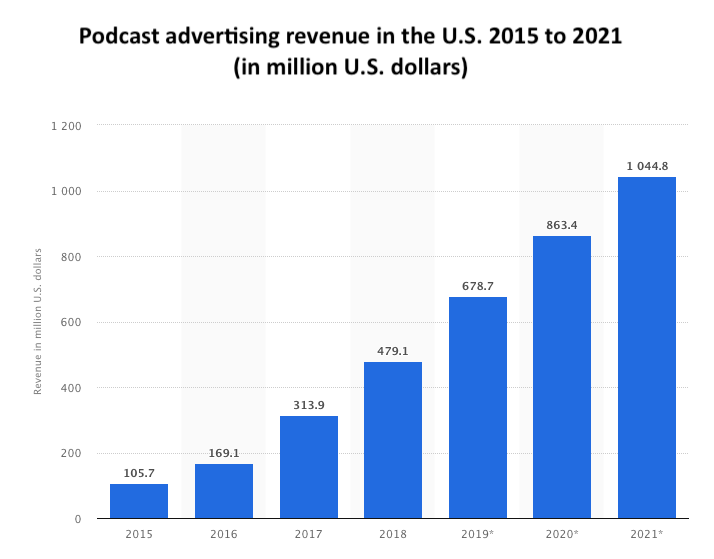 Here are some great ways to monetize your podcast:
1) Sell Ad Space to Sponsors
You can start selling ad space to sponsors once you have a download frequency between 3,000-5,000 downloads per episode. Simply sign up with podcasting advertising agencies like Midroll and Podgrid to start monetizing your show.
2) Leverage the Power of Referral Sponsorships
Under referral sponsorship, you earn a commission every time you recommend a particular service or product to your listeners via a referral link. Companies like Airbnb, Uber, Audible, Ting and others actually pay you when the users complete a particular action on their website via your referral link.
3) Sell Your Own Services
If you are a web designer, online marketer, etc., you can sell your own services to your listeners. This is indeed a great way to earn some good clients because people who are listening to your show already trust you and they will readily become your clients once a need arises. You don't need to push these potential customers into buying your services; you can simply ask your audience to subscribe to your emails, start sending them good content and naturally pull them into your service purchase funnel.
Dive Deeper: How to Create the Ultimate Marketing Funnel (Templates Included)
4) Charge Your Guests Money
If your show is guest-based, then you can start charging particular guests who desperately want to be a part of your show and are ready to pay money to appear on it.
Business owners are always interested in becoming a guest for a show that has an audience that they want to reach. You can run an outreach campaign to find business owners who are interested in paying money to become a guest on your show.
Bonus Tips:
Ask your podcast listeners to sponsor you or help you get sponsors for your podcast.
Accept donations from your listeners. Joshua from Radical Finance is doing this on Patreon. This is a superb way to earn a regular flow of income every month.
You can form an affiliate partnership with the guests who come on your show.
You can start selling premium versions of your episodes because people are more likely to pay for it.
Publish your podcasts on YouTube without any extra effort and start monetizing that channel.
Dive Deeper:
Examples of Some Great Podcasts
Genre: True Crime
Rated 4.9 on Apple Podcasts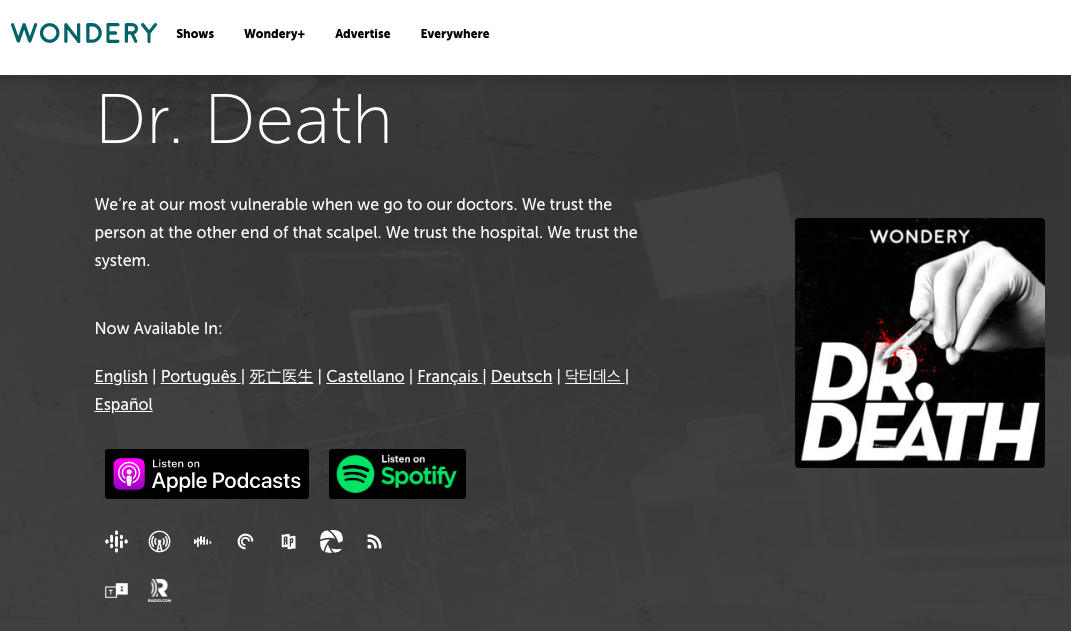 Dr. Death is one of the most popular podcasts produced by Wondery and hosted by Laura Beil. The podcast portrays the true story of Dr. Christopher Duntsch, a former neurosurgeon who is nicknamed Dr. Death because of his malpractice during surgery that maimed four of his patients and killed two of them.
Why is Dr. Death so popular?
It's a true story. People are more interested in listening to a true story, especially anything this fantastical, than a fake one. Although the genre here is crime, you can use this idea for any industry. You can share real-life stories of people and narrate them in your own style to gain appreciation.
Genre: Business, Entrepreneurship and Marketing
Number of listeners: Over 109K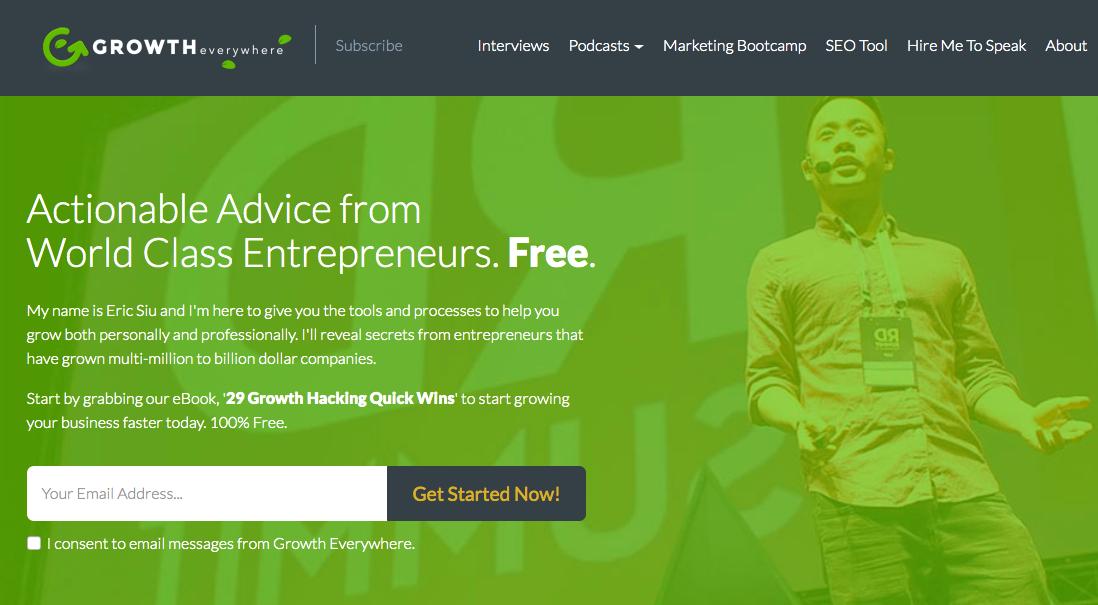 Growth Everywhere is a show hosted by Eric Su, CEO of Single Grain. In his podcast, he interviews entrepreneurs and marketing professionals who have achieved a milestone in their life.
Why is 'Growth Everywhere' so popular?
This show is a hit among budding entrepreneurs and marketers because they are able to learn some real-life lessons from the people they follow and admire. Eric interviews the top stalwarts of the industry and discovers all the ways they adapted (including surviving failed businesses and bankruptcy) in order to grow their business. These lessons are different from any other form of content that is readily available on the Internet.
Genre: Comedy
Rated 4.7 on Apple Podcasts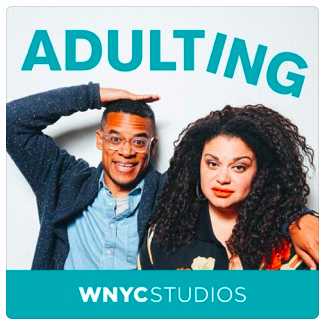 This is one of the best comedy podcasts that is a favorite for one and all. The show presents the struggle in the daily life of an adult with hosts Michelle Buteau and Jordan Carlos.
Why is 'Adulting' so popular?
Their show description says it all:
Did you ever think being an adult would be this hard? Neither did our hosts Michelle Buteau and Jordan Carlos. That's why they're talking it out with some of the funniest, most creative adults around. Plus, they answer the questions that haunt us all, like "What is an acceptable amount of money to spend on pillows?"
People struggle with a lot of problems in adult life that, to paraphrase John Lennon, nobody ever told you about and this show gives them a chance to laugh, nod with intense familiarity and commiserate with others who feel the same way.
Genre: Relationships
Rated 4.9 on Apple Podcasts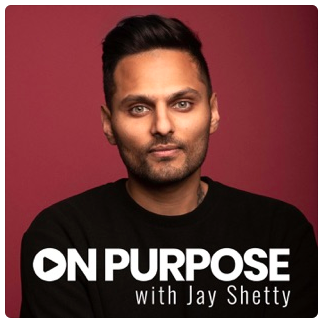 This show helps people take a different yet positive look at relationships and change their negative thinking. It  offers clarity to one's thoughts.
Why is 'On Purpose' so popular?
The host, Jay Shetty is easy to listen to and his voice mesmerizes the audience. His choice of topics – like Kobe Bryant: On How to be Strategic & Obsessive to Find Your Purpose and Why We Want to Fit In & 7 Ways to Stand Out With Real Confidence – inspires people who listen to him. He takes spirituality to another level and helps people stay positive, all in an energetic and fun way.
Final Thoughts
Podcast audiences are the most loyal in the world, and podcasting is a great way to reach your target audience in an easy, fun and informative manner.
From brainstorming a format to choosing a theme for your podcast, from selecting the equipment needed to running your show, from recording your first episode to promoting and monetizing your podcast – we hope we've covered this topic enough to inspire you with confidence to start your own podcast production!