How to Start a Marketing Agency in 2023 (From a 7-Figure Agency CEO)
If you're a skilled marketer, you've probably dreamed of starting your own agency and building a business that gives you freedom and a sense of accomplishment.
Unfortunately, most people don't follow through with their dreams simply because they don't know how to get started.
In an effort to help people get started, Eric Siu, Single Grain's CEO, sat down to reveal the exact blueprint he used to grow this brand from a negative company into a multimillion dollar digital marketing agency that serves Fortune 500 clients like Lyft and Amazon.
The best part is that it's easily repeatable and every single tactic still works in 2023.
Step 1 – Identify Your Target Market
Before you start pitching yourself to potential clients, sit down and think about who your ideal client is. It should include at least:
Business model (SaaS, local companies, service companies, etc.)
Industry (Healthcare, Education, etc.)
Company size (SMB, Fortune 500, etc.)
Once you know who you serve, you should know what you offer.
Some budding agencies try to be full service right out of the gate. The problem with this is that at the beginning you probably don't have the capital to hire true experts in each area (SEO, PPC ,etc). As a result, your services are mediocre and your churn rate and pricing will reflect that.
The solution is to specialize in one area. For example, if you feel you're best at SEO, offer only SEO services. As you grow, then you can hire experts who really understand the other areas that your clients need – like PPC, content marketing and more.
Think about companies like Apple. They started with just one computer. After they perfected it, they branched out to other products like the iPhone and later the tablet.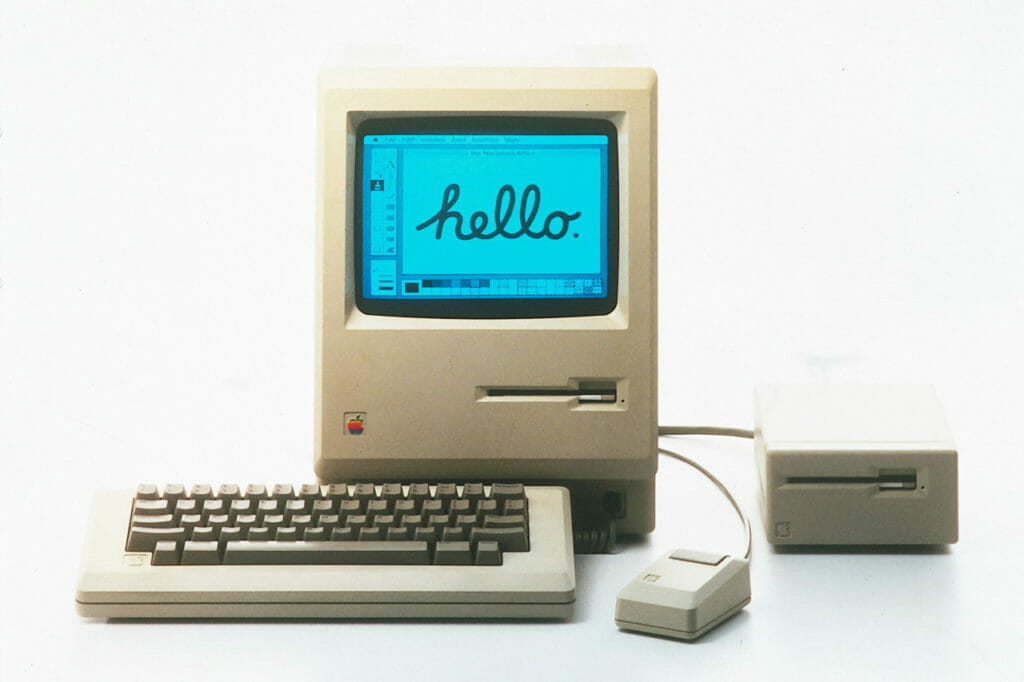 Once you know who your target customer is and what you offer, you can create a clear pitch. An example pitch might be:
We help small to medium sized SaaS companies in the healthcare industry grow through SEO.
We help small to medium e-commerce businesses in the fashion industry grow through PPC.
We help Fortune 500 companies in the FinTech space grow through content marketing.
Now that you have a solid offer and value proposition, how do you find your prospects?
Dive Deeper:
* Geotargeting: How to Find the Right Customers for Your Brand
* 4 Steps to Discover Your Ideal Buyer Persona for B2B Marketers
* The Ultimate Guide to Developing Buyer Personas (with Templates!)

Step 2 – How to Get Clients
Start by gathering some testimonials.
If you've been freelancing and already have testimonials/case studies from your clients, you can skip this step. If not, offer to do work for free for several of your ideal clients in exchange for a testimonial.
Once you have a few testimonials, find out where your target audience hangs out and give free advice every single day.
In the early days, Eric helped Single Grain generate leads by answering SEO questions on Quora. As a result, he generated one lead that ended up as a $30,000 monthly SEO contract.
In addition to forums like Quora, consider participating in Facebook groups, going to live events and hanging out at other hubs with your target audience.
If you want to email a prospect directly, head over to Crunchbase and download a list of all the recently funded companies: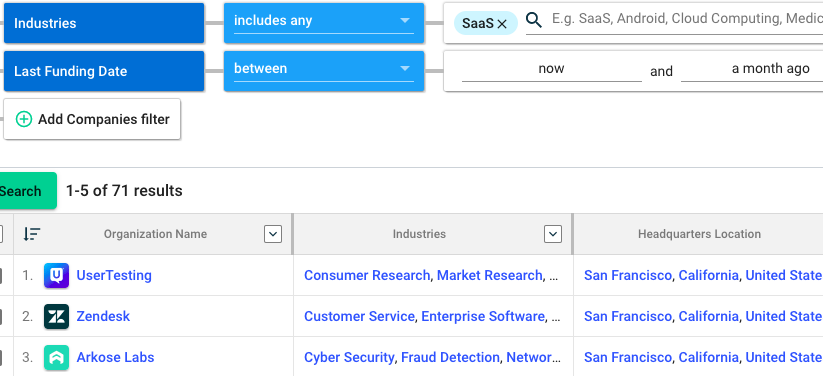 Create a PDF or Word document that lays out everything that is wrong with their current strategy. The document/PDF should be super thorough not just in pointing out everything lacking in their strategy, but exactly how to fix it.
If you tell them how they can fix their problem, they'll probably just hire you to do it rather than try doing it themselves.
When you send those email, start with a subject line that grabs their attention like this one: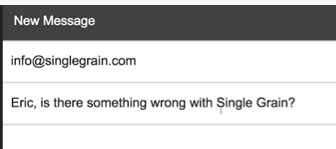 Be sure to send it not only to the founder, but to the investor as well.
You can also play the numbers game and pitch a lot of founders by using a tool that allows you to add automatic personalization, such as:
Step 3 – Build an Evergreen Content Machine
Notice that nowhere in the first or second step do I mention building a website. This is because it's more important to execute and get a business going than to procrastinate by making pretty business cards and a website with no revenue.
Now that you have some clients, it's time to build your own inbound machine through evergreen content.
Why content marketing and not paid ads? Although content may be a little slower to get going, it is proven to produce 3X as many leads as paid advertising. Content marketing also compounds over time, whereas with paid advertising your lead generation engine will shut off as soon as you stop paying for ads.
So what is evergreen content? It's content that can be used over and over again – it never dies.
For example, an article on "How to Tie a Tie" is evergreen because the process doesn't change much and people will still be searching for it for years to come. The graph for evergreen content therefore grows steadily like this: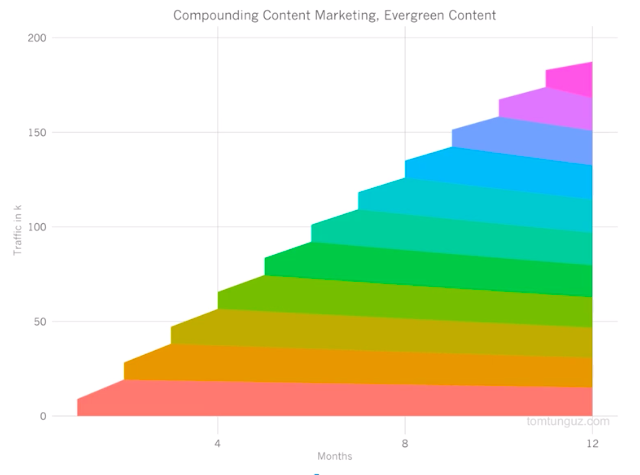 However, an article like "The biggest marketing trends in 2017" is not evergreen because marketers don't really care about 2017's tactics anymore.  The graph for temporal content therefore is short lived with traffic spikes like this: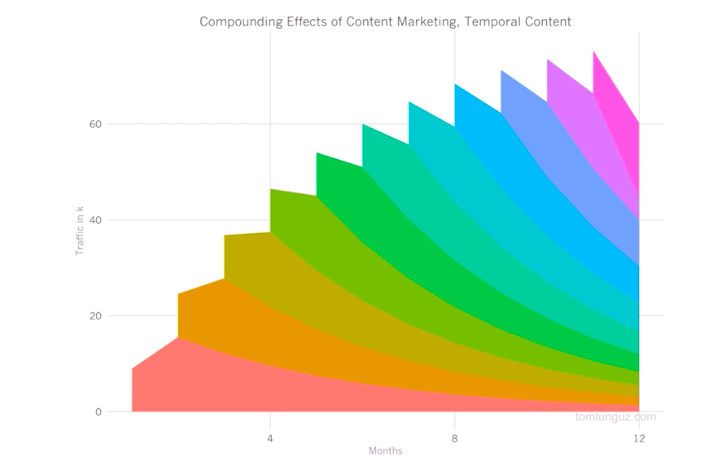 Evergreen content gives you a better ROI because it will still be generating traffic (and perhaps even grow stronger) in the future, whereas newsy, trending content will gradually lose all of its traffic.
What does evergreen content look like? This kind of content is educational and most of these titles tend to start with "how to…" or are thorough guides on a topic.
A great example of a website that produces amazing evergreen content is Wikipedia. Check out their results – by following the evergreen approach, they drive over 2 billion visitors per month to the blog!

However, to be successful, evergreen content also has to be comprehensive. You can see that Wikipedia nails this just by looking at their table of contents – they discuss everything you could possibly want to know about a topic so you don't have to do another search: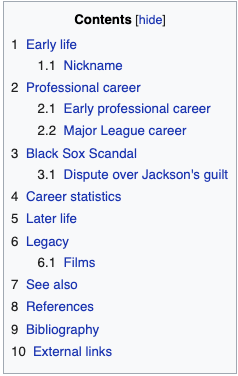 At Single Grain, prospects usually come into meetings saying that they have a content strategy but it isn't driving any traffic. The prospect may even be creating some "how to" articles with promising titles, but the articles themselves are often only 300-500 words.
While John Mueller, Google's Senior Webmaster Trends Analyst, points out that Google doesn't use purely word count as a ranking factor, it's unlikely that you'll be able to give a truly comprehensive answer in just 300-500 words.
When the Single Grain team takes on these clients and implements a more comprehensive evergreen strategy, their traffic takes off. Check out this screenshot of a client website that previously had almost no traffic and now has about 600,000 visitors per month: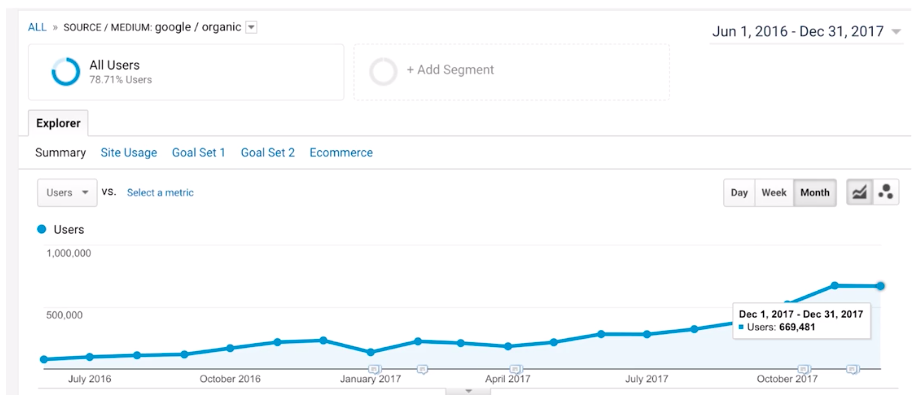 Look at the search results for a keyword before writing your article with a tool such as:
Then ask yourself: What is the current quality standard? What sub topics does it cover? How can you bring something more useful to the table?
In addition to creating comprehensive evergreen content, take a unique angle. There are already about 4.5 million blog posts published every day, so look in the search results before writing and ask yourself how your post will provide the reader with a different and more useful approach.
For example, Neil Patel wanted to rank for the term "guide to online marketing." So he put together a guide that was organized in a much more visually appealing format and had easy to understand examples and step-by-step instructions. It cost around $30,000 to create, but the traffic it generated made it worthwhile.
Even if you don't have $30,000 to spend on content, ask yourself how you can make your post just a little bit better than what is currently available.
The concept of creating a unique approach isn't just for blogging; it should be used with any type of content.
For instance, there are probably thousands of marketing podcasts available, but Marketing School gets over a million downloads a month. This is largely because Eric and his cohost, Neil Patel, found a unique angle – they make it a daily show and each episode is under ten minutes.
To grow a marketing agency in 2023, you have to think of yourself as a media company in order to grab people's attention with comprehensive evergreen content and a unique angle.
Click To Tweet
Dive Deeper:
* 30 Ways to Come Up with Great Ideas for Your Blog Posts
* 6 Tips for Scaling Up Content Production without Sacrificing Quality
* How We Built a B2B SaaS Marketing Agency Unlike Anyone Else
* How to Structure Your Content Marketing Team (to Scale Your Business)

Step 3 – Repurpose Your Content
Now that you have an evergreen content machine, how can you get the maximum ROI from it?
The answer is to repurpose it.
Content Reusage Workflow
Here's the content reusage workflow we use to grow Single Grain:
The first step is to update old posts.
For example, did you previously have a post that performed very well but has begun to naturally decay over time? Consider updating it with new stats, examples and case studies. You can also include new sections to help it rank for keywords that it currently ranks in positions 3-10 in the search engine results.
Here's an example of a post on the Single Grain blog that was updated in August and went from a handful of keywords to over 150 keywords.
Once you've updated and expanded your best posts, consider reformatting and curating your content.
The Content Sprouting Method
We use a repurposing framework called the content sprouting method to market the agency itself. This framework has helped more than double the agency traffic from roughly 50,000 visitors per month to more than 100,000 visitors per month:

What is the content sprouting method? This tactic entails starting with one piece of content which is then transformed into multiple mediums to be published on different platforms, thereby giving that piece of content its maximum reach.
For example, you might start by recording a video. That video can then be turned into a podcast by taking just the audio. The audio can then be transcribed and turned into a blog post, which can then be broken down into several social media posts.
Here's an example of a piece of content that we started as a video:

…and then we turned into a podcast: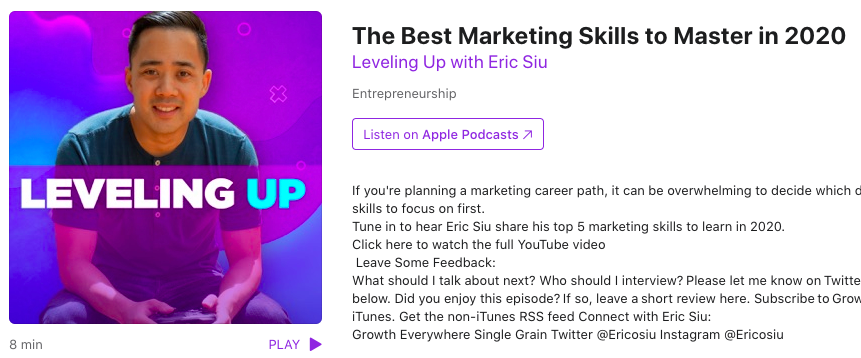 People prefer to consume content in different formats. Some prefer to listen to podcasts whereas others prefer to read blog posts. This repurposing framework allows you to meet your target audience with their favorite medium, thus making them more likely to continue to follow you.
This framework also helps your brand stay top of mind. The average Internet user now has over 8 social media accounts, so by creating posts that exist natively on multiple social accounts, you stay top of mind and drive visitors back to your website more frequently.
Dive Deeper:
* What Is Content Decay and How It Affects Your SEO
* 9 Ways to Repurpose Your Old Blog Content
* [Case Study] The Content Sprout Method: How to Use Strategic Content Marketing to Grow Your Traffic From 0 t

Step 5 – Create Solid Processes
Scaling from $0 – $1,000,000 is all about creating consistently good work and using the content machine frameworks above.
But scaling from $1,000,000 – $5,000,000 is all about processes.
Even if you're just starting out, creating solid processes for all your workflows now is going to help you scale much faster because it will take a lot of weight off of your shoulders.
Why do solid processes help you scale faster?
Decreases Churn and Increases Customer Satisfaction
Imagine if every time you purchased a coke it tasted different. Perhaps one day it tastes like diet soda and another day it tastes like Sprite. While they may all be flavors you like, it would probably get annoying not knowing what kind of drink you're going to get.
The same goes with agency clients. The client wants to have predictable results that they can expect. If your marketing agency grows without processes in place, you'll find that each employee will adapt his or her own methods of doing something and your clients might get annoyed if they have a different kind of report every time. They just want to see steady growth.
Therefore, using processes will help you increase customer satisfaction and decrease churn. Remember, keeping your clients happy should be your priority as it costs about $141 to acquire a new marketing agency client.
Here are a few ways to decrease client churn:
Consider beefing up your offerings with WordPress hosting for agencies. Providing website hosting (in addition to, say, SEO and PPC services) for your clients simplifies their tech situation and increases the psychological cost of switching to another agency.
Bring new ideas to your clients often. Clients love agencies that are proactive and "on top of" the latest trends in the industry. It shows that you're ahead of the curve and aren't putting their accounts on maintenance mode.
Invest in in-person relationships. Oftentimes, a new client who knows you personally will feel more comfortable bringing issues to you before churning. If, on the other hand, a client views your relationship as purely transactional, they're much more likely to simply end the engagement without first giving you a chance to fix what isn't working.
Allows You to Step Away from the Business
Processes also allow you step away from the business because you no longer have to do everything. This lets you to focus on higher level elements, like speaking around the world or perhaps starting another business.
It also helps prevent any unexpected downtime should one of your employees suddenly be out sick. With a detailed process in place, someone else can step in and take over the co-worker's tasks without a disruption in work.
Makes It Easier to Sell
Finally, a business with solid processes is much easier to sell. In fact, this is a key thing that investors look at before purchasing a business.
So how often should you record processes and what kinds of processes should you record?
As a general rule of thumb, if you do a process or a task more than three times, it should be recorded. Even if you're just a one-person show right now, recording your processes will make your first hires go much more smoothly.
You should record all reporting, sales, marketing and leadership processes and as you hire an executive team, they should create processes for their teams.
While you're starting out, use a free tool like Trello or even just Google Drive to unify and manage your company processes. If you have a team of 10+ employees, you might consider investing in a software like Pipefy or Confluence.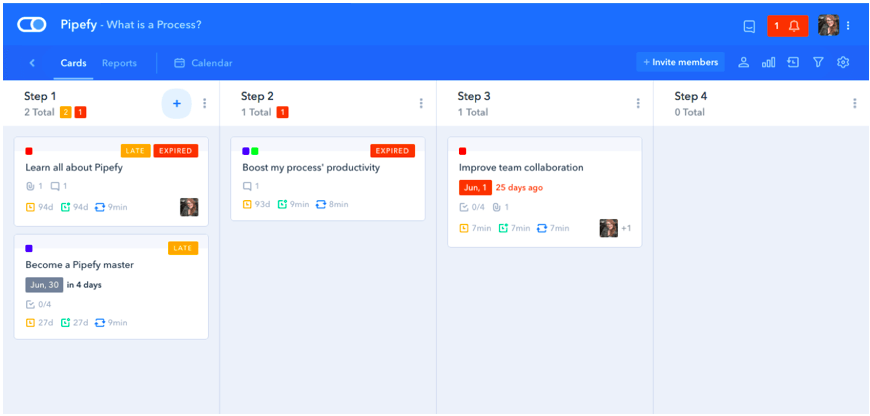 Step 6 – Channel Partners
Now that you have a solid agency rolling, how can you grow even faster? One solution is to build channel partnerships.
For example, if you are a content marketing agency, you might need a web designer. So consider partnering with a web design company.
This benefits you because not only are your clients getting great web design work through your channel partner, but you also get leads from the web design company that has clients needing content marketing.
Partnerships are one of the best growth hacks available to agency owners.
One study showed that 56% of brand marketers claim that partnerships drive more than 20% of total company sales and 24% said it drives more than 30%.
So where can you find channel partners?
Usually you can find these people in your network, at conferences and through referrals. You might even hire them to fill in on a project and discover that they are compatible.
The key to successfully building channel partners is to make sure that they are serving your target market (same industry, company size, etc.) and that they have proven case studies.
Consider hiring them to do a paid test project for your agency before having them do work for a client.
Step 7 – Build Tools to Generate Leads
To really supercharge your brand awareness, link-building campaigns and overall marketing efforts, consider building or even investing in a tool. Tools can help you accomplish a number of goals like:
Building brand awareness
Generating links
Driving qualified leads
Neil Patel bought Ubersuggest for a low six-figure price and then gives it away for free – and it has already paid for itself just in the brand awareness it has generated. Neil would have had to spend much more money than low six figures to generate 82,000 brand queries per month through ads or even SEO:

In addition, because it is an amazing free tool, people are more than happy to link to it.
Imagine that you're writing a post teaching someone how to perform an SEO. Using screenshots from a paid tool like Ahrefs or SEMRush limits who you can teach because some may not have access to these tools. Whereas a free tool is much more valuable because the audience doesn't have to invest in it.
Brand awareness and links are great, but do tools actually drive revenue?
They do.
You can go to a website like CodeCanyon and buy widgets, plugins and code scripts for cheap; these tools will still have the same effect:

So what kind of tool should you purchase or create? Since you're growing a marketing agency, you could purchase a simple A/B testing calculator or something similar. Don't worry about making it super fancy.
Dive Deeper:
* The Ultimate Guide to Link Building with Content for SEO
* What Is A/B SEO Testing?
* The Anatomy of an Effective SaaS Lead Generation Strategy

Step 8 – Hiring
Now that you have a solid team and well-documented processes in place, your main focus is on growth.
Whether you're making your first few hires or ready to grow from $5M to $10M, hiring the right talent can make or break your business.
So who should you hire? Hire for positions where you're weak.
For example, Neil Patel is not the CEO of his own agency. He claims that he is not good at managing people, so he hires someone else to do that.
If you're making your first hire, try to find an expert you look up to and respect. You'll be much more successful hiring an expert than someone who inexperienced and trying to train them for a role you aren't confident in.
How can you find the right candidates?
Start by using LinkedIn. Click on a person from whom you feel comfortable asking for a recommendation: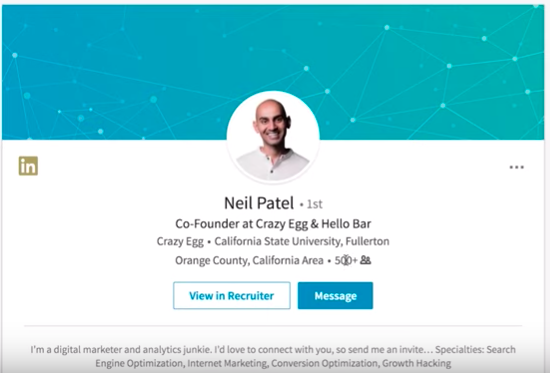 Next, scroll down util you reach "see connections" and click on it. This will give you a list of people they are connected to that you aren't: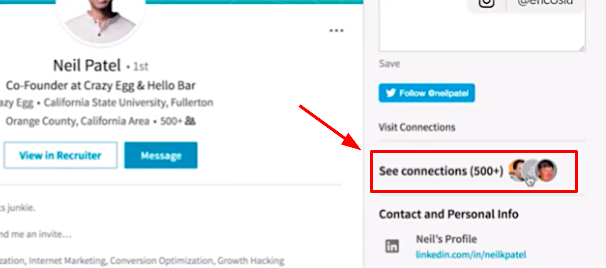 Click on "2nd" degree to filter people:

Now all you have to do is put in the title of the position you need and LinkedIn will do the searches for you:

If you have a few people in mind, you can send a LinkedIn message or an email to your connection. Mention that you're hiring and you saw a few of their connections that you think might be a good fit, and would they be willing to give you an intro.
Now that you have a few good candidates, give them a test. Giving them a somewhat vague test will show a lot about not only how competent they are, but also if they need you to hold their hand. It will also demonstrate whether they are an A player who goes above and beyond to research and complete an assignment or if they just complete what's assigned to them.
Unfortunately, along with hiring it's also important to fire when necessary. Startup coach and mentor to Inc 500 companies Victor Cheng believes that you should fire 10% of your employees on a regular basis. He believes that this helps keep the performance level high and makes your A players more motivated.
Dive Deeper:
* Forced Hiring: An Amazingly Effective Way To Find The Best Hires
* 7 Questions to Make Sure Your Next Marketing Hire Is a Slam Dunk
* How to Onboard New Hires

Step 9 – Acquisition as a Means to Grow
Once you have a great team in place, your dream clients, an inbound machine and you're out of the day-to-day tasks of the business, how can you grow more?
A lot of people turn to acquisition as a means to grow their marketing agencies. So for example, if you have an agency in San Francisco and find that there are a lot of ideal prospects in New York, you might consider buying a smaller agency in New York.
Once you've purchased the agency, you now own their employees, clients, network, etc. Most smaller agencies are priced at 2-3x of their yearly profit and include some kind of earn out.
When you go to make an acquisition, consider talking to an M&A (merger and acquisitions) firm to help you choose the right agency and successfully navigate legal and financial hurdles.
When considering several agencies, look at who their employees are, what kinds of processes they have in place, and make sure that their target audience aligns perfectly with yours.
Final Thoughts
You now have the exact blueprint that Eric Siu used to grow Single Grain from a negative company to a multimillion dollar agency that works with dream clients.
You'll experience a lot of bumps along the way, but if you follow these proven steps, you'll get there. Neil and Eric found that the average time it takes to build a business is 3 years – so get started on it today!