Why do we choose to go to a live concert when we can listen to the exact same music at home?
What's the difference between watching a sports game in the stadium versus watching it live on TV?
In a word, it's the power of experience.
There's just something viscerally different about participating in a way that allows you to be part of something as opposed to merely witnessing it via a technological conduit. The unique combination of sights, sounds, textures, tastes and smells all add up to create an experience that simply isn't available by any other means.
In an age where the majority of customers crave personalized experiences and desire meaningful interactions with a brand before making a purchase, experiential marketing is now essential to any modern marketing strategy.
Click To Tweet
But although numerous brands have been eager to jump on the experiential bandwagon, many are still struggling to understand the basics of experiential marketing, let alone how to successfully integrate it into their marketing strategy.
Which is why we've created this handy guide where we'll go over everything you need to know about how to make experiential marketing work for you.
What Makes Experiential Marketing so Powerful?
At its core, experiential marketing is all about creating a meaningful connection between a brand and its customers. More than just promoting a certain product to a passive audience, experiential marketing is designed to have customers actively engage with a brand's identity and its core values.
By providing an immersive experience, a brand is able to create an impression in their audience's mind that will stay with them far longer than any advertisement would.
Click To Tweet
74% of consumers say that engaging with branded event marketing experiences makes them more likely to buy the products being promoted: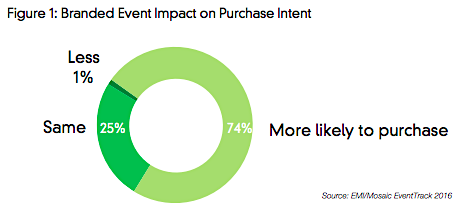 For customers, experiential marketing provides them with a chance to directly interact and build a meaningful relationship with a brand. Even if you have an event that caters to thousands of people, each person will come away from it with an experience that is unique to them.
For brands, especially small businesses, experiential marketing is a golden opportunity to increase customer loyalty and direct sales. Successful experiential marketing campaigns don't just introduce people to their brand, but serve as ways to activate new customers and introduce them into their sales funnel, with 65% of brands saying that their experiential marketing efforts lead to direct sales.
But beyond direct marketing, experiential marketing also provides a way to drastically increase their brand awareness and exposure, either through turning their audience into brand ambassadors or encouraging participants to share their experience on social media.
Research by McKinsey found that experiential marketing is the powerful catalyst for word-of-mouth marketing, with branded experiences accounting for 50-80% of all word-of-mouth activity.

Learn More:
What Experiential Marketing IS and ISN'T
Something that we need to to get clear right off the bat is that experiential marketing is not event marketing or publicity stunts. While there is a certain overlap between the two, and experiential marketing certainly incorporates elements from event marketing, experiential marketing should be treated more as a long-term strategy than a one-off event.
The goal of experiential marketing is creating an authentic branded experience for your audience that can happen both offline and online.
In order to truly get what experiential marketing is, we must first understand what makes a great branded experience. A great branded experience should always involve these three elements:
Active participation and engagement from the audience
Promotion of the brand's message and values
Provides long-lasting value
Unless you're providing all three of these essential elements, you're not doing experiential marketing. Let's take a closer look at these three points.
1) Active Participation and Engagement
The first step of any great branded experience is allowing your audience to actively engage with your brand. That can mean anything from taking a photo and sharing it on social media to participating in a carnival game.
Take a look at this campaign by chocolatier brand Milka, which involved producing 10 million bars of chocolate with a single piece missing. Confused customers were then directed to a dedicated microsite and offered a choice: they could either have the piece of chocolate sent back to them or sent to a loved one instead.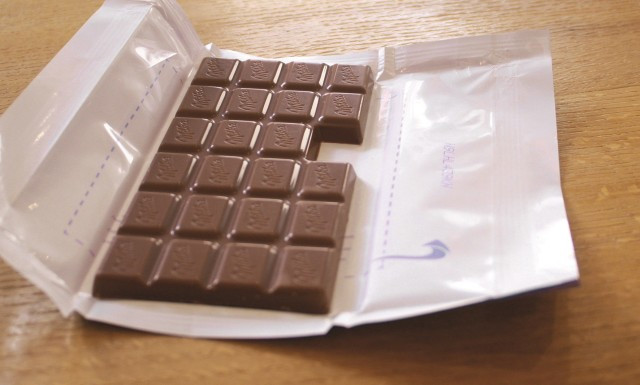 By asking their customers to undertake this simple action, Milka gave their audience a chance to interact with them in a thoughtful and meaningful way that wouldn't have been possible otherwise.
2) Promotion of Brand's Message and Values
More than just promoting a certain product, a great branded experience should be all about the brand itself. It's not enough to simply tell your audience why the brand is the best, as they might not always receive the message. But allowing them to experience it themselves will ensure that the message will stick with them for years to come.
A great example of this is the opening of the D Rose Jump Store in London by Adidas. The campaign involved having NBA superstar Derrick Rose open the store as well as creating a 10-foot-high shelf that carried dozens of pairs of Rose's signature sneakers. If anyone could make the 10-foot jump and reach the sneakers, they could take them home. Simple as that.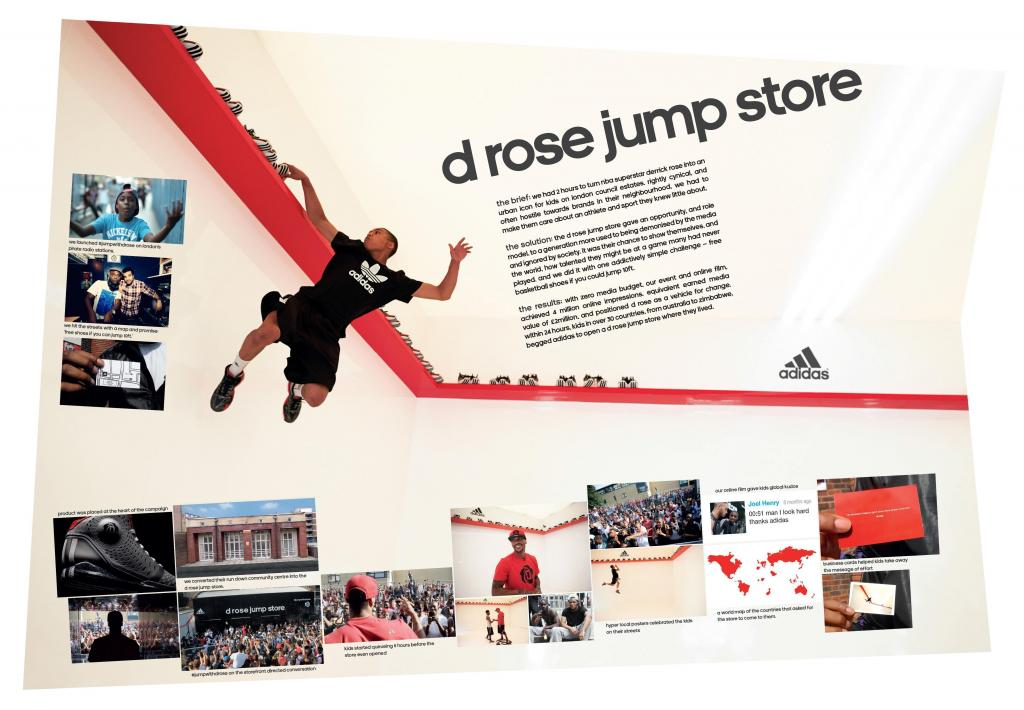 This simple event gave every participant the chance to gain insight into the life of a professional basketball player, while also promoting Adidas's message of athleticism and peak performance.
3) Provides Long-Lasting Value
Finally, a great branded experience is one that provides long-lasting value to the audience. This is the part that many brands fail at when it comes to experiential marketing because they focus entirely on providing short-term value. A great branded experience is one that sticks with its participants and encourages continued brand interaction long after the fact.
For athleisure brand Lululemon, who famously uses various experiential marketing campaigns to promote their brand, they hold complimentary yoga classes for customers within selected retail stores.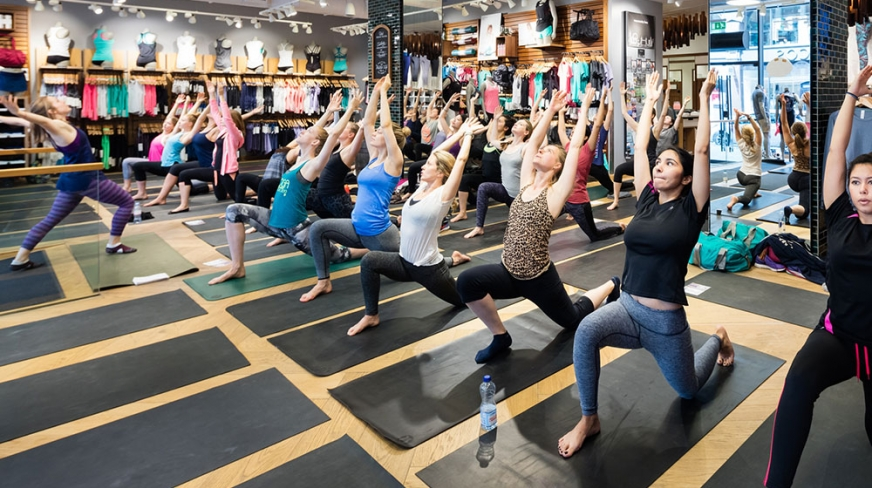 These classes give Lululemon a chance to directly interact and build a long-lasting, authentic relationship with their customers. But, most importantly, by providing this type of value that they know is relevant to their customers, Lululemon ensures that all participants will always remember the experience they had with them.
Learn More:
The Different Types of Experiential Marketing
Now that we have an understanding of what experiential marketing is and why it's so powerful, let's take a look at the different types of experiential marketing tactics you can employ for your own business.
Classes and Workshops
By far the most common type of experiential marketing, especially in the B2B world, hosting classes and workshops are a great way to connect with your target audience while also providing them with value in the form of education.
Keep in mind that this does not need to be an in-person event. While it would be better if participants could physically be there, hosting a class online can work just as well.
Case in point: Foundr connects and educates their target audience with an online workshop about Instagram marketing. Throughout the masterclass, webinar attendees get a chance to converse personally with Nathan, founder of Foundr and host of the masterclass, and learn more about his brand.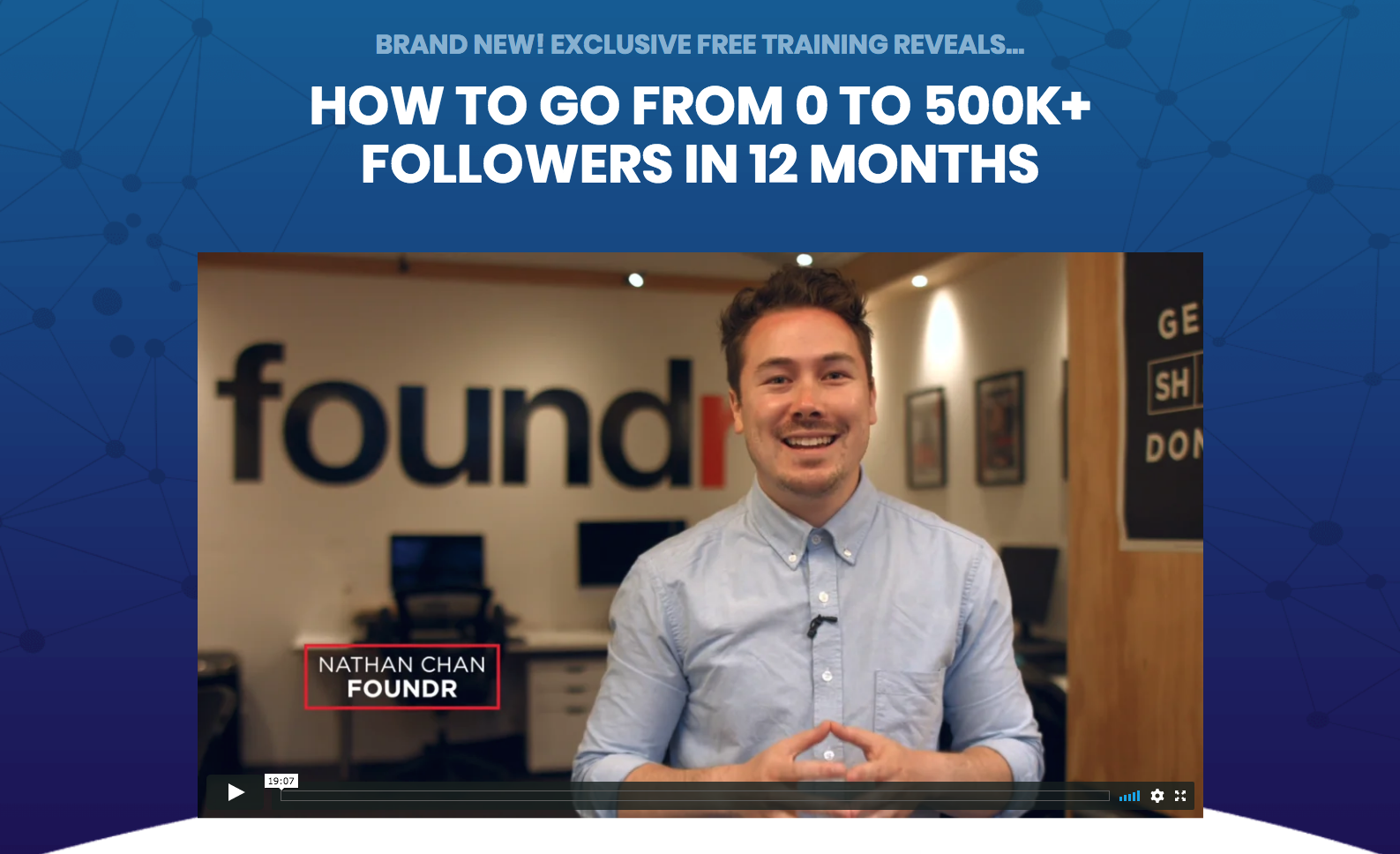 Pop-Up Experiences
When we talk about experiential marketing, usually what comes to mind first is the pop-up event. Pop-up events can take a variety of shapes and forms, such as retail stores, art installations and even live performances, but essentially the goal of pop-up events are to enhance the ordinary, everyday experience.
A part of what makes pop-up experiences so fun and engaging is that, by their very nature, they're not designed to last. This activates a scarcity mindset within your target audience who will rush to be a part of the experience before it ends.
A great example of this is Kotex's Period Shop, a pop-up shop that sold merchandise dedicated to helping women with their period woes and facilitating a larger conversation about menstruation in general.
By providing a brightly lit and open space to shop for period-related products (like those dedicated stores for sunglasses, hot sauce or men's shaving gear), Kotex provided a memorable retail experience that was completely different to their shopper's everyday experience.
Single-Person Events
One very important fact to remember about experiential marketing is that it doesn't have to affect as many people as possible; sometimes all you need to do is give one person a unique experience. When combined with the right amount of creativity and social sharing, creating an experience that only affects a small group of people can be just as effective as hosting an event that garners thousands of attendees.
For example, in a joint promotion with an upcoming James Bond film, Coca-Cola designed an experience that gave participants the chance to become James Bond for a day! They achieved this by giving unwitting customers a challenge to make it to a second vending machine to collect their prize while dodging typical Bond-related obstacles.
Despite only giving a small handful of people this experience, Coca-Cola made sure to film every participant and cut together a highly entertaining video that ended up going viral.
What this tells us is that despite not experiencing it ourselves, people still enjoy watching everyday people they can relate to going through these experiences – giving us, by proxy, an opportunity to live the event vicariously.
Product Showcases
When one of the main goals for marketing is to educate potential customers about your product, a product showcase is a natural experiential marketing tactic for many brands. In fact, up to 65% of customers say that live events and product demonstrations helped them understand the product better than any other advertising method.
Traditionally, product showcases tend to be a dull affair and entirely unmemorable, but when incorporated with a little creativity and leveraging some technology, a product showcase can become a truly immersive experience.
For instance, you can see how single malt Scotch whiskey company Glenfiddich staged a pop-up event to bring awareness and interest to their latest product. Instead of hosting a simple tasting event, Glenfiddich took it up a notch: customers could take a short quiz where they would answer questions about themselves and be matched with a cocktail that suited their personality.
This simple twist on the traditional tasting event allowed for more personalized interaction between the customers and the brand, as well as help educate the audience about the different ways they could enjoy Glenfiddich.
Direct Mail
As I mentioned earlier in this article, experiential marketing is not confined to the walls of event marketing. Remember that the goal is all about creating a meaningful and authentic connection between the brand and its customer and that experiential marketing can, and should be, used in tandem with other marketing tactics.
Just take a look at how Bizible incorporated experiential marketing into their account-based marketing campaign. After compiling a list of select prospects to contact, Bizible sent them all a physical care package through the mail which included a handwritten note, a copy of their Total Economic Impact Bible, and a donation to an environmental charity in their prospect's name: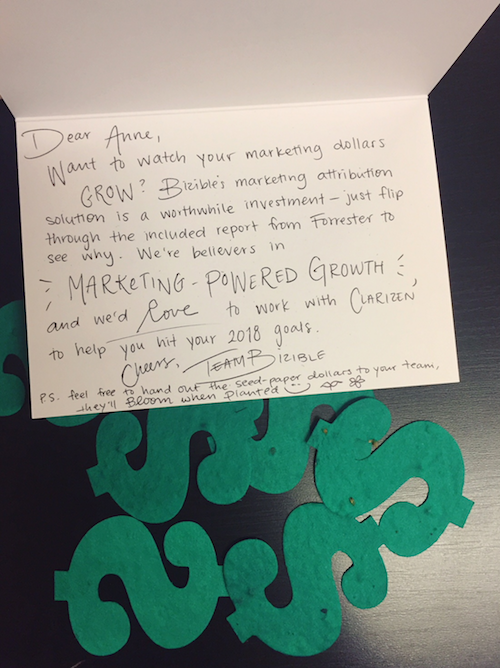 As this example shows, you don't need to host large, flashy events in order to use experiential marketing. Taking a subtler, more personal tactic can be just as powerful (if not more) when used correctly.
Learn More:
What the Best Experiential Marketing Campaigns Have in Common
Now that you have an understanding of experiential marketing and have seen some great examples, it's time to start working on your own experiential marketing campaign.
But before you get started, it's important that we take a look at what separates successful campaigns from the duds. After analyzing dozens of different successful campaigns and seeing what they had in common, we came up with these seven crucial ingredients behind every successful experiential marketing campaign.
They Have Clearly Defined Goals
As with any other successful marketing strategy, the first requirement is a set of clearly defined goals and a strong understanding of what you're attempting to achieve.
Before engaging in any experiential marketing strategy, you have to be able to answer the question: Why does this need to exist in the first place? Are you looking to increase brand exposure and awareness? Increase the amount of leads? Move prospects further down the sales funnel?
What kind of experiential marketing tactic you choose to use and how you employ it will be dictated entirely by the goals you define.
Dive Deeper: Creating Google Analytics Funnels and Goals: A Step-by-Step Guide
They're Authentic
When the entire point of employing experiential marketing is to generate an authentic relationship with your customer, it is a basic requirement that whichever tactic you use is as true to your brand identity as possible.
Zero in on what it is that makes your brand unique from the competition and crank those factors up to eleven. Emphasize your aesthetics and highlight your brand's core values and messages. Give your audience a chance to truly experience what your brand is all about.
They Tell a Story
Every successful experiential marketing campaign tells a compelling story and, most importantly, invites people to be a part of that story:
What we've found is that the best stories are the ones that either target your customer's pain points with a solution or taps into a larger, more socially conscious story. With experiential marketing, a brand can both acknowledge a customer's challenges while also demonstrating what their life could be like with that brand in their life.
You can see how Lean Cuisine achieved this with their #WeighThis campaign. The weight-loss brand encouraged their audience to focus on a different type of "weight" and asked participants how they wanted to be weighed beyond their physical body mass. Lean Cuisine has switched to healthy eating rather than simply calorie counting, and their new marketing campaign takes this to heart.
Not only did this tap into a larger story and conversation about what makes a person valuable, but it also put a spotlight on each customer's personal story – all the while creating a link between Lean Cuisine's brand and the feel-good experience:
Dive Deeper: 8 Ways to Encourage More User-Generated Content (UGC)
They Follow Up
What we've found is that every single great experiential marketing strategy has a process in place to follow up with every one of their participants. As anyone in marketing and PR will tell you, it's absolutely vital to keep the relationship alive through any means possible.
Keep building on the momentum you've created by following up via email, social media or even direct mail. Reinforce the message of your key campaign and create re-targeting campaigns so you can continue to nurture each lead and prospect on your warm list and remain top-of-mind.
They Gather Customer Information
No matter what tactic you're using, experiential marketing is an ideal place to gather important feedback and insight from customers on how they view your brand.
Don't be afraid to be aggressive when asking people for feedback, as many people are more than willing to share their thoughts when asked.
Consider distributing interactive quizzes and polls throughout your campaign as a way to add another touchpoint for your audience, as well as giving yourself an opportunity to capture customer insight.
Create a process to carefully monitor social media channels for your branded hashtags and see what people are saying about you online.
Dive Deeper: Buyer's Journey 101: What Your Email Data Says About Your Customers
They Promote Social Sharing
One of the key benefits of experiential marketing is how it turns ordinary people into brand ambassadors by encouraging user-generated content. You can incorporate social sharing into your experiential marketing efforts, such as creating a branded hashtag or creating marketing collateral they can take pictures with, by providing opportunities for participants to let others know about their positive experiences.
But that doesn't mean you should slack off on creating content yourself. Definitely look into creating your own high-quality video or photos that you can share yourself.
A super simple example is how paint brand Dulux promoted their brand by hosting a color run event – a 5k marathon where participants were doused in a variety of colorful powders. This event is naturally share-worthy due to the strong visuals and level of effort involved, but Dulux also created photo stations and marketing collateral to encourage photo-taking and sharing. Give people an experience that they want to talk about with their friends and family.

Dive Deeper: The Beginner's Guide to Crafting a Highly Effective Social Media Strategy
They're Measurable
To paraphrase Peter Drucker: You can't succeed at what you can't measure.
How you measure the success of your experiential marketing campaign and what KPIs you choose will ultimately be determined by your previously defined goals.
For example, if the goal of your campaign is raising brand awareness, then you should be tracking your social media mentions and the amount of engagement on your social pages.
Conclusion
In an increasingly crowded market, brands are becoming more and more aware that the key to edging out the competition is to build a strong, lasting and engaging relationship with every one of their customers. And, by far, the most effective way to do that is to take advantage of experiential marketing.
Delivering an extraordinary experience is no longer a nice-to-have option, but rather an integral part of any successful marketing strategy. Take some time to think about how you can reach out and connect with your audience in a meaningful way and the different ways you can interact with them.