Around 2.05 billion people made online purchases. That means 21.55% of the global population shops on the Internet – a number that will hit 2.14 billion. That's a massive pool of prospective customers!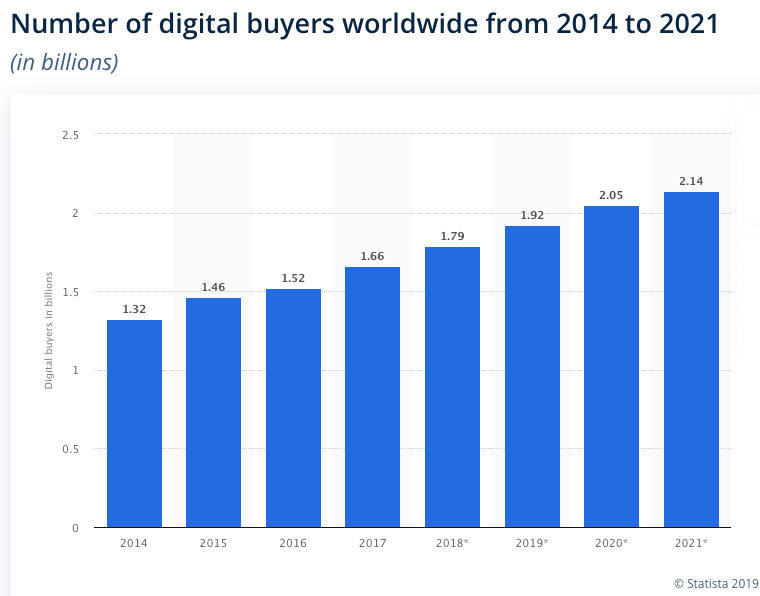 But more online shoppers means more e-commerce platforms, which has created a competitive and fierce marketplace. To stand out from the competition, you need new ways to promote your products and services – and that requires you to stay on top of the latest e-commerce trends.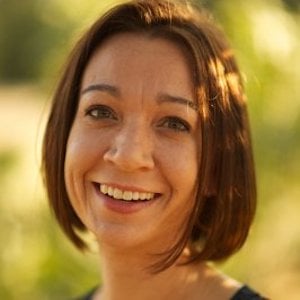 Kim Cooper
Director of Marketing, Amazon Alexa
Single Grain enables us to increase our impact without increasing our headcount
5 E-commerce Trends You Can't Ignore
This article will cover the top 5 e-commerce trends to keep an eye on next year:
The explosion of social commerce
AR and VR experiences in e-commerce
Chatbots for revenue maximization
Voice commerce becoming mainstream
Mobile shopping and mobile payments continuing to rise
Let's learn about them in detail!
Dive Deeper:
Trend #1: The Explosion of Social Commerce
As defined by Investopedia:
"Social commerce is the use of networking websites such as Facebook, Instagram and Twitter as vehicles to promote and sell products and services."
Campaign metrics include user engagement such as liking, sharing and retweeting. According to eMarketer, social commerce rose from 23% in December 2018 to 31% in October 2019 among U.S. Internet users: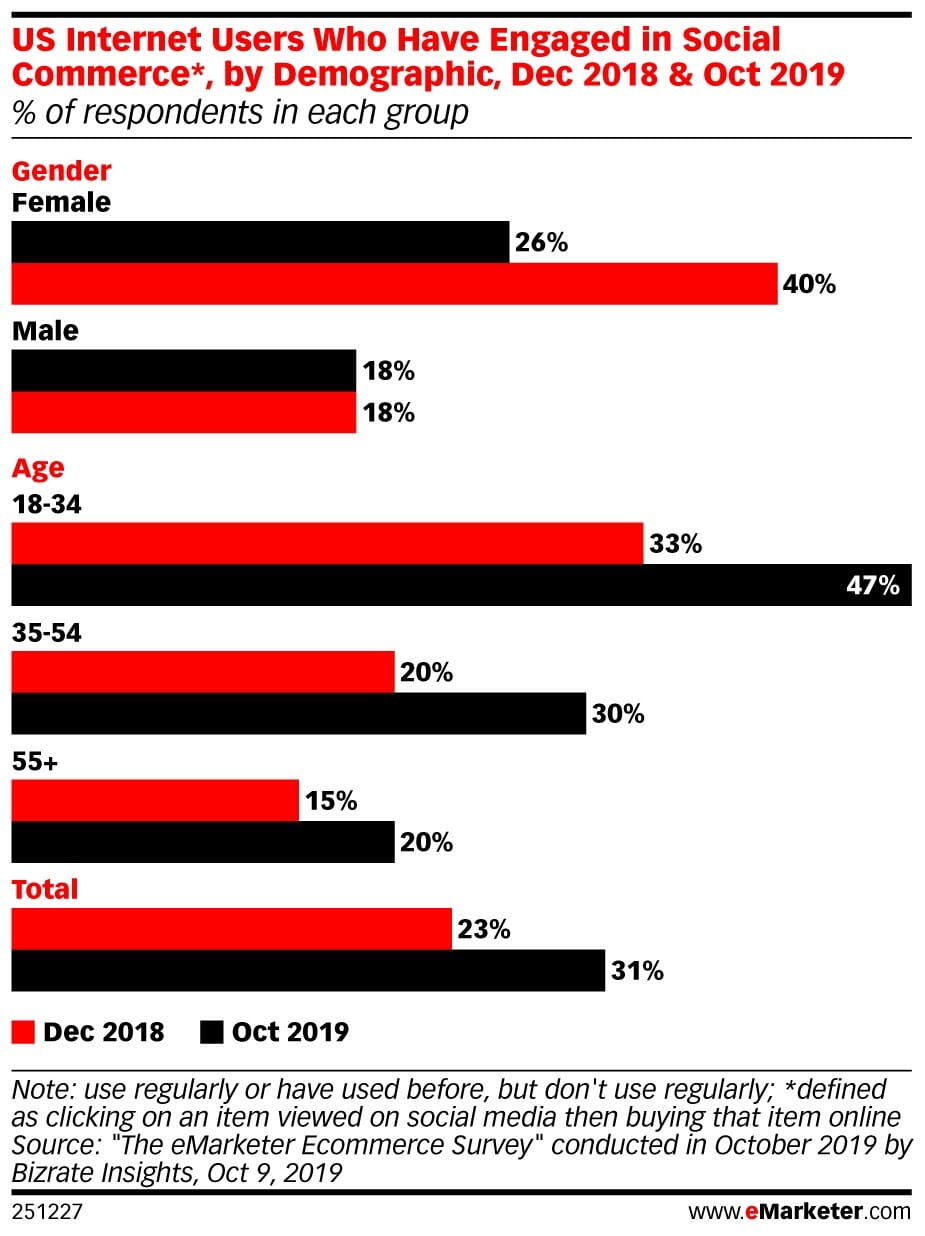 Popular platforms like Instagram, Facebook and Pinterest are perfect venues because they deliver rich visual content, which helps buyers discover, research and shop for different products online.
Social referrals to retail websites have risen 110% in just two years. This outpaces every other referral channel, and with good reason: Users prefer a social environment over external websites when searching for or purchasing something.
Social commerce is so popular because it provides a seamless, frictionless sales experience.
Click To Tweet
Here are some ways to capitalize on social commerce:
Make your brand relatable and authentic.
Focus on visuals, otherwise your brand might get lost in customers' busy, fast-scrolling social feeds.
Keep an eye on users' purchase intent and make your move when enthusiasm for your product is at its peak.
Adopt a mobile-first outlook.
Draw attention by using social content and encourage customers to click to learn more.
Offer fast, informative responses to build trust among your audience.
Creating an easy and pleasant social e-commerce experience will encourage users to finish their purchase. Keep in mind that the traditional sales funnel has been replaced by the consumer engagement engine, one of the newest trends in digital marketing: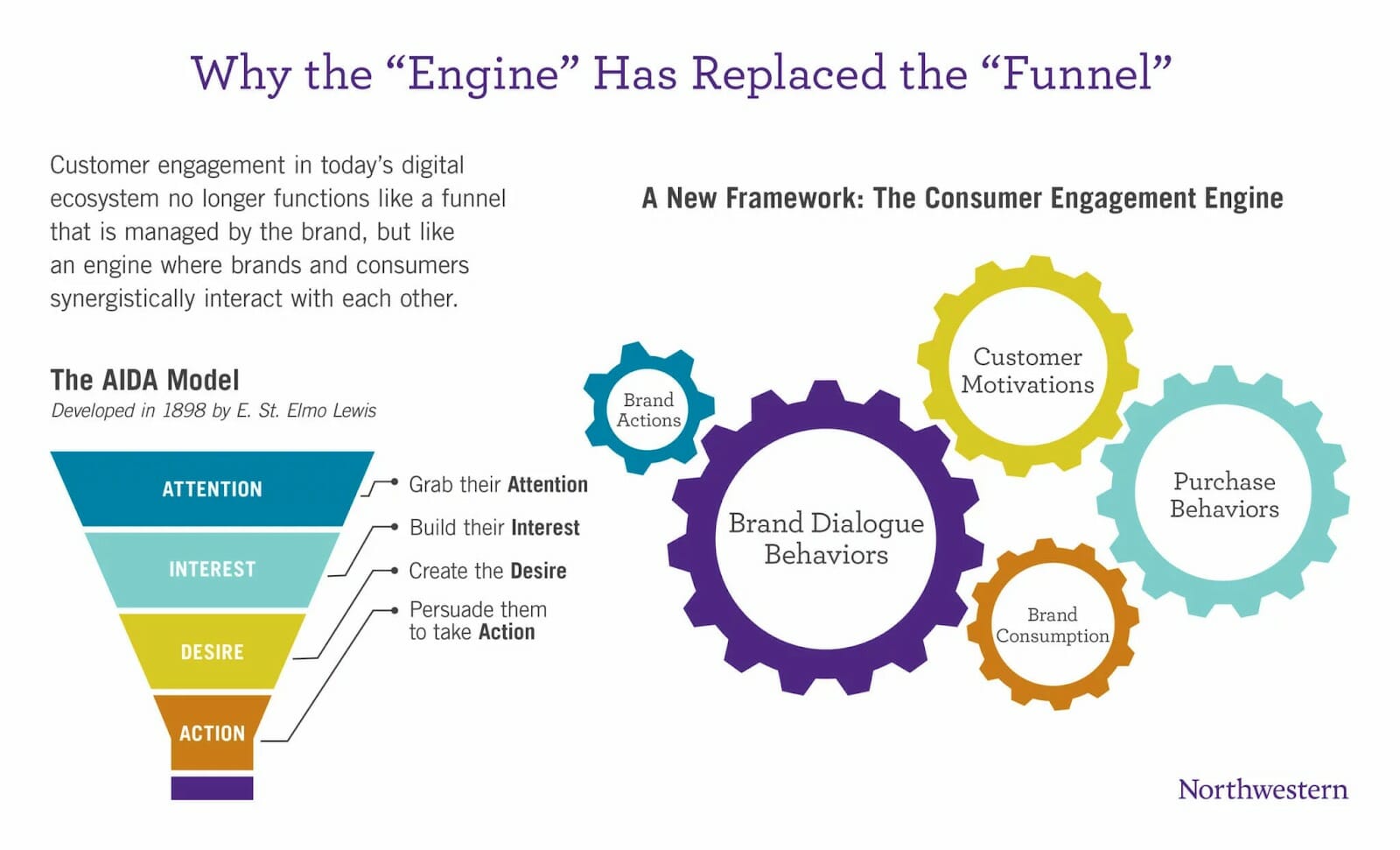 Shoppable Posts
In March 2019, Instagram unveiled Instagram Checkout, which lets users complete their purchase from within Instagram: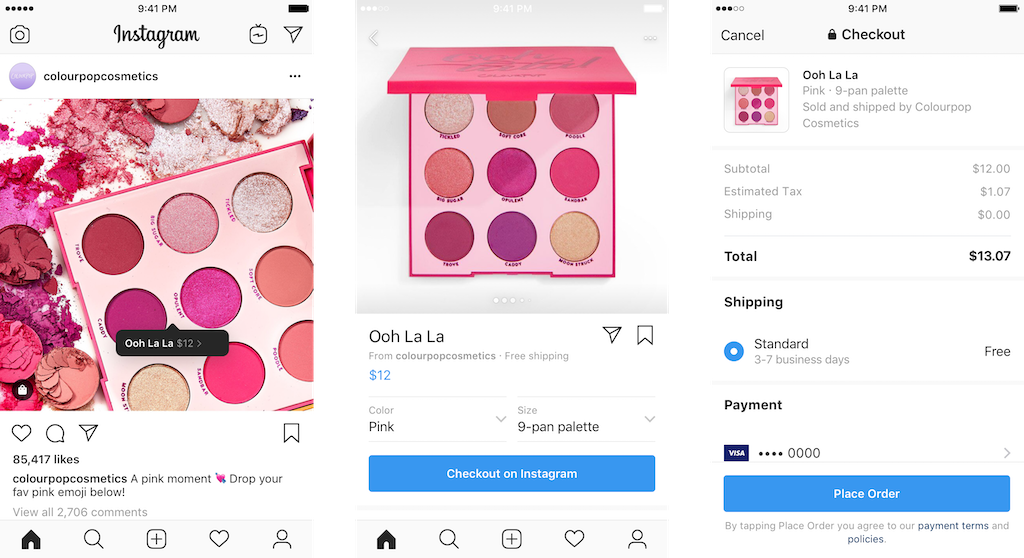 E-commerce brands can create and post interactive ads that allow users to click and shop with ease, which will help reduce the risk that customers will abandon their purchase because they have to switch apps or sign in to an unknown store.
Brands like Missguided use Instagram Shoppable posts for a smooth customer journey, which  is social commerce in action: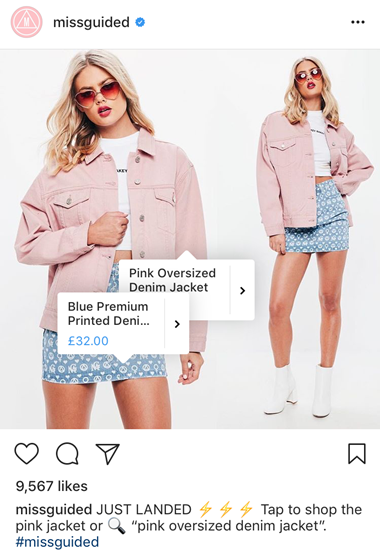 The brand combines eye-catching visuals with seamless checkout through its mobile website. The entire process occurs within Instagram's social environment and many users don't even realize they've been redirected to Missguided's online store.
Dive Deeper:
Trend #2: AR and VR Experiences Will Influence E-commerce Success
Product visualization boosts sales and diminishes returns. That's why almost 90% of businesses with annual revenues between $100 million and $1 billion now use Augmented Reality or Virtual Reality technology.
According to Gartner, 100 million shoppers will use AR online and in-store by 2020. The technology serves as an extension of the brand experience as it engages customers in immersive environments and increases revenue.
For example, the Yamaha My Garage app lets customers accessorize official 3D motorcycle models. They can connect to a special VR headset to inspect a bike's mechanics and virtual renders are available of the engine status, sensors and fuel mixture. In this way, the customer's interaction with the product is emotionalized. The high-resolution graphics allow users to see machine components that are otherwise hidden.
You can send custom changes and fittings from the app to your local Yamaha dealership and they can build a new ride based on those specs:
Here's how can your business make the most of Augmented and Virtual Reality:
Develop AR-ready products and add them to your website for an intuitive shopping experience.
Improve the product discovery process. Combine customer insights and VR to highlight unique products that appeal to your target audience.
Stress the novelty aspect. Most shoppers have never experienced VR or AR. People who have, especially Millennials, enjoy the experience, and with their purchasing power soaring to $1.4 trillion by 2020, now's the perfect time to cash in on this opportunity.
Try before you buy. 58% of consumers are more likely to buy a product after testing it first. Use AR and VR technology so audiences can "test drive" various items from your site e-commerce inventory.
Explore AR and VR as storytelling mediums. Deliver memorable and immersive shopping experiences. Take users through your brand narrative in first-person for a lasting impression.
Host live events to market your products to a wider audience without concern for travel/distance.
Dive Deeper: A Quick Guide on Combining Virtual Reality and Content Marketing
Trend #3: Chatbots Will Empower Revenue Maximization
According to Business Insider, 80% of enterprises will use chatbots by 2020. This Artificial Intelligence software is more than a new channel for consumers to find e-commerce deals and buy products – consumers can use chatbots to identify products they want and need.
The big question is: Are chatbots worth investing in for your e-commerce site? In a word, yes!
Here's how you can take advantage of chatbots:
Use chatbots to engage customers on the landing page itself. Help them find the right product, because quick navigation increases conversion possibility and saves time.
94% of online shoppers base purchasing decisions on product information, so program your chatbot to answer common product questions. Even if it does not resolve the full query, the technology can handle initial discovery. This will save your employees' time.
Allow chatbots to direct customers to customer service professionals for highly specialized products.
The average bounce rate for e-commerce stores is up to 45%. Leverage chatbots to reduce bounce rates by following up with buyers. Get actionable insights on how to improve your e-commerce platform and their shopping experience.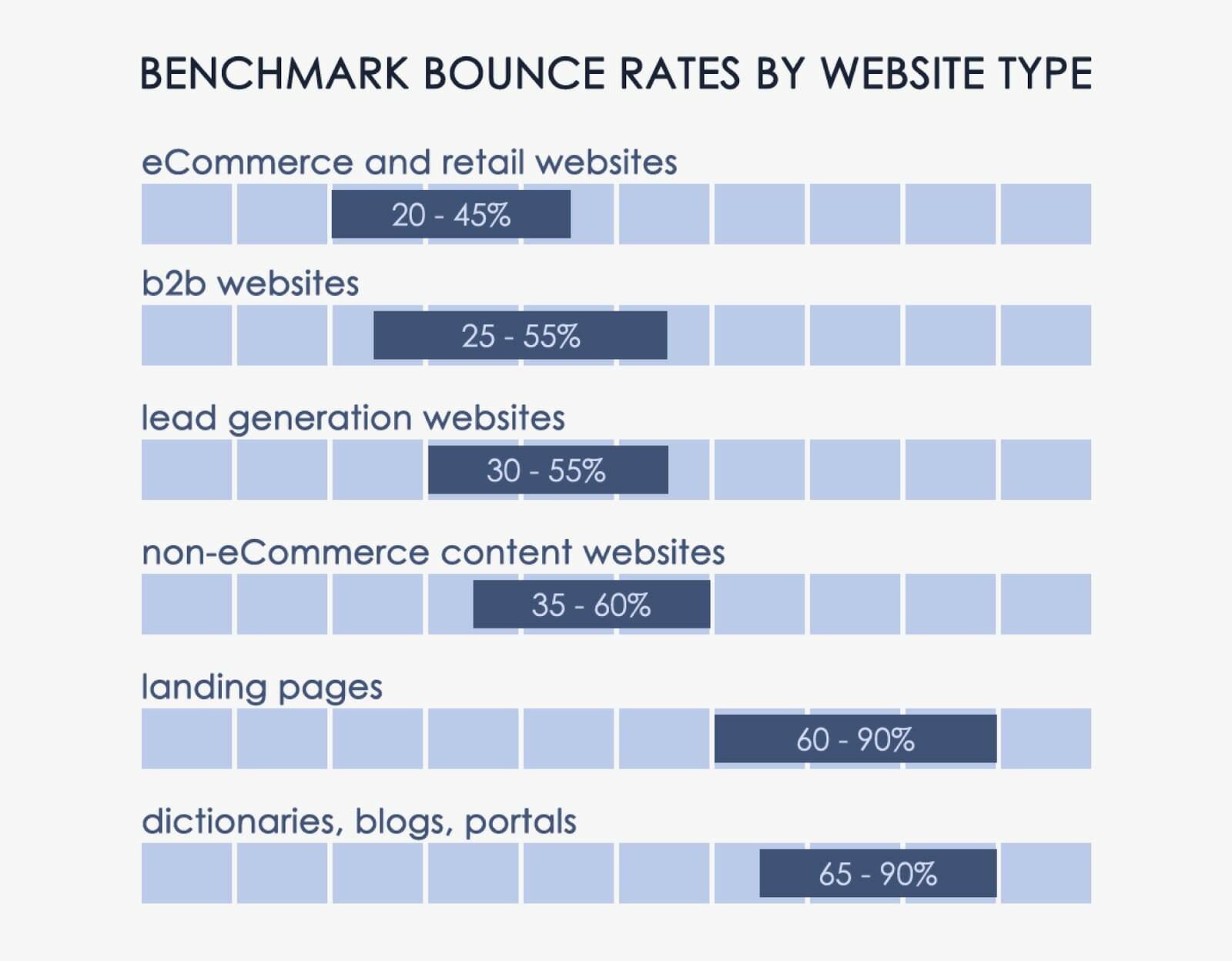 Provide customers 24X7 access to your company or customer service with chatbots.
Use chatbots to collect customer data efficiently. Monitor their behavior, including purchase history and preferences, and update your business accordingly.
A great example is eBay's ShopBot. This unique chatbot doubles as a virtual personal assistant to help buyers find the items they want. Enter some product details and ShopBot will ask relevant questions to find the right color, fit and style on eBay: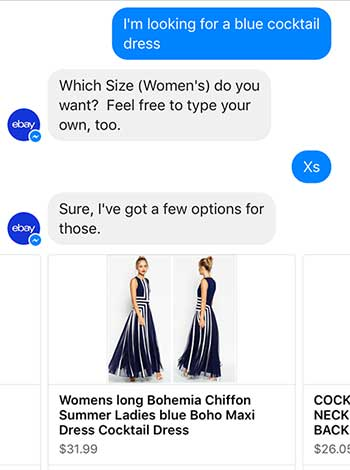 eBay found that their ShopBot received three times as many queries as eBay's regular inventory search function. In this way, chatbots can expand the limits of what e-commerce sites offer as a shopping experience, improving retention, engagement and sales.
Dive Deeper:
Trend #4: Voice Commerce Will Become Mainstream
Voice search is growing rapidly, thanks to the popularity of digital assistants.
As, China has 85.5 million smart speaker users, the U.S. has 74.2 million, and the UK has 12.6 million: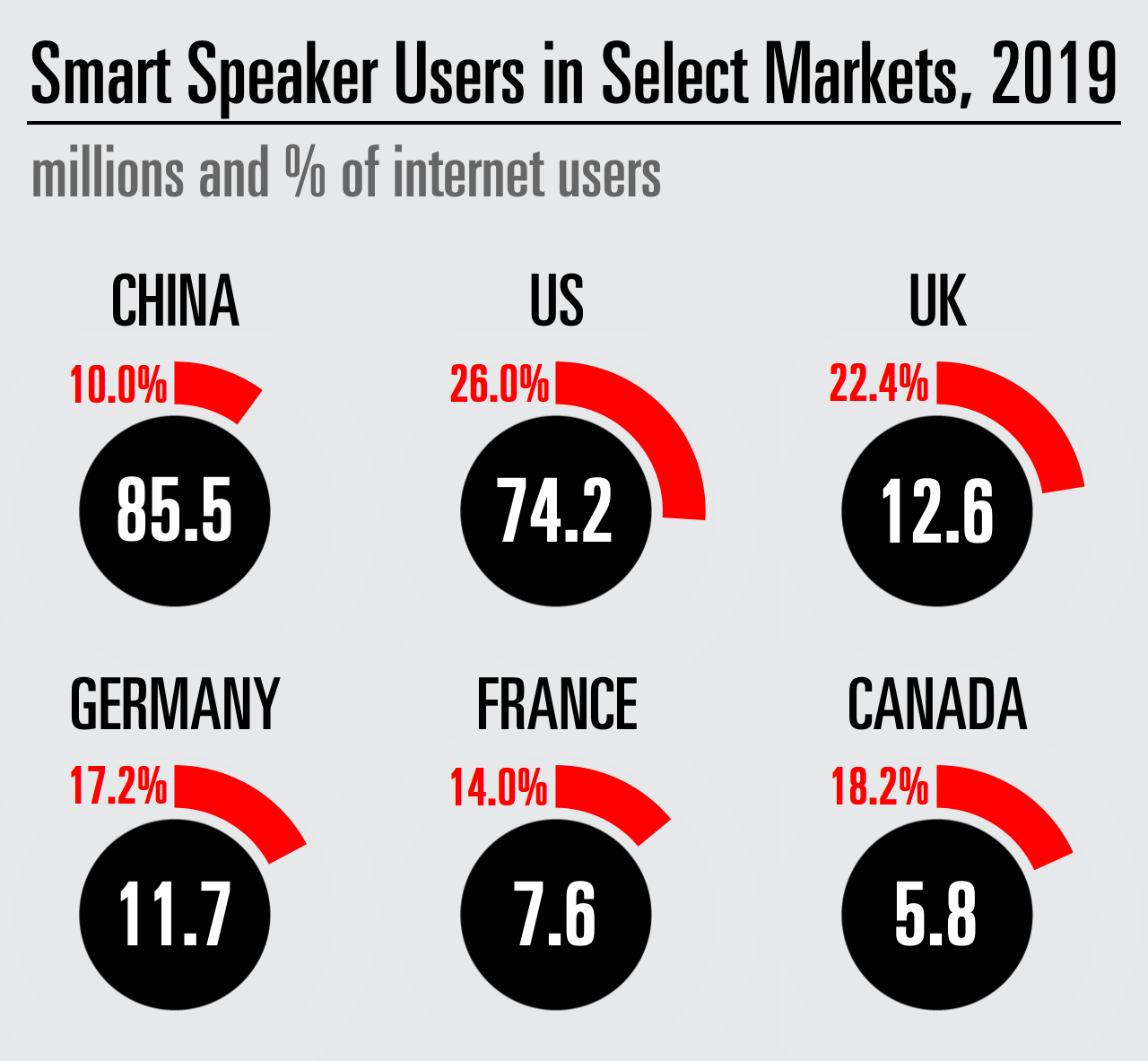 According to marketing analyst firm Canalys, there were about 100 million smart speakers in use last year, a number that is predicted to hit 225 million by 2020. In the U.S., 22% of smart speaker owners have already bought something through their devices: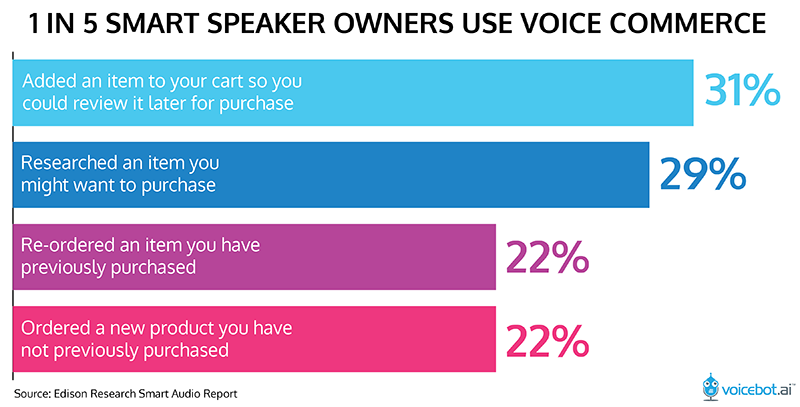 As  Shanhong Liu points out:
"Smart speaker devices such as Google Home and Amazon Echo pair with intelligent personal assistants such as Google Assistant and Alexa to carry out commands, search the web and control other smart devices."
In fact, 60% of virtual assistant owners have made voice command purchases. Because of the immense popularity of this technology, it's expected that by 2021 many brands will redesign their websites to support voice search features – and that voice search will increase digital commerce revenue by 30%.
Domino's Pizza launched a voice-activated pizza ordering assistant named Dom last year. Dom takes orders, helps users check their order status, and finds the best deals for customers: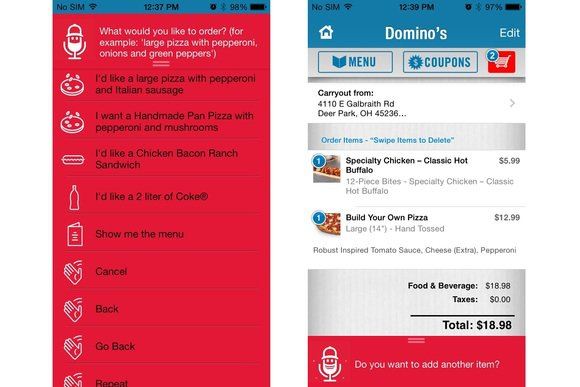 Developed by Speech recognition company Nuance, the technology integrates with the business' daily operations – and within three months of launch, 500,000 orders were placed.
Here's how your e-commerce store can benefit from voice commerce:
Treat your search strategy as a conversation. Design content with long-tail keywords as a searchable conversation with the customer.
Focus on expected queries and suitable keywords. Make use of trigger words for voice searches.
Do not limit yourself to exact words. Instead, consider the possible context of the customer's queries and offer valuable content that answers the question.
Blend multiple terminologies to create variable sets of keywords and phrases. They should naturally cover all the relevant data of questions.
Come up with catchy product descriptions that sound great when read aloud. Write naturally to align with regular speech patterns.
Optimize your e-commerce site for speed to appear in mobile SERPs for voice searches.
Invest in a smooth, AI-driven voice search function. This improves user experience and shows customers that you genuinely wish to provide the best on-site experience.
Dive Deeper:
Trend #5: Mobile Shopping and Mobile Payments Will Continue to Rise
About 2 billion people around the world use smartphones for Internet access. That is about six times the size of the U.S. population!
So it's not surprising that 60% of e-commerce traffic comes from mobile consumers. This indicates a huge impact that mobile devices have in the sale of online products. That's why platforms like Amazon Pay and PayPal are a boon for shoppers.
What contributes to the rise of mobile shopping and payments? Here are a few points:
Better customer experience. Most e-commerce websites have responsive designs that adapt to the needs of mobile users. These devices provide superior navigation that are attractive to shoppers.
Use mobile payments. Registration data gets stored on the mobile device itself, which helps to reduce wait times.
Make good use of the space. Feature important elements on the upper section of your home page and ensure that the search window is visible.
Make the call-to-action big enough to easily tap on with your finger and bright to attract the attention of online shoppers.
Tailor the online experience to your target audience so they have a reason to keep coming back.
Remove all distractions from the checkout process so that customers near the "finish line" can easily cross it.
Provide access to different digital wallets while keeping everything on your website secure.
Mobile shopping has a bright future: 66% of Americans believe that mobile payments will replace card payments and 61% claim the same for cash. And that's not all; mobile will dominate online sales by 2021, driving 54% of sales.
As always, Amazon is at the forefront of mobile shopping and payments. The online retail giant prides itself on a customer-focused mobile experience: The app combines the best that mobile platforms have to offer, including intuitive navigation, data-driven recommendations and easy, one-click payments: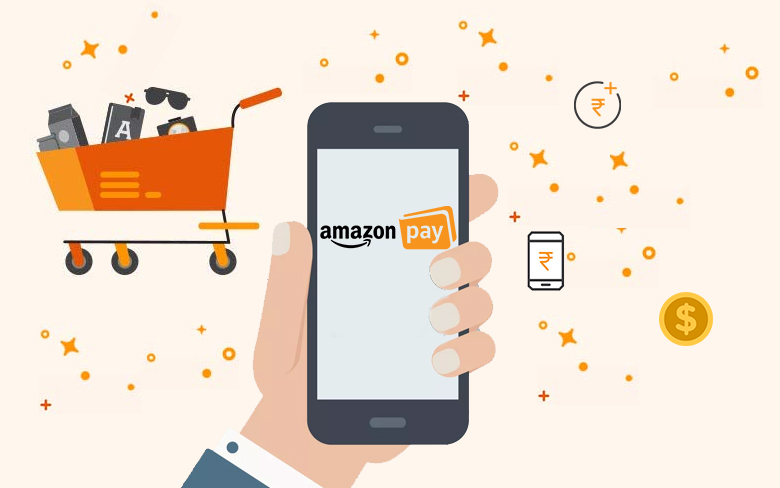 The brand also personalizes offerings by implementing the Amazon Prime loyalty program, which solved one of the major pain points of online shoppers: delivery. With Prime, buyers get free two-day shipping without a minimum purchase.
Amazon even launched Amazon Pay, its own online payment processing service. This eases checkout friction. Merchants also get easy access to millions of Prime members with this service., which is why they have added Amazon Pay as a payment vehicle to increase sales.
Concluding Remarks
The world of e-commerce is constantly changing, so e-tailers and online vendors must evolve, too. As the purchasing power of consumers increases worldwide and social media blurs the line between content and commerce, businesses must identify future e-commerce trends to stay ahead of the curve. As technology and infrastructure progress further, the future of e-commerce glows brighter than ever and beyond.