Having a brand ambassador for your business is an effective marketing strategy that improves your brand image and increases trust.
Brand advocates help humanize your company and provide positive word-of-mouth publicity to help your business connect with your prospects.
This article will tell you everything you need to know about what a brand ambassador is and what benefits they bring to a business. I'll also show you how ti select the best brand influencer for your business.
Let's begin!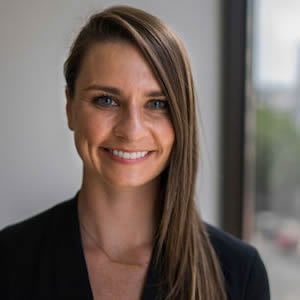 Jacqueline Foster
Demand Generation Marketing, Lever.co
We can count on them to bring new ideas to the table consistently
What Is a Brand Ambassador?
A brand ambassador is someone who is hired by a business to promote their products and services. The ambassador shares their positive experiences with the brand, which helps to attract new customers and retain existing ones.
Some famous brand influencers and the company that hired them are:
Michael Jordan – Nike
Beyonce – Pepsi
Jennifer Aniston – Emirates Airlines
David Beckham – H&M
Taylor Swift – Diet Coke
Lionel Messi – Adidas
Ellen DeGeneres – CoverGirl
Serena Williams – Nike
Priyanka Chopra – Pantene
What Is a Brand Ambassador Program?
A brand ambassador generates awareness among people about your products and services. They follow some agreed-upon strategies to achieve the business' goals and increase sales.
Brand ambassador programs are marketing campaigns to help you spread your company's identity in the market using words and actions. They are engaging and beneficial to build long-term relations with your customers.
Key Characteristics of an Effective Brand Ambassador
These are some of the top qualities that a corporate brand ambassador should possess:
Excellent social media presence: Brand ambassadors should have a well-established presence on social media platforms.
High-level professionalism: They should have a high work ethic and standard that matches your brand's image.
Outstanding leadership qualities: They should have confidence, positivity and leadership traits to draw your audience's attention.
Excellent marketing skills: Brand advocates should remain aware of the latest marketing trends and should have an understanding of essential marketing principles.
Passionate about building successful customer relationships: Networking and building connections is crucial to business success. Your chosen ambassador should be passionate about developing unique and memorable experiences between your brand and your (or potential) customers.
Dynamic dealings with people: Global brand ambassadors should be professional speakers who can engage in healthy discussions around the brand's products and services.
Types of Brand Ambassadors
Brand ambassadors can be broadly categorized into four types, as given below:
Celebrities: With millions of followers, it's easy for celebrities to attract the attention of not just their fans but others who see their ads, and boost sales. For example, Our Place, a brand selling pots and pans, partnered with American singer Selena Gomez, an avid chef. She promoted the brand with cooking videos and shared what she loves about cooking. The post attracted over 4K likes on Instagram:
Influencers: An influencer is an online opinion leader in a particular sector with a strong presence on social media. With their social following, they can be great brand advocates. Elyse Wellness is an excellent example of a micro-influencer and health coach with more than 15K followers on Instagram. She collaborated with Limitless, a beverage brand, and promoted it among her followers. Just one post was able to gather more than 600 likes: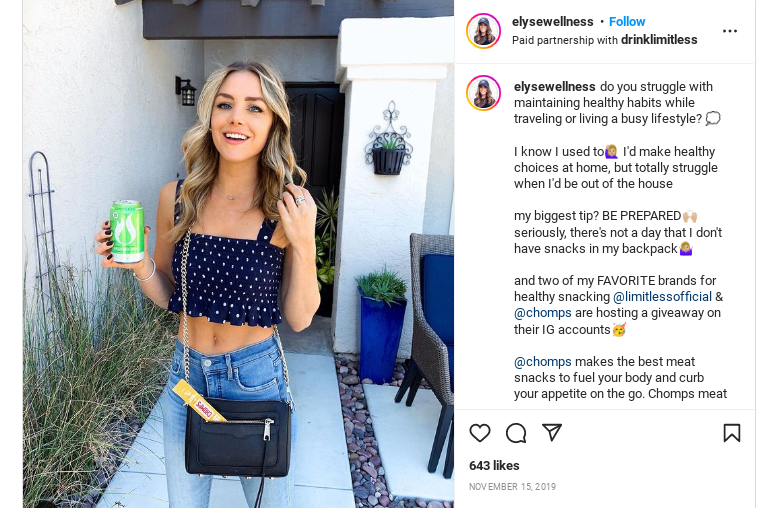 Employees: Your employees can also be a reliable resource to promote your brand and drive sales. A great example of using employees as brand ambassadors is Google. In this Instagram post, Google uses the picture of Jenny Sun, the Director of Customer Engineering based in Hong Kong, as a brand ambassador to motivate other employees: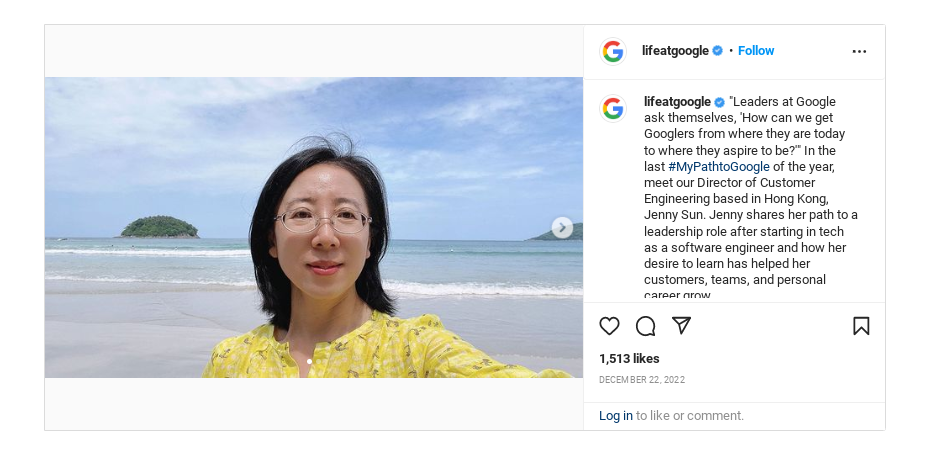 Google has excellent employee-generated content to attract potential job seekers. Their Instagram page @lifeatgoogle is designated to the experiences and stories of their employees.
Customers: A consumer offers an honest and unscripted experience for those using the same product or service. They have smaller circles but are influential with their approach and more trustworthy. They decide to promote your brand with a genuine interest

 –

often, excitement

 –

in the product that you can't always get elsewhere. Coffee drinker Runa shared a post representing a delicious drink from Starbucks: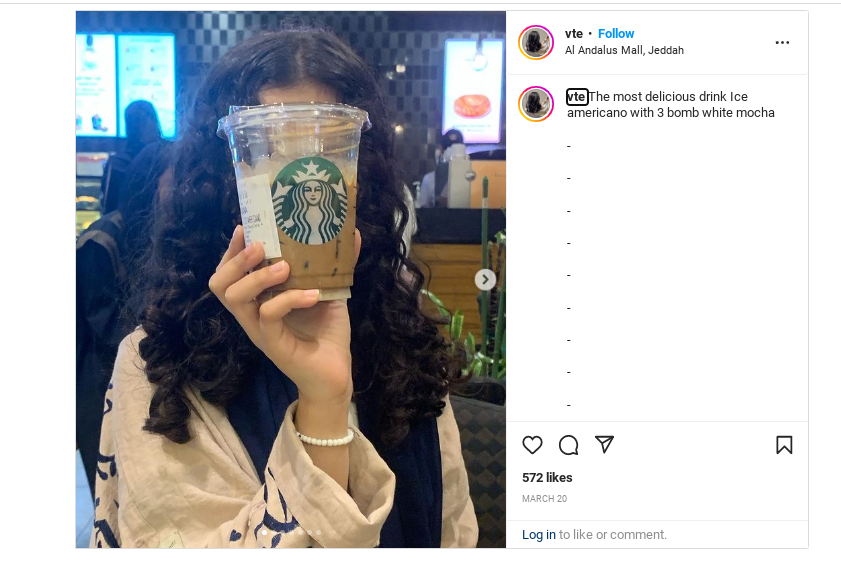 Dive Deeper: Influencer Marketing Strategy: The Ultimate Guide to Growing Your Business with Brand Partnerships
What Can a Brand Ambassador Do?
Besides marketing your products and services to your target market, a brand ambassador can do much more. These are some of the additional responsibilities of an ambassador:
Understand the company's values, vision, mission and goals to align with them.
Create relevant, fresh content for viewers to understand the product, its uses and its benefits.
Represent the company or product in offline events, product launches, etc.
Offer potential customers with product reviews to help them in making a decision.
Boost and maintain a positive image of the company among their followers.
Share recommendations and discuss the products with your customers to build brand awareness.
Help you strengthen your recruitment and marketing team through their extended support via customer service.
Solve practical problems, such as customers leaving bad reviews, to help build or maintain the overall social image of the brand.
Expand outreach by bridging the gap between customers and the company.
Benefits of Having a Brand Ambassador
There are several ways in which brand ambassadors can positively impact your sales and business growth. Here are some of the benefits of having an ambassador for your company:
1) Increase Brand Awareness and Visibility
The right ambassadors can leverage their online and offline presence to promote your brand and create buzz around your products or services.
They can share their experiences with your business, post pictures of themselves using your products, like Serena Williams, and encourage their followers to try them out: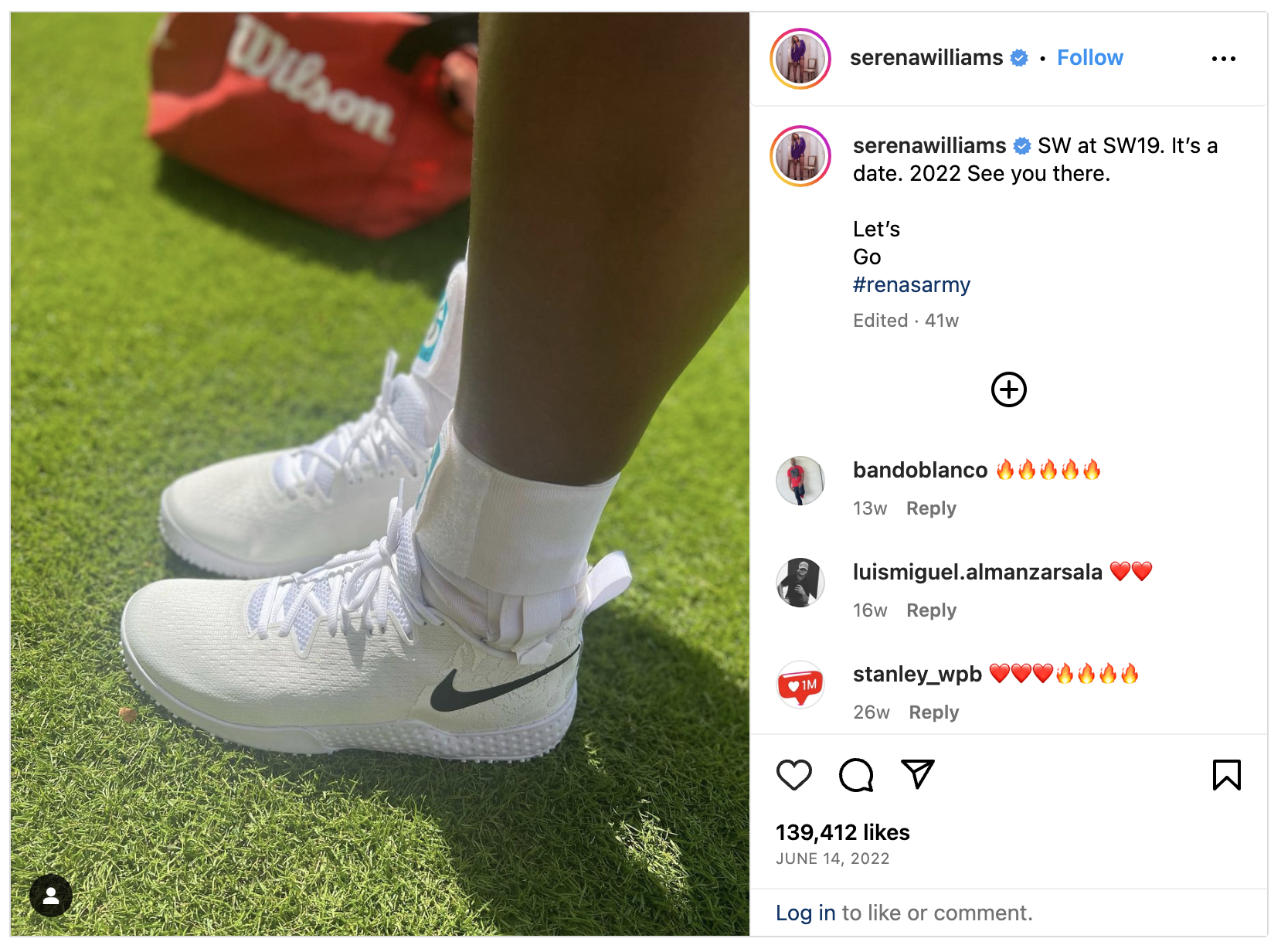 Collaborating with influencers can create a ripple effect, making more people aware of the brand.
2) Build Brand Loyalty and Trust
An ambassador with a good engagement score can help you build trust in your brand. Customers look up to credible sources of information, and someone with a high engagement rate and online visibility is considered trustworthy.
Brand ambassadors help create a personal connection with customers by sharing their experiences and enthusiasm for the brand. Personal stories can help potential prospects feel more connected to your product or business and develop a sense of loyalty.
Additionally, brand ambassador programs can help promote your brand by referring customers with promo codes, gaining loyalty and value for your brand.
Dive Deeper: 6 Referral Marketing Strategies to Boost Sales in 2023
3) Boost Sales and Revenue
Brand ambassadors have a solid online presence, and you can use their existing fan base to reach your target audience faster which, in turn, boosts sales and revenue.
Business influencers can promote your brand's products or services through word-of-mouth promotion via various channels, such as social media, blog posts, and product reviews. This kind of exposure can help create a positive image of your business, leading to increased sales.
Dive Deeper: Word-of-Mouth Marketing — What Is It and How Do You Do It?
4) Increase Engagement on Social Media
Brand ambassadors can create authentic content that aligns with your brand values on their social media platforms.
They can run contests and giveaways on their social channels, encouraging followers to engage with the brand by liking, commenting and sharing posts, like this one from @mobkitchen: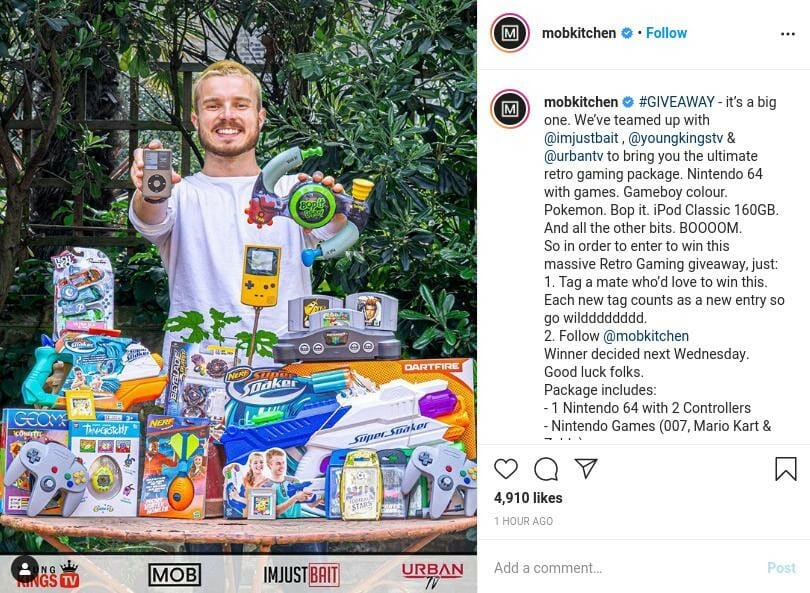 With the help of ambassador-led social media marketing campaigns, you can drive exceptional reach and engagement for your brand.
5) Positive Impact on Brand Reputation
While sharing positive and relevant information – and real-world use – about the products and services of the brand with potential customers, ambassadors create a positive brand reputation online.
Consumers may be more likely to trust and believe in a brand when it is promoted by someone they admire rather from the marketing team of the business.
Dive Deeper: 7 Smart Reasons to Include User-Generated Content (UGC) in Your Marketing Strategy
How to Choose a Brand Ambassador
There are many factors on which you can access the profile of your ambassador to choose the one that fits your business. Here are some of the significant points to keep in mind while looking for a brand ambassador:
1) Build a Persona
Developing a persona for an ideal brand ambassador will help you understand what you are looking for in your ambassador.
To create this ideal persona, ask yourself what is the specific area of your business, what kind of products you want to market, what target market you are aiming for, whether certain candidates align with your brand values, and what qualities qualify an ambassador to work with you.
Here is an example of a brand ambassador persona for the candy company M&M's. With her tongue-in-cheek humor, comedian Maya Rudolph has been an entertaining ambassador for the company. She is a perfect match with her cool, laid-back and fun personality to portray the company's image.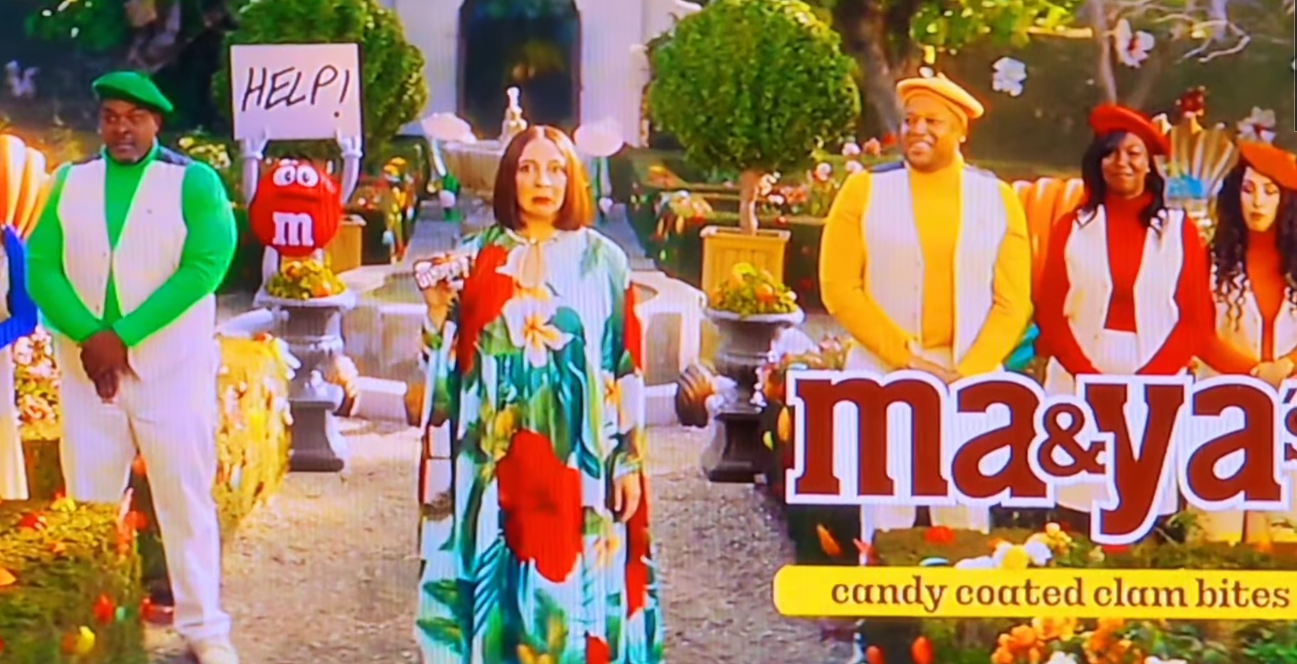 Dive Deeper: The Ultimate Guide to Developing Buyer Personas (with Templates!)
2) Check Reputation
Building a positive image for your brand means that your ambassador must have a similar positive image already.
Analyze the potential ambassador's reputation on social media platforms to ensure that they have a good reputation and character traits that align with your values. Some general traits include enthusiasm, people skills, trustworthiness, knowledge and professionalism.
For example, if you are a vegan company and the ambassador also supports veganism, this match leads to a better reputation for your brand in front of their followers.
Tools like Peer Reach and PeerIndex can help you check the online reputation index:
3) Review Audience Base
If your chosen ambassadors have large audiences relevant to your business, you can leverage their followers as potential customers. With the help of positive word-of-mouth from influencers, you can attract more customers to your business.
For example, the Instagram account of Priyanka Chopra Jonas, who is the global ambassador of Bvlgari, already showcases an identity that resonates with the brand image. She also has an audience base that is relevant for the company to enhance its reach and sell its products.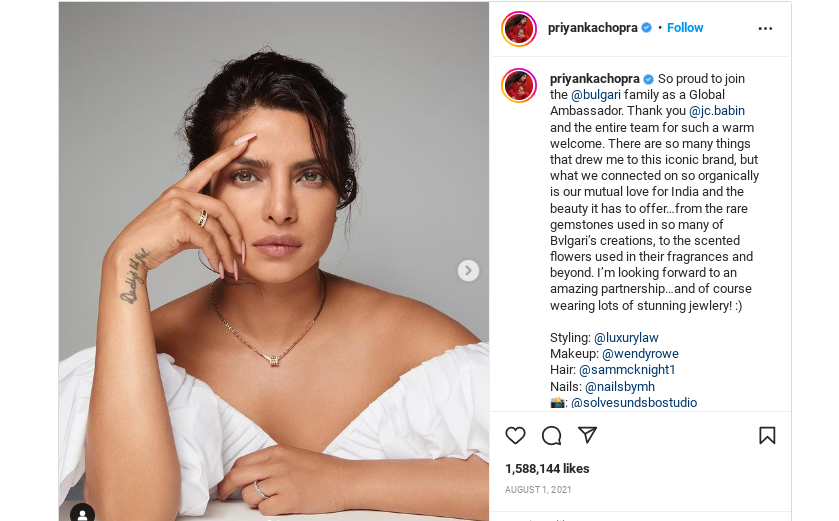 Where to Find Brand Ambassadors
Depending on your target audience and ambassador traits, you can use a combination of platforms to find your ideal influencer.
1) For Celebrities
You can search for the right celebrity for your brand on social media platforms using relevant keywords or email them at their official email address via their publicist, manager or agent. Figure out your budget first and be prepared to offer a deal that the particular level of celebrity will likely accept.
You can also use platforms like Jay Siegan Presents (JSP), Celewish and The Celebrity Source to find a celebrity ambassador for your events: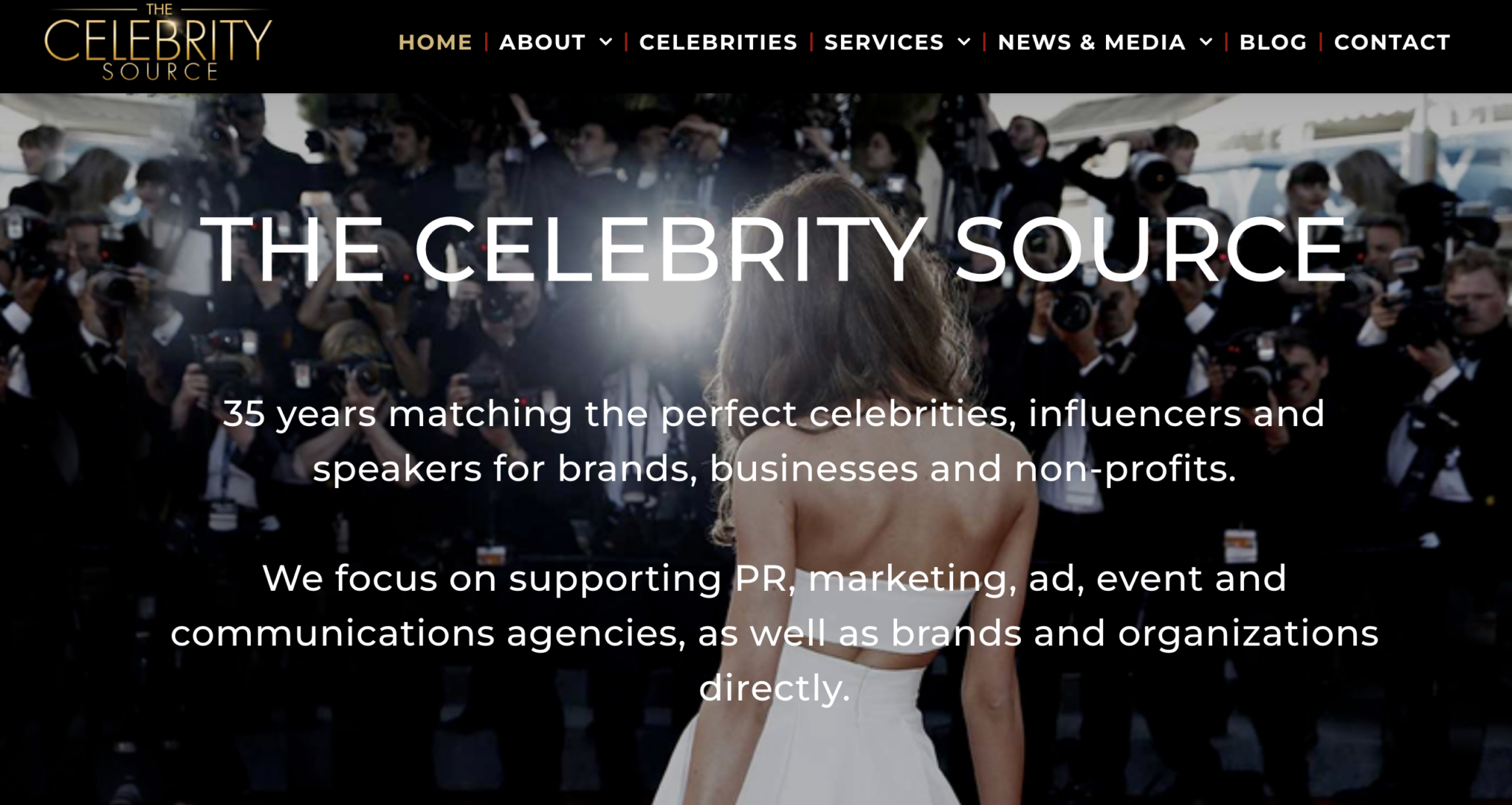 2) For Influencers
You can reach out to influencers through emails and social media messaging.
Hype Auditor, Phyllo and Story Clash are some of the best influencer management platforms which help discover leading social media influencers. You can apply filters to search for an influencer that fits your industry.
And be sure to check out this detailed influencer marketing strategy guide for more info, like: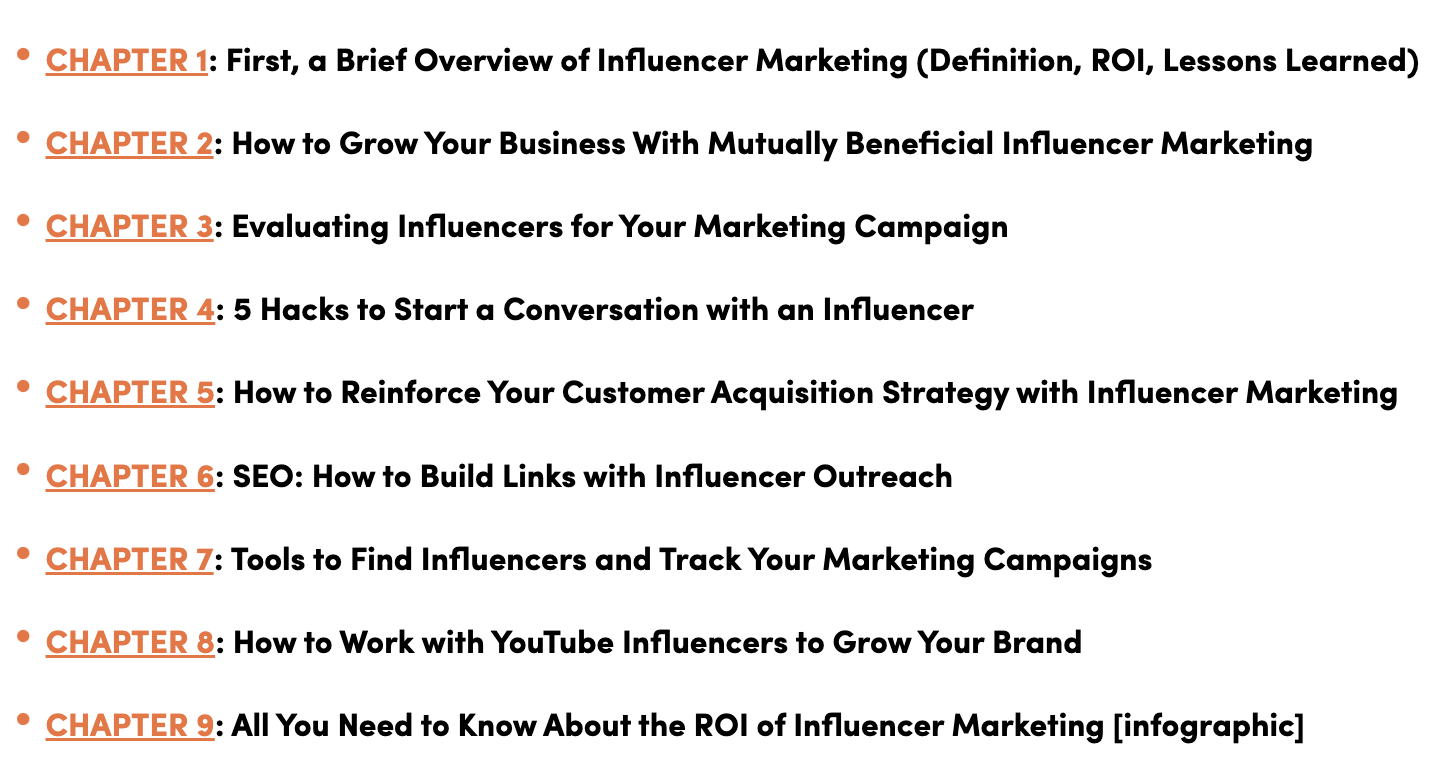 3) For Employees
Don't overlook the people who already work for you! Making use of your employees as brand ambassadors has great benefits: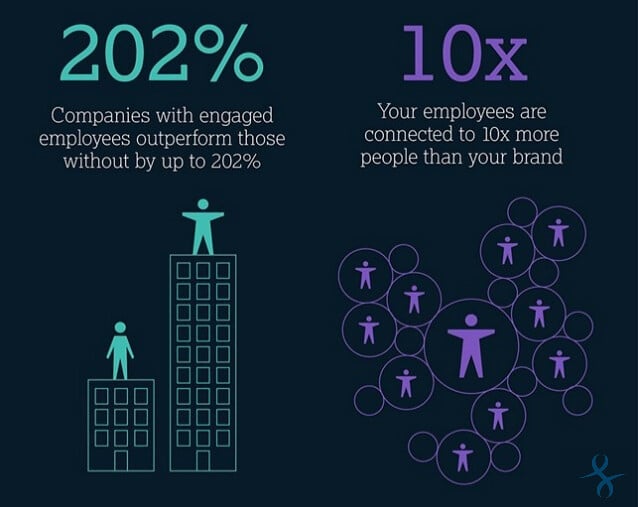 You can create an employee ambassador program that includes the voluntary participation of your employees with clear guidelines.
Create an internal marketing strategy that allows your employees to be your company's face and voice. Show them how much you value them and be sure to reward their efforts. You should also provide them with basic training to improve their marketing skills.
4) For Customers
Your customers are a true representative of your brand, and can make great ambassadors. You can capitalize on your meaningful product comments or reviews. But don't just wait for them to write you a review, reach out and ask them in a way that makes it very simple for them to do so:
Social media is also a great way to look for a potential brand ambassador. You can create a program to reach a wider audience, and you might find some of your fans who could be a great fit.
Related Content: 10-Step Checklist to Digital Branding for SMBs
Strategies to Set Up a Brand Ambassador Marketing Program
Below are some of the top ways to build an excellent brand ambassador marketing strategy for your business.
Set Your Objectives for the Program
Setting objectives for your brand advocate program will help you map your path to progress. If you know what you want to achieve, it becomes easier for you to figure out the path to completion.
Some outcomes you may want are:
Grow your audience
Create buzz about your new product
Generate leads and drive sales
Besides defining your goals for the program, also ensure that they are measurable so that you can identify the KPIs and measure the ROIs easily.
Prepare the Best Plan
You should prepare the best brand ambassador marketing plan for your business depending on your resources, budget, goals and objectives. Consider what you are looking at now and what you want to achieve. This will help you scale your business at the right pace.
To help create a plan, ask yourself questions like:
What platforms and tools am I going to use?
What budget do I have for the program?
How many ambassadors do I need?
Which activities do I want my ambassador to perform?
How am I going to evaluate the progress?
For example, if you have an athletic or fitness brand, you can create a program where young ambassadors participate in a marathon, generating awareness about the brand and its products.
Create a List of Brand Ambassadors
Identify the top potential brand ambassadors you want to work with to promote your brand. You can use social media platforms, product review sites, Facebook groups, Quora, and LinkedIn to find suitable brand advocates.
Once you have a list, review it to find the best ambassador that you can go ahead with. Here are some questions you can ask to help you make up your mind:
Is their experience relevant to your business?
What are their characteristics and their market image?
How much experience do they have?
Is their tone of promotion in alignment with your brand's tone of voice?
Do their audience demographics match your buyer persona?
What is their rate?
Their content should have a human touch and be authentic to connect with their audience on a greater level. Identify an ambassador who has all the qualities you are looking for.
Decide on a Remuneration Plan
Your plan should cover what benefits your brand ambassador will receive from their work. You need a plan to make your brand ambassador feel valued and part of the community.
The kind of remuneration depends on what you can offer. Here is a list of what can be offered:
Free products
Gift vouchers
Additional incentives
Public shoutouts
Recognition
Referral Rewards
Access to new launches
Money
Enhance Communications
In order to empower your ambassador to feel motivated to work with you, communicate regularly with them and let them know that you are always there if they have questions.
Use a communication channel like Gmail, any social media platform like Twitter or Facebook, or a private messaging system like Slack or WhatsApp to enhance your brand relationship with the ambassador.
To manage expectations around communications, you might want to:
Set up a minimum number of conversions each month.
Have a monthly review highlighting top posts or events.
Chat with them to create a budget and run programs.
Collaborate with them for feedback, suggestions, ideas, and ways forward.
Engage them in your company's vision and mission.
Share feedback to modify and enhance your plans.
Analyze Your Strategies
Ensure that you have all the analytical tools and tracking codes from the start. Perform a thorough analysis to find the loopholes in your marketing program, as it will help you optimize your current strategy.
Here are some of the things you may want to track and analyze:
How many times has your ambassador posted in the month?
What is the reach and engagement of each post?
How many potential leads were generated?
What are the content types used, and what is their impact?
Which campaigns and channels have generated the most sales?
Use an Ambassador Marketing Platform
Ambassador marketing software can help you interact with multiple ambassadors.
SocialLadder, Brandbassador and Awario are some great ambassador marketing platforms that can help you manage relationships, drive sales, gamify engagement, create content, and track and analyze your returns: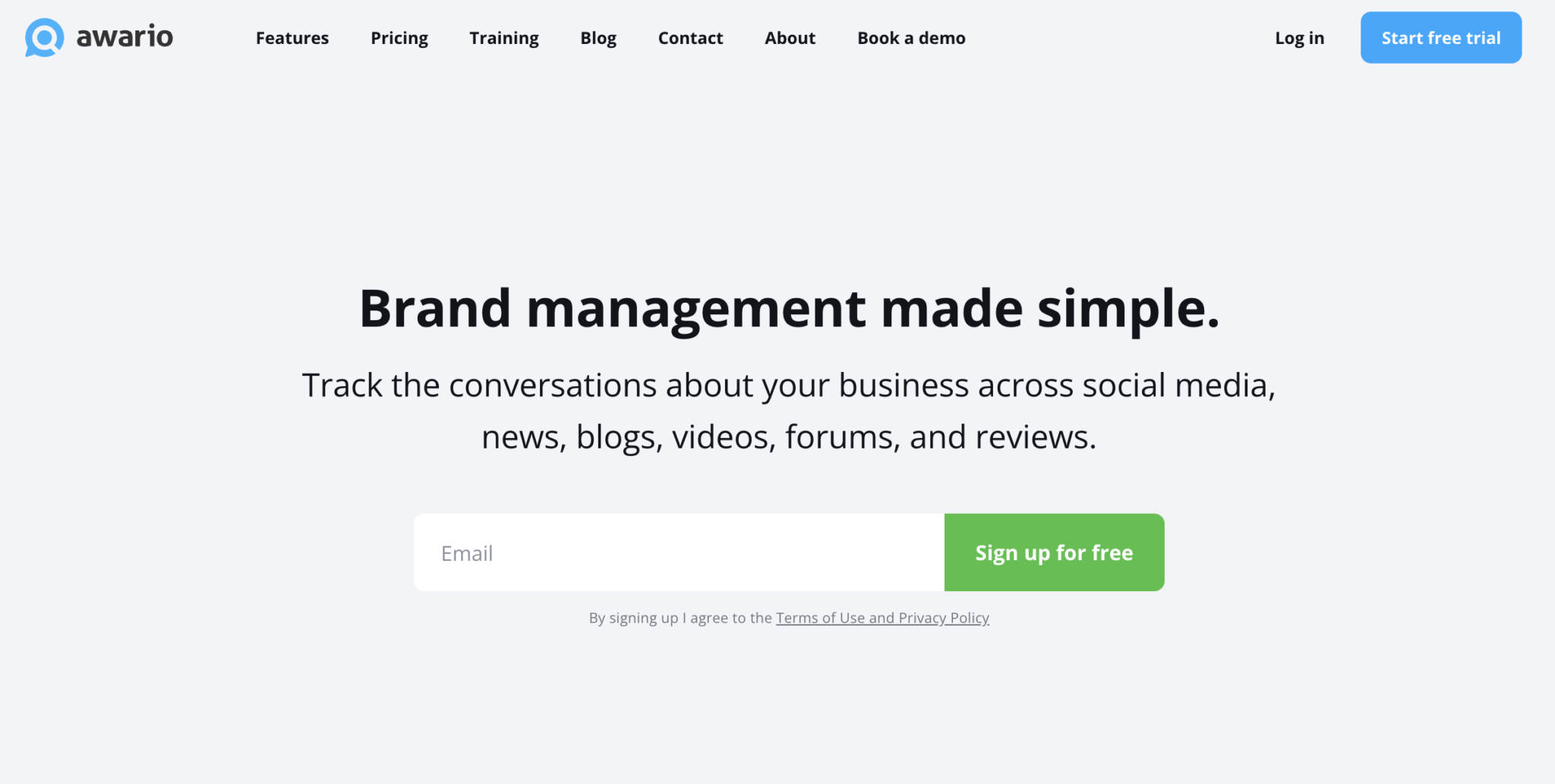 Related Content: The Complete Guide to Brand Building (Must-Read for Digital Marketers)
Things to Consider Before Starting a Brand Ambassador Program
Below are the key points to look for while onboarding a brand ambassador:
Share your products with the influencer to help them develop a genuine interest in your brand.
Ensure that they genuinely trust the products and are enthusiastic about showcasing them.
Confirm that your ambassador has the ability to create good relationships with your target market.
Create policies and guidelines to keep everything documented.
Remain clear about what you will provide and what you expect in return from your program members.
The final goal is to increase sales and build long-term customer relationships.
Here are the top key performance indicators (KPIs) to track while you are creating your brand ambassador program:
Increase in views and engagement
Growth in follower count
Increase in traffic from referrals
Rise in branded Google searches
Increase in conversions (subscriptions, downloads or signups)
Conclusion
An ideal brand ambassador should be able to market your products confidently and ensure that the correct information is delivered to the potential customers.
Now that you are aware of the benefits of having a brand ambassador, it's time to start laying out a plan to find one. This guide will help you discover an ideal brand ambassador that fits your business profile and helps you build your social presence.