Ultimate Guide to Millennial Content Marketing
If you are wondering what all the fuss is about when it comes to the Millennial generation, the answer can be summed up with a single statistic:
Millennials are comprised of 75 million individuals in the U.S. alone with a purchasing power of over $600 billion.
Millennials are currently the generation that most affects the way brands convey their messages.
Click To Tweet
Businesses who are not focusing their strategies on the needs of the Millennial generation must keep up or suffer severe setbacks.
Though this sounds simple enough, it can be complicated unless you figure out what makes them tick and then integrate that knowledge into your marketing communication strategies.
Why Traditional Content Marketing Methods Fail with Millennials
If you try to establish brand loyalty among Millennials with conventional marketing techniques, you are bound to fail miserably.
While traditional marketing approaches have favored cheap psychological trickery and constant brand bombardment to affect the purchasing decisions of the people, Millennials are not so easily brought onboard. That's because 99% of this group (ninety-nine percent!) claim that traditional ads have no influence on their purchasing behavior.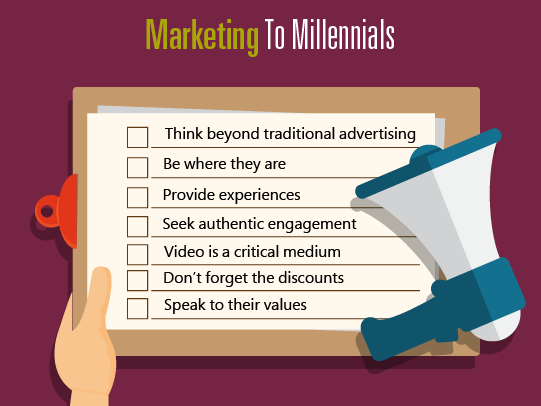 This might have something to do with the fact that this generation watches less television and pays less attention to advertisements than previous generations. But tapping into this huge buying potential is difficult when your brand is unable to make itself known to the audience, right? So what do you do?
Well, there are other ways to reach the Millennial demographic. These are people who enjoy events, music, friends and prefer connections with a personal touch. They are partial to two-way communication and authenticity, and social responsibility plays well with this crowd.
Some other vital concepts in the field of Millennial marketing include the value systems of this generation, such as a predisposition to lend support to environmental and social causes that touch them deeply, and altruism.
Thus, most Millennials will lend their support as well as purchase services and products from companies that have a socially and environmentally responsible message.
Related Content: The Marketer's Guide to Content Marketing
Decide Upon the Right Tactics and Strategy
Devise a two-pronged Millennial strategy along with a solid sub-culture marketing strategy if you want your organization to reach its goals. Try to establish a strong brand identity by properly defining your product, personality, and values that match your target audience persona (authentically, of course).
According to Nielsen, 42% of the Millennial community is multicultural, so addressing the various ethnic subcultures is a good way for your business to effectively connect with the consumer base.
Once you've built up a sizable brand identity, you can use it to target the various subcultures through their individual areas of interests. The best options include:
Events
Radio
Logo design
Television
Digital and social media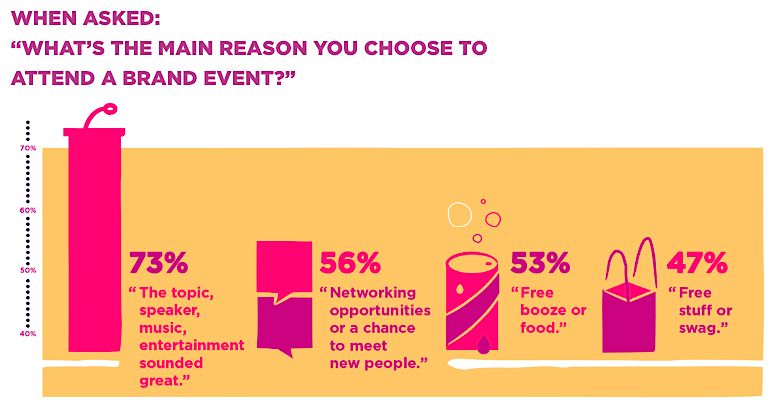 Consider elements like pricing, service or product content options if you want to market properly to millennials.
The right marketing mix can hugely influence the Millennial buyer and, depending upon the leveraging of brand assets, develop a sense of brand loyalty.
Focus on the list given below, which is in no way exhaustive, to gain a central representation of important marketing elements for tactical and strategic development for the Millennial market.
Focus on Market Research
Direct your attention to market research like many other successful brands and you will find it easier to reach the Millennial market. Because this generation spends so much time online, you can easily mine the research data to figure out actionable ways of launching your product or shaping your brand in a way that falls in line with the expectations of your target demographic.
Your traditional ways of marketing to consumers will not work on the Millennial generation.
Click To Tweet
This digital generation is "redefining what people expect from brands on- and off-line, what adulthood looks like, how adults spend their money (prioritizing experiences vs things), what a typical career looks like, and so on."
This resource from Sprinklr includes six places to start when it comes to Millennial-specific market research, such as "The Millennial Mindset," "Millennials' Favorite Brands," and "Millennial Shoppers: What Do They Really Want?"
No wonder market research was the major driving force behind several new products like Airbnb and Pinterest. These disruptive companies were founded by Millennials owing to popular demand. It affected product development as well as corresponding tactics and marketing strategy.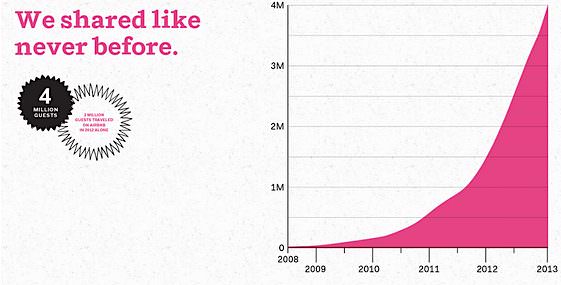 If you want success, you will need to approach the Millennial audience from a Millennial point of view.
Event Marketing
Millennials have a different value system as well as a separate set of expectations for almost everything. So you need to stay one step ahead by developing programs that move or connect the Millennial audience. And one way to do so is with event marketing.
What is event marketing? According to Marketo:
"Event marketing describes the process of developing a themed exhibit, display, or presentation to promote a product, service, cause, or organization leveraging in-person engagement. Events can occur online or offline, and can be participated in, hosted, or sponsored. The promotion of these activities can occur through various inbound and outbound marketing techniques."
Event marketing provides customers with the opportunity to build a relationship with your brand.
Click To Tweet
And this is something the Millennial buyers clearly want, based on the statistic that 82% of them participated in or attended different live experiences across the past year, such as festivals, concerts, parties, races, and performing arts. 
And according to an Eventbrite survey, 72% of them wanted to increase their spending on events that offer real-life experiences. This sort of experiential nature in Millennials provides a growing opportunity for companies to leverage experiences for value adds to the consumer as well as the brand. 
User-Generated Content
Millennials love it when a brand interacts with them on a personal level. Do this by means of consumer-generated content.
Encourage the group to share or take photos of themselves to participate in a contest or swap some stories. This helps add a personal touch, and benefits both your brand as well as the fans.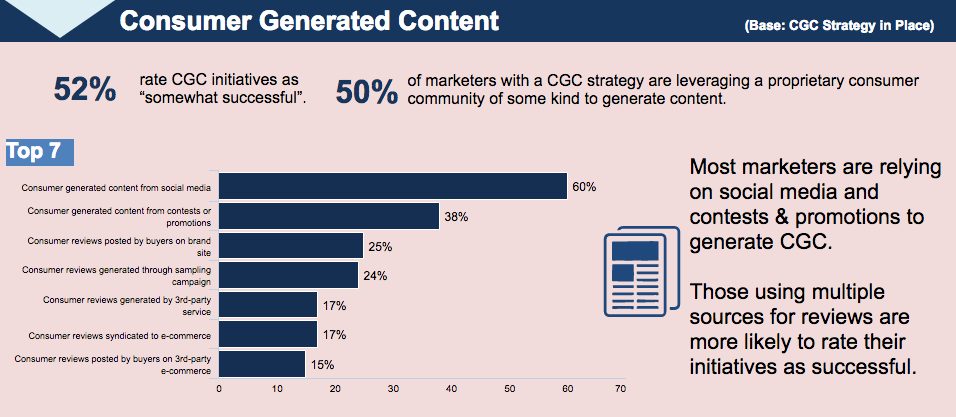 Always remember the rule of thumb – when you give something, you increase the chances of getting something in return. So provide some incentives for your customers so that they feel motivated to offer customer reviews. This incentive could be anything from a free service to cash to recognition to free or discounted merchandise.
Keep in mind, however, that bribing someone to write a positive review is not the aim.
Related Content: The Big List of Free (or Almost Free) Resources, Tools & Apps Every Content Marketer Needs
Rewards and Loyalty Programs
Become more active by providing reward and loyalty programs: 77% of Millennials participate in these programs in some way. Moreover, 78% of Millennials stated that they were more inclined to purchase from a brand with a reward campaign than one without any.
Remember that when it comes to marketing via word-of-mouth and social proof, this generation makes the most likely brand ambassadors. They share feedback regarding a particular service or product both offline and online.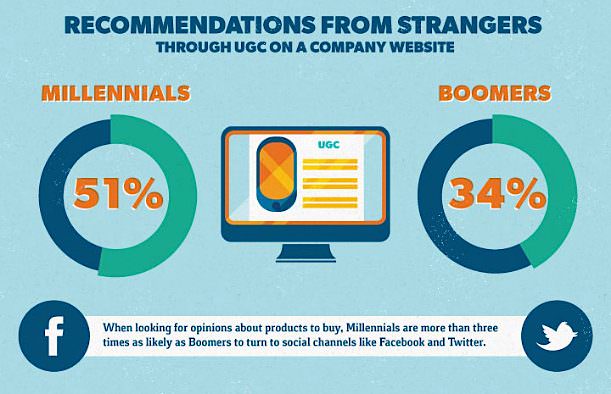 Utilize Social Media for Personal Engagement
Pay attention to social media and Internet marketing when you're trying to capture the attention of the Millennial consumers.
Harness the power of social media to engage the target audience and gain their brand awareness, promote trial usage, repeat this usage, and then ultimately, achieve brand loyalty.
It is critical for brands to focus on where this generation spends the majority of its time, and that would be the common social networking platforms such as Facebook, Twitter, Snapchat, and Instagram.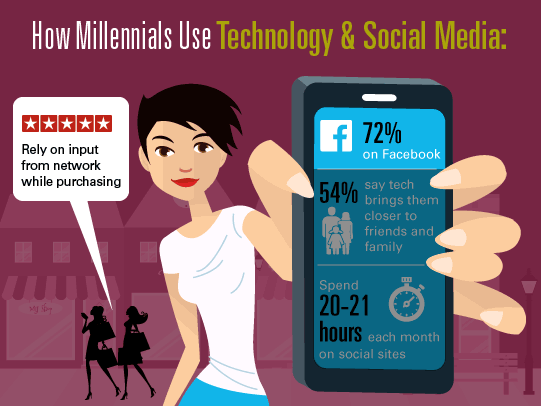 Keep track of all social media trends and consumption patterns because Millennials are quick adopters.
Ensure that you are tracking the correct social media metrics. This will allow you to better communicate with the Millennials and understand their preferences, values, motivations and behavior.
Engage them on a personal level through the use of authenticity, visuals, and storytelling.
Millennials like it when they are able to connect with brands who pay attention to their thoughts and feedback. Have a conversation about their experiences and concerns on social platforms.
Be available 24/7 because this is a generation who sleeps with their smartphones.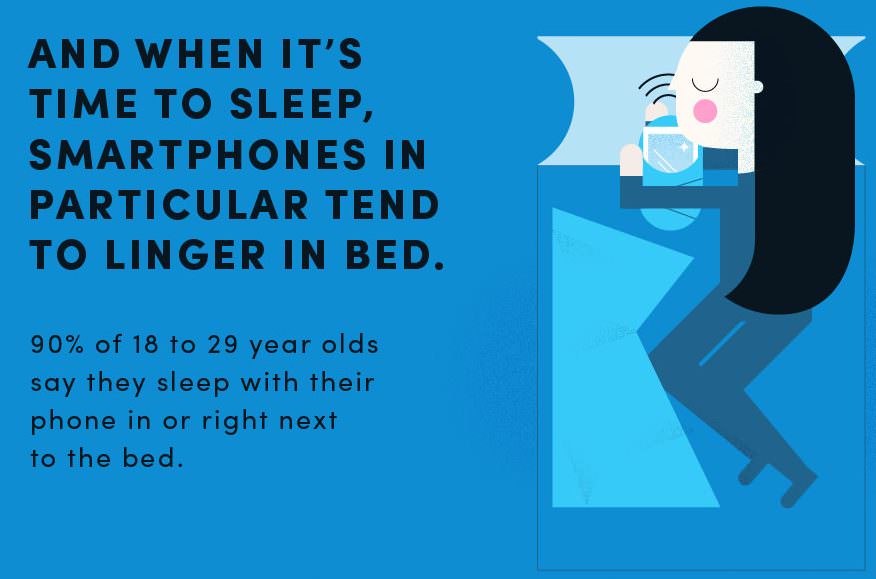 Related Content: 26 Social Media Prompts that Get the Conversation Going
Do Away with the Hard Sales Pitch
Never try to initiate aggressive selling tactics, because that will only hurt your brand when dealing with Millennials. Instead, concentrate on providing high-value content that appeals to their interests and nature.
Set your goal to leading them to a solution organically:
First, focus on the issue that you know they are struggling with or the subject you know they value – and having done your market research, you will understand this.
Show off your knowledge and provide valuable insider insights that not only educate but cement your position as an expert in the industry.
Set up a clear call to action within your expert content for readers to find the solution (but subtly!).
Social Amplification
Vital to the success of your Millennial marketing efforts is your understanding of the fact that they are very distrustful of mass brand advertisements. Whenever you reach out to them directly or indirectly, your brand should always be authentic and transparent.
Instruct your marketers to redirect their efforts towards alternate ways – ones that will earn the loyalty of the community. Facebook live is a great way to engage with your followers, and you can provide behind-the-scenes video, teach them something, and take questions.
Millennials are influenced easily by peer groups, family members, and friends, so their recommendations matter a lot.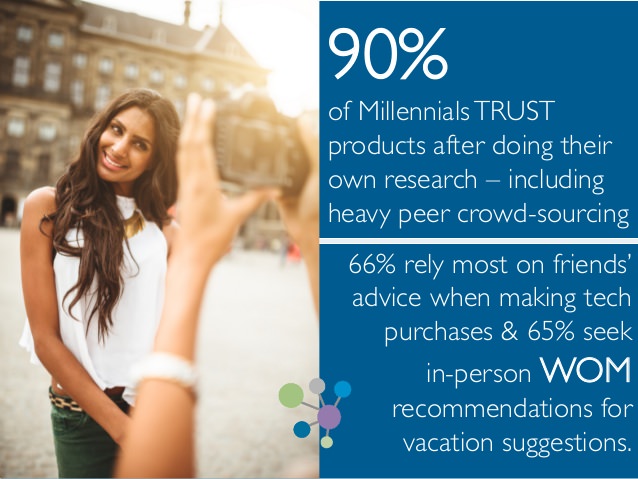 The modern consumer prefers to share his/her opinions and experiences, connect with the brand, and (if all goes well) become your best marketers and advocates.
Ensure that you have a mobile-friendly website so that the content is readable irrespective of the digital device that the reader is using. Consider this: 67% of consumers are more likely to purchase when visiting a mobile-friendly site and 61% will leave a site if the site is not responsive.
This can play a huge role in deciding which brand to buy from, and it applies all the more to Millennials.
Related Content: The Ultimate Guide to Mobile Advertising
Provide Value and Transparency
Want Millennials to take an interest in your brand? Then be as real as you can and give them a brand that is easily identifiable. Always attempt to deliver some sort of value whenever you interact with Millennials (or anyone, for that matter), but make sure it is authentic.
Craft your Millennial-centric content marketing strategy in the same manner, by focusing mainly on what's real. How do you ensure that you're coming across as authentic?
Communicate – Welcome your audience into your company by providing a "backstage" look at how your office is run, what goes into making a product, or filming company events and special celebrations.
Engage your audience – On social media, everyone can see the comments, complaints, and likes, so it's important that you interact with them by addressing their complaints out in the open and thank them for their compliments and shares.
Be relevant – In the last presidential race, Millennials said that they preferred Bernie Sanders. Not necessarily because of his politics, but because they felt like he was the only candidate who was candidly and passionately talking about issues that actually affect them. Your brand doesn't have to Snapchat every moment, take selfies while on the can or write entire sentences with only emojis, but you do have to keep up on what matters to them.
Care – People can tell if you really care about something, so make sure that your passion about what matters to your brand comes through — and not just about sales, but the work that you do, your company culture, the environment, and social causes.
E-mail: Why It Works for Millennials
Millennials spend almost six hours per day going through their e-mail — and over 50% of them check their e-mail from the bathroom!
Adestra reports that 73% of the Millennial community would like to receive their business communications via e-mail.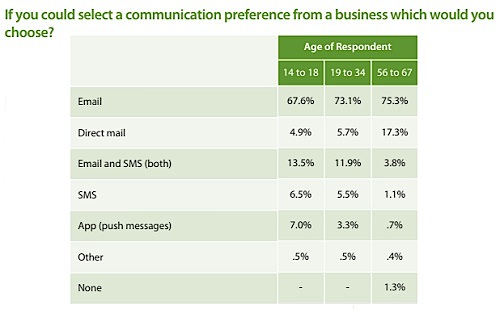 But why would Millennials sign up for e-mail newsletters and messages in the first place? Well, that's simple – to receive service and product updates, get discounts, and just because of their love for a particular brand.
Be careful about inundating their mailbox with e-mails, however, since 60% feel that they receive too many promotional e-mails.
Ensure that your communications are all personalized, at least to a specific segment, if not each individual.
Include different design elements that grab the attention of this age group. Remember, this generation is very visual, and so fun, bold imagery in your e-mails is a good thing.
The less copy there is, the better. No wonder a lot of marketers are using emojis in their e-mail subject lines!
Ensure that your e-mail newsletters and promotions are optimized for mobile. Millennials are especially intolerant of non-mobile-friendly communications.
Millennials love mobile coupons, with over half of the community within the U.S. using more coupons in the third quarter of 2015 compared to the previous year. Send coupons and discounts that are easily redeemable via mobile.
Related Content: How to Get Higher Email Open Rates (Without Being Spammy)
Final Thoughts
Millennials present a fresh breed of consumers – ones who have altered the way we look at services, products, and information.
Through effective content marketing, which means authentic, relevant, social and engaging, you will be in a better position to impress them and sway them to your corner. The above-mentioned points are all content marketing strategies that can be adopted by your company to engage Millennial customers.
Reach out and connect with this group of people whose spending power is only going to increase in the future.