How to Choose an Enterprise SEO Tool (And Our Recommendations)
Maybe you're now an enterprise-level business, ready to invest in better marketing efforts to entice your target audience. Or maybe you've been a major force in the corporate world for some time and must enhance your existing strategy to keep up with other enterprise sites.
If these scenarios sound familiar, you may need a new (or improved) enterprise SEO strategy. And, to get started with a powerful search engine strategy, you must have a high-quality enterprise SEO tool in your arsenal.
In this guide, you'll learn how to choose the best enterprise SEO tool, plus some of our recommendations.
What Is an Enterprise SEO Tool?
An enterprise SEO tool is a software solution designed to help large organizations manage and optimize their search engine optimization strategies. These tools typically offer a suite of features that enable users to perform site audits, advanced keyword research, SEO reporting, backlink management, content creation and optimization, and competitive analysis.
The best enterprise SEO tools offer an all-in-one solution. Typically, they are more robust and customizable than standard SEO tools, as they are designed to meet the unique needs of large organizations with complex websites, multiple stakeholders, and diverse marketing goals. They may also offer advanced reporting capabilities and integrations with other marketing platforms and tools.
Examples of popular enterprise SEO tools include Ahrefs, Moz Pro, Semrush and Searchmetrics. These tools can help companies improve their visibility in the SERPs, drive more targeted traffic to their websites, and ultimately increase their revenue and ROI.
How Does Enterprise SEO Differ from Traditional SEO?
Enterprise SEO differs from traditional SEO in several ways.
For starters, enterprise SEO usually deals with hundreds or thousands of web pages to work with, and therefore involves a larger team. Traditional SEO can usually be handled by a one person.
Enterprise SEO also usually involves optimizing for multiple languages, regions and countries, which requires an understanding of international SEO best practices and the ability to tailor strategies to each market. Although these days a smaller business using traditional SEO may still sell products to other regions or countries, it's not often on the same scale.
And that means that enterprise SEO tools are also different than traditional SEO tools. For instance:
Scalability: Enterprise SEO tools are designed to handle larger websites with complex site structures, while traditional SEO tools are better suited for smaller, simpler sites.
Customization: Enterprise SEO tools offer more customization options than traditional SEO tools. They may allow users to create custom dashboards, reports and alerts that are tailored to the specific needs of the organization.
Team collaboration: Enterprise SEO tools are designed to facilitate collaboration between multiple teams, such as marketing, IT, and content. Traditional SEO tools may be used by a single person or a small team.
Advanced features: Enterprise SEO tools often offer more advanced features than traditional SEO tools, such as the ability to analyze competitor data, conduct keyword research at scale and optimize for multiple languages and regions.
Integrations: Enterprise SEO tools may integrate with other marketing tools, such as content management systems (CMS), customer relationship management (CRM) software, and marketing automation platforms. This enables users to streamline their marketing efforts and gain deeper insights into their data.
SEO tools designed for smaller or niche businesses are limited and don't include the features that will enhance enterprise online visibility. With smaller SEO tools, it can be challenging to know if you're converting leads, creating content with user intent, using relevant keywords, and performing above the competition.
Learn More: Enterprise Local SEO: How It Works and Why It's Important
How Much Do Enterprise SEO Tools Cost?
The cost of enterprise SEO tools varies depending on your team size, location, services needed, customizations, and additional reporting features. Some of these tools may cost thousands of dollars per month, while others may charge based on the number of users or the volume of data processed. Most enterprise-level SEO tools offer custom pricing.
Here are some general pricing models for popular enterprise SEO tools:
Ahrefs: Ranges from $99 per month for the Lite plan to $999 per month for the Agency plan. Custom plans are also available for larger organizations.
Moz Pro: Starts at $99 per month for the Standard plan and going up to $599 per month for the Premium plan. Custom plans are available for larger organizations.
Semrush: Ranges from $119.95 per month for the Pro plan and goes up to $449.95 per month for the Business plan. Custom plans are available for larger organizations.
Learn More: What Is Enterprise SEO? (Definition, Examples & Tools!)
Do You Need an Enterprise SEO Tool?
The short answer is: If you're a corporate-sized business, an enterprise SEO platform is highly recommended over simpler platforms.
Why? Consider this stat:
53% of organic traffic comes from search engines.
To dive further in to whether or not your company needs an enterprise SEO tool, take a look at these questions. If you answer yes to any of them, you probably need such a tool:
Large website: If your website has hundreds or thousands of pages, you may need help to automate and organize tasks.
Need for advanced analytics: If you require detailed analytics and reporting on your SEO performance, an enterprise SEO tool can provide more in-depth insights than free or basic tools.
Need for scalability: Do you plan to expand your business? An enterprise SEO tool can easily help you scale your search strategy.
Need for automation: If you want to automate tasks like keyword research, content optimization and link building, a powerful SEO tool can help you save a lot of time.
Learn More: Enterprise SEO Metrics: The Key Metrics to Track for Success
Key Benefits of Using Enterprise SEO Tools
Since SEO platforms for enterprise businesses offer an all-in-one digital marketing solution, they have many benefits. These include:
All-in-One Platform 
As stated, most enterprise SEO tools offer multiple organic marketing functions in one platform. These include keyword research, content creation, link building and competitor analysis. Most enterprise SEO tools integrate with other marketing functions, notably PPC, since businesses can conduct keyword research for organic and paid strategies.
Customizable Solutions
Every SEO strategy is different, so most enterprise SEO tools are flexible enough to accommodate different businesses. That's why more enterprise SEO platforms are customizable, ensuring that your SEO efforts produce measurable results.
What are some areas of the platform that businesses can customize? This depends on each tool, of course, but some popular customizations that enterprise SEO platforms offer include changes to the dashboards, processes, services, and technical audits.
Technical SEO
Unlike simpler tools, enterprise SEO platforms are comprehensive enough to run full SEO audits on your site pages. This removes the need to perform a manual audit, which saves large organizations time and money. Every platform differs, but most will offer this data when crawling your website:
Missing page titles
Orphaned pages
Broken links
Missing metadata
Page errors
Web design issues
Slow page loading="lazy" speed
After crawling your website, you'll receive an in-depth report of the findings and how to fix any errors. Depending on the SEO tool, you can automate this process to regularly audit your website.
Learn More: How to Fix 15 Common On-Site Technical SEO Issues
Better ROI
Since enterprise SEO tools offer all-in-one benefits, customizations and technical SEO advantages, most businesses see a better ROI as a result.
There are a few reasons why:
Enterprise SEO tools can optimize your content and target the best keywords, leading to better search engine rankings. This is expressed with metrics, data, KPIs, and other reporting tools, so you always know how your web pages stand in Google search engine results.
Enterprise organizations also save money by investing in all-in-one platforms. Since they offer every SEO function you could need, plus additional marketing benefits, there's no need to invest in various platforms.
And, of course, all the great features included in an enterprise SEO platform can increase website traffic, convert leads, and elevate sales.
Features of Enterprise SEO Tools
Enterprise SEO tools offer multiple functions, so corporations only need one tool to rank higher on search engines. While every tool differs, most enterprise SEO platforms include the following features.
Advanced Keyword Analysis 
Enterprises must take keyword research a step further than smaller organizations. While tracking key metrics (such as monthly search volume, difficulty and CPC) is vital, enterprises will want to track more keyword data to rank higher in search engines.
That's why advanced keyword analysis is at the core of an enterprise SEO strategy: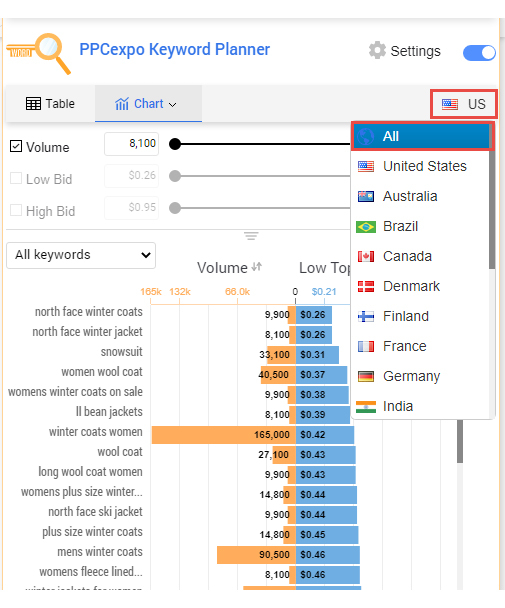 These tools will offer insight into the keywords you rank for, what you need to do to rank for additional keywords, if you're out-ranking the competition for a certain keyword, and how much traffic is needed to improve your SERPs performance for a specific keyword.
Additional metrics that enterprises must track include:
Search volume over time
Number of results
Bid prices
Organic search
Estimated first position value
Search demand curve
Match type ratio
Key opposition to benefit (KOB)
Demographics
Potential traffic growth
Current keyword ranking
Google Ads quality score
The best enterprise SEO keyword tools will offer all these metrics and more, though your marketing team should only track the data that best fits your campaign and goals.
Streamlining and Automation
34% of companies are using marketing automation, at least to a limited degree:
These efforts should extend to your SEO strategy. Automation streamlines many time-consuming SEO tasks, resulting in a more efficient strategy. Fortunately, most enterprise SEO platforms offer some level of automation.
While automation capabilities vary between tools, most enterprise SEO software offers on-page, off-page and technical SEO automation.
Learn More: What Is Marketing Automation: Definition, Benefits & Uses
Advanced Reporting
Many corporations benefit from the impressive reporting features of enterprise SEO programs. While reporting capabilities vary between tools, most send you regular reports that track specific KPIs. These KPIs may include:
Organic search traffic
Number of pages driving traffic
Link profile growth
Repeat visits
The reports are usually easy to read, offering visualizations to make data easier to understand. Many tools also offer automated reporting so businesses can receive regular SEO reports and updates.
Dive Deeper:
* SEO Score: How to Grade Your Website (in 5 Minutes)
* 14 Ways to Increase Your Website Traffic (+ Top 10 Tools)
* Targeting Branded vs. SEO Keywords: Which Should You Focus On?

Top Enterprise SEO Tools
When searching for an enterprise SEO platform, you may notice several options. All enterprise SEO platforms offer their own benefits and may be a better solution for certain corporations and can better target specific goals.
Here are a few of our recommendations.
If your enterprise is looking for a solution that excels in all areas, Moz Pro should be your pick.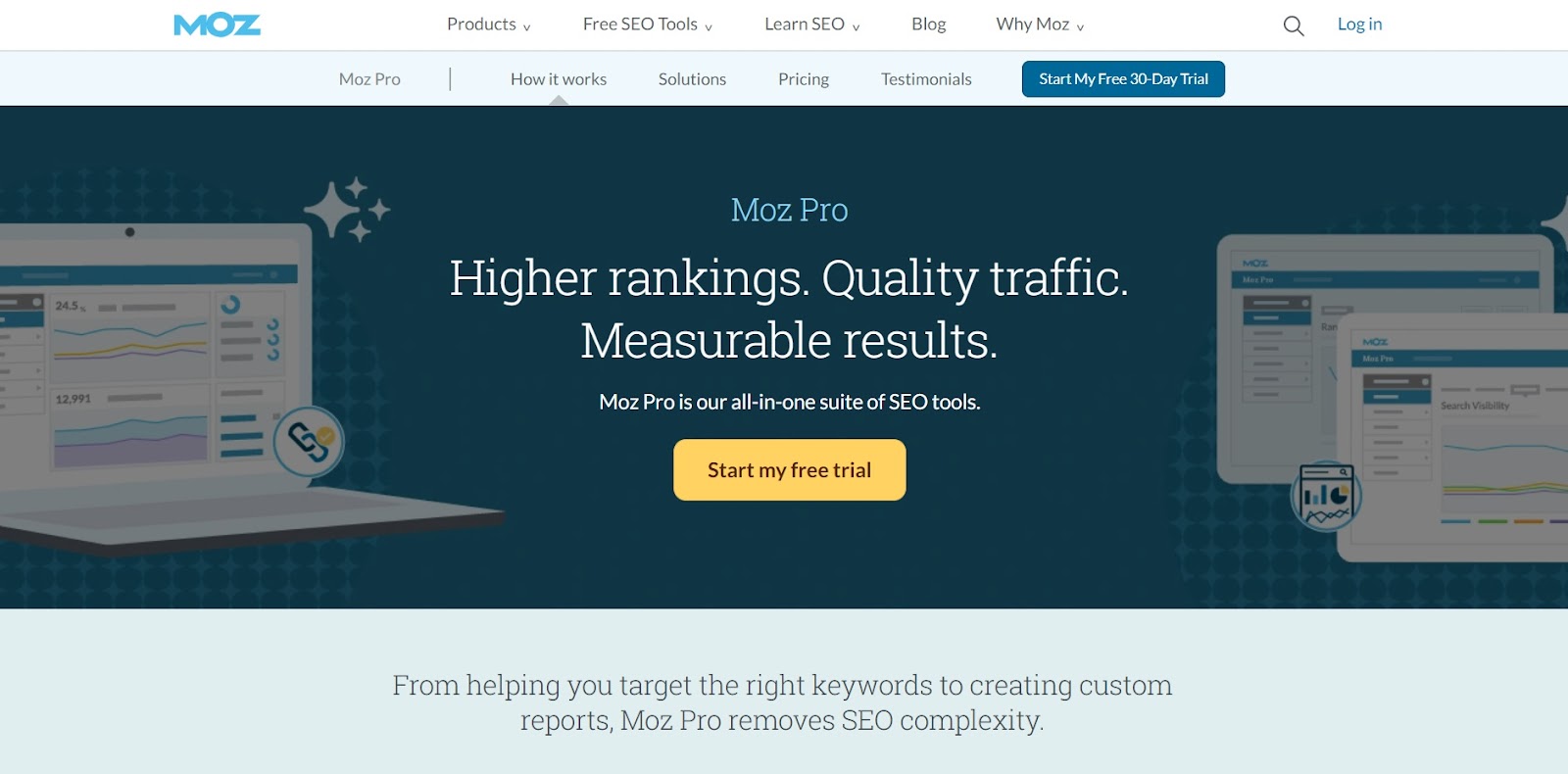 This one tool offers everything your enterprise needs: site auditing, keyword explorer, link opportunities, and custom reporting. Enterprises are especially fond of the page ranking feature. Moz Pro will rank individual pages, offering a score and recommending areas of improvement.
Their keyword explorer is also impressive; it offers insight into how customers search for your products or services. You can see your enterprise's performance on local and national searches and receive an accurate search visibility score. Plus, you can save keyword lists for future use.
Ahrefs: Best for Backlinks
Ahrefs enterprise software can benefit the biggest corporations in many ways, such as by offering in-app guidance and intuitive features.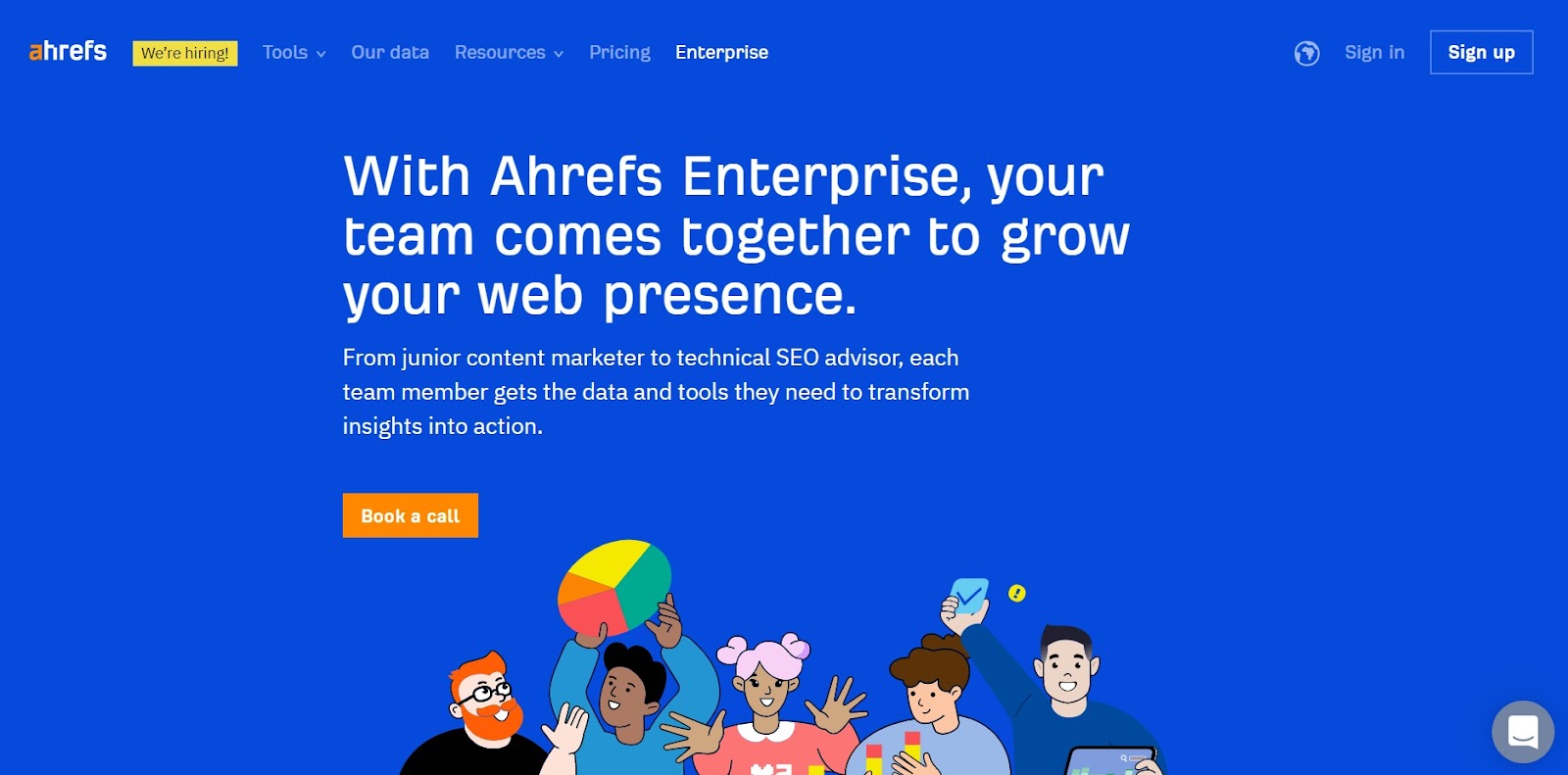 Some of the most comprehensive features that Ahrefs offers include keyword explorer, site explorer, rank tracker, site audit, and content explorer.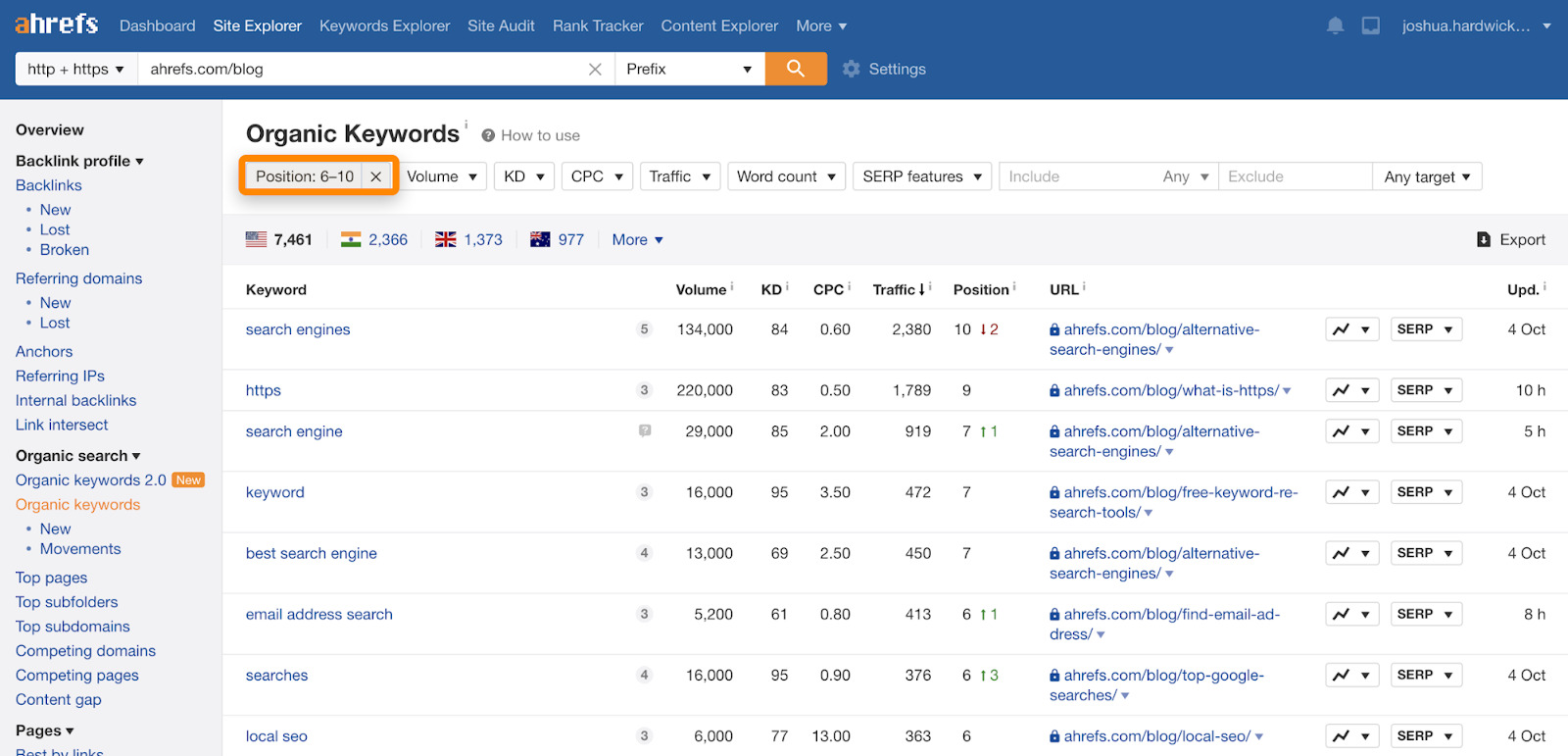 With these tools, Ahrefs will inform you of your rankings for desktop and mobile, domain authority, website traffic, competitor analysis, keyword ideas, SEO challenges, link opportunities, and content ideas. Plus, you can create various projects to better organize your goals.
One of the most unique features is their extensive index of backlinks. Ahrefs crawls the entire web 24/7 and stores petabytes of data to better understand how websites link together and how they rank in Google. Ahrefs can deliver this data back to you so you will know how to better rank your website.
Semrush: Best for Content Optimization
Semrush offers many powerful tools to increase your organic traffic.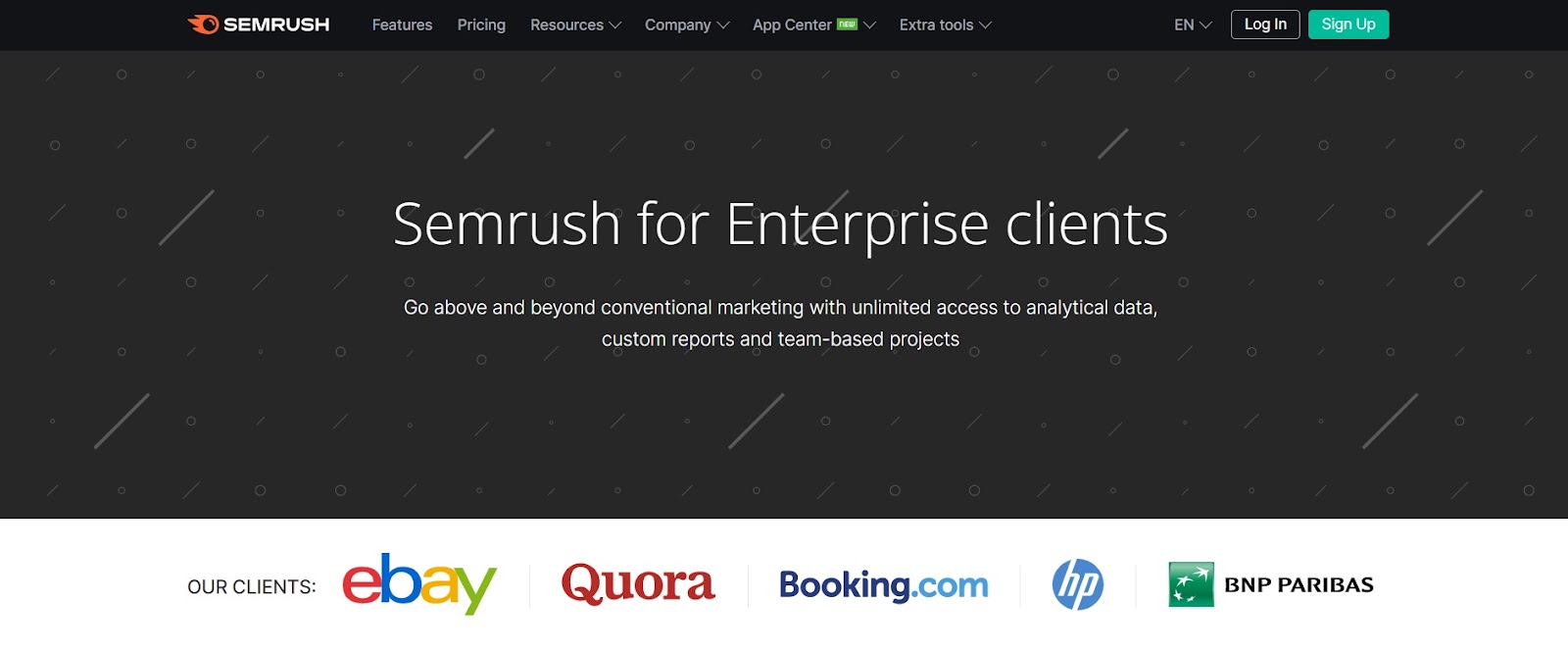 The impressive suite that Semrush offers includes tools for content, SEO, advertising, research, social media, and reporting. Even though their tools suite is extensive, Semrush is still simple to use and intuitive.
Semrush offers industry-standard tools for optimizing content. Topic Research, SEO Writing Assistant, SEO Content Template, and Content Audit are only a few tools that will take any content strategy to the next level.
Enterprises can keep their content organized with a built-in Marketing Calendar to plan all editorial postings, share content strategies, and collaborate with content creators.
seoClarity is one of the few platforms made for enterprises.

Their platform offers impressive features, such as tools needed for keyword research, ranking analysis, technical SEO analysis, content marketing, and reporting.
If you prioritize SEO auditing, seoClarity offers some of the most advanced technical SEO features to identify site-wide issues. With the enterprise plan, you can access unlimited website crawls and find 404 errors, broken links, duplicate content, missing alt tags, and more. Enterprises can also customize these reports, only displaying the key data you need.
Learn More: 17 Effective SEO Techniques to Drive Organic Traffic in 2023
Improve Your Brand Visibility with the Best Enterprise SEO Tool
Once businesses reach the enterprise level, their SEO processes need an overhaul to keep up with the competition. Corporations can access advanced features and reporting by investing in an enterprise SEO tool.
The first step is finding the right enterprise SEO platform. While these enterprise SEO tools are industry-standard, some offer specific benefits to different enterprises and SEO campaigns. It's best to compare these enterprise SEO solutions to know which will work for your business.
If you're ready to grow your enterprise, Single Grain's enterprise SEO experts can help. Click the button below to find out how!👇