It should come as no surprise to any business that solid communication, both internally and externally, is essential to success in any market. Consequently, an investment in a telecommunications platform like Mitel is necessary for most organizations.
However, Mitel isn't the only company that offers these types of products, and savvy business owners should always conduct an in-depth survey of the market landscape before deciding on any particular product. Your communications platform will serve as the foundation for many of your dealings, so it's important to make an informed decision.
In this guide, we're going to cover the top Mitel alternatives and competitors in 2023. We'll go over their features, pricing, what makes them unique, and what types of businesses they're best suited to so that you can make the right decision for your business.
What Is Mitel?
Mitel is an Ottawa-based Canadian company that specializes in telecommunications products. Originally, it offered PBX products, but it switched almost entirely to VoIP products in 2001.
Now, Mitel offers a variety of communications products including VoIP (Voice over Internet Protocol), PBX (Private Branch Exchange) and unified communications. With the growing number of businesses operating remotely both due to COVID-19 and otherwise, Mitel has positioned itself as a solution that's perfectly fit for remote teams.
Compared to its competition, Mitel puts an emphasis on cybersecurity. In addition to the expected unified communications features, Mitel also provides a VPN (Virtual Private Network) so that users can secure their communications.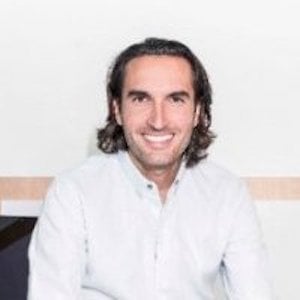 Yaniv Masjedi

CMO, Nextiva

Their expertise has helped Nextiva grow its brand and overall business
7 Best Mitel Alternatives and Competitors for 2023
Nextiva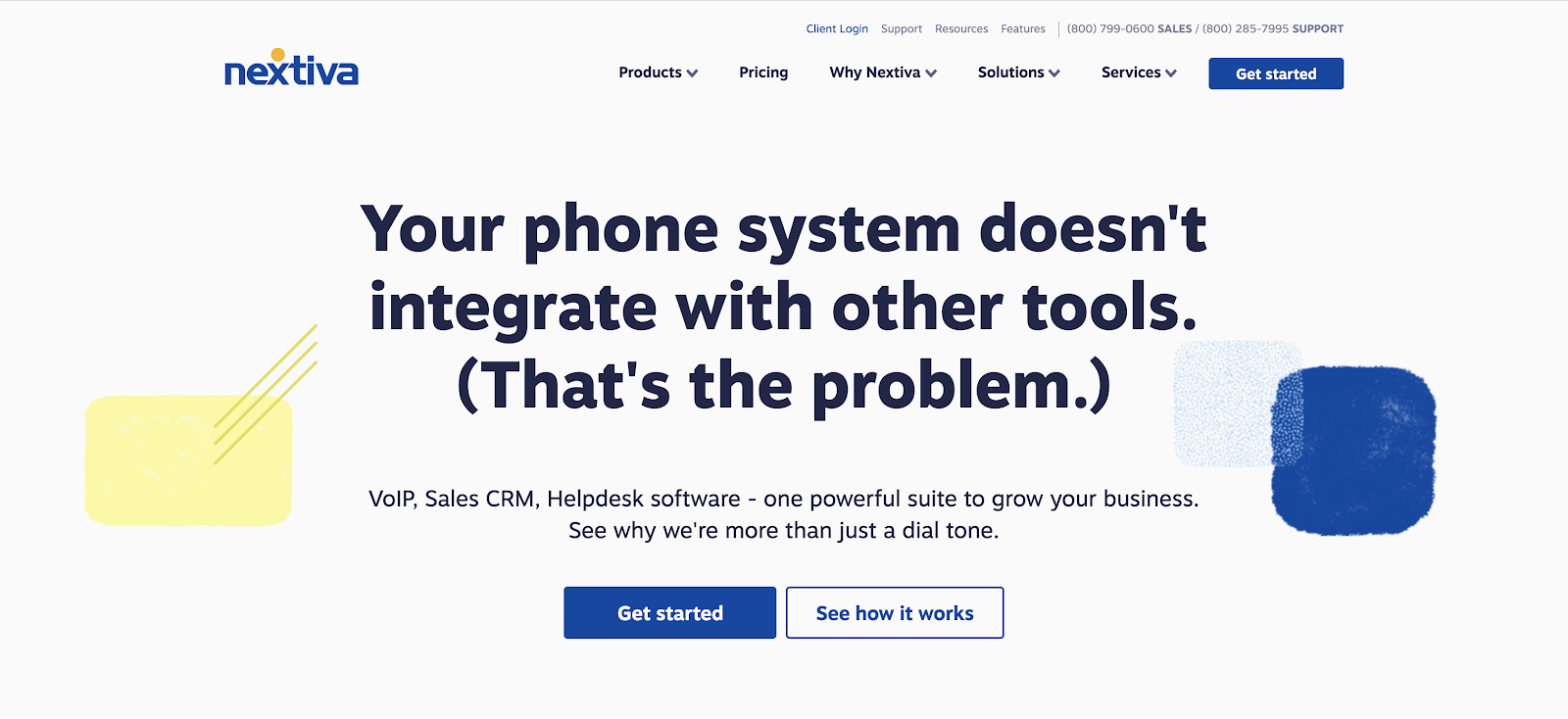 Nextiva is a robust communications platform that offers the standard suite of features you'd expect in a unified communications offering. These include, chat, phone, SMS, fax and video conferencing services.
However, Nextiva stands out from the pack because it also offers a full-blown CRM. This addition can help you organize your customer and prospect data so you can streamline your communications and sales processes.
Nextiva's CRM ties in with one of its other standout features, Caller AI. Whenever you start a new call, Caller AI will pull all the information you have on that number from your CRM. This way, you won't get stuck distractedly searching for customer files when you get a call from an important client.
Other notable features include the multi-level auto-attendant, which can route calls based on caller inputs, and automatic transcriptions, which creates transcriptions of calls for you.
Pricing: Starts at $19.95/user/month. Overall, it is a platform that will work well for businesses of all sizes.
Dialpad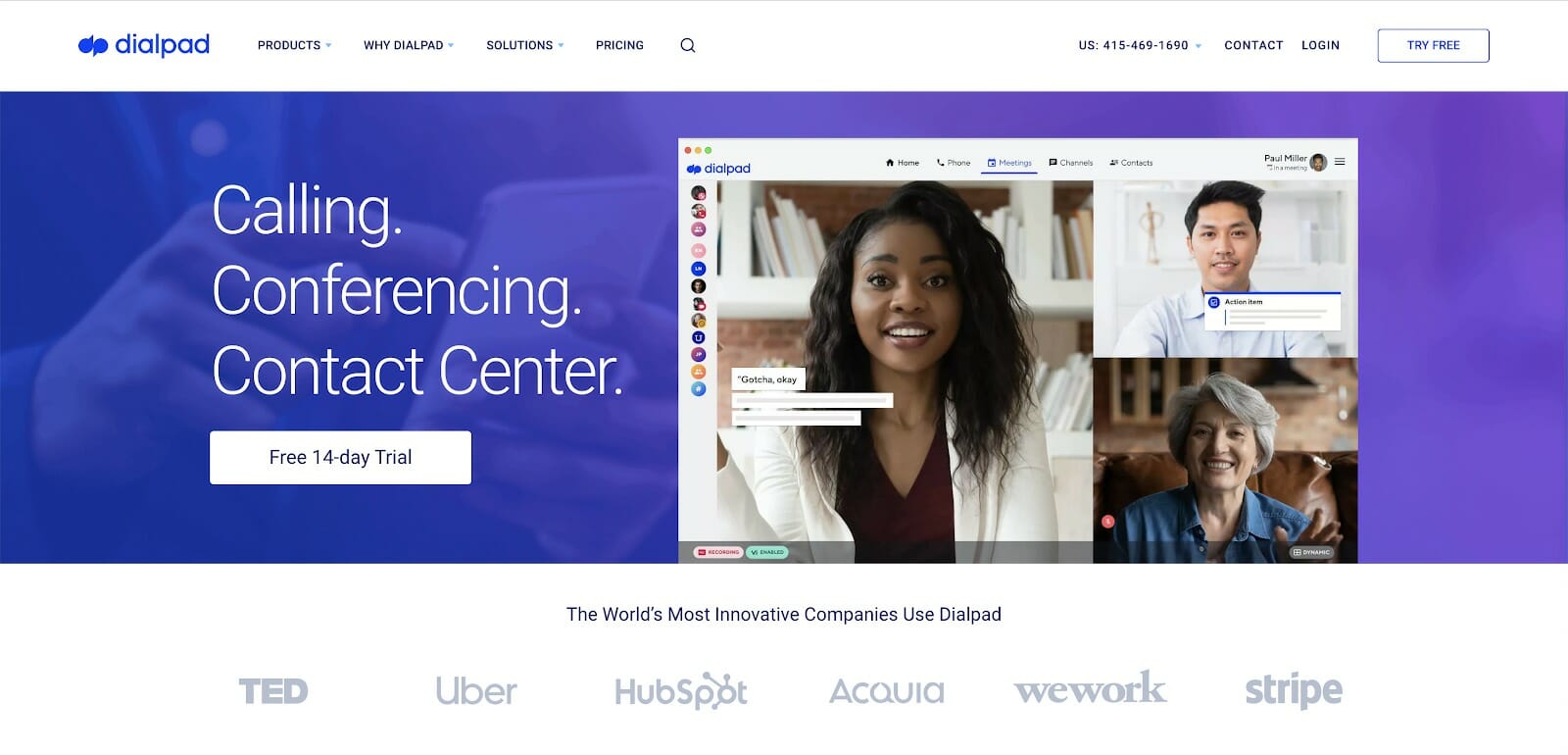 Dialpad is a particularly unique communications platform that uses cutting-edge technology to facilitate better sales and customer support experiences.
While Dialpad offers all the standard features you'd expect from a unified communications platform, like phone, video, and SMS, its real selling point is its Voice Intelligence feature. Voice Intelligence uses natural language processing (NLP) to comb through your conversations and deliver actionable insights and analytics that you can use to improve your communications.
Plus, unlike some other platforms, Dialpad isn't limited to Dialpad-specific hardware. If you already have business phones, you can typically use Dialpad without any issues, saving you from having to buy completely new hardware. You can also use smartphones with the Dialpad softphone app.
Whether or not Dialpad is worth it for you will hinge mostly on whether Voice Intelligence will bring sufficient value to your business. If you think you can live without it, then you'll likely want to go with a cheaper and pared down solution. However, if Voice Intelligence is important to you, there aren't any other providers that offer something that's similar.
Pricing: Starts at $25/user/month. As you can see, cutting-edge tech like Dialpad offers doesn't come cheap. With a starting price of $25/user/month, Dialpad's offering is more expensive than most. For fully decked-out plans, you're looking at a monthly expense of $75 per user.
Vonage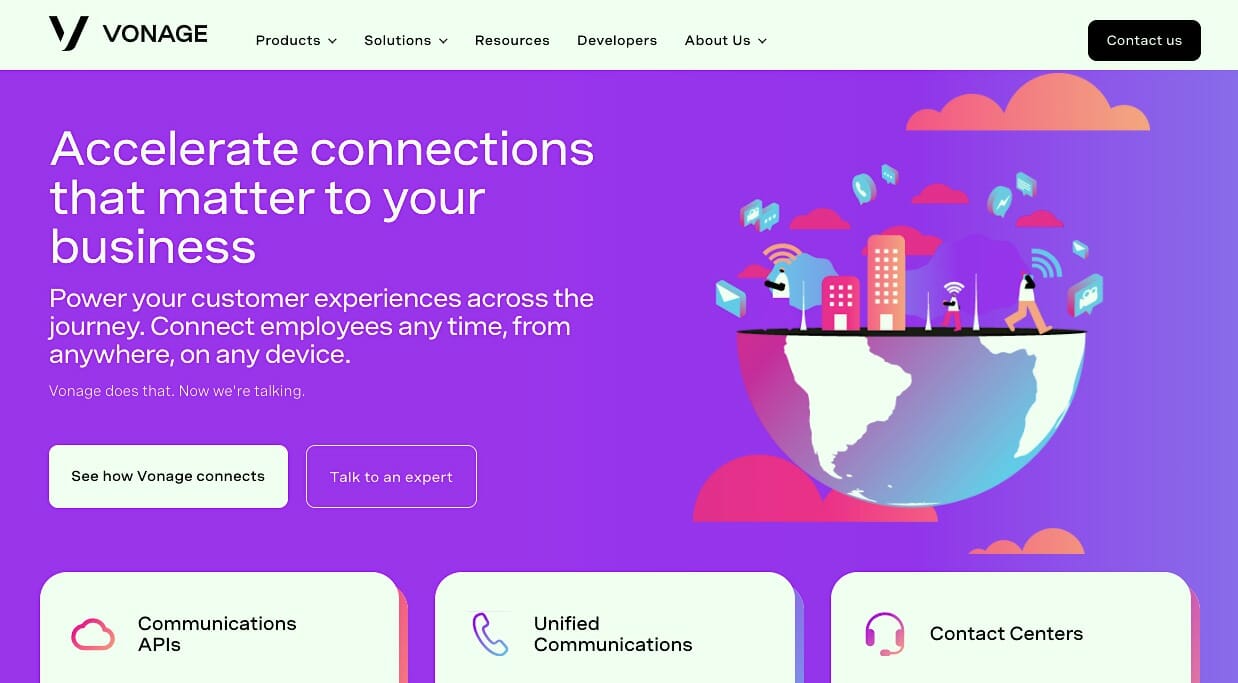 If you watched TV during the early 2000s, there's a very good chance you already know of Vonage. Indeed, the company's orange branding and infectious whistling jingle graced the airwaves for quite a few years before the company changed its focus from consumer VoIP to business communications and stopped advertising on consumer media.
Now, Vonage is almost entirely focused on business solutions and has even relegated its residential and consumer offerings to a completely different website.
Vonage is a standout product because it offers a communications API platform in addition to the standard unified communications offerings. With the communications API, you can integrate Vonage's services into your own applications and expand its functionality. The only limits are the abilities of your development team.
However, if you're looking for a simple turnkey solution, Vonage delivers on that end as well. Users report very high-quality calling experiences, and there are over 50 unified communications features to serve practically every need your business will have.
Pricing: Starts at $19.99/user/month, which is about the market average. It's a robust and full-featured platform that's worth a look.
Ooma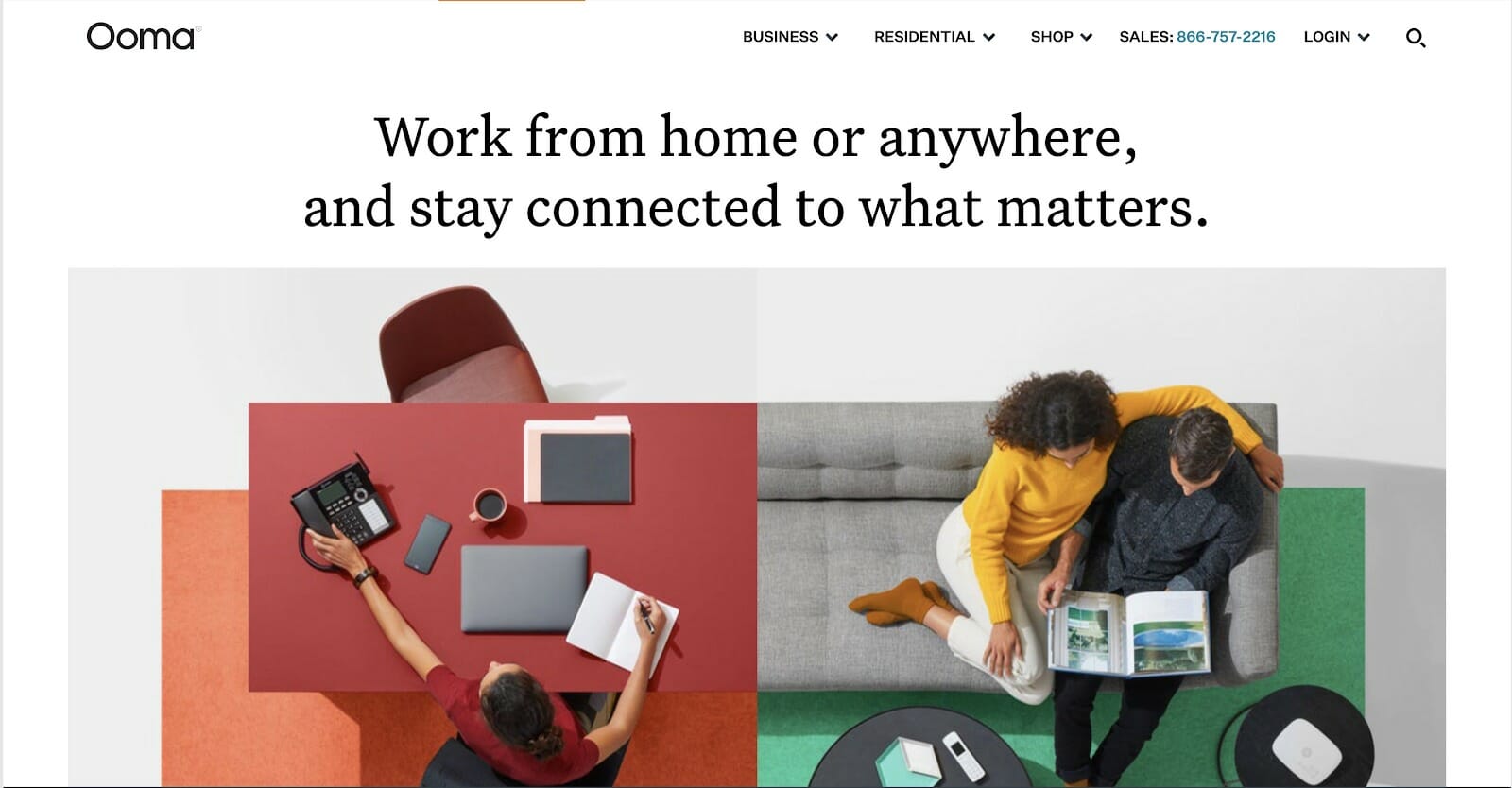 In many ways, Ooma is the Apple of unified communications. It offers top-shelf products that are intuitive and easy to use, the design language is elegant, "it just works," and its products are also a fair bit more expensive than its competitors.
Indeed, just like you'd pay the "Apple tax" on a new MacBook, you'll also need to pay the "Ooma tax" when deciding to invest in this as your communications provider.
The reason for this is two-fold. For one, Ooma's monthly cost is simply higher than most others. While pricing starts at $19.95, this doesn't include video conferencing, a desktop app, voicemail transcription, and other features that are included in competitors' platforms at the same price. For $19.95/user/month, you essentially only get access to the Ooma mobile app.
To get those standard features, you'll need to bump up your budget to $24.95/user/month, which is about $5 above the pricing of many of its competitors, like Nextiva and Vonage.
Additionally, Ooma is not device agnostic, so if you want to use it, you'll likely end up spending a decent amount of money on Ooma hardware. While it is possible to use this product entirely on your mobile phone or on your desktop, a lot of the feel and utility of Ooma comes from its superior hardware and the integration between that and its software.
Overall, Ooma is a great platform, just not a cheap one. If you're willing to invest in a largely hardware-dependent communications solution, Ooma is one of the best out there. However, if hardware isn't important to you, there are other cheaper solutions that offer much of the same functionality.
Pricing: Starts at $19.95/user/month.
8×8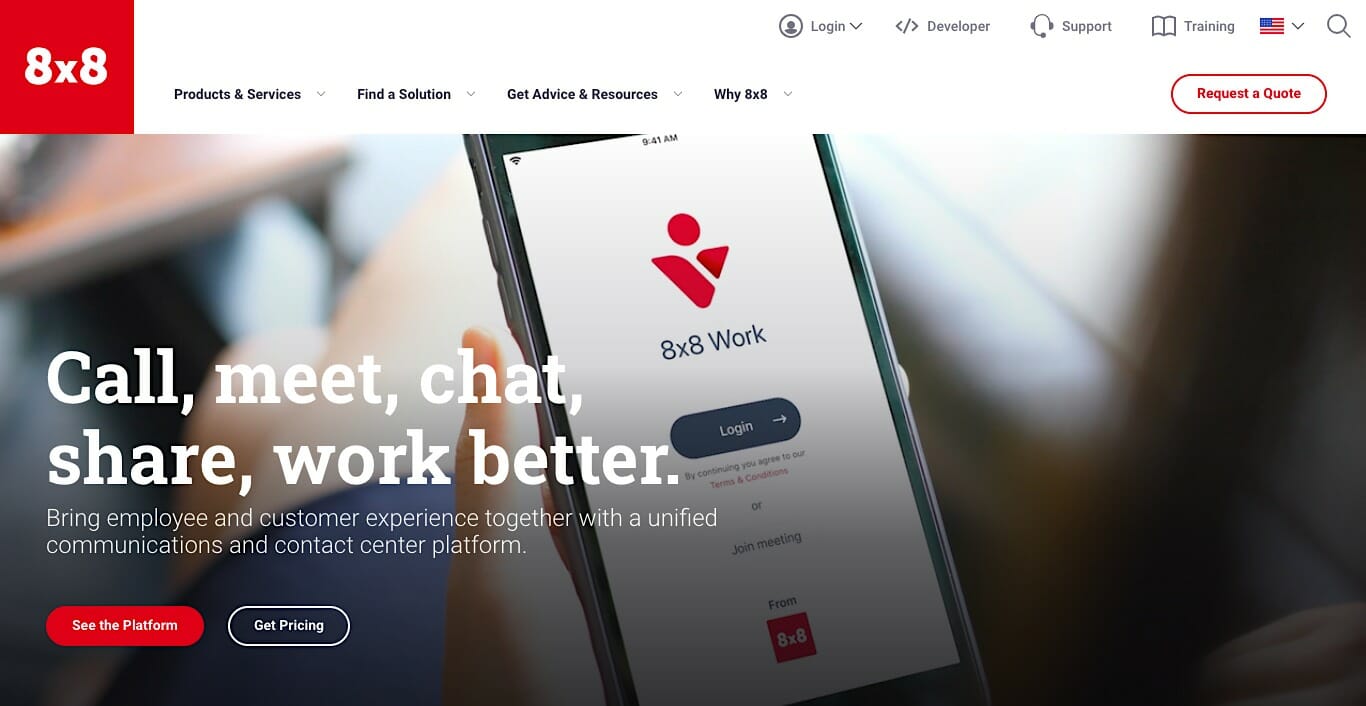 8×8 is a company that, like Mitel, has been in business for a long time. Originally founded in 1987 as a computer chip design company, 8×8 has pivoted to business communications and become of the leaders in the industry.
On the whole, 8×8 is aimed more at larger businesses and enterprises. However, with plans starting at just $12/user/month, its solutions have a price tag that even bootstrapped startups and solopreneurs can stomach.
8×8 offers all the features you'd expect from a unified communications solution, like business phone, video conferencing, SMS, team chat, and more. It also offers some more advanced features, like SIP (Session Initiation Protocol) trunking.
Pricing: Starts at $12/user/month for unlimited calling within the U.S. and Canada. If you go up to the next tier, you can get unlimited calling to 14 countries for $24/user/month. If your business operates internationally, you can get unlimited calling to 47 countries for $44/user/month.
RingCentral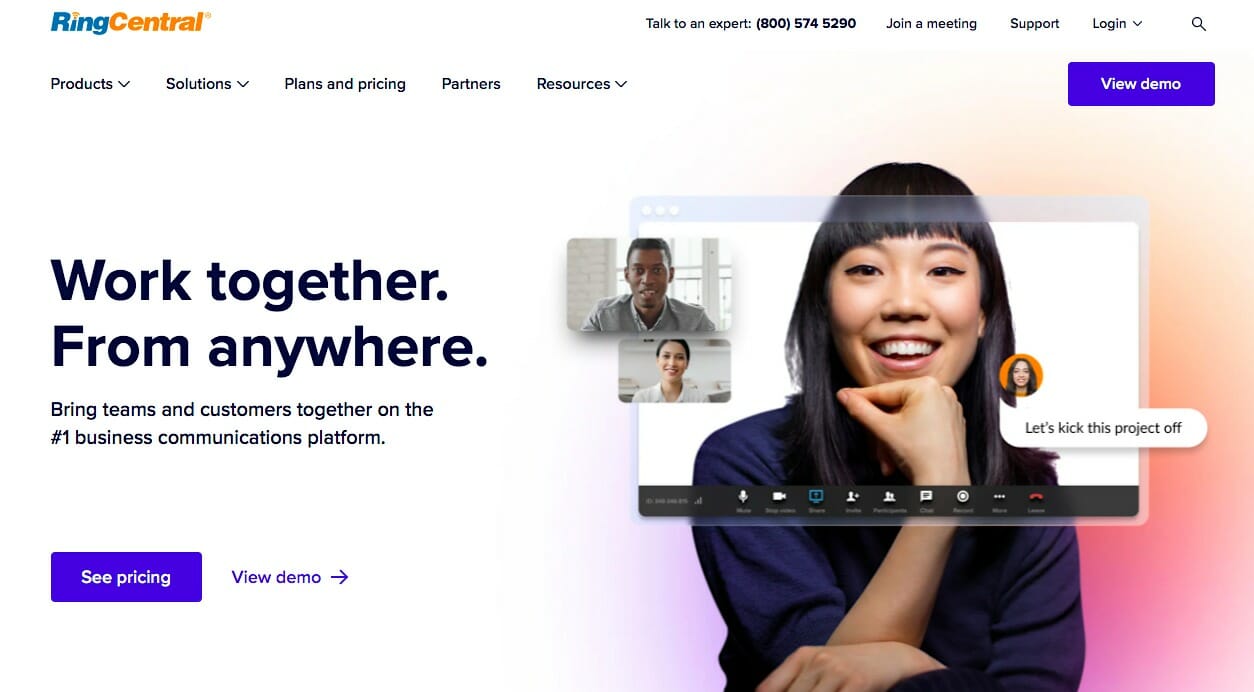 RingCentral is a well-respected and popular business communications provider, and it has the accolades to show for it. Recently, UCToday awarded RingCentral the title of Best Unified Communications Platform of the Year for 2020. Plus, Gartner has named it a Magic Quadrant leader for the last four years in the UCaaS category.
Clearly, RingCentral is doing something right. Businesses that use RingCentral can get access to telephony, video conferencing, SMS, instant chat, and more.
Overall, RingCentral's products will likely appeal more to larger teams. Some of its features, like real-time call analytics, which provides data on the number of calls you've made, how long you've spent on them, etc., simply won't be of that much use to many small teams that don't have enough volume to meaningfully populate this data. And its team collaboration features will be lost on teams that aren't big enough to make use of them.
However, many enterprises and larger businesses will feel right at home with RingCentral's features. Plus, it even offers solutions designed specifically for contact and call centers.
Pricing: Starts at $19.99/user/month.
GoToConnect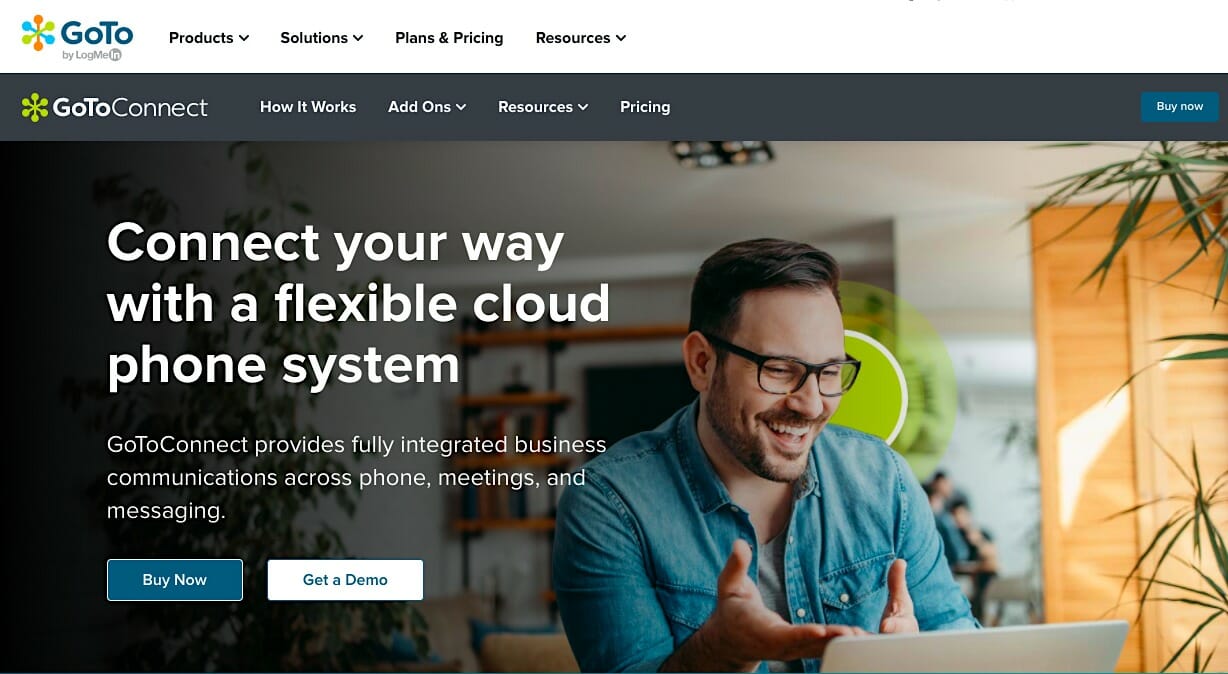 GoToConnect is a leading communications platform that offers standard features like video, VoIP, SMS, and instant chat. It also offers a cloud-based PBX solution.
This is a very reliable company. In fact, one of its products, GoToMeeting, spearheaded the video conferencing movement and was one of the first offerings in that space. Now, GoToConnect continues to be a leader in video conferencing technology and offers HD calling with every license.
Like RingCentral, GoToConnect is aimed a bit more towards larger businesses. However, in this case, it's because of the pricing, not the features themselves. Their pricing is based on how many users you have, so if you have at least 50, you'll be offered pretty standard pricing of $19.95/user/month. However, if you have fewer than 50, pricing starts at $29.95/user/month, which is about $10 more than most comparable offerings.
If you have a large team, GoToConnect is definitely an offering worth considering, but if you have a smaller team, there are other options that give you more bang for your buck.
Pricing: Starts at $19.95/user/month for 50+ users, and $29.95/user/month for under 50 users.
Key Takeaways
The business communications industry is filled with many powerful and robust solutions that can supercharge your communications. If the inclusion of a VPN is important to you, then Mitel is perhaps the only company that will provide that feature for you.
However, there are quite a few other options out there that provide top-notch security and deserve your careful consideration. Hopefully, this guide has shed some light on the communications solution that will best suit your business's needs.
---
More Comparison Articles:
* 6 Best Cloud Hosted PBX Providers for 2023
* 7 Best UCaaS Providers for Your Business for 2023
* 9 Best Web Hosting Providers
* 8 Absolute Best Ecommerce Website Builders
* Top 10 Best Email Marketing Services
* 8 Best Business Phone Services in 2023
* 11 Best Video Conferencing Software
* Top Grasshopper Alternatives and Competitors for 2023
* Top 8×8 Alternatives and Competitors for 2023
* Call Center Phone Systems: Everything You Need to Know