For most businesses, simple voice-only communications systems are becoming a thing of the past. These days, you'll probably need a new system, complete with all the digital bells and whistles to make your job easier and help you scale your company.
That's where a UCaaS system comes in. UCaaS stands for Unified Communications as a Service and is a cloud-based system that offers a variety of communication methods in one platform, such as business phone, video conferencing, email, SMS, team chat, etc.
Dialpad is one such business phone system. But Dialpad is not the only one.
In this guide, we'll cover what makes Dialpad alternatives and competitors unique, what features are included, how they're priced, and what types of businesses they're best suited for. By the end, you'll have a solid foundation on which to make a decision.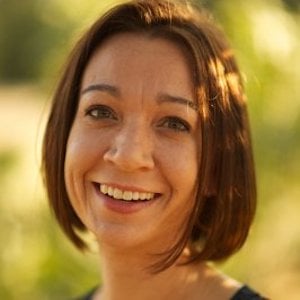 Kim Cooper

Director of Marketing, Amazon Alexa

Single Grain enables us to increase our impact without increasing our headcount
What Is Dialpad?
Dialpad is a communications company based in Silicon Valley that offers an AI-driven cloud communications platform. VoIP, audio and video conferencing, and SMS are among its many capabilities. It also offers Dialpad Sell, a sales dialer for cold calling, and a Dialpad Contact Center, a product for call centers and customer support staff.
This company stands out from other communications companies because of its inclusion of Voice Intelligence, an AI-powered analytics tool that uses natural language processing (NLP) to draw insights and capture highlights from your conversations. You can then use these insights to improve the customer experience, sales, strategy, etc.
Although Dialpad's Voice Intelligence feature is quite unique, there are other communications that offer similar features.
Here is a review of the top Dialpad alternatives and competitors.
7 Dialpad Alternatives and Competitors
Nextiva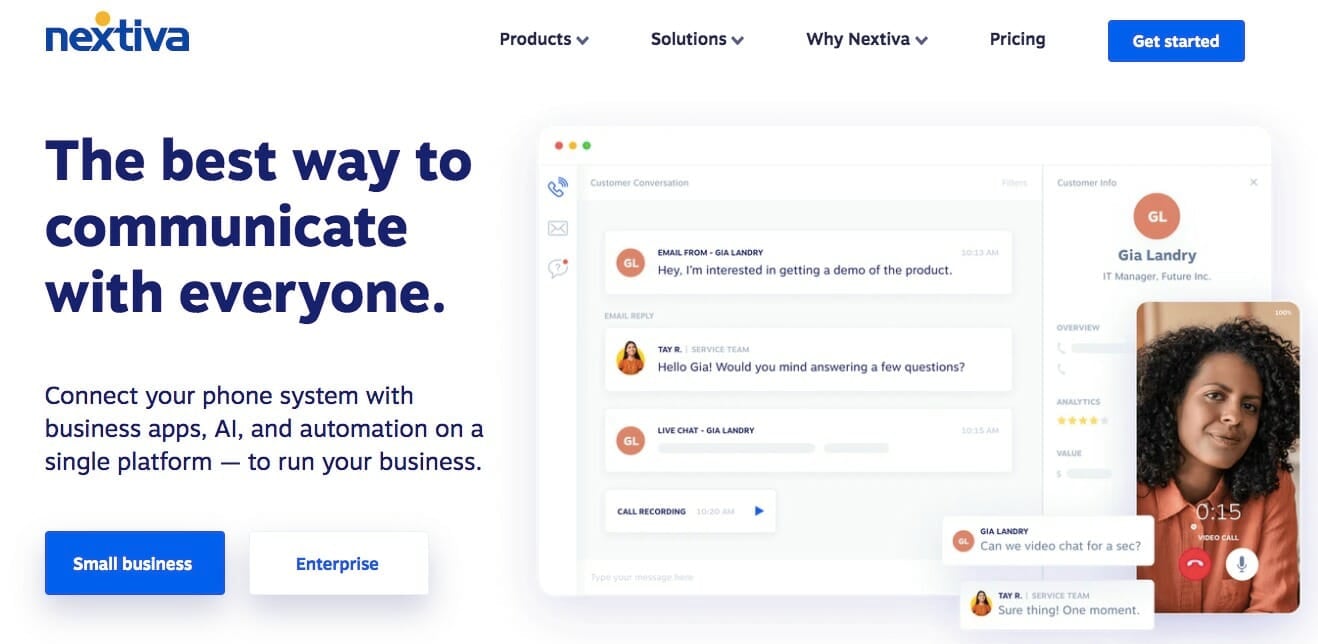 Nextiva is a modern communications platform that's designed to be more than just a simple VoIP (Voice over Internet Protocol), SMS, and conferencing provider. While most of Dialpad's competitors stick to the basics, Nextiva ups the ante with a full-blown sales CRM to help streamline the sales process and boost efficiency.
Plus, Nextiva includes real-time caller analytics. While they don't make use of NLP like Dialpad's Voice Intelligence, they can give you helpful insights into data points like total calls, total talk time, outbound talk time, and more. Overall, these analytics can help identify strengths and weaknesses in your strategies, just in a different way than Dialpad would.
Nextiva's Caller AI can also help improve your sales calls and customer experience by instantly pulling up a caller's information as soon as the call is initiated. This way, you'll never find yourself searching for a customer file while the caller waits on the other end. As soon as you get a call, you'll have everything you need.
If you need more flexibility, Nextiva's API lets you integrate it with other tools like HubSpot and Zendesk. Or you can develop your own features and integrations if you have the technical know-how.
Pricing: Starts at $19.95/user/month, which is about average for this market.
Vonage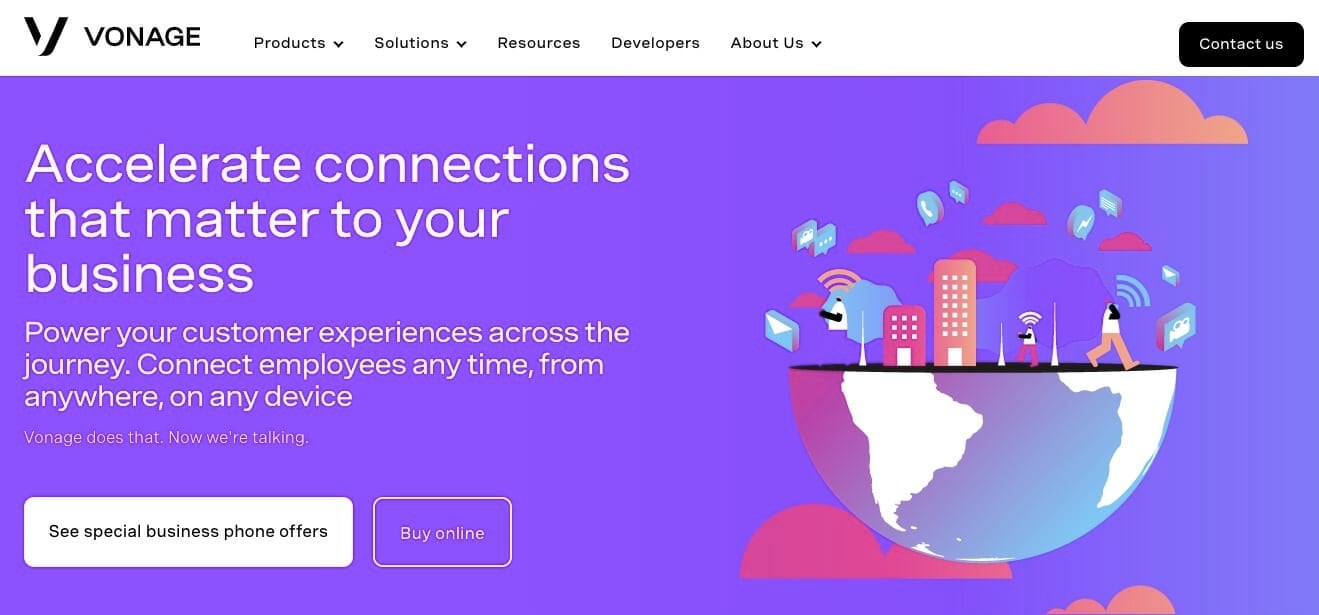 Vonage is one business communications company that will likely elicit a twinge of nostalgia in most people. Although Vonage is probably best-known for its residential VoIP services (remember those cable TV commercials in the early 2000s?), the company has done a full 180 and now focuses on business phone services. In fact, its residential services have been relegated to a different website entirely.
Vonage is a standout on this list because in addition to the standard UCaaS offerings, like VoIP, conferencing, etc., it also offers a standalone communications API product. This makes Vonage not only a unified communications provider, but brings it into the CPaaS (Communications Platform as a Service) space as well. If you have a development team, Vonage's APIs can help you expand the functionality of your applications and write custom code to get more functionality out of Vonage.
That said, that level of control over your communications is unnecessary for many businesses. Most brands will likely be more interested in Vonage's standard unified communications offerings, which provide VoIP, SMS, and conferencing. If reliability is important to you, you'll be pleased to learn that Vonage touts at 99.999% uptime reliability.  
Pricing: Starts at $19.99/user/month, so no surprises there.
Avaya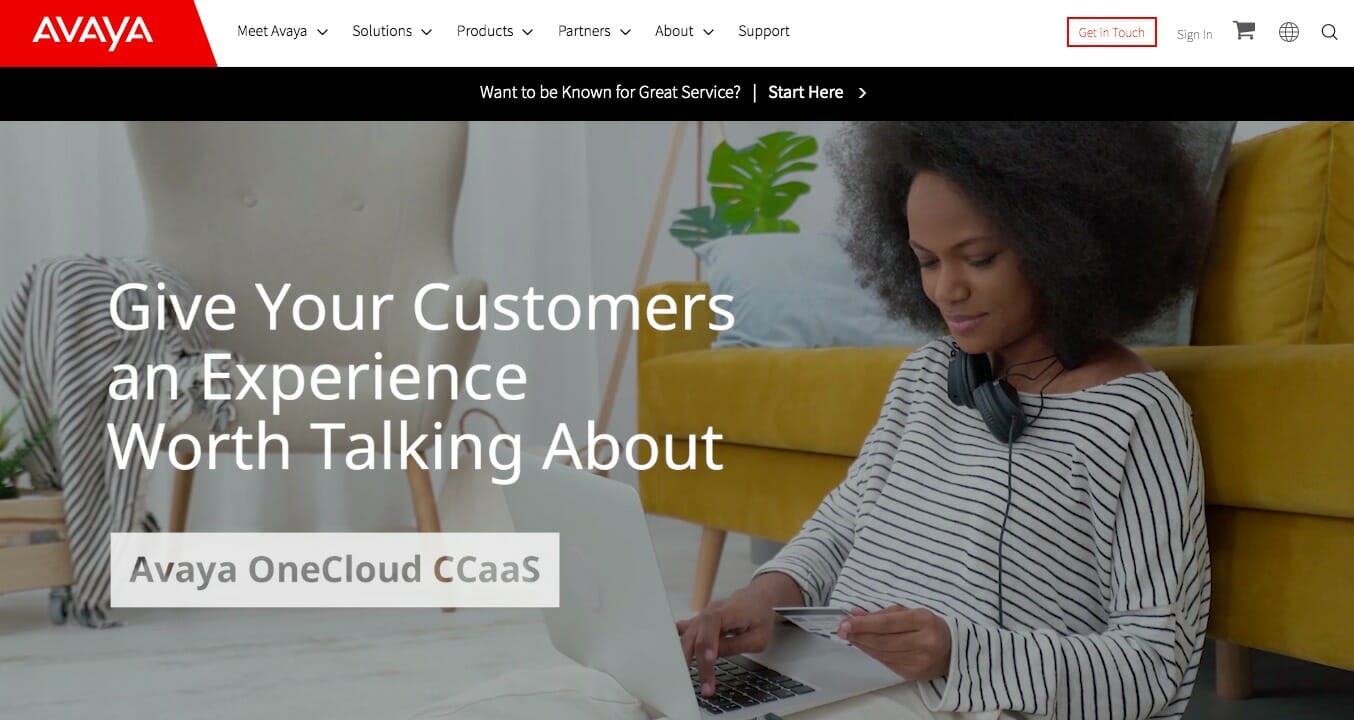 Avaya is the only other company besides Vonage on this list that offers a CPaaS solution in addition to the standard unified communications offerings. As a CPaaS provider, Avaya gives you an unmatchable degree of control — essentially, you have a blank canvas on which you can paint your perfect business communications system.
While Avaya doesn't have the NLP power of Dialpad, you could theoretically use your own NLP models to create a similar feature (this is also with other APIs, depending on what's included). However, doing something like this would practically require building an entirely new company based around NLP, so unless you're already in that space, don't get your hopes up for a bootleg version of Voice Intelligence.
If you're looking for a more turnkey solution, Avaya delivers as far as unified communications is concerned. It offers VoIP, messaging, audio conferencing, video conferencing, and even team collaboration and project management tools.
Overall, Avaya is a very robust cloud-based platform that will serve most businesses very well.
Pricing: Starts at $19.99/user/month, making it an affordable solution that can help streamline your communications without much trouble.
RingCentral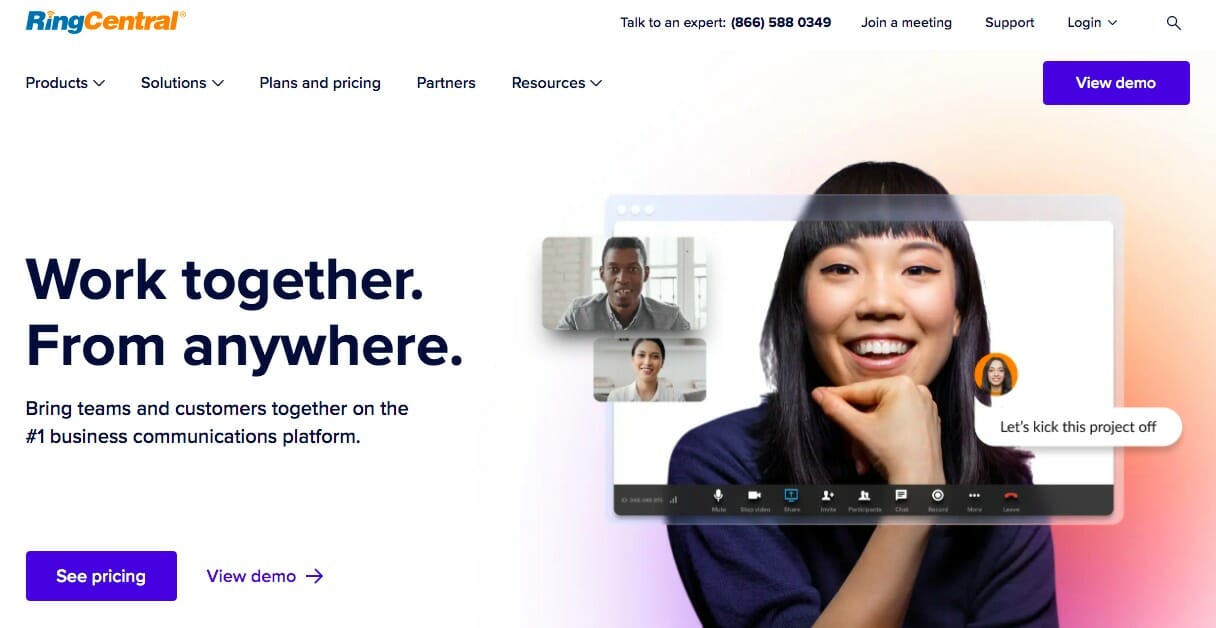 The inclusion of real-time call analytics makes RingCentral a more direct competitor to Dialpad than many of the other companies on this list. However, like Nextiva, RingCentral's analytics aren't focused on the content of your communications, but rather the metrics surrounding them, like how many calls were answered, etc. Because of this, you can't really lump RingCentral and Dialpad together, but it is more similar to Dialpad than a platform without any analytics would be.
Analytics aside, RingCentral offers a truly superb unified communications platform. In 2020, it won the title of Best Unified Communications Platform of the Year from UCToday. Clearly, RingCentral is doing something right.
Feature wise, RingCentral offers the standards: VoIP, SMS, audio and video conferencing, and instant chat. It also offers unlimited SMS within the borders of the U.S. and Canada.
Overall, it's hard to go wrong with RingCentral. Its reputation precedes it as it's been a Gartner Magic Quadrant Leader for UCaaS for the last six years. With a solid feature set, a long list of accolades, and reasonable pricing, RingCentral deserves careful consideration.
Pricing: Starting at $19.99/user/month, RingCentral is a very reasonable option from a financial perspective.  
Ooma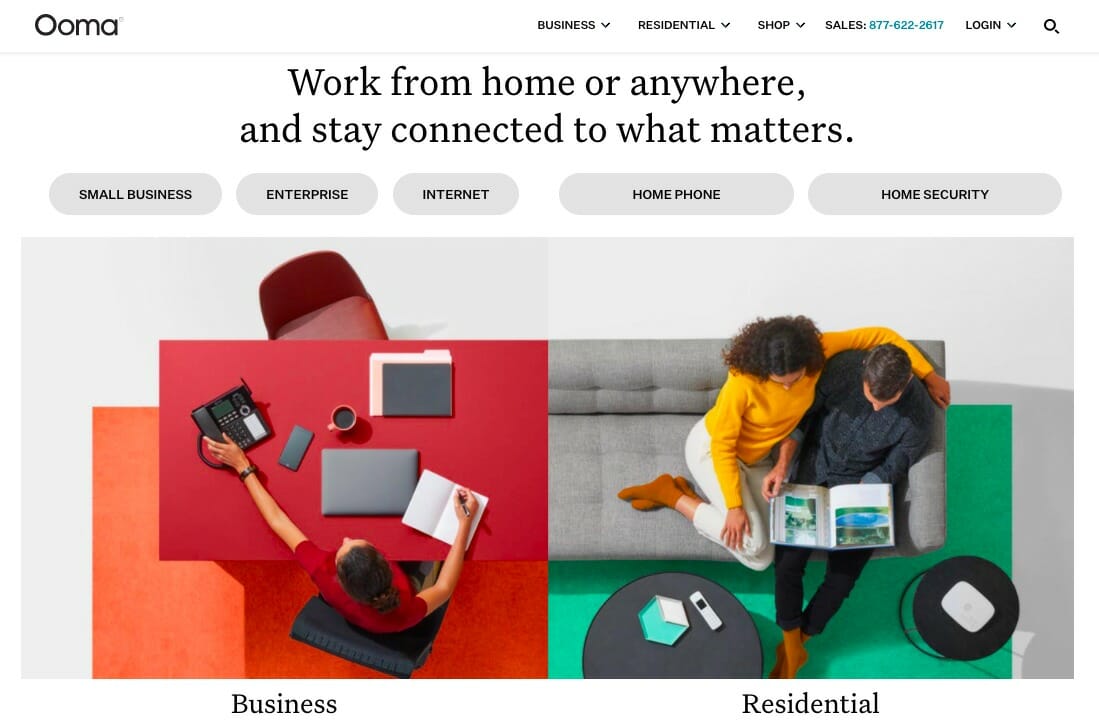 If we could give an award for best branding in a unified communication system, we'd have to give it to Ooma. Everything from their web design to their logo to their name makes you want to say "ooh la la!"
Surely enough, those first impressions translate over to the Ooma user experience. While this platform doesn't provide the same level of flexibility that other companies do (there's no API, and you need to use Ooma hardware), it does offer a very streamlined business phone experience. If you want a simple and elegant solution with excellent voice quality, Ooma is a great choice.
However, Ooma's incompatibility with third-party business phone hardware does mean that it's probably not the best choice for businesses that are switching providers and already have the hardware in place. If you're really set on Ooma but don't want to invest in Ooma hardware, you do have the option of using the Ooma softphone app on your smartphone, laptop or desktop.
Pricing: Starting at $19.95/user/month, Ooma's pricing is in line with most of the other solutions on this list, and it definitely offers a business phone experience that's worth considering.
Mitel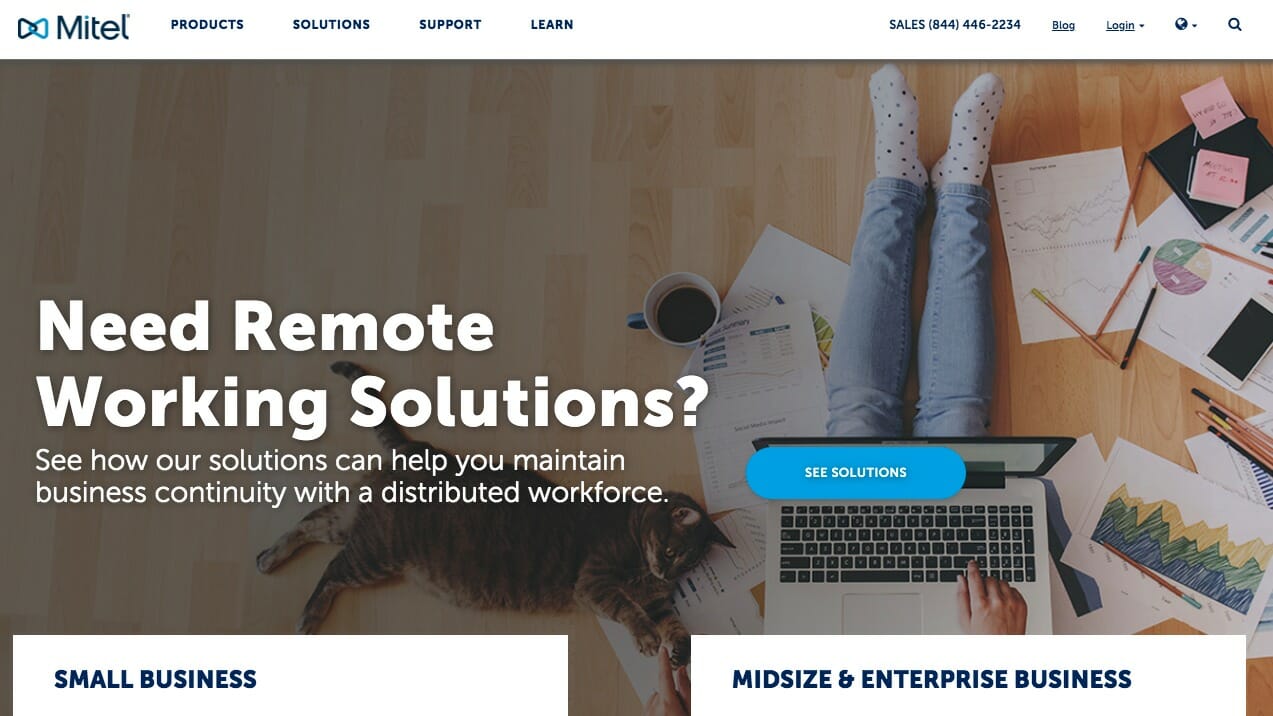 Mitel is a unified communications solution that brings a focus on cybersecurity to the forefront. For the most part, its features and capabilities are pretty standard: PBX (private branch exchange), VoIP, video conferencing, SMS, and more.
But Mitel differentiates itself from the pack with the inclusion of a VPN (Virtual Private Network), "a service that gives you private internet access and an encrypted connection", which protects users from cyberattacks. Plus, using the VPN when you make calls can add an extra layer of security to your communications.
Mitel's systems are built on the Google Cloud infrastructure, which should provide some peace of mind that they're generally reliable and secure. It also uses some of Google's AI capabilities to analyze conversations and direct callers to the right contacts.
This platform offers a wide variety of different business phone hardware, but you can also use its softphone app to enjoy its services hardware-free.
Pricing: Starting at $20.99/user/month, Mitel is only a pinch more expensive than most of its competition. For many, the focus on cybersecurity and the collaboration with Google will make it a worthwhile investment.
Cisco Unified Communications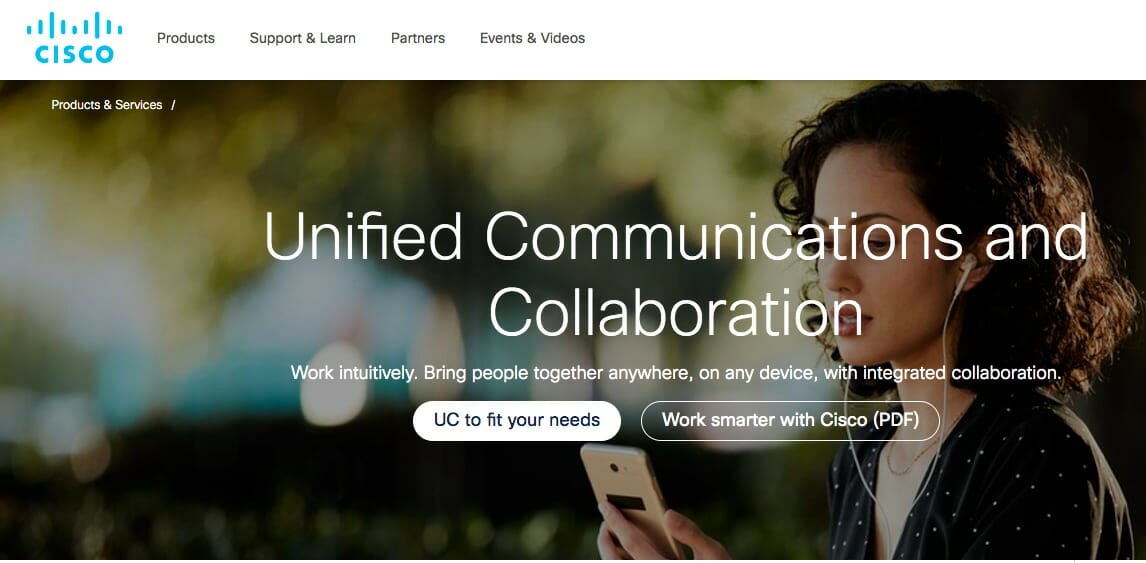 If you're looking for a midsize or enterprise solution, Cisco is likely a company you've already considered. A household name, Cisco has been offering communications products since 1984, and its reputation precedes itself.
Out of all the companies we've covered, Cisco's offerings are by far the most diverse. In fact, there are so many different features and solutions available that even just navigating the Cisco website can be something of a challenge.
Consequently, Cisco shouldn't be thought of as a simple plug-and-play solution. Wading through the options and figuring out exactly what you need for your business can be difficult. But on the bright side, it's very unlikely that Cisco will lack any feature you could be looking for.  
Overall, it's a reliable and secure platform with the capability to serve large scale businesses. Cisco offers solutions for small businesses as well, but it's clear that it caters to the larger end of the spectrum.
Pricing: Varies.
Key Takeaways
Dialpad is one of the most unique communications platforms currently available. Unlike most of its competitors, Dialpad uses NLP to bring new levels of insight and analysis to your communications. These insights can help you strategize, improve your customer experience and, ultimately, make more sales.
However, if you're not planning to make use of Voice Intelligence or NLP analytics simply don't interest you, there are plenty of other solutions that will serve you well and save you a bit of money.
At the end of the day, any of the solutions on this list will be a good choice. The most important thing is to find the best fit for your business, not the perfect all-around solution. As you come to your final decision, take your business's needs into account as well as your budget and preferences.
---
More Comparison Articles:
* 6 Best Cloud Hosted PBX Providers for 2023
* 7 Best UCaaS Providers for Your Business for 2023
* 9 Best Web Hosting Providers
* 8 Absolute Best Ecommerce Website Builders
* Top 10 Best Email Marketing Services
* 8 Best Business Phone Services in 2023
* 11 Best Video Conferencing Software
* Top Grasshopper Alternatives and Competitors for 2023
* Top 8×8 Alternatives and Competitors for 2023
* Call Center Phone Systems: Everything You Need to Know