In this review post, we'll take you through Avaya's top competitors so you can make an informed decision about how to move your business communications forward.
As more and more businesses go remote, it's increasingly important to find a communication and collaboration system that works for you.
So we'll cover the features, pricing and benefits of the best Avaya alternatives and give you an idea of what types of businesses they're best suited for.
What Is Avaya?
Avaya is a technology company headquartered in Durham, North Carolina that primarily offers communications products, like VoIP (Voice over Internet Protocol), UCaaS (Unified Communications as a Service), and OneCloud, a CPaaS (Communications Platform as a Service) product.
Unlike many other communications platforms, Avaya also offers project management features that make it something of a combo between Asana and a unified communications provider. It's a robust all-around business tool that can help maintain an in-office feel even when teams are completely remote.
Some of Avaya's top features include:
VoIP
Audio conferencing
Video conferencing
Messaging
CPaaS 
REST API
Project management tools
Team collaboration tools
If you're considering investing in Avaya, it's a good idea to take a look at some of its competitors to make sure that you have an accurate and comprehensive survey of the market before moving forward.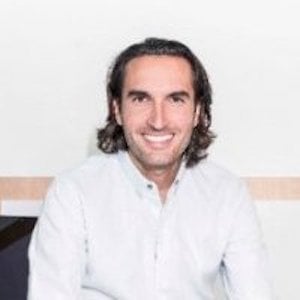 Yaniv Masjedi

CMO, Nextiva

Their expertise has helped Nextiva grow its brand and overall business
7 Avaya Alternatives and Competitors
Nextiva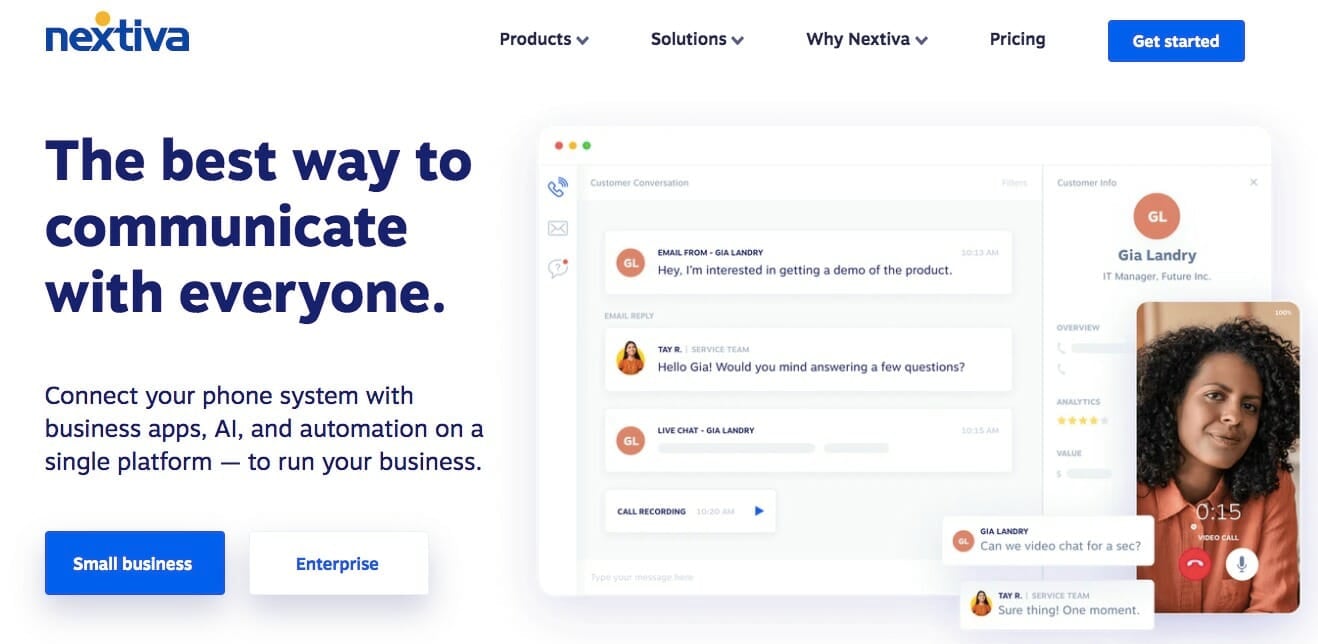 Nextiva is a leading unified communications provider. Among the standard offerings of VoIP, SMS, audio conferencing, video conferencing and fax, Nextiva also offers a CRM, which is a nice bonus that can help organize and structure the information you get from your communications.
With features like a multi-level auto-attendant, voice transcripts and automation, Nextiva helps take the efficiency of your communications to the next level. One of the more unique features, Caller AI, automatically provides you with information about the person you're speaking to as soon as a call is initiated. Combined, these features can save you time, put some of your more menial tasks on autopilot, and make sure you always have the right information in front of you to ensure that your calls go smoothly.
Plus, Nextiva's API allows businesses with enough tech know-how to write their own integrations and tools that can up the ante on your productivity. Or if you want to keep things simple, use the API to enjoy one of Nextiva's many standard integrations.
Pricing: Starts at $19.95/user/month, which is pretty much average in the unified communications market.
Dialpad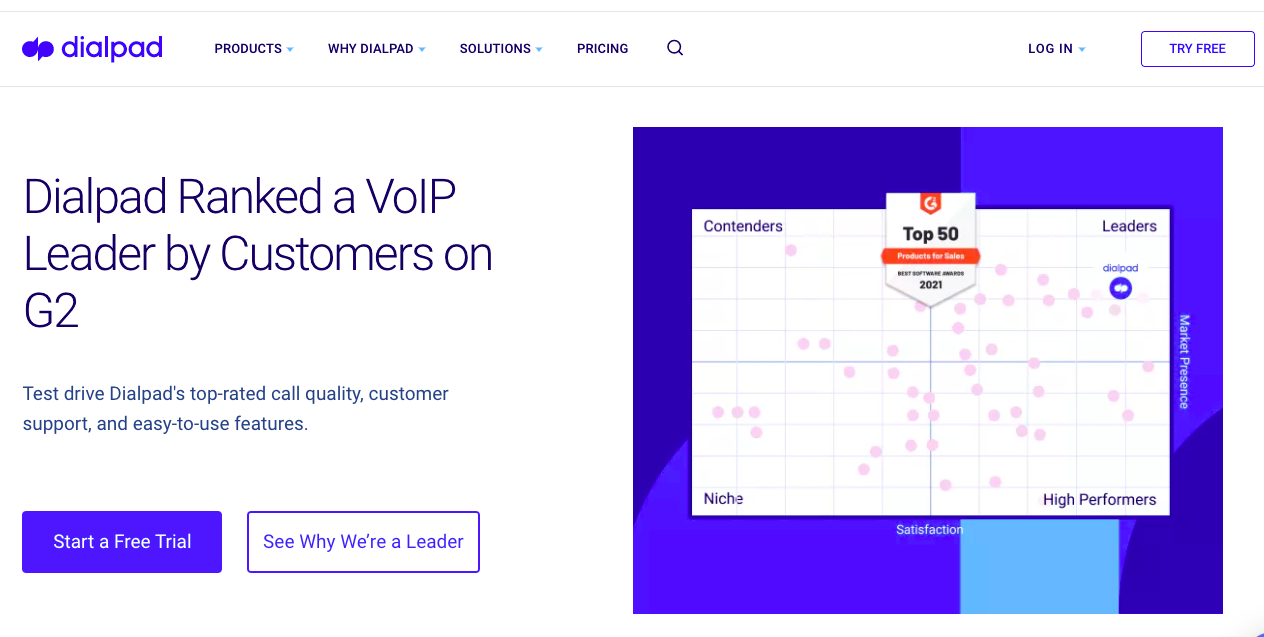 If cutting edge is what you're after, Dialpad has you covered. Although it offers the main features you'd expect from a unified communications provider, like VoIP, SMS, audio and video conferencing, etc., it also includes Voice Intelligence, which uses natural language processing (NLP) to draw insights from your communication activity.
Essentially, anytime you activate Voice Intelligence, it listens to your conversations and uses its NLP models to pick out key moments and derive actionable insights. Then, after the call is finished, you can look through these analytics to strategize your future calls and enhance your customer service experience.
One benefit of Dialpad is that you don't need to use the company's hardware to use its communications services. If you want a unified communications system but you already have devices from another company, that's no problem. Plus, you can even use Dialpad from your smartphone with its softphone app.
Pricing: Starts at $15/user/month. However, if your business needs integrations with software like CRMs and Slack, you'll need to opt for the more expensive Pro plan, which is $25/user/month.
RingCentral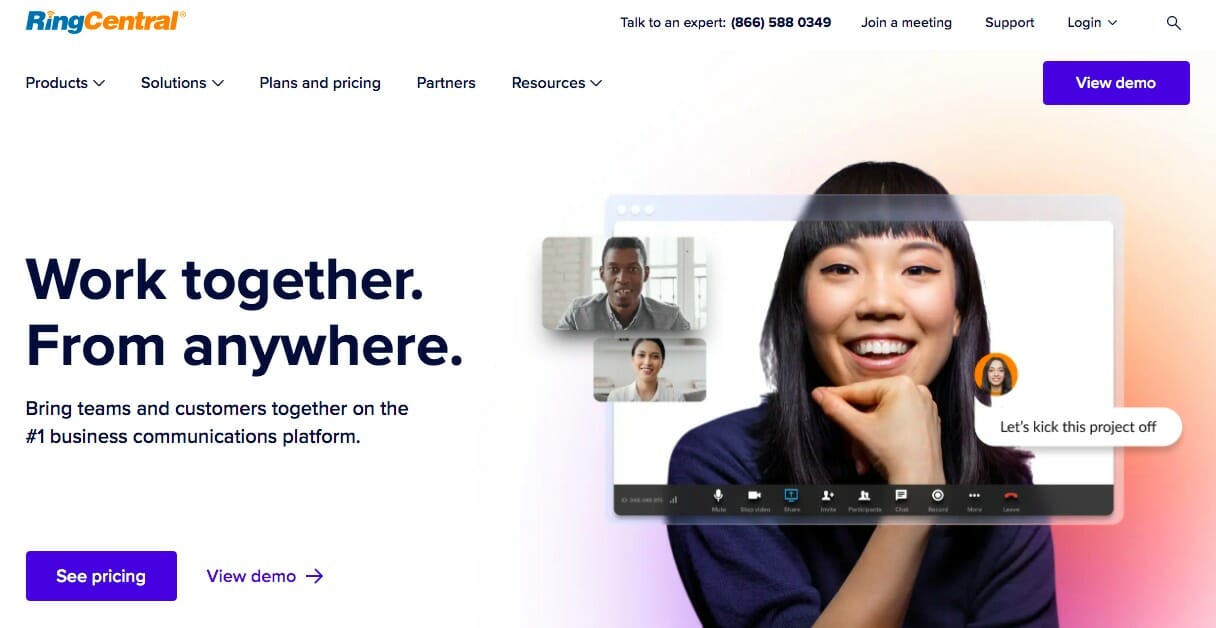 RingCentral is a well-known unified communications platform that is largely geared toward mid-sized businesses and enterprises. In 2020, it was named Best Unified Communications Platform of the Year by UCToday, so if you're looking for a UC platform, this one deserves your attention.
Overall, RingCentral doesn't stray from the tried-and-true formula: It offers VoIP, SMS, instant chat, and video and audio conferencing.
It also offers some unique tools that provide real-time analytics about the conversations you're engaging in. This can help you better strategize when you're on the phone and need to ensure that you have all the information necessary for an effective encounter.
If you're located within the U.S. or Canada, you'll be pleased to find that you can send unlimited SMS within either country's borders. Additionally, there are no user limits, so you can grow without restrictions.
On the whole, RingCentral is particularly well suited to large businesses and enterprises. If you run a small business, it can work for you too, but there may be better options for you.
Pricing: Starts at $19.99/user/month, one of the lower-cost options available on the UC market.
Vonage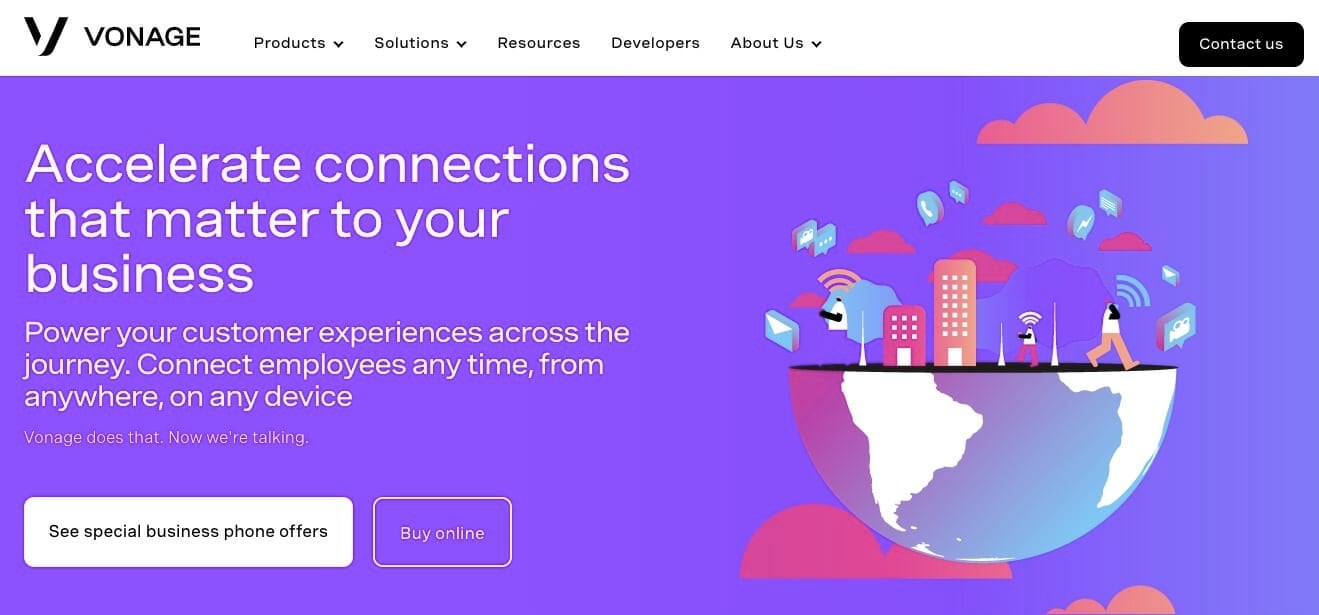 If you watched TV during the early 2000s, you almost definitely remember the Vonage commercials that blessed the airwaves with their catchy whistles and orange branding. While the company's focus in those days was residential VoIP, it has now almost entirely shifted its focus to the business sphere.
Vonage is the only provider on this list that can somewhat compete with Avaya's CPaaS offerings. Although Vonage isn't exactly a CPaaS, its communications APIs can facilitate the development of new communications platforms, integrations and services, just like Avaya's OneCloud CPaaS.
If you have a development team on board or you're developing a tool that has a communications component, this offering can be helpful. However, most businesses will be more interested in Vonage's more standard unified communications products.
In that regard, there are no surprises: it provides fax, SMS, VoIP, team messaging, and more.
Pricing: Starts at $19.99/user/month for mobile-based solutions. If you want to use a business phone, pricing starts at $29.99/user/month.
Ooma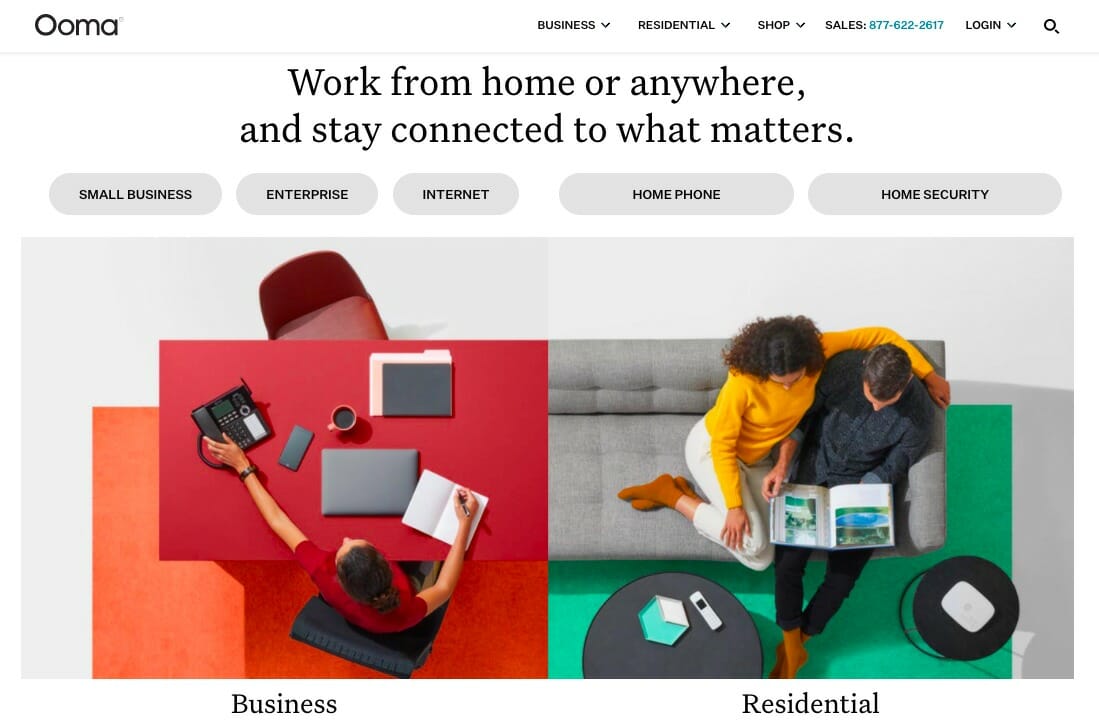 Ooma exudes a certain elegance. Although its bread and butter is VoIP and business phone solutions, it also offers SMS, MMS, and audio and video conferencing.
However, because of its roots in VoIP, Ooma is not device agnostic. If you want to use this platform, you'll need to invest in Ooma's proprietary hardware, as its communications offerings are not compatible with third-party business phone devices. This makes it a less-than-ideal solution for businesses that already have hardware in place and only want to switch providers.
That said, if you're after a mobile solution, you can use Ooma with smartphones via its softphone app. 
Although this solution is not particularly flexible when it comes to devices, it is rather flexible as far as software is concerned. With the Ooma API, you can expand its feature set and integrate with your favorite business tools like G Suite and Salesforce.
Overall, Ooma is a great choice if you're looking for a system that marries hardware and software together into one turnkey solution. However, if you're not interested in investing in new hardware for all your team members, you will likely do better with a different provider.
Pricing: Starts at $19.95/user/month. Most of its features are only included with Ooma Office Pro, which is $24.95/user/month. So, you're likely going to end up above-average prices for an experience that can't be entirely translated into mobile.
Cisco Unified Communications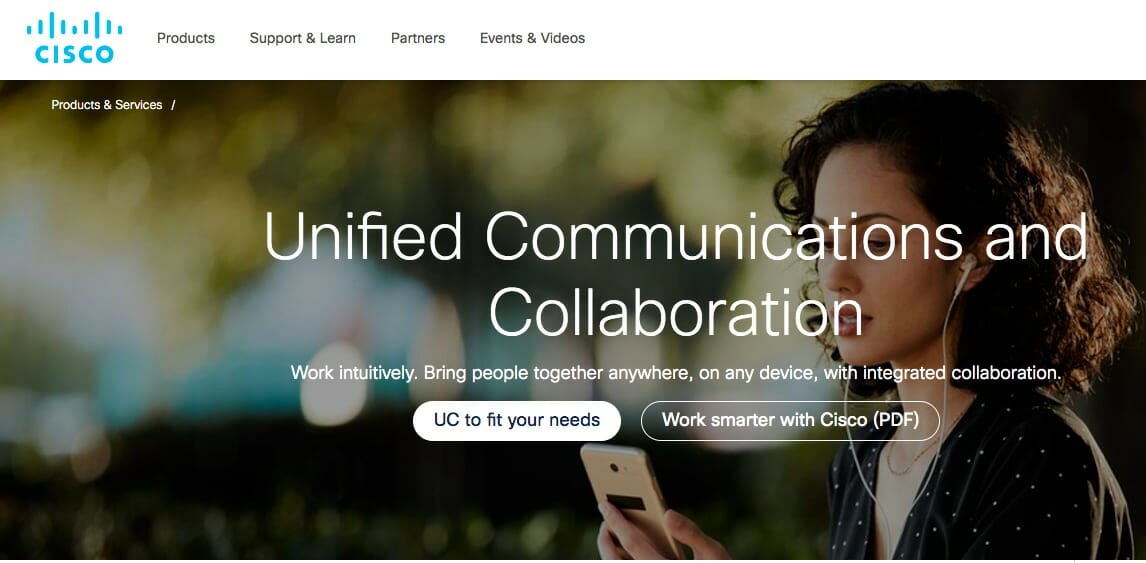 Cisco is one of the most well-recognized communication brands, and its unified communications offerings are perhaps the most diverse we've covered so far. It has a range of solutions that cover everything from small and midsize businesses all the way to major enterprises and multinational corporations.
Among Cisco's varied offerings is an on-premises calling solution, cloud calling, Webex for audio and video conferencing, telephony extensions, messaging, application development platforms, and much more.
Suffice to say that no matter what you're looking for, Cisco likely has a product that will fit the bill. The only downside to this is that the experience is less streamlined than other more focused brands — even just navigating through all the options on Cisco's website can be confusing and overwhelming.
However, if you don't mind getting into some deeper water, Cisco offers a very reliable and stable platform that will serve your business well. Customers are generally quite satisfied with their experience, and Cisco isn't a household name for no reason.
Pricing: Since Cisco's offerings are so varied, you'll have to dig a bit or call them to find the pricing for the specific solution you're interested in.
Mitel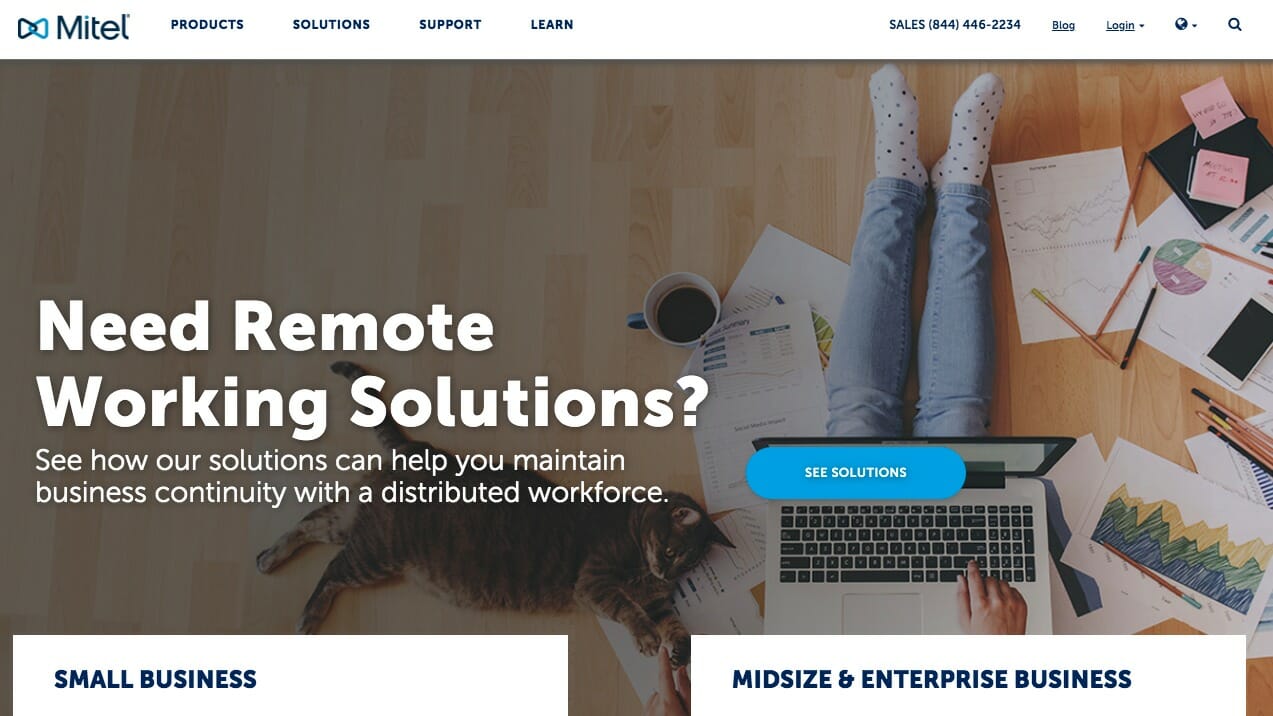 Mitel is a communications company that offers PBX (Private Branch Exchange), phone, SMS, video, and instant messaging. Its PBX options make it a good solution for enterprises, but small businesses can use it as well.
Mitel built its solutions on the Google Cloud infrastructure, so you can rest assured that its products are stable and reliable. This can also be useful if you're already immersed in the Google ecosystem.
If cybersecurity is a top concern, you'll be pleased to find that Mitel provides a free VPN (Virtual Private Network) as an additional feature. This also indicates that Mitel built its platforms with security in mind.
The inclusion of a softphone mobile app means that you can use Mitel on your mobile phone without investing in any expensive hardware.
Pricing: Starting at $20.99/user/month, Mitel is slightly more expensive than much of its competition. However, it does offer some unique features, and if you're looking for a solution that has cybersecurity in mind and is built on the Google Cloud, Mitel fits the bill.
Key Takeaways
Avaya offers a comprehensive unified communications solution that will serve many businesses well. But it's not the only option, and it's always a good idea to scope out the competition before making a major investment.
As with most things, there is no "right" solution that works for every business. Instead, you should be looking for the best fit — the platform that offers the features you care about most at a price point that fits your budget.
The options presented in this list should be more than enough to get you started, but there are many more companies that provide robust and comprehensive solutions. If you venture beyond these hand picked selections, just make sure to carefully evaluate the company's reputation, feature set, and pricing before making a final decision.
---
More Comparison Articles:
* 6 Best Cloud Hosted PBX Providers for 2023
* 7 Best UCaaS Providers for Your Business for 2023
* 9 Best Web Hosting Providers
* 8 Absolute Best Ecommerce Website Builders
* Top 10 Best Email Marketing Services
* 8 Best Business Phone Services in 2023
* 11 Best Video Conferencing Software
* Top Grasshopper Alternatives and Competitors for 2023
* Top 8×8 Alternatives and Competitors for 2023
* Call Center Phone Systems: Everything You Need to Know