Creating an ad is fairly easy, but generating sales from it is difficult.
PPC still remains one of the easiest and most preferred ways for online advertising and this is the reason it's full of advertisers. Due to rising competition, generating good conversions from ads is getting harder.
The average conversion rate is 2.35%, but a GOOD conversion rate is 11.45%. Yes, you read that right!
Click To Tweet
The results are from a survey conducted by WordStream. The below graph displays the conversion rates of accounts where around 1/4 of all accounts have less than 1% conversion rates, while the top 10% of of accounts have conversion rates of 11.45%: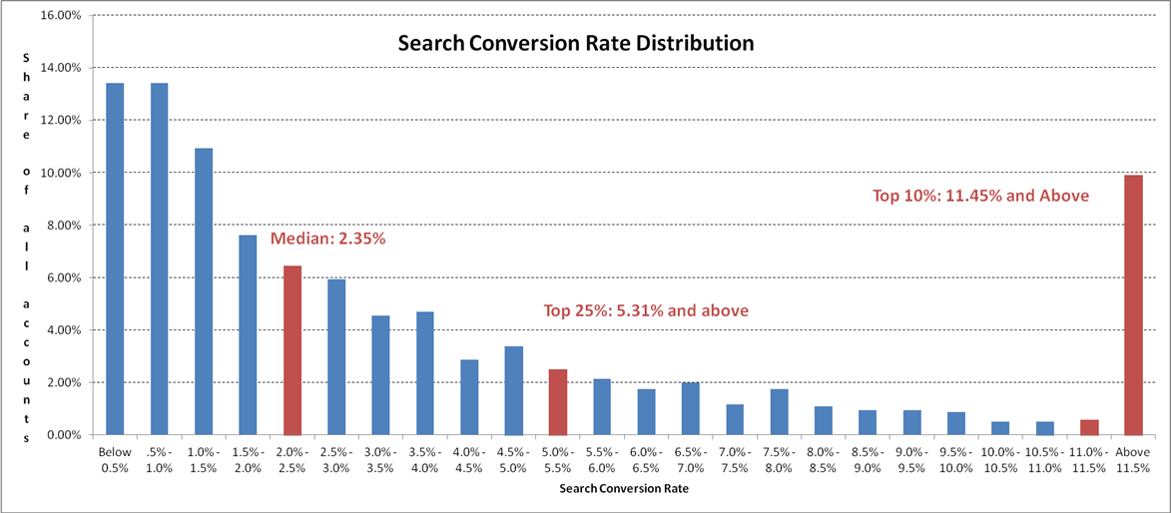 Most advertisers fall in the average category achieving 2-4% conversion rates, but if you want to make it to the category of super achievers, then there are certain rules that you need to follow.
Before reading the 9 rules for creating ads that convert, be sure to check out 44 Must-Have Marketing Tools for any Business in 2019, which are broken down into categories such as SEO, Content Marketing, PPC, etc., to help make the below tasks easier for you!
Rule 1: Pick the Right Keywords
Choosing the best keywords is extremely crucial for the success of your ad campaigns as they can help get your business seen by the right prospects, thereby increasing your chances of conversion.
Here are the best practices for selecting the right keywords:
Put yourself in the shoes of your customers and note the keywords that you would enter while searching for your business.
Be as specific as possible. For example, if you are selling men's Adidas shoes online then "online shoes" might not give you the best returns compared to an exact-match keyword like "buy men's adidas shoes".
Include synonyms, plurals, exact product names, serial numbers, etc. in order to make your keywords as relevant to the product as possible.
Use a technique like concatenation to combine individual words together. A tool like Mergewords can be extremely useful to quickly and easily merge words. Have a look at the below table where individual words are merged together to form different keywords: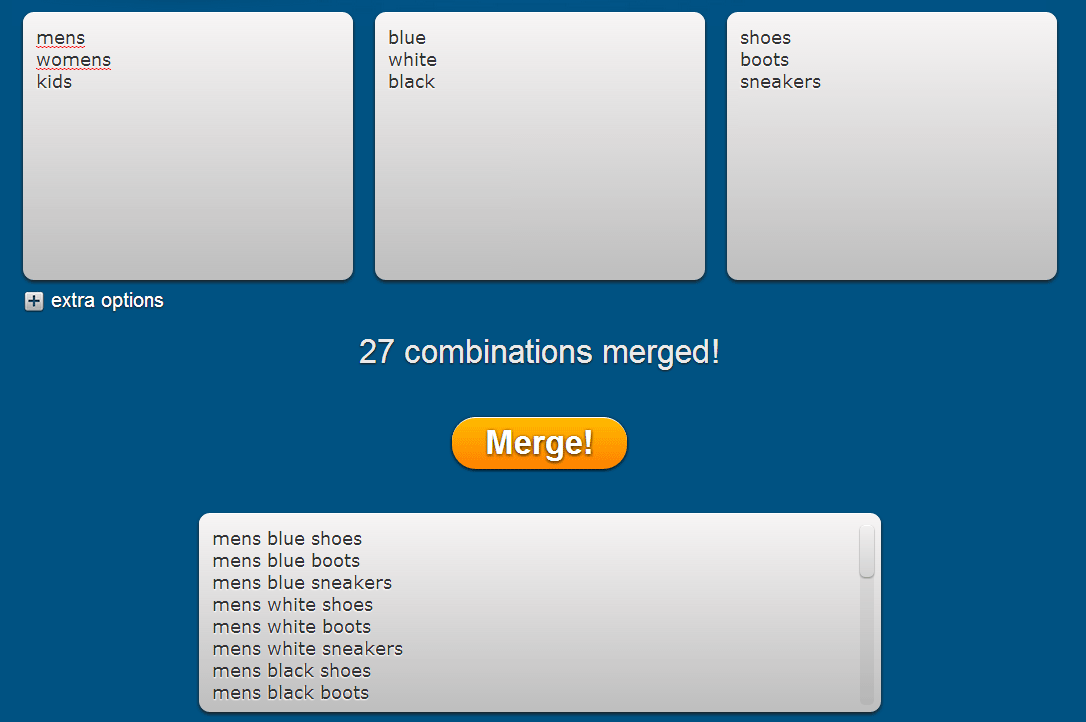 Exclude negative keywords from your campaigns because they will unnecessarily consume your ad budget. "Negative keywords let you exclude search terms from your campaigns and help you focus on only the keywords that matter to your customers. Better targeting can put your ad in front of interested users and increase your return on investment (ROI)." So if you sell eyeglasses, then you should add negative keywords for search terms like "wine glasses" and "drinking glasses."
Dive Deeper: SEO Keyword Research Made Easy in 2019
Rule 2: Choose Easily Measurable KPIs and Follow the Kanban Method
Selecting the right key performance indicator for your ad campaign is crucial because it makes all the difference in the performance of your ads. KPIs will indicate how your ads are performing and whether they are providing the best ROI. It should be relevant to the goals of your business and must focus on the current growth phase.
The following KPIs should be tracked regularly to determine the performance of your ad campaigns:
Clicks – This is a measure of the number of times your ads were clicked on by users. The golden rule for ads is: if your ad receives an impression, then it must receive a click.
Cost Per Click (CPC) – This determines the amount of money you need to pay to the advertising channel for every click on your ad. The lower your CPC, the more clicks you are able to generate, leading to higher conversions.
Click-Through Rate (CTR) – This is a measure of the number of clicks your ad receives divided by the number of impressions. You must always aim for a CTR of above 2%.
Relative CTR – This measures the performance of your ads on the display networks as compared to other ads on the same site: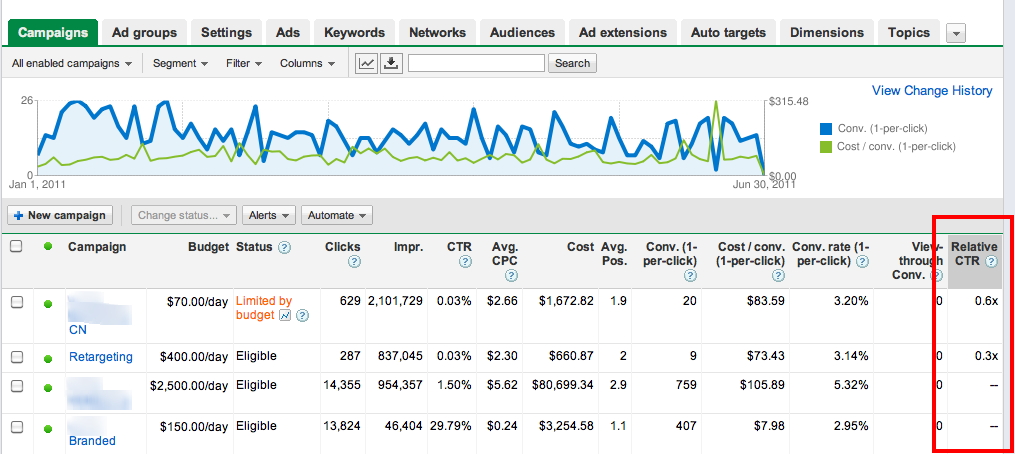 Conversion Rate – This is a measure of the total number of conversions your ad receives divided by the total number of ad interactions. You need to use conversion tracking, which is a free tool in your Google Ads account, in order to accurately measure the number of conversions happening in your campaigns:
Cost Per Conversion (CPC) – This is a measure of the average amount of money spent on every successful conversion. The lower your CPC, the better performing your ads are.
Search Term Report – This report shows all the keywords that resulted in the display of your ad. The key here is to add high-performing search terms as your main keywords in the ad campaigns. This will ensure the optimal performance of your ads.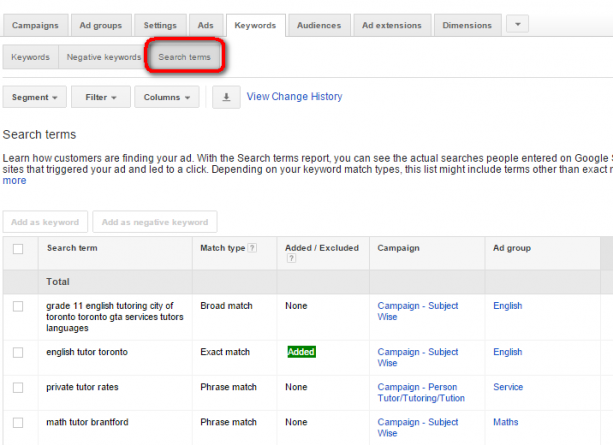 Quality Score – This is a rating provided by Google that determines the CPC. A higher-quality score indicates a lower CPC amount, while a lower-quality score indicates a higher CPC amount. Better-quality scores also helps in higher ad placements, leading to more sales. Quality score is dependent on the historical CTR of your account, the relevance of your ad copy to the landing page and the overall experience your landing page offers  users.
It is essential to measure each and every KPI because it will help you understand which metrics you need to optimize in order to have the best conversion rates.
I would also recommend that you follow the Kanban method because this will help you optimize your entire workflow, leaving you time to devote on things that matter the most to you. Under this method, feedback loops of various kinds are created that not only help to measure success, but also let you identify the bottlenecks that are restricting conversions. A simple example of a Kanban board is provided below: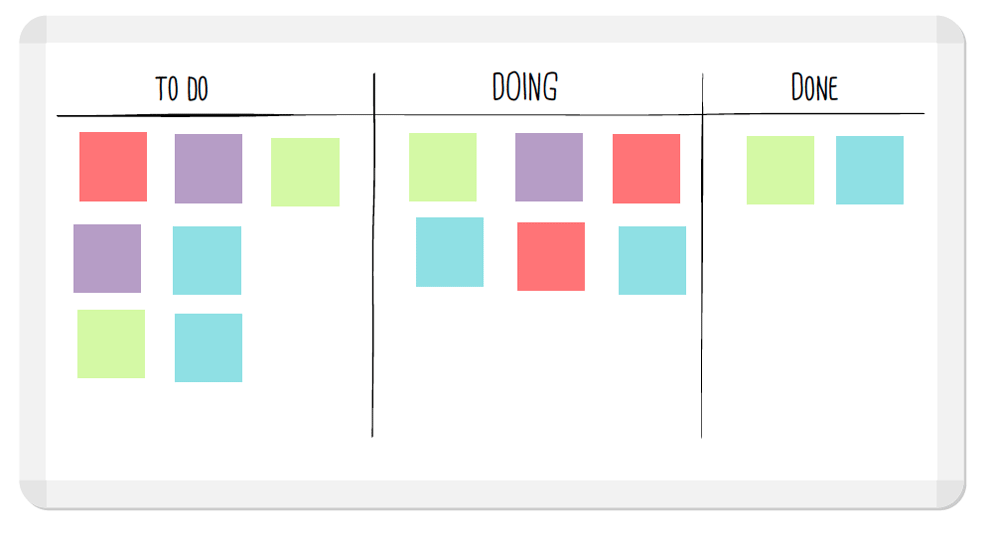 As you can see from the above figure, the Kanban board is divided into three columns:
The tasks that need to be done
The tasks that are in progress
The tasks that are done
When you have a visual workflow for your ads and associated KPIs along with feedback loops for every column, it becomes easier for you to measure results and fix things that aren't working.
Dive Deeper: 15 Fast and Easy Ways to Improve Your Site's Conversion Rate
Rule 3: Personalize and Use Active Verbs in Your Ad Copy
The performance of your ads is determined by the effectiveness of your ad copy. This is why you need to use proper Call-to-Action words within your ad copy to maximize the number of conversions. Choice of words plays an important role in this regard.
Have a look at the below image from Slack, which uses an action verb in the CTA – "Get Started" – to improve conversions: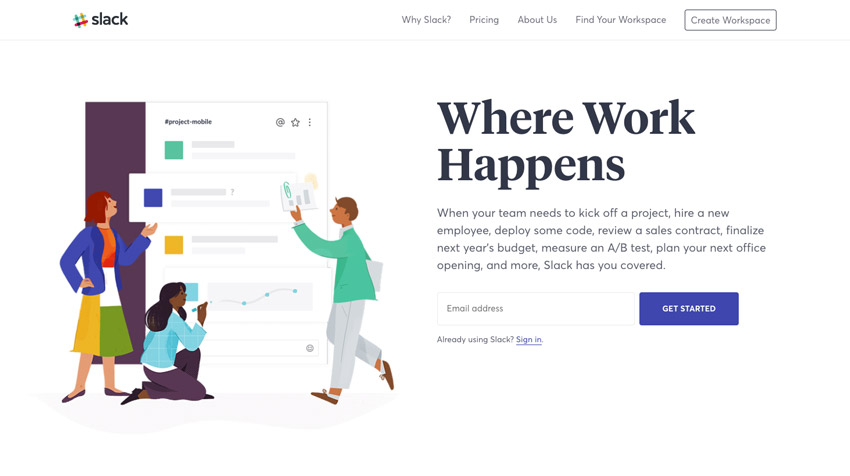 This Call-to-Action cheat sheet from Lunametrics lists all the active verbs that you can use in your ad copy in order to make it more action oriented. You need to combine these action verbs along with main keywords to create keyword-rich and conversion-friendly ad copy.
For example, if your main keyword is "online logo," then you can combine it with an action verb like "create" to come up with: "Create a logo online for free."
Dive Deeper: The Complete Guide to Getting Started With Website Personalization
Rule 4: Create a High-Quality Landing Page
Your landing pages are the most important element in your advertising strategy because the job of converting the prospects rests on the landing page. This is the reason you want your landing pages to be absolutely stunning and user friendly.
Here are some ways that can help you create a perfect landing page that is able to convert your visitors:
Your landing page should be absolutely relevant to your ad. So if your ad text says "create a free logo," then your landing page must enable the visitors to create a free logo.
Your keywords should be relevant to the targeted landing page or else it will impact its Quality Score, offer a poor user experience and reduce conversions.
Use landing page builder software like the WordStream landing page creator to make it easy to create high-converting landing pages easily. Besides which, it has an option for conversion tracking so that you can accurately track goals and leads.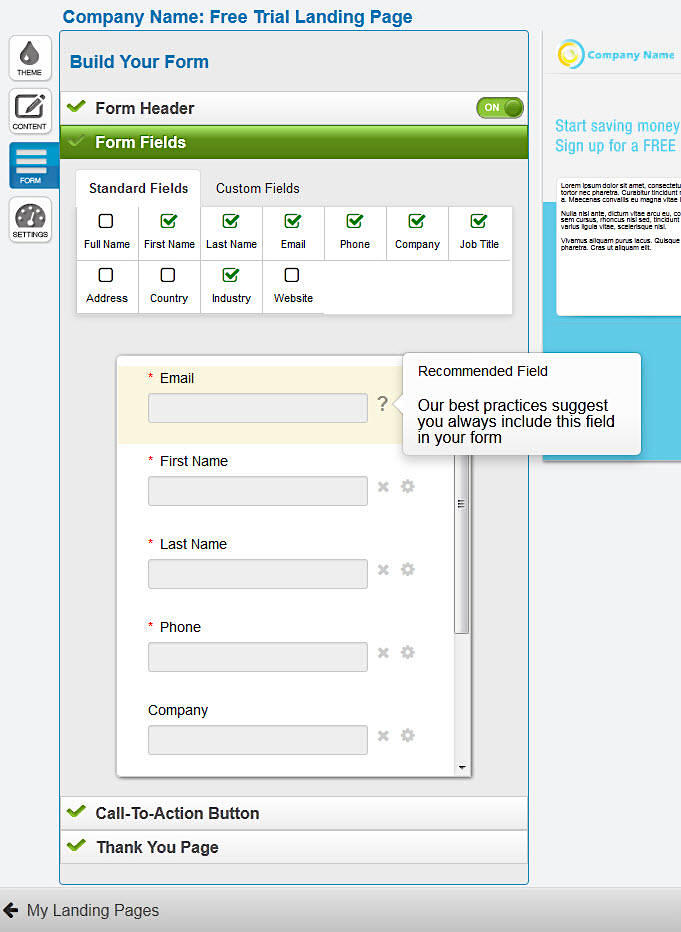 Use heat maps and scroll maps to identify the effectiveness of your landing pages. Heat maps let you see the areas where people are clicking: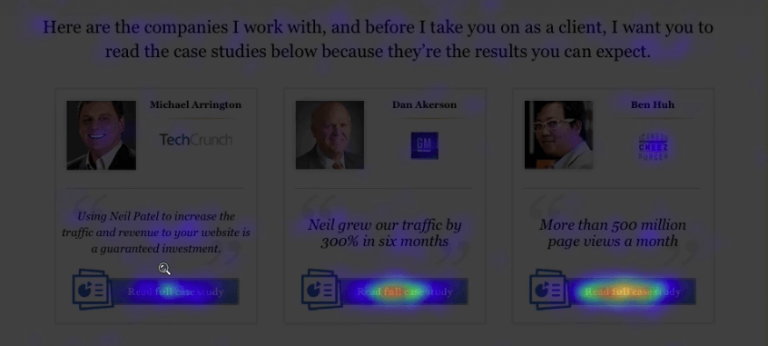 While scroll maps let you see the areas where people have stopped reading or scrolling: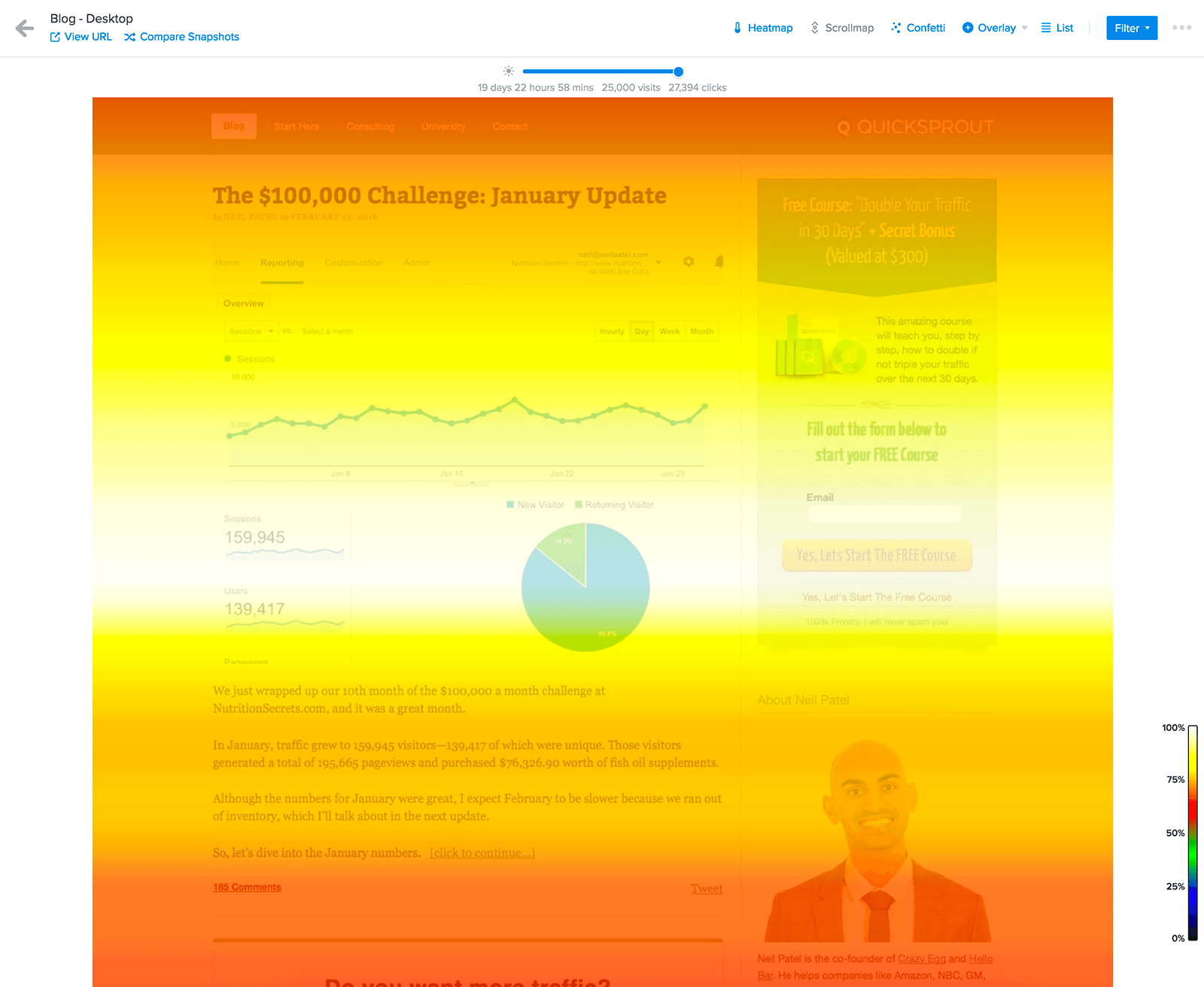 Provide a clear offer to your visitors because too many elements (images, CTA buttons, bolded titles, options) might confuse them. For example, if you are acquiring leads for your next seminar then you must have a clear form that users fill out in order to register for the seminar

–

not to also purchase your "e-book" and "learn more".
Use contrasting colors in your landing page elements because this will make it easier for visitors to quickly see and then click on the CTA.
Leverage the power of scarcity

–

which is a psychological tactic that feeds on the FOMO (fear of missing out) factor

–

as it can facilitate conversions. Expedia (and plenty of other travel sites) uses scarcity marketing techniques like "only 5 left at this price!" in order to persuade people to book their flight now, rather than thinking about it and maybe forgetting or going with another business: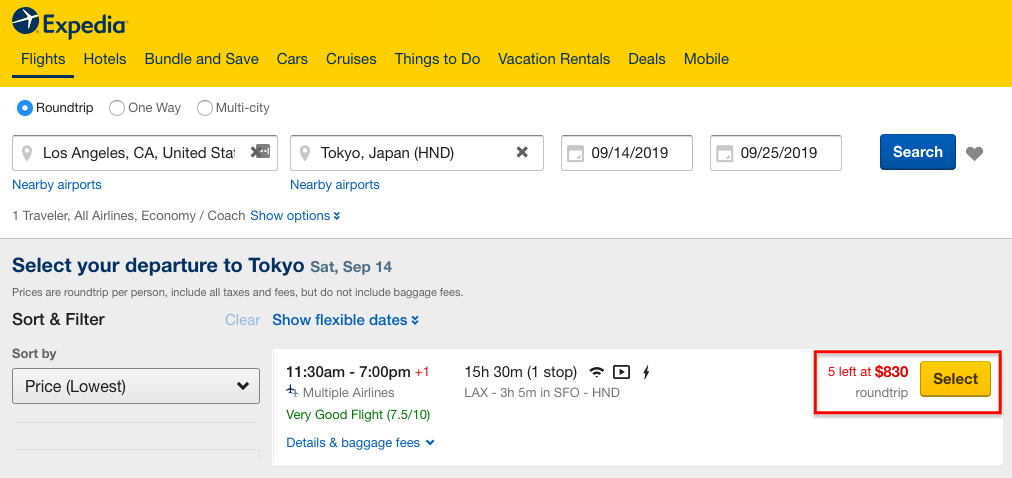 Use video on your landing pages because they have been known to improve conversions by up to 80%.
Add testimonials and social proof as this will convince the customer about the genuineness of your services and effectiveness of your product.
Include FAQs and provide a guarantee to eliminate risks because people are more inclined to do transactions that are risk-free

–

even if that just means guaranteeing that they can return the product no questions asked and at no cost to them.
Dive Deeper: The Ultimate Guide to Creating a High-Converting Landing Page in 2019
Rule 5: Follow the Eisenberg Hierarchy of Optimization
Every conversion follows a hierarchy. Hence, it is important to understand the Eisenberg Hierarchy of Optimization that is based on these five levels: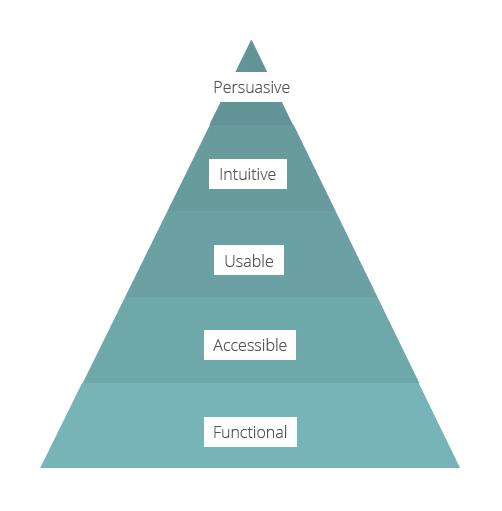 Let's go into detail about each of these levels and how they aid in conversions:
Persuasive – Your ads should be persuasive in nature, meaning that they should change the perception of your audience towards your business. Volkswagen's 'Think Small" campaign is a great example of a persuasive ad campaign where Volkswagen changed the perception of Americans

–

historically in love with their "the bigger, the better" automobiles

–

into believing that even small cars can do wonders. You need to think about changing the attitude or opinion of your audience towards your products or services if you want them to buy from you.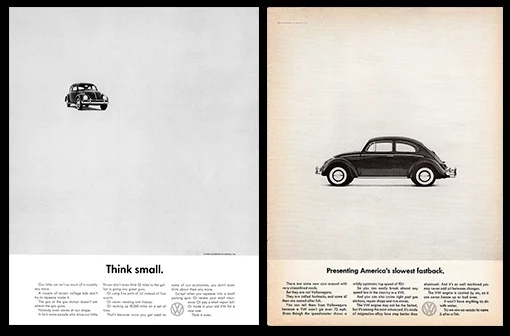 Intuitive – Your ads should be easy to read and understand so that when the prospect reaches your landing page, it's just what they were expecting, content-wise. This means that your landing page text should reflect the ad text. Also, the text and images on the landing page should follow the prospect's eye path for easier scanning and conversions. If you have a person in the ad, then he or she should be looking toward your CTA.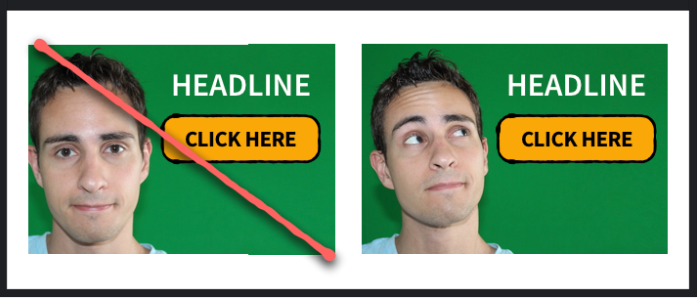 USAble – Whenever a user clicks on an ad, the landing page they visit must be an extension of the ad itself. For example, if the ad says "50% off all products," then the landing page must convey the message that they will get 50% off. In other words, don't use tricks to lure people in; they should be able to get what they were promised. Also, the unique selling proposition (USP) should be clear, the offer should be spot on, and the CTA must be visible and action-oriented.
Accessible – Your ad should be accessible from each and every device. Responsive design will ensure that your ad is displayed well no matter what device people use to browse the Internet. Don't ignore your mobile phone audience; by 2021, 53.9% of all retail e-commerce is expected to be generated via m-commerce.
Functional – Your ad should be fully functional without any broken links, broken CTA, incomplete ad text, non-working forms, unresponsive pages, etc. If your landing pages are not functioning properly or the phone number that you display in your ad is not working, then you can kiss your conversions goodbye.
Dive Deeper: Top 10 Mobile Optimization Best Practices For E-commerce Sites
Rule 6: Gamify Your Ads
Gamification of ads takes display advertising to a completely new level. We are living in an age where interactive experiences have become the new norm. Brands that gamify their ads and offer high-quality interactive experience for their customers are more likely to succeed in their advertisement efforts.
Have a look at the below ad from McDonalds that made use of gamification to reach gamers. When people clicked on "Start", a game began in which users had to catch their own Filet-O-Fish using bait while carefully avoiding the obstacles. The banner ad served two purposes: it allowed the users to participate in a game and in that process it promoted the Filet-O-Fish burger range from McDonalds.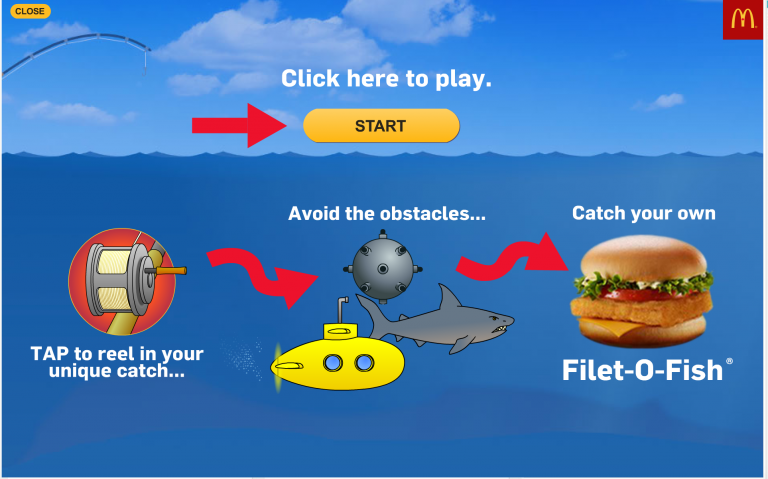 Rule 7: Leverage the Power of FTO (Fast Take Off) Method
When you are running ads on channels like Google Ads or Facebook, then the FTO (Fast Take Off) method can come in handy. This method, suggested by Hootsuite, relies on the concept of spending more at the initial level in order to start generating results quickly.
Under this method, you need to assign a daily and monthly budget that exceeds what you have planned. For example, if you have planned a monthly budget of $100 a day, then exceed it and spend around $150 per day. This will raise your chances of conversion by up to 50%.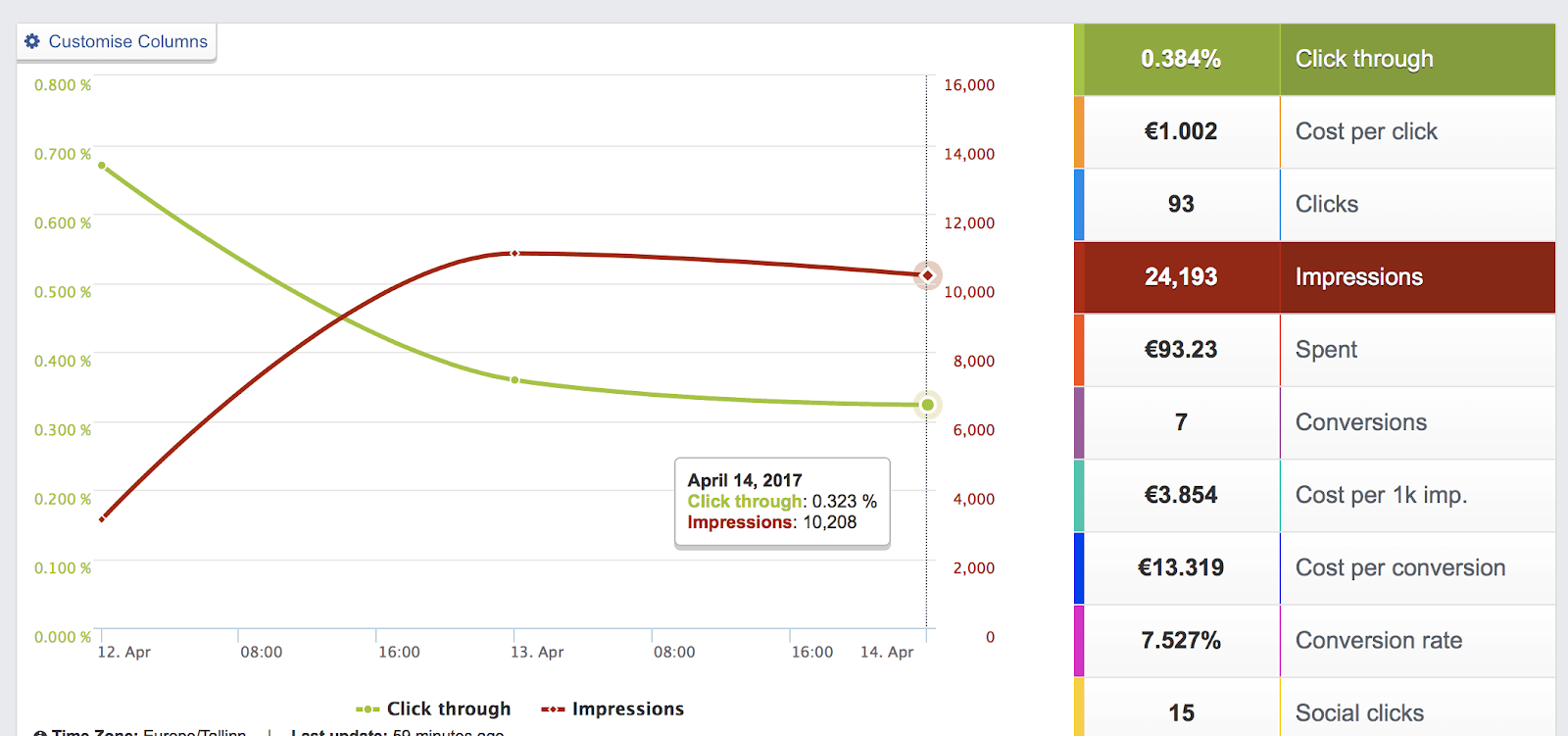 It's important to keep the quality scores as high as possible because this can have a direct impact on the CPC. In the case of Facebook ads, you shouldn't use the Accelerated Delivery because it simply focuses on speed and ignores the cost.
Dive Deeper: 30 Winning Facebook Ads and Why They're so Effective
Rule 8: Optimize Your Ad Schedule
Your ad schedule is an important part of your overall ads strategy because it enables you to schedule ads at specific times of the day or change bids during certain times of the day.
Automatic ad scheduling lets you concentrate more on optimizing your landing page experience for your users instead of manually scheduling your ads/bids every day. Your ads automatically run during the optimum time when you experience a good flow of conversions.
Here are the steps you need to follow to set a custom schedule in Google Ads (formerly AdWords):
Log on to your Google Ads/Google AdWords dashboard.
Under the Campaigns tab, click on the name of the campaign to be scheduled.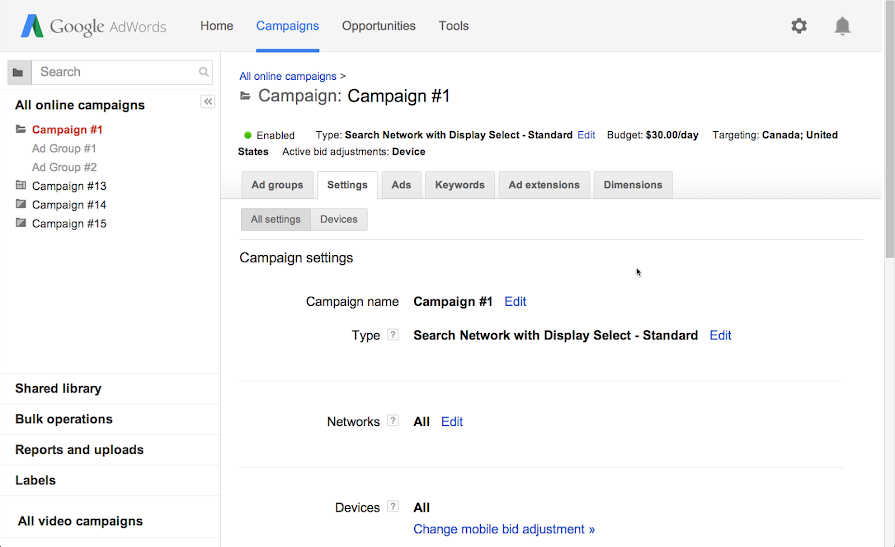 Under the Settings tab, click on Ad Schedule and make your selections for days and time. Remember to adjust your ad schedule as per the time zone of your customers.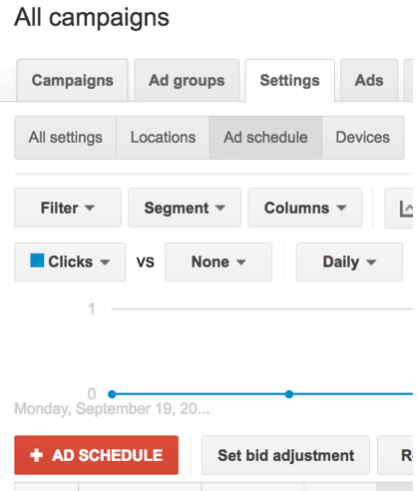 Or you can watch Google's "Using custom ad scheduling in AdWords – AdWords in Under Five Minutes" video:
Rule 9: Test Your Ads Using A/B Testing
We are well aware of the fact that budget is a big factor when it comes to advertisements. This is why you must take every step to maximize your budget, and A/B Testing is one such method that can help you to eliminate costs and improve your conversion rates.
A/B Testing also known by the name Split Testing, which uses two variations of the same landing page, namely A and B, in order to determine which one performs better in converting users.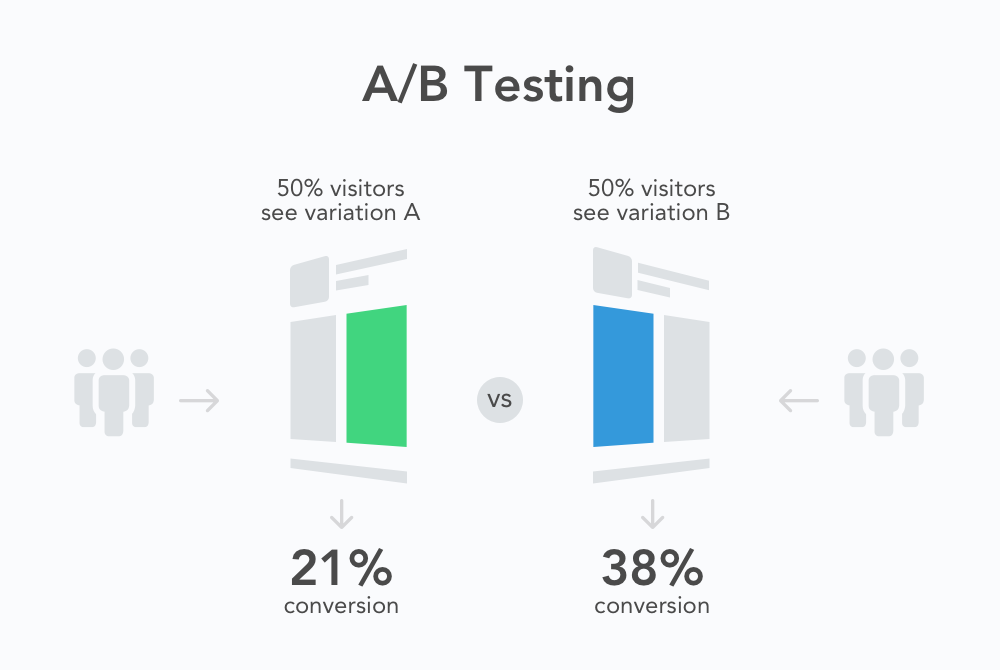 Follow the below steps to get started with A/B Testing:
Define your objectives (what you want to achieve from the campaign, whether that's more traffic, leads or sales) and state your hypothesis

–

which action you will take based on the results.
Prepare a list of all the elements you want to test, like the color of the CTA buttons, the CTA button text, the heading text, the images, the background color, etc. Remember to test only one element at a time because if you test more than one variable then you won't be able to identify the exact change on the landing page that gave you success.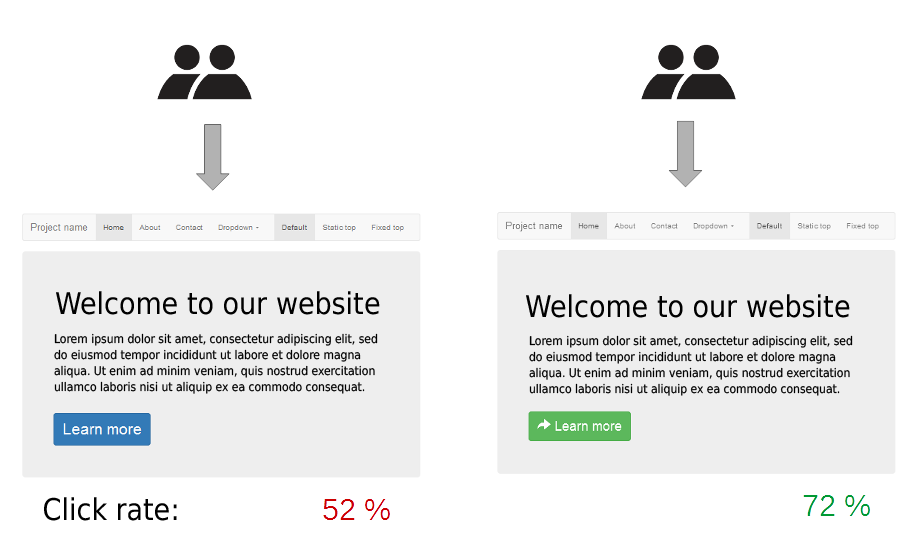 Focus on the user experience because your audience is more likely to buy from you when they are in a happy mood. Understand what your customers want from you and test variables that optimize the emotional state of the users.
Always show the A and B versions of your pages to the same group of people in order to track accurate results, because if you display the pages to different groups of people, then they will react differently and your experiment won't be accurate.
Invest ample time in this experiment because it will allow you to identify the exact version of your webpage that is generating the best results. If you run the experiment in a hurry, you might lose a lot of money running ads on landing pages that generate little to no conversions.
Use tracking pixels to understand the behavior of the user and how they move within the sales funnel.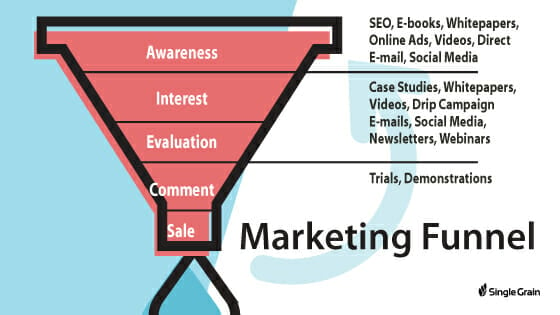 Ask your audience questions about your ads. Remember, Facebook and Google both ask us questions related to the experience of their ads. They do so in order to acquire data and determine what excites people to take action. This will eliminate ads that people don't like. Hence, it is always recommended to ask questions like How appealing is the ad? Or How likely are you to buy the product after viewing this ad?
Need Help?: Contact Single Grain 
Final Thoughts
Generating conversions is the toughest part of online marketing, but it becomes easier if you know the golden rules of conversion. Follow the above 9 rules of conversion and you will never go wrong. Happy advertising!