Everything You Need to Know about Marketing Compliance for 2023
These days, marketing compliance is a constant battle for companies.
The trouble is that with so much digital content being produced every day, it can be challenging for the marketing team to ensure that all marketing collateral meets the legal and regulatory standards set by internal and external bodies.
Although marketing compliance may seem like a redundant, repetitive and time-consuming task that is mostly administrative in nature, it has one significant advantage: customer trust.
Consider compliance as a part of your effort to educate your prospective customer and save them from being deceived.
In fact, consumers cite brand transparency and authenticity on social media as an essential purchase motivator that impacts their decision – and marketing compliance ensures that they get exactly what they are looking for.
What Is Marketing Compliance?
Marketing compliance is the action(s) taken to make sure that your content, customer data and business practices comply with the laws and policies that protect consumers. It prevents organizations from using deceptive tactics and safeguards the privacy rights of consumers.
Take, for example, the European Union-based General Data Protection Regulation (GDPR) that took effect in May 2018. This new legal framework disrupted marketing processes across many industries by transforming the very nature of ad tech and the way that website and data management systems are deployed for marketing and sales needs.
And with Google being slapped with the biggest non-compliance fine so far – $57 million – "for not making it clear enough to Android users how it processes their personal information" (i.e. they hadn't "legally obtained their consent to use their data for targeted ads"), that should serve as a cautionary tale for all business owners and marketers.
Your country or industry could be subject to many other similar rules and regulations.
Therefore, it is essential to ensure that your marketing team has a working knowledge of compliance standards and related principles. If a business complies with these requirements, it helps them maintain their integrity and public reputation. It also saves them from the repercussions in the form of hefty penalties.
For instance, online businesses that ask for an email address in exchange for a newsletter subscription or download must now include a data consent check-box:

There's a lot at stake here, and your business is always being watched. From competitors to consumer watchdogs and government agencies, there are many people out there waiting for your business to slip up once and miss a compliance requirement.
So when creating new marketing materials, make sure there aren't any ambiguities, inaccuracies or misleading statements or representations. All material should be age-appropriate for the audience and must not have any non-evidence-based, offensive or deceptive claims.
Dive Deeper: The Email Marketer's 4-Step Guide to GDPR Compliance
Why Is It Important to Care About Marketing Compliance?
Non-compliant marketing practices can land your business in a lot of trouble!
More than ever, brand integrity has become a cornerstone for companies. In this digital age, social slip-ups and stumbles can significantly harm and, in some cases, completely ruin a brand's online presence and their public image. In this article, you'll learn how you can take care of brand perception.
After all, your content represents your company, and it's often the first touchpoint for customers to interact with your brand. If you make a bad impression, you miss an opportunity to appeal to your customers, tarnishing the brand reputation and weakening the relationship.
Here are some interesting use cases that prove the importance of marketing compliance:
Product Specifications and Prices
Integrity is critical to developing successful and long-lasting customer relationships, as illustrated in the case of Honest Co., a household goods store founded by Jessica Alba that sells safe, hypoallergenic and non-toxic products.
They had to settle the litigation – worth $1.55 million – which claimed that the company "sold laundry detergent, dish soap and a surface cleaner that contained a harsh chemical it pledged to avoid" after running a false advertisement: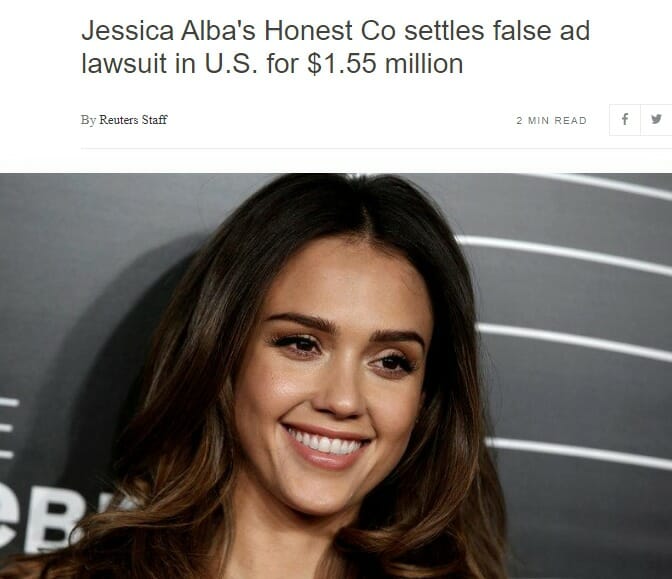 Product Risks
It's imperative to disclose any potential risk associated with your products to consumers, so they are able to make an informed decision.
A very recent case of this involved Purdue Pharma, the makers of OxyContin, a powerful prescription pain-relieving drug. It was revealed that the billion-dollar company actively breached consumers' trust in them during a trial that resulted in the pharmaceutical company "pleading guilty to three federal criminal charges for its role in creating the nation's opioid crisis and will pay more than $8 billion and close down the company."
As the Drug Enforcement Administration Assistant Administrator Tim McDermott so succinctly said:
"Purdue Pharma actively thwarted the United States' efforts to ensure compliance and prevent diversion."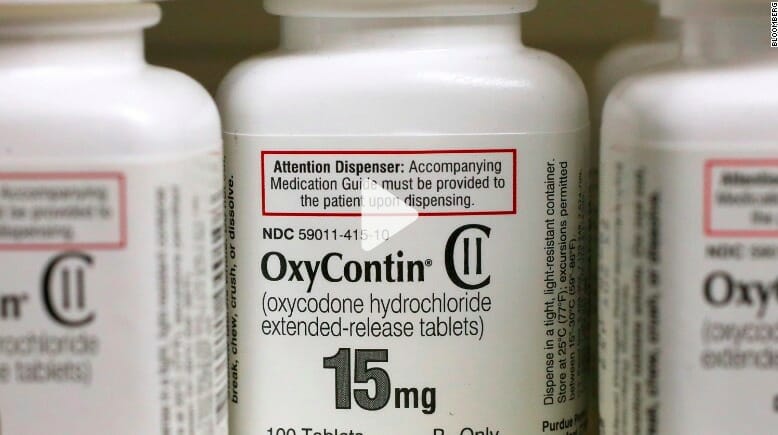 Brand Consistency
Brand consistency is at the heart of every organization. In fact, consistent brand performance increases a company's revenue by 33%: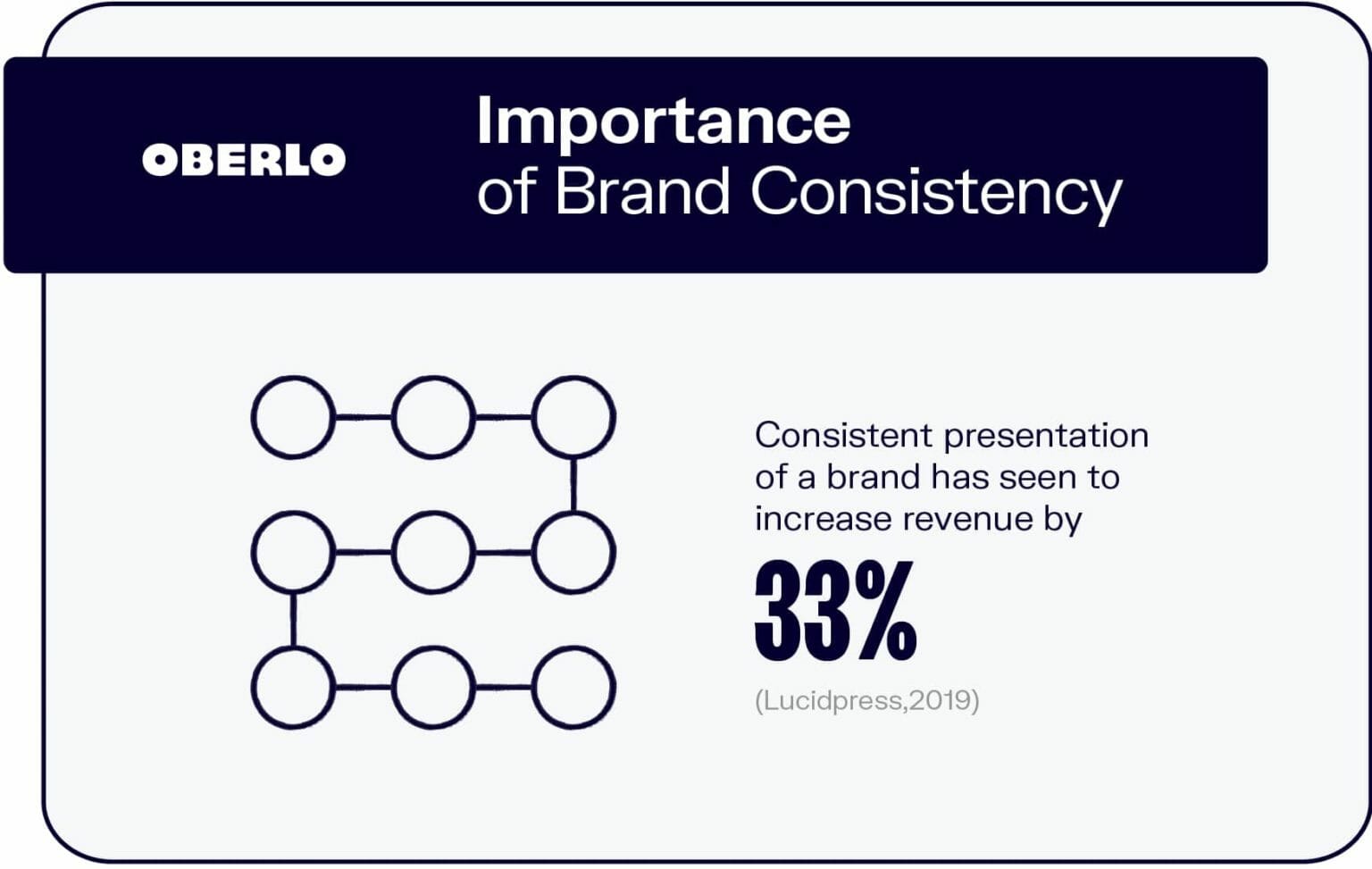 The interactions that customers have with your brand should exemplify your values and promises dependably.
Naturally, a well-managed and consistent brand will be valued more than others that aren't. If your brand resonates with your audience, you need to nurture that connection. Deceptive digital advertising has radical consequences, so make sure you don't make false claims.
It's important to have vigorous marketing compliance policies in place to ensure that decision-makers follow the protocols. That way, your marketing practices guarantee to conform to the brand values and identity.
Think about Nike. This prominent sportswear brand is a perfect example of brand consistency. Ever since its inception, Nike's branding and its core message have been coherent. Whenever you see their logo, you instantly think of Nike because of brand recognition and trust.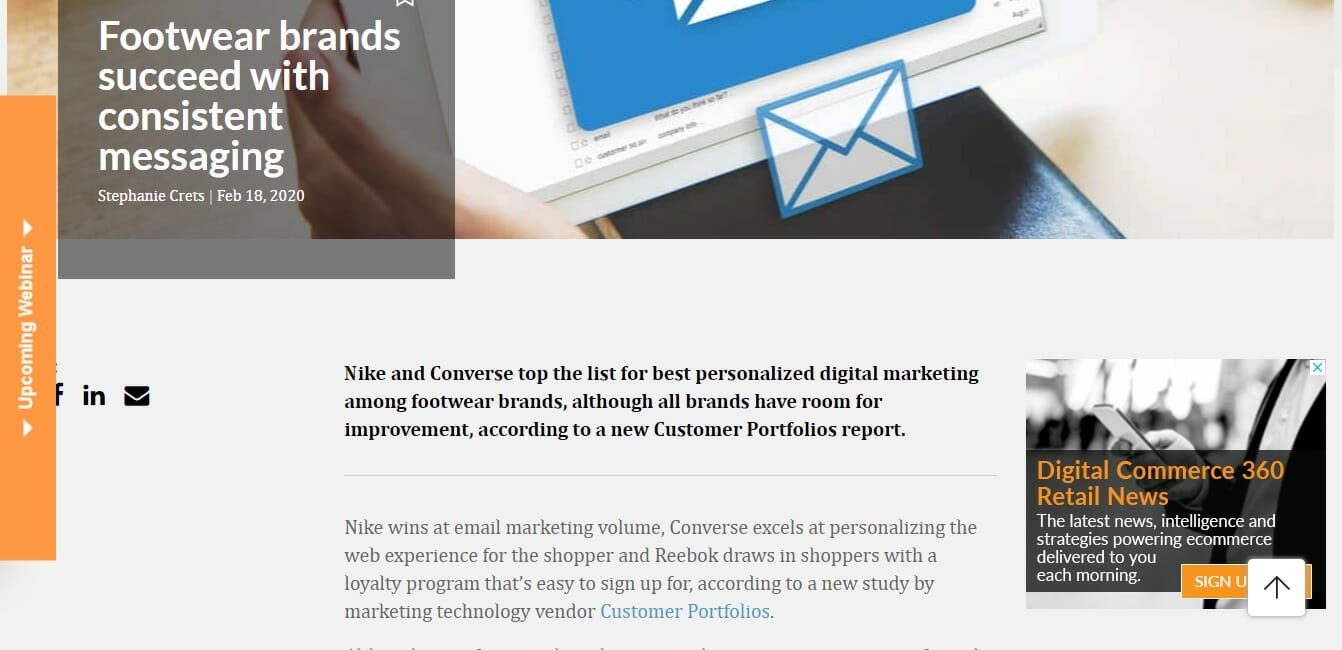 According to a study by marketing technology vendor Customer Portfolios:
"Nike received five points out of five in seven of the 10 categories, such as email campaigns, account sign-up and consistency in messaging."
Dive Deeper: 10-Step Checklist to Digital Branding for SMBs
Terms of Service
Terms of use or terms of service refer to the set of legal rules and guidelines that a company publishes for their community: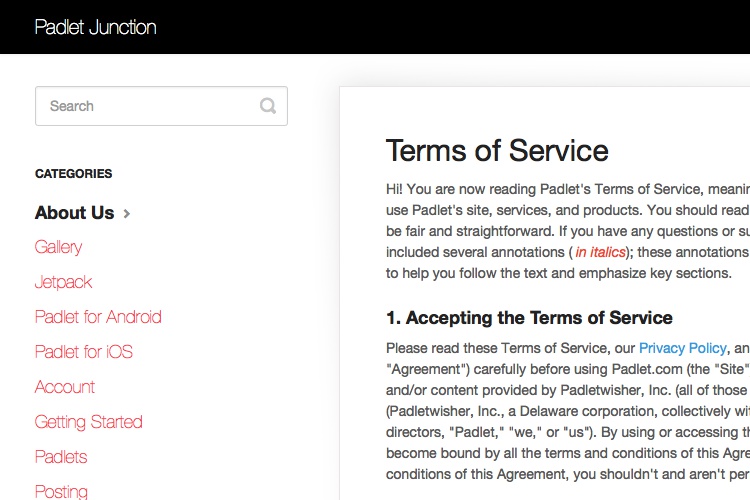 It establishes the ground rules for your online users, clearly stating the liabilities, responsibilities and disclaimers. The users must agree to it in order to use the online forum, product or service.
This means that if a service provider hikes up the prices of its offerings without any prior notice to their customers, it is likely to be unfair and wrong. Use a ToS template to ensure that you include all pertinent information on your privacy policy.
Dive Deeper:
* How to Collect & Use Emails Without Breaking Amazon's Terms of Service
* What Is a Customer Data Platform (CDP) & Why Do You Need One ASAP?
* 6 Tips for Securing Your Data from Cyber Attacks as a Remote Worker

Data Management
Nowadays, online security is one of the biggest concerns for businesses. Data breaches, which have become more and more common in the last decade or so, will easily upend a brand's reputation and may lead to hefty penalties.
That's what happened with Equifax and Facebook:
Facebook's

infamous data security breach, known as the Cambridge Analytica scandal in which CA gained access to about 87 million Facebook accounts, resulted in CEO Mark Zuckerberg landing "in the hot seat of a congressional hearing."

Equifax

, one of the three largest American consumer credit reporting agencies, landed in hot water after it was reported that the company's negligence allowed criminal hackers to steal the names, Social Security numbers, birthdates, addresses and credit card numbers of 147.9 million consumers.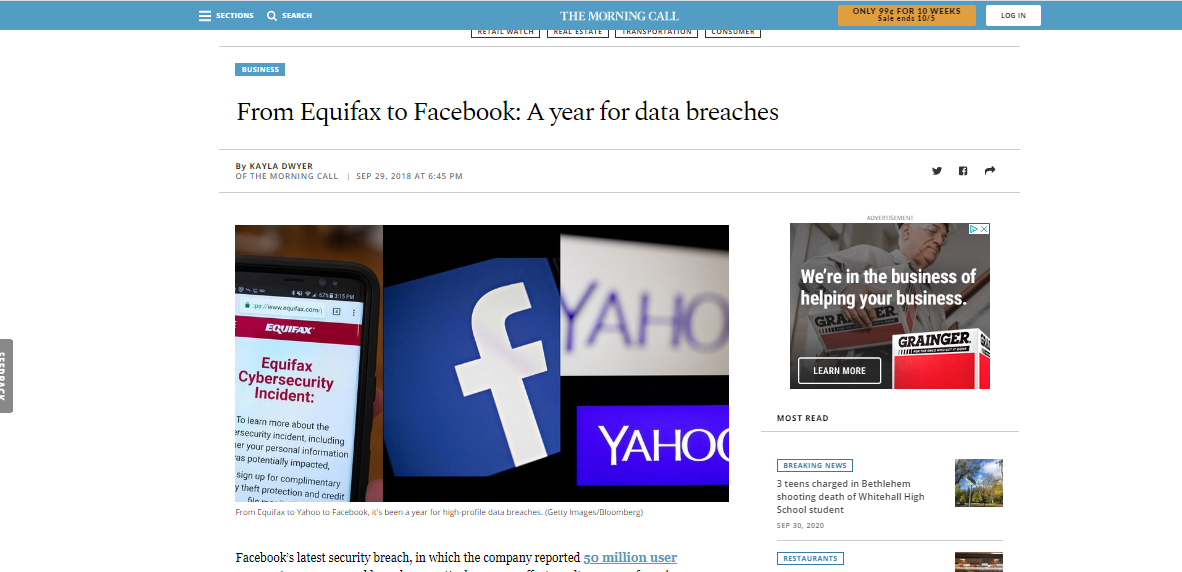 As you can see, it is crucial to deploy reliable compliance software to ensure that customer data is encrypted and protected from unauthorized users.
How to Ensure Marketing Compliance for all Your Content
Content marketers know that negligence in compliance requirements can tie their company with challenging legal roadblocks. It is, therefore, vital to produce quality content while complying with the regulations and monitoring of all involved parties.
Compliance standards don't have to be a jaw-clenching struggle. With good practices in place, compliance can drive greater transparency, efficiency and savings.
Here's how you can ensure marketing compliance for your content.
Create Clear Guidelines
Many parties are involved in a typical compliance process, so publish clear guidelines and notify employees through a company-wide email. It will ensure that policy has been communicated to the entire marketing team.
Furthermore, it is essential to confirm that employees understand the policies and abide by the rules regardless of whether they're posting a tweet or creating an ad.
Make the compliant regulations as intuitive and easy as possible, starting with outlining the guidelines clearly and making it readily accessible for all team members.
Although compliance is necessary for all organizations, it is especially crucial in some, such as the healthcare industry. Below is an example of a HIPAA (Health Insurance Portability and Accountability Act) Compliance notice of privacy practices that must be made prominent on the doctor's or dentist's office and website: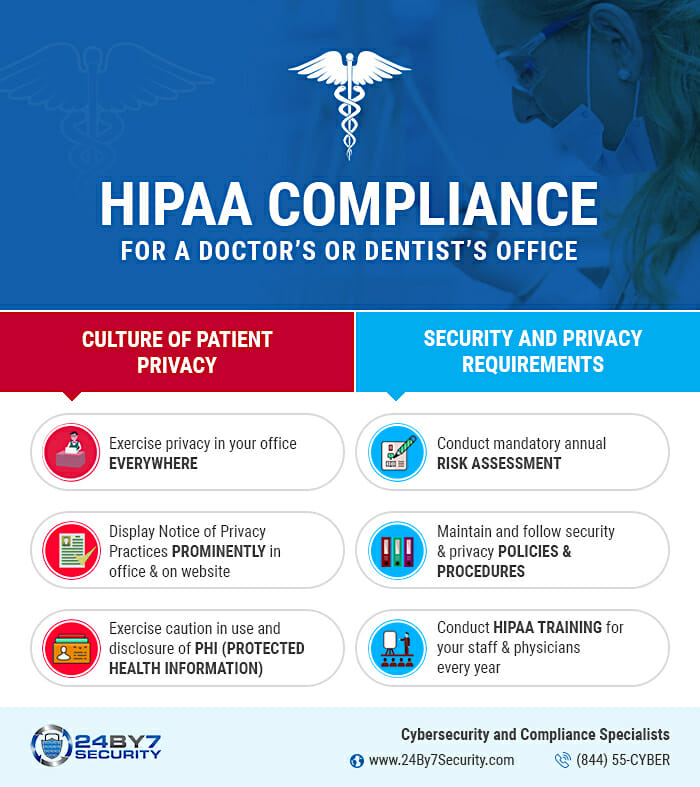 Inform and Train Your Team
You can publish your policies and ensure that your marketing team has received the guidelines, but if they are unable to comprehend and follow those policies, then it all goes in vain. Educate and train your staff. Also, keep them informed about any updates in the guidelines.
A simple email can do the trick, much like this one from Google Workspace that clearly outlines key points of information, like "What do I need to know?" and "What do I need to do?":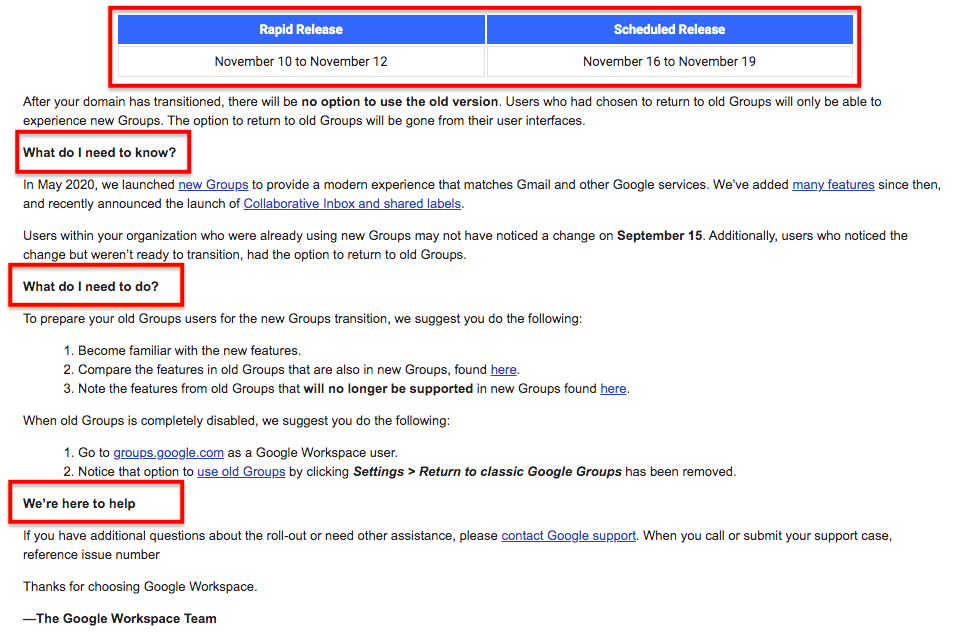 Furthermore, reiterate the importance of compliance, meeting guidelines, when they need to use it, and the consequences of not abiding by the policy.
Monitor Legal Updates and Incorporate Changes
Make sure that you test your policy regularly. Policy audits are imperative to save your company from the problems that come with external evaluation. Remember: a little inconvenience and extra work now is much better than an expensive and lengthy lawsuit down the line.
You should incorporate changes in the policy and communicate the same to your marketing team. Considering that 54% of employees have left a meeting without knowing the meeting's purpose, I suggest using these tips on enhancing communication.
Audits happen, but your marketing department will not be under the scanner if your compliant process is transparent and your team abides by it. Also, cross-check that all your content is compliant and acceptable. Additionally, you need to make sure that any third-party vendors or partners comply with your marketing rules, too.
The Search Monitor is a tool that helps you track and update your marketing compliance regulations:

Review and Approve Your Content Before Publishing
Marketers need to strike a balance between quality content and compliance with the policies.
A feature-rich platform like Filestage can help marketers produce consistent and high-quality content for their audience while maintaining compliance standards. It is a flexible, intuitive and agile platform that complements your processes and helps internal and external users alike.

Filestage lets users share their work progress, gain valuable feedback, and streamline auditors' content reviews and approval processes. The documents are easily accessible and allow users to make necessary changes.
Such platforms make it easier for the company to keep up with the compliance requirements and ensure that the entire team implements these practices.
Dive Deeper: 4 Ways to Signal to Google that You're an Expert Content Creator
Boost the Visibility of Your Guidelines
All your efforts are inadequate if your marketers don't incorporate the policies into their work practices. Therefore, it is crucial to increase the visibility of your guidelines and monitor the operations to ensure a compliant-enforced workflow within your company.
For instance, user-generated content (UGC) has, well, influenced influencer marketing and provided the influencers with an instrumental role in marketing. And it demands greater transparency and visibility, so if an influencer isn't open about their collaboration with a company, it can make consumers suspicious and lose trust in a particular brand.
For this reason, you need to rigorously assess your content and be sure to disclose any such details to stay out of trouble. Don't think it's that important? The Federal Trade Commission (FTC) monitors all such content and influencer relationships. In 2019, a lawsuit was filed against 20 social media influencers for violating the federal endorsement guidelines "by posting deceptive ads on their Instagram accounts despite previous warnings from the agency."
You need to set clear guidelines for your partners and associates involved in the process so that nobody misses the compliance requirements. It is crucial to document your policies and mention them in the contract to avoid any future confusion.
Use a Digital Asset Management Platform
With about 90% of brands facing roadblocks when it comes to managing their digital content, it is important to have a seamless marketing compliance process in place. Content production is increasingly growing, which brings up a few concerns such as duplication of content, delivering quality content, etc.
A digital asset management (DAM) system is a business process tool that allows you to store, organize and share digital content in one, secure location.
A reliable DAM can save your company time and money, as well as make it much easier to keep an eye on any potential security breaches. Such a system offers mobility, accessibility, convenience and control, and lets you deliver the right content to the right audience in real-time across all devices. Moreover, it allows you to measure and track the digital content's engagement.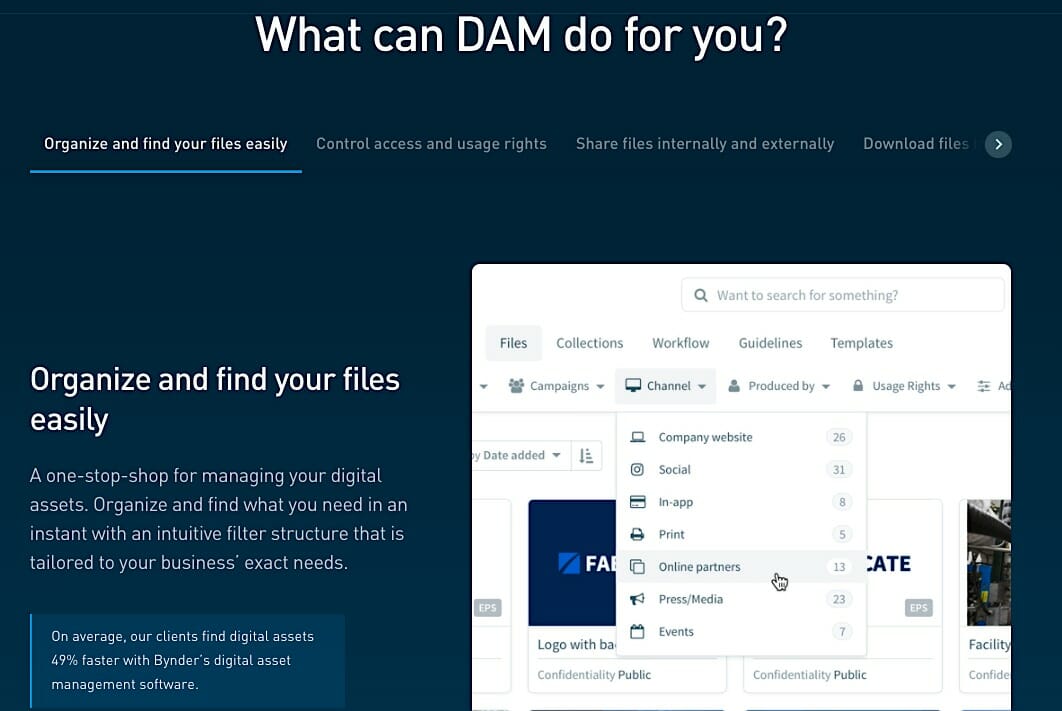 Best- and Worst-Case Examples of Marketing Compliance
Regulatory breaches are no joke. If your content comes under the FTC's state regulators' scrutiny due to law violation, they can file a lawsuit and impose hefty fines on your company.
Be mindful that not all penalties are monetary. Your brand reputation and integrity is also at stake associated with legalities; hence it is essential to take care of by abiding by all the rules and regulations.
Let's take a look at some of the best and worst-case examples of marketing compliance.
Best Cases
1)  Dropbox
Dropbox is a cloud-based platform that allows easy file sharing. It is excellent at personalization and consistency across all social channels. Dropbox's approach is to achieve brand consistency through simplicity.
This is evident via any channel you connect with Dropbox — on their website, their software, their social media, and even in their 404 pages. Dropbox presents its brand as minimalistic yet interactive: they feature cartoons on their error page.
Also, they keep their email messages light-hearted for their users:
Dropbox's every aspect reflects a consistent brand message.
2) Urban Outfitters
Urban Outfitters is a well-known lifestyle retailer that is famous for its edgy and quirky designs. Also, it has a distinctive and creative product shoot. It's one of the best examples to follow when it comes to brand guidelines: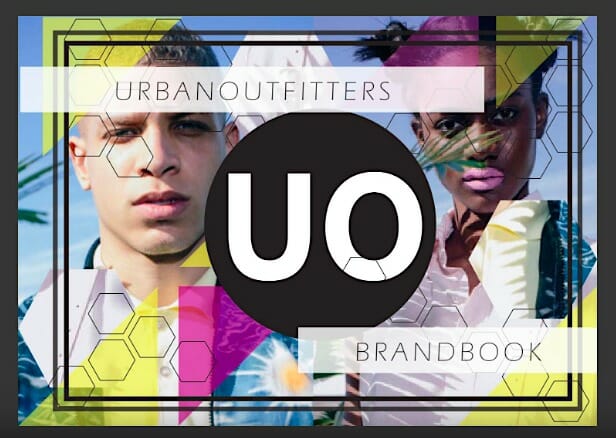 The Urban Outfitter's guidelines include a good deal of information about its logo, face, and even its photography methodology.
As the retailer believes in catering to changing consumer preferences, it rebrands itself almost every six months. As a result, Urban Outfitters is very clear and explicit with its brand guidelines.
3) IBM
Marketers at IBM alleviate consumer concerns over data privacy by clear communication of their data-related policies and believe in transparency as to why and how they collect data.
IBM's online data policy outlines how the brand uses consumer data and consists of two privacy certifications, i.e., TRUSTe, to help build customer's trust in their brand:

Related Content: How to Recover From Any Google Penalty
Worst Cases
1) Google
In 2017 (prior to the above-stated Google penalty regarding its Android users), Google was fined the largest marketing compliance penalty of $2.7 billion for manipulating search results in its own favor: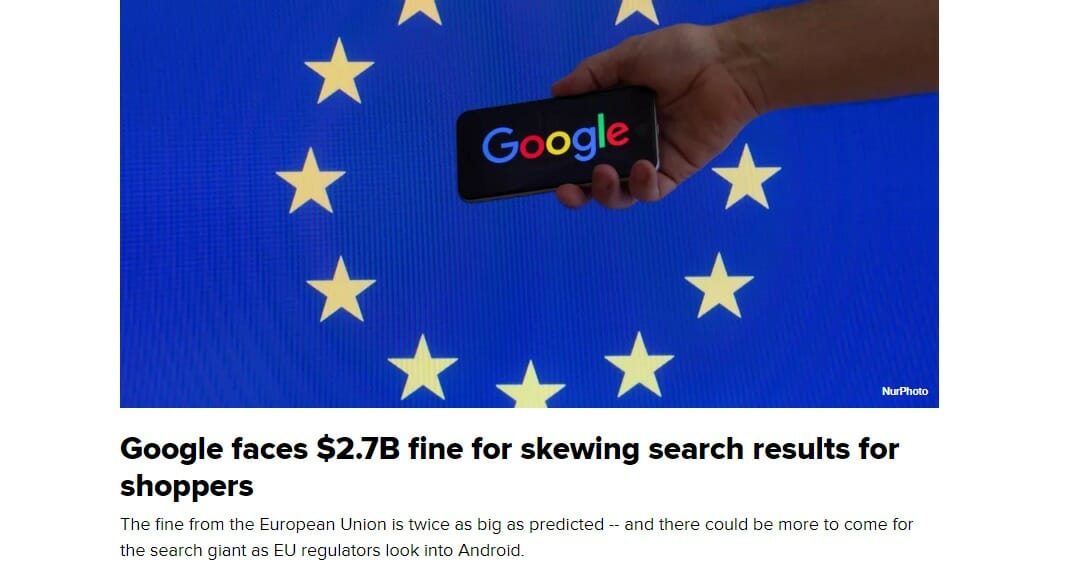 As EU Competition Commissioner Margrethe Vestager stated:
"What Google has done is illegal under EU antitrust rules. It denied other companies the chance to compete on the merits and to innovate. And, most importantly, it denied European consumers a genuine choice of services and the full benefits of innovation."
Even for a company like Google, this was a huge regulatory setback.
2) Marketing Architects
Marketing Architects, an ad agency, was fined by the Federal Trade Commission (FTC) for deceptive advertising in their "radio ads for diet products pitched with a host of allegedly misleading claims and practices."
The ad agency created many advertisements for the weight-loss company Direct Alternatives in which they guaranteed weight loss results that were not backed by science, research or tests.
For one of their products, they promised that it was "so powerful, it even works while you sleep!" and that "With the metabolism-boosting benefits of AF Plus, you can keep eating your favorite foods and STILL lose pounds and inches – in fact, we guarantee it!"  They also faked testimonials from happy customers.
They were fined $2 million for their misleading ads.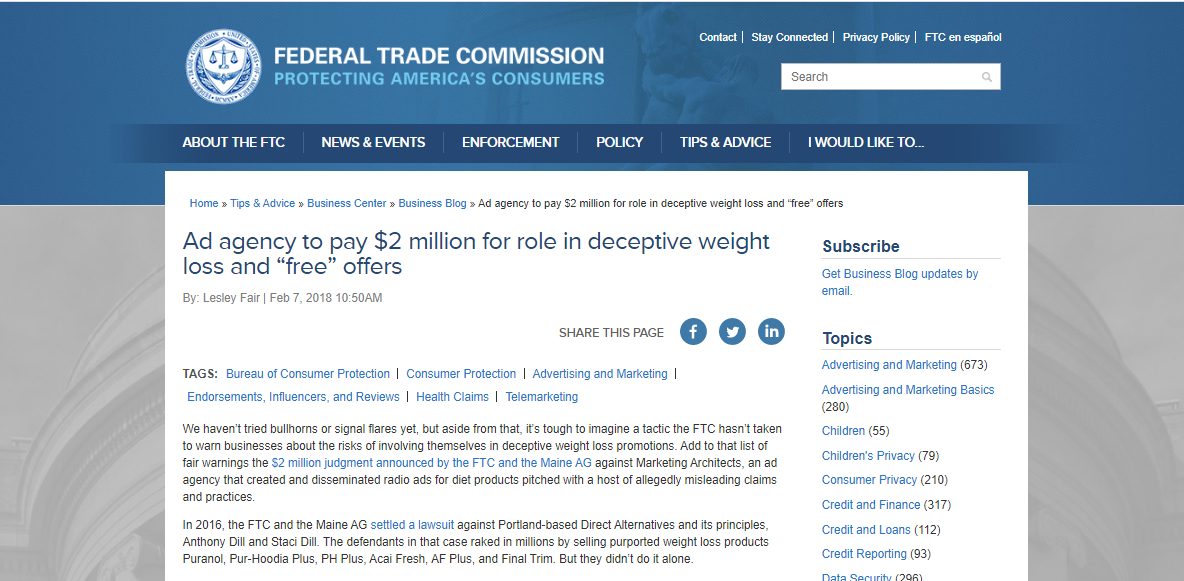 3) Fashion Nova
Earlier this year, the Federal Trade Commission fined online fashion retailer Fashion Nova $9.3 million for "violations of the FTC's Mail, Internet or Telephone Order Merchandise Rule (called the 'Mail Order Rule')."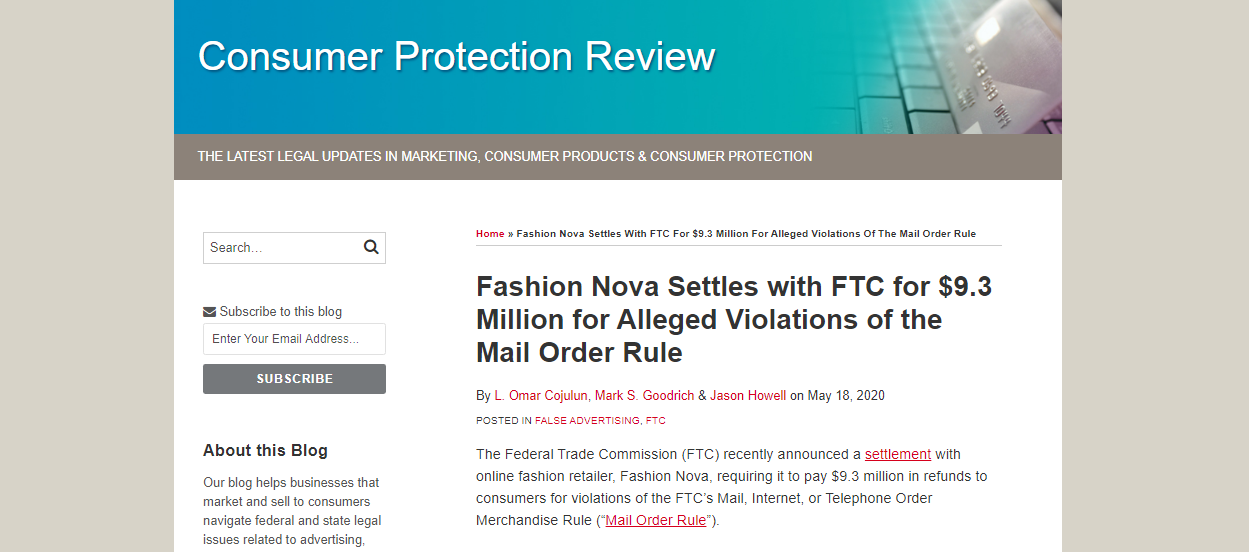 The lawsuit stated that Fashion Nova "made false representations to consumers about the speed of its shipping" when it advertised on its site "Fast Shipping" and "2-Day Shipping." The retailer also "failed to refund consumers for items that were never shipped." And, in lieu of refunds for items never received, they "issued gift cards, which do not qualify as appropriate refunds under the Mail Order Rule."
4 Tools to Support Your Compliance Management Efforts
As a content creator, you need to make sure the content you produce is accurate, well-researched, resonates with your audience and, most importantly, strictly adheres to compliance standards. Naturally, you need a platform that facilitates and tracks your marketing practices.
Here are four of the most useful software tools to help you meet compliance requirements and streamline the process.
Filestage
Filestage is a "content proofing" tool ("online proofing is a term that describes the secure process of reviewing and approving creative work using an Internet workflow") that simplifies the process, gives users complete control and helps ensure compliance: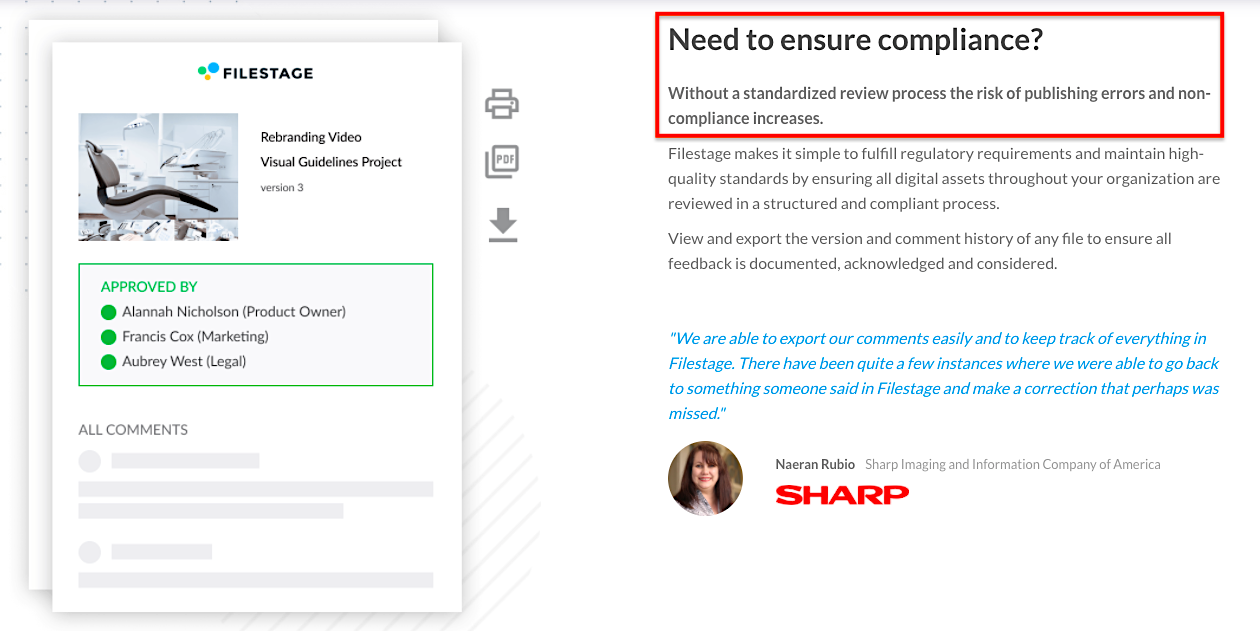 This tool lets you collaborate with internal and external parties, gain their feedback and implement their suggestions in your pieces. You can also view your project's status and see if a stakeholder has approved your content.
Aside from Filestage, there are plenty of other, similar online proofing tools.
Bynder
Bynder is a comprehensive digital asset management (DAM) tool that helps companies centralize, access, manage and share digital content documents. It's an all-round solution for content management and helps the team get on the same page.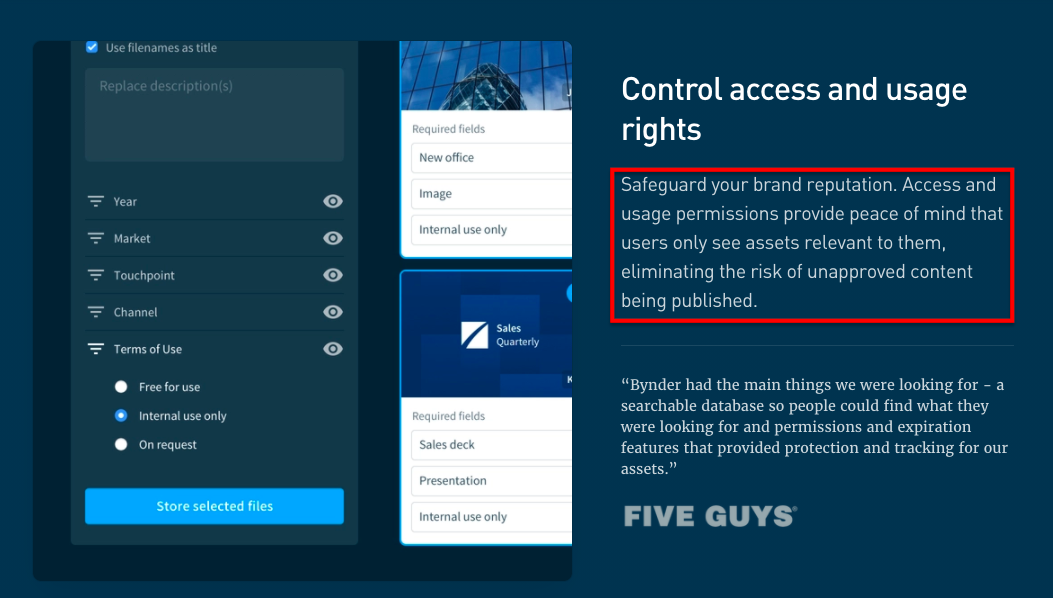 Aside from file-sharing and organization, Bynder helps you control access and usage rights, thereby safeguarding your brand reputation. "Access and usage permissions provide peace of mind that users only see assets relevant to them, eliminating the risk of unapproved content being published."
Campaign Monitor
Campaign Monitor is an email marketing tool that allows marketers to send professional and personalized emails to clients and lets users automate their mailing list: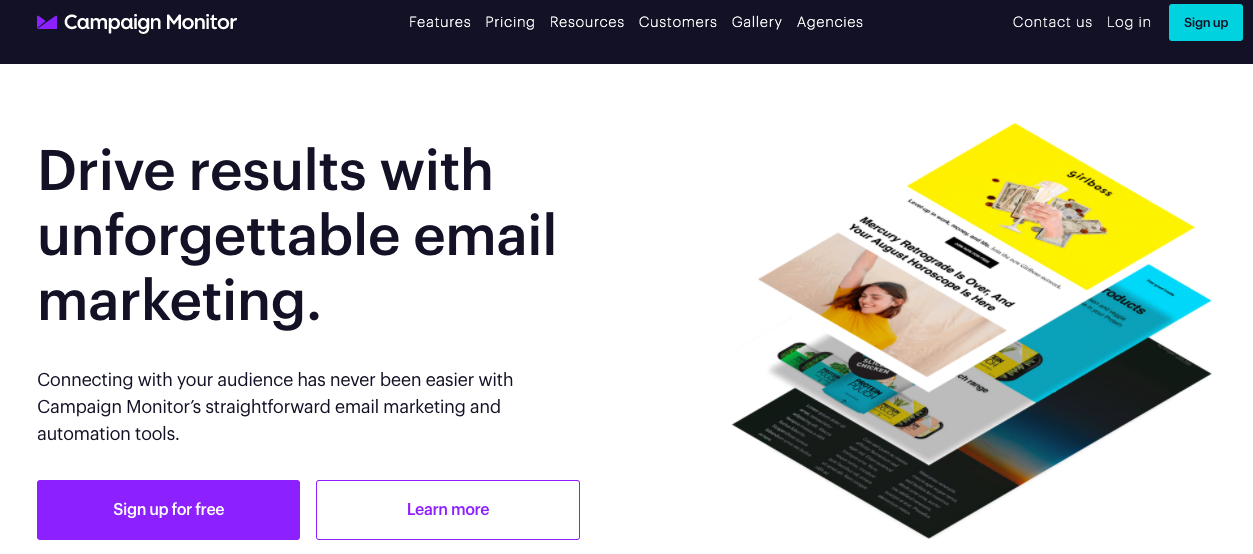 Campaign Monitor allows you to use multi-factor authentication to help ensure the session's integrity and verification of credentials. Furthermore, this is a GDPR-compliant platform that validates your email address and protects all your data, such as passwords and credit card numbers.
It is an easy-to-use platform with an intuitive interface that helps businesses implement email campaigns in the best way possible and makes sure all emails abide by marketing compliance. Understanding email rules and regulations are just as important as other marketing compliance requirements, particularly since May 25, 2018 when GDPR went into effect.
Expandi
Expandi is a LinkedIn-specific automation tool that lets you refine and generate leads according to your preferences. Moreover, it's the safest trusted software for compliant social selling and targeting prospects, thanks to its dedicated I.P., custom variables, blacklisted contacts and smart leads feature that keeps users from getting banned on LinkedIn.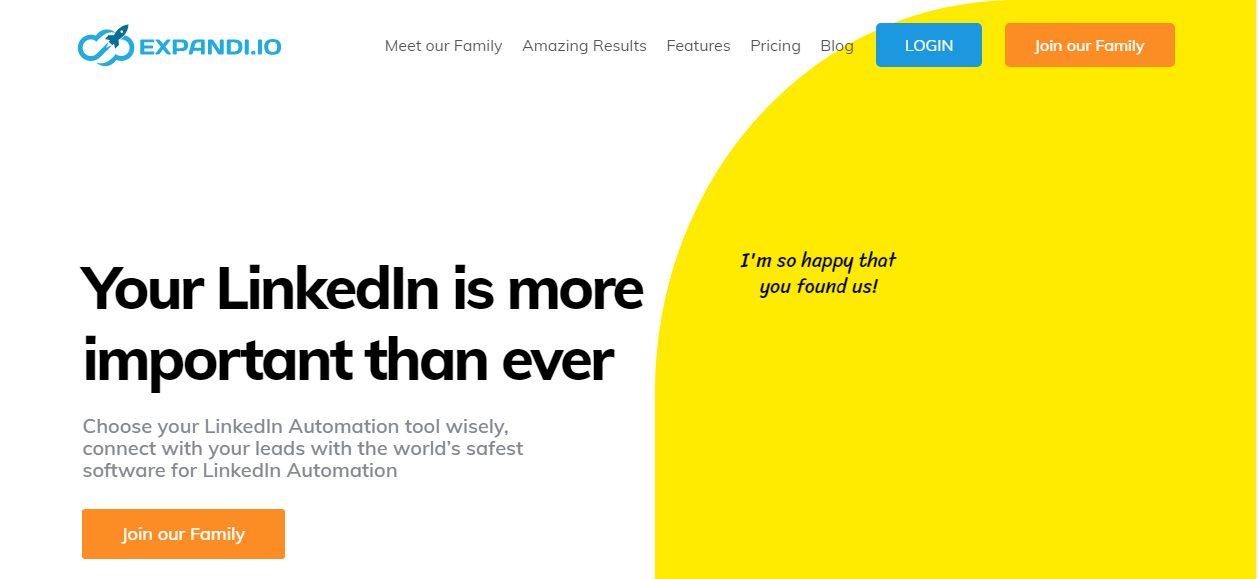 Related Content:
* The Email Marketer's 4-Step Guide to GDPR Compliance
* 44 Must-Have Marketing Tools for any Business in 2023
* 20 AI Tools to Scale Your Marketing and Improve Productivity

How to Build a Compliance Team
Who Is A Compliance Manager?
A professional compliance manager needs to be well-versed with the best legal practices, guidelines and corporate governance. A person in this role diligently monitors a company's marketing practices and helps them maintain high ethical standards.
A compliance manager works with a company and ensures that their compliance requirements are being met. They also check if the company's messaging and behavior are consistent with its rules and regulations, and that the company's policy is updated and followed by the entire marketing team.
What to Look for When Hiring for Your Marketing Compliance Team
Responsibilities of a marketing compliance team member include: 
Develop and supervise a company's marketing department to prevent or deal with violations of compliant requirements and internal regulations

Evaluate the efficiency functions and consistently monitor them to make improvements

Revise the legal procedures, reports, etc. often to determine the risks and work on them

Draft, amend, execute and communicate the company policies to the marketing department

Direct the relevant parties to ensure the enforcement of rules and regulations by the marketing department

Assess and identify the potential compliance risks that the company can mitigate

If needed, review the employees work to identify compliance-related issues and educate them on how they can avoid

Be updated about the regulatory developments internally and externally and implement the best practices in compliance control

Prepare comprehensive reports for external checks as well as the company's senior management as appropriate
Qualifications required:
Prior experience in the marketing department as a compliance manager

Profound knowledge of the industry-related standards and regulations

Understanding of record keeping and reporting procedure

Exceptional planning abilities and methodical approach

An analytical tactic to navigate through the legal intricacies of compliance regulations

Outstanding communication skills

B.A./BSc in law, business administration, finance or related field

Accredited compliance expert
Last Word on Marketing Compliance
As content marketers continue to fight for creativity and legal departments pull towards 100% compliance, it is challenging to strike a balance between the two.
But compliance is a crucial part of your marketing plan that you can't afford to ignore. For successful companies, adherence to marketing compliance requirements is a cornerstone of business practices – or pay a hefty price, both financial and on your brand's reputation.
So make sure that your business doesn't suffer as a result of this battle. Give your creatives the leeway to take control of all compliance obligations.