We all know that content marketing can be tough. With so many things to focus on when creating an awesome piece — including planning your campaign, writing the content and measuring ROI — you'll need to carve out some serious time into your content marketing efforts to see results.
Having said that, content marketing has been proven to generate over three times as many leads as outbound marketing while costing 62% less: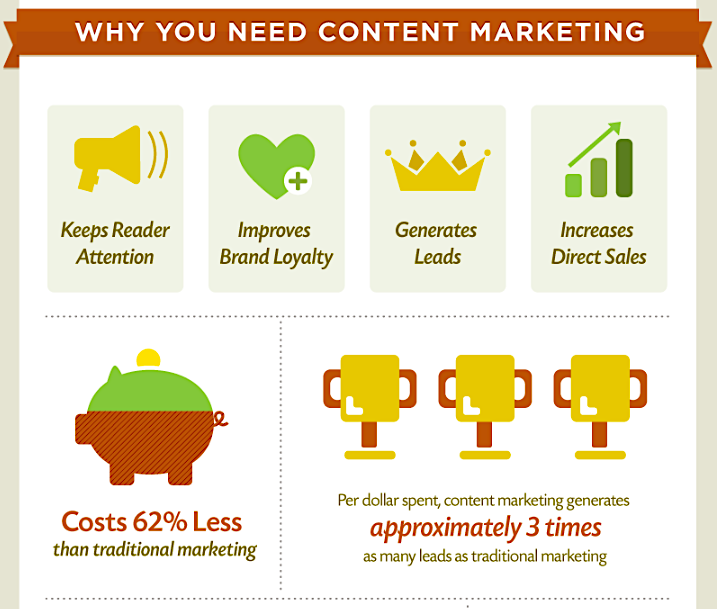 As many as 51% of B2B marketers will increase content marketing spending in the next 12 months, and even 57% of companies that have not found content marketing particularly effective still plan to increase their budget: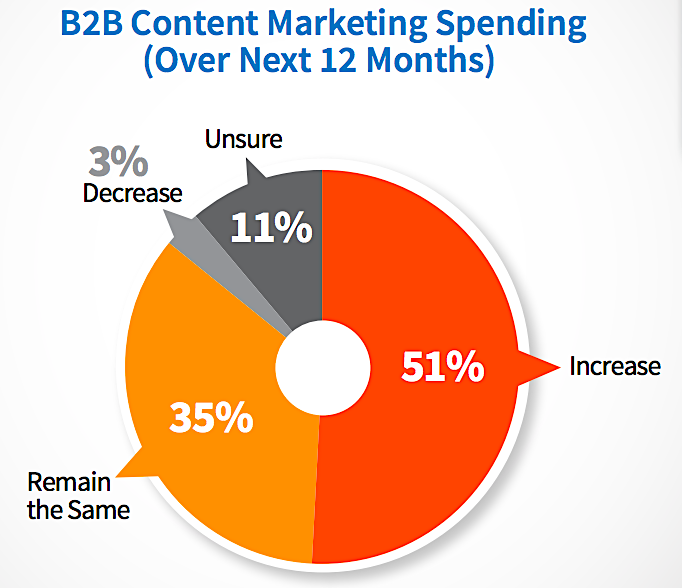 But if you haven't got the time to keep up, don't strike content marketing off your to-do list. Instead, why not source your content marketing strategy to an agency — a specialized digital marketing company with experience, experts and a wealth of knowledge about what it takes to crack the content marketing code?
In this guide, we'll share what to look for in a content marketing agency, while minimizing the risk of handing over your hard-earned cash to a untrustworthy company. But first…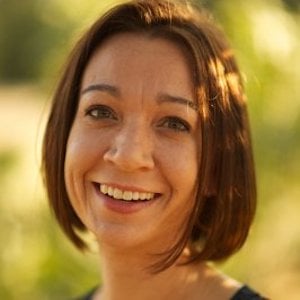 Kim Cooper
Director of Marketing, Amazon Alexa
Single Grain enables us to increase our impact without increasing our headcount
Do I Need to Outsource My Content Marketing?
Outsourcing your content marketing strategy sounds great, right? It is, but only if you're doing it for the right reasons, not just because you can't be bothered.
Many time-strapped companies jump straight into the "I want to outsource!" boat without actually understanding what it means and entails. Hiring an agency for your content marketing needs is not a magic bullet. That's probably why it won't come as a shock to learn that CMOs are becoming increasingly unhappy with their content marketing efforts.
So, how do you know when it's time to outsource? Generally, you should outsource if:
You don't have the time to manage your campaigns
You're unable to scale the strategy you're already using (and getting results from)
You have the budget to pay agency fees
If you already know what you're doing, have an in-house team to manage it or simply don't have the budget, it's wise to hold off on the agency front for the time being.
Further Reading:
5 Things to Know Before Meeting with a Content Marketing Agency
If you've decided that outsourcing your content marketing strategy is the way forward, that's awesome. You're about to save time and work with a bunch of new, creative people — and see tons of ROI, right? Well, at least that's what you'd hope.
Before rushing into signing a contract with a new content marketing agency, here are five things you need to know:
1) Results Won't Happen Overnight
When you're starting to work with a new agency, the first thing you'll need to remember is: results won't happen overnight. After a long period of working on an unsuccessful (or not as successful as you'd like) content marketing strategy, it can be tempting to hand over the reigns to an agency and expect immediate results.
Your agency will need to iron out the basics (including contracts, fees and software setup) long before you can crack the whip on a new content campaign, so it may take a while for you to see ROI. That's because, along with lengthy setup times, quality content can take time to produce.
In fact, a simple 500-word post can take anywhere between 1 and 2 hours — or longer if it's a long-form, comprehensive piece (which it should be):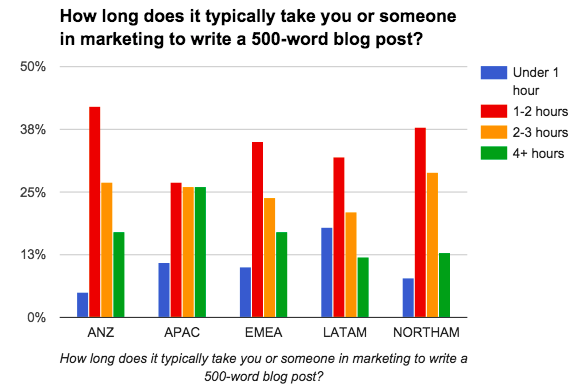 The time investment doesn't stop there, either. If organic search traffic is on your "to improve" list, you could be waiting a few months. Content can take anywhere from 2-6 months to start ranking, and you'll need to harness the power of off-page SEO if you want to speed it up (that doesn't mean it won't happen, though!).
Research from Ahrefs shows that the average age of content on the first page of SERPs is over two years old — and closer to three years for those that claim the number one position:
2) Black Hat Strategies Won't Bring Results at All
Notice how I mentioned that quality content takes time to see results? If you're working with a content marketing agency that practices black hat SEO strategies, you're far from the 'quality content' bar you should be aiming for.
Defined as a spammy tactic that manipulates a website to rank higher in search engines, black hat content marketing agencies might insist on:
Hiding content behind images or white text
Spinning content for link-building purposes
Creating fake business listings with fake customer reviews
Spammy guest post contributions on low-quality blogs
Keyword stuffing
Among one of the most common strategies is keyword stuffing. Cramming the page's main keyword into every possible sentence looks spammy, and is very difficult to read—like this example: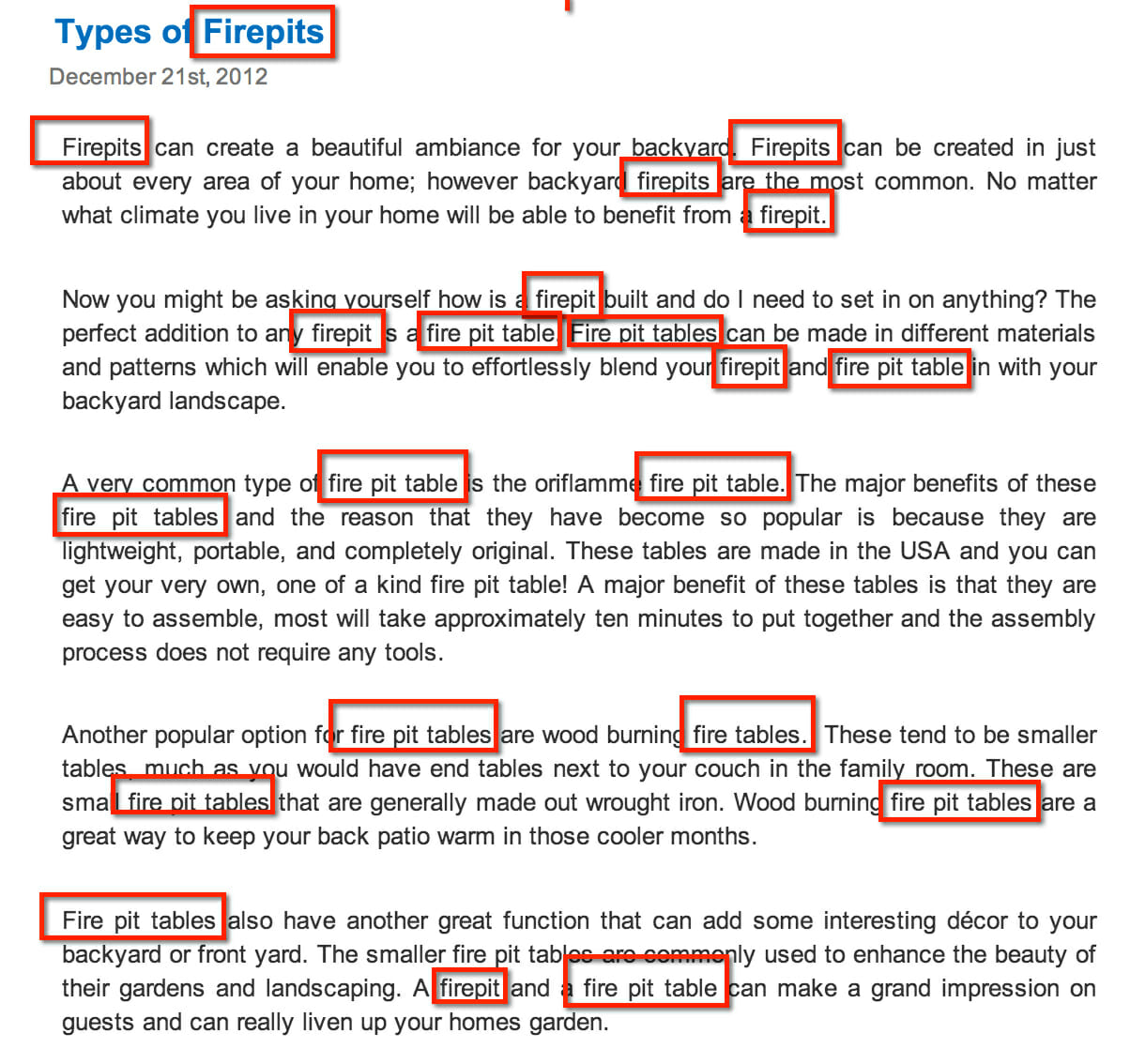 Not only does this type of black hat approach to content marketing fail to drive results, but it's likely to end in a Google penalty on your behalf — a red card, handed by Google, that could lead to zero organic rankings.
To prevent being tricked into this type of tactic, ask your content marketing agency for a brief run-down of their strategies and processes. If you spot anything that sounds dodgy or like you'd be fooling search engines by using their process, avoid it. Believe me, it'll be best in the long-run!
Learn More: How To Rank Using Black Hat SEO Tactics in a White Hat Way
3) Nothing Happens Until You Define Your Goals
I'm going to ask you a question that could make or break your entire plan to outsource your business' content marketing: what are your goals?
Clearly defining your goals — and making sure your agency is on-board — is critical. Whether you want to see a boost in sales, sign-ups, lead magnet downloads or backlinks, knowing what you're measuring will help both your company and your agency stay on the same page.
Some of the most common content marketing goals include: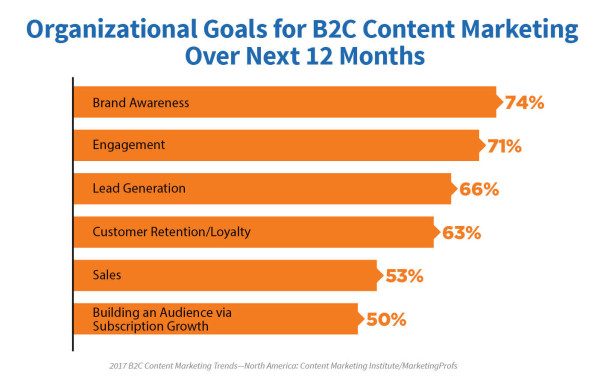 Think about it. If I were to outsource my content marketing and fail to explain my goal of building backlinks to my agency, I'm likely to get a campaign report on goals they think I'm interested in, such as page views, referral traffic or email sign-ups.
Because they don't know about my goal to build five new backlinks every month, I might look at the report and think, "This isn't getting results for me. What a waste of money!" What happens then? You're back to square one.
So make sure that you know your company's goals and make them specific: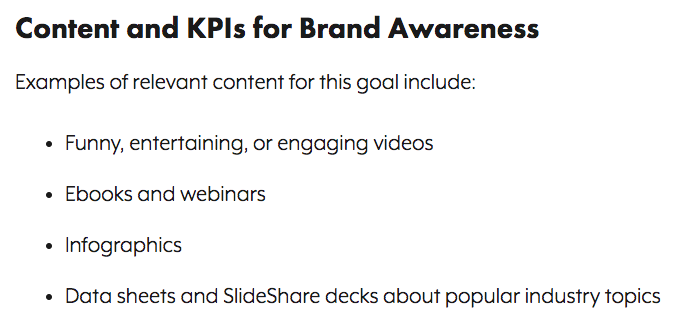 4) Clear KPIs Will Make Your Life Much Easier
Whether you're tracking post views, on-page conversion rates or referral traffic, use your goals to determine a set of KPIs (Key Performance Indicators). That way, your agency knows what to report on — and you'll understand the return on your investment.
Also known as "metrics," the most common KPIs for content marketing campaigns include conversion rate, quality of leads, and overall website traffic: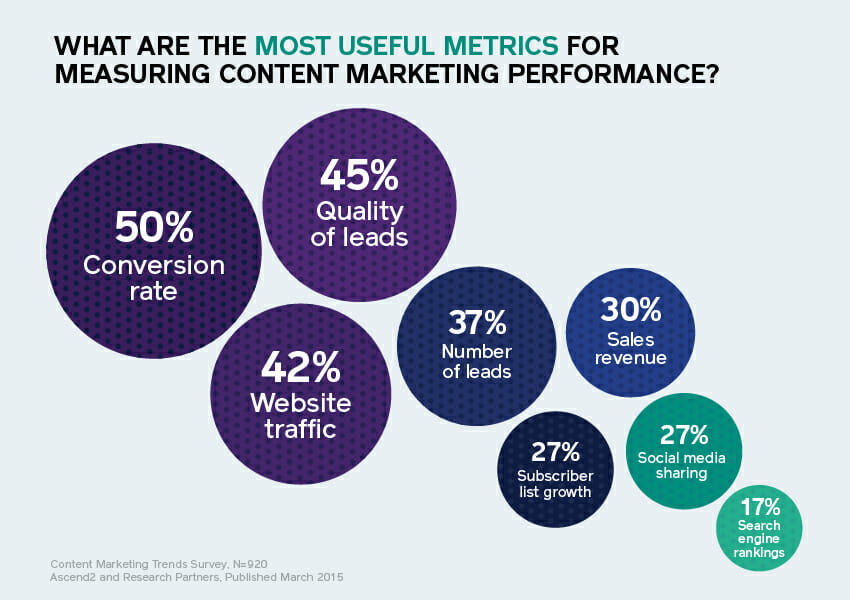 Clearly defining (and communicating) these KPIs for your agency saves irrelevant reports and, more importantly, better results.
If everyone is working from the same page and understands how your KPIs help to meet your goals, you'll save yourself a lot of stress down the line when you see that you're not getting a good ROI from your outsourced content marketing campaigns and realize it's because of vague goals.
Further Reading:
5) Evidence of Previous Results Is a Must
When you're preparing to meet with a new content marketing agency, remember: the proof is in the pudding. In other words, you can only judge the value of an agency by the results that they have already demonstrated for other clients.
Although your watchful eye might miss the black hat strategies in their content marketing plan (they're easy to miss!), you can avoid choosing a dodgy agency by asking to see:
Samples of their content
Case studies from previous clients
Evidence that their content has driven results
However, don't just take their word for it — reach out to their previous client and ask for a testimonial. Just like hiring new staff, it's the only way to discover unbiased reviews on who you're about to hand your cash over to.
But what happens if your content marketing agency keeps their cards close to their chest? Treat it as a warning sign! Great agencies who do great work will be proud to show it off — usually very openly on their website, like the case study page on Single Grain: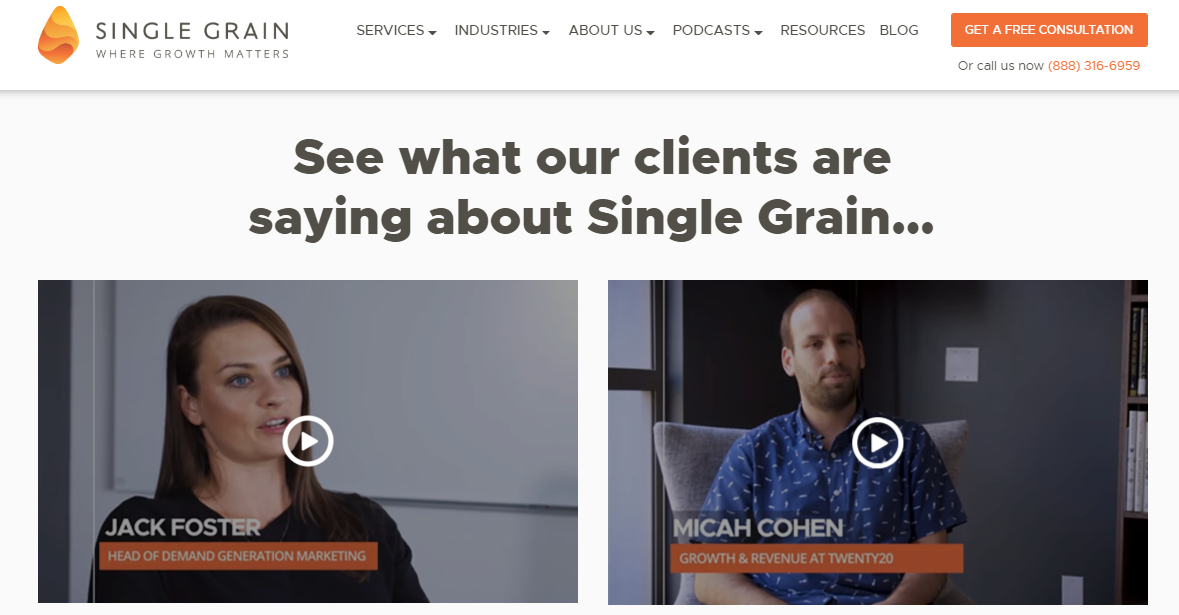 What a Content Marketing Agency Can't Do
When content marketing agencies are pitching for your work, it's important to analyze whether it's too good to be true. Overpromising and under-delivering is rife in the marketing agency world, so take some time to realize what a content marketing agency can and can't do before putting pen to paper on your contract.
Promise Instant Results
Earlier, I mentioned how a combination of internal and external factors could lengthen the time it takes to see results from your outsourced content marketing strategy. For that reason, be wary of agencies that promise instant results. If they're a reputable agency that doesn't use black hat strategies, instant results are something they can't deliver. Fact.
Deliver a One-Time Fix
Because content marketing takes time, you should also be wary of agencies that deliver a one-time fix. That's because a successful content marketing campaign needs various things to make an impact. (Think of it like a rainbow — you can't make one without sun and rain.)
Things like organic search traffic, social shares and in-depth research go into a successful content marketing campaign, hence why reputable agencies don't offer a one-time fix. They offer long-term strategies.
Offer the World for $500
Do some research on the quote you've been offered by your potential agency, as this will give you a good idea on whether it's the right choice to outsource your content campaigns.
Why? Because the figure you've been quoted could help you understand how they work. According to Fractl, a monthly retainer of $1,000-$5,000 is the most common price for a content marketing agency: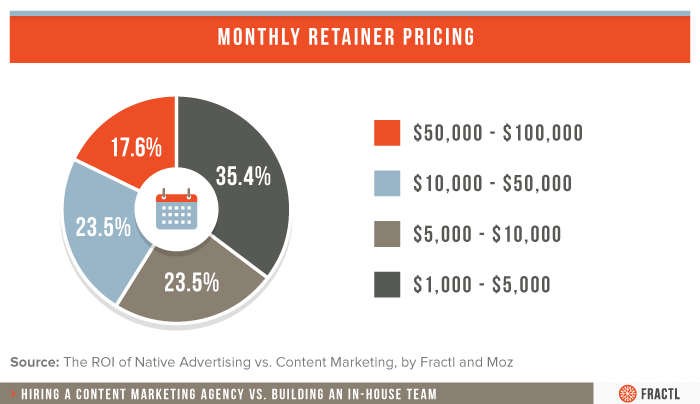 So if you've been quoted something outside of this scope, put on your investigator's hat.
If you've been quoted $500 for a monthly content marketing retainer, ask yourself: why are they so cheap? This often happens in agencies with lots of inexperienced or less-qualified staff.
On the other hand, if you've been quoted $75,000 for a monthly retainer, you should ask yourself: why are they so expensive? Dig around their website and look at their case studies.
Even if you think they're worth the hefty price tag, don't forget to think about how their monthly fee will impact your business' cash flow. You don't want to go bankrupt in the process of finding an agency to outsource your content marketing campaigns to.
11 Critical Questions to Ask a New Content Marketing Agency
Ready to put pen to paper and sign your new contract? Hold off for a little bit longer until you've checked off these questions:
Which KPIs and goals will you be reporting on?
What's your process for researching, creating and promoting new content?
What types of content do you produce?
How will your team familiarize themselves with our business, including what we do and who we do it for?
Is your staff Google certified or do they have any other inbound marketing certification?
Who will be working on my content marketing campaigns, and who will be my designated account manager/point of contact?
How long do you estimate it will take to see results from this strategy?
Do you have a back-up plan to use when things aren't going to plan?
Have you had a client who's been unhappy with your work? How was that resolved?
Which industries do your clients mainly operate in?
Do you have a project management tool to provide progress updates and reports?
Further Reading:
Final Thoughts
As you can see, hiring a content marketing agency isn't a task you should aim to check off as soon as possible. Just like dating, it can take time to find your perfect match — one that's able to offer the results you're looking for at the best price.
Keep a watchful eye over the warning signs, and don't be afraid to ask questions. Remember, hindsight is a powerful thing, but you can avoid being stuck with the wrong agency by exploring their processes, previous work, and business as a whole. Don't be afraid to take things slow!