Pop quiz: Which is more important, the in-store customer experience or your digital marketing efforts?
In other words: Online or offline?
This is actually a trick question. 👉🏽  Both online and offline are essential. Many businesses struggle more than they need to because they're focusing almost exclusively on one or the other when they'd benefit from a much more integrated approach.
That's where "phygital" marketing comes in: Physical + digital = phygital
In this post, we're going to discuss everything you need to know about phygital marketing and how to create a strategy for your business.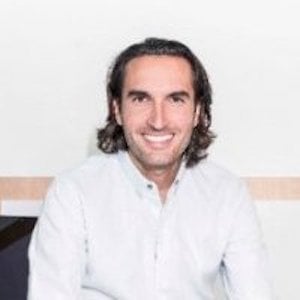 Yaniv Masjedi
CMO, Nextiva
Their expertise has helped Nextiva grow its brand and overall business
What Is Phygital Marketing?
Phygital marketing is the merging of online and offline marketing strategies to create one cohesive experience that's both strengthened and curated for each customer.
In today's digital atmosphere, it's easy to think that online is the only environment that really counts. Not so.
63% of shopping begins online, but 49% of Americans still prefer shopping in physical stores.
82% will browse on mobile even while they're in a physical store, looking for reviews or deals even before speaking with a sales associate.
And offline spending that's been influenced by a mobile experience has exceeded $1 trillion.
Phygital marketing is all about creating a seamless and personalized customer experience, and there are plenty of different ways to do this, including drive-throughs, click & collect, in-store lockers and online reservations.
☝🏽 This strategy has evolved from what originally began as multichannel marketing, which is the practice of having campaigns on multiple platforms. You might have a distinct content marketing strategy for SEO, social media profiles for discovery, and PPC campaigns to drive sales.
✌🏽 Multichannel marketing then evolved into the now ever-present omnichannel marketing. This is the practice of having a single, personalized user experience across all channels and devices.
An omnichannel experience may include banks that allow users to make appointments or deposit checks on their mobile devices, or sites that allow users' carts to be carried from desktop to mobile effortlessly. The shopping experience is made to be as effortless as possible.
🤟🏽  And now phygital marketing has evolved from omnichannel marketing. It's not just about creating solid online experiences, but about extending that customer-centric seamlessness into physical storefronts, too – like Target does:

If a user is online using your mobile app to research products, can they see how many of the item is in-stock near them and reserve it for in-store pickup? And if they're in the store, can they scan a product's QR code in the store's app to so that they can add it to a wishlist and purchase it later?
These functions all give the customer more options to make shopping super-convenient for them, and contribute to a more positive user experience.
Learn More:
* Attention Marketing: 10 Tips to Acquire More Customers
* How to Use Engagement Marketing to Acquire More Customers
* What Is Feature Marketing? The Complete Guide for 2023
* How to Use Event Marketing to Generate Leads & Close Sales
* What Is Category Design in Marketing (& Why Is It an Important Strategy)?
* Neuromarketing 101: How Neuroscience Affects Customers' Buying Behaviors

Benefits of Phygital Marketing & Experiences
The biggest benefit of phygital marketing is that it creates an improved user experience regardless of where and how they're shopping.
It can increase overall purchases both online and in-store, too. Consider this:
Certain people prefer to shop in a brick-and-mortar store because you can touch and try on products, talk to a human clerk right away and purchase without any dreaded last-minute add-on fees.
Other customers prefer to shop online because you can browse global stores, have items shipped right to your front door and avoid crowds.
But phygital retail appeals to (and markets to) both types of shoppers because it's no longer a case of one or the other, but rather an integration of both as the customer sees fit (more on this later).
Phygital marketing has been a game changer for the businesses who have used it in the past, especially during peak sales seasons like Black Friday, Cyber Monday, and the general holiday season. Customers are able to discover new products, research them quickly, and make a purchase via whichever method works best for them in that moment.
And while it does improve the user experience, it definitely can help your staff out, too. If it's easy for people to scan a QR code to get more product information, you may need fewer sales associates on the floor, for example.
Phygital marketing has practically become a necessity for some businesses during the COVID-19 pandemic, with a large number of shutdowns and/or social distancing requirements in place that impacts how customers shop in physical stores.
With customers wanting to come in to your store quickly (or not at all), offering seamless online and in-store experiences is crucial. Many businesses have adapted to increasing their digital strategy and functionality to make up for this, along with offering new features like curbside pick-up options.
Last month, my laptop died and I needed a new one the next day. I was able to look at my local Best Buy's inventory online, find a MacBook that was available, and order it for curbside pick-up the next day.
I got an email instructing me to click on a CTA when I had arrived, which took me to a page to describe my car and location. I got my laptop much faster than if I'd had to order it online for shipment which, as an immunocompromised person in an active hotspot, was my only other option.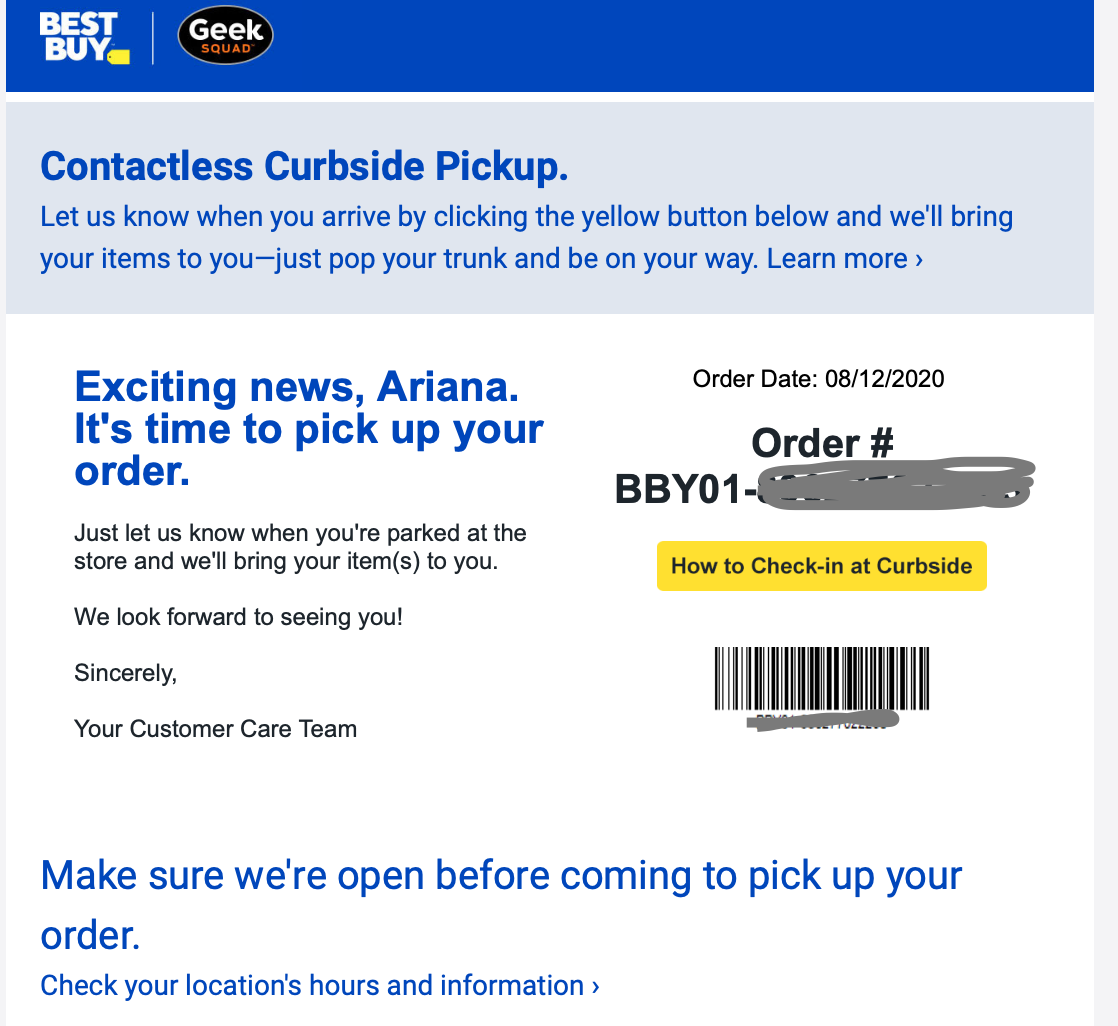 Even beyond the pandemic, giving your customers new ways to shop at your store (virtually or otherwise) is a solid strategy.
The more convenient and personalized the shopping experience is to your customers' needs, the better.
Drawbacks of Phygital Retail
There aren't many disadvantages to phygital retail.
The only real con is the time it may take to set it up and synchronize the off- and online versions. If your site or app doesn't currently have online-order-for-pick-up but you want to offer that, you'll need to work with a developer.
Likewise, if your physical store wants to add digital aspects, it will take some time and money upfront. Both of these situations are well worth it.
Take the periodical industry, for example:
With the rising popularity of the Internet, the New York Times has transformed itself into a purely digital publication.
France's paper, Le Figaro, has been able to keep its offline presence while adding an online version: When an online article is not available for free, customers can pay a fee to read it or buy the physical newspaper in a brick-and-mortar shop.
Another French newspaper, Le Canard Enchaîné, has managed to remain 100% offline with no negative impact on their business performance. 

 
Fortunately, once you make these changes, all you need to do is maintain the functionality moving forward.
Phygital Technologies
It's not enough that you offer both on- and offline shopping options for your customer; you must let them know. When someone is online, you have to advertise your physical store features and benefits, and when someone is in your store, you have to advertise your digital features and benefits.
There are different types of technology that you can use to help improve the phygital experience for your customers. Let's look at some of the most popular ones.
Artificial Intelligence (AI) 🤖
AI has had an increasingly large role in marketing and customer experiences for a while now, and it can help you with phygital marketing, too.
Examples of AI in phygital marketing include:
Optimizing your website to show users relevant products that are available in-store once they've added to their cart.
Offering automated helpdesk chatbots, which can resolve basic customer concerns or hand off more personalized issues to human customer service representatives.
Adding QR codes to hardcopy magazine and newspaper ads. The user scans the code, which sends them to the digital location to make the purchase or get additional information.
In-store robots to help customers find products, such as those at the San Jose Orchard Supply Store. If you've ever been to a huge store like Orchard or Home Hardware, you know how difficult it can be to find not just the product you are searching for, but the damn aisle in the first place. Their retail service bots greet customers and help them locate what they need.
Augmented Reality (AR) & Virtual Reality (VR) 🎮
With the AR/VR industry growing so quickly — by 2023 it's predicted to be a $160 billion industry — it's not surprise that these two technologies are making their way into more stores and onto e-commerce sites to help customers make more informed purchases.
Virtual reality is the computer-generated simulation of a three-dimensional image or environment that can be interacted with in a seemingly real or physical way by a person using special electronic equipment.
Augmented reality is the result of using technology to superimpose information — sounds, images and text — on the world we see.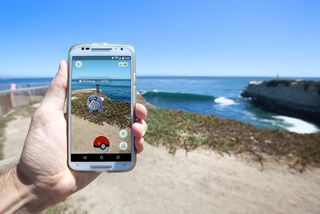 With the aid of these technologies, phygital retail becomes a reality. For example, users are able to upload a picture of themselves online and then "try on" different clothes or shades of makeup on sites like Maybelline to see which products would work for them: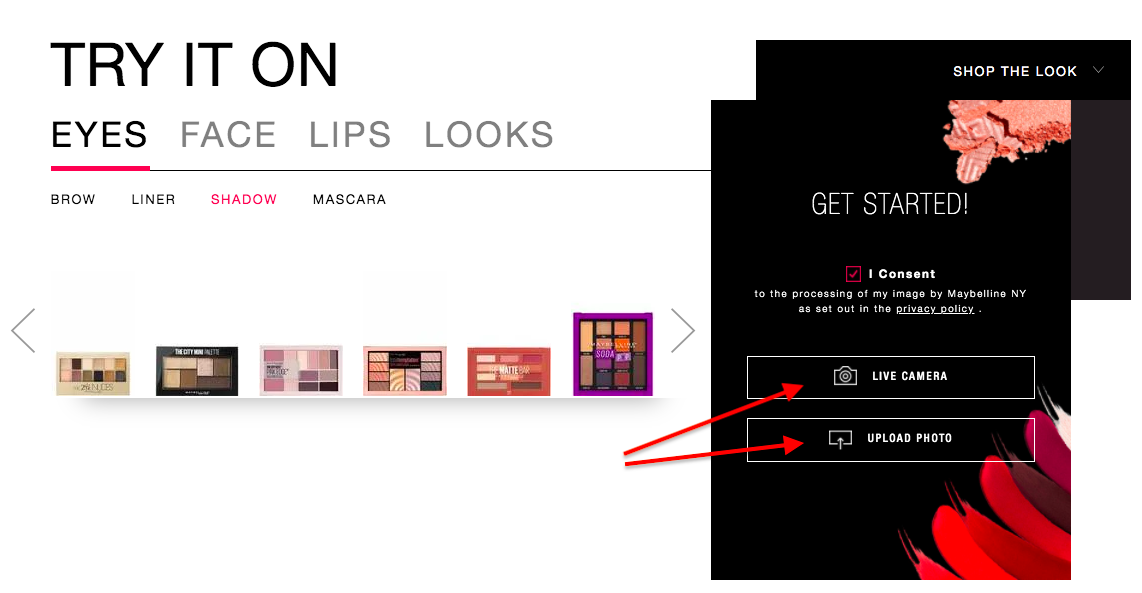 Some stores even offer VR and AR tools in person. MAC, for example, offers AR try-on features in-store thanks to virtual "mirrors":
Location-Based Push Notifications 📱
If your business has a mobile app, location-based push notifications are an outstanding phygital marketing tool. They allow you to send targeted messages to users within a certain geographic location when the app interacts with Bluetooth beacons installed in your store.
For example, if a customer has your app installed and they're walking past a bakery, they could receive a notification offering them 10% off their order or a free coffee with the purchase of any item, like this example from my own phone: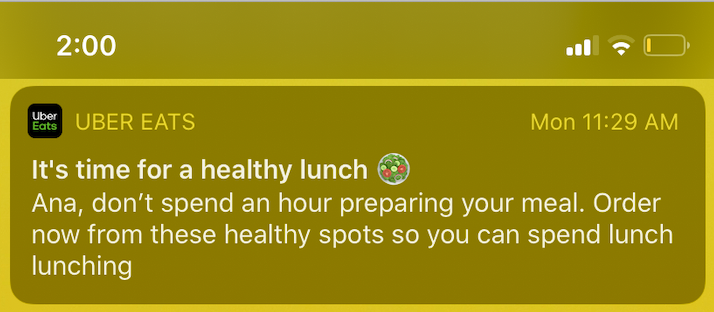 This can increase your overall traffic, capturing people as they walk near your physical storefront with a digital solution. They might purchase at that moment or head home and purchase later online if you have e-commerce functionality.
Automation ⚙️
Marketing automation drives a 14.5% increase in sales productivity – and companies using automation enjoyed an average 12.2% reduction in marketing overheads.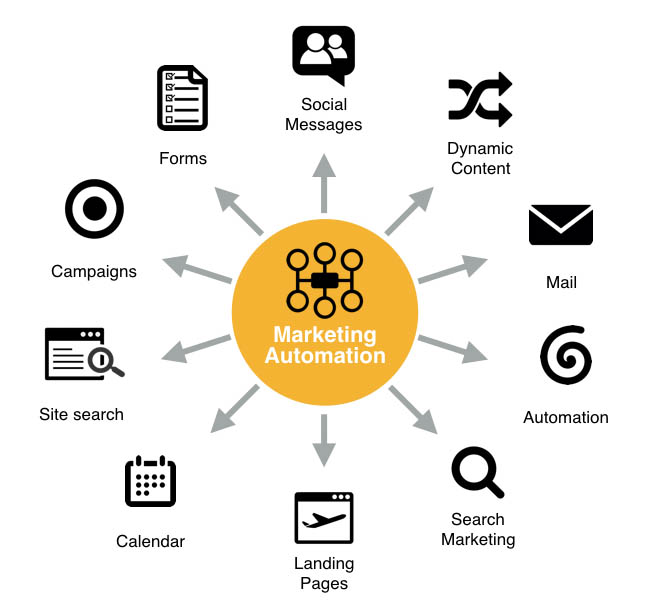 Automation is a big part of what makes phygital marketing and experiences so beneficial for everyone involved. It's fast, it's easy, and it takes some tasks off your hands.
Here are a few examples of automation with phygital experiences:
When online users schedule an in-store pickup, they'll instantly be sent information about their pick-up availability and instructions for how to do so — like my Best Buy example above. There's no need for further instruction from in-store sales staff, and they know exactly what to expect and what they need to bring.
When customers make a purchase in-store, they'll be emailed a receipt if the have an account on file. It will also be logged in your CRM so you can create relevant retargeting campaigns later.
Some of these retargeting campaigns are automated, too, including dynamic product campaigns based on past purchases or items they've viewed/converted online.
If a user scans a product's QR code in a brick-and-mortar store to research it, your app can automatically prompt them to save it or add it to their cart for later purchase.
Learn More: What Is Marketing Automation: Definition, Benefits & Uses
Video Shopping 🛍️
Although video calls, such as WhatsApp or FaceTime, are nothing new, using them with a store clerk is.
HERO, the "world's leading conversational commerce app for stores," allows customers to text, chat and video call with their favorite stores. Their tagline is "growing e-commerce sales and converting website visitors into store customers," as Nike, Adidas, Levi's, and other retailers have done.
Pre-coronavirus, one third of customers who start their shopping journey online via HERO will then make a purchase at a physical store. But post-quarantine, that's not always a reality. Instead, they can use this technology that's "like FaceTiming your favorite sales associate with one- or two-click buying built in."
5 Examples of Phygital Marketing to Inspire You
We're seeing an incredible crossover in phygital retail right now. Businesses that were previously exclusively e-commerce are now opening physical locations, and brick-and-mortar stores are working on creating a stronger and more integrated digital presence.
Let's take a look at five outstanding examples of businesses who are embracing phygital retail and marketing to better connect with their customers.
1) Amazon Go + Cashier-Less Shopping
Amazon may not be the first option that pops into your head when you're thinking about groceries or ordering lunch, but that's changing. Amazon Go is made up of convenience stores that have fresh groceries, breakfast, lunch and snacks… but no cashiers.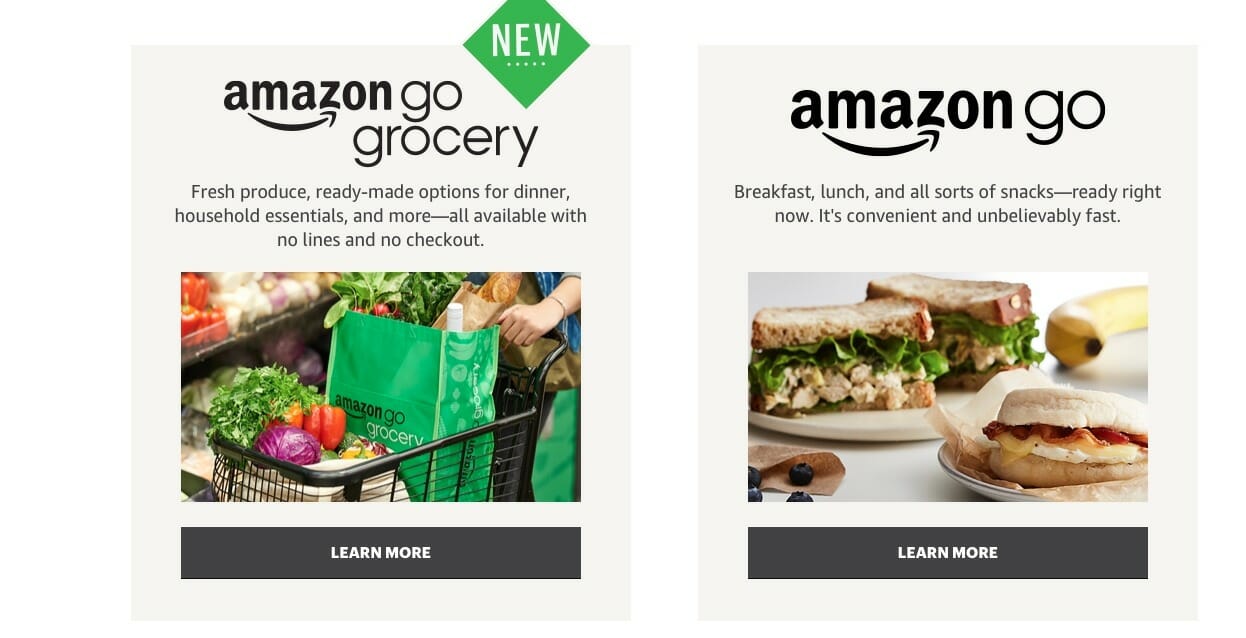 This e-commerce marketplace titan is now expanding beyond pick-up and drop-off lockers, but they're still putting a major emphasis on pretty much immediate service. Users can download the Amazon Go app and make purchases before they even arrive at the store for fast pick-up.
2) Sephora + VR Product Testing
Cosmetics chain Sephora has physical stores all over the country. While customers have always been able to try on products in-store, there's a limit to full testing abilities. If you try on one foundation, for example, you can't always easily remove it to try another. Some also avoid using trial products for hygienic purposes, making expensive purchases a gamble.
Sephora offers VR and AR features both online and in select stores so that users can try as many products as they need to in order to find the perfect fit. Customers with sensitive skin or who are worried about using products that others have can now "try on" products risk-free.
3) Nike + Pop-Up Stores
Nike is a major household name in retail shoe stores around the world, they've also branched out to pop-up locations: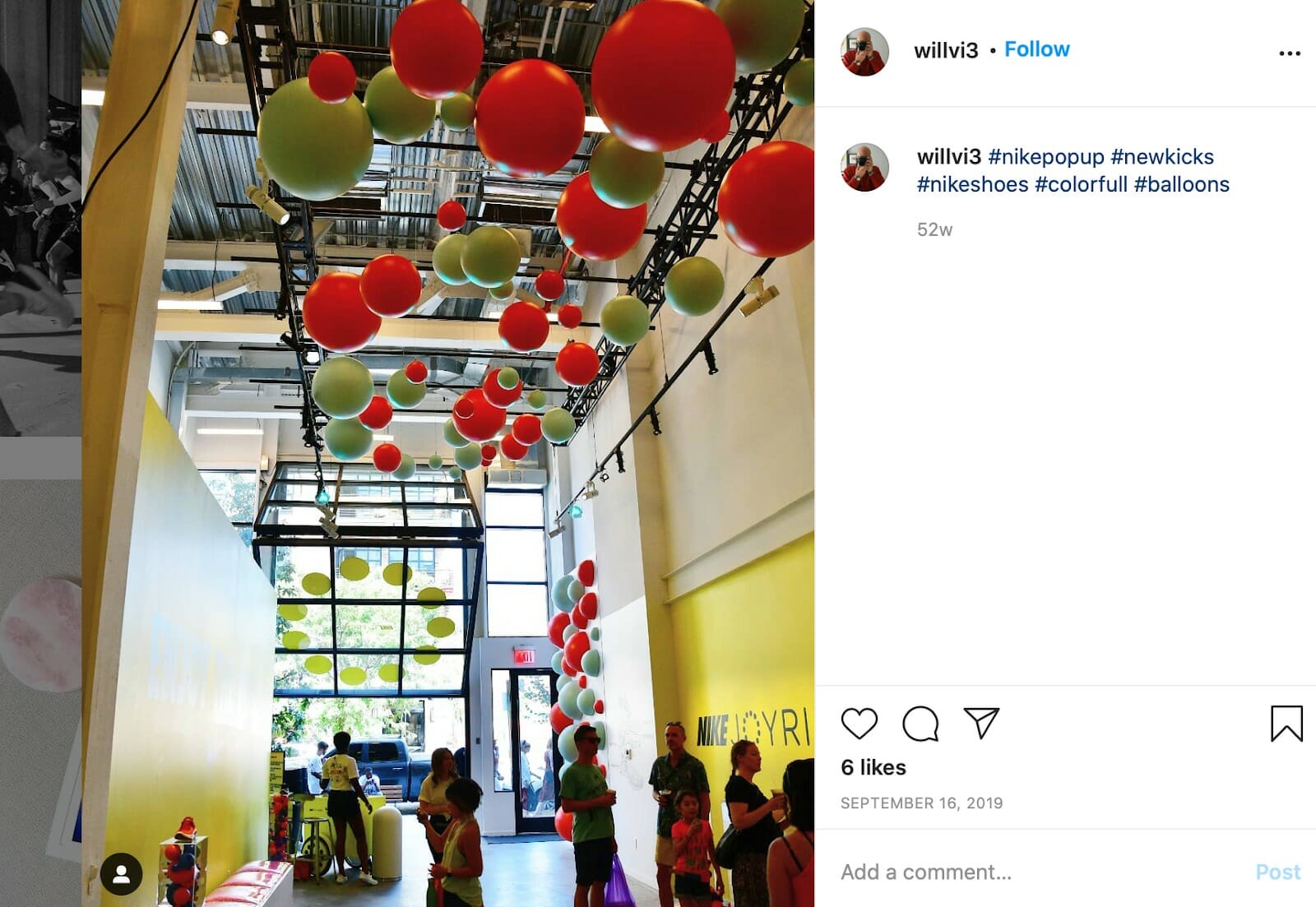 Last year, Nike started opening pop-up stores at strategically chosen places based on the data analysis they pulled from their SNKRS app. They found locations where their customers tended to go.
To encourage users to come out and purchase, they made some of their limited-edition shoes available at the pop-up, and sent SNRKS app users a notification about shoe availability. Nike already uses location-based text notifications through the app to grant access to other limited-edition sneakers while users are in-store.
4) Timberland + Virtual Inventory
One common reason that customers will stick to online shopping is that there is typically more inventory available.
As someone who needs to shop specifically in petite sizing thanks to my 5'0″ frame, I almost exclusively shop for clothes online because most stores don't carry a lot of petite inventory, as there's not as much demand.
Timberland, the outdoor clothing and footwear retailer, found a way to work around that with their incredible TouchWalls. These are digital displays that show customers online-only inventory and in-store inventory: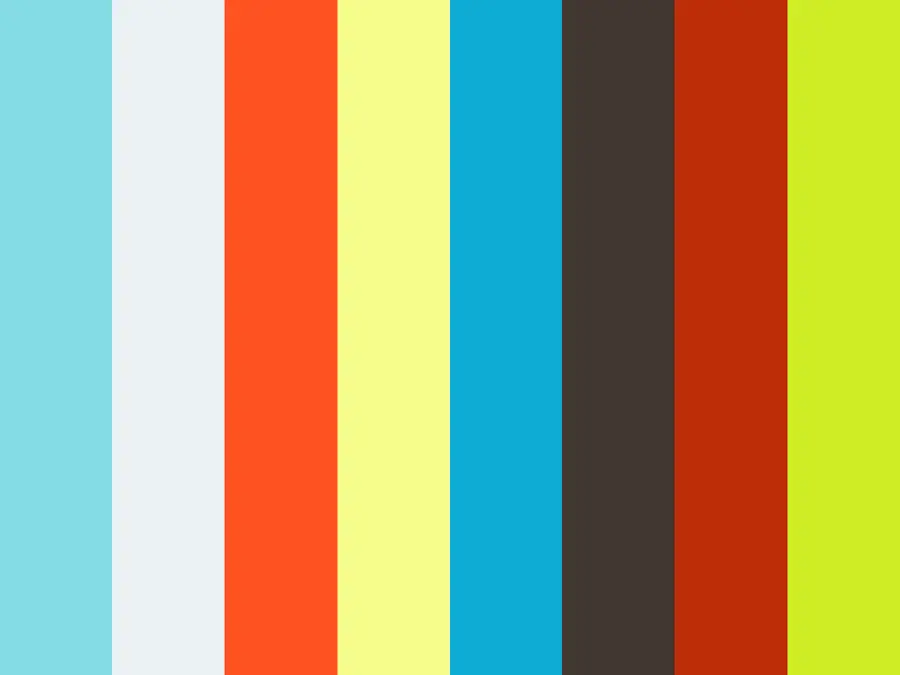 Customers can will actually touch the product images to get more information, create personalized shopping lists, and be able to shop the full inventory even if it isn't actually in-stock.
You can see how it works here:
Aside from increased order values and foot traffic, Timberland is also gaining a massive amount of customer data that they can use to improve their marketing moving forward.
5) Warby Parker + In-Store Experience
Online prescription glasses and sunglasses retailer Warby Parker is known for their exceptional marketing, so their foray into phygital marketing likely won't surprise anyone.
Even with the brand's popular "try at home" option that allowed customers to order multiple frames to see which they liked, the store realized that many customers still wanted an in-store shopping experience. They have physical storefront locations they've dubbed "The Warby Parker Readery," which features glasses you can try on and postcards, books and other items that those glasses can help you appreciate: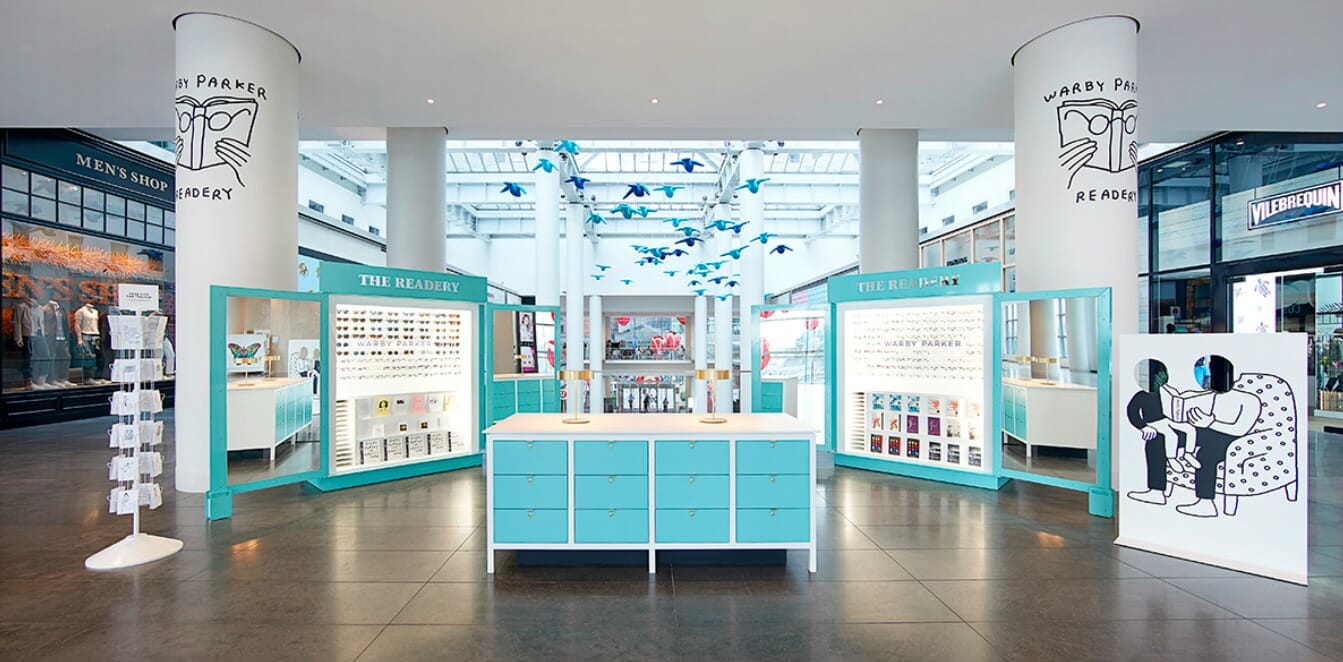 They have also had pop-up locations, including in the New York Public Library's Rose Main Reading Room (which they called their "hush mob").
Conclusion
There's an enormous amount of attention being placed on exclusively digital experiences. While digital definitely isn't going anywhere and should be a core component of both your marketing and sales experiences, this doesn't mean that you should neglect physical experiences.
As you can see from the examples in this article, striking a strong balance between physical and digital marketing is the best way to stand out from the competition and create an enhanced, streamlined experience for your customers.
It comes down to personalization. Every customer will have their own preferences and pain points when it comes to not only your products but shopping itself, and offering multiple solutions for how they can interact and purchase from your business can revolutionize your business.